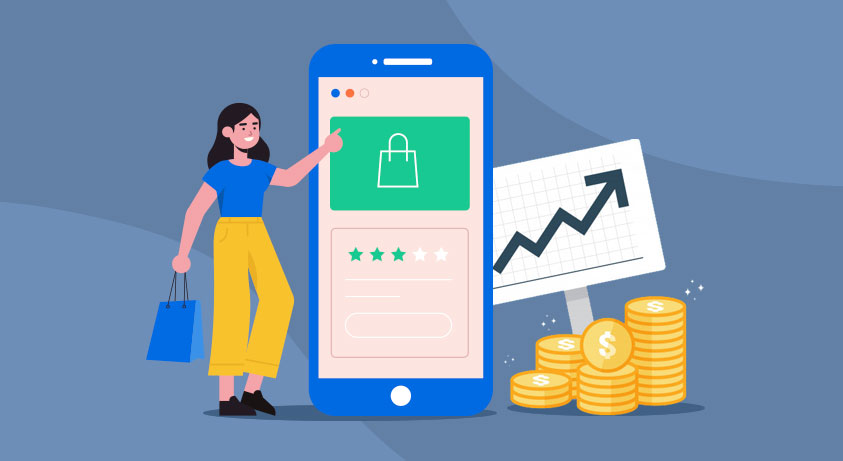 Erma Bombeck once said, "The odds of going to the store for a loaf of bread and coming out with only a loaf of bread are three billion to one." As funny as it sounds, there is some truth to it.
While traditional retailers would wait for shoppers to visit the store to learn their product preferences, new-age shopping culture is rooted in the power of data and consumer-specific personalization. Consumers, unlike those in the olden days, expect brands to understand who they are and what their preferences are.
In our own words, product recommendations are evidence of an ongoing shopping evolution in action.
Throughout the years, many studies have proven this: Brands that render personalized product recommendations are often able to build meaningful customer experiences that convert.
According to Salesforce, 24% of products purchased by shoppers that ever clicked on recommendations are the same products they clicked via recommendations. In fact, over half of the orders from customers who clicked on a product recommendation include one of those recommended items.
What is a Product Recommendation?
A product recommendation is, fundamentally, a filtering system that predicts and displays products that your customers would like to buy. A product recommendation engine is a sophisticated system that makes use of algorithms and user-specific data, such as ratings and comments on products, history/return history, cart events, page views, click through and search log, etc. to offer customized recommendations.
When done right, product recommendations can help retailers grow their revenue and improve customer retention. HiVis Supply, a leading online retailer of high visibility gear and apparel, employed personalized recommendations and increased its revenue by a whopping 68.3%.
Here is an example of how an on-site product recommendation engine works: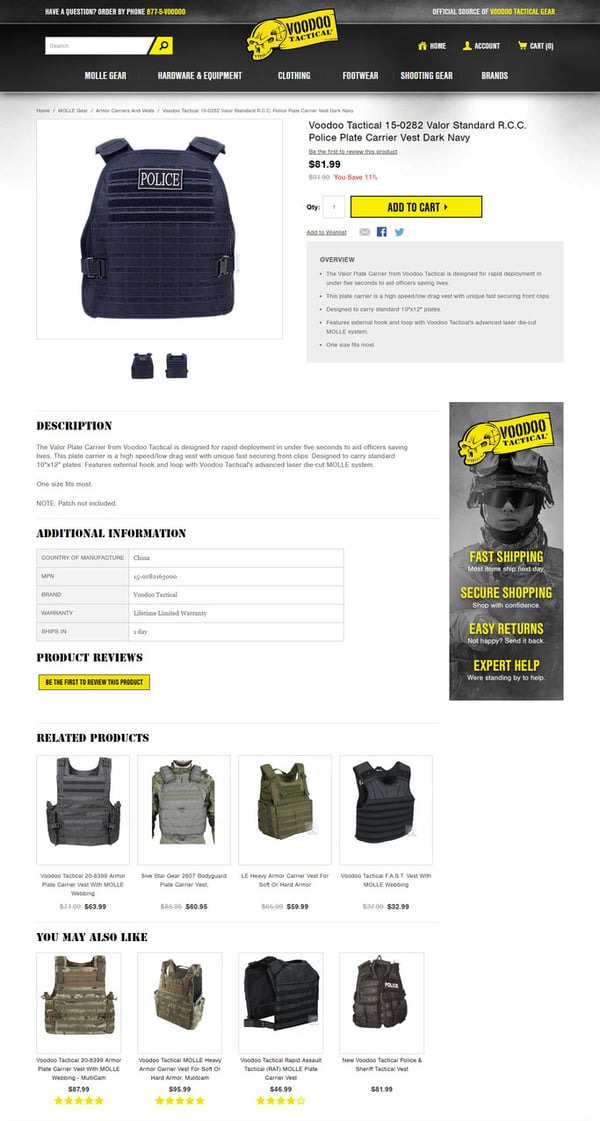 Not only do retailers utilize these product suggestion engines, but streaming giants such as Netflix and YouTube also have built-in recommendation engines to generate tailored lists of recommended clips for their users to watch. As a matter of fact, 80% of the shows you watch on Netflix are discovered via its recommendation system.
Now, let's explore the different types of recommendation engines used by retailers to create more meaningful shopping experiences.
There are 3 types of product recommendation engines:
Content-based Filtering: This type of filtering analyzes a shopper's previous purchase preferences and past choices to create a preference profile. So, the next time you see recommendations like "If you liked this, you might also like," remember that's it's a content-based product suggestion.
Collaborative Filtering: This method considers data from multiple shoppers and sources and cross-references their purchase histories to predict what a particular customer would like.

For instance, if a user is looking for shoes, the system might recommend a pair of socks that other users bought along with that pair.
Additionally, the collaborative filtering method analyses the users' demographics and whether they're a first-time buyer or an existing customer. Amazon uses an item-to-item collaborative filtering method, which accounts for 35% of the company's revenue.

Hybrid Recommendations: As the term implies, this type of recommendation engine combines the content-based and collaborative-based methods, using data from similar users as well as a specific user's past preferences to create a list of recommended products.
How Does a Product Recommendation Engine Work?
A typical product recommendation engine processes data through four different phases: collection, storing, analyzing and filtering.
Step 1: Data Gathering
This involves both explicit and implicit data. Explicit data consists of information provided by users, like ratings and comments on products. Implicit data, on the other hand, contains information like order history/return history, cart events, page views, click through and search logs.
Step 2: Data Storage
A product recommendation engine feeds on data. Its efficiency relies on the amount of data you make available to the algorithms. The kind of information you use to set up recommendations can help you decide the type of storage you should use. You can use a NoSQL database, a standard SQL database, or even some kind of object storage.
Step 3: Data Analysis
Filtering the data using various analysis processes is the next phase. Some of the ways in which you can analyze the data you've collected are:
Real-time systems
Batch analysis
Near real-time analysis
Step 4: Data Filtering
The final step is to choose a filtering method. As we discussed in the previous section, you can choose from three different filtering methods: content-based, collaborative or hybrid recommendations.
Why Does an Ecommerce Store Need a Product Recommendation System?
Over a decade ago, Amazon introduced a new feature on its website. They displayed a set of products in a carousel under the tagline: "Customers who viewed this item also viewed these other items."
Amazon's product recommendation wasn't merely a feature, but a perfect demonstration of how to intelligently leverage the data for business success. Today, following the retail giant's massive success, a majority of retailers use personalized recommendations as a targeted marketing tool in both email campaigns and on most of their website's pages.
But, if you run an eCommerce store and haven't activated recommendations yet, here are some crucial facts and figures that will likely motivate you to reconsider your current strategy.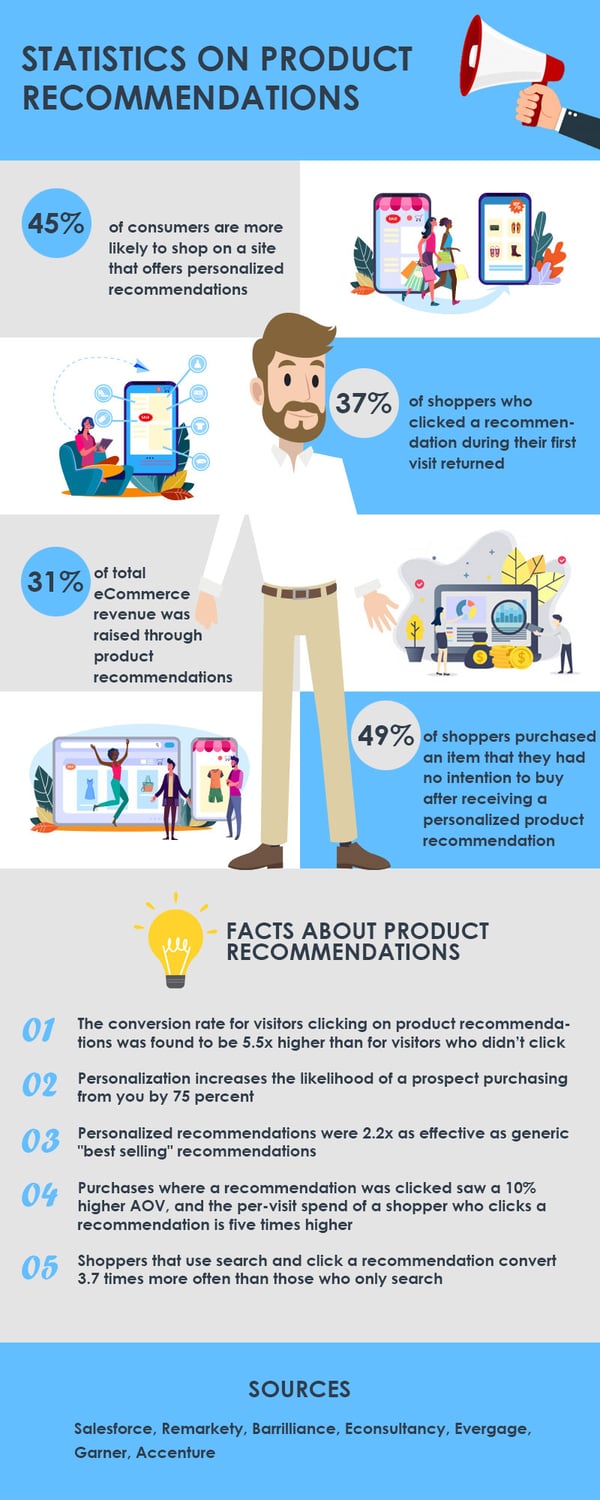 Product Recommendation Best Practices
A lot of eCommerce store owners seem to think that product recommendations are merely a set of similar products. However, they often miss one important thing: optimizing their recommendations for conversions.
Use Data Science to Understand Customers' Shopping Behaviors
For product recommendations to work in your favor, you must make sure that the suggestions you offer are relevant and data driven. So, how do you deliver the most accurate recommendations to your customers that match their interests and needs?
Not every customer is the same. Each shopper has his/her own unique preferences and criteria, based on which they make purchase decisions.
For example, if you own a health supplement store, some of your customers might prefer specific flavors or ingredients. On the other hand, some shoppers will always be loyal to their favorite brands. An efficient product recommendation engine should always recognize such unique user behaviors and understand the 'why' behind a shopper's decision to buy a specific product.
By making sense of data you've gathered, your engine will know what your customers like and what triggers them to buy. In turn, it entices visitors with tailored product suggestions. An Accenture study shows that highly personalized product recommendations improve the likelihood of a purchase by 75 percent.
Present the Right Number of Recommendations
The purpose of incorporating product recommendation into your website is to actually help visitors to find something that they might like, thereby enhancing customer engagement. When you become more inclined to approach recommendations merely as an opportunity to improve your conversions, there is a strong possibility that you will hurt the overall experience.
In fact, featuring too many recommendations may distract the visitors from the actual purpose of the page. Like an obnoxious pop-up that hits you when you browse through a website, product recommendations can also be annoying.
Take a look at how Walmart executed its product recommendation strategy: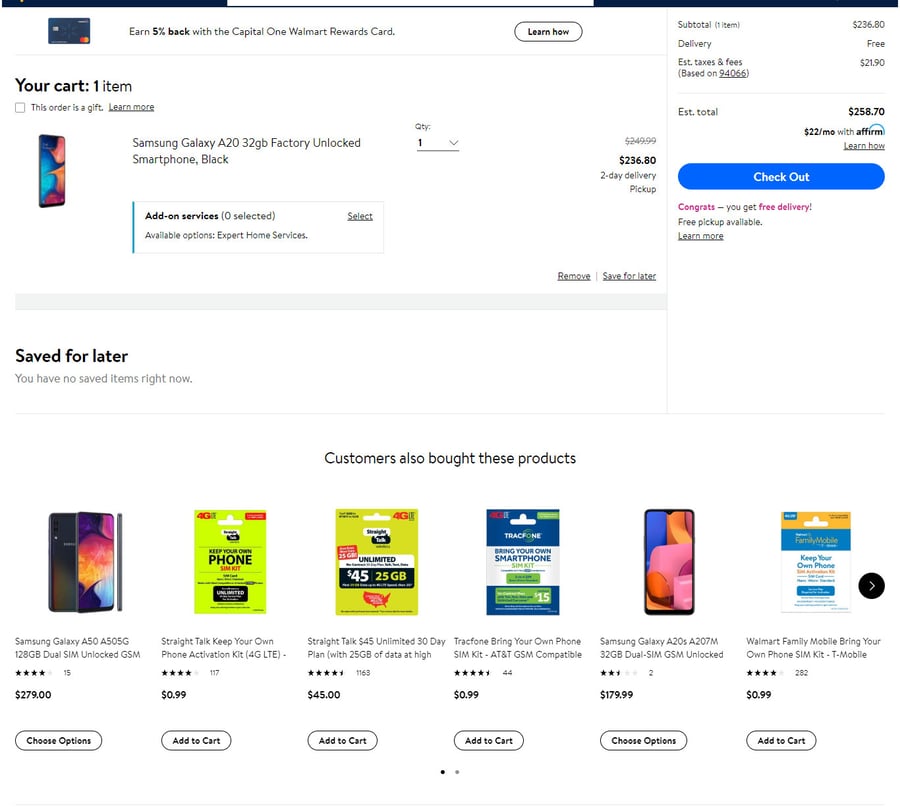 Unlike Amazon, Walmart doesn't have an exhaustive product recommendation strategy. By keeping it minimal and centered, they make sure that their product suggestion feature doesn't divert from the actual purpose of the current page.
Choosing 'quality over quantity' is our expert recommendation. By displaying only a few curated recommendations on selected pages, you can keep the balance between the conversion factor and the shopping experience just right.
Use High-Quality Product Images
Images are a requisite for eCommerce success. But why?
Visual content improves consumer confidence by giving customers a true feel that matches an in-store shopping experience.
Product recommendations are not an exception in this case. Including high-quality images is the best way to get people to check out your recommended items.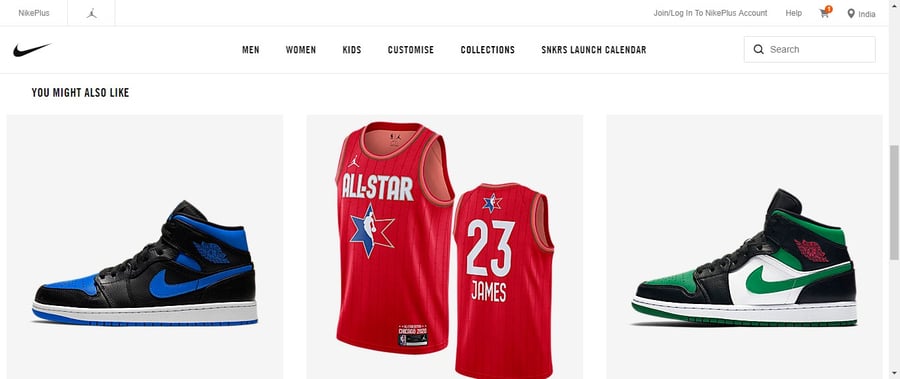 Nike's product recommendation section features top-notch images, which makes it easier for shoppers to discover, evaluate and purchase these products.
Smarter Recommendation Drives Better Conversions
According to Marketing Dive, 48% of shoppers leave a brand's website and make their purchase from a competitor due to a poorly personalized experience. In order to capture the visitors' attention, you must consider making smarter, more personalized product recommendations based on individual preferences or social data.
With product recommendations, you can capture each shopper's shopping patterns, behavior, purchase history, or wish lists and present them with highly tailored product suggestions.
Creating different types of recommendations is yet another effective method to build a highly engaging shopping environment.
Some of the best converting recommendation types involve:
Best-Sellers Recommendation: This kind of recommendation features popular items or the best-sellers of an online store.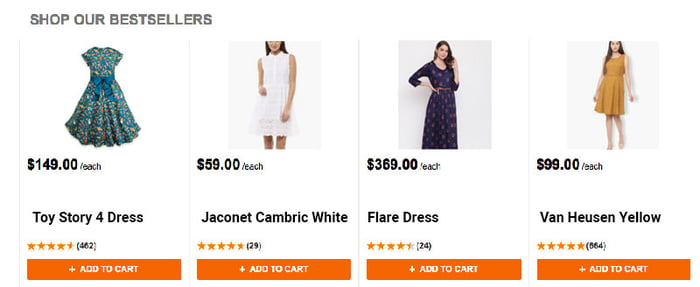 Other Customers Also Viewed: This type of recommendation works by gathering data, interests or preferences from many users and mapping it with a particular shopper's online behavior to deliver the most accurate suggestions.

You Might Also Like: This is a set of products that are somewhat similar to what a shopper looks for. In this regard, a recommendation engine gathers and compares a diverse range of user behavior patterns and preferences like category, color, brand, price, and more.

Category-Wise Recommendations: Some eCommerce stores display product suggestions based on bestsellers or popular products per category.

Improve AOV Using "Frequently Bought Together" Recommendations
One of the best ways to improve the revenue of an eCommerce store is to increase the AOV, or average order value, of transactions. "Frequently Bought Together" recommendations aim to create upselling and cross-selling opportunities.
In this case, a product recommendation system analyses vast amounts of data, such as purchase history and previous shopping behavior of similar users, to recommend add-on products.
Amazon gets everything right when executing this:

The major objective of "frequently bought together" product recommendations is to increase the AOV for each transaction.
Embed Social Proof or Badges to Build Trust
Adding a social proof element to recommendations helps retailers showcase the credibility of the products they are suggesting.
A HubSpot study suggests that 57% of consumers prefer a product or service that has at least a 4-star rating. Moreover, modern-day shoppers are ready to spend 31% more on a business with better reviews.
To enhance the trust factor, you can tag little badges beside each product to show how many people purchased it that day. If a customer realizes that several other people have already bought a specific item, it might nudge them a little closer towards the purchase decision.
Retailers can also add star ratings to their best-selling product recommendations to improve the chances of conversion.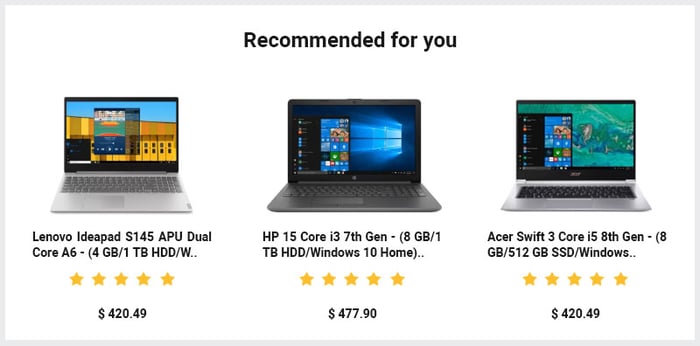 Including labels like "bestseller," "top picks," or "editor's choice" are also effective.
Position Your Recommendations Above the Fold
Since shopping is a game of visual perception, the positioning of your recommendation has great significance. The notion of "above the fold" was first used to represent the top half of the newspapers; for this was the only portion visible to passersby. Therefore, publishers used to place compelling images or headlines above the fold to attract visitors.
Websites are not any different.
According to Nielsen Norman Group's page-fold manifesto, the average difference between how users treat information above vs. below the fold is 84%.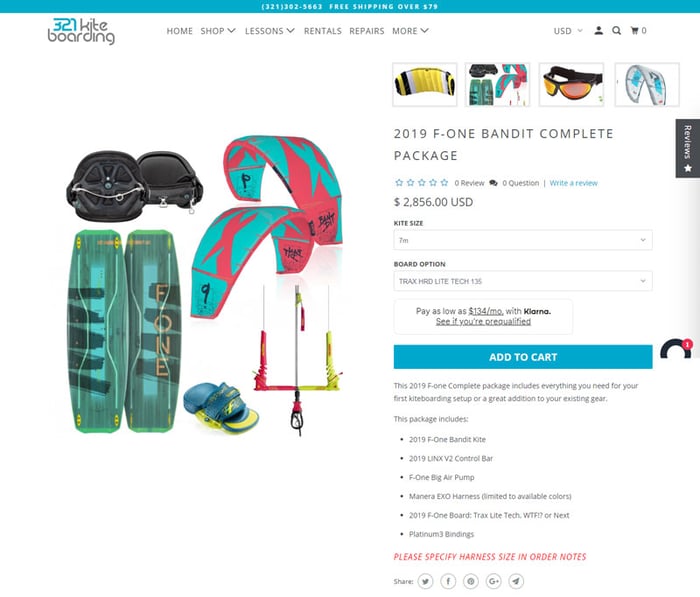 Placing your product recommendation above the fold helps the shoppers to spot it easily. For shoppers with the highest degree of purchase intent, above the fold placement is a matter of great convenience.
Add Product Recommendations to 404 Pages
404 errors can be frustrating to shoppers.
In fact, one study shows that 74% of shoppers who encounter a 404 error will abandon the site and never return.
But don't fret! You can leverage this unavoidable situation to showcase some of your hottest merchandise. In addition to offering your users a way out of the error page, this creates an amazing opportunity to increase your conversions.
Even popular retailers like Nike, Steve Madden, etc. follow this tactic and transform the inevitable 404 errors into an opportunity.
Homepage Product Recommendations are Powerful
A website's homepage is the ideal spot to feature product recommendations.
A Baymard study claims that 25% of first-time shoppers consistently scrolled down the homepage and then back again to become familiar with the site's product range. First-time visitors who have no prior knowledge about a brand's exclusive product range and depend largely on the homepage content to build their awareness.
For example, RayBan positioned their most popular products on the home page to create purchase opportunities.

The philosophy is simple: It is usually tough to recommend personalized suggestions to the new visitors because of data scarcity. In this scenario, the best product recommendation practice is to display trending products or items with the highest conversion rates on your homepage.
Include Recommendations in Confirmation & Abandoned Cart Emails
For every $1 you spend on email marketing, you can expect an average return of $42. Besides, 59% of marketing experts recommend email as the most effective channel in terms of revenue generation. Having a high conversion rate, emails signifies one of the best means to present the recommendations to your fellow shoppers.
As an example, you can use abandoned cart emails to feature products similar to the abandoned items.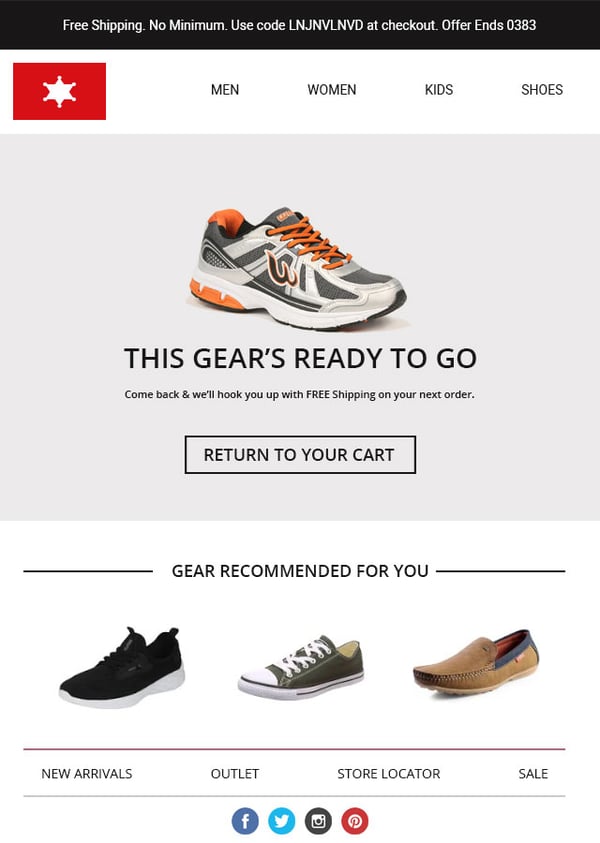 On the other hand, in an order confirmation email, you can incorporate "frequently bought together" recommendations.
Final Thoughts
An Infosys survey on retail shopping experience states that 74% of consumers feel frustrated
if they land on a website that displays content that has nothing to do with their interests and preferences. However, customer-focused personalization can improve your conversions by 5% and deliver 5x to 8x return on your marketing spends.
Customized product recommendations drive growth and profitability and, at the same time, ease a customer's shopping journey through understanding they're special preferences. As one of the hottest trends in eCommerce, product recommendations offer retailers an opportunity to compete with the biggest names in the industry and outshine them by delivering exceptional shopping experiences customers love.