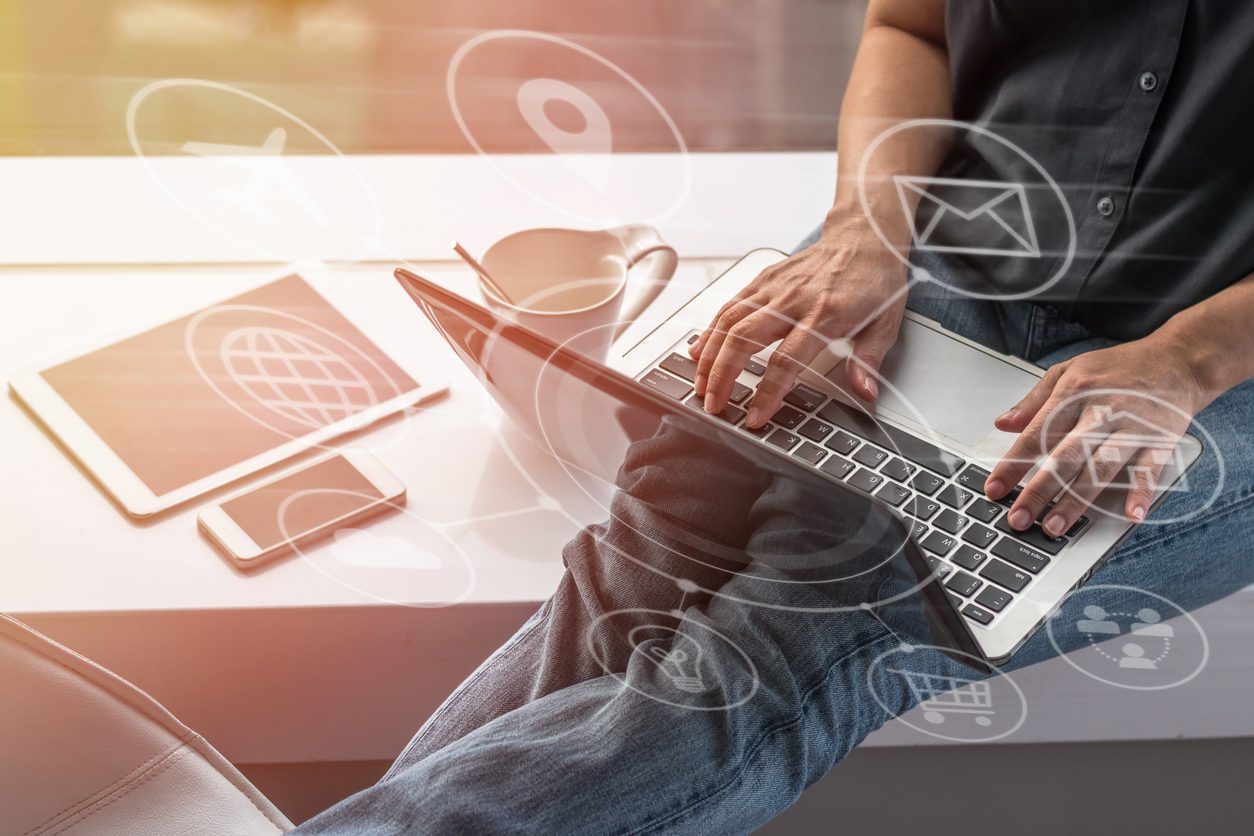 When was the last time you checked your emails? It was most probably within the previous 24 hours as emails have become a part of our daily lives. But do you know how it all started? Do you know emails have been around even before the internet? If you are curious, this blog is for you.
Today, I will pen down 'A Brief History of Emails' as Stephen Hawking did for time! We will look at how emails slowly became the most profitable digital marketing tool with an ROI of 4400%, with 74 trillion of them sent every year. Gear up to explore how the email design has evolved six decades spanning over two centuries.
The 60s to 70s: The Cold Start to the Journey
I used the words 'cold start' because emails were never invented like any other tool: they evolved as a technology instead. In 1965, MIT had come up with 'MAILBOX,' which is believed to be one of the earliest known technologies that pioneered emails. J.C.R. Licklider is believed to have played an important role in its development. SNDMSG was another contemporary program that shares many parallels with it. October 29, 1969 is a special day in the history of emails as the first node-to-node message was sent through ARPANET. Here's how it looked: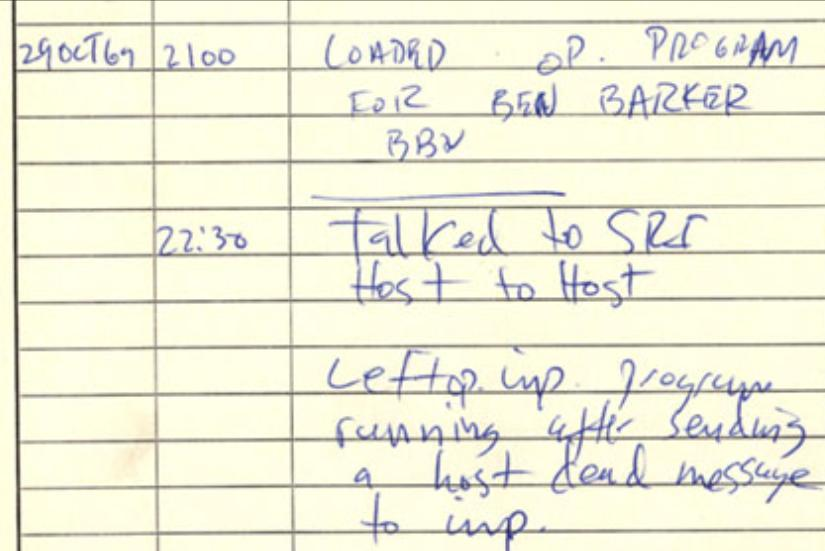 Source: Wikipedia
The 70s to 90s: The Rise of HTML Emails
The 70s marked the rise of emails as Ray Tomlinson implemented emails on ARPANET in 1971. Nonetheless, the emails remained unchanged for the next two decades. They were limited to ARPANET as 75% of its traffic was emails.
But in 1989, MIME kicked in along with the adoption of HTTP and HTML protocols. Thus, it paved the way for HTML email templates that we are very much fond of in today's date. This was a significant change as the emails based on ASCII supported only text.
The 90s to 2000s: Dawn of Design Revolution, Email Clients
The design evolved exceptionally fast in this decade as the email developers could include multimedia and the HTML tables became popular.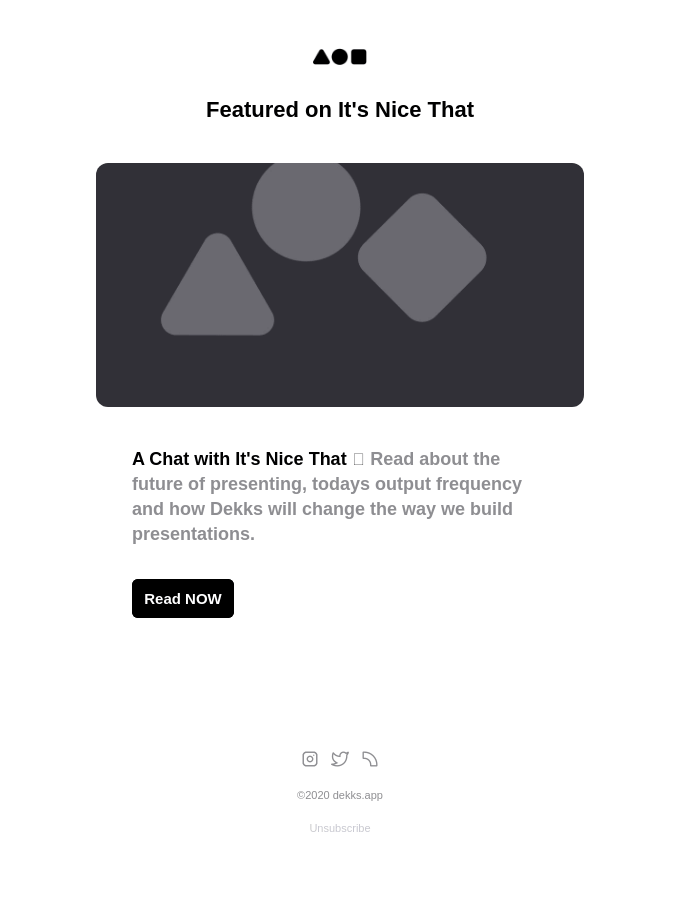 Source: Really Good Emails
This made the emails look similar to websites, and they enhanced the design flexibility in many ways. Microsoft Mail was the first commercial mailbox provider with AOL, Hotmail, Echomail, Yahoo!, and Gmail entering the market in 1993-97.
The 2000s to 2010: Recognition as a Powerful Digital Marketing Channel and Responsive HTML Email Templates Introduced
This decade helped emails get recognition as powerful digital marketing channels, and responsive HTML email templates were also introduced towards the end of the decade. Also, the practice of embedding videos inside the emails was initiated, and the email design landscape started showing tremendous changes.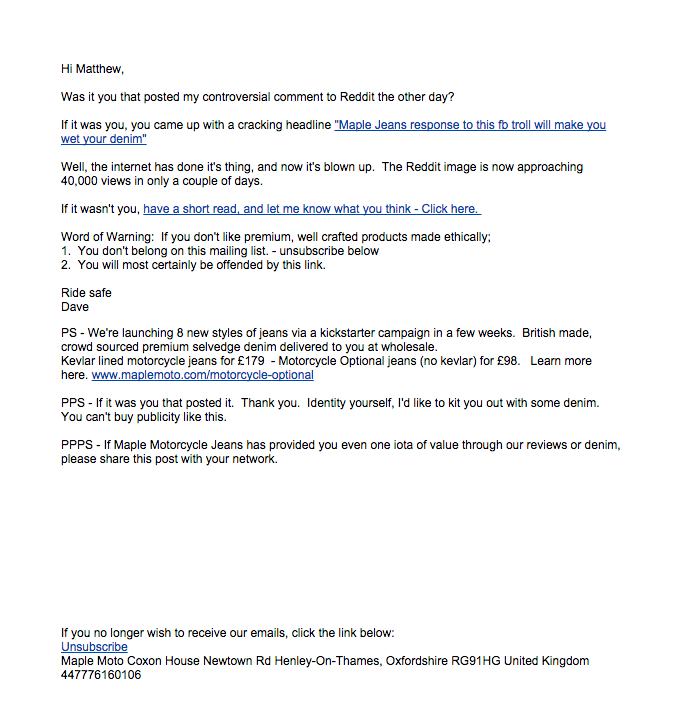 Source: Really Good Emails
Plain-text emails like the above one started going out of fashion, and brands adopted a design language that used multimedia and layouts to imitate websites to some extent. However, email clients were less enthusiastic about new functionalities, unlike web technologies, because security played a major role in limiting email innovations.
2010 To 2015: Responsive Templates Start Taking Over and Interactivity Gains Traction
Social media was seen as the emerging player for digital marketing, and people started turning skeptical if "email marketing is going to die", but statistics said otherwise. Emails were the top-performing channel, and brands came up with integrated emails to gain social media followers from their email lists.
This was also the era of mobile adoption over personal computers and laptops, which made mobile-friendly responsive HTML email templates attractive for businesses in 2012. 2013 and 2014 saw technical advancements in the form of email automation, which also helped businesses with drip campaigns and other transactional emails.

Source: Really Good Emails
The design philosophy was turning interactive and modular by 2015 as the email sending volume continued to grow alongside its user base. Modular design language also decluttered the emails that were resembling 2000ish era websites. Evolution was fast-paced, focused on the technical side that resulted in improved UX in these five years.
2015 To Present and Beyond: Design Disruptions Expedited
Post-2015, email design went from developments to disruptions. Interactive email design became popular, and businesses unlocked doors to many innovative usages.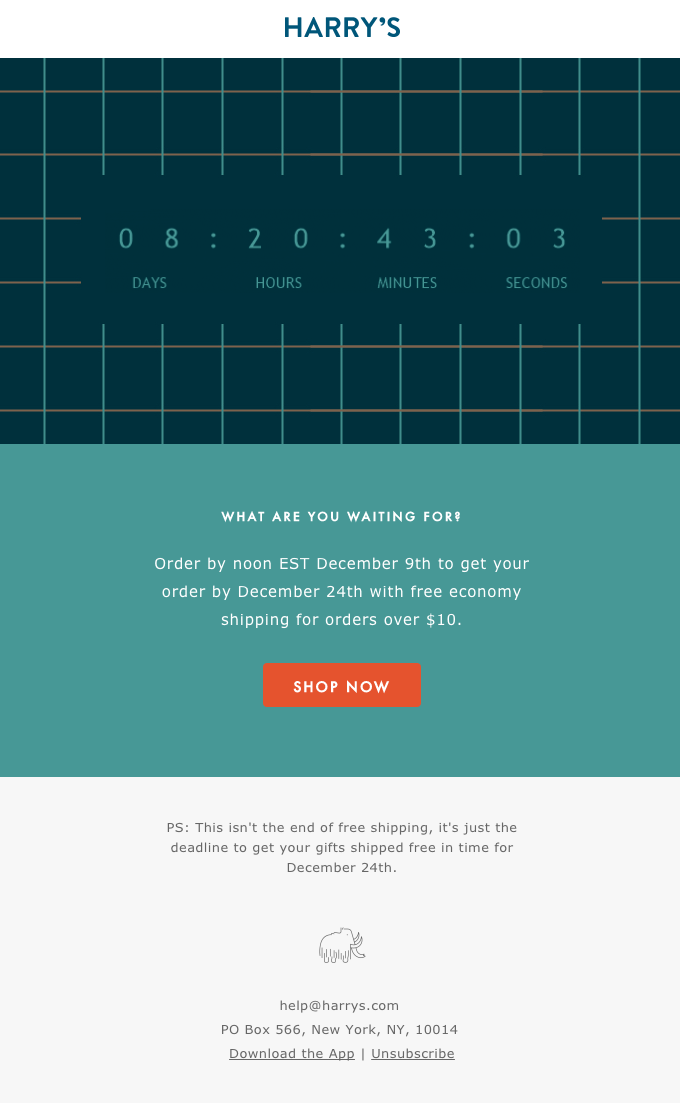 Source: Really Good Emails
Dynamic content like leaderboards and timers became a great tool to improve customer experience and drive engagement.

Source: Really Good Emails
Next came the trend of Dark Mode-friendly email templates after Apple conceived the trend in 2018.

Source: Really Good Emails
By the time we reached 2020, the email design had started merging with other tools like chatbots. In the upcoming days, we may expect a lot more disruptions in email design that will convert them into standalone, functional digital avenues that would no longer need one to leave the message to execute any function. Maybe, it will make the outbound CTA buttons a history. We can't say what the future holds, but emails are here to stay.
We know that 2020 was an extraordinary year, something no one had imagined. It affected everything, and by everything, I mean even the email design trends for the time to come. It's not like that the following aspects of email designs didn't exist before, and they just popped up in this pandemic; instead, they have become more prominent (and pleasing) when compared to others. Let's have a look!
Minimalism
No matter how much is said about minimalism, it will still be 'minimal.' Okay, sorry for the pun. Minimalism is one of the most influential trends of email designs that has rapidly risen to prominence. Given the chaos and all the overwhelming happenings across the world, you really want an email that's clean and, to an extent, soothing. Not only this, minimal emails prove to be more effective since they keep things clean and crisp.
In 2021, brands are leaning more than ever towards muted colors, stripped-back color palettes to attain simple outlooks, and radiate calmness in their recipients' inboxes. The less you speak, the more your brand says, that's the motto which brands are looking for, and this trend is only going upwards, at least in the foreseeable future.
Talking about brands, there's one company that's been nailing minimalism ever since their inception and far before it became mainstream. It's Apple. It's quite unbelievable how their design language had heavily revolved around minimalism since the day when the first iPhone was launched.
In 2021, Apple is leading the charge when it comes to creating minimalistic emails. Here's an example mentioned below. Their AirPods Pro email contains consistent imagery, which is subtle yet substantial, and the color pattern makes their messaging far more effective.

Source: Really Good Emails
Want to create such minimalist emails yourself but don't know where to start from? Well, you can always depend on professional services that create some of the best email templates in the market. Pardot email templates and Salesforce email templates are your best bet to help you nail your email designs to the T.
Value Depiction
2020 is something we all want to forget, but no matter how hard we try, some things will always remain affected by whatever that year brought along. More than that, the year made us realize that issues such as racism and inequality still prevail in society and at large, for that matter. The time we spent with ourselves in the pandemic highlighted the lack of importance these issues had in our day-to-day messaging.
In 2021, these issues are not just part of one-to-one conversations. They are being communicated at large. So large that (in a welcome move), brands have incorporated them. Firms like Uber have taken a bold stand to celebrate diversity and set some examples, which translated in their communications.
In their email on community guidelines, Uber beautifully highlighted the message of equality and its pertaining values. Have a look!

Source: Really Good Emails
Google AMP
2021 marks the beginning of a new decade, so why not feature some new technology in emails, right? Well, say hello to Google AMP or Accelerated Mobile Pages. AMP is one of the promising email design trends this year. With the help of AMPs, brands can let their users interact without having them leave the page. Users can do various actions with AMP-enabled right from executing the CTA in the email to buying stuff online.
Take a look at this email example by Email Uplers, the largest email marketing company that specializes in converting PSD format to email templates. See how they have included sliders, a subscription form, and a contact form in the email with the help of AMP functionality.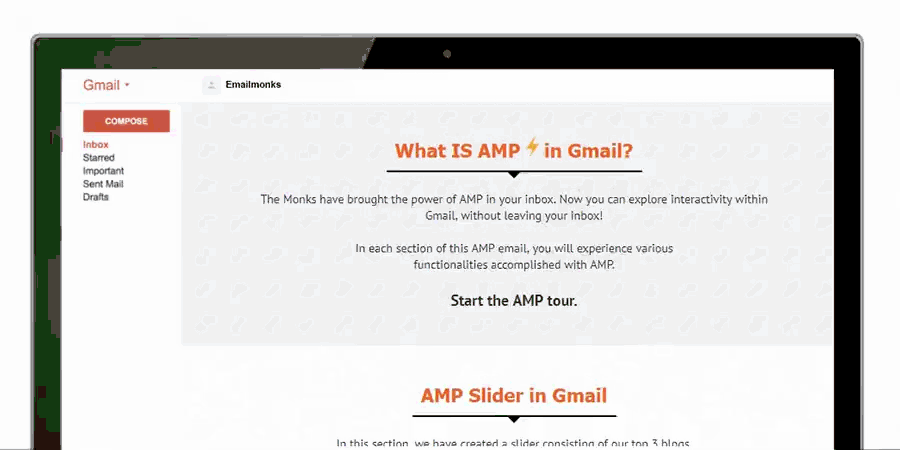 Futurism and Retro-Futurism
The best of both worlds, right? Well, it seems like the best time to be an email marketer or even designer, for that matter. You have so much to play with. As you might have seen, futurism is communicated through bright colors (I love those neons, by the way), outer glows, and much more. Brands even use space themes sometimes to bring the point home.
I started this section with "best of both worlds." Well, because when on the one hand we have futurism, on the other we have retro-futurism. This design language is all about the unconventional and hence, mostly unheard combination of nostalgia and the future. This is a welcome trend for the horrified yet hopeful eyes which 2020 left behind when recipients get a hint of nostalgia, and a sneak peek into the future at the same time. It's the right design preference to make your emails stand out.
Here's an example how Great Jones nailed retro-futurism to the T:

Typography
Design is a crazy landscape. With so many brands, clients and target audiences, it all boils down to subjective choices at the end of the day. Hence, we may have minimalism and its muted color choices blooming, but big bold typography is also becoming prominent in 2021. Those huge oversized letters reek confidence and energy like nothing else.
Typography is majorly about portraying text. There have been many typefaces in the past when created a trend on their own. Be it subtlety, retroism, or nostalgia, typography is one of the few design elements which can do it all. Things get all the classier if you introduce some handwritten calligraphy in your typographic email design.
Putting It Together
Email design evolved faster in the last two decades as compared to the first four, but I consider that natural. Before the 90s, even the Internet didn't enjoy such a diverse and widespread user base. Considering the evolution of email design from the viewpoint of an email developer or a marketer, all I can say is that the best is yet to come. I hope this article helped you know the past, present, and future of emails.