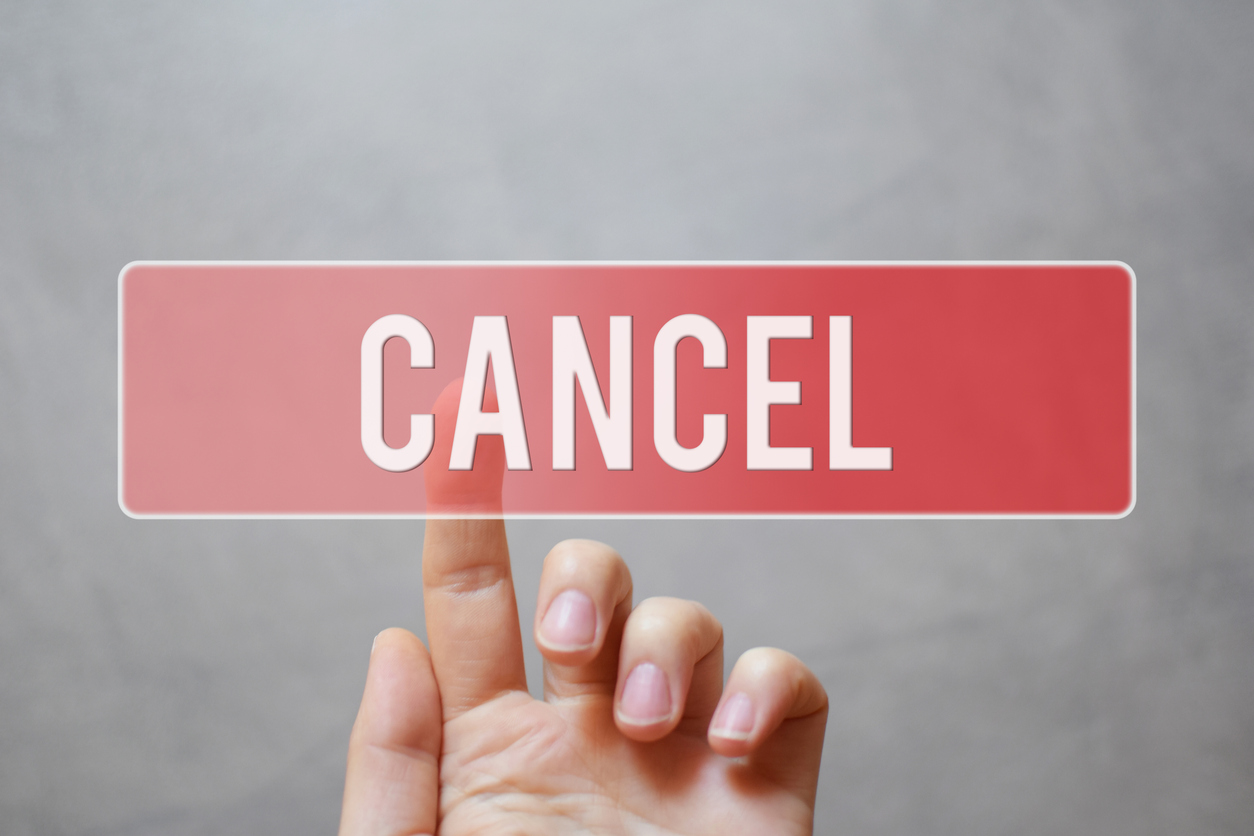 When we start a subscription to a paid website builder or host service, we hope that it serves it's intended purpose and that we won't ever have the need to cancel it. Unfortunately, there can come a time where your chosen service doesn't meet your needs anymore or ends up not delivering on what you thought it would. At that point, it may come time to cancel your subscription and look for a new option.
Services can sometimes make it unnecessarily difficult to cancel paid subscriptions in an attempt to deter you from leaving. To help ease this process, we've outlined the steps you need to take to cancel some of the most common website builders.
How to Cancel Shopify
Shopify is one of the most popular eCommerce platforms available, boasting over one million online stores using their service. However, that doesn't necessarily mean it's the best option for your business. Many business owners end up leaving Shopify because of its high prices, expensive add-ons, hidden fees, lack of built in features and overall technical limitations.
To cancel your Shopify subscription:
Cancel all third-party app subscriptions that aren't billed through Shopify.
Pay off any outstanding charges on your account.
If you bought your domain through Shopify, transfer it to another provider.
If you bought your domain from a third party, remove it from your store in the admin.
Export your product CSV.
Navigate to Settings.
If you haven't switched your account to single sign on, click Account.
If you have switched to single sign on, click Plans and Permissions.
Click Close Store and enter your password to confirm.
How to Cancel BigCommerce
BigCommerce is an all-in-one eCommerce solution that is a major alternative to platforms like Volusion and Shopify. Typically, merchants may end up leaving BigCommerce because of its lack of basic built-in features, minimal free themes, low sales limits, and limited payment option selection.
To cancel your BigCommerce subscription:
Back up all of your store data.
Transfer your domain to another registrar or point your domain to another host. (If you bought your domain with BigCommerce and don't want to keep it, then you can disable renewal.)
Go to Account Settings and navigate to Account Summary.
Under Stores, click the name of the store you'd like to cancel.
Scroll down to Cancel Store and click Cancel Store Plan.
How to Cancel Wix
While Wix is a formidable drag-and-drop website builder, it's not the best eCommerce platform, so it may not be the best fit for your business needs. Users often cancel Wix subscriptions because they're disappointed with storage and bandwidth limits, limited eCommerce features, lack of CRM or POC features, and small selection of payment gateway options.
To cancel your Wix premium plan:
If you want to keep your Wix domain, transfer it to another domain host.
If your domain is hosted by another host, remove it from your account in the Advanced tab of the My Domains page.
Go to Subscriptions in your Wix account.
Click on the Show More icon next to your plan.
Click Cancel Plan/Domain/Mailbox/App depending on what you need to cancel.
Click Cancel Now in the pop-up to confirm cancellation.
You will have access to your premium account until the end of your subscription period.
How to Cancel Volusion
Like Shopify and BigCommerce, Volusion is a major player in the field of eCommerce solutions. However, it's not a perfect platform; most users who decide to cancel their Volusion subscriptions cite hidden fees, lacking built-in features, minimal free themes, and few payment options as their reason.
The issues don't stop when it comes to their cancellation process, which Volusion has made quite difficult for merchants looking to cancel. Unfortunately, there's no way to manually close your Volusion store and cancel your subscription. To cancel your Volusion account, you'll need to contact them directly.
You can contact Volusion to cancel by:
Contact them via live chat. Within the Admin Area, click the help icon and select Message Us. Choose New Conversation and tell them that you want to cancel.
Schedule a call. Click the help icon next to the menu, then choose Schedule a Call. Select a call duration preference, date and time of day and a Volusion representative will call you at that time.
Call them directly at 1-800-646-3517 to cancel.
How to Cancel WordPress
WordPress is one of the most popular free options for starting and building your own website. However, it doesn't always meet the needs of every business; it's primarily meant for blogging, relies on plugins or expensive plan upgrades for eCommerce, and lacks cohesive and consistent support. For these reasons and more, business owners may decide to take their online venture elsewhere.
Cancelling your WordPress account depends on which type of WordPress that you've used to build your website. WordPress.com is a free hosted website builder with paid options to upgrade for advanced features like eCommerce capabilities. On the other hand, WordPress.org is a self-hosted website builder that is free to install and use; you do need to pay for and set up your own host and domain.
To cancel your WordPress.com subscription:
If you registered your domain name with WordPress, you'll need to cancel it in the Manage Purchases section of your account profile.
If you have a WordPress.com plan or other upgrade, cancel your paid subscription in Manage Purchases. Your account will revert back to the basic free version of WordPress.com
Before closing your account, export all of your information and data that you'll need if migrating to a new platform.
Permanently close your account to delete your website by clicking "Close your account" at the bottom of the Account Settings screen.
To cancel your WordPress.org account:
Cancel your subscription with the host that you use for your website.
Point your domain to another host if you're migrating to a new platform.
Cancel any paid plugins that you've added to your account and activated on your website.
Export any necessary data from your plugins if you're migrating to a new service.
Reasons Why You May Want to Cancel
You may still be debating cancelling your service – it's definitely not an easy decision to make. But, if you're experiencing any of the following complications, then switching to a new platform may be the best option for you.
Cost is Too High
It's not uncommon that price is one of the main deciding factors for cancelling any subscription – especially if the price is too high. The cost of a subscription plan can be too high for two reasons: it's either above your budget, or it's charging too much for the service it provides. It's logical to assume that a more expensive service will offer more features – unfortunately, that's not always the case. Platforms like Shopify charge a high price relative to competitors in addition to hidden fees that you may not be privy to when first signing up.
Lack of Features
Your website builder and/or eCommerce platform need to have the features your business requires in order to be worth your subscription. Unfortunately, several platforms charge more than their competitors while only offering a fraction of the built-in features and design elements. If you find that you're paying for more than you're getting, or you're forced to pay for extra apps to fulfill your needs, then cancelling your service for a better option may be the best course of action for your business.
Unavailable Support
There's nothing worse than signing up and paying for a service that you end up not being able to use. Thankfully, a good eCommerce platform or website builder will provide efficient and available support to help you with any questions you have or issues you may run into. If you're having a hard time with your paid service and you're unable to contact anyone in a timely manner for support, you may want to look elsewhere.
Design Limitations
Among a sea of online businesses, your website needs to stand out on the internet. A good website builder will give you all of the tools and freedom that you need to easily craft a branded and unique site. But you may find that your chosen service limits what you can change or puts up code barriers to customization. If you're having a hard time building your website and are being forced to pay extra for basic editing, then your chosen platform may not be right for you.
Outgrowing Your Platform
When your online business becomes successful, that's great news! But, with a larger customer base, higher inventory counts, increased order numbers and overall more demanding business needs, you need to make sure your platform is built to handle it all. Some platforms offer enterprise solutions that are better designed to support your growing business. Other platforms are built to be fully scalable solutions that can work best for any sized business, no matter how small or large. If your chosen platform doesn't provide this for you, then it may be the best course of action to migrate to a service that can support your success.
What's the Best Alternative?
If you're looking for a website builder that's affordable, feature-rich, highly customizable, and scalable with 24/7/265 technical support, then Shift4Shop is your best option. With no hidden fees and a variety of pricing plans packed with features, you'll be getting more than your money's worth with this service. Designing and customizing your online store isn't limited by code knowledge, paid add-ons or expensive design services – you can fully customize your unique online store quickly and easily with Shift4Shop. And, if you ever run into a complication or have a question, technical support is available any time that you need them.
It can be frustrating to be forced to cancel your service with a website builder, and migration to a new service may seem overwhelming. If you're thinking about migrating to Shift4Shop, you won't have to worry about any migration headaches – our eCommerce experts are available to review your current website and help determine how you can migrate easily.