Email marketing is the backbone of the e-commerce industry. Moreover, e-commerce email marketing is a fine balance of triggered and automated emails. No sooner does a customer register on your e-commerce site than they receive a welcome email. Next they browse and put something on their cart, and in case they forget to complete their checkout - moments later they are greeted with a cart abandonment email as a gentle reminder.
Want to fortify your customer relations? Send them a customer loyalty reward or customer appreciation discount via email.
As per research by SmartInsights, e-commerce industry emails boast a 16.75% open rate, 2.32% click-through rate, and 0.23% unsubscribe rate. But what makes an e-commerce email click? Is it the reach or is it the spontaneous response of triggered emails, or a combination of various factors? Let's dive deeper.
Understanding the e-commerce email lifecycle
Before we can venture into creating e-commerce emails, it is important to chalk out the different types of emails to be sent in an e-commerce email lifecycle. The reason being, your customers at different stages of your sales funnel want different information for engaging with your email. The general stages in an e-commerce sales funnel are:
Onboarding stage
Lead Nurturing stage
Promotional stage
Transactional/ Behavioral stage
When a prospect joins your subscriber list, in exchange for getting benefitted in some way, they enter the onboarding stage. At this stage, you tend to understand your customer better by knowing them and their interests/preferences. So you need to send emails that collect necessary information so as to create a detailed customer persona.
Welcome Emails – Beginning of a New Relationship
As soon as the prospect registers with your brand by sharing their email address, a triggered welcome email is the first and one of the most important emails that your prospect receives. As per an observation by Soundest, 74.40% of new subscribers expect a welcome email and these emails have a 45.67% open rate, 9.73% click-through rate, and a conversion rate of 1.04%. Leveraging this to your advantage, your welcome email can:
Introduce your subscribers to your company's personality
Offer a sign-up bonus or discount
Provide options to connect on social media
Motivate your subscribers to complete their profile
Collect their content preferences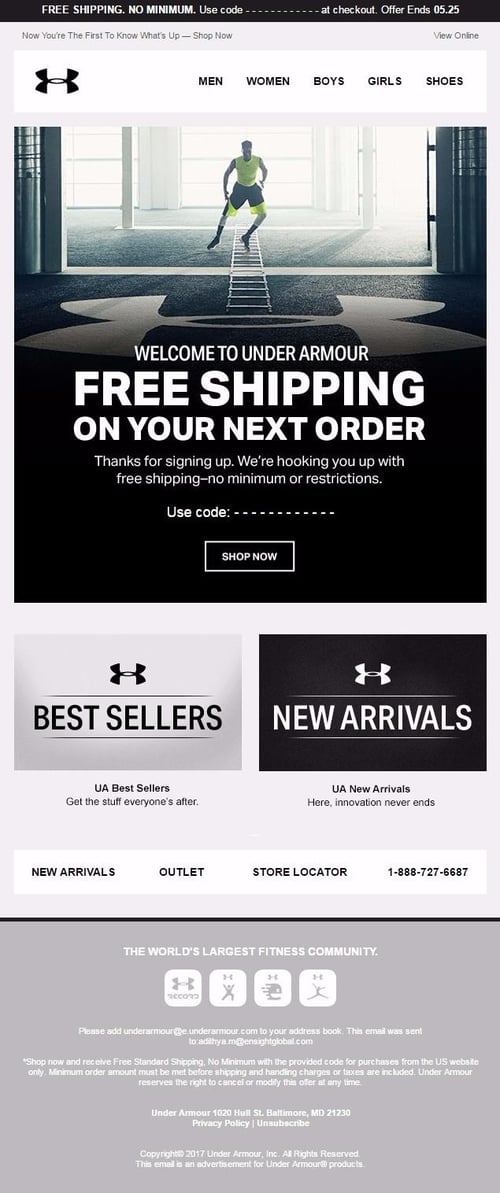 Fig: UnderArmour's Welcome email welcomes the subscribers and offers a unique code that they can use at checkout to receive a discount.

Fig: Even though this is not a welcome email, this email by Cotton:on is a good example of how wittily they have asked their subscribers to provide their date of birth.
Lead Nurturing Emails – Taking your Relationship to the Next Level
Progressing to the next stage, Lead Nurturing, is all about increasing brand awareness with your prospects and providing in-depth knowledge of the products your brand offers. You may send emails that inform your subscribers about the different brands under your umbrella. Based on their content preferences, you can send them customized information.
Also, as per your subscribers' browsing history on your website, you can provide more information about the products they browsed through. The sole goal of the lead nurturing emails should be to bring your leads to the verge of converting and make them capable enough to make the purchasing decision.
Lead nurturing emails can be about product update, a blog post on your products, an email newsletter or even new product showcase.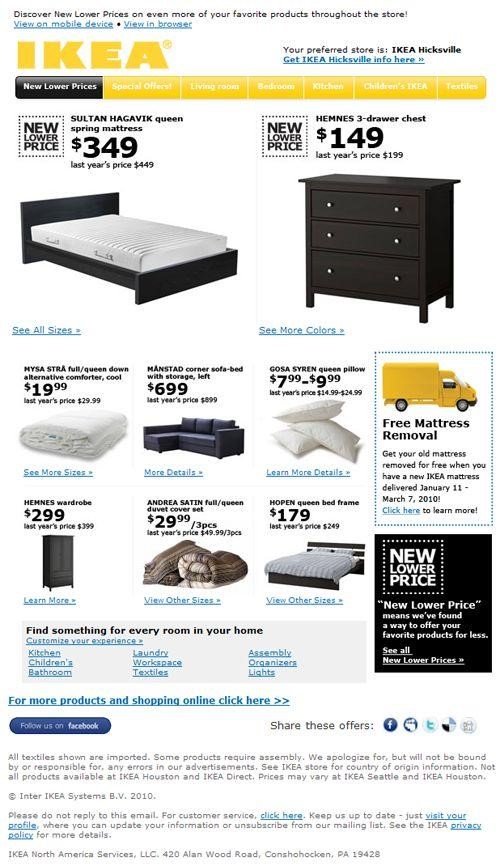 Fig: Here Ikea have done a product showcase along with a CTA to explore other sizes of the same product.
Sales Qualified Emails – Sealing the Relationship
Once your prospect is capable enough and is on the verge of making a purchase, they progress to the sales qualified stage where they need a 'gentle' push to make a purchase from your site. In this stage, the emails should be alluring enough to prompt the subscriber to click on the CTA, be redirected to the appropriate landing page, and click on 'buy'.
Sale promotion emails, seasonal discount emails, event based sale invitation emails are the general types of the emails sent during this stage. Such emails shall have a hero image featuring the product in focus in addition to a CTA button at the top, followed by a sequence of other products that are a part of the sale.
You can dabble with a minimalist email featuring a single image carrying your message along with a CTA button, but make sure to have added appropriate ALT text in case images are disabled. You can also add customer testimonial to further strengthen the resolve of your subscribers as done by Ann Taylor in their email below.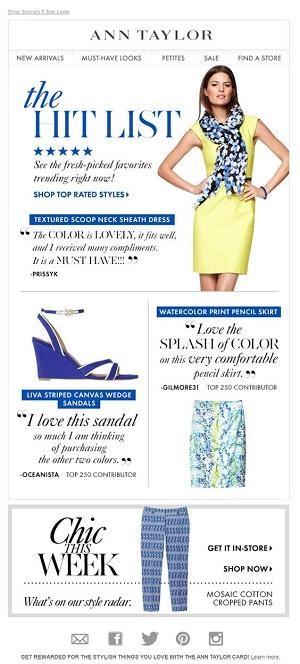 Fig: With each product, Ann Taylor has added a testimonial for building trust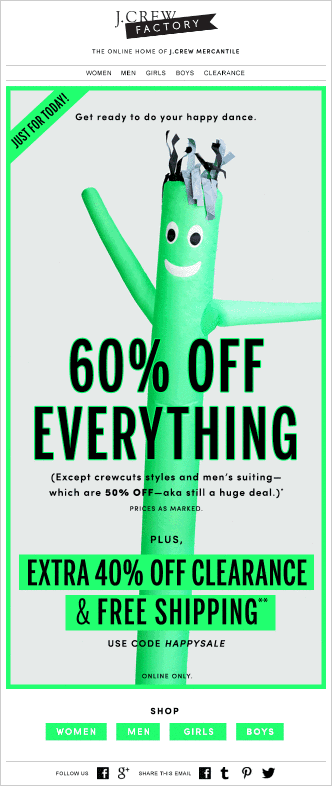 Fig: J Crew Factory has a minimalist email layout which conveys the message in a single GIF animation.
Triggered, Behavioral, and Feedback Emails – Strengthening the Relationship
Congratulations!!! Your subscriber took the plunge and is now a customer of yours. But this is not the end of the line in the customer journey. Value addition is necessary in the form of emails based on triggered events such as product purchased, order shipped, subscription renewal, and cart abandonment. Such emails are called Transactional Emails.
As per a survey conducted by MarketingSherpa for Email Marketing Benchmark Report, transactional emails tend to have an 8x higher open and engagement rate compared to traditional marketing emails. So brands have been observed to upsell, cross-sell or even suggest products right in their transactional emails.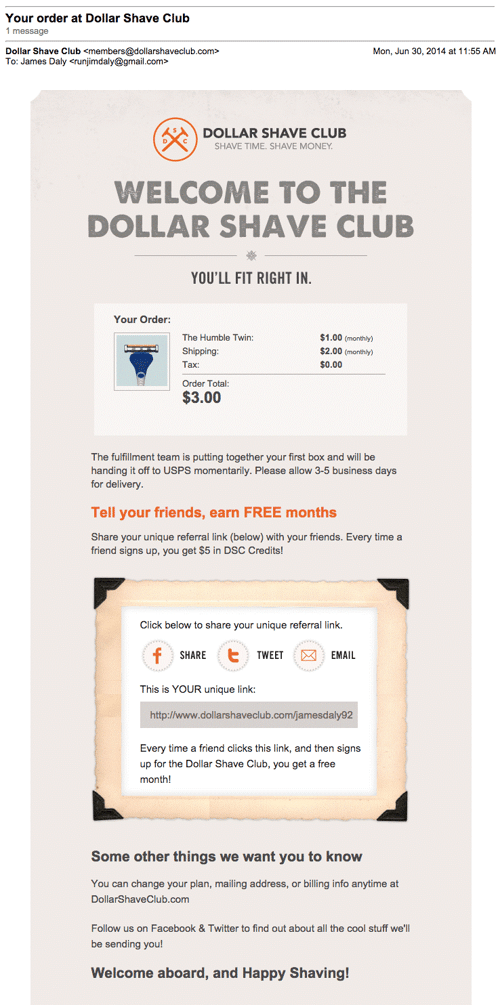 Fig: Dollar Shave Club's order confirmation email is providing complete information in itself. In addition, they have prompted their subscribers to refer in exchange for bonus months.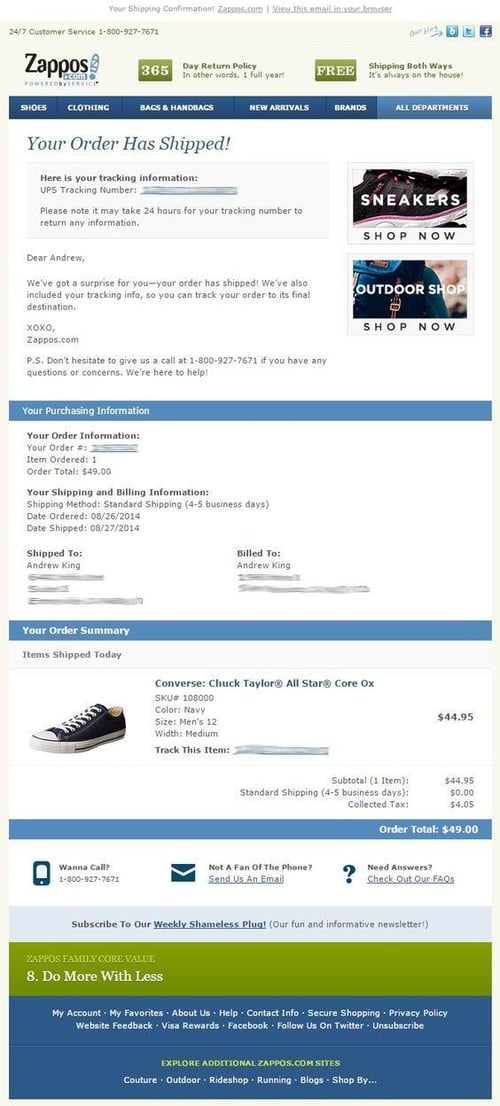 Fig: Zappos' order shipped email is a pretty straightforward one with no distractions other than the option to subscribe to their newsletter.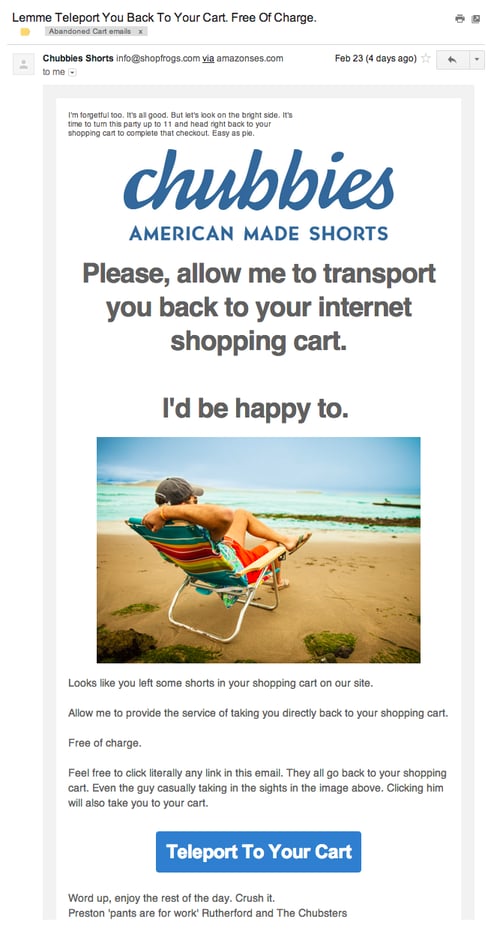 Fig: Chubbies took a humorous approach for their cart abandonment email, although an image of the product left in the cart would have been really helpful.
Once your prospect has converted into a customer, it is time to keep in constant touch with them and build their trust in your brand enough to be referred or recommended by them. To gain their loyalty, you need to keep them pampered with different behavioral emails such as:
Leave a review
Customer loyalty emails
Birthday / Anniversary emails
Product suggestion / Recommendation emails
Cart abandonment emails
Apology emails
Re-engagement cross-sell emails
Social feeds / Testimonial emails
Password reset emails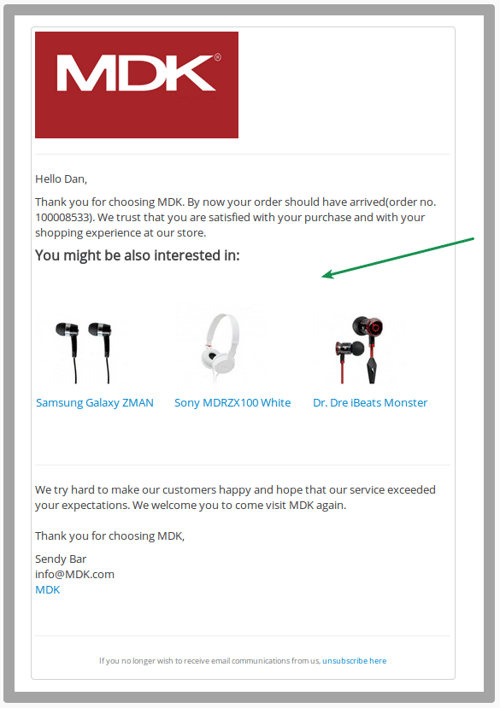 Fig: Here, based on the user's purchase, MDK have suggested similar products that the user might be interested in.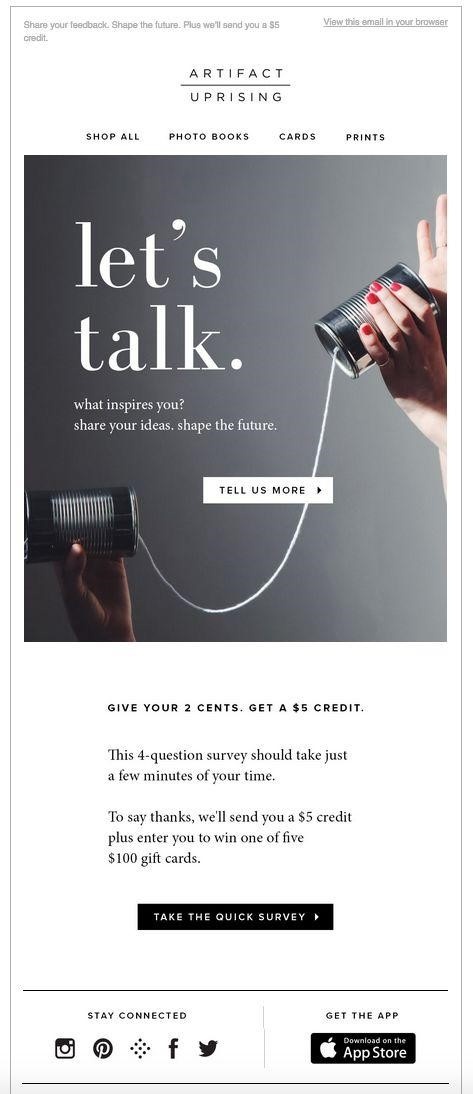 Fig: Artifact Uprising offers a gift card in exchange for user feedback from their customers.
Wrapping up
By all fair means, a great e-commerce website is a vital frontend for selling your products but it needs a strong backend of triggered and behavioral emails that engage with your customers and help build a long-lasting relationship.
Did you learn something new from the above article? State your experience regarding running an e-commerce email marketing campaign in the comments below.
---
Interested in learning more about email marketing and how to use it to drive sales effectively? Check out our free ebook below.