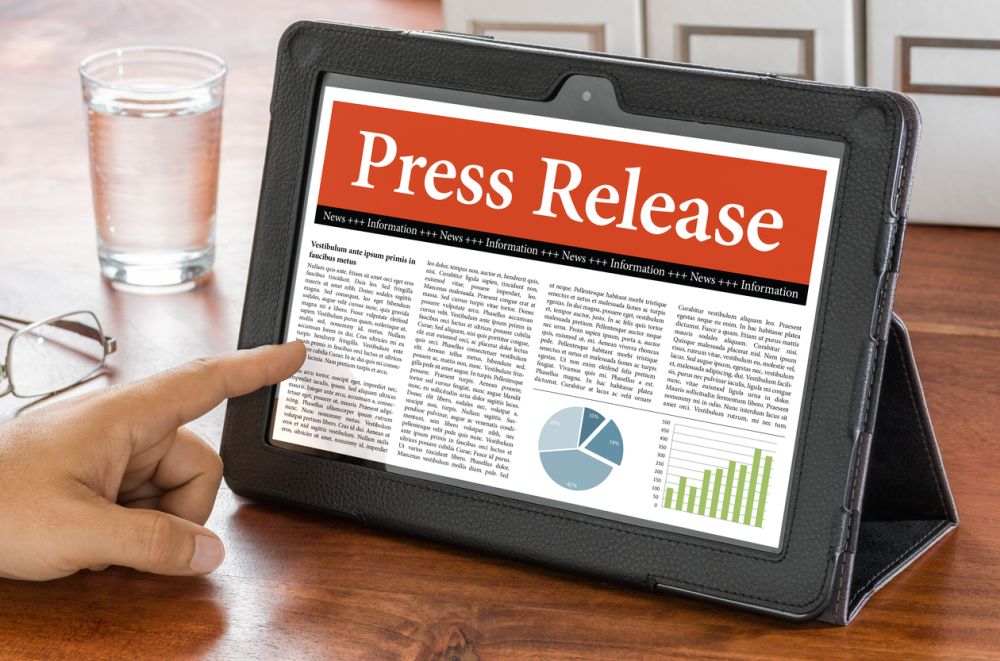 A press release can be a fantastic tool for gaining media attention and informing the public about your business. A successful press release can result in articles from media sources, additional customer interest, and more sales overall. Since press releases have been modernized to keep up with the internet, they often have SEO benefits since they're visible online. A well-written, relevant press release can have a long-lasting positive effect on your business in multiple ways.
However, it's important to write and use press releases properly. A bad press release can have an effect on your business too. If your press release is poorly thought out or incorrectly structured, at best it will be ignored. At worst, it can make your business look incompetent, unprofessional, or out of touch.
This article will explain how to write a great press release for your business. We'll also go over common mistakes you should avoid.
What Should a Press Release Accomplish?
A press release is an official announcement that informs the media of important news about your business. It should provide newsworthy information without embellishment. A press release is not an overt sales pitch, nor is it a means of publicizing small, irrelevant details about your business. Remember, your goal in writing a press release is to spur interest from the media, not to spread trivial information.
When writing a press release, you need to provide enough information for media outlets to create their own stories. Your press release must be well-written and interesting while remaining concise. Media outlets are exposed to millions of press releases every day from all types of sources, so if your press release doesn't catch their interest immediately, they'll pass it by.
You can make your press release interesting and relevant by following these guidelines.
When to Write a Press Release
Too many businesses send out press releases when they shouldn't. Let's emphasize again that the information in a press release should be newsworthy. Reporters aren't going to want to write an article about your company picnic — unless something really interesting happened that led to new ground being broken for your business.
So what types of events are worthy of a press release? This does vary depending on your business's situation, but the rule of thumb is to ask yourself whether the public would be interested.
New product releases or updates,
Rebranding,
Awards,
And business milestones are all events ripe for press releases.
If you move your business or open a new location, a press release would be an appropriate way of sharing that information. New partnerships with other businesses, new initiatives, and policy changes could also warrant a release, as long as they have a significant effect.
Even a seemingly negative event like a product recall is a great time for a press release. The media is likely to pick up on something like that, and you can use it as an opportunity to cast your business in a good light through your handling of the situation.
What to Include in Your Press Release
Every press release needs the following elements for news outlets to pick up on,
A headline,
content,
contact information,
quotable piece of text
company boilerplate
You may also need to provide a short sub-headline or summary of one or two sentences, and you may also have the opportunity to attach an image.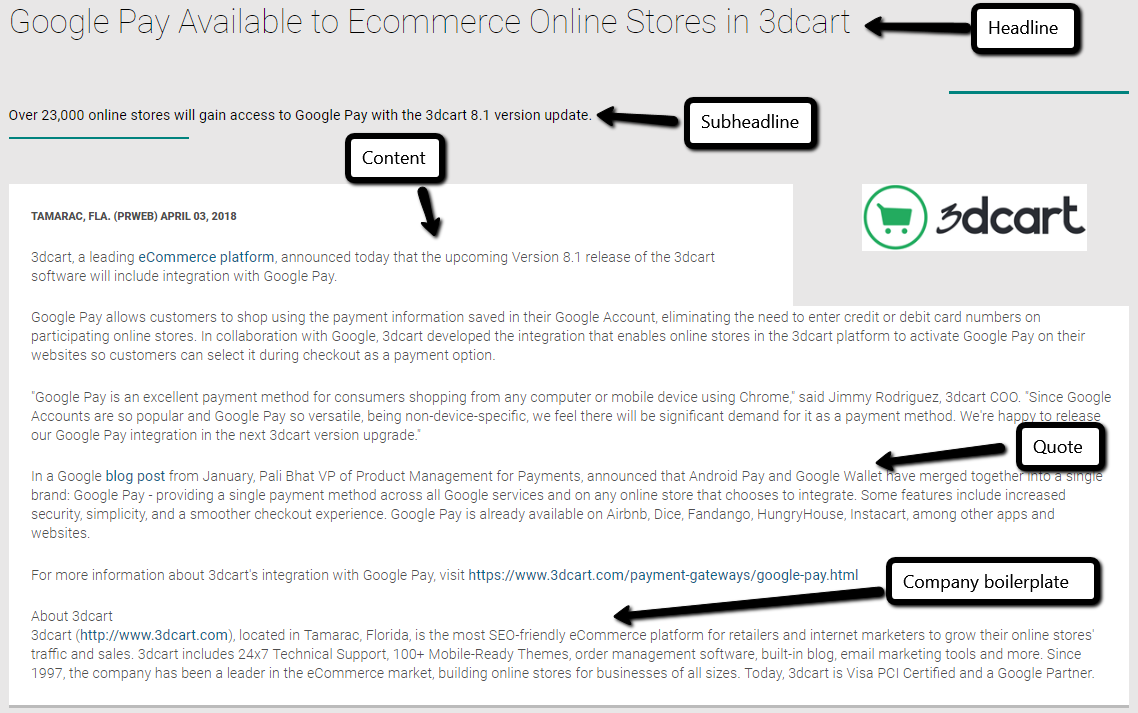 All parts of your press release, from beginning to end, should be short and to the point. This is vital for gaining and keeping the attention of readers. Don't include any extraneous information that's unrelated to the topic at hand, and keep the business and marketing jargon down to an absolute minimum.
If you're sharing your press release online, be sure to include pertinent links. Your company website, as well as the websites of any other businesses you mention, should be included. You can place a link or two for SEO purposes by linking important keywords to your website, but don't overdo this.
A truly great press release uses all the parts effectively, from the headline to the contact information.
How to Write a Headline for Your Press Release
Since you're trying to grab attention with your release, the headline is the most important part. If you're familiar with email marketing, you know the subject line will make or break your email's open rates — headlines for press releases are no different. You must capture interest immediately.
Your headline should summarize the content of the release in an interesting way, using regular language. Don't use "business-speak" or overly formal phrasing. Cision, a prominent press release distributor, suggests the use of appealing data that paints a picture, and offers the insight that alliteration is a great trick for catching the reader's eye. Just don't write clickbait — overly enthusiastic headlines that misrepresent the actual information — and never use all caps.
These 9 elements of a perfect press release headline provide a good guideline to follow.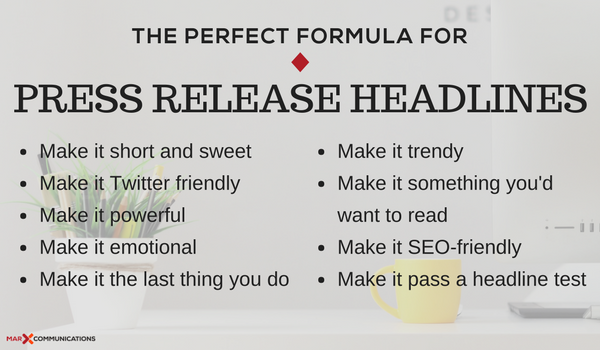 Source:
MarxCommunications.com
If your press release format includes a sub-headline or summary, don't rehash the headline. Instead, expand on it with the next most important piece of information.
How to Write Engaging Press Release Content
The content, or body, is the "meat" of the press release. This is where the actual story is written. Don't make the mistake of repeating your headline or sub-headline verbatim in the first sentence; that's just meaningless repetition. Instead, get to the point immediately.
There's no room in a press release for fluff or transparent sales pitches. Your first paragraph needs to jump right into the most important information and why it matters. Next, elaborate a bit and include relevant background information to provide additional context. This context is needed for your readers to understand why the described events are important. While your first paragraph immediately tells the reader what happened, the remaining content tells the rest of the story.
While you shouldn't include irrelevant details, don't leave anything out that is important. No one reading your press release should have to guess at parts of the story. Remember the five questions that need to be answered in all types of journalism: "who, what, when, where, and why." Make sure you cover those near the beginning of the release, then get into the "how" and other details.
Use concise language, and as you did with your headline, avoid jargon and marketing terms. Most of the best press releases manage to compress all the needed information into a single page, and even the longest should never be longer than 2 pages.
Choosing a Good Quotable for Your Press Release
The body of your press release should contain a quote from an authority related to the events you're describing. For example, the CEO or another top executive of your company is a good source. This quote should offer a personal perspective on the events in the release. This serves to help humanize your company and connect readers to the people behind your business. A quote is considered "quotable" when it offers a relevant viewpoint that reporters will want to include in their articles.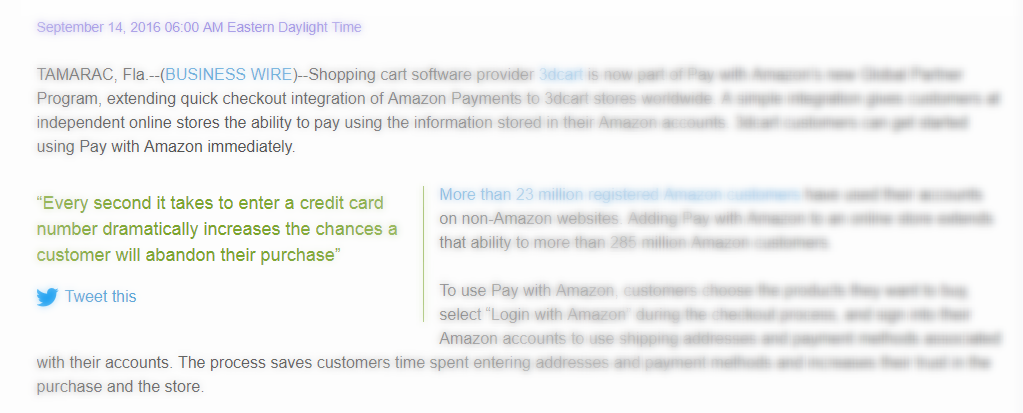 Like the rest of your press release's content, the quotable should be in plain language and steer clear of jargon. Despite the fact that people don't always speak with perfect grammar, the quotable should not include errors or filler words. It's okay to edit a bit and remove these if necessary.
The Contact Information Your Press Release Needs
Even if you write the best press release in the world, it's going to be useless if nobody can get in touch with you about it! Your contact information is vital, and should include an email address and phone number that are actively checked by someone at your business. You'll also want to provide a name, or at least a department, so interested press will know who they'll be talking to.
You should also include a link to your business's website, even if you already linked to it using a keyword for SEO purposes. Readers may not notice that link when looking for your website's URL. For best results, include the full URL written out in the text. This way, a reader will be able to find your website even if they're reading a printout of your press release.
As a supplement to your contact information, you should also include a short company summary at the end of every press release, consisting of a few sentences that explain your business and its greatest achievements. This is a good place to include your website's URL, as well as other small bites of information like the year your business was founded, your location, and more basic facts. You can use the same "boilerplate" summary on each press release until it needs to be updated with new information.
Avoiding Mistakes in Your Press Release
We've mentioned some things you need to steer clear of in your press release. Clickbait headlines, misinformation, and overly salesy language are a few of them. Business jargon is another, as is extra information that's not pertinent. The point of avoiding all these things is to keep your press release interesting and your meaning clear. Reporters simply don't have time to sift through inferior content, so make yours superior.
It's also important that your press release is well-written overall. Proper grammar is crucial. You want to make a good impression, and if your press release is riddled with spelling and grammar mistakes, your business will come across as incompetent. You can use free resources like Grammarly to help improve your writing, or even hire a professional if no one in your business has the proper skills.
We've also touched on how online press releases will persist as a piece of content on the internet. This has a few advantages, for SEO and for the fact that potential customers can read your press release if they find it during a search. But these advantages can also become disadvantages if your press release is poorly written. Customers can get a bad impression just as media reporters can, and if you go over the top trying to create relevant links for SEO, the readability of your press release will suffer just as much as it would if it was full of grammar mistakes.
A press release with these problems will backfire, causing the media to discount your business as second-rate — meaning they'll be even less likely to open future releases. One of the best ways to learn to avoid certain mistakes is to look at examples of bad press releases, which can make these problems a lot clearer. Balance this knowledge by looking at good press release examples, and you'll have a much better idea of what works and what doesn't — and why.
How to Submit Your Press Release
Once your press release is ready, it's time to send it out to the media. Just like the writing process, there's a right and wrong way to do this. Don't send out a massive email blast to every press contact you can find. You have much better options!
A press release distribution service like Cision, Newswire, or eReleases can send your press release to thousands of media outlets for a fee. Of course, you can also send press releases to specific journalists — choose a select few who cover stories similar to the content of your release, and work at building relationships with them.
You can also send your press release a day early to selected journalists, under embargo. This means they'll be forbidden to publish a story based on your release until the official date the release is distributed. Journalists appreciate being among the first to report on a story, so you'll be giving them an "inside scoop" that they may see as a chance to get ahead of competing publications.
Don't focus only on large media outlets, either. Small, local newspapers and websites may be more interested in publishing a story, especially if your business is in their area. You'll still get media coverage, and larger outlets often pick up stories from smaller ones.
Free Press Release Distribution Services
While the press release distribution services mentioned above can maximize reach and coverage, there are also free press release distribution options.
Free press release services have a limited network of media outlets and some of these don't syndicate your press release at all. But if you decide a free press release fits your budget, these are the top 5 services we recommend:
Download our Free Press Release Template
A great press release technique is a valuable skill for promoting and growing your business. Of course, there's much more to learn. To help you avoid pitfalls and get your business moving on the right foot, we're providing a free press release download in word format.
We've also put together a free ebook that walks you through the process of starting your business, building your website, and more. You can download it below.
---