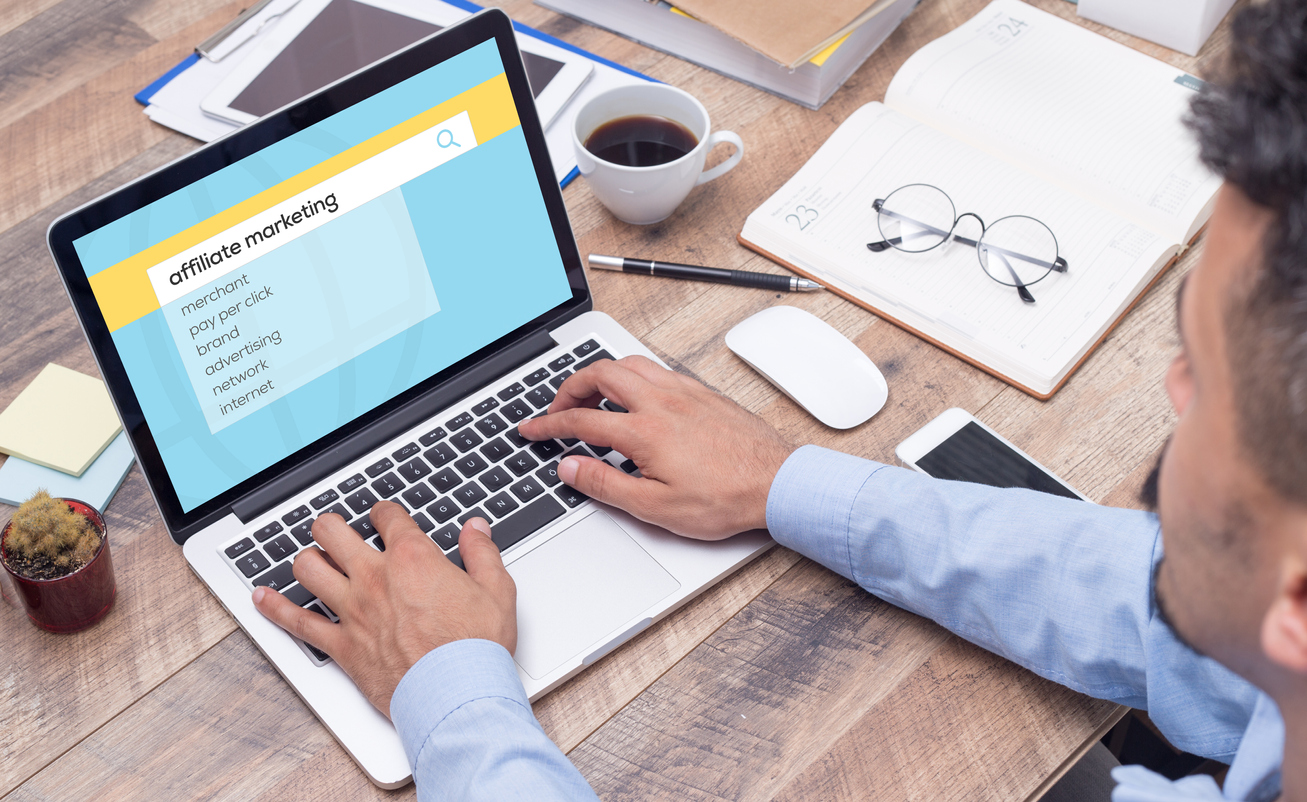 Hands down, affiliate marketing is the BEST way to earn passive income; it's become the #1 way to earn money online for most bloggers.
If you're a beginner and struggling to increase your affiliate product sales, this post is exclusively for you, where you'll discover some of the proven ways to increase your sales in 2019 and beyond.
1. Go for Less Competitive Products
If you're a beginner to affiliate marketing, don't go for highly competitive products as they have huge search volumes and competition.
For instance, if you're running a web hosting related niche site, you can't compete for Bluehost or HostGator review terms as there are already so many high-authority sites ranking for those terms already.
Most brands and high-authority sites are spending a ton of money on building backlinks, creating content and making changes to those highly competitive product pages.
Instead of going for a high volume affiliate product like Bluehost, you might want to try low search volume affiliate products with less competition.
For instance, the "Bluehost review" keyword has over 1,300,000 million results in Google search, whereas the "Hostinger review" keyword has around 340,000 views. There's a HUGE difference in competition, right?
So, you can get higher rankings when you go for less competitive affiliate products. Just make sure to pick only high quality products while searching for low competition, you don't want to promote crappy products just because they have less competition.
2. Learn How to Write Product Reviews that Sell
One of the most common reasons you might fail to make more affiliate sales from your website is that you don't take product reviews seriously.
Product reviews work great. They help you easily educate your audience about your affiliate products by also giving you a chance to increase your sales (without selling hard).
But, you should know how to write product reviews that actually sell. Here are few excellent tips that work well.
Try the product first. Firstly, try the affiliate product out for yourself. You can't write an honest review about any affiliate product without first actually using it. Most beginners think that they can write few things about their affiliate products, include affiliate links and see the money to start rolling.
That's not how affiliate marketing works. You need to first try the product for yourself for a few days. Only then can you talk about all the features, along with the pros and cons.
Don't be afraid to talk about the cons. Most beginners think that including drawbacks of an affiliate product can hurt their sales. That's not entirely true. Your website readers should trust you before they decide to buy something from you.
Here's where mentioning all the pros along with the drawbacks of a product can immediately help you gain a reader's trust. Most people will appreciate it because you're providing full information about the product without hiding anything.
Include FAQs. One of the lesser known, yet most powerful, ways to write genuine product reviews that sell is to include FAQs at the end of your reviews. If you go through our affiliate product reviews at Bloggers Passion, almost all of them are filled with FAQs section.
In the FAQ section, you can simply think about what questions your audience might have in their minds before buying a product. Include all of them and answer each one. You can mention features, alternatives, pricing, pros, cons, money back guarantees, support and so on.
3. Use Tables for Your Affiliate Products
You can use tables while creating your affiliate product reviews to help you easily showcase all the relevant information at one place.
Here's how they look like once you embed them within your posts or pages: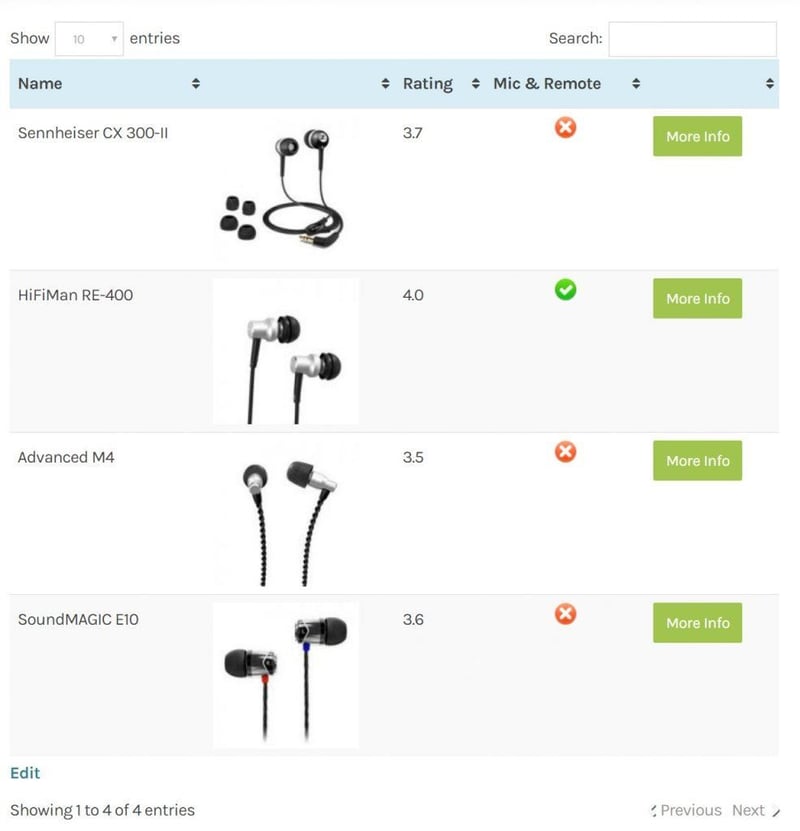 As you can see, you can easily show your products' names alongside their images, rating and call to action so you can include all of your affiliate links at one place.
It easily allows your visitors to go through various products you are mentioning on your pages. This is especially helpful for online users who are skimming through your posts and looking for direct links to buy various products you promote.
So, how can you create such tables? Do you need any coding skills? if you're using WordPress like we do at Bloggers Passion, there's several plugins available to easily create and embed tables without any coding.
These plugins include:
TablePress
Table Labs
GoPricing
Ninja Tables
We personally use TablePress because it's extremely easy to use. After installing the plugin, you can create and manage tables on the "TablePress" screen in the WordPress Dashboard where you can add tables, get shortcode for the table and use that shortcode in any of your posts or pages to display tables.
4. Reward People Who Buy from You
Incentives work like a charm.
If you're new to affiliate marketing and are looking for PROVEN ways to increase your affiliate product sales, reward people. Find out what type of incentives you can provide to those who buy using your affiliate links and come up with different ideas.
For example, if someone uses your affiliate link to buy any product you are promoting on your website, you will give them exclusive access to your private Facebook group (or email course, eBook, etc.) filled only with people who have bought it through your affiliate referral link.
So, try to figure out different ways to offer incentives and freebies to everyone who buys affiliate products through your affiliate referral links.
5. Focus More On "Teaching" About Your Products
Do you want to quickly increase your affiliate product sales?
Then, teach your audience about your affiliate products. You should create awareness and educate your target audience about the affiliate products you promote, rather than simply promoting them.
The common mistake most beginners make is they focus on selling their products instead of giving strong reasons to their target audience. If they aren't convinced by your reasons to use a product, they simply won't buy.
So, your goal should be to teach readers about your products. But, how can you do that?
There are multiple ways to teach and create awareness about your affiliate products, so let's talk about a few of them now:
Create video tutorials. One of the best ways to bring awareness to your products is creating video tutorials. Create "how to" tutorials so your audience can learn how to easily use those products for their needs. Not only does it make information easy to digest, but you'll also have options to share your affiliate links in your video meta descriptions (to increase sales).
Write in-depth reviews. You can create case studies and in-depth reviews about the products you're promoting to provide more details to your target audience. Include a ton of screenshots, use your in-depth reviews to add 10 times the content and optimize them for both searchers and your audience.
Do comparison posts. Comparison posts work like a charm, especially if you want to educate your audience by comparing two similar products. You can mention all the pros, cons and features of the similar products along with their prices. Tell them which one suits their budget needs so they can decide what they actually want.
6. Avoid Making Common Mistakes
Successful affiliate marketing is all about learning from your mistakes. Even experts make mistakes. The only difference between successful and failure affiliate marketers is that successful marketers learn from their mistakes.
If you want to increase your affiliate sales in 2019 and beyond, make sure to avoid the following mistakes:
You're treating it like a sprint instead of a marathon. Affiliate marketing is not a get rich quick scheme. You can't make thousands of affiliate sales overnight starting from scratch; it takes time. Once you focus on the long term results, you'll get good at selling. Consider affiliate marketing as a marathon, and not as a sprint, if you want to become successful.
You're not building an email list. Email marketing gives you the highest ROI. It gives you around $40 ROI for every $1 you spend on email. So, if you're not building an email list, you're making a big mistake. Focus on building a targeted email list instead of building a huge list.
You're not trying out new things. Don't focus on just social media or SEO. There are way too many channels, ranging from PPC ads to landing pages to influencer marketing to organic search traffic, for you to limit yourself to just two. Try out as many things as possible. Perform A/B tests on landing pages to see which converts better. Test your email subject lines. Find out what works.
You forget to add a disclosure: Whenever you're linking to an affiliate product, make sure to add an affiliate disclosure as it indirectly acts as a trust factor. You can include a message as simple as "This is an affiliate link, whenever you click on these affiliate links, I get a small commission without costing you anything extra."
7. Find Out What's Working Well for Your Competitors
There's so much you can learn from your competitors. Stop treating your competition as a threat; treat it as an opportunity. That's when you can be positive about affiliate marketing.
Firstly, make a list of 10 to 15 competitor websites in your niche. Use tools like SEMrush to closely analyze their website metrics, including:
Their top performing pages and posts (which are generating more organic traffic)
Their money generating pages (which are helping them make more money)
Their backlink sources
Their strengths and weaknesses
Find their paid traffic sources including PPC ads, Facebook, Twitter ads and so on to see how they gaining more traffic, leads and sales to their sites
Above all, find and carefully analyze what affiliate products your competitors are heavily promoting. If they are publishing income reports, make sure to dig into them deeper so you can get a ton of ideas on how to increase your own affiliate product sales.
Once you've put together a list of your competitor websites, try to get backlinks from their sites by using various link building tactics like guest posting, blogger outreach, broken link building, influencer outreach and so on.
The more backlinks you build to your product pages, the faster and higher rankings you can get in search engines like Google.
Final Thoughts On Increasing Your Affiliate Sales as A Beginner
Hands down, affiliate marketing is the surefire way to earn passive income online. You just need to work hard, find the right products to promote, focus on SEO and learn from your mistakes to make more affiliate sales.
Did you like the different ways to increase your affiliate product sales shared here? Do you've any questions or tips? Please share your views in the comments below.