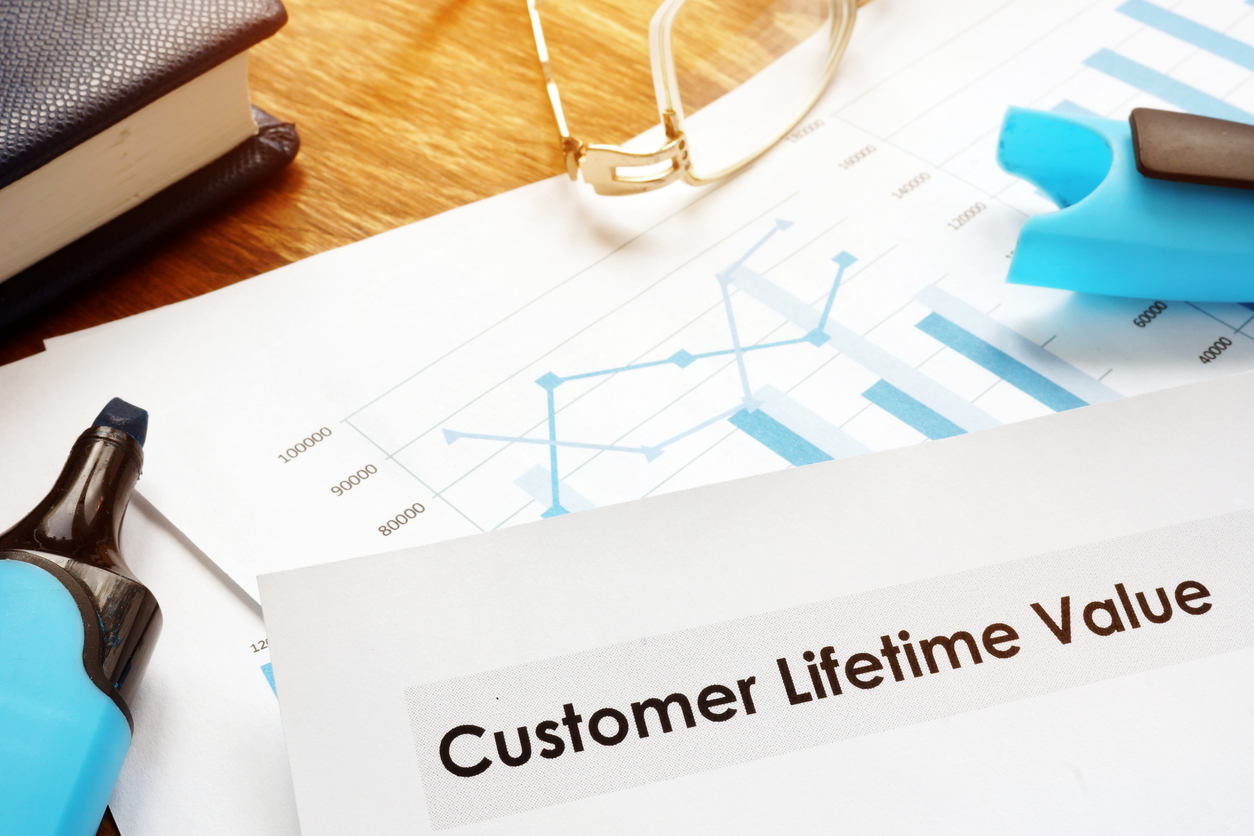 A company's lifeblood is its customers. Without them, you don't have a business, but rather an expensive and time-consuming hobby. Keeping customers happy and coming back even after they made a purchase should be each company's top priority. Yet, many businesses overlook the importance of customer retention.
Why is retaining customers so vital to a business's success?
The answer lies in a customer's lifetime value.
Today, we'll explore the ways to improve customer lifetime value.
Here's what we'll be looking at:
What is customer lifetime value?
We can define a customer's lifetime value as the amount of revenue the consumer will generate for your business throughout their customer journey.
You'll often see the metric abbreviated as "CLTV" or "CLV." We'll be using those abbreviations today.
CLTV is a measurable indicator. It can be calculated using existing customer data. It's composed of the following statistics:
Average Order Value (AOV): the average amount of the customer's orders or single-visit purchases
Purchase Frequency (PF): how often consumers place orders or purchase from your business
Estimated Customer Lifetime (ECL): a projected length of time customers remain in a business relationship with your company (you may sometimes see this as "average customer lifespan," or ACL)
Granted, figuring ECL is somewhat of a predictive guess. The churn rate of former customers can serve as a guide. You may also use an estimate based on your product or service's type, durability, accessibility, and affordability.
The customer lifetime value formula
For any given customer, we must first determine their customer value (or CV) before we can calculate their lifetime value. To do so, we can use the following formula:
AOV X PF = CV
Once we know how much they're worth as a customer, we can use this figure to calculate the lifetime value of the customer:
CV X ECL = CLTV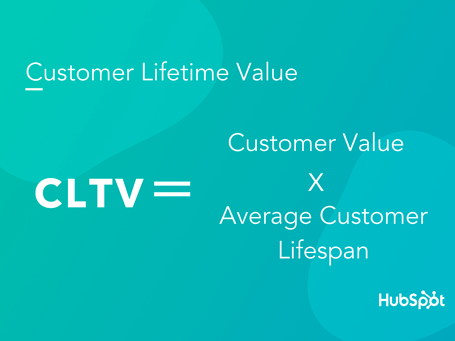 Source: HubSpot
A customer lifetime value example
Let's say you run a shop that sells clothing for babies and young children. Your average customer spends around $125 each time they buy. That gives them an AOV of $125.
Since babies and young children are growing like weeds, they often need new clothing. Your average customer makes six purchases a year with you. Their PF is 6.

Quick math calculations of $125 X 6 tell us that the customer's value is $750.

Now, suppose your customers enjoy your products and services, and they stick with you for five years until their kids outgrow your fashions and are ready to move into bigger sizes than you sell. Their ELC is 5.
$750 X 5 = $3750.
You can say that your average customer lifetime value (CLV) is $3750. Multiply this number by the number of existing customers you have, and you can get a sense of the overall profit margin for your business in the coming years.
Why is CLV so important?
Knowing the CLTV of your average customer is essential, but the most important is the impact it can have on your marketing efforts and revenue.
Here are some interesting statistics about customer retention and loyalty:
By switching your marketing focus, marketing budget, and marketing campaigns' efforts to keeping customers, you can increase profits, lower costs, and overall increase the health and longevity of your business.
Let's look at how Ducere Business School explains a customer lifetime value example using Netflix.
So with all that in mind, let's explore 10 strategies to boost your customer lifetime value.
Start strong, finish stronger: working with new customers
A customer's lifetime value can't begin until they've made a purchase. So to create a lifetime relationship with them, you have to start at the beginning of their customer journey with your business.
"Exceed your customer's expectations. If you do, they'll come back over and over. Give them what they want—and a little more." — Sam Walton.
Here are three tips for working with new customers that can help turn them into repeat customers or clients.
Tip #1: Make onboarding easy
It's human nature to find a less taxing way to accomplish a task. The same applies to our shopping experiences.
Shoppers desire simplicity, and it's none more evident than during the initial stage of the buying process.
Whether you're an eCommerce startup or an established business, try these methods to create a seamless shopping experience:
Maintain an up-to-date, uncluttered, and easy-to-use website that is mobile-optimized. Perform a user test to catch any bugs. If you own a brick-and-mortar store, keep it clean, tidy, and use signage to mark where specific items are kept.
Tutorial content, such as videos, how-to articles, and webinars, can help prospective customers learn how to order the correct products or use your checkout system.
Focus on the proposition value of your offerings right from the start. Don't leave buyers guessing as to what's in it for them if they make a purchase.
Leveraging ERP integration and automation is a fantastic way to meet the increasing demands and challenges of online shopping while cutting costs and saving time.
Make checkout a breeze. Utilizing shopping cart software will simplify and speed up the ordering process.
It is a requirement for all online businesses to accept and process credit and debit card payments. The right account provider will help you to run smooth business transactions.
Send a welcome email to new clients highlighting the services they can expect from you in the future.
Tip #2: Personalize the experience
If you've ever used Amazon, you have probably noticed the "Frequently Bought Together" recommendation that offers you one or more products to buy with the one you're considering.

Source: Amazon
Product recommendations may seem to be a cheap gimmick to simply get you to buy more, but they also profoundly impact the consumer. Regardless of whether it's their first visit or their 1000th, they are likely to glance over these add-on products at least quickly. If the goods match the buyer's needs, they will ideally end up in their cart.
Customers unfamiliar with online shopping may not realize that the product recommendations they receive are the result of a complex algorithm that uses customer data. Instead, the impression is that you have gone the extra step to suggest other possible "bundled products" to meet their needs. This indicates that you are focused on customers' care and their interests. The returning customers appreciate the suggestions as they often discover products they didn't know they needed. As with anything, the key is not to overdo it, as too many recommendations can adversely affect the customer experience.
Tip #3: Special discounts
A personalized offer, complimentary gift, or promotional code can also open the door for a profitable and long-lasting relationship with first-time buyers.
Consider the freemium model. Candy Crush is a good example. It is free to play, but you will have to dig into your pockets if you want more lives or other game boosters. That's how Candy Crush Saga made over a billion dollars in one year. For a business that creates games people enjoy for "free," that's impressive.
Consider offering a variety of sizes, prices, and features if your goods and services are not suitable for the freemium model.
Since that first sale is so much harder to make than a repeat one, anything you can do to sweeten the pot — 10% off the purchase price, free shipping, express delivery at no extra charge — ensures the consumer's trust and willingness to repeat purchases.
Growing your tribe: creating fans
Social networks have made it easier than ever for customers to share their positive shopping experiences. Studies show that 80% of people will trust a word-of-mouth recommendation over marketing messages and offers from businesses. A following of raving fans is worth its weight in gold.
Here are some suggestions for building your fan base.
Tip #4: Feature your fans in your content
Bloggers, marketers, and even ordinary people engage in some form of social media: a blog, a Facebook profile, a Twitter or Instagram account.
By featuring and shouting out to customers in that content, you can grow an amazing tribe of fans and followers and increase their CLV. This can also boost employee engagement. Make them part of the fun, too.
Soda Stream does a great job of this on their Facebook profile. They encourage customers to send in videos and photos, tell their stories, even share recipes for drinks they've created using the company's products. As a result, they've amassed almost 700,000 followers.
Imagine what even 10% of those could do for your business.
Tip #5: Focus on what your customers care about
Discussions of social and cultural issues aren't just for dinner parties or over drinks at the bar. All of us, including your customers, are impacted by them daily.
Incorporating social and cultural topics into your blog posts and social media content will help you build a loyal following of customers with similar perspectives. Those customers will then attract more like-minded individuals.
A note of caution: Sincerity is key to making this work. Today's customers tend to be wary of anything that sounds false and fake.
If you express opinions, support for, or opposition to something, you'd better be telling them the truth. Otherwise, it could all backfire and blow up in your face. You don't want to be the business with negative CLV.
Tip #6: Get your customer service game on point
Customer satisfaction plays a significant role in increasing CLV. In order to create satisfied customers, positive customer service experiences are essential.
So, one of the easiest and fastest ways to increase your CLV is to engage in excellent customer service.
The graphic below shows the results of how customers react to customer support they receive.

Source: FinancesOnline
With the majority of buyers, you've only got one to three chances to impress them with your customer service before they are gone for good. In terms of quality customer service, customers look for the following:
Omnichannel Support: text, email, phone, live chat – if you can use it to communicate with customers, go for it
24/7 Support: they want to know they can get help when they need it, whenever that might be
Knowledge Base/Resource Materials: they don't always want or need to speak with someone, so a library of educational and informative materials – blog articles, PDF guides, videos – will satisfy their needs
Tip #7: Initiate a customer loyalty program
Let's begin by saying that customer loyalty programs aren't the end-all-be-all solution to keeping customers coming back for more.
Statistics show that only 52% of customers join or use loyalty programs, no matter how beneficial they may be for the user. Another 37% say that loyalty programs and rewards campaigns are "not enough" to earn their repeat business.
That said, a loyalty program is a good idea as part of your efforts to increase CLV for your business. However, make sure you don't rely solely on this source of revenue, as many businesses do.
If you find you have a large following when it comes to loyalty you can even take it a step further and create an exclusive membership site for your most loyal customer.
Tip #8: Listen to and act on customer feedback
There is no one more knowledgeable about what your customers want and how to serve them best than they are. Therefore, it is best to pay attention to what they have to say, whether it is a complaint or a compliment.
Complaints: Ensure that you address the issue in a manner that eliminates potential problems with other customers.
Compliments: Maintain the level of service they have come to expect. Evidently, they are pleased with your work. In spite of this, never stop striving to do your best.
Of course, there will always be the cranky types who are never pleased no matter what you do. In the face of adversity or tough competition, your loyal fans act as a counterbalance.
However, on the whole, your customers will provide you with an honest assessment of your product and services. So make sure you are prepared to act on and respond to it. Otherwise, they may turn into disinterested and passive customers.
Keep track of all customer feedback by being active across all communication channels. Obtain social listening tools and monitor customers' product reviews, mentions, and comments on your social media platforms. Reviews are powerful because they build and sustain your online reputation. The world-wide-web is a marketplace where a good reputation is everything.
Re-engaging with lapsed customers: winning them back
According to a U.S. News and World Report Study, businesses lose, on average, 15% of their existing customers every year for a variety of reasons.
The good news is that there are ways to re-engage lost customers and increase their CLV for your business. Here are two of the easiest and most personal.
Tip #9: Targeted messages and offers
Sending your idled customers targeted messages via email, text, and even snail mail is almost guaranteed to put you back on their radar. Doing so from the beginning of your relationship can help keep you relevant and decrease churn altogether.
There are many reasons to send targeted messages and offers. Here are a few:
Birthdays
"Anniversary" with your business
Special offer on previously purchased products or related products
Customer referral opportunities
A new program, product, or promotion you've got going
Sending a thank-you note is also an excellent marketing method of encouraging the customer to leave a review. Send them a brief email asking how they're doing, how the product or service served them, and include a link to your site. If they no longer wish to receive your emails, you can offer them the option to unsubscribe.
Tip #10: Create a Customer Advisory Board
A Customer Advisory Board (CAB) is the ultimate tool in listening to your customer feedback. Customer Advisory Boards are made up of individuals from all your customer segments – devoted fans, new customers, and yes, even idled, lapsed customers.
Set up regular meetings so you can hear their honest opinions on everything from prices to products to customer service.
Inviting folks who may be disinterested or disheartened with your business may seem like a bad idea, but in fact, it's a practical approach to get lapsed customers back into the fold.
In this regard, focusing on the voice of the customer can make a difference in what they perceive as a "bad" business not worth their time. What you can learn about your business and how you conduct it can be priceless and profitable.
Summing it all up: getting the most out of your customer lifetime value
The customer lifetime value model can help your business grow and improve in many ways. From cutting customer acquisition costs to saving money on marketing and sales campaigns, it puts more cash in your business's wallet.
There are three criteria you need to assess the CLV model in practice:
Collecting, saving, and organizing the customer data you need to calculate CLTV
A scalable, flexible business platform that can handle the growth – larger eCommerce store owners should explore what our enterprise eCommerce platform can do for you
Frequency of customers making purchases
With those three factors in place and a little math, you'll be well on your way. Putting into practice some of the tips we have given you today will also help.