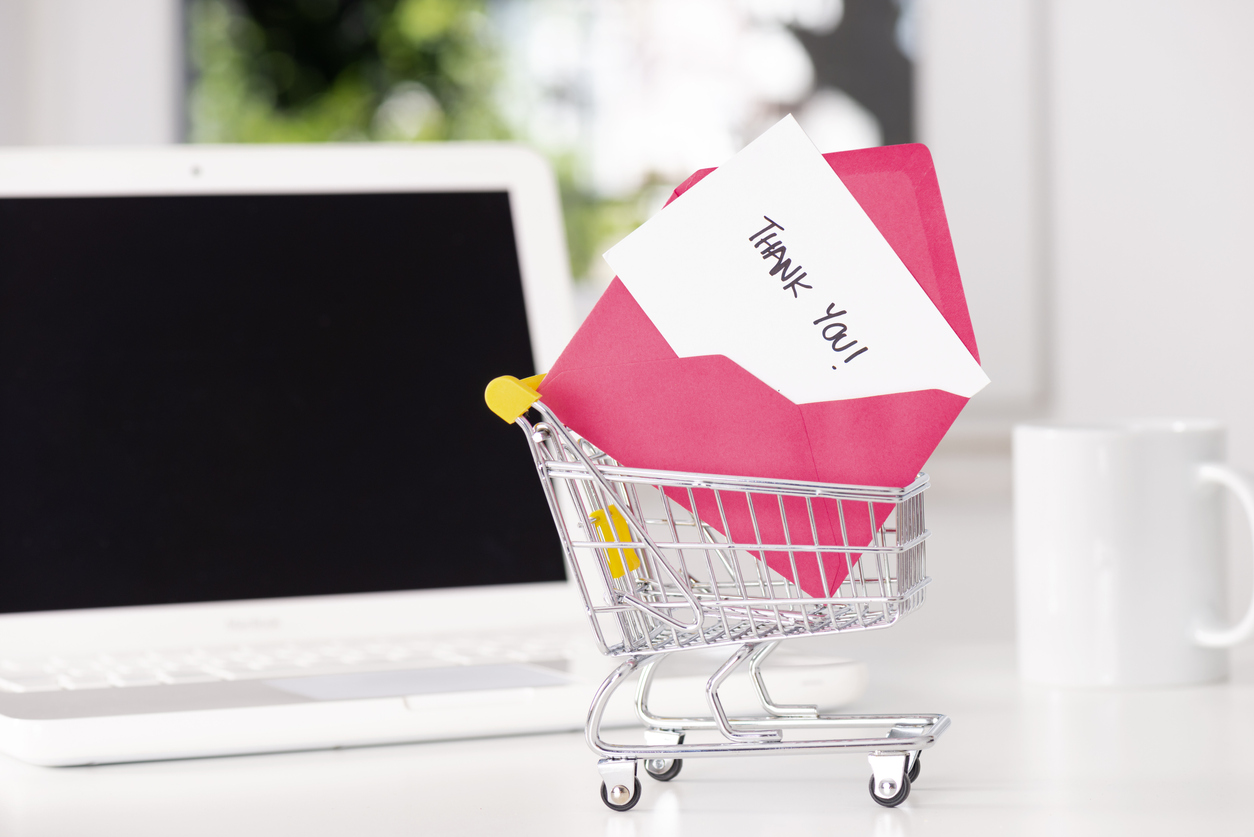 Are you wondering why thank you emails work better than regular emails? This happens because customers expect to hear from a brand once they have purchased, subscribed or engaged with it in some way.
According to Klaviyo, thank you emails have an average open rate of 67% along with a CTR of 6.3%? And if that's not enough, you can even receive revenue of $0.55 per recipient with every thank you email you send.
Simply put, thank you emails are a great way to establish an interaction between a customer and a business. As a result, it boosts brand loyalty too. So, if you wish to pave new avenues of success, it is high time you leverage thank you emails. However, before you jump in this bandwagon, you must know about its various benefits.
Benefits of Thank You Emails
Reflects Politeness
As mentioned already, a thank you email facilitates two-way communication with your customer base. Once they show interest in your brand and you reciprocate the same, it makes you appear polite and gracious as a business in front of your subscribers.
Makes Your Brand Trustworthy and Credible
A thank you email is an automated transactional message which is sent to a customer based on their behavior or action they took. To put it in other words, it is sent when the customers expect it. As a result, it increases your trust and credibility in the eyes of customers.
Turns Your Customers Into Valuable Assets
A thank you email gives you the chance to let your customer know how much you value them. A discount coupon attached with the thank you email won't just entice them to come back to your brand, but also transform them into your loyal customers.
Builds Long-Lasting Relationships
You can extract the benefits of thank you emails by inviting your customers to get involved in various activities. From following you on social media channels to writing a testimonial or review, you can ask them to do it all. This, in turn, will help you build a long-lasting relationship with your customer base.
These are few of the many benefits a thank you email can offer you. Now, let's move forward and look at the various thank you email examples that will inspire you to make the most out of it.
Top 13 Thank You Email Examples
1. Thank You Email After Sign-Up
Also known as the welcome email, this email is sent right after a customer registers for your product or services or engages with your brand. Therefore, it is critical to draft this email in a way that gives your customers a clear idea about your business, what they should expect from you, and how they are going to benefit from you. This, in turn, will increase the overall engagement level of your customers. See this impeccable email template from Airtable for the same.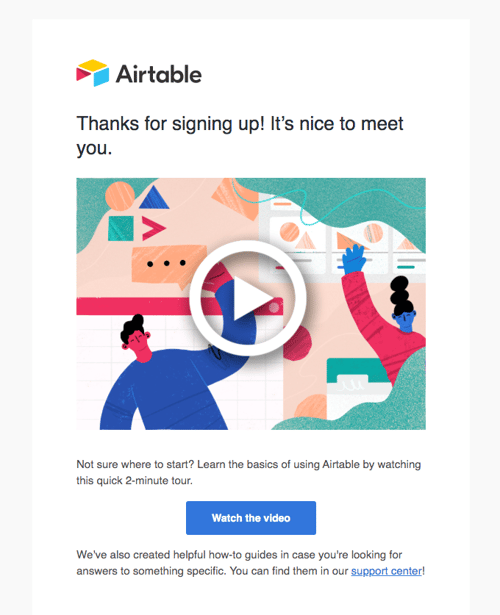 Source: ReallyGoodEmails
Moreover, with welcome emails having an open rate of 91.43%, nailing it will give you a surefire way to reach your customers better.
2. Thank You Email After Registration
If you are holding an event such as a conference, an open class, a presentation or a workshop, you can make your registered subscribers a part of your team and invite them through the process. In short, do not keep your subscribers waiting in confusion whether they have successfully registered or not. Send them an email the moment they register. See how Pepperdine University has kept it simple, yet precise.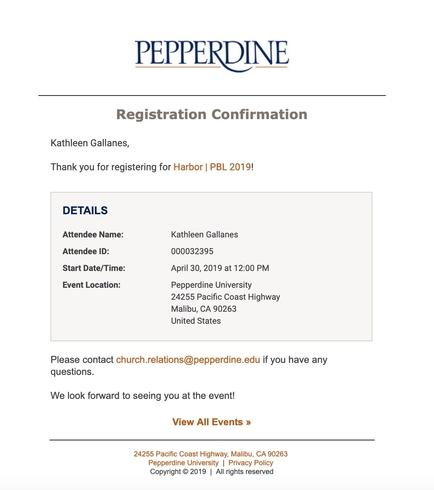 Source: Pepperdine
You can also go a step further and funnel down the registrants through an automated email series. It can work as a reminder email of the event where you can entice them with such contents such as a sneak peek of the event and the preparations going on.
3. Holiday-Inspired Thank You Email
There are several special days that we celebrate throughout the year. Be it Christmas or Mother's Day, you can send a newsletter with a thank you note depending upon your business personality and brand values. Take a look at how Fracture makes use of this in its Thanksgiving email.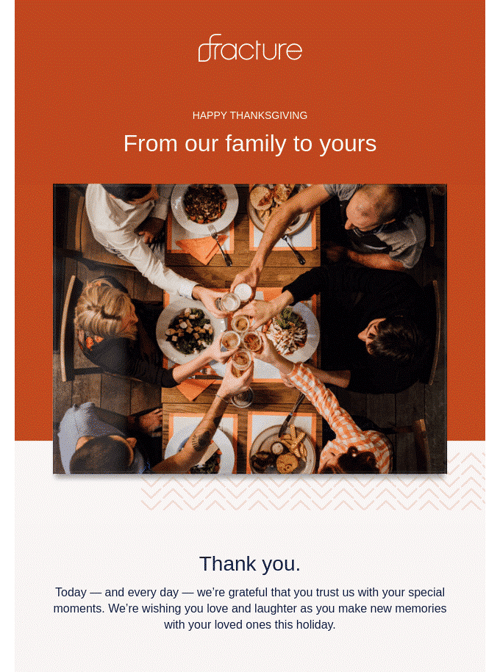 Source: ReallyGoodEmails
4. Thank You Email for a Referral
Word of mouth promotion isn't only cost-effective, but it's also a powerful method to promote a business. So, make sure you reward the users who referred you to their friends, family and colleagues. As an expression of gratitude, you can incentivize them with a discount coupon code or freebies like Dropbox does.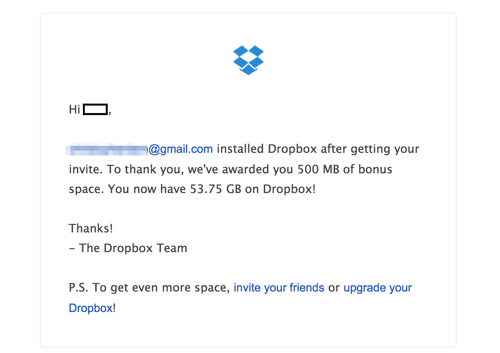 5. Thank You Email for Purchasing
This is a thank you email that must reach the customer the moment they purchase something from your brand. Remember, your competitors are doing everything they can to grow their business. So, in order to stay ahead in the race, it is critical to be the one which drives changes and not the one who gets driven by change. This is where email automation can come in handy and help you easily schedule such emails. See how Warby Parker does it like a pro in its HTML email.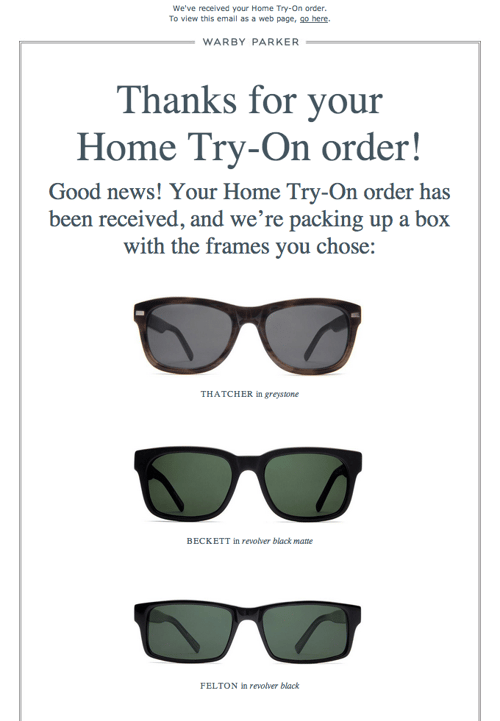 Source: ReallyGoodEmails
6. Thank You Email for Loyalty at Milestones
It is important to share your gratitude with your customers on every occasion. Make sure you make your subscribers a part of celebrations like your first anniversary or milestone of reaching 1,000 customers, for example. It wouldn't only help you build a relationship with them but also increase their brand loyalty. Take some inspiration from Mack Weldon's birthday celebration email.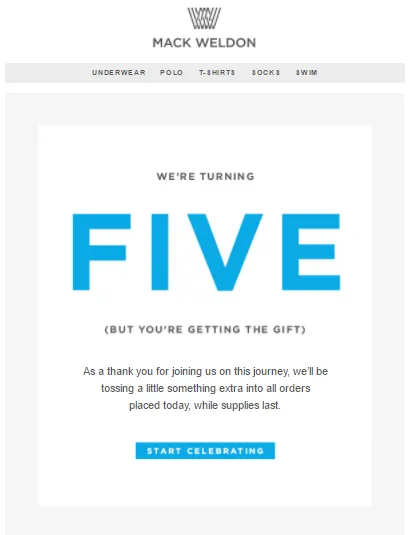 7. Thank You Email for Choosing Your Brand
Competition in every business is tough. With so many alternatives and variables around, if a customer chooses your brand over others, sending a thank you email is a good idea to show gratitude towards them. However, make sure you include a benefit or offer while sending such emails. It will ensure that your customers don't consider other options and keep their trust in your brand intact. In this context, look at the strategy adopted by Southwest.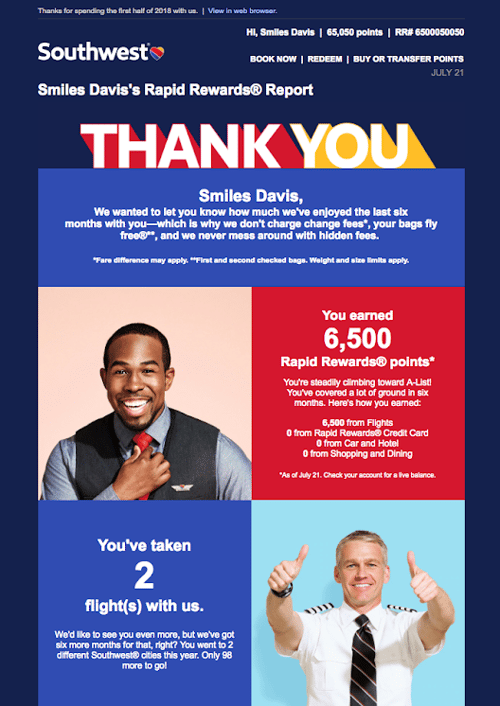 Source: ReallyGoodEmails
8. Thank You Email for Attending an Event
Do not forget to thank your subscribers for taking time out of their day to participating in an event you organized. Also, make it a point to let them know that you would wish to see them next time as well. Here's how Salesforce thanked its customers for attending its conference in Chicago.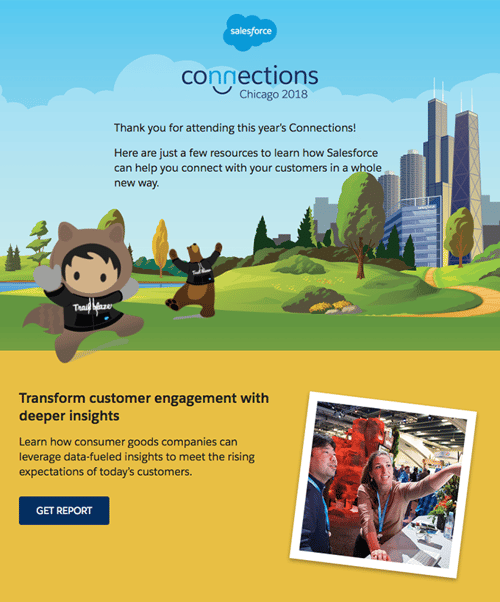 Source: ReallyGoodEmails
9. Thank You Email for a Successful Payment
You must send out a payment confirmation email the moment a customer completes the online payment with your business. It will assure them that their payment is done. However, instead of sending it as a confirmation email, send it as a thank you for the payment email. Do it the way Nike does.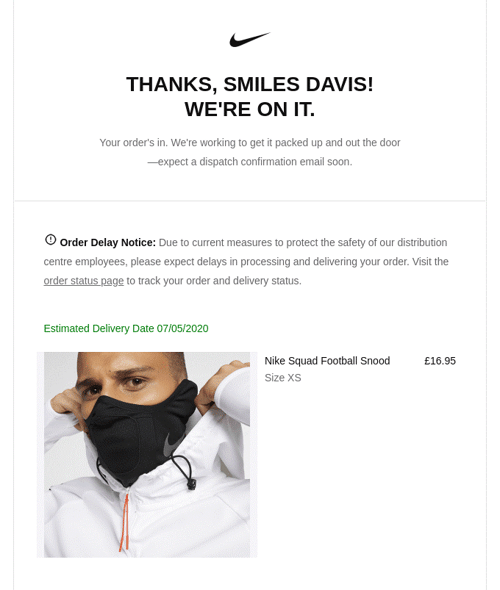 Source: ReallyGoodEmails
This will make your customers feel special and relieve them of any apprehension.
10. Thank You Email After Product Registration
You can reach out to your customers when they purchase a product that needs to be registered with your brand, such as a smartwatch or an activity tracker. Connecting such products with your database is important. It becomes more critical if your promotions and other activities depend on it too. Here's how Garmin does it.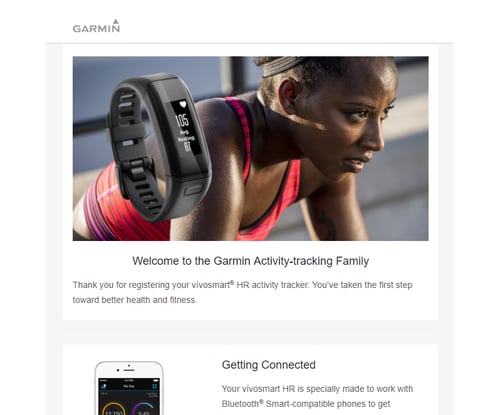 11. Thank You Email Sent After a Contribution
If your brand depends on user-generated content, you must keep your subscribers motivated and inspired. You can make use of automated thank you emails to induce positivity among your customer base. According to the classical conditioning theory, when you applaud someone for their behavior, the chances of that behavior recurring becomes higher. So, you see, rewarding positive customer behavior can encourage its repetition, thereby helping you have a dedicated customer base throughout your business journey. Take a look at Tripadvisor's unique approach to this.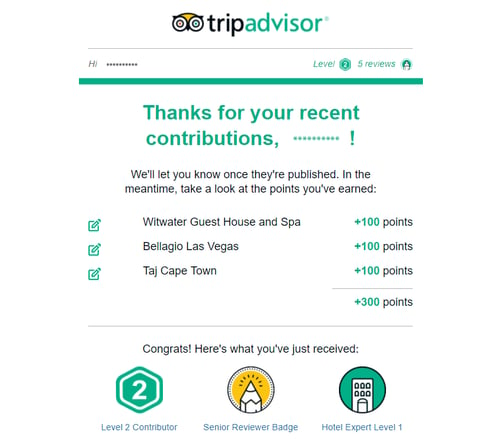 12. Thank You Email for Visiting the Site
This is a unique approach to sending a cart abandonment email. Here, instead of sending a typical "you left something in the cart" email, a brand sends a "thank you for stopping by" email. It works wonders in catching the attention of the potential customer and increases their chance of completing the purchase. Here's how CampSaver does it.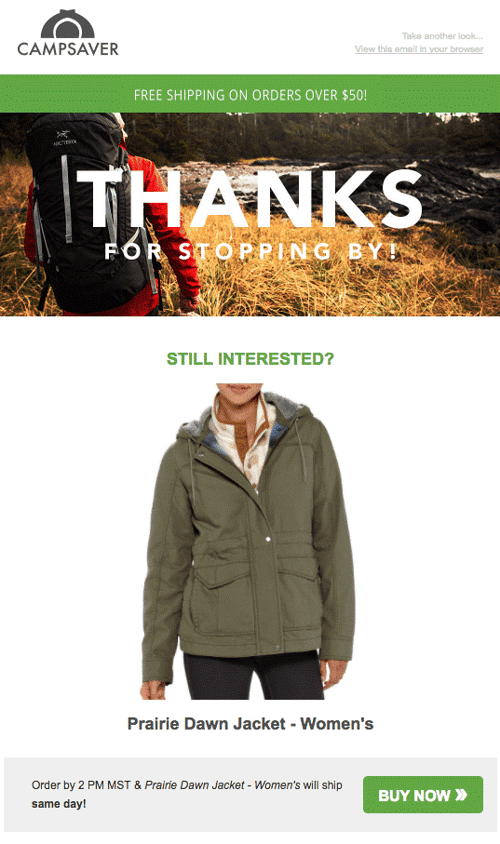 13. Thank You Email After a Donation
If your brand runs a donation program or a food drive, you must thank your subscribers and customers who participated in it and made a difference with their efforts. This would motivate your subscribers to actively participate the next time too. Here's how Bombas thanks its customers for their donations.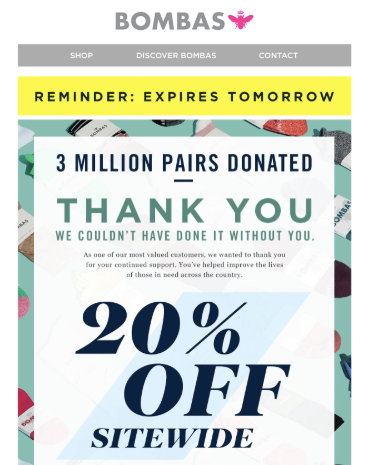 Wrapping Up
A simple thank you email goes a long way in making your customers feel valued and recognized. Remember, showing gratitude is the first thing that we learn in childhood. So, it wouldn't be wrong to say that saying and receiving a thank you is wired in our brains.
Therefore, it makes sense to incorporate it in your business as well. Start by including the thank you emails mentioned above in your brand communication and see how it transforms your relationship with your customer base for good.