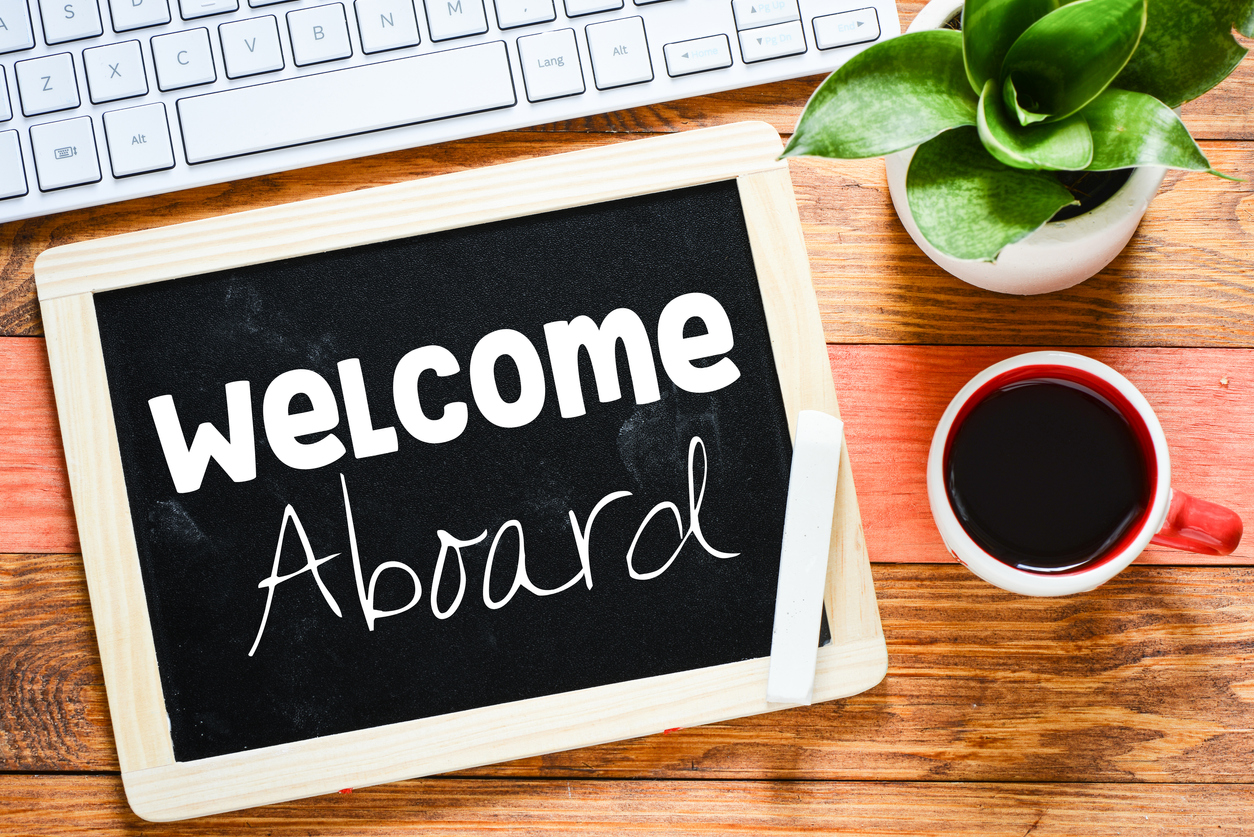 If you've placed opt-in forms on your website and the subscribers are rolling in, congratulations!
But there's more work to be done — to really use your email list to your advantage, you need to build strong relationships with your new subscribers.
A solid relationship starts with a welcome email: an email that greets, congratulates or guides your new lead's expectations.
This is an opportunity to showcase yourself and establish the tone for the relationship, so you'll bear fruits if you spend time on crafting thoughtful, well-designed welcome emails.
To help you, we're going to discuss 5 welcome email practices that will positively affect your conversion rates. Then we're going to show you examples of exceptional welcome emails that'll inspire your future efforts.
Positive Welcome Email Practices
1. Send a Welcome Email!
You're probably thinking 'duh' at this point. But the fact is new and small businesses tend to overlook welcome emails and their importance. Welcome emails are really beneficial for your business.
First up, in comparison to other promotional emails:
Welcome emails on average generate 320% more revenue.
They have an 86% higher open rate, and a whopping 196% higher click rate!
Failing to send a prompt welcome email means you risk losing important opportunities to sell.
As far as the timing of welcome emails is concerned, there are two schools of thought. One suggests sending an email immediately after a subscription, while the other promotes a delayed welcome email.
Reasons for Sending Welcome Emails Instantly
When a subscriber has just given you their email address, they are at peak engagement. At this moment, your lead is hot and they want to hear from you as long as it's related to the reason why they signed up in the first place. Use this opportunity to strike while the iron is hot.
Reasons for Sending a Timed Welcome Email
Sending an email instantly may be perceived as automated and dissuades the subscriber due to the apparent lack of human touch. If they see the email as a cold attempt to grab their dollars, the welcome email might have the opposite effect.
You can either personalize welcome emails as much as possible or wait a few hours after someone subscribes to send them a welcome email.
To decide when you want to send your welcome email, you'll have to study your target customers and test to find out which method works best for you.
2. Create Click-Worthy Subject Lines
Even if welcome emails have a high open rate, you can't solely count on the subscriber's primed interest to get them to click. You need an appealing subject line to get them to open your email.
If you don't intend on selling something with your first email, and just want to lay stepping-stones for a relationship, a simple 'Hello and Welcome' may suffice. Big brands like Amazon and Airbnb tend to use such subject lines for their welcome emails.
If you have a SaaS product or a subscriber requires clear next steps, you can go with phrases like "What's next?" or "Welcome on board, here's what to expect." You can even go with a call to action as the subject line so subscribers know, even without clicking, what their options are. In such cases, you can go with phrases like "Get started with XYZ" or "See what you can do with XYZ."
Avoid using words like "free," "help," "% off," "perfect," "deal," "wonderful," "report," "webinar" and other similar words. This is a welcome email, so it's best not to get explicitly sales-y with your approach.
3. Follow Through with Your Promises
When a user gave up their email address to you, they did it in exchange for something of value to them. Either through an opt-in form or some other form of communication, you promised them a discount, PDF, cheat sheet, checklist or a giveaway (among other lead magnets).
Now deliver on that promise when you welcome them. If you opt not to attach the lead magnet with your email, give them a link or tell them in the email that they'll receive another email with their promised goodies.
4. Tweak Your Copy for Best Results
The tone and message of your email will depend on what sort of brand you are, and the reason why people signed up for your mailing list.
If you're a dog products brand but your tone is stiff and high-brow, rather than fun and casual, people may not trust you. It's important to speak your subscribers' language.
As far as the content itself is concerned, here are a few good things to include:
Top 3 picks and a note from the editor if you're a blog/magazine
Bestselling items in a category if you're an eCommerce brand
Quick tips on getting started if you're a SaaS business
To really engage them, you can ask them a question at the end of your email – something that stimulates and relates to your reader. You can also add ending notes which let your readers know what they can expect in future emails.
5. Add Clear Call-To-Action Buttons
Try to capitalize on the fresh interest a subscriber has when they sign up. You can use welcome emails to direct them exactly where you want.
Of course, a call-to-action doesn't have to be a full-blown sales plea. Sometimes simple and clear phrases will get the job done. You can employ phrases like "join us today," "explore more," "discover your type" etc. to guide them to landing pages that match the reason why they signed up.
Another good practice is to ask for a subscription confirmation in your welcome email, which is known as a double opt-in practice. By asking to "confirm your subscription" or "click here to join us," you are making sure the people that sign up are actually interested. This way, not only do you get qualified leads, but your unsubscribe rate stays down while your engagement rate stays healthy.
Whatever choice of CTA you decide to stick with, just make sure that, when people actually click, they are taken to a dedicated landing page that is easy to read and offers opportunities to navigate to other pages.
Great Welcome Email Examples from Around the Web
Now that you have a firm understanding of what makes a good welcome email, here are a few examples to learn from to inspire you in creating welcome emails.
Email #1: Discover Marriot Bonvoy
Marriot Bonvoy is a rewards program by the Marriot Hotels Group where, by signing up, you receive benefits including better rates, free WIFI, and easier check-ins. Once you sign up, this is the email you receive: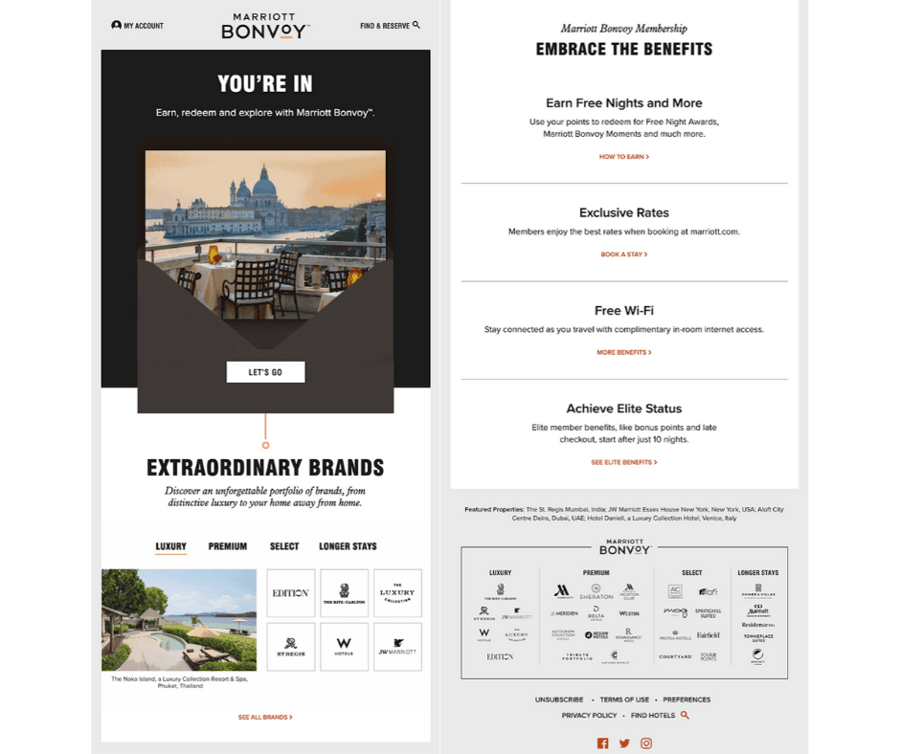 You're immediately greeted by a simple, yet bold and clear headline saying "you're in." They're letting you know from the get-go that you're a part of their brand now.
The sub-headline re-iterates the benefits of signing up. This reinforces Marriot's promise and also reminds the subscriber why they signed up (in case they check their email after a week?)
The rest of the email basically reiterates the benefits of signing up one by one, and after each benefit the email provides a call-to-action.
Email #2: Barebones Welcome Email
Barebones is an outdoor cooking brand that focuses on nature and communal cooking. They create products like cast irons, grills, coolers and woodsman tools among other things. Overall, they have a minimalist theme.
If you sign up, this is the welcome email you receive: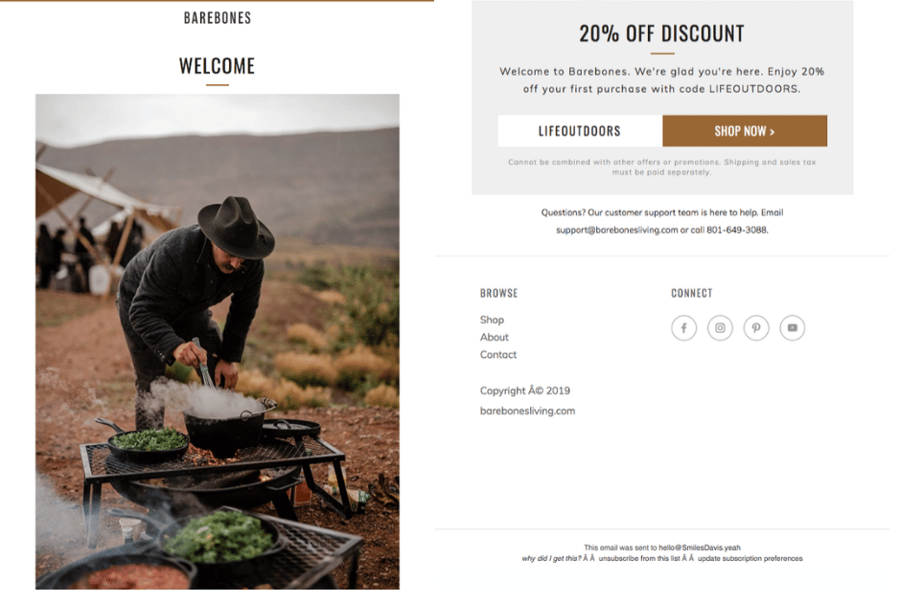 True to their minimalist tone, the email is very short, with no fluff and a minimal (but essential) message.
You're greeted by a simple welcome. The following graphic gives you a visual tone of the brand, and the next thing to entice you to visit their website is a straight-up 20% discount just for signing up.
They tell you they're glad you joined them, and then ask you to visit their website with a "shop now" button.
Barebones manages to pull off an impactful message with only essential content; that's what makes this email so wonderful.
Email #3: Welcome to Headspace
Headspace is a meditation app that offers multiple courses to help you deal with a myriad of everyday life struggles and aspirations. They are always suggestive and never assertive in their tone, leaving room for the user to come to their own understanding of the practice.
When you first sign up for Headspace, this is the email you receive: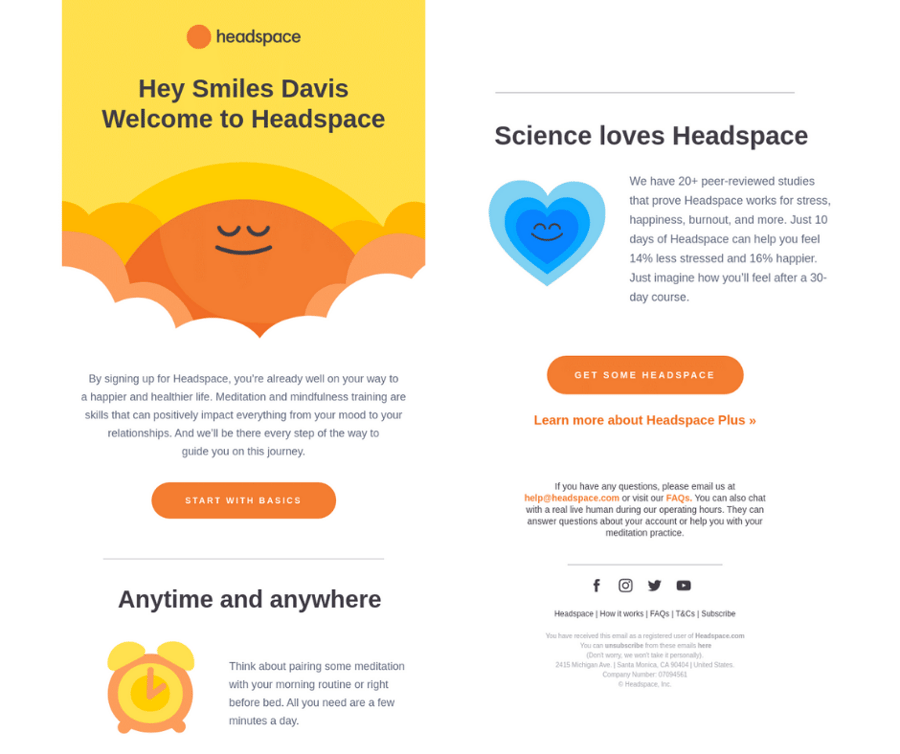 Right away, you're greeted by a warm and calming image header that matches the soothing tone of their brand. In contrast to the previous examples, Headspace takes the time to explain what their product can do for you.
This is a good practice for such products because a newbie is mostly unfamiliar with the world of meditation. They take the time to outline the benefits of meditation.
They are also aware that a lot of people need convincing before they start the practice, so they've included a section that explains why "Science loves Headspace." This gives their product more credibility and makes the user more likely to click the following CTA.
This email wins on its basis of knowing how a new subscriber feels when they sign up for their product.
Wrapping Up
If you follow these tips on how to compose better welcome emails, you're sure to witness a rise in your conversion rates and collect better leads.
The best part is that a lot of these practices are also applicable to other types of emails, so not only will you be better at sending welcome emails, but your complete email marketing content can benefit from these tips.
Do you consciously apply any of these tips yourself? Are there other considerations you pay attention to in welcome emails? Let us know in the comments below.