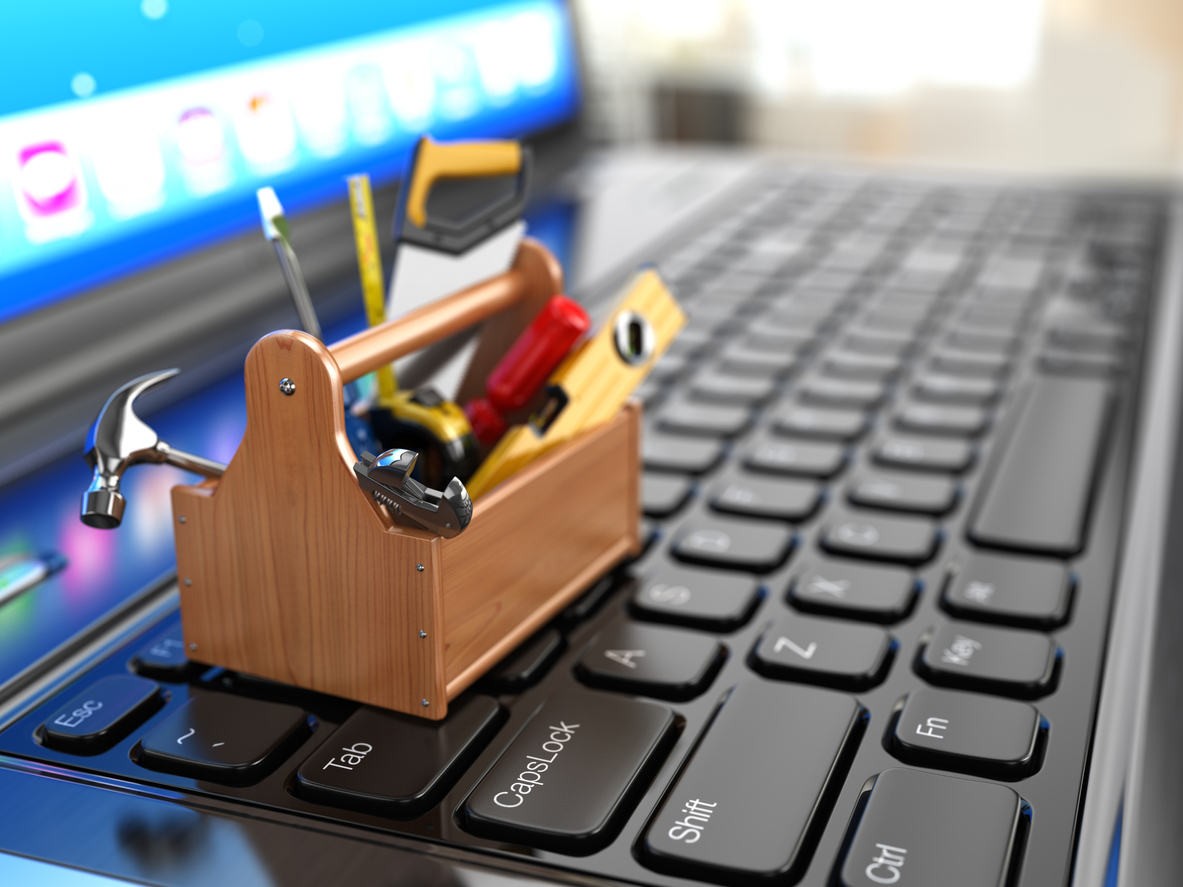 The eCommerce industry is flourishing. New methods, new trends, new ideas. Huge opportunities to drive sales growth.
According to Statista, the global eCommerce market is projected to grow sales to $5.4 trillion in 2022. More to it, even the latest print on demand eCommerce stats prove the incredible growth of the eCommerce market. Whether you are interested in setting up a new eCommerce business from scratch or looking for new ways to blow up your sales, you can't do everything under the sun to manage your business.
Running an online store requires an effective customer journey map, a great consumer experience strategy, and engaging communication. 9 out of 10 digital marketers use more than one MarTech tool on a regular basis to automate their marketing tasks. Moreover, eCommerce site owners see massive growth with the right tools.
So, if you want to drive serious sales growth, you can take advantage of using one of these ten great eCommerce tools to open, manage, and grow your business in 2021.
Top 10 eCommerce Tools to Grow Your Business
In this article, I would like to focus on newer tools that can complement or improve on what you are likely already using.
All of these eCommerce tools are different. Some tools are better suited to ace your marketing strategy, while others can optimize and improve your conversions. Some of these tools include free trials, so you can easily test its best features to make informed decisions.
Let's dive in.
1. SE Ranking: Run a Detailed SEO Analysis of Your eCommerce Website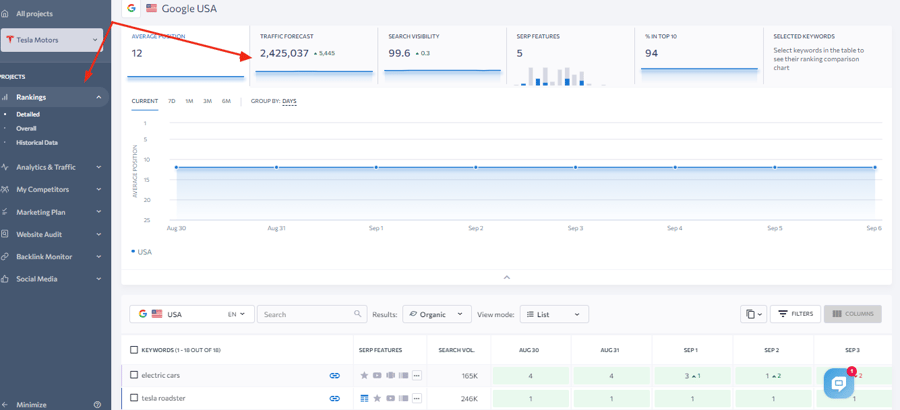 SE Ranking helps you dominate your eCommerce industry with a robust suite of SEO tools that manage the loads of data you deal with. It tracks tons of keywords in different locations, audits your website based on key parameters, creates effective ads and user-focused content to drive more sales, and learns about your competitors in their PPC ad and organic SEO campaigns.
Another great thing about SE Ranking is the ability to get extra information on your traffic and search visibility that allows you to make website changes and optimize your SEO strategy. The integration with Google Search Console, Google Analytics, and Google Maps enables you to analyze search terms that attract traffic to your website.
SE Ranking provides its 360-degree approach to online marketing and gives access to a bunch of helpful tools to manage multiple tasks, including:
Keeping track of any website changes
Picking the right keywords to target in your eCommerce marketing campaigns
Receiving a detailed backlink profile analysis
Monitoring your social media efforts
Creating powerful reports for your projects
Getting things done with your own custom White Label SEO tools
Pricing: SE Ranking provides a 14-day free trial. After a free trial, the paid plan starts at $39 per month.
2. Finteza: Build and Optimize Your Conversion Funnels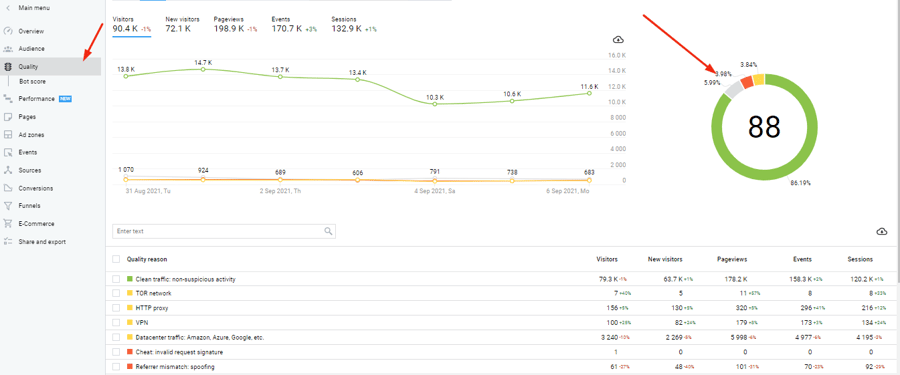 Finteza is an advanced web analytics solution that provides a detailed analysis of all your marketing data within one dashboard. It evaluates the exact percentage of high-quality and low-quality website traffic in real-time, detects bot traffic, and reveals the bottlenecks in your marketing processes.
With Finteza, you can see how well your conversions are going, whether you are getting traffic from social media, and whether you are getting results from your endeavors. It tracks conversions not only by channels but also by keywords and separate ads.
Finteza has everything you need to build effective conversion funnels on all pages. Along with that, you can analyze user behavior from multiple sources, detect weak zones, and build reports for a better understanding of your target audience.
Pricing: Finteza has 2 tools: an analytical service and an advertising engine. The analytical service offers a 30-day trial. The price for the analytical tool depends on the number of unique users ($25 per 100,000 unique users a month).
3. VistaCreate: Create Stunning Designs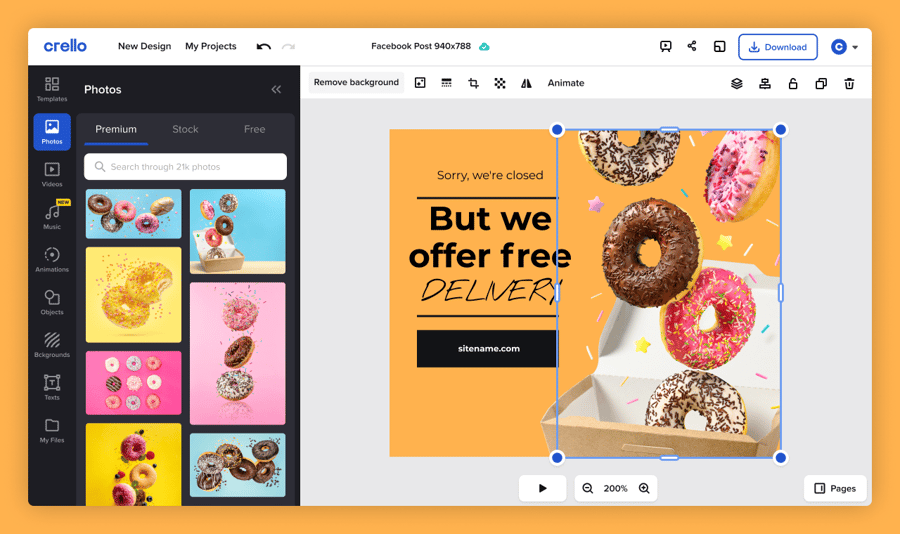 If you create content for your eCommerce business, adding visuals will make it more engaging and interesting. With VistaCreate, you can create amazing visuals and designs for your blogs, social media, banners ads, marketing materials, presentations, covers, and cards. Its users can access an unlimited library of high-resolution videos, 1M royalty-free photos, and vectors without extra cost for unlimited use.
Its animation features can help you add animated effects to any static image, logo, or photo in minutes. VistaCreate is also equipped with different build-in editing tools like Layers, Crop, Blur, Filters, Resize, and Transparency. Moreover, you can find and add music or audio to your images and videos. You can use thousands of tunes from the built-in media library or upload your own music to your design within seconds.
Pricing: The VistaCreate Free plan includes 5 design downloads every month and access to 50K static and animated design templates, 200M media files, and an unlimited library of creative assets. You can upgrade your account to the PRO plan for $10.00 per month or $7.99 when paid annually. You will get full access to tons of templates, the animated and Instagram story maker, unlimited downloads, priority support, and team invitations.
4. Smartlook: Analyze User Behavior, Trends, and Bugs in Detail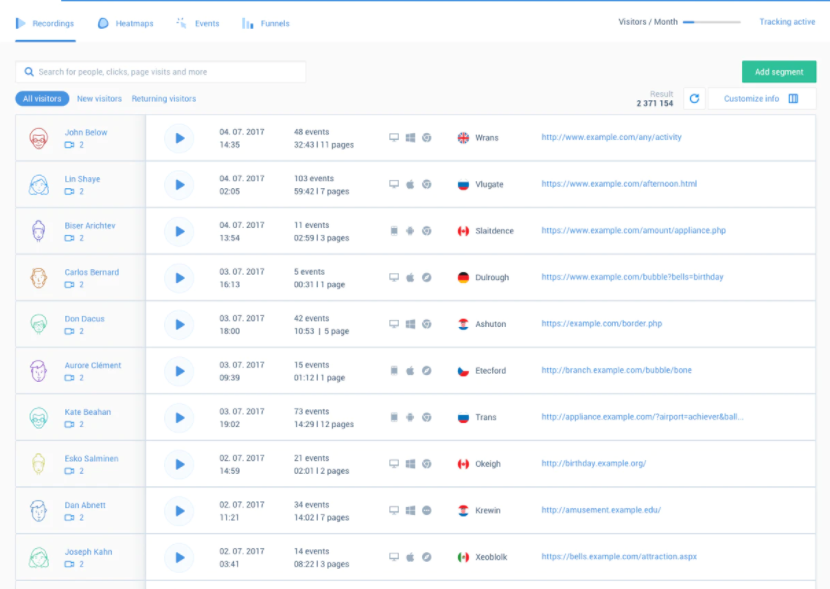 Do you want to find out what's confusing users and where to improve your eCommerce business? Smartlook is a great solution to better understand how customers use your website and mobile apps in tremendous detail.
Its event tracking feature allows you to find replays of a specific interaction on your site. If you develop a new function, you can easily visualize how people interact with it and decide whether it works or it needs to be improved. The tool instantly collects the right data that you might need in the future. So, you just need to choose what and when you want to see it.
Another helpful feature is the ability to record the whole path of customers coming from multiple sources and entry points. You can easily figure out possible weak points and enhance the overall user experience. With heatmaps, you can find where users most scroll, hover, click, and interact with your web pages.
Pricing: Smartlook provides a 10-day free trial with all premium features. The paid plan starts at €31.00 ($36.60 USD) per month. Smartlook offers a 15-day money-back guarantee if you aren't satisfied with the tool.
5. Signaturely: Сollect Legally-Binding Signatures on Your Documents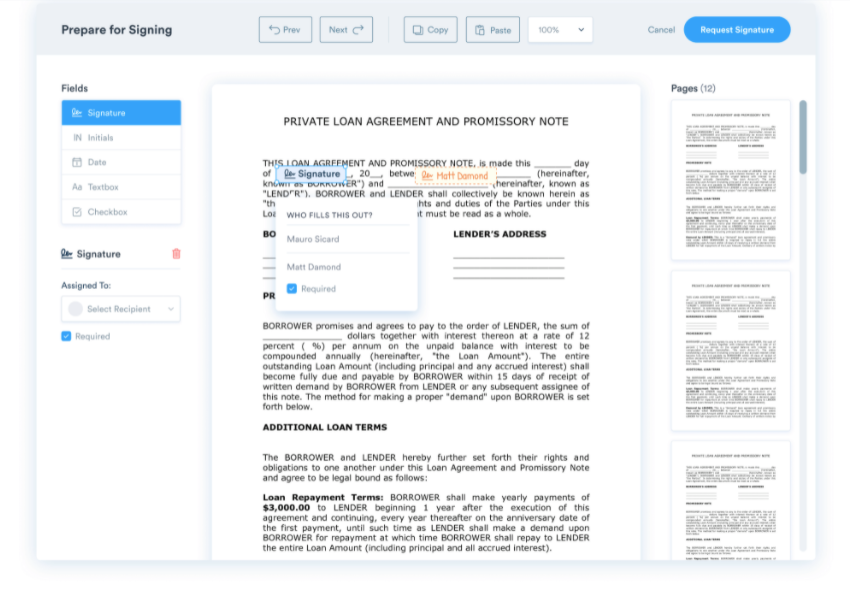 Signaturely is electronic signature software that helps eCommerce businesses upload and send documents, collect signatures from customers, and add required fields. Using this tool, you can gather an electronic signature that is legally received by 60 international laws.
You can easily build reusable documents to send to different clients with Signaturely. The tool allows you to import templates from third-party apps, such as Box, Dropbox, OneDrive, and Google Docs. Moreover, you always get notified once the document you sent is opened by the recipient.
The interface is uncluttered and easy to use. You just need to upload a document, drag and drop, and input where you need to sign something. You can also invite other team members to your account, work over documents, and send them to signers. This is a great way to maintain signing workflows efficiently. If Signaturely is not the exact tool you are looking for, you can also check other electronic signature software alternatives such as Jotform Sign.
Pricing: Signaturely offers a free plan that includes three signatures and integration with Dropbox, Google Docs, Box, and One Drive. The paid plan starts at $20 per month with templates, reminders, audit logs, and history.
6. NapoleonCat: Manage Your Social Media Profiles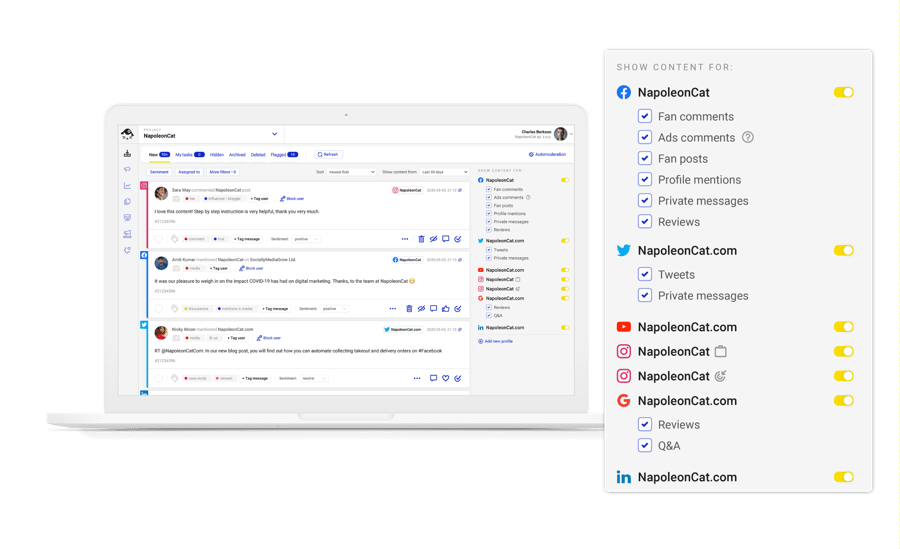 eCommerce businesses need to build the social media foundation of their brands. Social media posting and engagement are integral parts of any online business. You also need to be in regular contact with your target audience. That's where NapoleonCat can help you engage and support your customers on social media.
You can easily write and schedule your posts, tweets, comments, videos, and other updates in advance. You can also build your content plan for the entire week or even a month and focus more on important tasks while the tool auto-publishes your content for your business.
Its performance analytics feature shows which posts perform best and which ones don't work at all from your dashboard.
The best thing about NapoleonCat is a common inbox for all your social media profiles where you see all the reviews, comments, and messages in one place. You can instantly reply to these mentions and make sure that nothing escapes your attention.
Pricing: NapoleonCat offers a free trial of 14 days. After the free trial, NapoleonCat charges $55 per month.
7. LoyaltyLion: Improve Customer Retention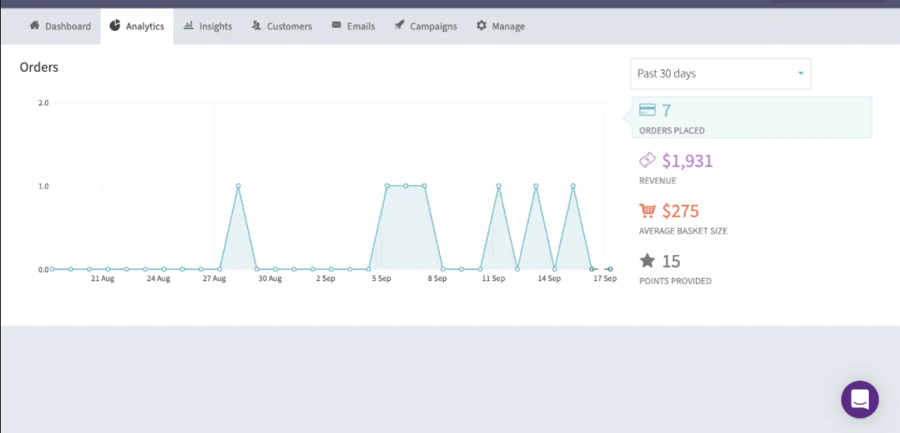 LoyaltyLion is one of the most effective customer loyalty platforms that helps you increase sales by focusing on customer retention. The tool provides real insights about your customers and what makes them engage and buy from you again. You can easily design and conduct A/B tests for your loyalty program to connect and enhance your marketing efforts.
With LoyaltyLion, you can create effective rewards programs that make customers perform specific purchasing actions and leave reviews about your products or services. The tool also shows statistics about your customer's purchase activity, their total amount spent, and how your loyalty program ranks against your competitors. Moreover, the tool lets you know which of your customers are in peril of not returning that will help you make informed decisions.
Pricing: LoyalyLion offers a free 14-day trial to test the best features. Once the free trial is over, the tool starts at $399 per month for a classic plan.
8. Omnisend: Drive Sales on Autopilot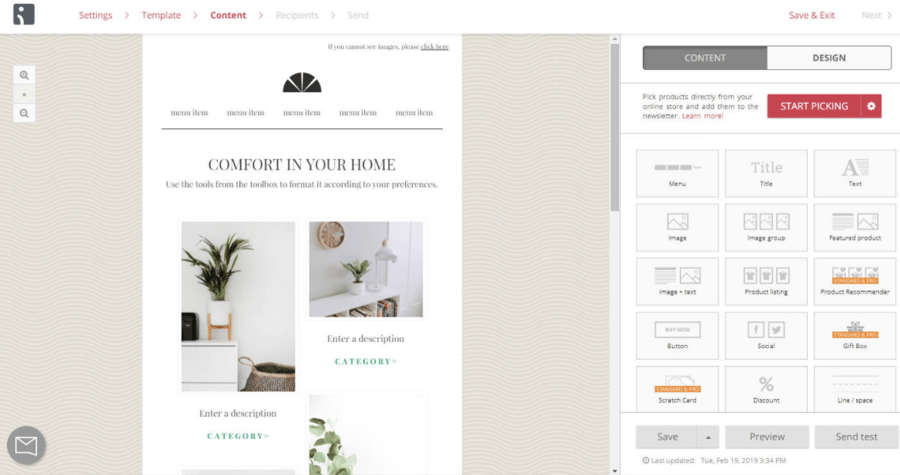 Omnisend is a powerful eCommerce marketing platform that helps you increase your sales on autopilot through different channels using eCommerce-tailored emails and SMS marketing. The tool comes with multiple in-built templates to build personalized emails and automation features to send emails and segment your list. The tool also integrates with Facebook Messenger and your SMS marketing campaigns.
Omnisend includes a lot of useful features to build powerful and engaging lead generation forms. You can choose different styles to create signup boxes, popups, and other interactive forms. Its reporting functionality is also worth its weight in gold. The reporting feature includes real-time dashboards and click maps that help you collect all the data you need to evaluate your eCommerce business's success.
Pricing: Omnisend offers a free 14-day trial. You can use a free basic plan that is available for 365 days. The paid plan starts at $16 per month.
9. Prisync: Uncover Your Competitors' Prices and Tactics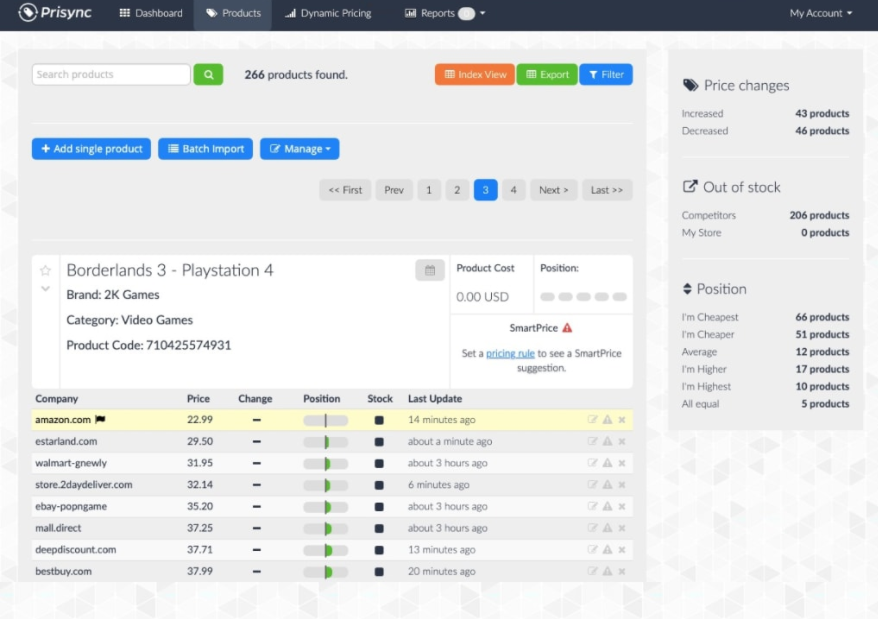 Customers want the best products at affordable prices. To accomplish this, they are searching for the same products on multiple platforms before making a purchasing decision. This is where Prisync comes in — their software can help you track your rivals' prices to stop your customers from leaving your store.
The tool allows you automatically monitor the product prices of your main competitors and decide the best price that will increase conversions and sales for your retail stores.
The tool supports about 44 currencies, and you can see the pricing data in your currency to make price comparison easier. Prisync sends any notifications about price changes from your competitors or when products are out of stock in your rivals' store to drive more sales for your business.
Pricing: Prisync has a free 14-day trial. After the free trial, Prisync starts at $59 per month for a professional plan.
10. Nutshell: Keep Track of All Moving Sales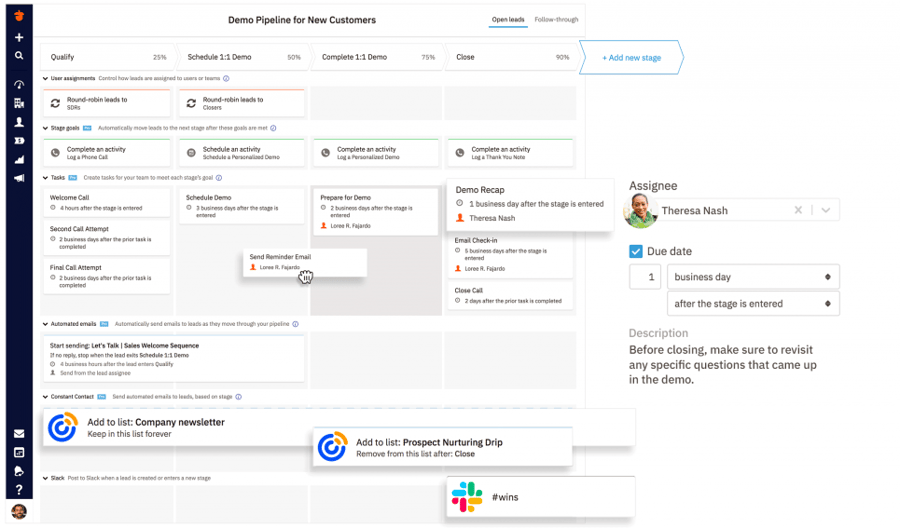 For every eCommerce business, it's important to convert leads into your customers. However, this can be a complex process to handle. With Nutshell, you can simplify the overall journey to quickly turn visitors into customers.
The tool allows you to create an ideal sales process that auto-assigns leads to your team members in an effort to minimize losing potential leads. You can manage the pipeline by using three different views (the board, list, and map view) to see all strategies of pipelines and what to do next.
The tool also offers customizable reports with clear insights into your business for easy analysis and further improvement. Based on your CRM data, you can build a custom audience, send emails to multiple leads at once, and track all results of your messages in one place.
Pricing: Nutshell offers a free 14-day trial. After the end of the free trial, the tool starts at $22 per month for a starter plan.
Wrapping up
Every eCommerce business owner needs to handle a million different things to grow their online store and increase revenue. By incorporating the right tools into your digital toolkit, routine tasks can happen quickly and efficiently without much involvement on your part. I hope these tools can be helpful to make informed decisions.