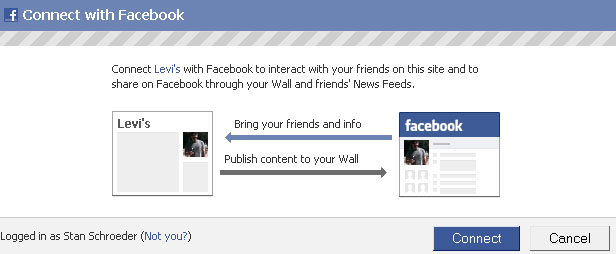 Can you think of an online sign-up process that DOESN'T require an email address for completion? Its almost as assumed that a user has an email address, as they do a home address. And with good reason, today almost every online user does. With an email address a merchant can reconnect with users post-purchase, reach out after an abandoned cart or send them a coupon for their next purchase. While capturing emails adds a layer of communication to you customer relationships, it doesn't tell you anything additionally about your customers. Email lets you communicate, but not necessarily connect.
However, Facebook Connect can do just that. Facebook Connect allows users to use their Facebook account to connect to third-party sites ( like yours). Facebook explains the significance.
Facebook Connect is the next iteration of Facebook Platform that allows users to "connect" their Facebook identity, friends and privacy to any site. This will now enable third party websites to implement and offer even more features of Facebook Platform off of Facebook – similar to features available to third party applications today on Facebook.
Connect can be used to bypass the signup process or anywhere you want to add a layer of social content. Connect is a great way to deepen & personalize customer relations.
And don't worry about hassling your customers - TechCrunch reports that 50% of visitors to ecommerce sites are already logged in to Facebook. And users are becoming more comfortable with the practice: according to Facebook, 30% of its users actively engage with third party websites through Facebook Connect each month.
There also huge advantages Connect offers over traditional sign-in methods:
Identity Authentication
Unlike Twitter and other less personal social networks, Facebook is a stickler for making sure users represent themselves with their real names and real identities. When users login with Facebook Connect in your store they bring their real identity information with them including basic profile information, profile picture, name, friends, photos, events, groups, and more.
Leverage Friends
Facebook is the ultimate social network with over 500 million users, so you can bet that your customers have Facebook friends with similar interests & shopping habits ;) Facebook Connect allows merchants to add a rich social context to their stores allowing customers to see which of their friends have already created accounts in your store. Think of how much more inclined to trust your store ( & purchase from it) a customer would be if they saw a friend had also created an account in your store.
Increase Registrations
There are a ton of reasons why merchants and developers LOVE Connect, but so do customers. Customers love bypassing long sign-up processes with just one-click. The ease of use can result in HUGE increases in registrations. Just how huge? Facebook reports that sites that use Facebook Connect see a 30% to 200% increase in site registrations
Gain More Reviews
Not only are customers more likely to complete the registration process, the ease of signing in with Connect makes it easier for returning customers to review your products. Facebook claims that sites using Connect see 15% to 100% increases in user generated content like comments and product reviews. And we all know how valuable reviews are in ecommerce!
When to Use Facebook Connect
Knowing when & where to use Connect is key to leveraging it's social power for your store. Don't jump the gun with an early pop-up window for two reasons:
99.9% of users HATE pop-up windows.
Asking users to connect too early may cause more of them to decline because they are still checking out your site; they aren't committed to the process yet.
Instead, encourage users to Connect with a less forcefull call to action further down the purchase/ interest process than your homepage.
Where to use Facebook Connect
If you need some ideas on where to place your call to action, just think about where the social feature makes sense.
For example:
account creation page
product review section
post-purchase
forums/community areas
How to implement Facebook Connect
Facebook Connect has much more potential than just making a registration easier. It offers you tons of unique and interesting ways to connect with your customers and their social networks.
For implementation inspiration, check out how these eCommerce sites are connecting with their customers:
LEVI.COM - SOCIAL SHOPPING
When users come to levi.com, they are encouraged to shop socially by clicking on the "like-minded shopping starts here" call to action. By connecting with Facebook Connect, customers can share Levi's products with their friends, "Like" them, or find "Top-Liked" products across their network.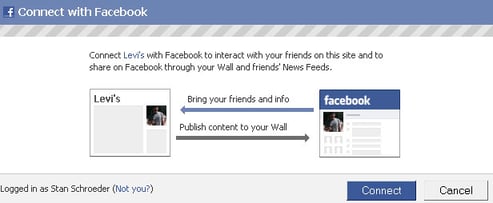 AMAZON - SOCIAL GIFTING
Amazon uses Facebook Connect to make gift card purchasing as easy as possible. When a user Connects with Facebook, they can purchase gift cards for friends that will be posted to their friend's wall on the day of their choosing, like their birthday. The beauty of this use of Connect is that users only have to complete three steps to purchase the giftcard: sign in with Facebook, create the card and then send it on.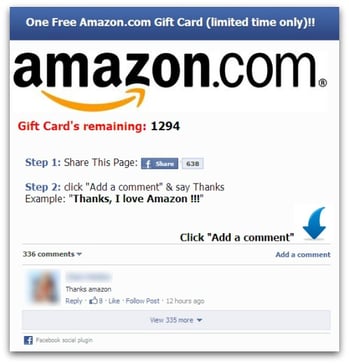 HEINZ - SOCIAL EXCLUSIVES
Heinz used Facebook Connect to promote and create buzz for their new product. Who would talk about Ketchup on Facebook? Not many people. At least until, Heinz launched a limited edition flavor, but only allowed Facebook fans to purchase it before it went on general sale. Using Connect, Fans could purchase the new flavor and recommend it to friends. So how did the Ketchup Connec campaign do? Heinz sold 3,000 bottles of their flavor to Facebook fans, gained 14,000 new fans and the buzz they were looking for.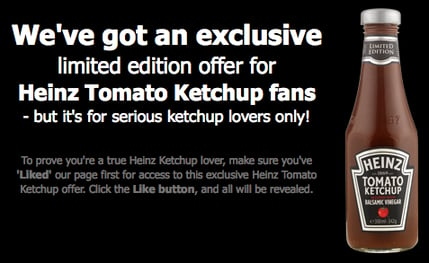 Interested in adding Facebook Connect to your 3dcart store? 3dcart's Facebook Connect feature is now available through the app store for $199. For more details or to get started, visit store.3dcart.com/facebook-connect-for-3dcart.html.