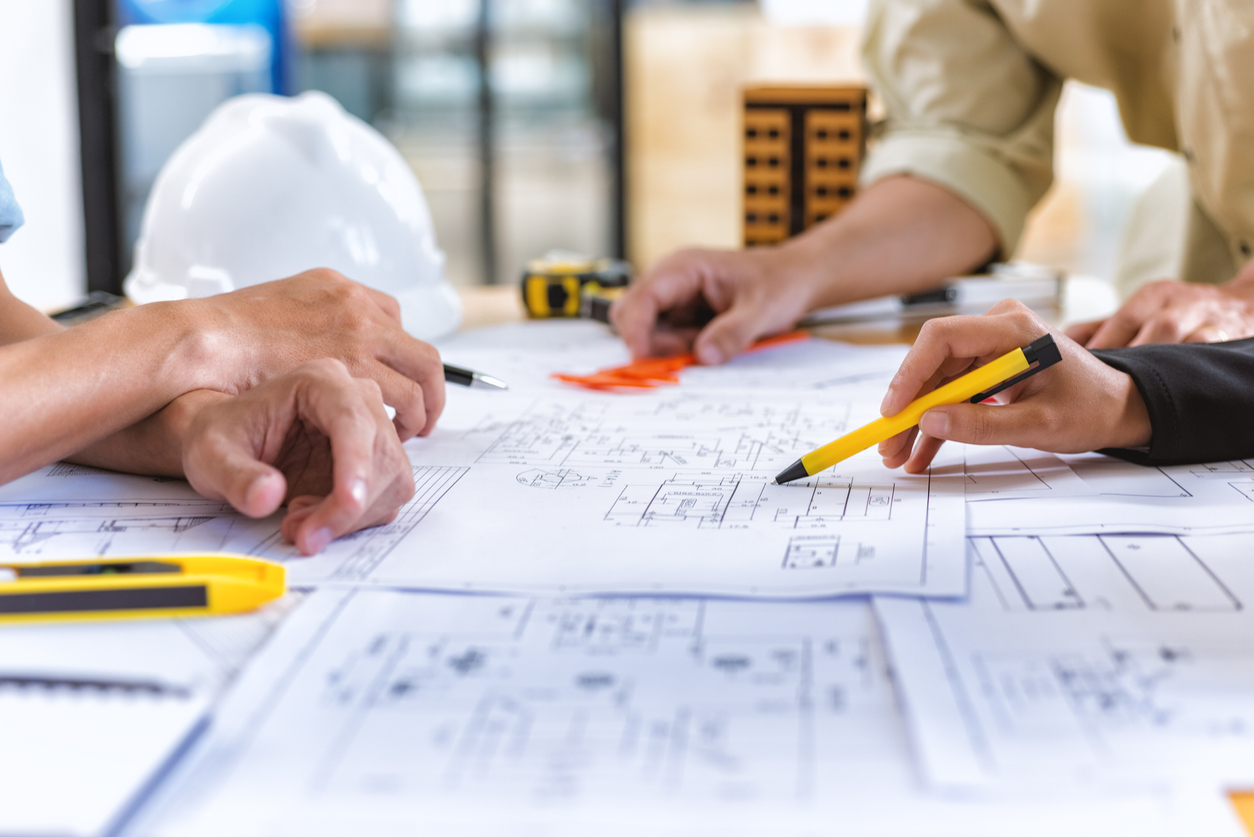 Have you noticed that every successful eCommerce business uses multichannel sales? And have you wondered why that's the case? The answer is simple: because it increases our chance of being noticed by potential customers and increases your sales. But, if it was that easy, everyone would do it.
Though it is a common way of doing business, selling on multiple marketplaces can become your worst nightmare in the blink of an eye if you don't adapt your business logic to it. Everything starts with good planning. And the first thing you need to do is create your multichannel sales blueprint. Without it, you can lose track of your business, spend an enormous amount of money on inefficient marketing campaigns, and still stay invisible to your target audience. And that mistake can cost you your business.
What is the multichannel sales blueprint?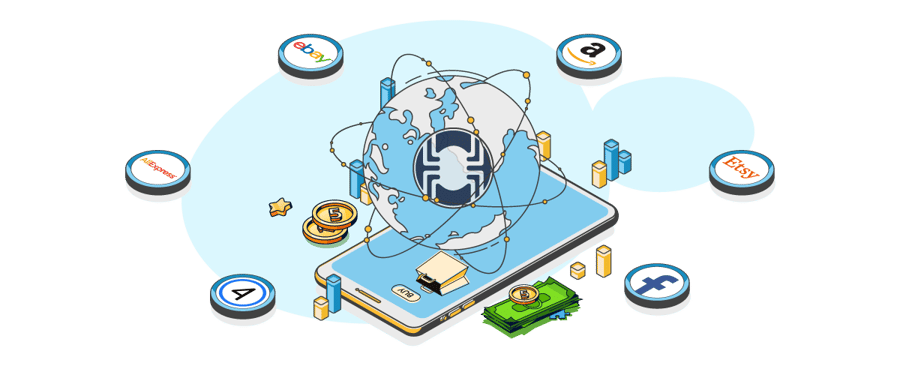 The multichannel sales blueprint is a brief overview of all the marketing and business activities you need to execute across multiple sales channels. As your channels, you can use Facebook, Instagram, eBay, Amazon, Etsy, AliExpress, or any other marketplace you plan to use.
When creating a multichannel sales blueprint, you're mapping out how your company will target ideal customers uniquely and effectively to generate sales, combining eCommerce marketplaces and social networks.
In the process of creating your multichannel sales blueprint, you will need to answer Where, What, to Whom, When, and How questions. These questions are typical for developing a strategy when starting your eCommerce business.
What, to whom, and where should you sell?
Today, we have thousands of marketplaces to offer our products or services on and create an online store with. It's easy, simple, and doesn't require a significant investment, but the downside is that it won't secure success. Your store may not even survive the first two years of existence.
So, it's logical to start with three closely related questions:
"What do you offer?" – this determines the product or service.
"To whom do you offer?" – this determines the target audience.
"Where do you sell it?" – this determines the platform, marketplace, and/or sales channel.
What do you sell?
Do you offer products or services? Is your product a handcraft or not? Does your product cost more than average or below? Is it unique with an exceptional value? Is the product or service intended for a broader audience, or is it interesting for a narrow market niche? Does your product or service have competition? How strong are your competitors? And what selling strategy do they use?
As you can see, there is a list of questions you need to address before even choosing the platform.
You might have thought that it all begins with deciding which platforms you are about to use. But actually, it all starts with the product or service you plan to sell because that will determine what platform or sales channel is the most suitable for you.
For example, if your product is a handcraft, you might consider using Etsy to sell because most of your target audience is there. If you are selling clothes, you might consider offering them on Depop. If you're selling specialized goods, eBay might be the best choice for you.
To whom do you sell?
Once you find the answers to all the questions related to your product, it's time to deal with the target audience. Who do you sell to? What is your target market?
If you sell something interesting to the younger generations, you will probably want to post it on Instagram or another channel typically used by a younger audience.
Whatever you do, don't think your product or service is for everyone - it's not! The more focused you are, the better chance you have for a successful eCommerce business.
Once you finish your homework, you can continue to the next question.
Where should you sell it?
The previous two questions should lead you to the third one. They are closely connected and conditioned.
For example, statistics show that in October 2021, 17.9% of active Instagram users were 18 to 24-year-old men. That means if 20-year-old men are your target audience, Instagram might be the right channel for you.
On the other hand, the statistics show that only 2.2% of the active Instagram users are people older than 65 years, so you might choose another channel if this group represents your target audience.
These stats matter for more than just social media channels. It's interesting to note, for example, that 61% of all eBay users are 35 to 64 years old.
Do thorough research and find as much as you can about your product or service, your competition, the size of the market, and the advantages and disadvantages of various sales channels you could use.
When is the best time to release the product?
Now that you have decided about the product you want to sell, to whom, and where you want to sell, it's time to see when you should sell.
The question "When?" is related to the timing. When is the right time to list the product? You might be tempted to list your products as soon as they're ready, but not if you're selling artificial Christmas trees. You all probably know that starting selling Christmas trees in July is not such a great idea.
The perfect timing will again depend on what kind of product you offer. If you provide a product or service that can be used all year 'round, you can start selling it anytime. However, if it's more of a seasonal product, pay attention to when your customers will start looking for and needing your product.
How do you run a successful business with multichannel sales?
Now, the "How?" question will probably be the biggest challenge for you if you plan to run multichannel sales for your eCommerce business.
It refers to the way we manage multichannel sales. It's not easy, but you can run an errorless and smooth eCommerce business with the right tools.
When running an eCommerce business and choosing multichannel sales, you will need to synchronize all your channels to provide high-level customer service and improve the overall buyer experience.
Your communication with buyers, tracking leads, handling orders, shipping, billing, and keeping stock on various marketplaces can sometimes seem overwhelming. That's where automation steps in – the secret weapon of all successful eCommerce businesses. They keep their data synced, so they don't need to increase their workforce and costs while still being able to provide an excellent, high-quality service.
And if you have wondered how they manage to stay on track, there's your answer.
What channels should you include in your multichannel sales blueprint?
eCommerce has always been a highly competitive, cut-throat business. Sellers struggle to make it big, and it has always been common for retailers to come and go in a short time. E-tailers that succeed in this business, though, tend to be the ones that specialize in specific categories and products. And that means that most of them will try selling on at least one or two other marketplaces.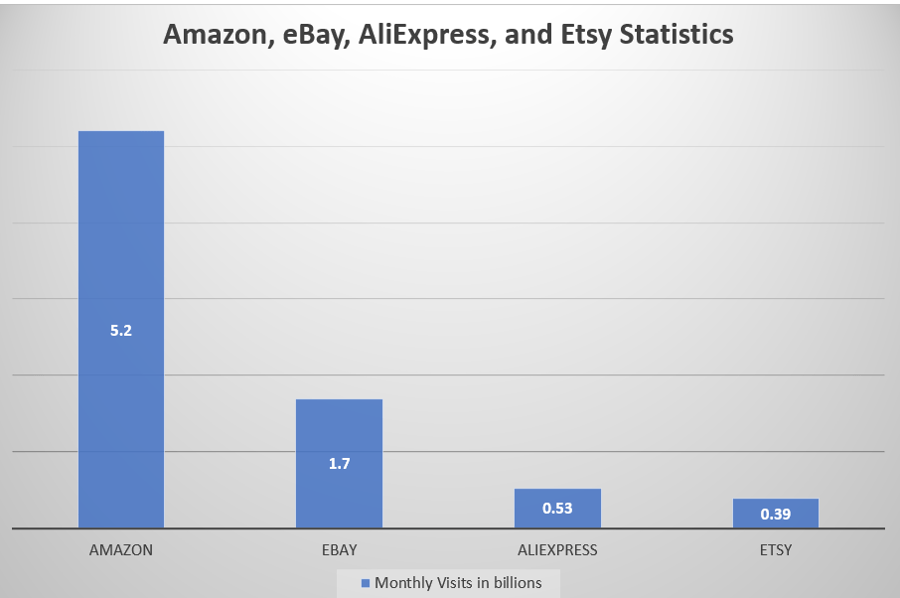 Source: www.webretailer.com
Sell on Etsy
As we mentioned previously, Etsy is the perfect marketplace for handmade crafts and vintage products. If you have a unique product, you might choose this sales channel.
Launching your eCommerce store on Etsy or any other seller platform might be a fantastic idea for small businesses, especially those without their own website yet. The costs of opening an online shop on Etsy can be much lower than creating your own website.
According to statistics, in 2020, there were 4.36 million active sellers on Etsy. Yes, that means the competition is fierce, so you'll need elaborate tactics and an excellent marketing strategy.
Sell on eBay
From 1995 to today, eBay has become one of the most visited online marketplaces. It is estimated that in 2021, eBay had 159 million active buyers, which means you will be able to present your business to this market if you have an appropriate marketing strategy and eye-catching content for your eBay online store.
Sell on Amazon
If you're aiming at the US market, you could open an online store on Amazon because it is the leading online retailer in the USA. It is estimated that over 210 million people visit Amazon monthly. Enormous traffic increases your chances of selling. Of course, you will need to invest a lot of effort to make your store stands out.
Sell on AliExpress
AliExpress was founded in 2010 and has since become one of the top online retailers, closing the gap between third-party sellers and consumers worldwide. It generates around 500 million visits a month and allows small businesses to open an online store and become visible worldwide. Even if you don't have your own product but still want to try your luck with eCommerce, you can implement the dropshipping model.
Social Media Platforms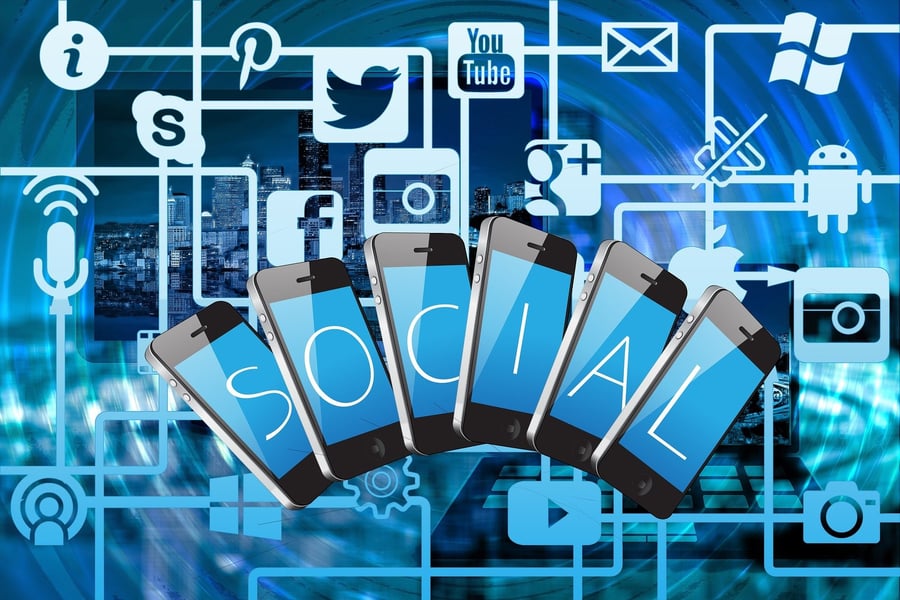 Now, besides online marketplaces, your multichannel sales blueprint needs to encompass social media platforms. They have become a powerful means for gaining new customers and increasing sales. Combining Facebook, Instagram, Twitter, LinkedIn, TikTok, and any other social network with your sales strategy will increase the visibility of your business.
Instagram
Nowadays, Instagram is probably one of the most popular social networks for business. The network that began as a platform for posting photos and videos became a mighty sales channel. With one billion active users, most of them use Instagram to discover new products or services. Since its constantly adapting to the users' needs, now you have the option, as an eCommerce business, to offer your products or services through Instagram shoppable posts and sell directly on this platform.
Facebook
Facebook was probably one of the first social media platforms to promote products and services. It has special advanced features for business accounts, which provides an excellent opportunity to reach your target market. We mustn't forget that Facebook has more than 2.8 billion users, and as an eCommerce business, you would probably want to use this channel for driving sales. And, just like Instagram, you can create a Facebook Shop to sell your products on.
Twitter
In previous years, Twitter was mainly used for growing your audience or driving traffic to your website. Over the years, it has become an efficient customer support channel, so if you run an eCommerce business, you might consider opening a business account there.
LinkedIn
You might be surprised to see this platform on the list of sales channels. However, LinkedIn is a valuable social media platform for businesses. The site has 450 million users and almost 50% of them use it to make purchasing decisions.
TikTok
What puts TikTok at the very top of the selling channels is buying or selling directly using the app. Buyers don't have to go to your website or leave the app. They can browse, chat, purchase, and pay using TikTok. It's probably why it is so popular among younger generations and an excellent way to present your eCommerce business to the targeted audience.
Social media has been used for promotion and marketing activities for the past decade. Still, now their impact is even more significant for eCommerce since they are slowly introducing options for online businesses to advertise and sell directly on their platforms.
Therefore, if you have an eCommerce business, your multichannel sales blueprint needs to encompass all available channels, or at least those most suitable for your product or service.
Automation: An Essential Part of Your Multichannel Sales Blueprint
So, you have everything. You chose the online marketplaces you want to sell your goods on, and you have a plan to use social media for your business. But there is one more step to round the circle: automation!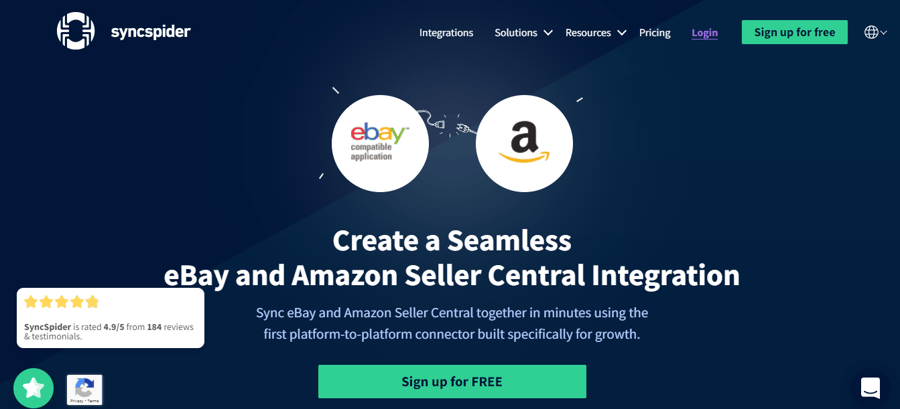 Imagine you need to keep an eye on all your online shops, your website, social media accounts, promotions, shipping, selling, ordering, stocks, customers' questions, returns…. Does it sound easy? No, it doesn't. And it is, above all, a costly way of doing business.
Selling to customers can be an arduous task. Multiple channels require your attention, and it often feels like everything is happening at once.
But some software, like SyncSpider, can automate most of your eCommerce business processes. These tools typically include CRM systems, chatbots, voice assistants, synchronizing your data on all sales channels, managing stocks, orders, and everything else from one place, etc. They've made business operations more efficient than ever before, but they're not the only option available for sales automation.
For example, you can integrate your Amazon shop with Etsy, eBay, or any other online platform and run multiple stores from one place through a very simple procedure.
All you have to do is to connect your Amazon shop with automation software, and through that, integrate to any other eCommerce platform. Whenever an item is sold on Amazon, your inventory on Etsy and eBay will be automatically updated.
There's no need for manual input. The system does it by itself, and your multichannel sales will be running on autopilot.
eCommerce emerged due to advanced modern technology, and it keeps improving daily. With the increased number of sales channels that we can use, synchronization is necessary to run a successful business.
Automation can be a powerful tool to take your multichannel sales to the next level. It's no secret that retail is undergoing a significant transformation, and technology is at the core of this change. The Internet is all around us, and it's hard to imagine life without our phones and laptops, so it's no surprise that retailers are using technology as a way to engage with their customers and create new, innovative experiences for them.
So what does automation mean for your business?
It lowers your costs. Synchronizing your data from various sources decreases the costs of your business since there is no need for an additional workforce.
It lowers the chance of making mistakes. Since it's an automated process, you don't have to pull data manually. Everything is automatic and the workflow runs on autopilot.
It lowers the level of multitasking. The fact that you're running your own eCommerce business doesn't mean you have to choose between your business and private life. You can automate your business and get rid of tedious and time-consuming tasks.
It saves time. Administration tasks usually take most of our time. Automation allows you to set the tasks to be done automatically without human intervention.
Conclusion
eCommerce is quite an adventure. You need to multitask, increase the efficiency and quality of your service or products, provide exceptional customer service, use multiple sales channels, and meet the customers' expectations at any time.
It can be challenging to handle all of that, especially if you don't automate your business processes. In fact, it might become almost impossible to deal with all the changes that surround us without it.
What channels you will use? Who will be your target audience? How will you sell on multiple channels? These are just some of the questions you need to ask yourself before starting your own business.
Having a multichannel sales blueprint lets you be present on several different marketplaces and other sales channels simultaneously without decreasing your service quality. Even as a beginner, you can use eBay, Etsy, Amazon, Instagram, Facebook, and AliExpress and never miss the opportunity to reach potential customers.
Once you answer these vital questions and automate your business using available tools, your eCommerce adventure is ready to start!