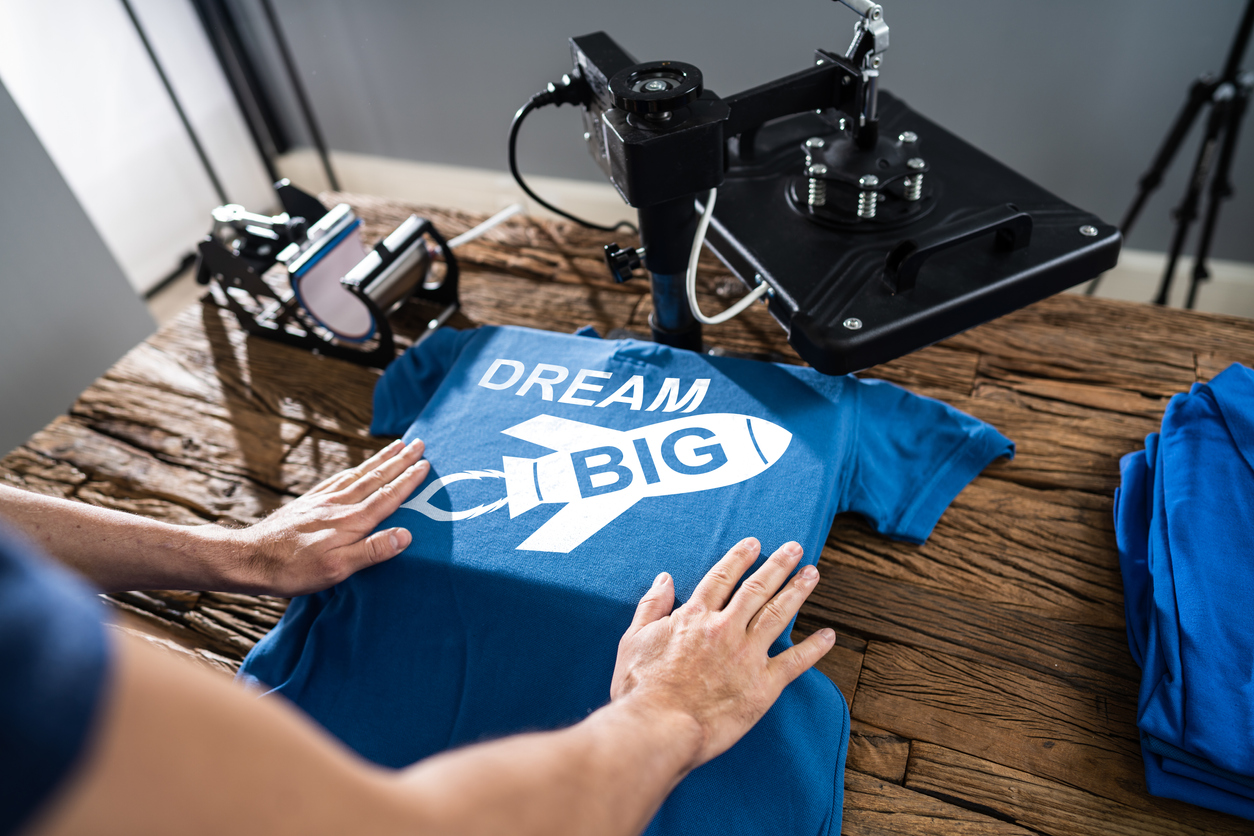 Creating a website for an online business has never been easier than it is right now. While there are plenty of ways to create a shop online in order to generate sales, one of the easiest methods is fueled by the power of print-on-demand services (or PODs).
Similar in ease to dropshipping but uniquely different, print-on-demand services allow you to create products quickly with product designer software without needing to ever invest money in inventory. And, because of the huge success so many POD stores are having right now, there are plenty of amazing service providers that you can partner with in order to get your business up and running.
Primed for strong branding within specific niches, POD stores allow you to create products that your audience wants quickly and with minimal investment. For a lot of businesses, the only money invested in new print-on-demand products is in art/design and ad spend.
Of course, finding the right print-on-demand partner for your business is critical. Not only do you want an exceptional service that charges an affordable price so that you can still make money with each product sold, but you also want to find a service provider that carries the products you want to print on. Or, more importantly, a provider that has the products your customer wants to buy.
Before we dive any deeper, however, let's take a closer look at what print-on-demand really is and how it's different from dropshipping.
What is Print-On Demand?
Print-on-demand, or POD as it's often referred to, is a partnership between a business and a third-party supplier. This partnership allows for products to be customized (or white labeled) and then sold online by a unique business. Because POD services allow for a wide range of products to be printed with unique art and logos, it's an ideal way to create a strong brand presence within a specific niche.
However, one of the biggest reasons that businesses enjoy success with print-on-demand models is because they allow businesses to offer products that are sold on a "per-item basis". This means that no minimal order requirements need to be met and that no money needs to be invested in inventory.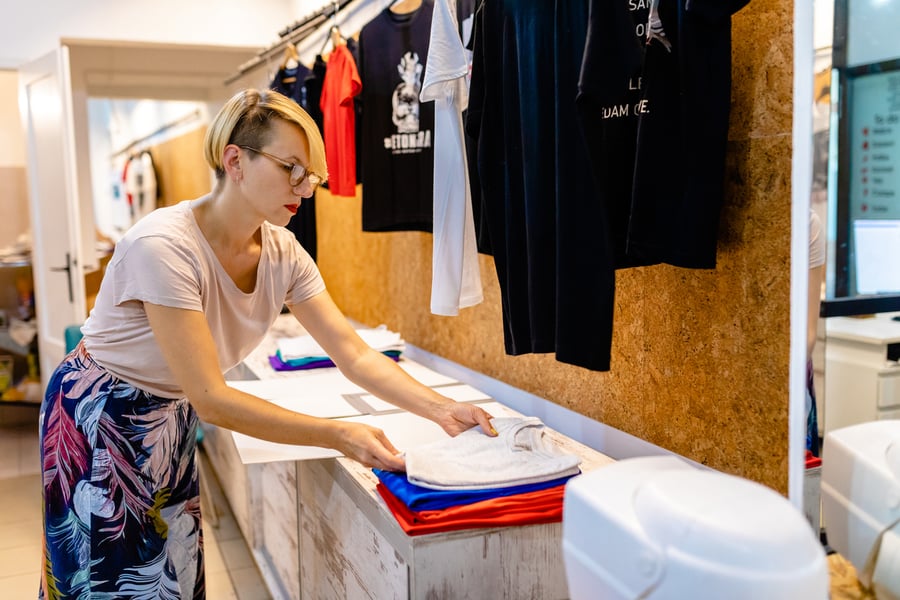 Another big benefit to print-on-demand online businesses? The POD service provider typically takes care of everything for you — receiving orders, printing orders, and then fulfilling orders. Because of this, most POD store owners enjoy a very hands-off way of generating income online.
Technically, print-on-demand stores are classified under a "dropshipping model", but the upsides of a POD store make it drastically different than other online stores that strictly dropship products that have already been manufactured. While POD stores are limited to products that can be printed on by their service partner, there is oftentimes more flexibility for branding. On the other hand, online stores that use more traditional dropshipping methods are more restricted in terms of customization because a manufacturer can only do so much to "brand" a product that has already been created. (Typically, products that are dropshipped can be customized only in terms of packaging.)
If you're considering the pros and cons of starting a print-on-demand store, here are five specific advantages of the POD model to keep in mind:
Print-on-demand services allow you to create products quickly, which means you can test product ideas easily and take advantage of current trends.
Print-on-demand services give you the ability to create unique products without needing to own your own printing equipment.
Print-on-demand stores allow you to be incredibly hands-off in terms of actual product creation and order fulfillment, which means you can generate passive income online — and without filling your garage with loads of inventory.
Print-on-demand services have improved dramatically over the last several years, giving you the option to print on a variety of high-quality products.
Unlike other online store models, print-on-demand stores are generally low-risk and require minimal investment in order to get them up and running.
Once you decide that a POD store is right for you and your business idea, it's time to start looking more closely at the types of products you can create with the majority of print-on-demand service providers.
While you can find a lot of unique products that can be printed on, below are some of the most popular products purchased through POD stores.
The 25 Most Popular Print-On-Demand Products
Almost any product that you can think of can be customized with your own design and branding. However, not every print-on-demand solution offers the same selection of blank products for you to design. For this reason, take the time to shop around and see what different print-on-demand service providers have available to customize.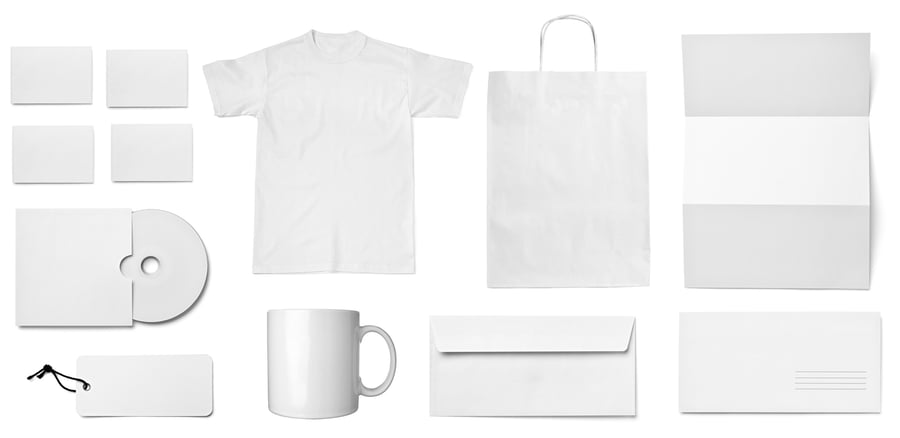 We've gathered a list of the 25 most popular products that are dropshipping using print-on-demand services. Of course, this list doesn't cover every single product available, but it's a starting point to give you an idea of what types of products you can expect to be able to customize and sell.
T-shirts
Hoodies
Scarves
Underwear
Swimwear
Leggings
Socks
Blankets
Stickers
Wall Art
Photos
Water Bottles
Mugs
Phone Cases
Laptop Cases
Tote Bags
Backpacks
Glassware
Notebooks
Journals and Planners
Postcards
Invitations
Pillows
Dog Beds
Door Mats
Another thing to keep in mind regarding product selection is the brand that makes the blank product itself. For example, if you're interested in dropshipping custom printed t-shirts, you'll need to select the type of shirt you want your design to be printed on. Some of the most popular t-shirt and apparel companies include Gildan, Bella + Canvas, American Apparel, and Champion. Each company uses different materials and has different production quality and practices that should inform your decision.
5 Features You Definitely Want Your POD Partner to Provide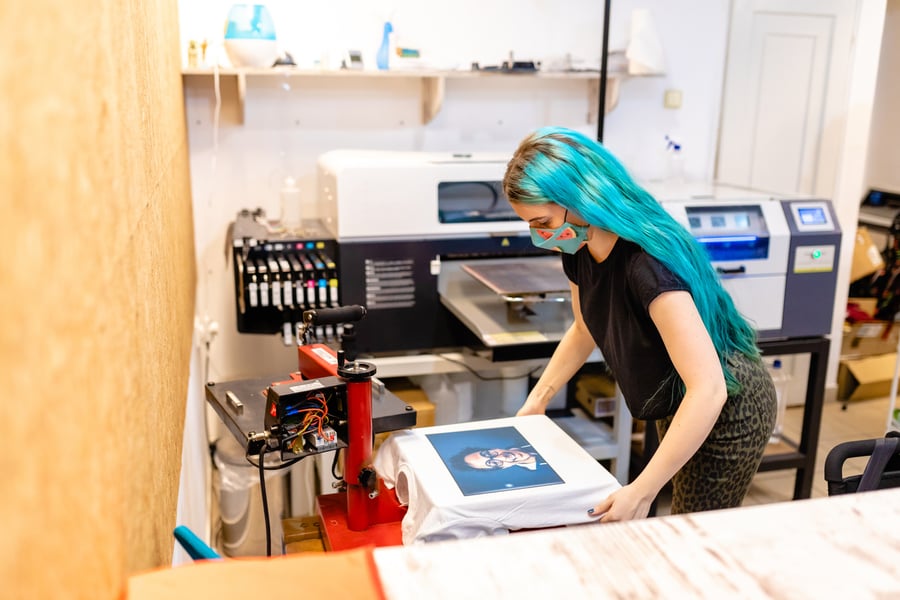 While you'll be amazed at how many quality print-on-demand services you can find to partner with for your business, you'll want to be sure that the POD provider you pick can meet all of your expectations so that your store can grow and so that you can start generating passive income even more quickly. In general, you'll want to be sure that your POD partner can provide your business with these five services:
1. Quality Printing
Needless to say, the quality of a print job will determine whether or not your customers are satisfied with their purchase. Typically, you'll see two different methods of printing: DTG (or direct-to-garment) and screen printing. Both of these methods can result in high-quality products, just be sure to get a sample of the printing first before you start selling online.
2. Fulfillment Time
Because products are created only when they're purchased, POD stores can suffer from slow shipping times, especially if a print-on-demand partner gets severely backed up with orders from thousands of different stores. Take a good look at how long the average fulfillment time is for the POD company you want to work with, as well as customer reviews regarding fulfillment. Also note where your POD provider ships from and if they have multiple locations to better fulfill orders from your customers more quickly.
3. Cost
In order to make a profit from your print-on-demand store, you'll need to know what the total cost of a product is from your POD partner. Not only will you want to be able to charge more for the products being made so that you can make a profit, but you'll also want to factor in other business costs, especially ad spend, in order to make sure your business can stay in the green.
4. Mockups
Because the majority of POD stores create multiple designs without ever having them actually printed on a product until a product sells, you'll want to be sure that your print-on-demand service allows for high-quality digital mockups of designs on products so that you can feature those images in your store.
5. API Access
It's critical that the POD partner you want to work with can integrate their fulfillment and shipping services with the website platform your store is built on. If they can't, then you'll need to find another partner — or completely rebuild your website.
The Top 3 Best Print-On-Demand Services
1. Redbubble

Having gained in popularity over the last few years, Redbubble is quickly becoming one of the most reliable POD services for online stores. Known for their high-quality notebooks and postcards, as well as t-shirts and other apparel, Redbubble has a massive number of products you can choose to print on. And because they can ship most POD products they offer worldwide (they have fulfillment centers all over North America, Europe, and Australia), customers don't have to wait weeks for products to arrive. Easy to use for businesses, Redbubble also offers your customers a live customer support channel so that questions about products and delivery can be handled directly by their team. One of the only downsides to Redbubble is that the service does not integrate with external website platforms, which means you need to use Redbubble in order to build your site.
2. Zazzle

Another high-quality print-on-demand service, Zazzle, unlike Redbubble, allows you to use your own website for store integration. Offering printable products that range from clothing to electronic accessories, Zazzle can accommodate more ornate and intricate designs, making it a great choice for artists or brands looking to use artists' work. Like many POD providers, Zazzle will handle the manufacturing and printing of your products, as well as the shipping when sales are made online.
3. Printful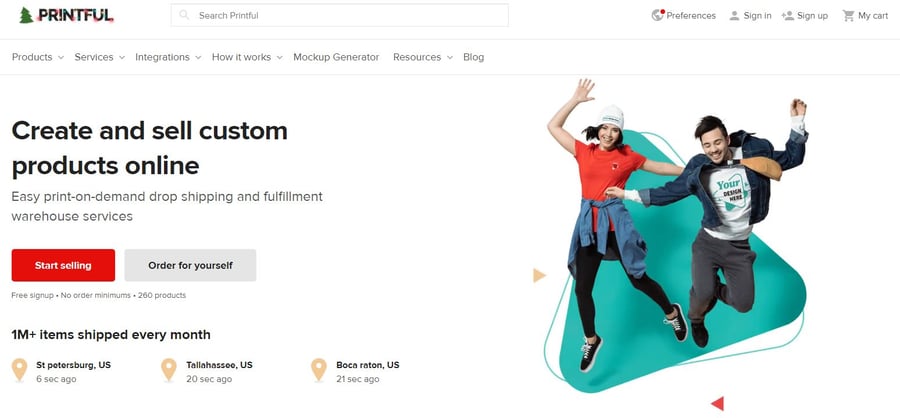 Ideal for integrating with an already existing online store, Printful accommodates store owners' needs by offering a wide-range of video tutorials and resources that will walk you through everything from set-up to customer service. Known for high-quality products, including swimwear and backpacks, Printful can integrate seamlessly with some of the most popular eCommerce platforms, including Shift4Shop, WooCommerce, Wix, Shopify and Squarespace.
Another huge benefit of working with Printful is that it has several fulfillment centers to help get products to customers faster. Covering both coasts in the United States, as well as Mexico, Latvia, and Spain, Printful ensures high quality products and exceptional customer service. Plus, there are no subscription costs, sign up fees, or hidden costs, which means you can make even more profit with every product sold.
Conclusion
Integrating with a print-on-demand solution can help get your business started, or even help an established business stock a varied product selection. Whatever the case may be, starting your business with print-on-demand dropshipping has become easy to do — especially with the right eCommerce software backing you up.
However, once you start your business, don't think that you need to stick to print-on-demand forever. In fact, it's better that you don't. As you expand your business and gain success, think about different ways that you can procure products to earn higher profit margins and gain even more control over your online selling.