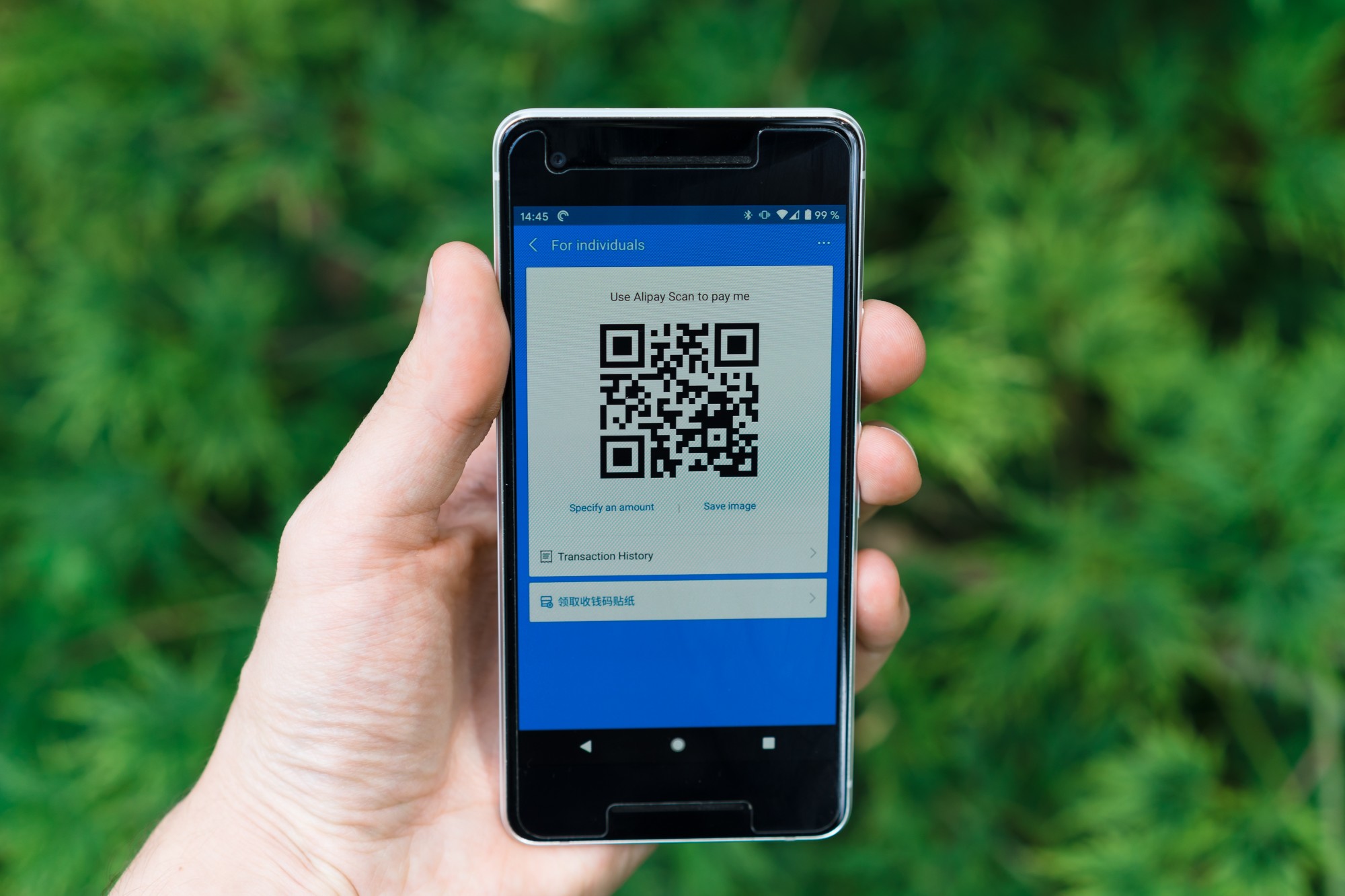 Globally, there are 2.87 billion smartphone users, and the number continues to grow— 100 million of them have just started using a smartphone in the past year.
We check smartphones over 2,000 times a day. We keep them handy in all situations, which is why QR codes are rapidly becoming an essential tool in the eCommerce business.
While they've been around for decades, QR codes have gotten a new lease on life, and businesses are taking notice.
Keep reading for a guide to using these codes and for a list of the best QR code generators for eCommerce.
What is a QR Code?
QR stands for "quick response." QR codes are 2D images that consist of lines and dots read by smartphones and other devices.
When scanned with a smartphone, QR codes can be linked to just about anything —including websites, information pages, phone numbers, and multiple other functions.
QR codes are popular in south-east Asia and Japan as a more complex version of the traditional barcode. Compared to the 30 numbers stored by 1D (standard) barcodes, QR codes can hold up to 7,089 numbers.
Their complexity allows them to link to data such as videos, website pages, and social media platforms and has enabled their use across industries all over the world.
Why Add QR Codes to Your eCommerce Marketing Mix?
Pretty soon, all brands will be using QR codes; you need to be prepared for when that happens.
In fact, if you want to get ahead of the competition, you should actively be using QR codes in your social media marketing campaigns.
These codes are the future of all online industries, and this includes eCommerce. They can potentially revolutionize the way we shop, ultimately making the processes more convenient for retailers and consumers alike.
They're easy for consumers to use, as scanning a QR code doesn't require an app on most mobile devices. Both Android and iOS phones can scan a QR code using only the phone's camera app.
They also require little to no monetary investment. When implemented correctly, QR codes are an inexpensive way to deliver an improved customer experience and boost sales.
Trackable Conversion Rates
QR codes also offer businesses the ability to track exact conversion rates generated from specific campaigns. You can test several dynamic QR code campaigns over different periods and locations, or even for other products.
Keep in mind that static codes can be customized, but cannot be changed once printed. Dynamic QR codes can be edited and updated at any time, and tracking includes metrics such as unique vs. total scans, location by city and country, time scanned, and operating device used.
Plus, the entire customer journey can be integrated and mapped by Google Analytics.
How to Use QR Codes to Improve Your Customer Experience
QR codes are most effective when used in print format as a means of linking consumers to a digital platform. For example, you could put a QR code on a bottle of hair product, and it will connect to a how-to video.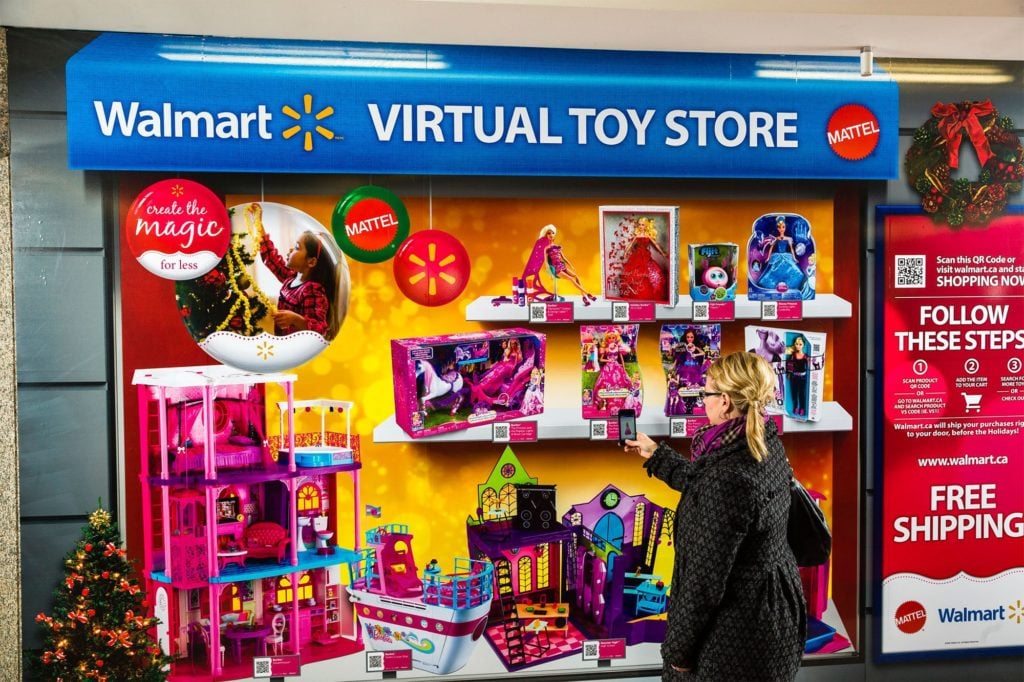 Source: Marketing Mag
Here are some of the main ways eCommerce companies can put QR codes to good use.
Leaflets and Flyers
Digital advertising campaigns are expensive, and while significant eCommerce businesses might have the capital to invest in them, many smaller companies do not.
While you're likely used to hearing "print is dead," traditional marketing efforts have not gone bust. Print is very much alive and facing a resurgence; it will continue to thrive as long as there is a need for businesses to communicate with customers.
That said, adding a QR code to a leaflet or flyer announcing a new product may be a rewarding method for you to try.
Newspaper or Magazine Ads
You can't expect customers to see your ad in a magazine or newspaper and physically search for your business online. However, you can include a QR code leading to your website in the advert itself, which simplifies the process.
Packaging
Many businesses have success with including QR codes on their packaging.
If your customer orders a physical product online that you then ship to them, include a QR code on the material that they can scan to find more information, post a picture of them using the product to social, or write a review.
You can also use a QR code linking to an online manual, so you'll save on printing costs.
Booklets
If you distribute printed booklets containing an overview of your products and services, you can elevate your customer service by including QR codes to some or all of your products.
Adding QR codes to product catalogs in this way helps your customers find exactly what they want, so they can purchase instantly without having to navigate through your site to find it.
Product Labels
You can also include QR codes directly on product labels. Hershey's, for example, opted to include QR codes directly on their packages that lead consumers to a page that teaches them more about the product than what they'll find on the label.
From a global standpoint, Hershey's now can control every user's experience depending on the location in which they're scanning from.
Websites and Within Social Media Images
You're not limited to using QR codes on printed products. You can use dynamic codes, as discussed above, on every digital platform possible—including on your website, in social media images, and within ebooks.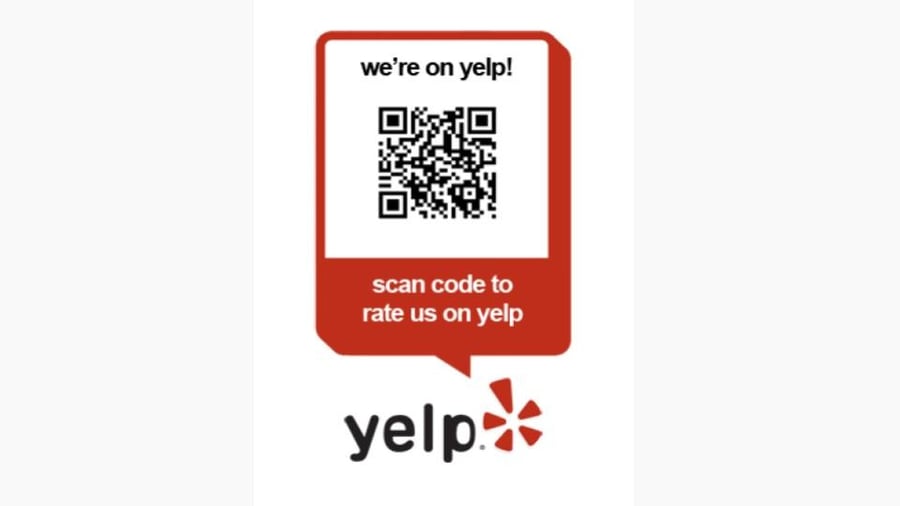 Source: Wordstream
For example, Instagram doesn't allow direct links or organic posts. Links you include in captions only appear in plain text, meaning individuals have to manually enter the link in their browser — which isn't going to happen.
Include a QR code on your Facebook ad, and your target customer only has to hold their smartphone camera up to it to visit the link.
You can use dynamic QR codes to get more app downloads, share videos, increase social media engagements, or direct users to a product landing page.
How to Use QR Codes Effectively
It's vital to use QR codes strategically instead of slapping them on everything you've got.
The general public continues to see QR codes as "special barcodes" that link to better content than the consumer could have otherwise found. If you want to put them on everything, you can, but beware that the novelty may wear off.
It's essential to keep in mind that they're not commonplace yet, so not every consumer knows what they are and how to use them. It helps to provide simple instructions alongside your codes. You can also include links to apps or websites where the user can download their QR scanner if their smartphone isn't equipped to do so.
A well-thought-out QR code campaign can raise awareness of your brand and link to a variety of platforms, from company blogs to Twitter profiles. They can also help ensure brand authenticity by staving off competition from fake producers. When using your QR codes, customers know your products are the genuine make.
What Are the Best QR Code Generators?
Consumers are smart, and they can easily spot a spammy QR code. For more conversions, you need to create crisp, professional-looking QR codes.
Choosing the right generator to create your QR codes can have a major impact on your campaign's success. So, if you're wondering how to generate a QR code, here's our list of the top five generators, in no particular order.
1. Shift4Shop QR Code Generator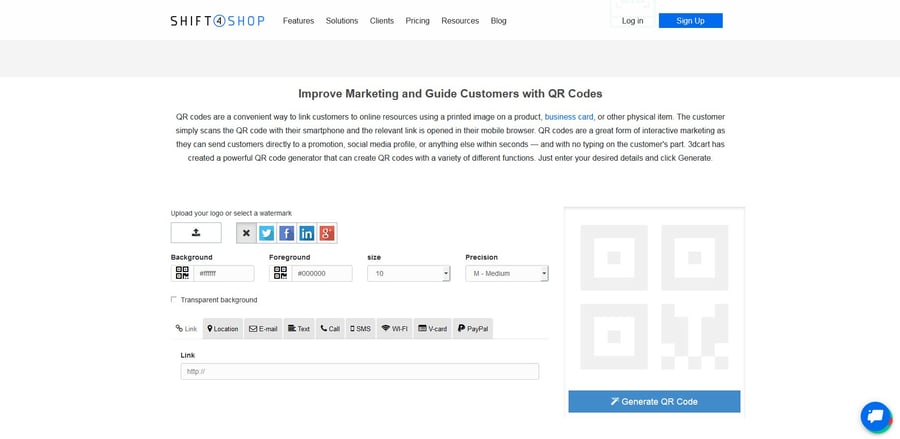 As one of the many free business tools provided by Shift4Shop, their QR code generator is easy to use and has no requirements for use. To create a QR code with Shift4Shop's generator, simply add your desired link, location, email address, phone number, V-card, or even PayPal account to the relevant field.
With Shift4Shop's QR code generator, you'll have the ability to choose a specific color for both the background and foreground of the QR code using hex codes. You can also adjust the size of the code, the precision level, and choose to upload your logo or watermark.
Shift4Shop's QR code generator is free to use and doesn't require any account to use or download the codes you generate.
2. QR Code Monkey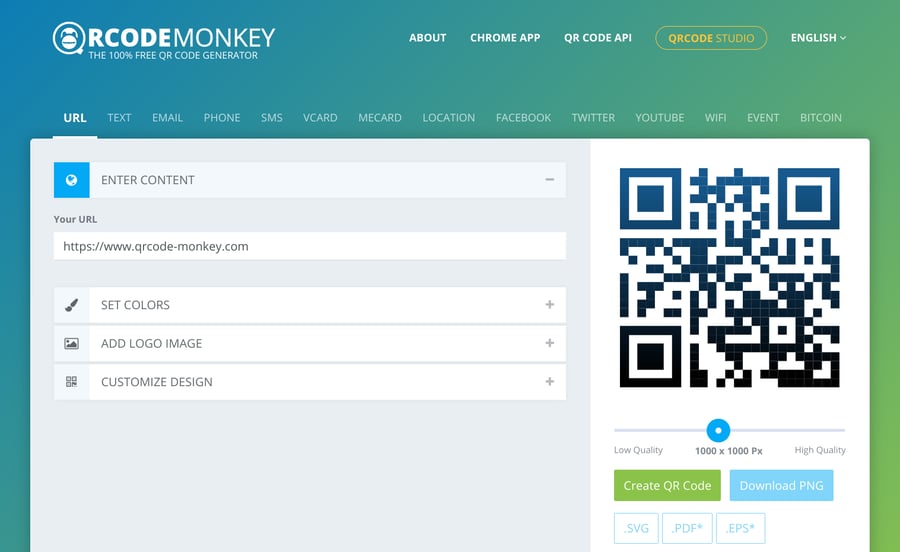 QR Code Monkey's website is user-friendly, professional, and intuitive. You simply enter the target URL, phone number, email, location, or wherever you're directing your customers. Then, set your brand colors, add a logo image, and customize your design from one page.
You can also create codes with beautiful color gradients and in different shapes. From there, you can create your QR code and download your file in four formats: PNG, SVG., PDF, and EPS. You don't need to create an account to download your new code.
3. QR Code Generator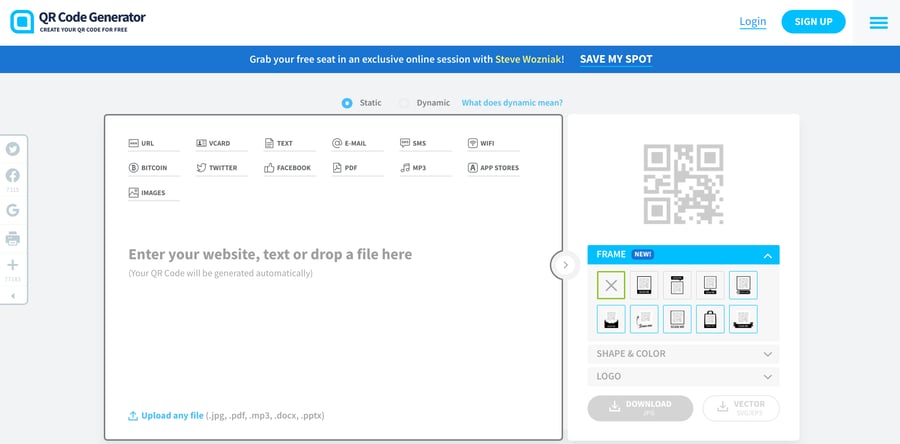 QR Code Generator's interface isn't as intuitive as QR Code Monkey's, but you can still create high-quality QR codes with its systematic portal.
While creating a QR code is free, you will have to create an account before downloading your file. You can download your codes in several high-resolution pixel and vector file formats, including JPEG, EPS, PNG, and SVG.
4. Scanova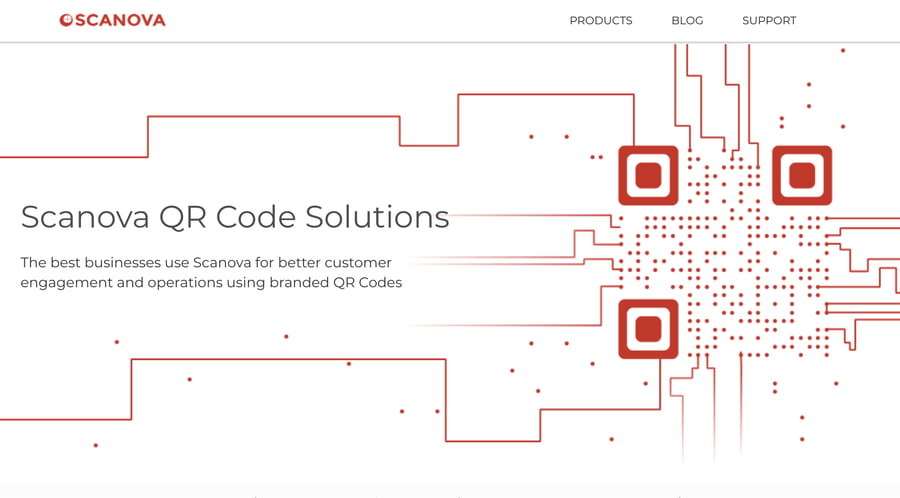 Scanova's website is stunning, and its QR code generating tool is just as impressive.
First, you'll be prompted to choose a QR code category, including options such as Google Maps, social media links, vCard profiles, website URL's, PDF's, product pages, and more. Then, you'll enter the details you want to include and simply click "Create QR code."
Customizing your code is easy, but you must create an account to generate and use your newly created QR codes.
5. Beaconstac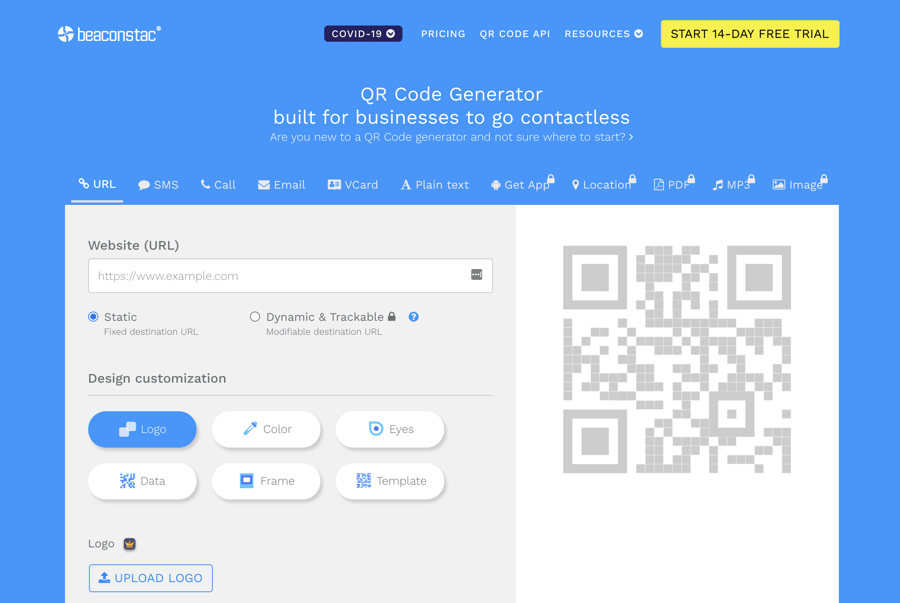 Beaconstac's reliable QR code generator is super straightforward, allowing you to customize your code with your company logo or a frame — or you can choose from premade templates. You must create an account to unlock the premium features, such as creating a dynamic code that allows you to track data.
One unique option for Beaconstac's generator is the ability to create multilingual QR codes based on your target area's population.
Beaconstac also includes information on how to kick-start your QR code marketing campaign, which is a bonus.
6. The QR Code Generator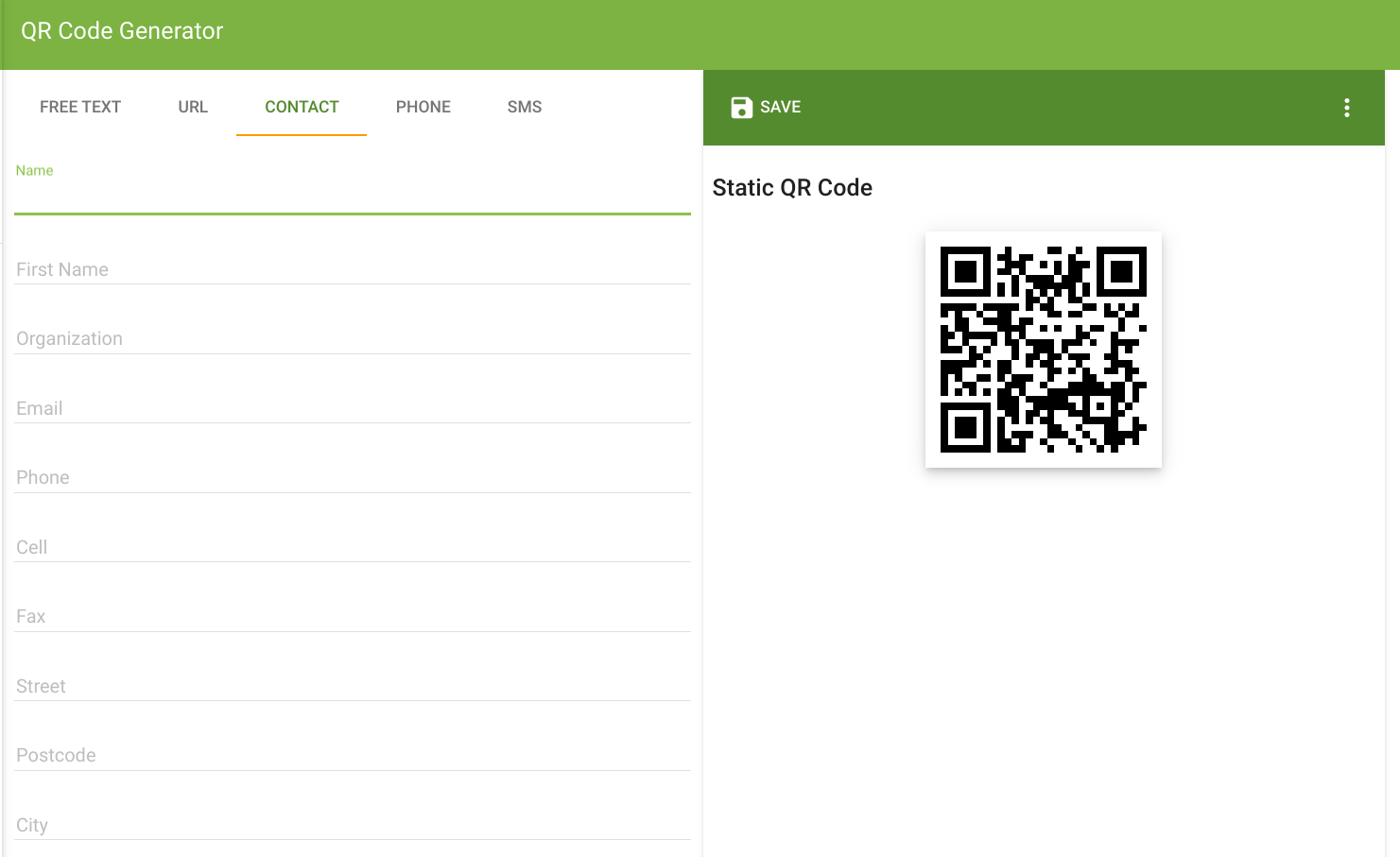 The QR Code Generator is relatively basic, with a design akin to a Google Forms page.
It offers limited options, but gets the job done for beginners who simply want to direct consumers to a URL, phone number, or SMS message. If you're looking for more features, or want to create a dynamic QR code, you'll have to sign up for an account.
7. Logaster QR-сode Generator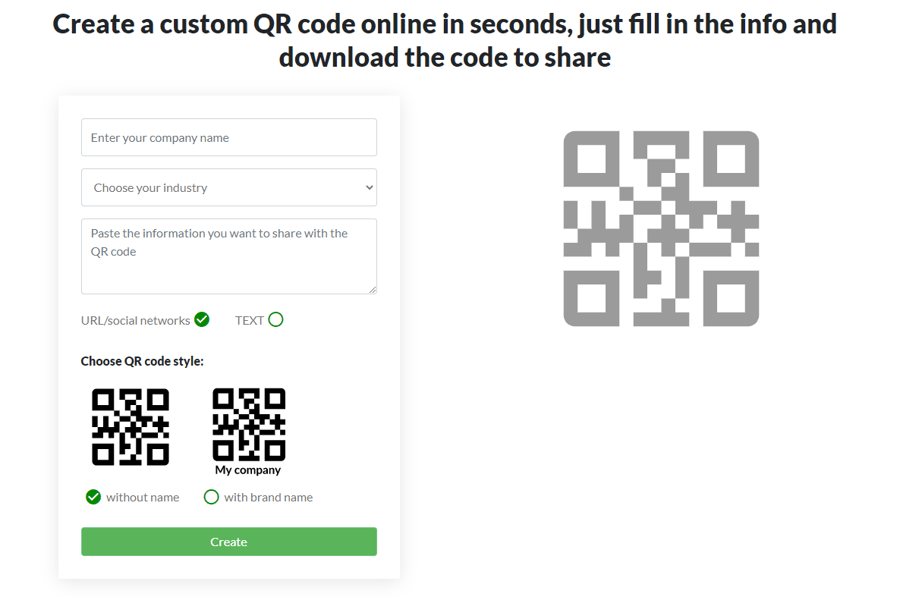 The Logaster QR-сode generator is very easy and simple to use. All you have to do is fill in the fields with the required information:
Enter the name of your brand
Select a field of activity from the list
Add page URL or text
Choose a QR-сode style
Click "Create"
In a few seconds, your QR code will be ready. You can download it in PNG format without registration and for free.
It is also worth mentioning that in addition to the QR code, you can use Logaster to create a logo, business card, letterhead, images for social media and other products.
Level-Up Your eCommerce Marketing Campaigns with QR Codes
Traditional print is non-actionable and doesn't allow your brand to gauge the consumer engagement level. Adding QR codes to media makes it actionable and will enable you to track activity effortlessly. You should give a couple of these QR code generators a try for your next marketing campaign.
If you're in the process of building an online store, let us help you scale your business.