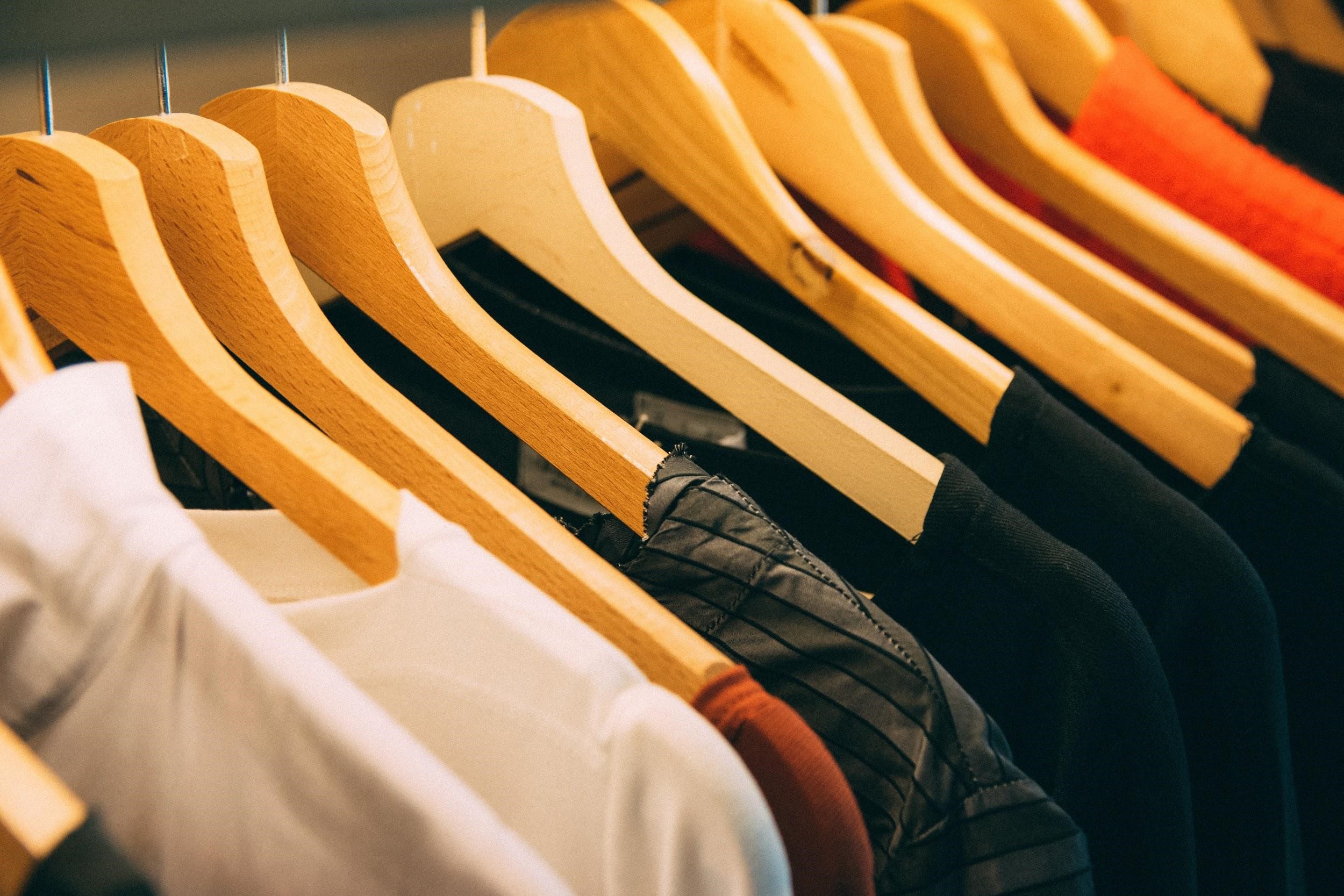 So, you've decided to sell t-shirts online.
You did the research and every source suggests it's the way to go. Four in five Americans make an online purchase every month, and what's the piece of clothing almost everyone has in their closet? That's right: a t-shirt.
Selling a product that everyone needs is a lucrative idea. To make sure you turn that great idea into a booming t-shirt business, we've broken this process down for you step by step:
Find your niche.
Decide on the business model.
Set up your store.
Create designs for your products.
Launch your store.
1. Find Your Niche
The number one piece of advice for starting an online business is to pick a niche – a segment of a market that's defined by its own unique needs, identity, and preferences, like knitting enthusiasts or Star Wars fans. Targeting everyone isn't the wisest decision, so you should select a specific customer group to market your products to. But how to find that perfect niche?
Here's what you need to consider when defining your niche.
Firstly, use your interests, personal taste, and hobbies as a source of inspiration. If you've always longed for a t-shirt with a quote from your favorite movie but haven't seen one for sale, then you can be the first one to create that product and sell it. For an extra boost of product ideas, check out online communities. Explore your niche on Reddit, Facebook, or Quora to see what people look for.
Secondly, pick a niche you're passionate about. Being an entrepreneur means devoting a significant amount of time, resources, and energy to the business. When you're not personally invested in the product you're selling, it's more likely you'll lose interest and quit way too early.
Thirdly, do your research. Having a passion for your product is fantastic, but you need some data to support your belief that it could be a profitable business. There are several ways you can do this.
Do a competitor analysis. You need to know what products are already out there and how saturated your niche is. The competition you'll see will validate whether there's money to be made in this niche. Think about how you can stand out among others and what's your unique selling point. It can be anything from your exceptional customer service to free shipping or product quality.

Conduct keyword research. Free online tools like Answer the Public or Ubersuggest will help you find information about people's search phrases.

Pay attention to the search volume of a given keyword, as it'll show you how often people have searched for that particular word. Use your findings to check the approximate level of interest in a subject matter or your product. If the search volume is high, it means that there's a lot of interest in this niche, but there's also potentially more competition. If the search volume is low, it doesn't necessarily mean that it's an unpopular idea and that you should abandon it; it could be a sign that you're a pioneer in this niche.

See what's trending on Google Trends. Trends change quickly. If you choose a product that's popular right now, like a meme that's circulating the web, you'll have to be ready to react to the next big trend that comes along and that isn't an easy task. So, you have to decide how trends are going to be part of your brand. Sometimes it's better to go with classics than follow trends.
2. Decide on the Business Model
There are four main ways to source your t-shirts for selling:
Make and print the t-shirts yourself.
Find a manufacturer who can make them for you.
Buy t-shirts wholesale.
Use dropshipping.
There are pros and cons for each approach, but for the scope of this blog, we'll describe the dropshipping model in more detail. It's a business model where you sell products on your storefront without keeping inventory; instead, your inventory is kept in a third-party warehouse and shipped to your customers on your behalf.
Dropshipping is great for new entrepreneurs because there's no need to invest money in inventory. Typically, dropshipping focuses on products that look similar (and can be hard to compete with), but some dropshipping suppliers offer personalization features.
For example, Printful is a print-on-demand dropshipper that allows you to create your own designs for t-shirts. Once a customer orders your shirt, Printful fulfills the order and ships the products directly to the customer for you.
All of your products will be printed only when the order comes in, so you won't have to worry about any upfront costs. Since you won't have to invest money in inventory, you can create as many t-shirts as you'd like. If a t-shirt doesn't sell, just remove it from the store. And, when you get a new idea for a t-shirt, you can quickly add the design to your product line-up and see how it performs.
3. Set Up Your Store
You can sell t-shirts on an ecommerce platform or a marketplace. An ecommerce platform is a single-seller website where the store owner sells only their products, like Shift4Shop. A marketplace, on the other hand, is a website where products from multiple vendors are compiled into one well-organized catalog. Popular marketplaces include Etsy, eBay, or Amazon where you can pick products from a variety of different vendors.
Each marketplace and ecommerce platform is slightly different. Consider these factors when choosing your platform:
Price: Some platforms charge a standard monthly fee; others charge per transaction. When comparing pricing, pay attention to the hidden costs as well. For instance, payment processing charges often aren't a part of the monthly fee, so compare the payment providers each platform uses.

User Interface: The platform you choose should be easy to use for you and your customers. If you feel confused while trying to find something on the website, so will your customers. Look for a website that makes it easy to find product information, checkout, and navigate.

Integrations and Plugins: Look for apps that help with setting up shipping, dealing with taxes, organizing marketing activities, and so on.

Mobile Optimization: Around 79% of smartphone users have made at least one purchase on their phone in the last 6 months. A mobile-friendly website makes the shopping experience faster and easier – and your customers will be able to buy your t-shirt no matter the device they use.
4. Create Designs for Your Products
Now let's get to the creative part – creating cool designs. There are three major ways to go about creating designs.
Create a Design from Scratch
There are many different design tools out there you can use to design your shirts. Photoshop is the most popular, but it's also quite an investment. Luckily, there are many budget-friendly design tool alternatives, like Canva, Krita, and Photopea.
Printful's Mockup Generator is an incredibly versatile tool for making designs – and it's free! The Mockup Generator has sample graphics, texts, fonts, emojis, illustrations, clipart, and symbols that you can use to create your own designs. You can upload your own artwork and spice it up with text and clipart tools. Alternatively, you can also make your t-shirt designs on the spot and generate mockup images that you can push to your storefront.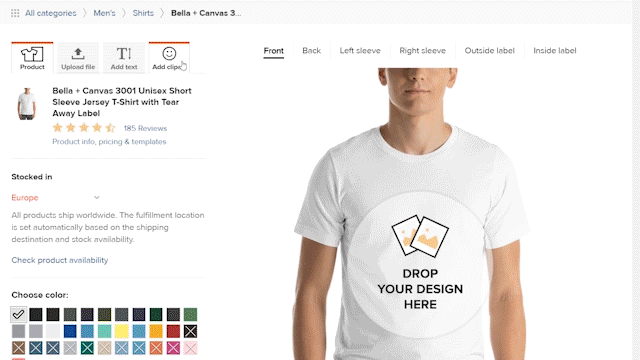 Use Ready-Made Images and Fonts
You can find stock images on websites such as:
A variety of beautiful fonts can be found on sites like:
Always read the Terms and Conditions of these websites to see if there are any additional use requirements. For instance, ready-made images and fonts often have to be modified before they can be printed on t-shirts for commercial use.
Hire a Freelance Designer
A professional designer is just a click away. Here are a few websites where you can find one:
Fiverr is a website where all services start at $5. It's convenient when you need to hire someone on a short notice.

99designs is a graphic design platform where you create an offer for the entire community. The designers then submit their ideas and you pick the one you like the best.

UpWork is a freelancing platform where you can hire designers and other professionals. Always read the reviews of other customers before choosing a designer.

Printful's Graphic Design services includes a team of expert graphic designers. Submit a request and they'll get back to you in 24 business hours.
5. Launch Your Store
You've made it all the way to the end! To launch your store, complete these last steps.
Step 1: Set the Price
With dropshipping, there are two prices to take into account. First, there's the product price that your dropshipping partner asks for from you before fulfillment. Second, there's the retail price, which is what you sell it for.
Pricing your products is tricky. Set the price too high and you risk losing sales because people won't be willing to pay the price. Set the price too low and there's a possibility that you won't make enough profit.
A lot of sellers start with a 30% profit margin, but it's entirely up to you how much you charge for a product. Just take into account operating costs, like marketing activities, advertising, apps, etc.
Whatever price you decide on, make sure to show your customers why your product's unique. This is what's known as creating a value proposition.
You can emphasize product's quality, free shipping, or custom-made designs in your unique value proposition. In this example below, Warby Parker gets to the point straight away – their value proposition is saving time and money with affordable frames, free shipping, and free returns.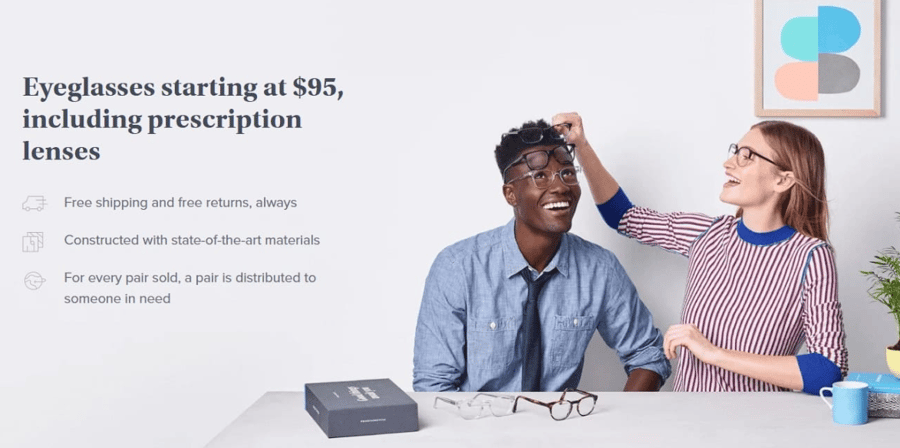 Source: Warby Parker
If you want some inspiration, check out this nifty list of value proposition examples from other companies.
Step 2: Calculate the Shipping Costs
Deciding your shipping rates will depend on the integration and dropshipper that you use. For those using Printful as their POD dropshipper on their Shift4Shop store, they offer flat rates that you can use when setting up shipping costs.
Step 3: Push the Products to Your Store
Every ecommerce platform or marketplace has a different approach to pushing products to your store. When you have a store on Shift4Shop and you're using Printful as your dropshipper, the process of importing products is simple. Here's how you do it:
After you create the products on Printful's end, head to Shift4Shop. Click on the Import Products button under the Printful Settings section. You'll see all the products you have created on Printful, along with the number of variants each product has. Select the products you want to import from your Printful's end, then click the Fetch Products button and confirm to continue. Voilà, your products will appear on your storefront!
Step 4: Choose a Payment Processor
Ecommerce platforms like Shift4Shop typically support many different payment methods, which can be divided into two categories: online and offline payments. Online payments rely on credit card transactions while offline payments infer checks, purchase orders, and store pickups. Read more about setting up payment methods here.
Step 5: Promote Your Store
You might have created the best t-shirts in the world, but how will people find them if you don't shout it from the rooftops? This is where marketing comes in. There are multiple strategies you can learn about, but a word-of-mouth marketing strategy is the easiest and the cheapest one you can do from the beginning.
Word-of-mouth marketing is the process of encouraging people to talk about a product with their friends, family and followers. Customers often trust personal recommendations and reviews more than polished product descriptions. And, if they hear about your t-shirt from a friend or a previous customer, they'll be more likely to buy it.
Try these word-of-mouth marketing strategies:
Encourage user-generated content. This is any type of content created by your customers. Product reviews and testimonials will provide social proof and make other potential customers more likely to buy from you.
Have a strong social media presence. Depending on your customer demographic, social media platforms like Facebook, YouTube, and Instagram are all great platforms to explore. Instagram is particularly useful for marketing visually appealing products like t-shirts because you can show off your designs in action through photography.
After you complete the steps above, your very first t-shirt store will be up and running!
A Few Final Words
This is the part where we'd love to tell you that success is already in your pocket. But, let's be real – first ideas don't always work out. But that's completely fine.
Many entrepreneurs will tell you that resilience is the key to success. Selling t-shirts won't be an effortless journey and you'll need all the resilience to power through. But, once you build your customer base and the orders start coming in, you'll see your hard work was worth it.