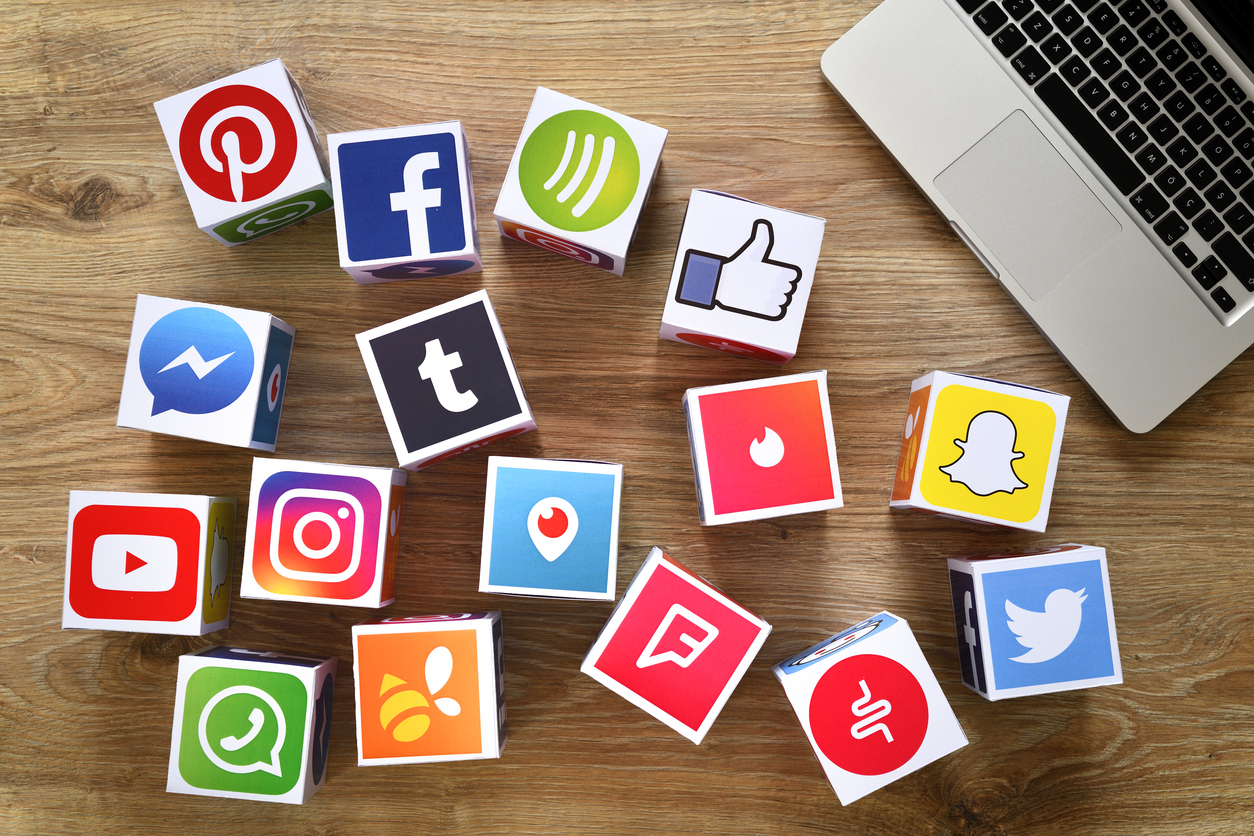 Social media used to be all about connecting with friends. You'd simply search for a friend, connect with them, and start talking about anything and everything. Today?
Social media grew from just connecting friends to uniting brands and communities online. In recent years, social media has turned into an essential piece of everybody's lives and, in turn, your marketing strategy.
Consumers today are online and are very social. In fact, 90% of consumers turn to social media for assistance with a buying decision and approx. 8 out of 10 people bought something because they saw it on social media.
But even with this huge popularity of social networks among consumers, some eCommerce businesses still haven't taken advantage of the potential the social networks actually hold. If you are one of such businesses, you are missing out on an excellent opportunity to build a better brand experience for customers, drive traffic to your site, and generate sales leads.
However, you don't need to worry. It is not too late.
Regardless of whether you are a passionate social media expert or a newcomer, there is still time for you to start using social media to grow your eCommerce business. In this article, I'll help you understand why social media is so critical to your success.
I'll also walk you through some proven social media tips on how to use social media for your eCommerce business.
Let's get started!
Why Use Social Media for eCommerce?
To successfully market your eCommerce store today, you have to be present on social media. There are enormous benefits of social media marketing, and on the brighter side, it doesn't even take a huge commitment of your time or resources to pull it off!
Here are a few reasons why you should use social media for eCommerce.
To get a recommendation from customers: It is more likely that a customer will share and recommend your brand on social media if they are satisfied with your business. Social media plays a significant role in word-of-mouth marketing.
Remember, word-of-mouth is the most credible form of advertising. 92 percent of consumers say they trust product or brand recommendations from their peers.
To drive more traffic to your website: eCommerce is driven by traffic, and social media is the best way your eCommerce business could get that traffic (leads and customers) to your website for conversions and sales. Consider leaving your site URL on your brand's account page on every social network, whether it is Facebook, Twitter, or Instagram. This is how people coming across your brand's social media page would find your site.
To know what interests your audience: It means a lot for an online seller to comprehend what their market is currently interested in. Fortunately, social media makes the job easier. It makes it simpler yet enriching for eCommerce businesses to get into their customers' heads and create product campaigns that interest them and are more targeted.
You can't ignore such a huge market: This year, there are 2.77 billion social media users, and just two years from now, there will be over 3.5 billion people using social media! Unquestionably an incredible number to concentrate on. What else would a business need?
The best part is, this huge number of people don't just have social media accounts — they use them a lot.
According to Digital Information World, on an average people use social media for 2 hours and 22 minutes per day, which is twice as long as any of their other online activity.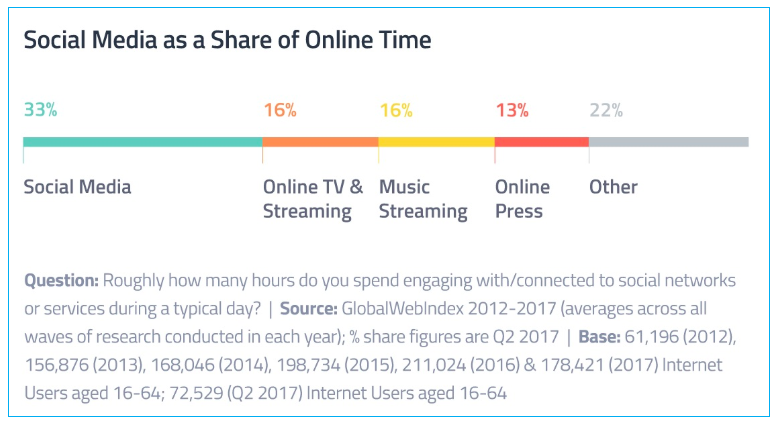 Social media, when used properly, can come to an eCommerce business owner's rescue. Simply by spending a few hours on a weekly basis, on social media sites like Twitter, Facebook and Instagram, eCommerce store owners can direct people to their site, and can generate sales leads.
Since you now know why you should use social media for your eCommerce business, let's move ahead with understanding how to use social media for your eCommerce business.
How to Use Social Media Marketing for eCommerce
Different businesses use social media for different purposes. For instance, the main goal of an eCommerce business could be driving relevant website traffic or increasing brand visibility. On the other hand, the primary goal of an NGO could be to either build a community or raise funds. Based on these goals, the method of using social media differs.
Hence, first identify your brand's social media goals and devise every one of your techniques and strategies dependent on your objectives.
1. Do not indulge in too much self-promotion.
Use social media platforms to not only sell your products but to add value. Too much self-promotion could leave you in a bad position and would make you lose your followers and engagement. So, be unpretentious yet ground-breaking! Use the wing-man solution — find other people to sing your praises. Social media is tied in with socializing and communicating with people. Remember, if you can engage people effectively on social media, you can, without much of a stretch, influence them to become your advocates.
2. Identify your target demographics and their content needs.
Each social media platform has a different set of users with different purposes. After all, no business wants to waste their valuable time in creating content for a social network where their audience hardly exists. Using social media analytics reports offered by a wide range of social media marketing tools, you can get a detailed breakdown of your current audience demographics. This is a brilliant way to accumulate some underlying information on who to target. If you are starting from scratch, this audience demographics guide by Spredfast would be of great use for your eCommerce store.
3. Don't just stick to conventional social media networks.
Do not embrace the skewed methodology of other social media marketers who just support the popular social networks, and not the online review sites, Q&A platforms, and other less obvious forms of social media. Online customer review sites are inherently social, where users trust each other, so you can use them to your advantage.
61% of shoppers read online reviews before deciding on a product, and 88% of consumers consider online reviews equally important as personal recommendations.
Does that mean other platforms aren't worth your time? Definitely not. It simply implies that you should both focus on the review sites as well as the other well-known social media networks, like Facebook, Instagram, Snapchat, and Twitter since they offer advantages that you won't find anywhere else.
Strengths of a Few Popular Social Media Networks:
Facebook:
A huge audience
Amazing source of traffic and testimonials
Highly targeted advertising
Event promotions made easy with built-in tools
Twitter:
An open platform
Real-time communication and updates
Great for customer service
Targeted and effective advertising
Integrated Buy Now button
Instagram:
Very popular with teens and millennials
Excellent promoter of products with visual appeal
Offers compelling call-to-action buttons
Growing as an ad platform
4. Understand the content needs of your customer.
Once you've selected the social media platform where you want to build a community, you'll need to understand what your prospects and customers need. You can either directly ask your customers what they want to learn about or monitor your target audience's conversations on social media sites.
One example of an eCommerce business with a great content strategy is asos.com. What is interesting is that asos.com is not only uploading pictures with the clothes they are selling, but with celebrities, food, art, and other subjects. Keep in mind, they are able to experiment with their content only because they know about the content needs of their customers.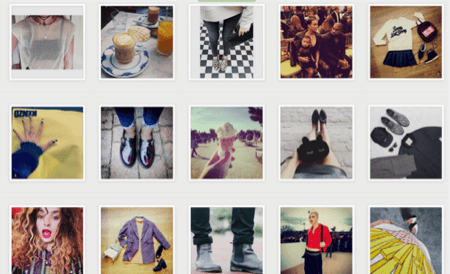 5. Take an integrated approach.
An integrated approach involves adding social buying options to your social media pages. It's a surefire way an eCommerce brand can improve its sales, bring down the selling cost and even monitor client behavior.
The presence of such buttons on your social media pages shortens the discovery-to-purchase journey of your customers, allowing for a higher conversion rate than before. One click on the Buy Now button and your customers are well on their way to ordering any product from your store. One good example of this is Instagram's Shop Now buttons.

Conclusion
Without a doubt, social media has become a vital tool in any digital marketer's toolbox - especially for eCommerce. By understanding your customers and their needs, and creating content that's both valuable and unique, you'll be boosting your social media engagement in no time. Users are much more likely to engage with useful or interesting content related to your industry, rather than blatant self-promotion. But, also stay aware that each social media network has it's own strengths and weaknesses; test out different content creation and posting strategies to find out what works best for your business's audience.