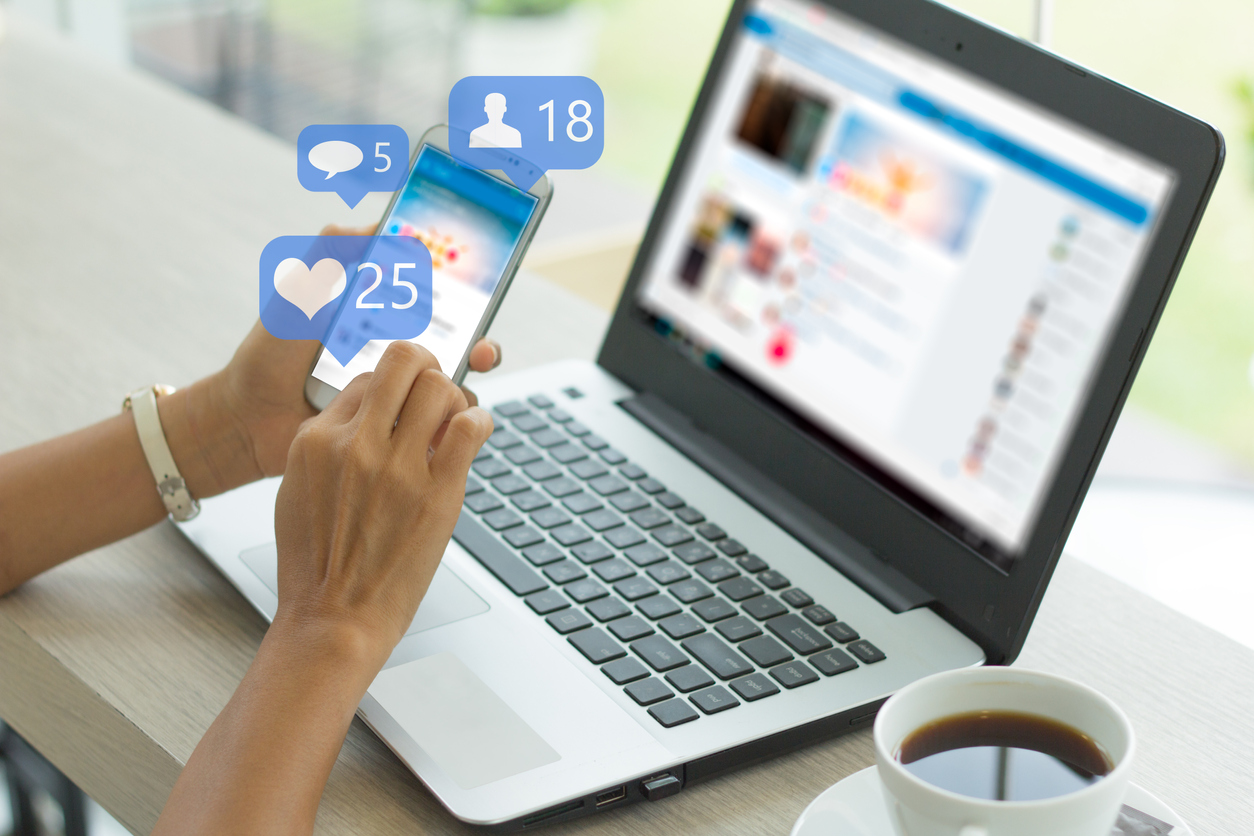 Social media sites are popular all over the world, with billions of users on Facebook, Twitter, and now TikTok, from across the globe. This makes it increasingly crucial for brands to leverage the power of social media platforms to engage potential customers.
But, to present a cohesive brand image, you need social media guidelines to communicate the brand's expectations to its employees reliably.
Let's find out how you can create useful social media guidelines for your business.
What Are Social Media Guidelines?
Social media guidelines are a set of rules that describe how its employees behave on the company's social media platforms. These guidelines are put in place to ensure a positive and consistent brand image for its customers, because one small slip-up can lead to a disaster for your business.
These guidelines lay down a framework that incorporates your company's regulations as well as the rules that are established by law.
When the guidelines are implemented in the right way, they empower employees to engage with your leads and customers positively. Also, it protects your company from any unforeseen lawsuits on violation of social media regulations and guards your employees against online harassment.
Now, it is essential to include some safety sections in your business's social media guidelines. These define policies on harassment, cybersecurity, privacy, transparency, and other legal considerations.
It is also essential for you to highlight the real do's and don'ts of social media communication between your employees and potential customers, regardless of the size of your company. This way, you get to lay out the basic rules for talking about the business and its products on social media platforms while also offering clear-cut guidelines on what information can be shared online with the customers.
Since businesses usually have different processes and codes of conduct, it is necessary to tailor these sections according to your corporate values and employees' preferences.
Why Your Team Needs Social Media Guidelines
Your employees represent your brand on social media platforms, which is why they should have social media guidelines to maintain your brand's reputation.
These guidelines determine who can interact with a client, answer their queries, and handle conflicts on behalf of the company.
This helps you to create a consistent brand image as well as protect your employees from potential chances of online harassment. Additionally, appropriate social media guidelines help alleviate unforeseen cyber-security risks and avoid PR crises.
Transparent guidelines also assist you in boosting your brand awareness so that it becomes more prominent to your potential customers on social media platforms.
How To Create Your Own Social Media Guidelines
When you represent your brand online, you and your employees are bound to follow the etiquette of social media platforms.
Since social media allows you to interact more personally, there are more chances that your employees will hand out more information than they should or fall prey to an internet troll.
Hence, you need to craft an outline for social media usage guidelines that are strictly followed by your employees.
In this guide, we will help you determine specific parameters for creating comprehensive social media guidelines for your employees.
Step 1: Set up Your Social Media Channels
Your business does not have to be on every social media platform out there. Instead, focus on channels that offer the most opportunities for your business to attract potential customers and spread awareness.
The first thing you need to specify in the social media guidelines for your business is the name of the platforms that your employees are allowed to use. While you are at it, also determine the criteria for opening or closing an account on each platform that you select.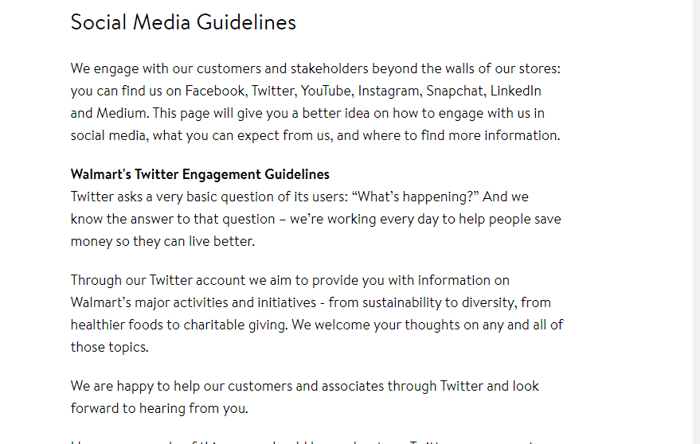 For example, Walmart's guidelines clearly dictate that the company uses its Twitter account to engage with its customers and offer essential information to them.
Similarly, your corporate SM guidelines should also state the standards for devising names for your social media posts, as well as the images posted by your employees.
Ensure that you set consistent standards for using images that align with the dimensions as recommended by each platform.
Moreover, the guidelines should include rules for posting links on each of your chosen social media platforms.
Step 2: Decide on Topics You Want To Discuss
This particular rule in your guideline will determine the type of content that your employees can post on your brand's social media channels.
Also, the same content cannot be posted on all platforms, so you need to determine the topics that should go on a specific forum concerning its audience.
Furthermore, you need to ensure that the guidelines include all the potential topics that must be avoided by your employees, such as links from your competitors.
So, if you are posting on Facebook, you need to include videos and blog posts in your company's social media guidelines.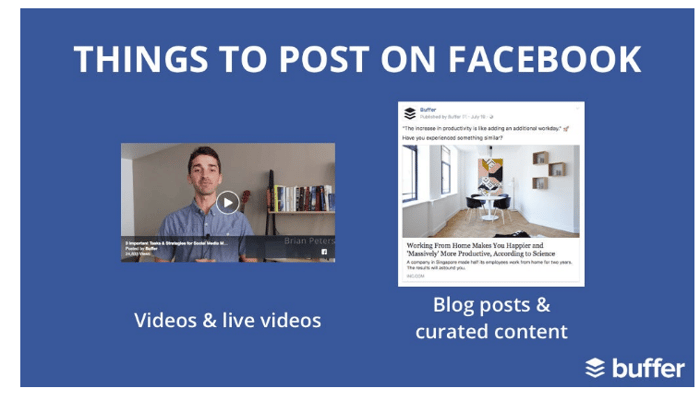 Step 3: Define Your Communication Style
You need to determine your brand voice and ensure that it aligns perfectly with your company's values.
The guidelines should include a consistent brand tone that must be employed by your team members to appeal to your audience.
Devise a clear plan for using jargon and layout the exact length of your sentences and captions that will be posted on the social media platforms.
You also need to decide on the usage of emojis and hashtags. Is your brand voice fun and peppy? Will your intended audience enjoy the use of puns? Are there any hashtags that you'd rather not have associated with your brand?
Determine the amount of time that your employees are allowed to include a campaign hashtag or the ideal number of hashtags that can be used with a single post.
For example, as the campaign hashtag "#ShareaCoke" for Coca Cola was created to encourage the sharing of Coca Cola bottles.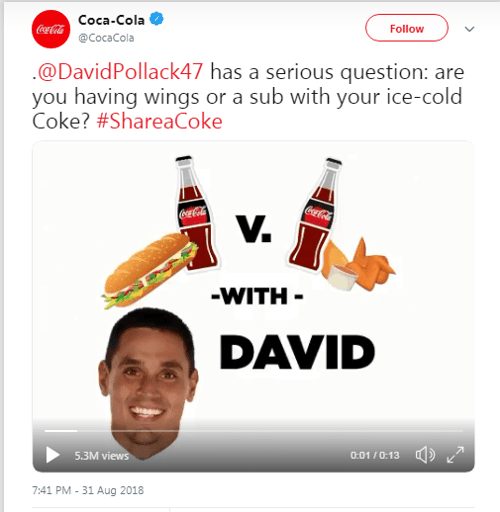 Moreover, include the specific words that you find appropriate for calling your customers to take action or make a purchase from your brand.
You can also go for specific tools such as markup and annotation software that help you and your team members to manage your content efficiently.
Step 4: Define Your Visual Style
Images, visuals, and the overall visual appeal of your social media channel play a huge role in developing your brand's online presence. Because of this, you need to include your brand's visual style in your company's social media guidelines.
Start by determining your brand's colors, as they should remain consistent across all social media platforms used by your company. Select a font style for the images and posts' caption or invest in creating a custom font that remains specific to your brand.
The guidelines should also include instructions about using your brand's logo, such as the right time and place to use your company's logo on social media.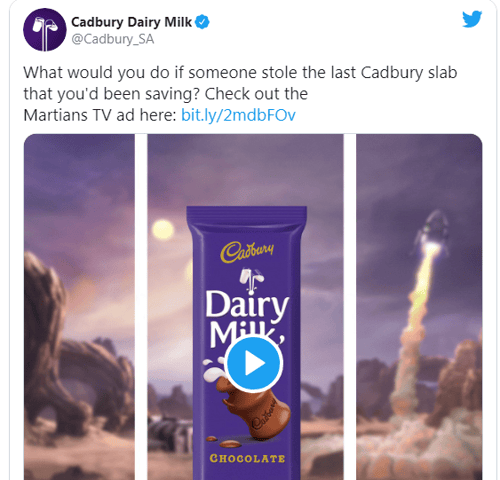 For example, Cadbury ensures a consistent color palette in all their images and videos to maintain their brand image. No other chocolate brand would dare use this shade of purple because Cadbury has claimed it as its own.
This is why it is always a good idea to create a unique visual style for your brand.
By integrating rules in your social media guidelines, your employees are exempted from making any changes to your brand's colors, logo, or fonts. You can also use powerful graphic design software such as Photoshop or Canva to create suitable templates your employees can use.
Step 5: Establish Rules for Communication With Followers (Netiquette)
Social media channels are the perfect platforms for getting in touch with your customers. To increase your audience base, you need to post informative content about your company, as well as the niche industry you work in.
Getting the wrong information out there will considerably damage your credibility, hence update your brand's information regularly and ensure that you post authentic content.
The social media guidelines should include rules communicating responsibly on the entire social media platform to avoid potential conflicts with your audience or competitors.
Be mindful of your brand image and how you are conveying it to your audience. Do not engage in any situation that can result in damaging your brand's reputation.
Also, encourage your employees to use their best judgment while posting a comment or post online. State the best answers to critical comments or queries from followers and devise a plan on dealing with troublemakers or online trolls.

This is how Xerox encourages its employees to ensure positive communication with the customers.
Step 6: Decide Who the Contact Person Is
You need to select the employee responsible for representing and maintaining your social media channels and include their responsibilities in the guidelines.
Include their names, contact numbers, and email addresses so that everyone in your company knows whom to contact in the wake of an emergency.
The contact person will be responsible for protecting the passwords of all the social media channels. Also, they will be tasked with posting social media posts and monitoring of their engagement daily.

For example, Dell's rules for tasking a specific person with social media responsibilities are mentioned in the image above.
Examples of Great Social Media Guidelines
Let's take a look at some examples of social media guidelines used by some of the most popular companies in the world.
Intel
Intel encourages its employees to make smart decisions and protect the company from potential harm. It highly focuses on transparency, as a lack of it can pose serious problems when it comes to employees' social media accounts. Their social media guidelines include:
It is strictly prohibited to share confidential information about the company's products, finances, or legal issues on social media.
Use Federal Trade Commission provided disclaimers in the social media posts and refrain from using words like higher or faster-performing.
Only talk about the topics that you hold expertise on and be yourself while interacting with the client.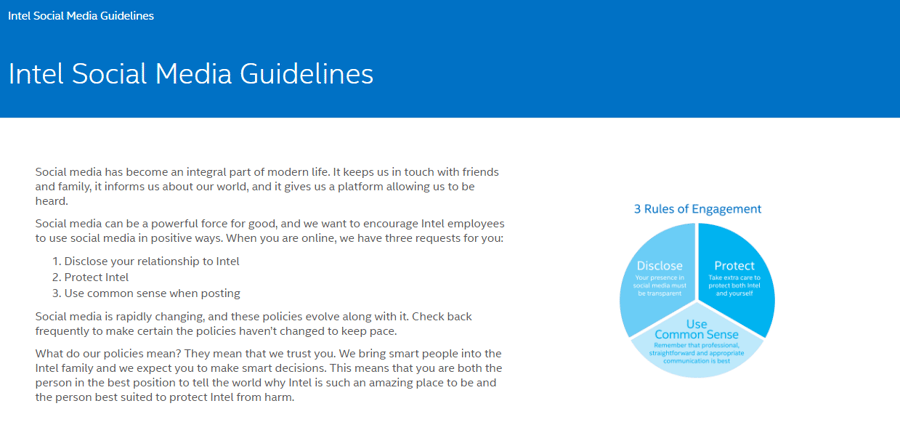 Nordstrom
To represent Nordstrom on social media platforms, the guidelines include:
Treating the customers, vendors, competitors, and followers with respect and positivity.
Be transparent about your role in Nordstrom's business operations or the position you hold in the company. Establish yourself as a representative of the company.
Avoid mixing up with conflicts of interest that might cloud your judgment.
Refrain from publishing or posting confidential information such as upcoming promotional activities, product information, or pricing.
Don't leak out personal information of customers on social media platforms.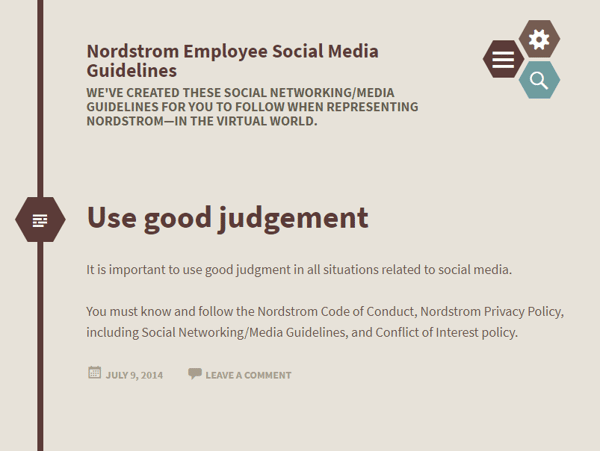 FedEx
The social media guidelines created by FedEx encompass comments on various social media platforms, as well as different situations.
Only authorized employees can create social media accounts on behalf of FedEx.
Refrain from posting defamatory, violent, or racist comments and posts on social media.
Protect confidential information that includes trade secrets, earnings, business assets, and customer information.
Use your real identity whenever you promote FedEx products or services.
These guidelines are present in the form of FAQs so that all the employees are clear on their responsibilities.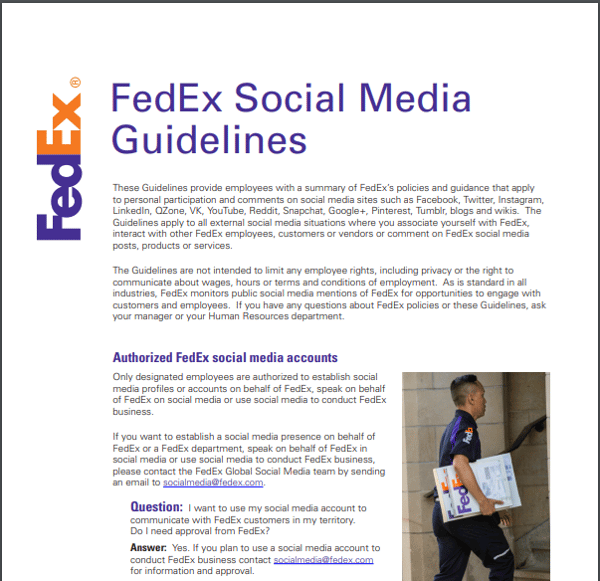 Adidas
Adidas promotes open communication so that the employees can share their work with the rest of the world via social media. Their social media guidelines include:
State the name and role in the company whenever Adidas products are discussed on the internet as there are designated spokespersons for the brand.
Suppose anything is marked with "For internal use only," refrain from posting it anywhere. This includes a variety of things, such as the CEO's message to the employees.
Do not use racist slurs, violent language, or obscenities while interacting with the customers. Also, do not engage in inflammatory topics.
These guidelines include direct rules so that employees are always in tune with their responsibilities as employees as well as humans.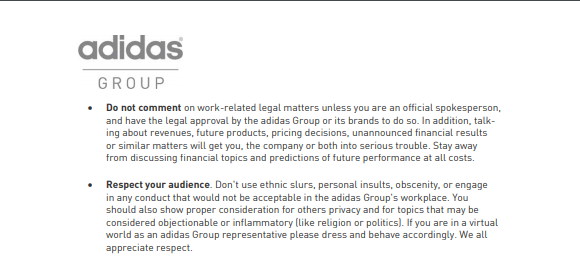 Conclusion
Social media is used by many brands to engage with new customers and enhance their brand image, but there are some inherent risks to it.
A small mistake can land your brand into a massive PR crisis that can seriously damage its reputation. This is why you need a set of social media guidelines for your employees and team members to ensure protection from harassment or cybersecurity risks.
So, make sure that you build a viable social media guideline that directs all your employees on how to conduct themselves when online.