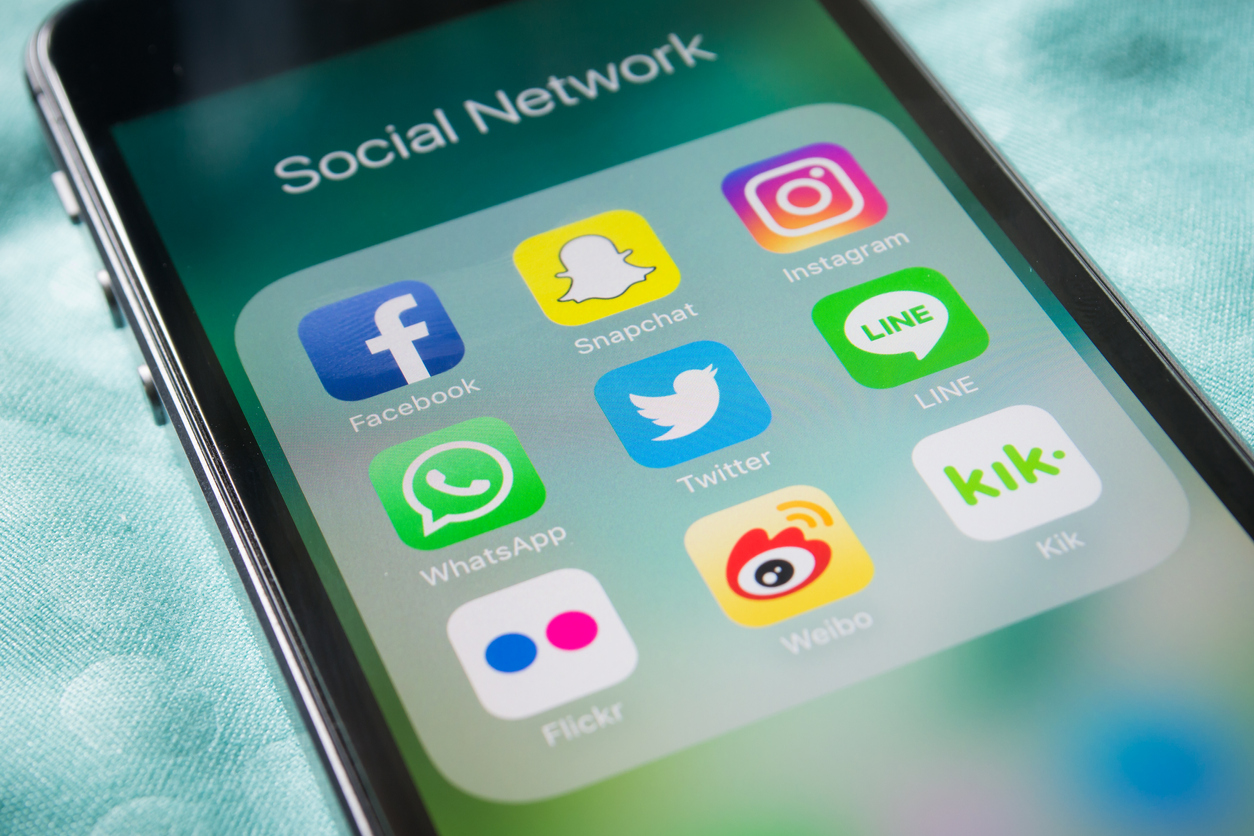 Anyone who has worked in digital marketing knows how important social networks are in this line of work. They provide a great way to communicate with your customers, run marketing campaigns, collect feedback on your products, and so much more.
But there are so many social media platforms nowadays that, sometimes, it can become an overwhelming task to keep track of them. Which ones do you need to have a presence on? Where does the target audience of your marketing campaign gather? There are a lot of questions surrounding the topic, so let's find answers to them!
On this list, you'll not only find social networks you have undoubtedly heard of, but also those that may seem obscure to you. However, as you will see from statistics, they are far from being niche and can be a great tool for your eCommerce business.
Let's get started!
Facebook
Facebook is a true giant of the social media world. As of the third quarter of 2019, it had 2.45 billion monthly active users – an unsurpassed number that makes it the biggest social network worldwide. Just think about it: almost a third of the world's population uses it every month. Needless to say, there's a lot of marketing opportunities there.
However, there are some concerns about Facebook in terms of user privacy. As far as social network privacy goes, it has been called a real "nightmare," and this sentiment keeps growing. But this fact shouldn't dissuade any company from doing social media marketing because, despite all of its shadier aspects, Facebook has remained insanely popular.
Another thing to be aware of is that the use of Facebook is prohibited in China, meaning the the website can't be accessed there. So, if you plan to promote your products for the Chinese market, you will need to find another platform. We'll discuss a few of them later in this article.
One of the best things about Facebook is how easy it is to create a business page, use targeted ads, and communicate with your clients.
YouTube
YouTube is a video sharing platform that can be viewed as a representation of our daily lives: fast-paced, somewhat hectic, and attention-grabbing.
And, of course, it is a great site to concentrate your marketing efforts on. In 2019, the number of its monthly active users reached 2 billion people – keep in mind that this figure only reflects how many logged-in users there were. The real number is likely much higher, with all those viewers still being subjected to ads.
There is more than one way of using YouTube for marketing. First, of course, are YouTube ads. Many types of them exist: instream, out-stream, etc. The bottom line here is that you make your own video and pay YouTube to display it to its users before, between and after YouTube videos – whether it is a skippable or unskippable ad.
Another opportunity is working with YouTube influencers. No matter what your products are, there are likely multiple big channels on YouTube to whose audience they can be relevant and interesting. It is an incredible way to reach new potential customers in a natural and easy way because the influencer's audience is already established.
However, you can also put work into and create a separate channel for your organization, providing a superb way to deliver valuable, unique content to your customers.
Please note that all three methods are by no means mutually exclusive – you can and should use them all together. Influencers and ads will do a lot to bring new people to your channel.
Sina Weibo
Though Twitter is blocked in China, people there still do enjoy all the benefits of microblogging. How is that possible?
Mostly, with the help of Sina Weibo. This social media platform is dedicated to posting short blogs (though no character limit is present anymore), gaining followers, exchanging images – you get the gist. It's almost entirely like Twitter, but with some exceptions.
The main one is that it is mostly targeted to users in Asia and, most of all, China. If your marketing interests lie in that region, you really want to make use of Sina Weibo.
Perhaps the most astonishing way in which it differs from Twitter is its userbase. In the third quarter of 2019, there were nearly 500 million monthly active users on Sina Weibo while Twitter could only boast having 330 million. Although the latter figure corresponds with the Q1 of 2019 since Twitter later stopped publishing its MAU numbers, it is still smaller than that of Sina Weibo (465 million).
To achieve the optimum marketing performance on this website, it's a good idea to create a business account. It is somewhat similar to your company's profile being verified on most social networks: you will have a special mark to notify visitors on your page that your business is legitimate.
However, as a foreign entity, you will have to pay a fee and provide official confirmation of your identity. The process can be a little complicated, but not overly so. One piece of advice is to involve a Chinese-speaking person into this process from the beginning because, even on the English version of Sina Weibo's website, there is text in Chinese: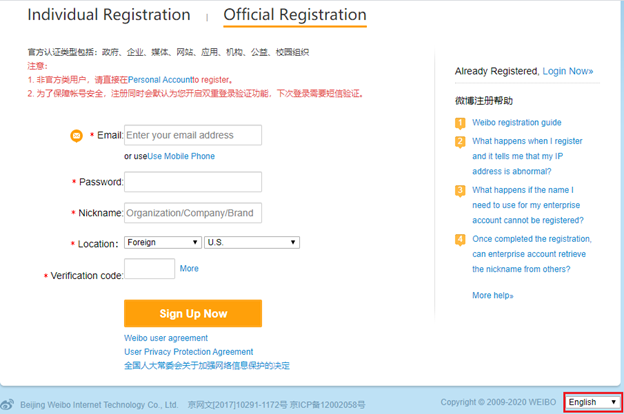 In any case, there is a lot of potential for digital marketing on this site for foreign companies that wish to tap the Chinese market.
Instagram
While we do not yet have Instagram user statistics for 2019, even those from the previous years are quite staggering. As of June 2018, this social network attracted 1 billion monthly active users.
Unlike Facebook (to which it belongs), Instagram is mainly dedicated to posting pictures and videos. If you specialize in selling products that benefit from visual representation (clothes, jewelry, kitchenware, even musical instruments – don't forget that you can upload videos on Instagram, too), it is your best bet to boost your brand recognition.
You can find popular influencers in your niche on Instagram easily enough by checking hashtags relevant to your products. Just like with YouTube, the best marketing method here is to combine the large audiences of your influencers with your own corporate account where your clients can find the most recent products and offers. Or, for a more straightforward approach, you can also run Instagram ads to place sponsored posts on user feeds.
WeChat
WeChat is another Chinese social platform that is mainly popular in Asia. However, when we say "popular," we wholeheartedly mean it: as of the third quarter of the last year, there were more than 1,150 million monthly active users on it.
So, what is WeChat, exactly? Well, it's almost easier to answer the question of what it isn't because of how much it can do. It's got messaging, a news feed, VOIP, maps, and digital payment apps.
Just like Sina Weibo, a foreign company needs to have legal permission to operate in China to start a WeChat store. Whether it's worth it for your enterprise to go through that process depends on how profitable you deem the Chinese market because, despite its very impressive userbase, WeChat is not particularly popular in the West.
Since WeChat in its current form has evolved from a messaging app, it has some design peculiarities that may seem strange to a marketer seeing them for the first time – luckily, they aren't too difficult to grasp.
It's necessary to note that there are two types of accounts you can create in WeChat: a subscription account and a service account. They differ drastically, so it's worth looking into them more closely.
First, there are subscription accounts. Their upside is that they can publish a message per day that the people subscribed to them may see. "May," however, is the key word here because all these messages are stored in the same folder within the WeChat app. So, depending on how often a user checks that folder and on how many subscription accounts they follow, there is a chance your message will never get read.
On the other hand, we have service accounts. With such an account, your company can't message daily but is limited to 4 messages per month. On the positive side, your messages won't be treated as those originating from subscription accounts and, instead of the common folder, will be sent to your followers as a separate conversation, leading to their much higher visibility.
Conclusion
Every company today should pay attention to social media marketing and eCommerce trends. It's clear that the number of social media users will continue to grow in the future.
Social media platforms allow digital marketers to wield great power due to the sheer size of their userbases. But of course, with great power comes great responsibility, and every company that has a strong social media presence must be mindful of the dangers it can pose.
For example, there have been cases of hackers and common thieves preying on small businesses who were inadvertently tipped off by the people in charge of those companies' social media accounts when the corporate network would be the most vulnerable. This is why it's a good idea to think about the cybersecurity of your business and provide awareness training for your employees in advance to negate any threats.
To sum everything up, the potential of social media is huge in marketing and sales. Of course, the five platforms described in this article are just the tip of the iceberg and there are many more to discover.