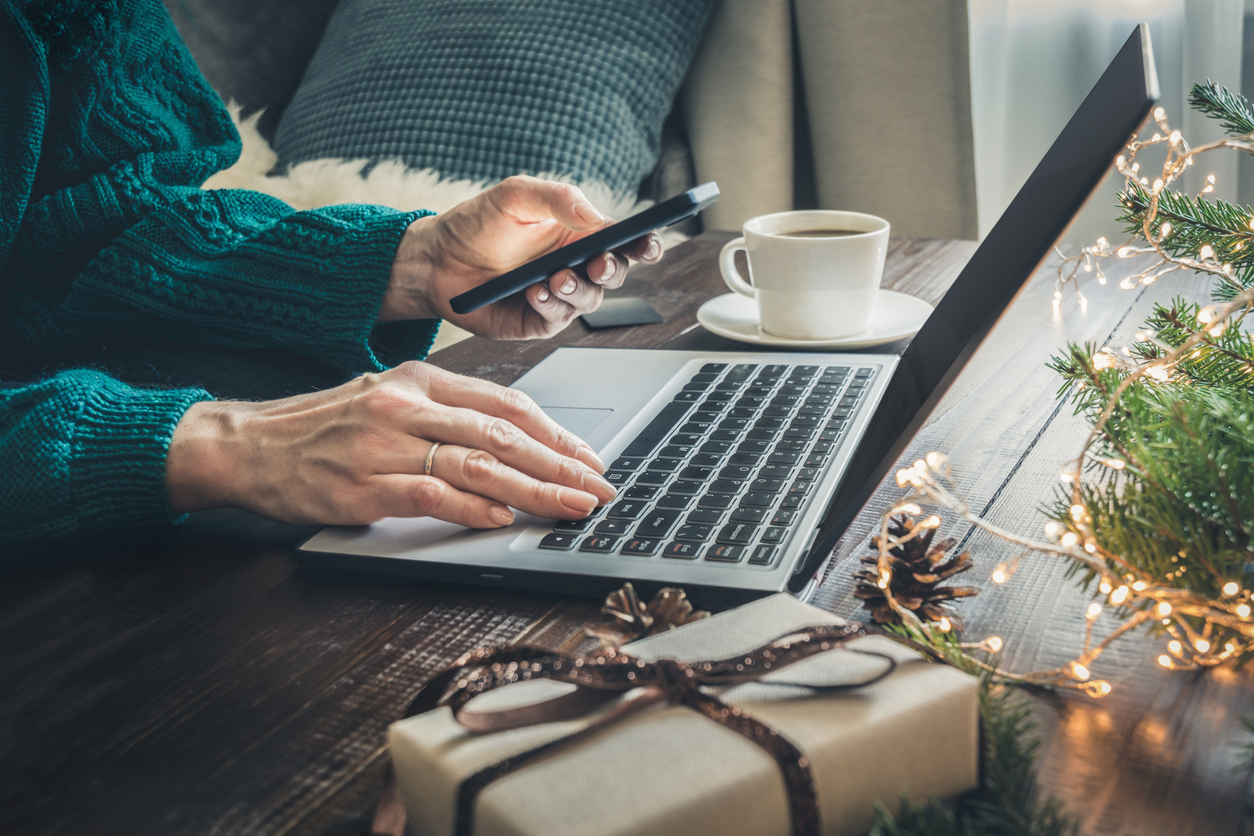 In the online world, every day is a wacky social media holiday.
While the 'holiday' season is widely known for kicking off shopping frenzy around the globe, other international holidays like the National Pizza Day are gradually becoming popular in raking in the moolah too.
You might think "why should I spend time and resources building a full social media marketing and an online sales campaign around one day that falls in a 'non-seasonal' period? Wouldn't I benefit more by focusing my efforts on the 'holiday' season of the year?"
You might have a point … if you are one of the big-box stores with millions of dollars in promotional budgets at their dispense to offer competition-killer deals and devour upcoming retailers.
These may not be 'real' holidays in their truest sense. However, you will find that leveraging social media marketing efforts around these days can bear fruit in the long term by building brand resonance with a new audience.
Also, let's be honest.
Who doesn't like to celebrate National Pizza Day? It's on February 9th, 5 days before Valentine's Day!
Is that a coincidence, you ask? Maybe. Maybe not. Point is that weaving a social media holiday in the marketing strategy will lend a kind of authenticity to your brand voice.
Let's get on with it!
What's a Social Media Holiday?
Social media holidays are precious opportunities for promoting your products, services, brand, or business in general in a niche way. Any one of these holidays or international days may be relevant to the range of services or products offered by you in some way or the other. It's up to you to find that golden opportunity!
For newer generations, relatability has been the essence of digital content in the past decade.
The YouTube generation, millennials, have grown up and are now parents to toddlers. GenZ – the Instagram and TikTok generation – have now graduated and are stepping into the workforce. One thing common between both of these generations that they have grown up on digital content that is relatable and authentic.
Because of that reason, corporate-driven marketing which tends to appear dry and pretentious online really doesn't click anymore. Social media holidays provide a way to retain control over how your brand appears in public while boosting brand relevance among the current digital generations and future ones too!
We will dive into a few of the popular ones that can be added to your annual promotional content calendar in a heartbeat.
Valentine's Day Themed Holiday Inspirations
Most brands rush to launch V-Day campaigns with warm and cheesy messaging drowned in rose-red hearts and elegantly arranged chocolate arrangements. While those are still popular, what do you do when none of those are what you offer?
Ikea Valentine's Day Campaign
Ikea went one step beyond by releasing a series of social media posts with humorous pun-ny captions (a spin on the product names promoted) like "Let's get MARYD" accompanied with a simple product photo of a pair of spoons.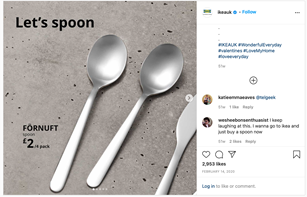 It is so simple yet mind-blowing that they had people commenting "This makes me wanna go to Ikea and buy a spoon", under it. People are quick on the uptake for catchy yet clean messaging like Ikea's.
Rest assured, it is sure to boost ad recall and customer engagement in the long-term and bring people back!
Pro tip: To gauge the type of messaging that best resonates with your customers beforehand, you can set up a survey or a focus group and gather audience insights to guide the social media strategy.
Daniel Wellington's UGC Campaign
User-generated content (UGC) is online content related to a brand voluntarily produced by its customers. Anything created by a customer that has not been commissioned by the brand falls under this category. It could be images, videos, art, blogs, social media posts, shoutouts, blogs, and many more.
Daniel Wellington made the most of this strategy by sending gift bags to influencers and letting their creative vision take over. Many of the submissions they received were cute and cuddly product integrations set against a Valentine's Day backdrop. All they had to do was repost the photo and tag the creator!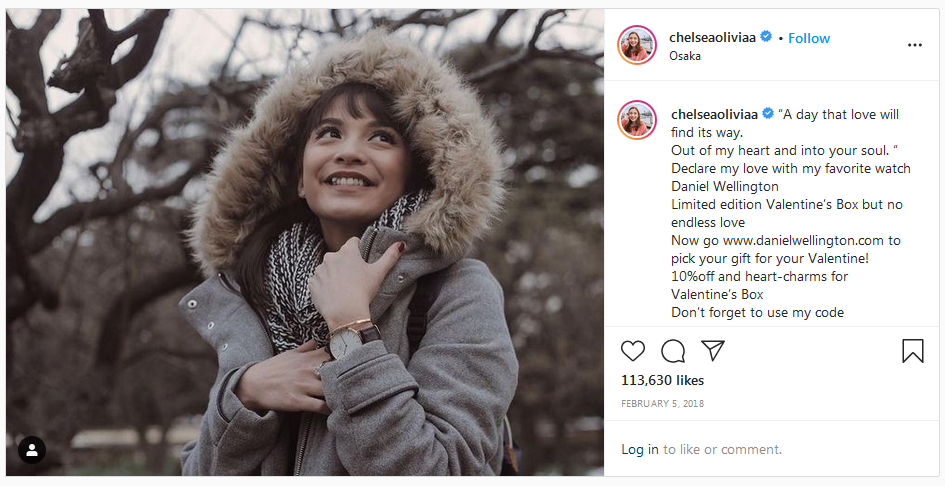 UGC can potentially add a touch of originality and spontaneity to what could otherwise be a well-curated feed. A combinational approach of influencer marketing and UGC can help boost brand awareness, resulting in you gaining a batch of fresh following.
Easter-Themed Holiday Inspirations
Easter is a busy time for retailers and online stores alike. Some start stocking stores with Easter bunnies and decorations as early as January! It's kind of fascinating. Who plans for Easter in January? No matter what, you need to get a head start!
Deliveroo's Dragon Themed Easter Eggs
In 2019, Deliveroo – a UK-based food delivery company – doubled up on the integration quotient by creating Game of Thrones-themed Easter eggs.
It was an ingenious idea.
Coming off the heels of its final season, Game of Thrones was all that everyone could talk about. In lunchrooms, bar socials, and subreddit threads.
Each egg was hand-crafted to resemble the multi-hued scaly dragon eggs from GoT that one of the characters had received as a wedding gift at the beginning of the series.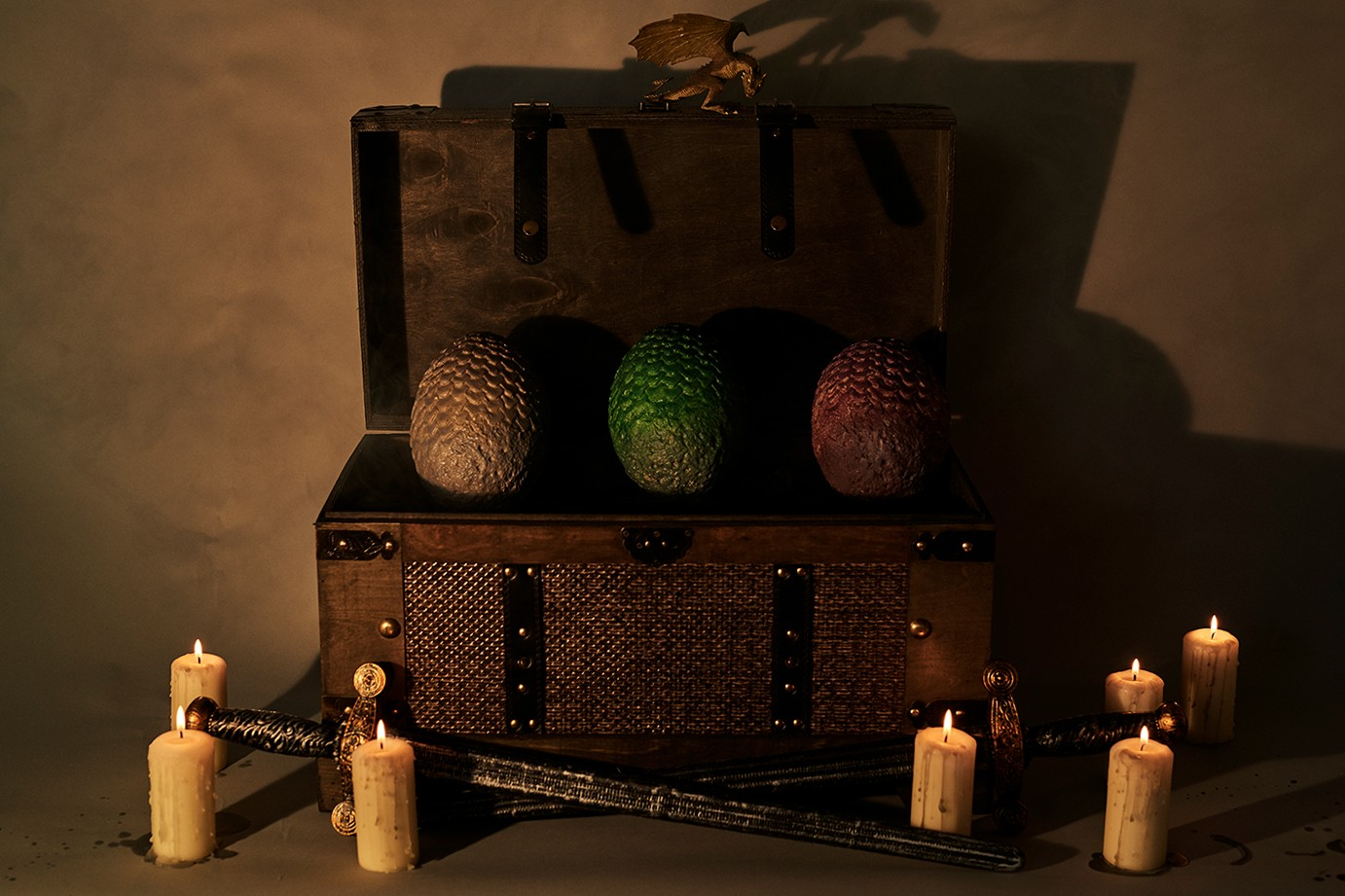 With immense shareable quality, the Deliveroo campaign focused attention away from its brand and instead chose to shine the spotlight on the love that people had for the show as it came to a grand series finale.
As Easter was around the corner, it jumped on the opportunity to help people enjoy a fan-favorite show with something they could fondly relate to a heartwarming holiday memory.
Deliveroo's campaign played into the hype of Game of Thrones and reaped stunning results. Many news outlets and zines picked up the story increasing its brand visibility, upping its uniqueness quotient, and generating new sign-ups.
Marmite's Y-Easter Egg
In grocery stores, the chocolate aisle is prime real estate in the run-up to Easter.
How does a food brand market itself during Easter when it has nothing to do with chocolate or even anything remotely sweet?
They do what Marmite did.
Their marketing team had the smarts to team with Asda (British superstore chain) to release a Marmite-flavor 'Y'-Easter egg to put the brand on the coveted shelves of their chocolate aisle.
Marmite customers are notorious for being its almost religiously fervent users. So much so that in 2020, shortages of the yeast-extract-based spread sent fans into a meltdown causing them to proclaim dramatically (like the rest of us), "2020 keeps getting worse!"
Acutely aware that its customers are passionate about Marmite, they branded the product with 'Love it or hate it. You just have to try it!'. Whether the fans liked or abhorred it, it was simply another cool campaign from Marmite that got people to drive to Asda, buy the Easter egg, and talk about it on social media.
Fostering conversations by offering a polarising product like this which you know only the most obsessive fans will lap up, is a great way to build an online community of ambassadors, boosting engagement, and increasing the share of voice among competitors.
Christmas-Themed Holiday Inspirations
As soon as the clock strikes midnight on October 31st, frightful skulls are swapped for floral wreaths, cobwebs are dusted away to make space for Christmas ornaments, and MJ's Thriller fades out to Mariah's All I Want for Christmas is You.
Many brands are synonymous with Holiday campaigns and a few are even enthusiastically looked forward to all-year by everyone alike.
Starbucks' Red Cup Contest
What do red, holidays, and coffee have in common? They all come together to create the iconic Starbucks red cup!
Every year, Starbucks serves drinks in limited edition red coffee cups that come in cute, distinctive holiday prints, for instance, red and white candy cane stripes, stockings, snowflakes, etc.
Hotly anticipated all-year, Starbucks launched a competition on social media asking people to decorate the red cups and the best creations get reposted on their Instagram page or Twitter feed. They can also grace your website like a beautifully curated digital gallery.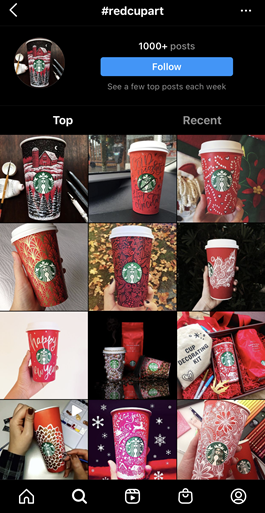 A few lucky creators even receive a well-curated red cup decorating kit from Starbucks to give them a head-start for the next Holiday season.
Pro tip: Use a variety of social media management tools to explore content that may seem outlandish to your brand identity but make for a campaign that'll appeal to your audience.
Google's Santa tracker
In this pandemic, many Holiday revelers were worried whether Santa would be allowed to travel or not? Would he need a COVID test before he can travel across international waters? Would he need to go into quarantine before delivering gifts to kids?
Google's Santa tracker brings that childlike wonder about Holiday magic and the ingenuity of technology. While it has been around for years (since 2004!), the concept is like any other web-based single-player mini-games of the early 00s. There are interactive games like Santa's Village, Snowball Storm, and Santa Selfie to keep kids and adults entertained alike. It is a wonderfully interactive way to teach kids about holiday magic and the joy of giving.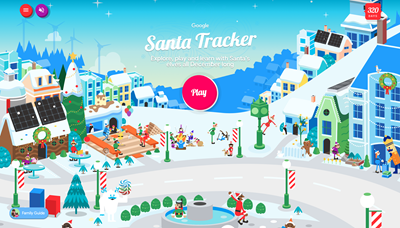 The folks at the helm of Santa tracker went one step further and made part of the code open-source enabling developers to build magical experiences of their own imagination. Google takes the business of tracking Santa quite seriously, why can't everyone else have a share of the pie too?
Thanksgiving-Themed Holiday Inspirations
Over the years, Thanksgiving and Black Friday sales have grown to become incomplete without each other so it's natural to want to build a social media marketing that talks about what to expect after the turkey's gobbled up.
Not true for these brands. With the right mix of warmth and cuddliness, these Thanksgiving campaigns hit the bullseye.
BarkPost's Yappy Thanksgiving
For those of us who call our puppers and doggos family, BarkPost had something to say.
They sent a crafty email on how to spend Thanksgiving with your pet, replete with feeding safety tips, cute dog gifs, cartoons, and hilarious videos. If you were feeling nervous at the thought of seeing family around Holidays, it also offered tips on survival techniques – all of which involved the most important person in your life – your dog.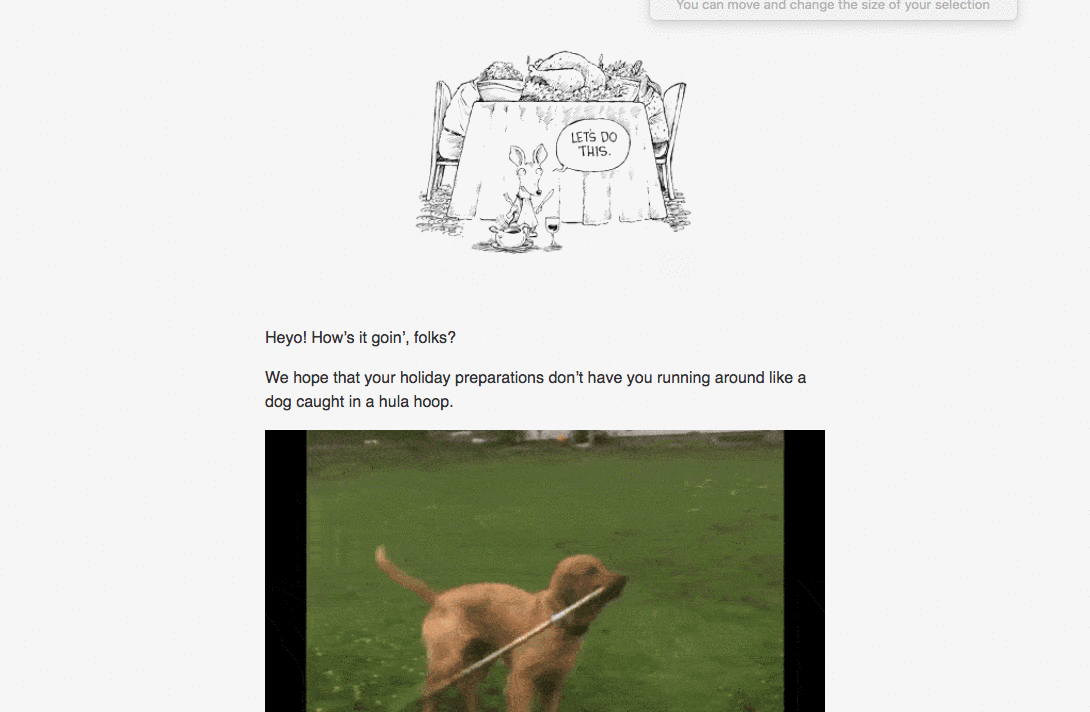 A pet brand has a lot going for it, most important being endless access to cute and funny animal content but how do you put together a concept that hasn't been done to death?
A holiday-themed email aimed at engaging loyal customers and providing humorous relief from nervousness that plagues many people as the Holiday season rolls around can go a long way in enhancing customer retention and relationships.
Patagonia's #LoveOurPlanet Movement
Known for being an ecologically sustainable outdoor-wear brand, Patagonia ran a #LoveOurPlanet to promote their mission to donate 1% of all Black Friday sales revenue was donated to environmental non-profits.
Black Friday sales are fueled by consumerism so it's completely on-brand for Patagonia to spin out a campaign that promotes one of its core brand values of sustainability. They are well aware that people are going to spend big bucks on heavy purchases like outdoor gear anyway. In this scenario, the best way forward is to keep the odds in your favor, at the same time without compromising what makes your brand unique.
A bold move like this should be underpinned by the use of customer analytics to learn more deeply about your brand's most loyal customers. It has been found that extensive adopters of customer analytics are more likely to outperform competition.
Pick one that best suits your brand
All social media holiday marketing campaigns are about is taking a simple idea, for example, decorating a cup or making a meaningful purchase and running with it.
A small or medium-sized business can certainly pick certain elements of the above campaigns that resonated well with audiences and adapt to its brand for the next holiday quite quickly.
If you focus on tuning into the characteristics and nuances of your brand's community and building a social media strategy around that, then the magnitude of resources on hand will not seem like a roadblock at all.