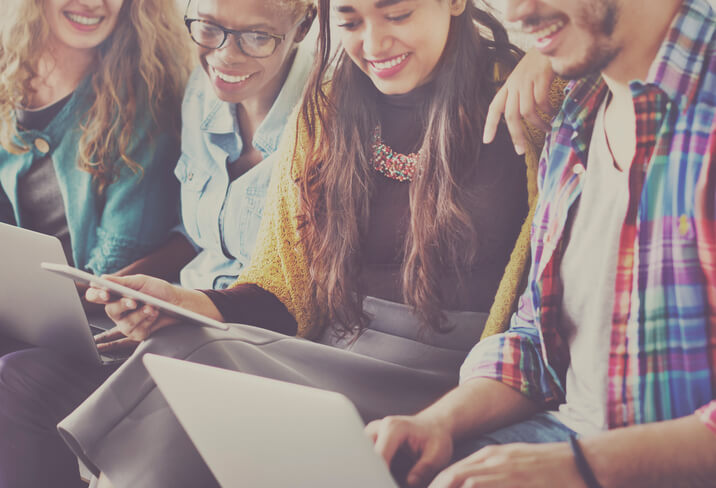 The start of a new year is a time to reflect on the past and plan goals for the future. If your social media strategy isn't as successful as it used to be, maybe it's time to revamp your marketing plan. We've compiled 10 social media marketing ideas to spark a new change for your eCommerce business. It's not too early to be thinking ahead.
Get your customers involved
Customers are expecting you as the company to gloat about your products, but if they can see real people using your product your credibility will skyrocket. Your company will become instantly transparent and more relatable if you can get customers involved. Post a picture of them using your product on social media or post a great quote from a client testimonial or customer review in the form of an image.
Utilize live video
If you're having a company party or company outing, share the experience through live social media video. Post a status on Facebook or a tweet on Twitter and set it to live mode. You can also use the real-time video app called Periscope. You could even give a live tour of your office or warehouse facility to give customers a better insight into day-to-day operations. Engaging your audience in a transparent way like this opens doors for more trustworthy relationships, and exposes the great personalities behind the scenes.
Use #hashtags
Hashtags on Twitter or Instagram is a great way to connect people from all backgrounds.
Use industry-related hashtags to gain traction from users searching for those words specifically. This is a great way to gain new leads from people who may not have heard of your company otherwise.
Start conversations
Turn your social media posts into forums for your customers. Pose questions to get conversations started, like asking them how they feel about a breaking news story in your industry or how they relate to/if they've experienced the subject of a blog post you've published in that post. If you can create a little community of your customers within your social profiles, their loyalty is bound to stay true through the camaraderie of others.
Tease a marketing campaign
If you're planning an extensive content marketing campaign use social media as a way to tease the launch. Post every day as a countdown and format the posts to fit the style of each social media platform. For example, use creative hashtags and an image on Twitter, post a teaser video, link to a landing page, or photo for a longer-form post on Facebook, and use more professional language with a possible photo on platforms like LinkedIn and Google+. Social media teasers should be used to build anticipation and excitement.
Implement a scheduling tool
Manage your time and social media posts better by using a scheduling tool. Great examples of free tools include Buffer, AgoraPulse or HootSuite that provide analytics, posting to multiple social media sites at once, posting images/videos, and suggestions on the best time of day to post. Scheduling tools also serve as a great way to repurpose content to fit the best platform possible with the visibility of each in one place.
Make it personal
Big and small companies can benefit from showing off their staff behind the scenes. Post photos or videos of your staff to display their personalities and faces to customers. In doing this you're creating a more personable image to something in eCommerce that may seem abstract from the outside. Your staff will feel individual and special and customers may find something they can relate to besides a product or idea.
Cross-promote social media accounts
In the bio section of each social media account, fill in the contact categories with other social media profiles. It's an efficient way to boost SEO rankings and clicks, while also exposing customers to additional news about your company they may have missed on just one social media account alone.
For hire platform
Ditch the traditional way of job posting and expand your resources to include social media platforms. Social media posts are easily shared so they're a great way to promote open job positions with the click of a button. Include a link to the job position landing page and encourage potentials to share the post.
Offer tips and tricks
Break down a traditional blog or insider secrets as tips and tricks on social media. Post little snippets that are easily consumable. This could be in the form of inspirational quotes, a quick list, tips from your CEO, or even a joke. Social media is a scannable medium so format tips and tricks in the same way.
So what's the goal?
The goal of any company, and eCommerce specifically, is to build engagement with your audience. Fortunately, in today's ever-changing social landscape, connecting with your customers is easier than ever. A beneficial outcome to building engagement is generating leads. With leads comes more brand awareness, and within that brand awareness through social media, you want to convey the value of your company and highlight the benefits you want to be best known for. Make your business more transparent and get customers involved. Help them to feel like they're a valued member of your story and engage in authentic conversation. Social media is free advertising so take advantage of it.