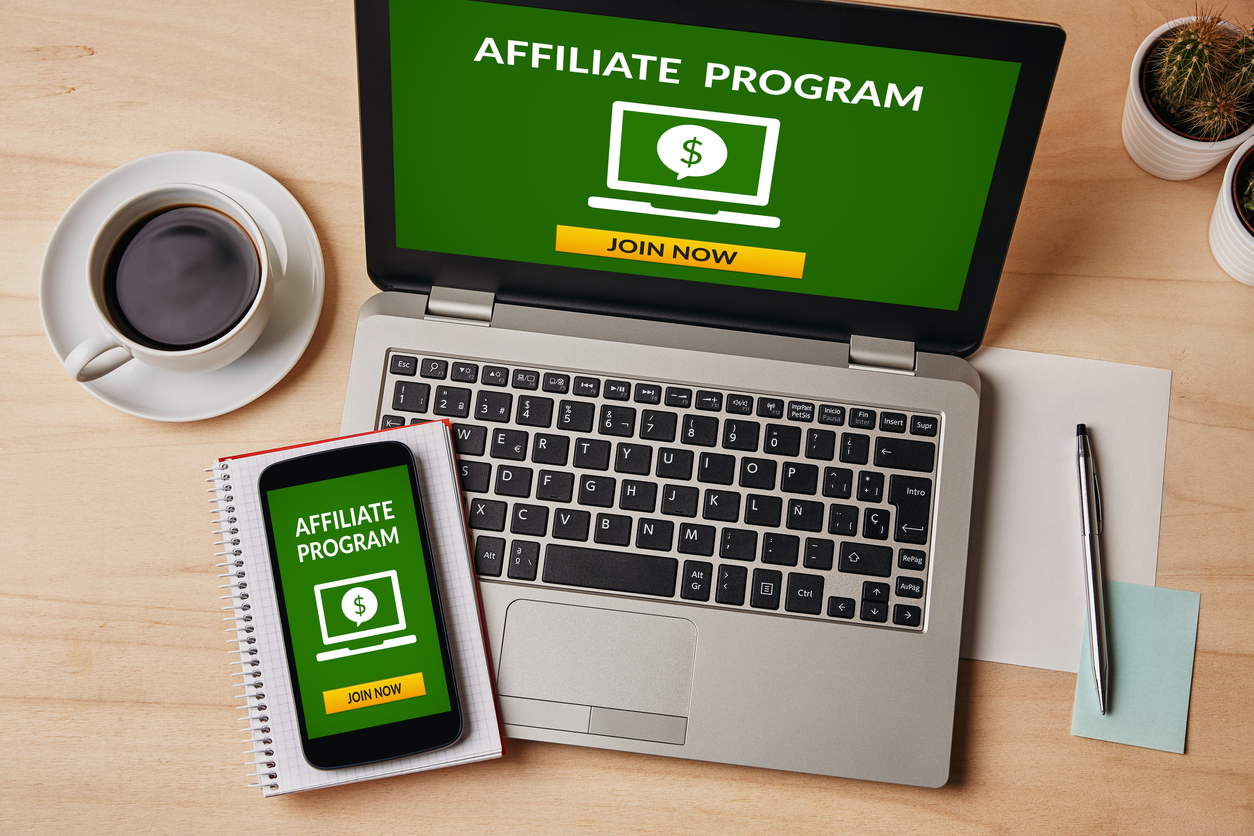 When it comes to successful online marketing, the best strategies always include some element of building trust with potential customers. With so few online shoppers ever having physically engaged with a product, trusting who they are buying from, and what exactly they're buying, is critical.
This is exactly why so many companies have found so much success with affiliate marketing. Not only do affiliates help get your product out there, but they're often a much more affordable option than huge online ad campaigns, which require you to pay for eyes and clicks regardless of if your product is ever actually purchased in the end.
The Benefits of a Great Affiliate Program
Because most affiliate marketing partnerships are performance-based, which means that an affiliate only gets paid when your products get sold, companies can potentially partner with an unlimited number of affiliates without needing to worry about investing any marketing spend upfront.
With the power of SEO (Search Engine Optimization), PPC (Pay-Per-Click) ads, social media, and content marketing behind many of the top affiliates, building a team of "guerrilla" marketers through your affiliate program can be one of the smartest marketing strategies your company employs. In fact, in some cases, multi-million-dollar businesses have been built solely off of the ingenuity of affiliate marketing programs.
Why Your Affiliate Software Matters
Of course, for any good affiliate marketing program to work, you need to utilize smart affiliate software so that each sale gets tracked, and each affiliate gets the commission promised. Just like businesses need to win the trust of their customers, businesses also have to earn the trust of their affiliates, giving them the confidence they need that, yes, they will get paid the correct amount — and in a timely manner — whenever a product is sold.
Having great software for an affiliate program helps to make the entire process easier for everyone, and that's a big deal. If a program seems complicated or cumbersome to a potential affiliate, then chances are they will pick another partner to collaborate with. And when every affiliate has the potential to pull in tons of orders for your business, you don't want to miss out on any opportunity.
Now, let's look at the best affiliate software solutions.
The Best Affiliate Software for Referral Tracking
It cannot be overstated that, in order to have a successful affiliate marketing program for your business, you need to offer affiliates powerful software solutions that ensure sales are tracked accurately and commissions are paid automatically. Finding the right software depends on your specific business's needs (as well as its budget), but below are the best affiliate software solutions for referral tracking that we can highly recommend.
LeadDyno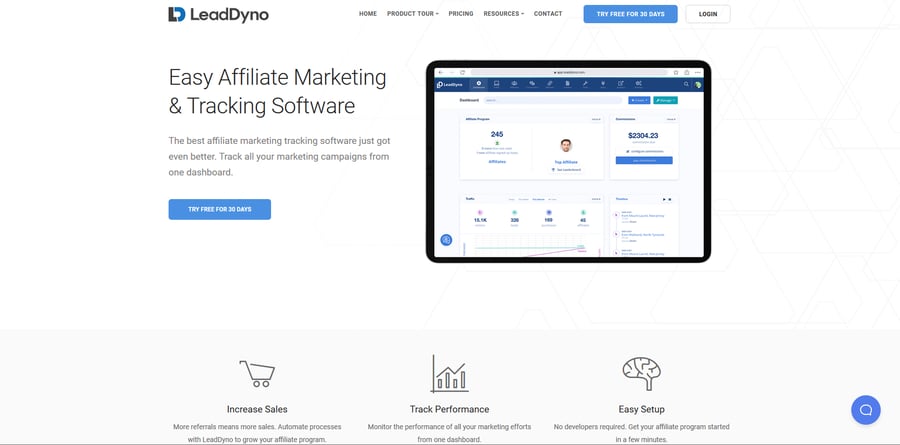 Known for its smart simplicity, LeadDyno is a fantastic automated system that allows you to operate your affiliate program by easily tracking each of your leads. Cost effective, LeadDyno offers businesses a quick "plug-and-play" for your ecommerce provider, as well as the ability to integrate with Google AdWords Conversion Tracking. Affiliates enjoy the LeadDyno experience as well because it's easy to see how many leads they are generating and when sales are made.
Post Affiliate Pro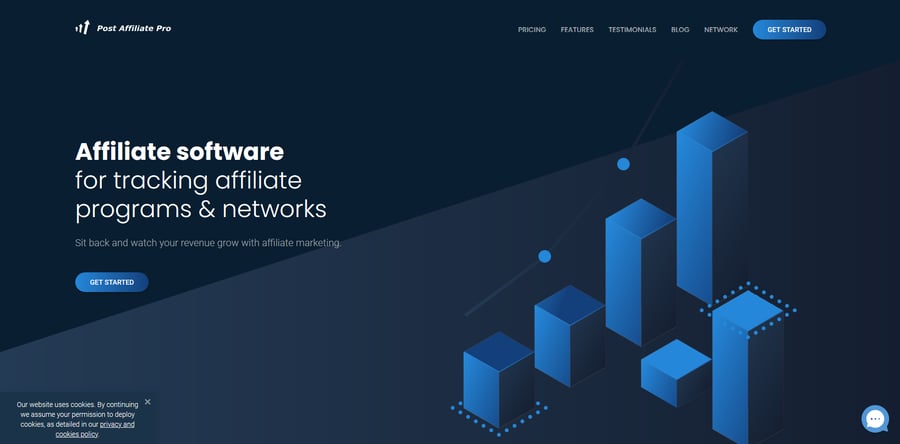 Designed with plenty of features but still beginner-friendly, Post Affiliate Pro can work well for both professional and corporate-level businesses. Because of its reliability, Post Affiliate Pro gives businesses confidence when attracting new affiliates to their marketing program. The leading affiliate tracking software in the industry, Post Affiliate Pro has been around since 2004, the infancy of affiliate marketing online. Intuitive, fast, and effective, Post Affiliate Pro can grow with your business, keeping track of all of your affiliates' referrals, clicks, commissions, and payouts. As an added bonus, Post Affiliate Pro is constantly adding new features and updates, making it a solid investment for any business branching into the world of affiliate marketing.
OSI Affiliate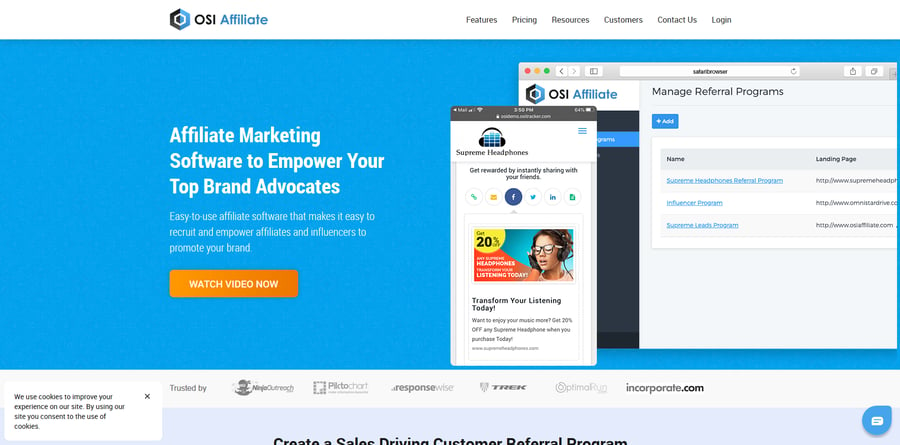 Designed to work seamlessly with Shift4Shop stores, the OSI Affiliate software is the easiest way to add an affiliate program to your eCommerce store. Capable of increasing traffic and conversions to your store by an impressive 30%, OSI Affiliate helps your business grow without charging you a penny for getting started. Unlike other affiliate software that charge you a monthly fee or a large setup fee, OSI Affiliate is completely free. That means the only money you'll be paying is to online marketers who are getting sales for your business.
ShareASale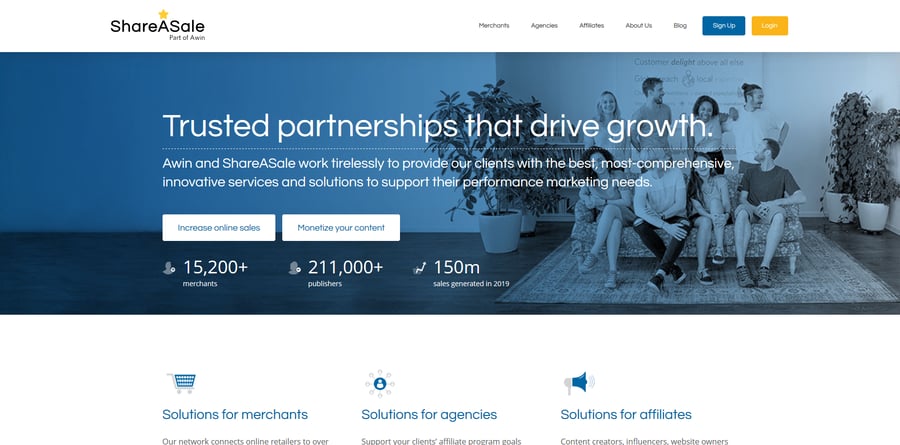 Designed to increase sales for your company while helping you develop a stronger brand presence, ShareASale, which has been around since 2000, uses award-wining technology to help you not only track sales, but to also find successful affiliates to work with. By connecting with the right affiliates for your niche, ShareASale removes a major stumbling block for businesses wanting to leverage the power of affiliate marketing: finding affiliates who will actually sell their products.
ShareASale also lets you recruit your own affiliates, which means you can maximize your efforts for building a strong affiliate marketing program for your company. A true performance marketing network, ShareASale ensures that only affiliates who generate traffic and sales for your business get paid — and at the commission rate you set individually for your company. ShareASale does charge a one-time fee to get started with their network of affiliates and to tap into their referral tracking software.
Affiliatly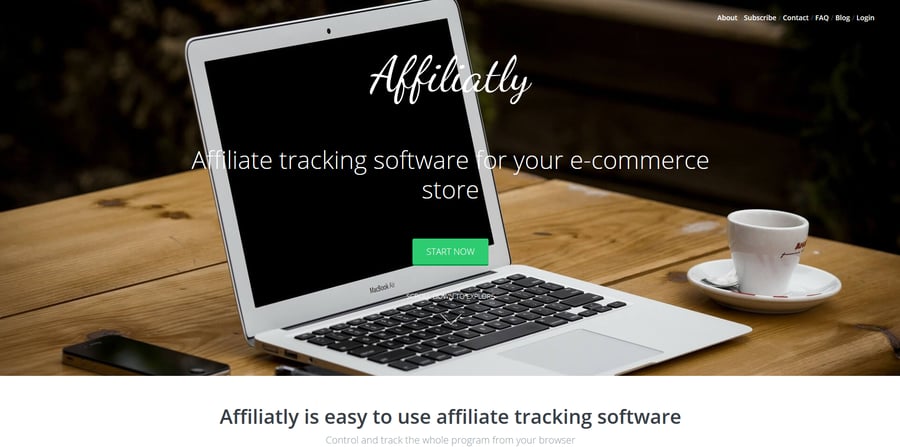 Created for eCommerce businesses and online store owners, Affiliatly provides you with a functional app that makes tracking sales and managing your affiliate partners simple. Convenient for you and your affiliates, Affiliatly allows marketers and influencers to build their own links so that they can promote your store and your products. Additionally, you can create banners and ads for your affiliates, uploading them to the Affiliatly app so that everyone can have access to your branded marketing materials.
Intelligently designed, Affiliatly gives businesses the opportunity to see all affiliate stats, manage affiliate earning percentage, and determine how you want affiliates to earn money — whether by visits generated, total sales, or a flat rate for any sale. The Affiliatly app itself can also be customized with your business's branding so that the experience for your affiliates is cohesive and compelling.
Tapfiliate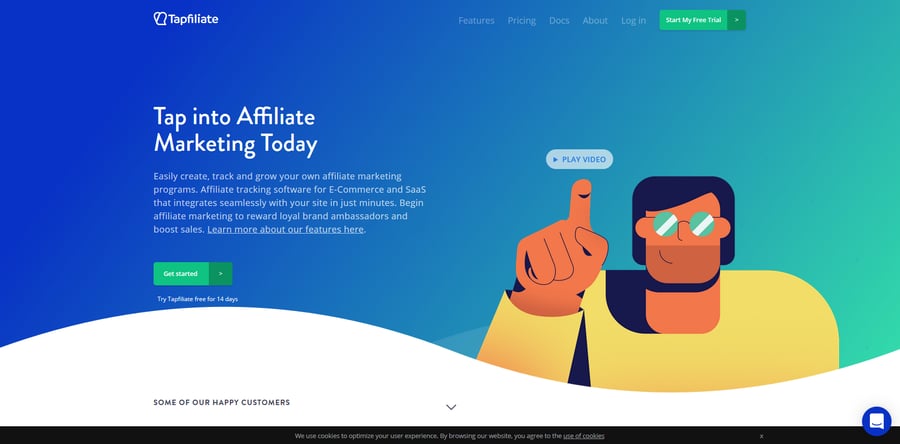 A cloud-based affiliate tracking software solution, Tapfiliate gives businesses the ability to create, track, and optimize unique affiliate programs. Through the data collected and organized by Tapfiliate, businesses can start to better understand how effective their current affiliate program is, looking at where your brand is getting the most visibility, which types of partnerships are the most profitable, and how to ultimately increase your brand presence online via strategic affiliate partnerships. Boasting a cutting-edge affiliate tracking software, Tapfiliate gives business owners complete control, offering all the tools required to create affiliate partnerships and marketing programs in a matter of minutes.
LinkTrackr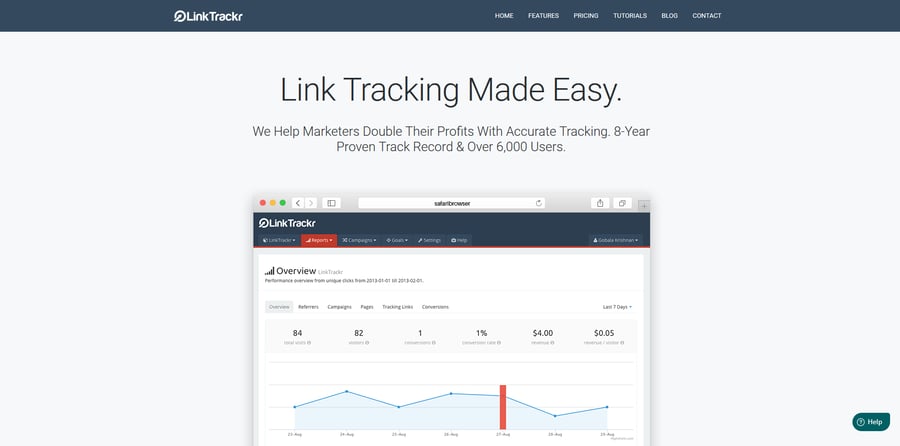 Loaded with robust analytics, LinkTrackr manages to maintain its simplicity because of its smart, intuitive software. Giving businesses the ability to track all affiliate links created, LinkTrackr also has the ability to mask links, which increases the viability of links shared by your affiliates. LinkTrackr also collects loads of data from your affiliate programs, which means businesses can better understand which partnerships they should look for and which campaigns are ultimately the most effective.
Of course, LinkTrackr does what all affiliate software used for referral tracking needs: track sales. Additionally, however, LinkTrackr lets you take a closer look at sales, giving you the ability to see exactly which medium a sale was made through — and which campaign generated that customer. Split testing is also available with LinkTrackr, making it the ideal choice for businesses wanting to investigate all potential avenues opened by affiliate marketing.
EverFlow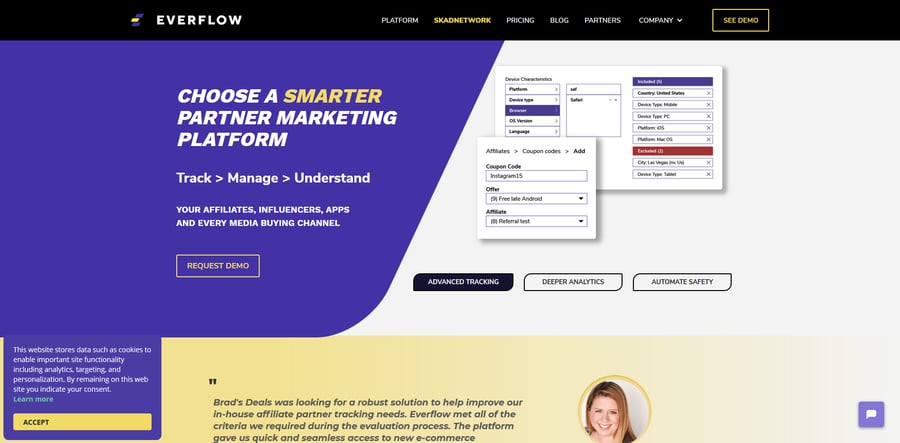 A solid choice when it comes to affiliate software for referral tracking, EverFlow provides businesses with the ability to track and manages all affiliates and the specific promotions they are using to attract sales. Ideal for businesses working with affiliates and influencers across platforms, EverFlow puts all of the data in one place so that you can easily analyze how your affiliates are performing and which offers are working the best with specific audiences. Automated optimization also allows you to block partners who are generating visits with zero clicks so that you can better recognize fraudulent affiliates who are taking your marketing money.
Impact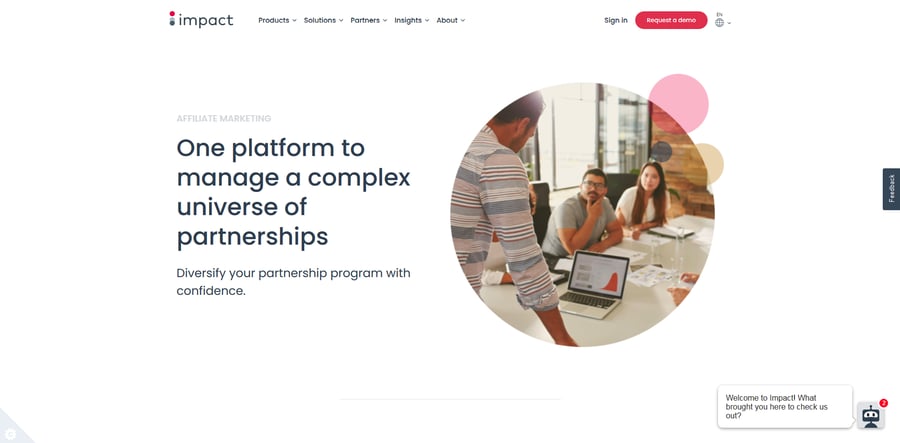 Often referred to as a "two-in-one" affiliate marketing platform and network solution, Impact provides businesses with the ability to manage existing partnerships while simultaneously tapping into a network of affiliates and influencers ready to promote and sell your product. Through its software, you can analyze your analytics, getting the insights and data you need to find your most valuable partners — and then get more of them.
Ready to Start Your Affiliate Program?
An affiliate program can bring amazing results to your business. Let's recap why:
You can turn your most loyal customers into marketers. These are the customers who are likely already recommending your business to their friends and family. Giving them affiliate tools to promote your business (and reward them for doing it) is a win-win situation for everyone.
Affiliates can do a lot of work to promote your business, and it doesn't cost you anything upfront. Instead, you only pay a commission when an affiliate's lead purchases your service.
With no upfront cost, affiliate marketing is affordable and has vast potential to help you grow your business.
All you need is the right software to make sure your affiliate program is effective, and that your affiliates are properly tracked and paid.
So, are you ready to start you own affiliate program? We've given you plenty of recommendations for affiliate software you can use. But here's one more tip:
Online businesses are growing, and there's no shortage of eCommerce platforms available for people to build their online stores. But if you're running your eCommerce website with Shift4Shop, you can also access a built-in affiliate program for your online store. This module is available on the free, unlimited plan, making it available to even the smallest businesses. If you're looking for a place to start and you're not sure about using third-party software yet, you're in luck if you're on Shift4Shop.
No matter what software you use, or what industry you're in, an affiliate program can give you the boost you need. Isn't it time you turned your customers into an extra marketing team?