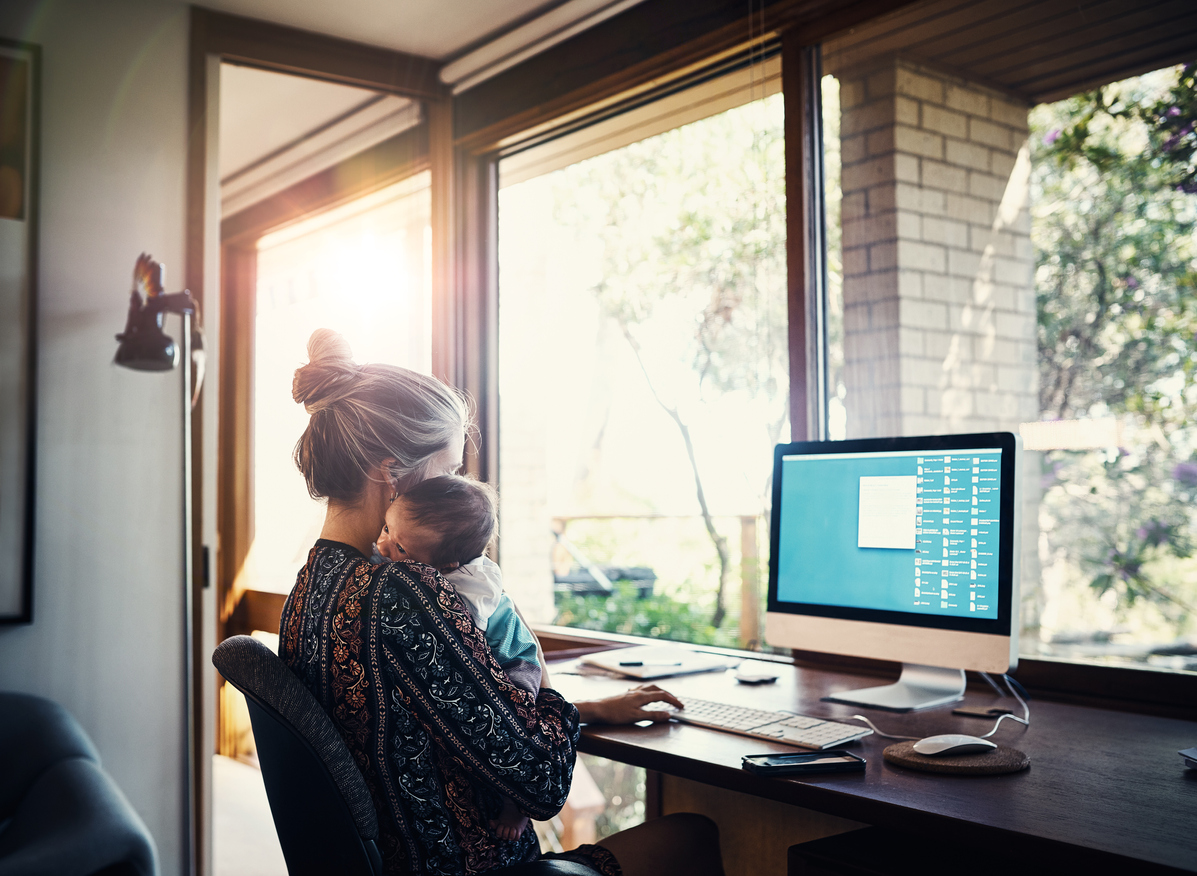 Mothers already have a lot to do, but that doesn't mean you can't start your own business! While there are plenty of obstacles inherent in running a business while raising kids, millions of moms around the world are successfully balancing motherhood with entrepreneurship, and carry the proud title of Mom-preneur. But how do they manage to do it all?
In celebration of Mothers' Day this year, we reached out to Mom-preneurs in all types of eCommerce industries to learn their stories and find out their best tips for other moms seeking to balance their business and family lives, and we have to say, we've learned a lot. Time management, community, marketing, work-at-home strategies — it's all here. Each Mom-preneur's business story and lived experiences can help you discover your own passion for business and give you the knowledge you need to see it through.
You don't have to wait until your kids are grown up to live out your eCommerce dreams. The following success stories and words of wisdom will be of great help to any moms (or dads!) interested in being both a business owner and a parent.
Shelly Schneider – President, 113 Solution
On finding your own path and teaching the spirit of entrepreneurship:
"I am the President of 113Solutioncbd.com, an eCommerce company that provides only the highest-quality products to take the guesswork out of shopping for CBD. I run my business, love to spend time with my children and husband, and love living the life that I and my husband have created.
I was looking for a job that had the flexibility I needed to be with my kids when they needed me, while still using my skills. It didn't exist so I created it. I became a Mom-preneur. I run an eCommerce business from my home. I love it! I am able to take care of my kids when they need me and also show them how to start a successful business.
I hated having to choose between my family and my job. It made me feel like I was not putting value on the right thing no matter what choice I made. Now, I run the show and they get to see me starting my own venture and growing. I put my neck out and they get to learn there is more to life than the standard that we are all sold of getting a 'real job' and living in the box society created for us.
I feel no guilt. On bad days, and every entrepreneur has them, I have a built in fan club cheering me on. They keep me motivated when I want to give up. I love leading by example and my overall stress level has been reduced drastically. Becoming my own boss was exactly what I needed."
On discovering inspiration from your children's experiences:
"I am a mother and founder of Rabbel, an independent print magazine replacing image-centric and stereotype-heavy narratives with inspiring, uplifting, and validating content focused on creativity and global female role models.
I was inspired to start the magazine in 2017 when I realized my 10 year old daughter's creativity was being stifled by perfectionism and flagging confidence. My mission was to create an antidote to the self-doubt that can derail an enthusiasm and drive for creative expression, both in sharing stories of bold and authentic female role models from around the world, and in providing the validation and backing of a community that is passionately championing their creative ambitions."
On learning to prioritize work and motherhood:
"For the ten years prior to starting Rabbel I ran a successful boutique photography studio, Comfort Studio, but as a single mother to a young daughter, the travel was becoming too challenging, and in the years since I started that business, the industry had become so saturated that it was becoming more and more difficult to make a comfortable living, which inspired me to seek out a new business model that I could run from anywhere.
In 2018 I had another daughter, which added a new set of challenges to running a business from home. With one child in school, being a work at home mom was easy, but with a newborn it became almost impossible, and as a new business I wasn't yet profitable enough to take on the expense of full time childcare. Juggling a new baby and a new business was often overwhelming, and my progress was painfully slow.
I learned several lessons from this time, and wisdom I would pass on to other mother entrepreneurs. For one thing, I wish I had given myself a break from the business and focused on the early months of new motherhood. I was so afraid of letting down my customers that I forced myself to push forward despite the roadblocks, but both my work and my parenting suffered."
On how the expense of hiring help is a worthwhile business investment:
"The other lesson I would pass on is to ask for help. At first I was reluctant to take on additional expenses when I was barely making ends meet. But eventually I had no choice but to accept that I couldn't do it on my own. I hired someone part time to help out with social media and marketing and the impact of another team member was so apparent I eventually invited her to become a managing partner. Together we were able to get the business back on track and thriving. I felt a lot of self-imposed pressure to do it all on my own, but I could not have done it without her."
On the value of getting an early start and planning your schedule:
"Balancing a career and being a Mom can be wonderful and also equally as stressful at times. I've made it work for me, and I can't imagine it any other way. I plan meetings in the mornings and do emails before drop off. Yes — it's still dark outside! But it's quiet and that's when I do my best work. Juggling meetings in the car and around practices is the norm. Sometimes there is no way around the barking dog and bickering kids, but I don't want to miss a thing and wouldn't have it any other way.
A few tips are to plan your day (or week if you can) ahead of time to avoid conflicts. Stay as organized as you can under the circumstances and above all be flexible as kids do get sick and things come up. But I wouldn't change it for the world!"
On time management and developing the mindset for success:
"I'm an Australian writing coach, mental health advocate, and author with a passion for empowering female survivors of trauma through the power of writing.
As many mums will know, being a Mom-preneur is tough! Aside from the struggles of raising a baby and running a business around their nap times, I've also had to get real with some big mental barriers — like fear of failure and anxiety, both of which stem from my childhood experience with family violence.
One of the biggest mantras I had to commit to early on, was to stop 'hoping', and to start 'believing;' to swap my inner thoughts of 'I really hope my business succeeds,' to 'I know it will succeed.' Interestingly, as soon as I changed my mindset and began to look at everything as a possibility, instead of a chance to fail, the clients started rolling in!
I also set aside time each week to write down a list of what I need to work toward over the next 7 days, and then break it down to a few small tasks that are achievable around my son's nap times. At the end of each week, I look at what I've achieved, and remind myself to be proud of every step toward my goals — whether it's landing some major publicity, or simply working through a particular mental barrier.
And above all, never feel guilty for working toward your own goals. Because as rewarding as it is to be a mum, you also need to remember you're a person with your own dreams."
Laura Arndt – Founder and CEO, Matriarc
On the value of the Mom-preneur community:
"I am the founder and CEO of Matriarc, an online community and application for pregnancy and postpartum. I am also a mother to a seven-month-old boy. Matriarc was created to be a support system for women during pregnancy and post-child birth, offering education, over 100 pelvic floor exercises and meditations. We are now getting ready to launch the first community marketplace of professionals from physicians and exercise classes to birth photographers. Women will be able find, review and communicate with local vendors during this phase of their life. The goal of Matriarc is to provide women the ultimate support community and circle they need to live life to the fullest during pregnancy and postpartum.
My best advice for Mom-preneurs who are looking to start an online business and work from home is to make sure you take advantage of other online mom communities to help you! I've received an incredible amount of support and help from moms all over the country with various skill sets who are also working from home. Many women are out there working part time or volunteering their services to help other moms, and it's a great way to build, market and test out any product or service you're looking to launch."
Priska Diaz, MS – Founder and CEO, Bittylab
On discovering product ideas that serve real needs and making them come to life:
"I am Founder and CEO of Bittylab and mom-inventor of Bare® Air-free feeding system. Due to my baby being part of the alarming national statistics — two-thirds of infants suffer from severe GERD symptoms — I decided to research and learned that his feeding problems were being caused by feeding while in a laying down position, swallowing air with the milk and a fixed flow, as baby bottles do.
I figured, if we can just provide the opposite of these disadvantages, we may be able to have different results! Utilizing my skills as professional designer, I designed and engineered the first Air-free feeding system. Bare® Air-free is healthier than baby bottles; based on the function of a syringe, Bare® feeds the baby air-free milk while in an upright position and lets the baby control the flow/pace of feeding.
A recent pilot study indicates that Bare® Air-free feeding system significantly reduced GERD symptoms in 75% of babies, in the first two weeks. Bittylab is currently in the process of regulatory compliance, and Bare® aims to become the first low-risk, non-pharmacological medical device for treatment and prevention of infant GER and GERD.
My best tip for moms who want to start their own business is to keep focused on the benefits of flexible schedules, be at (or near) home, and you get to teach your children a one of a kind lesson on hard work and entrepreneurship. What's better than that?"
Brie Sodano – Founder and Financial Advisor, From Sheep to Shark
On discovering your niche and taking the plunge:
"I own Sheep to Shark, a financial service firm that teaches women cashflow management by changing habits (rather than cutting spending) and works on the underlying mindset issues that cause money problems.
I started my business in 2017 after a few years of grinding as a Financial Advisor selling stocks and bonds. I realized clients were coming to see me stressed about money, in debt and paying on student loans. They were in financial trouble even though they made good money.
Taking the leap to leave my growing and successful practice to start a new business was terrifying. Now, I couldn't imagine working for someone else ever again. I am passionate about helping good people have well-managed money because it makes an impact on their lives that touches every decision. It feels good to make people feel powerful and in control.
TIP: Get help before you are 100% ready. Hire the assistant or bookkeeper because it will free your time and mental energy."
On following your own path and setting realistic goals:
"Besides being a mom of 3 awesome boys, I own Create IT Web Designs in Cincinnati, Ohio that focuses on web design, development, and SEO for small businesses.
I left my Fortune 500 job after my 3rd child was born. It was not an easy decision but I was ready for a change. I decided to stay home with my 3 wonderful boys and also focus on switching careers. In the process, I formed my own successful web design company.
The best advice I have is not to compare yourself with other entrepreneurs. You are on your own personal journey and your own personal speed. My success is measured by my personal goals in my business. Because I'm being both a full-time Mom and an entrepreneur, my path right now is at a slower pace than my peers.
I joined an accountability group with other female entrepreneurs in my area where we each create personal business goals and keep each other accountable. This helps me write REALISTIC goals for my business and focus on moving forward with those goals. Business is not a sprint but a marathon. I'm focused on those goals. I carve out time in my schedule every day for my business, which requires me to get up before my children do. Having the time to solely focus on my business goals helps the rest of my day go smoothly."
Melissa Erdelac – Owner, Author, and Photographer, MamaGourmand
On using time wisely and setting effective boundaries for working at home:
"Three and a half years ago I published my first post on MamaGourmand, a blog I focused on monetizing from the start. With a blog, a lot of time is spent building authority online with readers, search engines, and gaining a social following. Therefore, focusing on raising my four kids and running my business are constantly intertwined.
Social media presence happens in car lines, waiting rooms, and any spare moments. Photo edits happen with homework help. Blog posts, photo, and video shoots are done when the kids are at school.
The biggest challenge of being a stay-at-home Mom-preneur is conveying to your kids even though you're physically there, you're still working, and they need to respect that. I don't have an office, so I'm always available. But that's the biggest hurdle — you're always available!
Use your spouse as a backup. When we are both home he will catch the kids trying to sneak into my bedroom/office and say, 'Mom's working. What do you need?' It's important to present your business as a job, with office hours. Mom's in her room working, so she's at work.
But it's just as important to leave work. I can always open my laptop and have some task hanging over my head. Respect time for your family and spouse and set daily slots of time aside where you completely take off the work hat. It's equally important for your kids to see you have a balance between work and being a mom."
On using personal experience to find a niche you can be passionate about:
"Finding the right school for your child in New York City is a difficult, Draconian, and secret-filled process. It's especially hard for those who don't have the means or the resources to do their research, and those who don't even know they have options!
After going through the process three times with my own kids (now aged 19, 15 and 12), I decided I'd use what I learned to help others.
That's why my website NYC School Secrets offers videos, podcasts, and articles to help other NYC parents. I also do open-to-the-public workshops; some sell tickets, but others are pro bono for community organizations and non-profits like The Wendy Hilliard Gymnastics Foundations, and Figure Skating in Harlem, among others.
I also do private, one-on-one consults for families. During the busiest admissions season, I might have up to five or six of those a day!
The best tip I can offer other moms about starting a business on-line and in person is to find a very specific niche in your community that isn't being filled — and then fill it. Also, make sure it's something you are honestly interested in, because you are going to be living within it almost 24/7."
On the success you can achieve once you commit to it:
"Make like a tennis shoe and just do it! If it's meant to be, God will work it out for you. I have sold my products to large companies like Tractor Supply, Azure Standard, and others. Work at it and never look down or back. You can be amazing and make great things happen while being at home with those you love. They can see you succeed first-hand, work with you and get the best business class right there in life with you!"
Aileen McCauley – Founder, The Wriggler
On working as a team with your spouse and experiencing the excitement of success:
"I'm a mom to two kids, aged 3 and 5, I work part-time as a school psychologist, and I work every other hour as a Mom-preneur for my baby product start-up, The Wriggler, so it's safe to say juggling is my bread and butter!
When my first baby learned to roll and crawl, diaper changing became a battle — it took two hands to keep him still and I had no hands left to change his diaper. We'd all manage this a couple times, but when one considers we change our babies on average 6 times per day or 6500 times until potty training, I knew I had to find a solution! As a psychologist, infant mental health has always been at the forefront of my mind, and I was determined to change what had become a daily source of stress for me and my little one into a more pleasant experience. So, my husband borrowed a sewing machine, he taught himself to sew, and we came up with a solution that worked for us and so The Wriggler was born.
The Wriggler is the first portable changing pad designed specifically for babies and toddlers who wriggle during diaper changing. Once we realized we were not alone in experiencing this problem and that up to 40% of parents report feelings of stress and frustration and changing time, we decided to bring the solution to the market. Still in its first year since launching, The Wriggler is already a multi-award winning product and we've been thrilled with the reviews from real moms who have called it their 'sanity saver' and that it has completely changed their day.
Juggling being a Mom-preneur while still trying to maintain some semblance of work/life balance is challenging. In this early phase of the business, it is all-consuming, and it can be difficult to switch off. Day by day I'm figuring out little things that help though and that I think would have been helpful for me to know from the outset.
Perhaps the biggest advantage for me is that my husband is also a part-time stay at home dad, part-time professional and part-time entrepreneur, so we alternate our roles on different days. It means we share everything equally — the chores, the childcare and the running of the business. This helps hugely as it gives us both empathy for the other as we understand the challenges we each face on a daily basis and it means there's no resentment or point-scoring, for which I am very grateful. While not everyone will be in that position starting off, I think surrounding yourself with people who you can bounce ideas off and brainstorm with is essential, particularly in the early days.
I'm also learning to compartmentalize better — when I'm with the kids, I try to be 100% present; when I'm at my job, I focus completely on that, and then for every other waking hour I'm consumed by The Wriggler! It's difficult at times and the business has a tendency to leak into family life, but we try our best to manage this.
I can't say that I have the juggling nailed yet, but I'm completely energized by the pace of life and love the variety of tasks and experiences I encounter every single day. And when I receive pictures and videos of moms and their little ones using The Wriggler every day and hear that it's making life easier, it makes all the late nights and hard work more than worth it!
Life is hectic, but I feel like I'm living it to the full, I wouldn't have it any other way, and I'd highly recommend the adventure to other moms too!"
On leaving a successful career to become a Mom-preneur:
"After the birth of my 2nd child, I needed more flexibility and time with my family, so I left corporate recruiting and launched a resume writing business — Strategic Resume Specialists. It was the best decision I ever made for myself, and my family. I've had 2 more children while growing into a 6-figure business where I select my own schedule, workload, and clients. Finding balance is always a challenge so my advice for new Mom-preneurs is to analyze your time investment and price your product appropriately."
On discovering your skills and building a business from them:
"Very quietly in the summer of 2016, I started my own business online. I was working in a small CPA office handling bookkeeping tasks for a low wage. At the time it was just a fledgling blog that I had high hopes of turning into a full-time job. Little did I know that just a few short months later I would fall into the one thing I've loved since it came out — Pinterest. I was using Pinterest to market my blog and at the time I was really new but really good at it. A fellow blogging friend asked if I would help with her Pinterest and that's when it happened.
I was referred to person after person until eventually I had more Pinterest clients than I could handle on my own.
In April of 2018, I put out the word that I needed to hire someone for my fledgling agency and by June I had hired my first team member.
I now run a Pinterest marketing agency that is growing quickly and able to support my family as we travel full-time across the United States in our RV.
I didn't know what I was doing in the beginning but I buckled down, learned a lot, networked like crazy and today I'm proud to say that I did all of that. I built a successful company on my own while caring for our kids, our house, my marriage and friendships.
Women and mothers aren't only the caregivers of their households but they are the future of our economy."
On starting your business in the face of skepticism and doubt:
"I am a food writer, author and small business, and also a mom to a non-driving teenager. My spouse works out of state and is home about 4 days a month, or about 2 weekends. I work from home and juggle many tasks of running a business.
I started my business in 2010 after I lost my job because my husband was going to start working out of state (that was the reason my manager gave me, saying I would not be able to juggle being a single parent and an employee). Nine years later, I am a globally recognized author and business, our marriage still works, and our child who is now a teen is doing well at school.
I met with a lot of skepticism when I first started with my business because I didn't have a business background or professional training in what I was taking on. I had started with small private catering events and cooking classes. About 3 years into it I started working on my first cookbook. It was a lot of work, but it helped establish my brand and expertise in my field. Since then I've written four cookbooks, one biographical fiction, and have another book due out at the end of summer. I offer consultations on publishing, as well as still offer cooking classes. I write freelance articles, and that allows some money to routinely trickle in. It does not add significantly to our family income as yet, but that is because I am taking it easy, and don't have anyone working for me (mothers' helpers like house cleaners, sitter/nanny, personal shopper or for work - like a virtual assistant or a secretary).
To start a business while juggling being a mom means:
Understanding that 'you' will be taking on at least two more job titles to whatever you already have - being the level headed, go-getter boss and the overworked employee. No one can help you out for long.
Keeping a check on ones' physical and financial limitations and constraints — no matter how good the idea or project or plan.
Budgeting and including Family Time — no matter what one does, family time cannot be purchased or outsourced.
Knowing that you are altering how your children understand the professional world - and you are teaching them life skills. Whatever you do, good or bad in business, is the work ethic they will carry forth.
These principles have always guided me, and I know that my child appreciates the lessons learned — so much so that HS Business Class is a breeze!"
Joanna Jozwik Serra – Co-Founder and Co-Owner, Birdy Boutique, LLC
On managing your schedule, optimizing time, and delegating tasks:
"Owning a business and being a mom is difficult, but manageable. It's all about your mindset and planning your day.
Being a Mom-preneur feels so rewarding because we are teaching our children that they can create any path in life they'd like.
This of course varies greatly depending on whether your kids are in school full time yet or pulling on your legs at home all day. However, I have found that focused time, especially after becoming a mom, can be so much more productive than working with a child seeking your attention. 4 productive alone hours can accomplish folds more than 20 hours while working with a child at your side, just my experience!
Each night, I develop a plan for the next day and do my best to stay on task. If my time block is to answer emails, that is what I do. It is essential to limit distractions and stay focused. One 'drawback' of being a Mom-preneur is often the guilt of working so much, because as a business owner, you know that the sky is the limit so you want to put in all of those hours. However, you have to have a realistic cut-off time, and that can be a challenge. This way, you are done for the time being and can enjoy family time, giving all aspects the fair time they deserve.
One other thing that has helped tremendously is delegating tasks and hiring extra help, even if part-time. We want to be able to do it all as moms, but it is so much healthier to source out which later leads to more productivity, despite the fact that it's sometimes hard to let go or allow someone else to perform these tasks.
Overall, it's about balance. Take a few minutes out during tasks to breathe and refocus, stretch, hydrate, and have a plan!"
On how Mom-preneurship improves both work life and family life:
"After you make the decision to work from home and build your online business, there's really no going back; the convenience, freedom and ability to work in your pajamas is just too good.
I moved my physical therapy and coaching business into my home in 2010 in an effort to save on overhead, but also to be home base while my teenagers went through their stages of life that required me to be around more often. This is not helicopter parenting, it's actual caring. I'm here if they need me; to talk to, to ask for help, to keep them company, to make them a meal - even though they can fend for themselves at this point.
Being able to set my own schedule is bliss. Being able to throw a load of laundry in or turn the crockpot on whenever I want, resolves all resentment about 'doing it all.' I do it all, and I love it. Because of that, I get to serve my clients from an overflow of energy and inspiration, which I gladly generously give as much of as possible.
Best tip I have for those thinking about doing this? Go for it, you'll never look back."
On setting boundaries to work at home:
"I founded Knocked-Up Fitness, the Prenatal + Core Rehab Membership and the Pre + Postnatal Exercise Specialist Instructor Course. Over the past 15 years, I have built my online business to help women feel their absolute best throughout every stage of womanhood.
I am a mom of 3 who juggles baseball games, gymnastics, spending quality time with my kids and husband along with growing my online business.
The most important piece of advice I would give all Mom-preneurs is to set boundaries. This is especially important for those who work from home like I do. I block out periods of time where I solely focus on my business. This really allows my creativity to flourish. It also helps me stay on task and be more efficient with my time.
The same goes for spending time with your kids. Being present with them and giving them your undivided attention means more to them than anything. This is definitely easier said than done, but the more you work at it, the easier it becomes to balance a family and business."
On making the most out of your limited free time:
"I love being a Mom-preneur! Currently I work full-time in corporate communications, have a side business as an online fitness/nutrition coach, compete in figure competitions, and somehow still find time to spend with my hubby and two teenagers… and I wouldn't change a thing! Fitness is my passion so that keeps the motivation going for my business, my clients and my hobby of competing.
Advice I'd give to other aspiring Mom-prenuers is to take a hard-fast look at your time and make sure what you're doing is quality vs. quantity. This means working on the business instead of randomly scrolling Facebook, or getting to the gym first thing in the morning instead of binge-watching Netflix at night. Also, get help to maximize your time. For me, this means having someone come clean my house and hiring a virtual assistant to help me with the more tactical, low-value business tasks, like managing my social media and email."
Key Points
While most of these Mom-preneurs' stories are very different, much of their advice falls along similar lines and brings to light a few of the main themes — and challenges! — of balancing entrepreneurship and parenthood. Our contributors repeatedly touched on the importance of time management, and how reserving both "work time" and "family time" keeps both of those aspects of life running smoothly. Creating balance produces better results, and happier times, than constantly working day and night. This is valuable knowledge for any family entrepreneur (and for anyone who works at home, for that matter).
We'd like to thank all our Mom-preneur contributors for sharing their stories and advice, and we welcome you to share your story as well. Happy Mothers' Day!