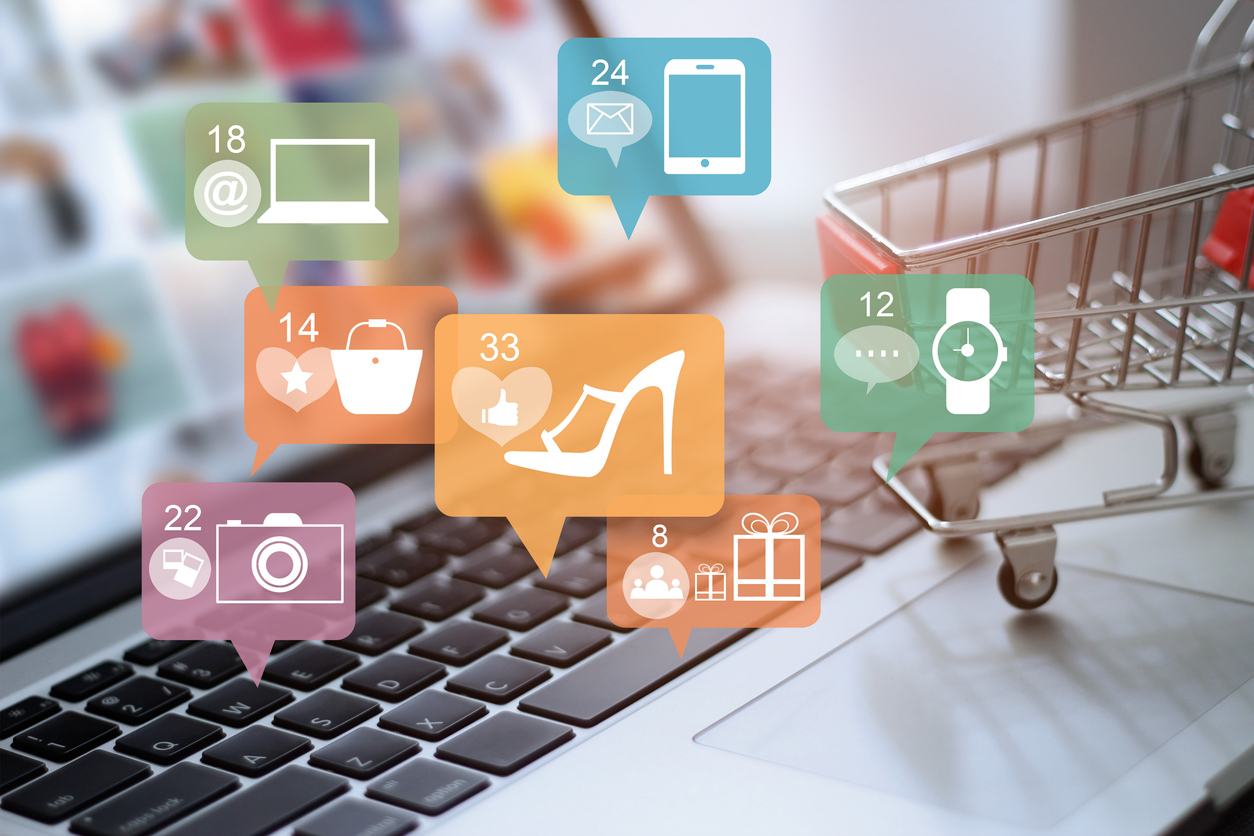 Ecommerce is taking over the retail industry. According to Oberlo, by 2021, ecommerce is expected to make up more than 17% of all sales worldwide. This growth represents a massive opportunity for online sellers, but there is a catch; and it doesn't just come down to your order fulfillment strategy. You have to compete with online giants like Amazon, which owns about half of the US ecommerce market.
So, what's a smaller online seller to do?
Don't throw in the towel just yet. Instead, it is time to get creative. In 2018, 2.62 billion unique people used at least one social media platform. For a bit of perspective, the number of unique social media users is more than eight times the estimated population of the entire United States of America. If you want to compete with the likes of Amazon, social media is the way to go and, luckily, there's plenty of ecommerce tools to give you a real shot at competing with the big guys.
Let's dig in.
Generate Online Sales on Instagram
With more than 1 billion active monthly users, Instagram is a powerhouse for online sellers. If you are going to choose just one social media platform to focus on, make it Instagram.
What is so great about Instagram, you ask?
In addition to the incredibly high number of active users, more than 80% of users follow a brand, and they interact with those brands 10 times more often than they do on Facebook. People want and expect to interact with brands on Instagram, which makes it a powerful tool for online sellers.
There are several ways to generate sales on Instagram, including Stories, the Buy Now button, and softer approaches, such as podcast promotion or promoting your newly started blog. Let's look at how these methods work and check out at a few examples of brands putting these strategies to work.
Instagram Stories
Instagram Stories are time-sensitive posts that appear at the top of users' Instagram feed. Similar to Snapchat, these posts expire after 24 hours.
The top position and the more casual vibe make Stories very popular, with nearly 500 million users watching Instagram Stories every day.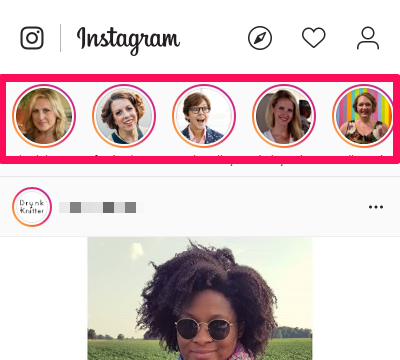 Brands can upload photos, videos, add stickers, emoticons, and even music to Stories. These additions create fun, more engaging posts.
But, there is a catch— most users can't post links in their stories. To post links, you will need to have at least 10,000 followers or a verified Instagram account. Once you do, you can use the "swipe up" feature to link directly to products, lead magnets, or anything else.
If you don't have this functionality yet, don't worry, there are loopholes: putting links in your bio. Case in point, Adventure For Less, a travel blogging couple does this exact strategy to promote: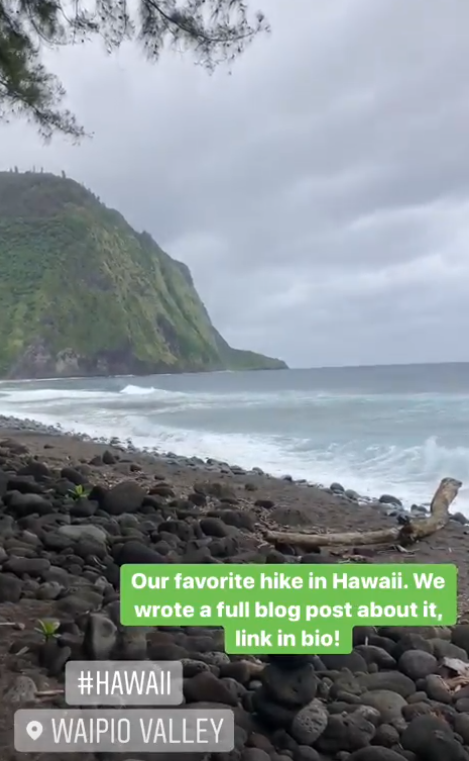 Online yarn retailer Darn Good Yarn, for example, uses Stories to promote their sales using the swipe up feature, which allows them to convert Instagram Story viewers into actual sales.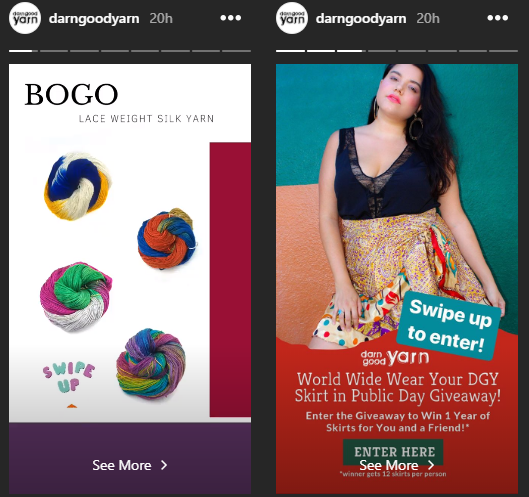 They also promote contests and giveaways, like their skirt giveaway.
Keep in mind, Stories should use a casual and relaxed tone. To get the tone just right, use a writing app tool that will help you adjust your tone by setting goals. Remember that Stories, in particular, are much more intimate and casual. Don't try to be overly "salesy."
Buy Now Button on Instagram
The Buy Now button is the golden standard for making sales online through Instagram. It makes it super easy for customers to see a product they like on Instagram and tap to buy it. Here is what it looks like, from fashion brand Kate Spade.
From their feed, you can see the little shopping bag icon in the upper right corner. This icon indicates that it is a shoppable post.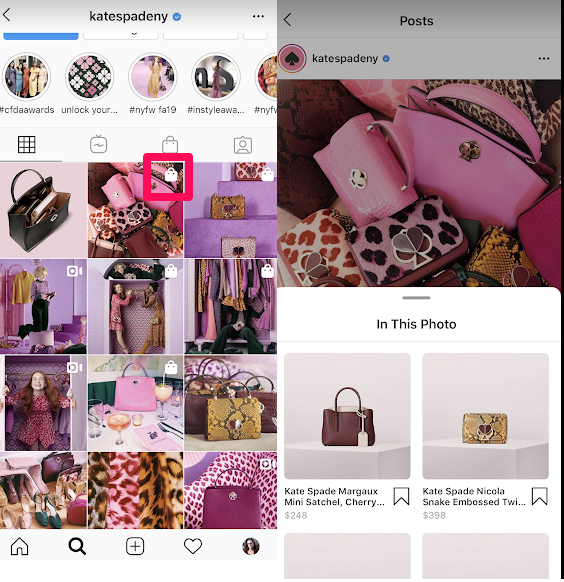 When users view the post, they can tap to be taken directly to the brand's site to make their purchase. It is super simple from a user standpoint.
To use this feature, you will need to have a business account in an approved market and enable the feature on Instagram.
Then, create a Facebook Shop and connect Instagram to your online store using a tool like 3dcart, which powers the purchase feature and keeps your inventory synced across all platforms.
Sell Without Selling
Too many brands get excited about selling on Instagram and end up turning their feed into nothing but a string of ads. Don't be that brand. Keep the 'social' aspect of Instagram in mind. Share useful content like ebooks, podcast episodes, and even memes (if it makes sense for your brand, of course.) These can be used to grow your Instagram account and increase sales down the line.
Instagram, like Facebook, uses an algorithm to decide which posts to show, which means when followers like your Instagram feed, they are more likely to interact with you and see that shoppable post when you post it.
For example, you can promote your podcast content on social media, which will generate brand awareness. Stories, in particular, are a great place to promote this type of content, especially with custom graphics:

Classy Career Girl publishes a new podcast episode every week and promotes it through their stories.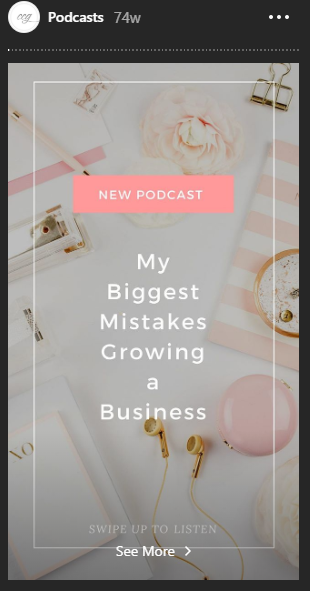 Sixty percent of Instagram users report discovering a new brand on the platform, so don't underestimate the power of building brand awareness.
How to Generate Online Sales on Facebook
Facebook was the first platform many businesses joined. Back in the day, it was an awesome way to get free publicity from social traffic. You could share links to products, events, and your website, and organic reach was high. Unfortunately, brands abused it. They spammed users, talked only about themselves, and failed to provide any real value to their followers.
Times have changed. Organic reach has plummeted, which means fewer and fewer people see organic posts from brands. Today, Facebook is pay-to-play, but that doesn't mean you can't still generate online sales. However, the strategies have changed.
Here are several strategies to help you make the most of the original social media platform.
Facebook Shops
This is the most direct method of selling through Facebook. It is powered through an ecommerce platform, which manages inventory and powers the buying and shipping aspects. You get a nifty little shop located right in your business's Facebook page.
HousecallPro, a plumbing and home services software company, sells company swag directly on their Facebook page using Facebook Shop: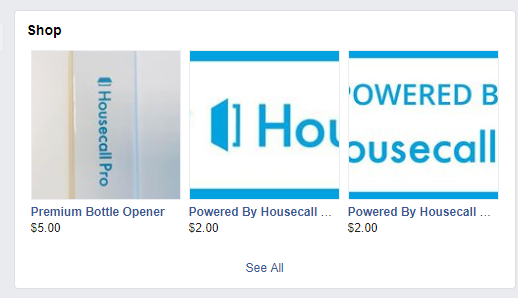 This approach lets the billions of active Facebook users shop your products without ever leaving the safety of their Facebook feed.
Promoted Facebook Posts
Another simple way to generate online sales on Facebook is through the ever-reliable promoted post. You create a post, add a link, then pay for Facebook to show that post to a large audience.
But, the cost per click is pretty high for most industries, averaging around $1.86. Even worse, most conversion rates are in the single digits. Even for a pay-to-play platform, those numbers aren't particularly encouraging.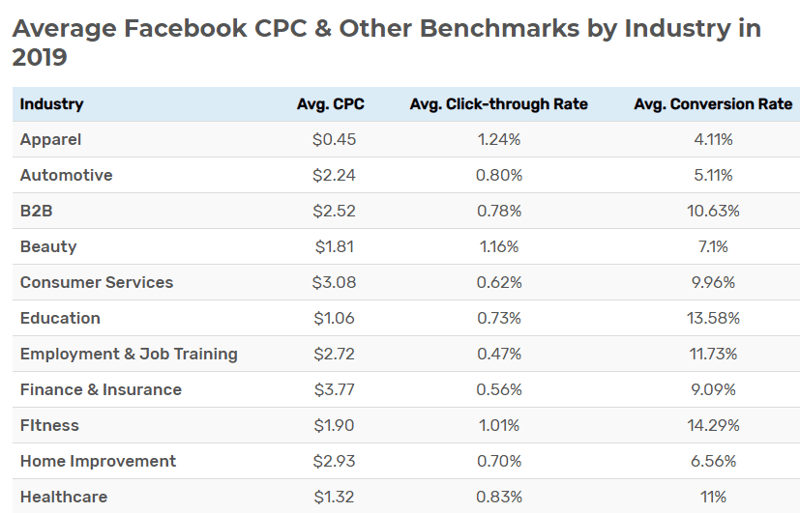 One way to increase these rates is by creating carefully targeted ads. Instead of targeting cold audiences, based on age and page likes, create a custom audience by uploading your customer list and site visits, then target 'look alike' audiences through Facebook's Ads Manager.
Here is an example, from marketing company Codeless. They ran the exact same ad with two different audiences. The one on the left was a custom lookalike audience, while the one on the right was a cold audience.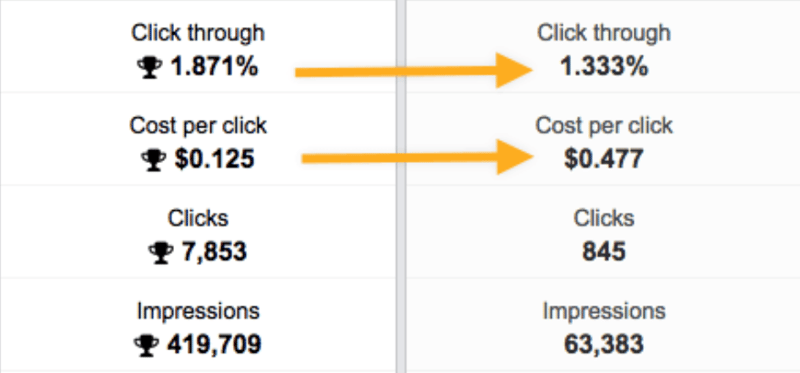 This small tweak resulted in a higher click-through rate, lower cost-per-click, and more than six times as many impressions. Impressive!
Another ingenious way to get the most of out of your Facebook ads is to feature user-generated content in both your content marketing strategy and your paid posts. Don't believe me? Let's look at the figures.
This Facebook case study proved that featuring user-generated content in Facebook Ads can increase click-through rates by 300%, and decrease the cost-per-click and cost-per-acquisition by 50%... woah!
Check out how Eterneva, a company turning ashes into diamonds, does it by featuring customer testimonials from Google and social media... However, Eterneva doesn't just stop there.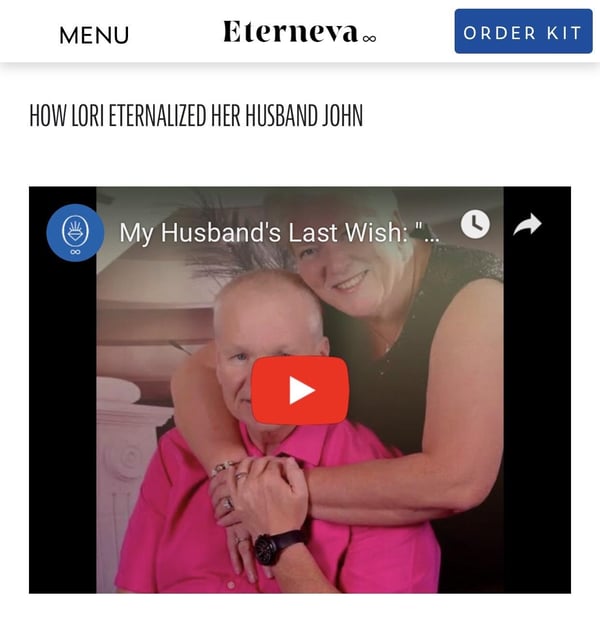 Instead of just highlighting text-only reviews, they further boost their social proof with multiple client testimonial videos as well for a more powerful result, which is prime content for ads.
Believe me when I say there are other ways to get strategic with your Facebook ads.
Look at what Lendio, a small business financing brand, does by promoting its SMB Economic Insights Report.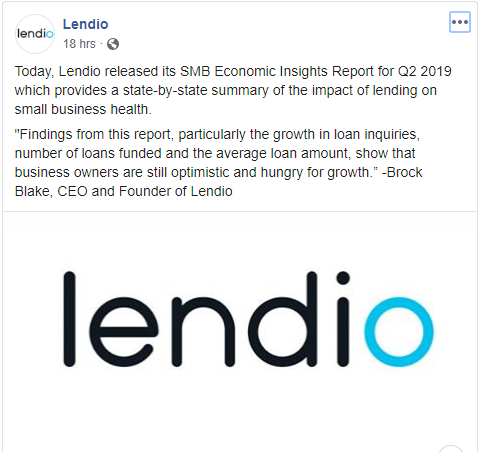 The Facebook post leads to a landing page, which gives more information about the report and links to a download page shown below.
Do you realize the importance of a landing page? According to Adam Enfroy, they are essential for your business. Not only do they help build your following, but they also help to move your prospect through your funnel and generate sales.
With that in mind, let's check out Lendio's landing page: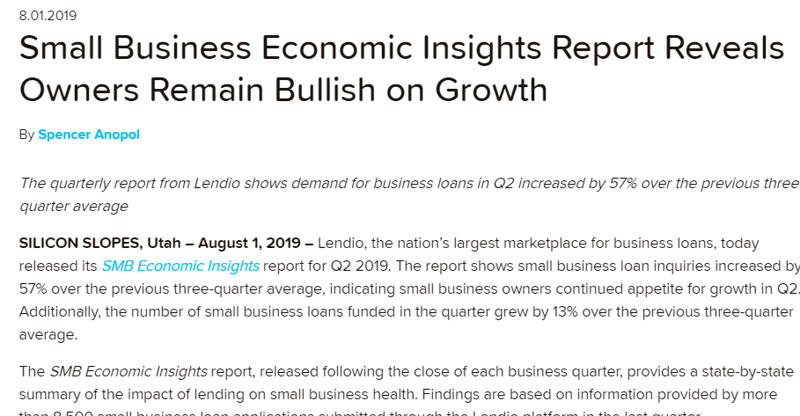 When users download the report, Lendio gains a targeted lead who is invested in small business finance. Those leads can be contacted directly or can be retargeted, which is the next lead generation strategy we'll cover.
Don't forget that lead generation and solid email marketing strategies go hand in hand, so be sure you have a strategy in place in order to increase brand awareness and capture qualified leads. Otherwise, your time spent on lead generation is wasted if you don't have an intentional email marketing strategy in place.
Retargeting Ads on Facebook
Speaking of lead generation, did you know that Facebook Messenger has become uber-popular for customer service chatbots? In fact, not only is it being used for customer service… But also for lead generation.
Check out this example from Adidas Studio LDN, who's using the Facebook Messenger chatbot to get more bookings for their fitness studio: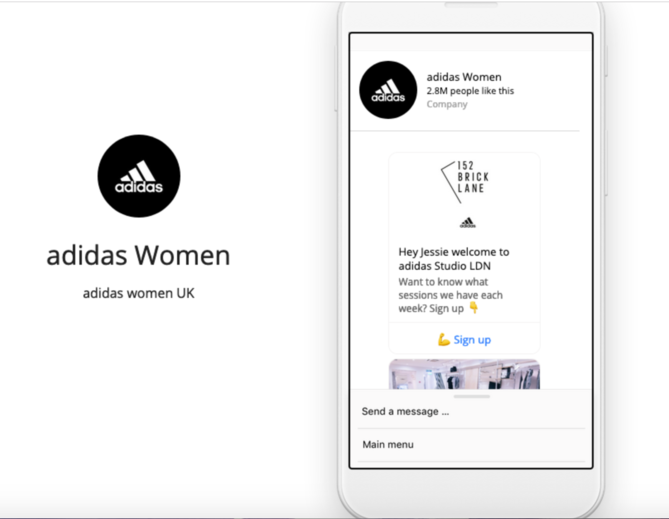 There's a pretty good chance your audience is already on Facebook, so what better way to reach them organically rather than spamming their email?
Chatbots are becoming increasingly popular in 2019, and there's no shortage of the best AI chatbots to fulfill this hot demand.
Retargeting Ads on Facebook
The most effective way to generate sales through Facebook is through retargeting. If you've ever looked at an item on Amazon, then noticed an ad for the item pop up in your Facebook feed, you've been retargeted.
Retargeting shows ads to people who have expressed interest in your business in some way. You can adjust what you want to retarget; maybe they liked your Facebook page, visited a specific page on your website, or even abandoned a cart in your online store.
Because they have already expressed some interest in your brand, they are more likely to convert. With retargeting, conversion rates are much higher and cost much less. In fact, retargeting clicks can cost between 2 and 100 times less.
If you want the best bang for your buck, retargeting is the way to go. And, conversion rates tend to increase over time, which means the more times a user sees your ad, the more likely they are to convert.
Generate eCommerce Sales Using Pinterest
Ah, Pinterest, the land of recipes, knitting patterns, and hair styles. Not the first place you think of when looking to sell products online, right?
In fact, the platform has more than 250 million monthly users, including 23% of the US population.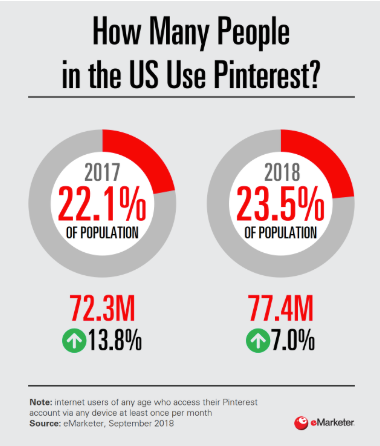 In addition, nearly 60 percent of millennials report they have discovered products on Pinterest, which is actually the same number who report discovering new products on Instagram.
While Pinterest marketing might not be the right fit for every type of business, it is certainly a platform worth considering if you are looking to generate online sales. Here a few ways to put Pinterest to work for your brand.
Promoted Pins
Similar to Facebook's promoted posts, Promoted Pins are paid posts that reach a wider audience. You can target audiences based on ages, interests, and other factors which allows you to reach a more precise audience.
You can directly promote products, like Imperfect Produce does: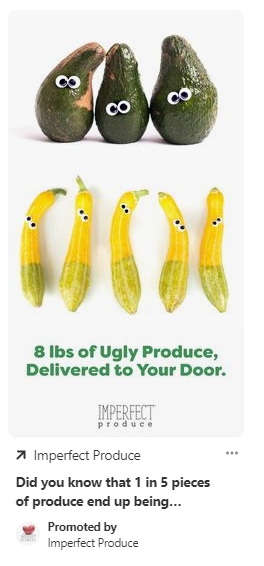 Or, instead of promoting actual products or content like a recipe or a pattern, consider promoting engaging content, such as a coupon or deals pages. This is a strategy that Wayfair uses, one of the biggest names in ecommerce: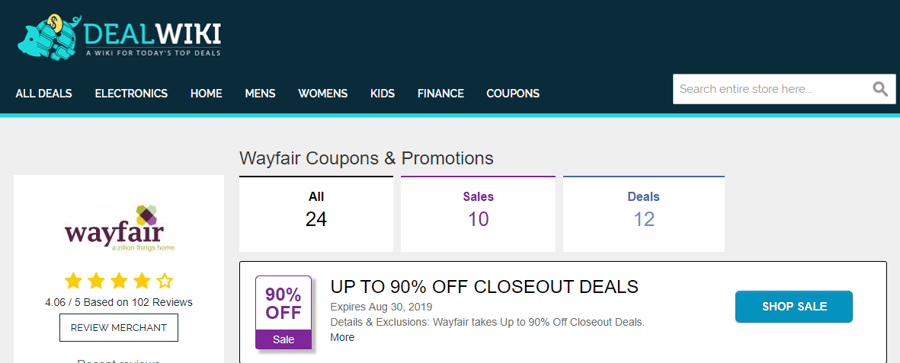 These types of pages are valuable to users (by saving them money!) and are more likely to generate clicks from non-brand aware users on Pinterest.
If you aren't sure where to start when it comes to generating engaging content for your audience, check out these content marketing tips from Hailey Lucas.
Promote Contests
Pinterest can also be used to promote contests, which increase brand awareness and can help gather leads (which can also be used for retargeting ads.) For example, blogger Juggling Act Mama shared a post promoting a recent stand mixer giveaway.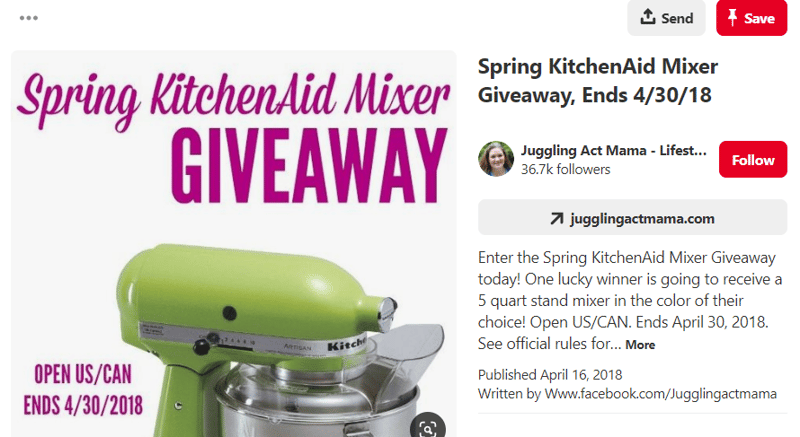 When it comes to Pinterest, it pays to get creative. Coupons, contests, giveaways, and round up posts do really well on the platform.
Final Thoughts on Generating Online Sales
The ecommerce industry continues to grow every day, but massive online retailers like Amazon are fierce competitors for sites without million-dollar ad budgets. The trick to competing is to leverage social media in a strategic way. Work smarter, not harder, as they say.
By paying as much attention to Facebook shops, promoted Pinterest posts, and Instagram shoppable posts as you do your regular ecommerce platforms, you make it easier than ever for followers to become loyal customers.
If you're worried about the time it will take to incorporate all these tips into your strategy… Don't worry, here's a list of all the best free social media tools to save you some time and money.
The future for ecommerce businesses is bright; are you ready to compete?