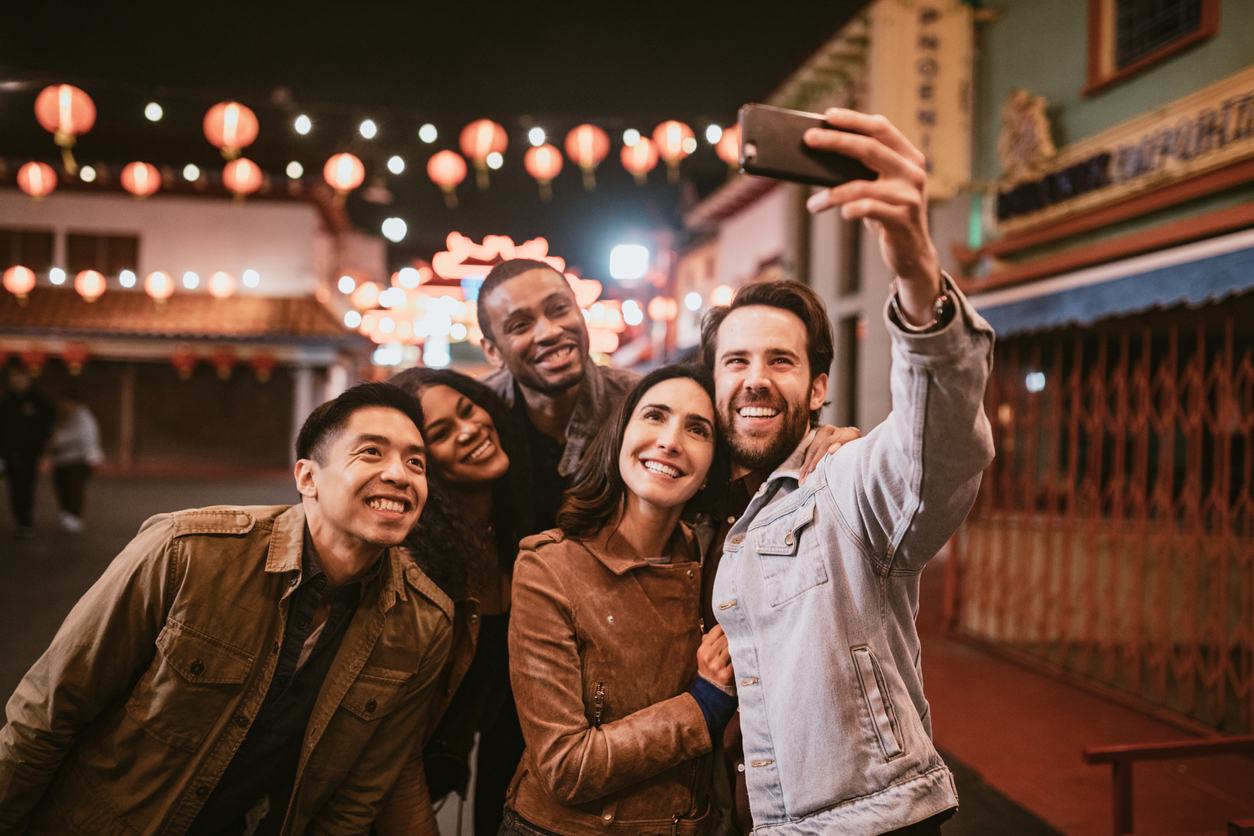 Marketing teams are the engine that sets any business in motion. Their main mission is to create and promote a company image that ideal customers would love. Highlight product features, and you stimulate sales as a marketer.
Thanks to marketing teams, companies can build a reputable and trustworthy presence both online and offline. That being said, they are not the only ones shaping company images.
Opinions and product reviews now have the power to make or break a brand. The online medium has been doing a great job amplifying people's voices.
This is when user-generated content (also known as UGC) enters the scene. In the following sections, we'll examine the main features that make up UGC, it's various types, examples of brands using it daily, and ways marketers can activate user-generated content for eCommerce purposes.
What Is User-Generated Content?
User-generated content (UGC for short) can be any type of online material about products or brands that's made by customers without any input from companies. UGC is organic by nature, meaning that its authors bear no affiliation to the mentioned brand.
Think of the reviews customers submit on your product pages. UGC can also appear as social media posts or comments, short-form videos, podcasts, live streams, etc.
Generally, people are willing to write, snap a photo, record or film about a product under strong emotions. Therefore, UGC usually appears when customers are completely satisfied by, or found faults with, a new purchase.
However, emotions are not the only factors in triggering UGC. Consumers also make their opinions public on the web when they want to educate their peers on different brands and products. In this case, they are creators and are usually followed by numerous people online, just like social media influencers for instance.
But there's another factor that encourages users to produce UGC in a natural way: community.
When brands actively build a tightly knit circle of fans on a social platform, amazing things happen. What is it that makes social users follow companies online? When their brands open discussions about a shared vision and engage their community members, they can spark motivation for UGC creation.
For the sake of UGC, start devising a delightful delivery experience; invite creators to rate your products; nourish a strong online community every day.
What Are the Main Types of User-Generated Content?
People express their opinions about brands in various ways. They can type, talk, and show the way they feel about their assets.
All this talk usually breaks down into specific categories:
Product Reviews: Once they receive what they've ordered, some people take the time to write about the real deal versus expectations. Whether they do it on official websites or third-party retailers (Amazon, Yelp, Google, etc.), their reviews get people intrigued. In fact, 84% of readers are trusting reviewer's words as if they were friends.
Blog Posts: Many blog owners write about their lifestyles to inspire readers. If it so happens that they've been introduced to a new brand in their lives, they will tell their community about it in writing.
Social Media Images and Posts: Facebook posts, Instagram pictures, and tweets; social media provides a public space and amplified voice for anybody. And, people love sharing with the world their experiences — especially amazing product deliveries.
Forum Comments: Users turn to online discussion sites (known as forums) to consult opinions. Sometimes, these discussions can touch upon eCommerce topics with product links and what owners think about them.
Videos: Any decent smartphone camera nowadays can do a pretty good job at filming vlogs, how-to's, unboxings or pretty much anything else. Videos can turn up as UGC when makers talk about a product without getting paid for it.
Live Streams: These videos appear online as they are filmed in real time. With no time for editing, visuals and discussions are raw and live. These can be Stories on social platforms or Twitch.tv live channels.
How Can User-Generated Content Improve eCommerce Strategies?
UGC boasts some major online marketing upgrades. In fact, 92% of consumers see UGC as quality markers that indicate whether a shopping decision is worth it or not. In other words, people trust and relate to other digital users enough to allow them to shape personal opinions regarding a certain product.
UGC, like product reviews, may be filled with grammar errors, typos, slang, etc. Also behind visual UGC are most often amateurs in the art of photography that have no objections with posting blurry, unfocused snapshots.
However, these flaws are precisely what make UGC authentic. Its power doesn't reside in quality. Rather, users are focused on posting their real take on products, with no edits or proofreading.
Here are the main benefits user-generated content brings for eCommerce:
Content Silos: Companies gain valuable third-party content that speaks highly of products with zero investment necessary. These assets can then be reused as product images, ads, blog images, and so on with proper permission.
Brand Awareness: Product owner endorsements weigh heavily in the eyes of interested consumers.
Stronger Social Profiles: Brands resharing UGC on their official profiles gain a significant boost in social reach, engagement, and new followers.
Cost Savings: Marketers don't have to allocate any budget for UGC. This type of content is created organically, without any brand input.
Personalization. People react faster to visuals that resonate with them. Usually, UGC is devoid of market standards (studio-perfect lighting, supermodels, researched speech). Therefore, the UGC individualistic design hits home with a wider variety of personalities.
Renowned Brands That Use UGC Daily
There are lots of international brands that have already positioned user-generated content near the heart of their eCommerce strategy. Their effects are more visible on Instagram.
To better exemplify the power UGC has of connecting brands and people, let's take a look at some convincing use cases.
1. Coca-Cola
After more than a century of being a top player, time hasn't deterred Coca-Cola from preserving its core belief: happiness. What Coca-Cola gets right about its eCommerce strategy every single time is introducing its trademark elements everywhere: the Coca-Cola red hue, a good mood, and satisfied customers.
This direction met no hurdles on Instagram turf either. It's so well executed, that you can easily attribute this profile without even looking at the username.
Coca-Cola doesn't shy away from acknowledging the content of its customers. On the contrary, the profile is filled with reshared photos of people enjoying a coke. Coca-Cola is also personalizing UGC with playful graphics that showcase their customers like rock stars.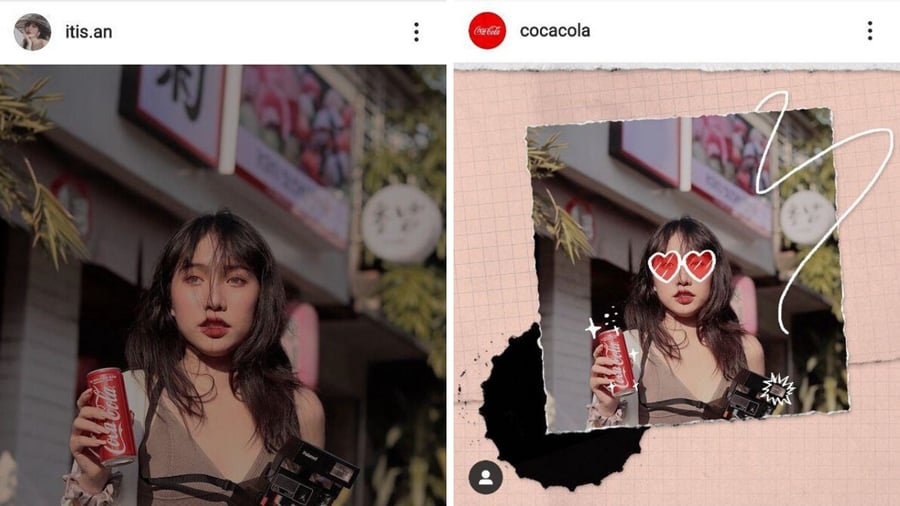 2. Adobe
Adobe gives everyone access to tools that enable them to create digital works beyond any imagination. Therefore, Adobe's power springs not from its platform, but from its users' creativity.
Naturally, Adobe's Instagram profile looks like a digital exhibition. Illustrations and collages are all racing to distort reality to a point where a never-ending imagination begins.
Among inspirational quotes about creativity and imagination, Adobe shows off works that were created with the help of its suite of tools. Not a single post goes by without a tag attributing illustrations to a member of the Adobe online community.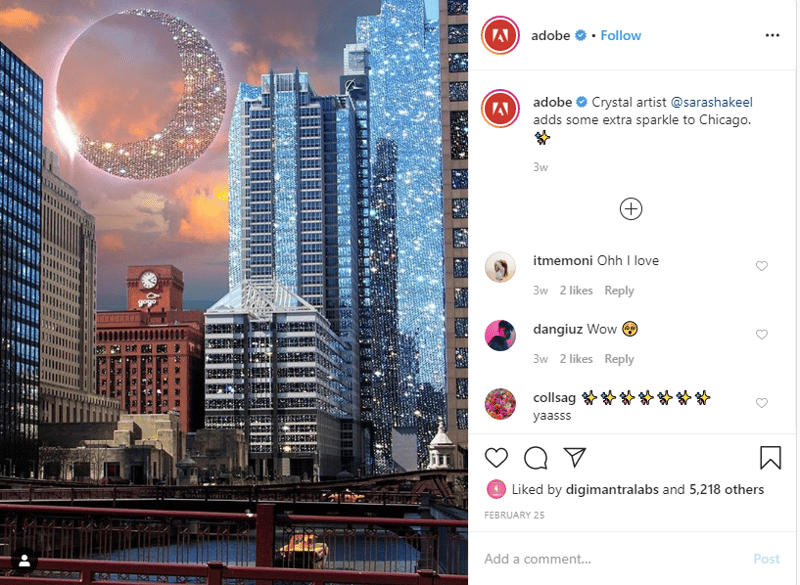 3. GoPro
Photo of the Day, monthly themes, challenges, prizes — the sports camera brand, GoPro, is finding all kinds of thrilling incentives to keep its Instagram community at the edge of their seats.
One look at the GoPro profile, and it's already clear to the naked eye how cherished user-generated content is around here. The GoPro community plays the main character. Snowboarding, trekking, motocross, snorkeling — any form, shape or size of physical exploration and experimentation gets on the GoPro feed.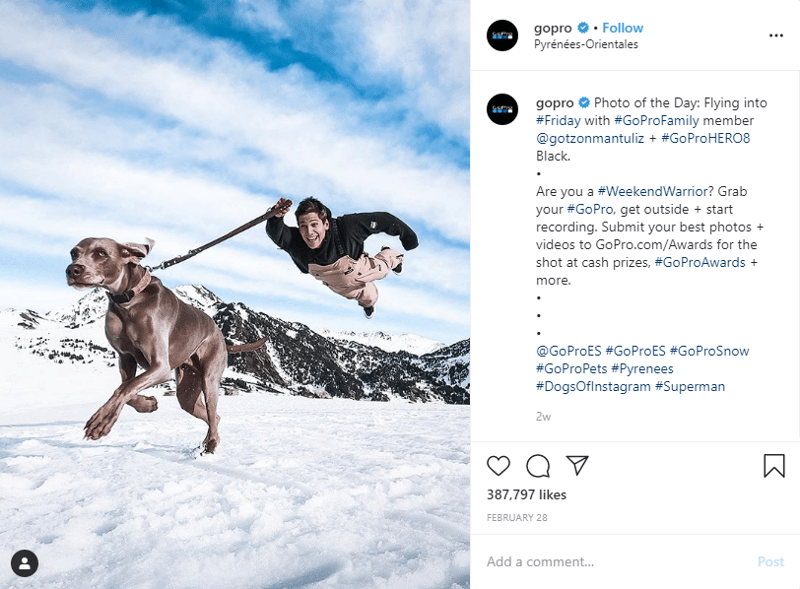 4. Red Bull
Red Bull is yet another popular Instagram account with a community focus. Its direction on Instagram follows a deep-rooted principle that energizes the entire company - an active lifestyle.
Throughout its existence, Red Bull has mainly promoted its core product: an energy drink. What's different about this brand is that it uses its own customers as product promoters.
As users reposted on the Red Bull Instagram feed test the physical limits of their bodies while having fun, there's always a Red Bull logo present in the background. That leaves many wondering: is Red Bull always there when there's a euphoric dosage of adrenaline?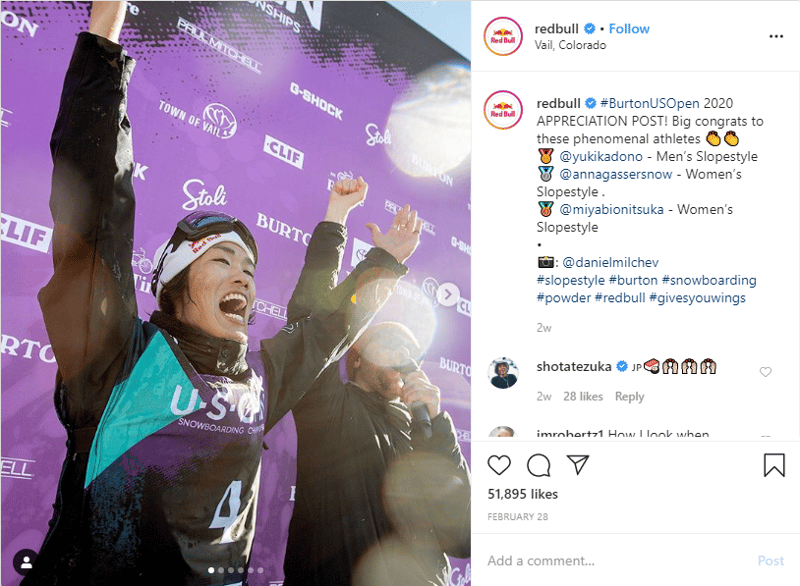 How to Detect UGC
The best solution to detect and save UGC in due time is social listening. This implies setting up alerts that go off every time someone mentions or talks about your brand. Its direct implications bring to surface any online comment about your brand.
There are two ways to go about it:
Manually: Stay tuned to all social media mentions. These appear automatically as notifications whenever a social account writes your brand's username. Since the rise of ephemeral content known as Stories, account owners have to be vigilant. 24 hours without checking out mentions, and the brand can lose UGC forever.
Automatically: There are plenty of social listening tools that monitor more than brand mentions. These platforms keep a close eye on any keyword used and turn them into alerts. These can be anything from campaign slogans and product names to employee/ CEO names, branded hashtags, and so on.
Some of the most well-known social listening tools are Hootsuite, Brandwatch, Awario, Mention, HubSpot, Buffer, among others.
6 Ways to Repurpose User-Generated Content for eCommerce
At this point, any post or review that talks about you is already featured in your UGC report. This rounds up an extremely valuable silo consisting of product endorsements in various shapes and formats.
Now the fun part begins! You need to start rolling these assets along with your entire eCommerce strategy. Their presence at key points (such as social profiles, stores, galleries, ads, blogs) can only enhance brand reputation in the eyes of possible clients.
Here are 6 ways to take full advantage of the UGC potential:
1. Social Media Reshares
The most obvious solution is to reshare any post clients make about your products on social walls. However, the examples we've explored above show several ways to go about reposting.
Brands can personalize reposts with captions where they invite their own community to join in the dialogue.
On the other hand, marketers can also edit UGC graphically beforehand. Well-engineered Instagram editing apps are readily available for businesses to personalize their visual content. This way, they emphasize their brand presence through various graphic elements and make products and characters pop out.
2. In-Site Shoppable Gallery
Here's something few know. Even though most of UGC is born on social platforms, these assets can prove their worth outside their borders.
In this case, marketers can transfer UGC to their eCommerce websites. They can also take some Instagram magic along as well.
The result is a shoppable gallery. What does it look like?
A shoppable gallery is an attractive collection of UGC that links to product pages. This selection focuses on visuals that showcase a mix of your products.
Let's take an apparel online store for instance. A shoppable gallery makes a lot of sense for such a business. For one, fashion retailers promote a large variety of products at a time. Secondly, consumers are also challenged to combine different pieces carefully so their choices match their lifestyle and tastes.
In this instance, a shoppable gallery allows site visitors to get inspiration from people just like them. User-generated content furnishes instant outfit ideas for various occasions. Once they see something they like, users can quickly shop the look by clicking on the embedded links.
From a customer perspective, shoppable galleries save them a lot of time. They don't have to search for their favorites in a large list of products. Also, they get to see what kinds of items people just like them, of similar taste, are using.
As for brands, shoppable UGC simply incentivizes more sales. These galleries also provide an alternative customer journey on online stores that lend the visual charm of Instagram, thanks to curated photos.
3. Social Media Ads
Studies show that online ads get four times more users to click on them for more information when they display UGC. Once again, the authenticity of user-generated content proves to be more persuasive and convincing than studio-quality photos are.
Granted, ads have a couple of seconds at their disposal to persuade users to click on them. With UGC, consumers make eye contact with people just like them showing off products they care about. Not surprisingly, viewers' interest is piqued and there are more chances to accelerate buying decisions.
4. Blog Posts
Blog posts add a lot of importance to any eCommerce strategy. They are there to inform, inspire, and open discussion.
Another feature of user-generated content for eCommerce is its power to create stories. Blog post ideas can start from an event, a shift in your industry, a case study or even UGC. To exemplify the latter, a title can sound something like "Our community's sense of fashion during Paris Fashion Week."
Marketers can discuss and curate UGC around a theme on official company blogs. This way, they tap into the UGC influence — even within a completely different medium.
Images that showcase a product, or snippets of product reviews, can provide engrossing topics. By using UGC as practical examples of product features, it's easy for readers to find the right purpose for their current or future items.
Take a camera for instance; this is a professional tool capable of high performance. However, new owners need some guidance to figure out how to operate their gadgets at full capacity. Other experienced owners can make the learning curve easier and more entertaining in a blog post.
5. Product Images
Ecommerce has been hyper-focussed on refining product pages. These web pages contain all product details that can be of any interest to buyers.
The most common sections are the product description, technical specifications, product reviews, questions and answers, video presentations, and product images. For now, let's focus our attention on a key component: visuals.
Market standards dictate that product images must look sharp, bright, and have high resolution. There is a pretty good reasoning behind this format.
Consumers must be able to perceive any visual detail accurately. That's because they lack the experience of touching and testing the products themselves in a physical store.
Unfortunately, the monotonous white background sacrifices perspective for the sake of precision. Viewers might be able to see the intricate hand-sewn blouse motif up close, but they don't know how well that piece fits their body type. Also, you can't tell too well from a standard product image how to integrate a new apparel item into your daily routine.
User-generated content fixes this gap. By adding happy customers wearing or using products to their designated product pages, shoppers gain more value from product pages. Visitors notice at a glimpse how people just like them use an item they want.
6. In-Store Displays
Can a piece of social media travel from online to the offline world? Yes, it can! Omnichannel, one of the hottest eCommerce trends in 2020, allows a deeper connection between reality and digital.
User-generated content can step into brick-and-mortar stores by means of displays or other forms of visual marketing. More than that, their presence impacts buying decisions.
Retailers have started turning their store walls into social media walls. This way, visitors have time to experience the merchandise at their fingertips and take community content as reference material.
Satisfied testimonials or snapshots of happy clients will always induce a positive state of mind. A good mood can only increase the odds of converting visitors into customers.
Start Using User-Generated Content for eCommerce Today
As we've seen so far, user-generated content is carrying a lot of weight across all online marketing sectors. This invaluable resource can transcend the confines of social media. Plus, it costs brands next to nothing with customers submitting this sort of content on their own.
From now on, you know how to proceed regarding UGC. Above all else, it's crucial to detect customer submissions in good time. Next, curate them in a collection ready to be deployed at key touch points across your eCommerce strategy. This way, brands engage with their communities at a more personal level that forges trust and strengthens brand image.