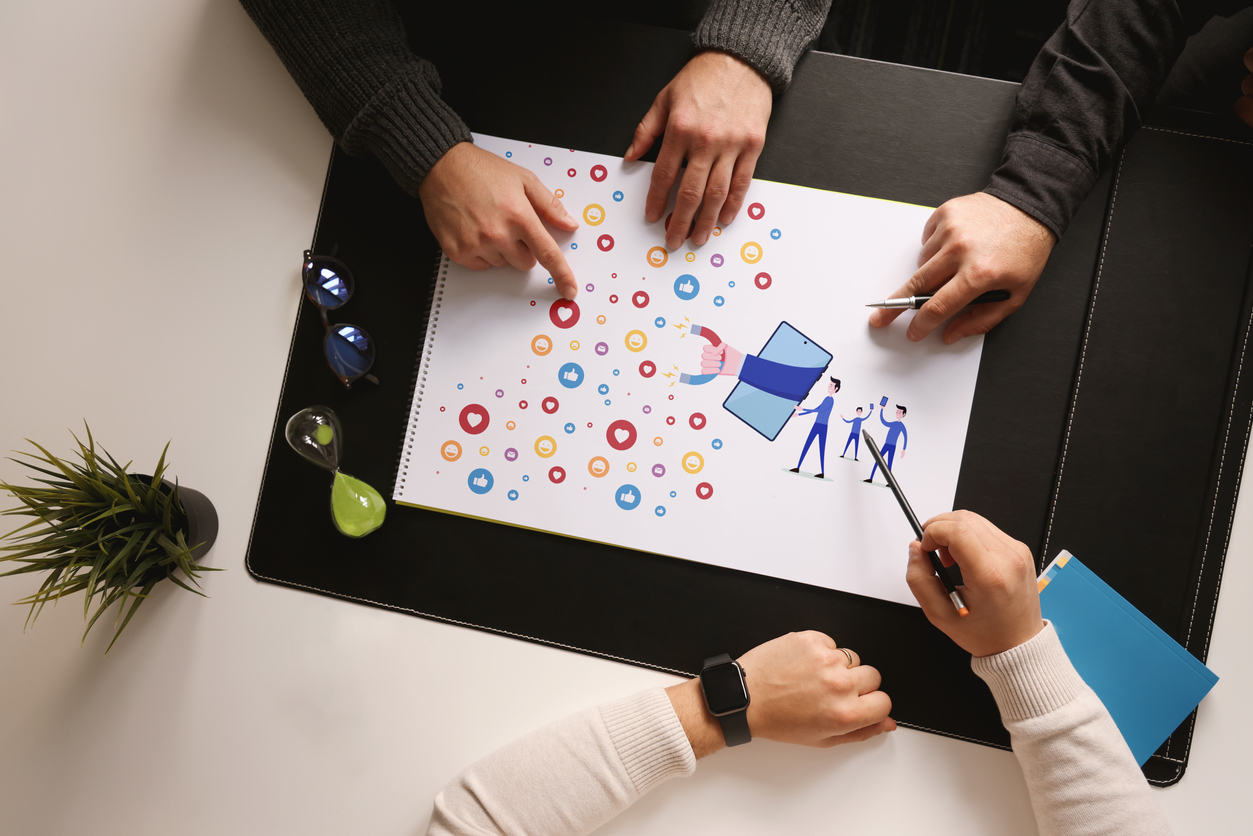 Facebook ads are an unavoidable part of a digital marketing journey. With the social media channel boasting billions of active users, there is a good chance your potential customer is already residing on the platform. And advertising effectively will give you an excellent opportunity to create awareness, connect with the audience, and acquire leads that will help increase your sales.
However, creating a Facebook ad for eCommerce is a task easier said than done. To ensure the success of your advertisement, it is critical to integrate the right blend of ad copy, CTA, and, most importantly – visuals!
Why Are Visuals Necessary?
Facebook can be a busy (and challenging) space for advertisers. With over 3 million businesses actively competing on the platform, you have to create something that immediately grabs the audience's attention. Otherwise, they will simply skip and scroll past your advertisement, like many other adverts present on the social media network.
Attractive and compelling visuals are the key elements that will help your ad stand apart from the others present. Time and again, Facebook has also shown appreciation for visual content over text and recommended advertisers utilize them efficiently for better visibility. Plus, the information provided by pictures is retained by 65% of the audience – compared to 10% of what they hear 3 days later.
Simply put, using the right image is essential. Get that wrong and see your ad-creating efforts (and money) go down the drain with the lack of conversions.
The good thing is that Facebook ad images are easy to curate, however difficult it may sound. Below are some best practices to help you create and utilize visuals for your next advertisement. The below tips will give you a clear idea of what works and what should be avoided for desired results.
1. Be Relevant
While this should go without saying, you'd be surprised to see how many creators upload pictures that don't resonate with the context. Just imagine seeing an advertisement for a soft drink but getting confused as it has a picture of a dog.
Well, many marketers merely select a random image from their database and add it to their promotional material. But in their aim to save time and effort, they end up losing the opportunity to acquire leads.
To avoid this scenario, it is critical to choose pictures for your Facebook ad cautiously. Even if you are buying stock photos, search comprehensively and use only the images that compliment your text, brand, and style.
2. Define Your Target Audience
A one-size-fits-all approach doesn't work when creating ads for social media. To impress the audience with your offerings, you need to pursue them with custom content curated explicitly for the target audience.
To do this, you first need to decide who your ideal audience is. Narrow down your audience based on their age, hobbies, geographical location, and salary. With the help of this buyer persona, choose pictures that are of their interest or are relevant to them.
For example, take this advertisement by Vagabond Shoemakers. In their Facebook ad, they show the product as a standalone along with a model wearing the same. The model is clearly similar to the target audience they are trying to achieve. Thus, it helps connect with the viewers on a deeper level.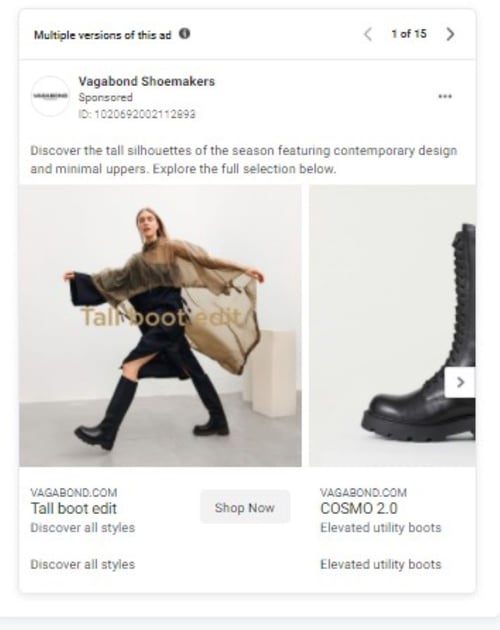 3. Keep it Free from Excessive Text
For years, Facebook suggested that advertisers use less than 20% text overlay on their photos. The ads that added more than the suggested amount were usually not approved or delivered to only a low number of users.
However, the rules have changed. Now the social media platform rates ads as "Okay," "Low," "Medium," and "High" depending upon the amount of text it contains. This means that your ad will not be approved, disapproved, and penalized as per the amount of text you add. When you upload the completed media file on Facebook, it will simply give your advertisement a level of approval based on the number of words you have included.
As a general rule of thumb, use only the text that is required to get your point across. The number of words (or the lack of them) solely depends on your brand message. While some advertisers find it practical to add a short message to their campaign, others can manage to reach their audience with zero text overlays.
In the end, the choice is yours and determined by the core message you are trying to implement. But remember, when adding overlays, make sure very little text gets in the way of the image. Your picture is the element that attracts the audience most; having it filled with words can overwhelm or confuse the viewer.
4. Pay Attention to Color
Another essential factor you need to consider when choosing pictures for your Facebook ads is color.
You see: Facebook's overall design comprises a blue and white color palette. Using the same theme for your promotional image will make it blend within the News Feed. And your potential consumers will more likely skip past the advertisement.
When choosing pictures for your ad, ignore colors that are similar to the social media display. Instead, go with colors that complement the existing layout. You can also select contrasting colors that make your ad stand out and effectively capture the viewer's attention.
This applies to all kinds of ads — you want to be working with the existing layout and not against it. It's also worth getting a second opinion on your ad before you think it's ready to go. Consider hiring a banner ad designer, especially if you're going to be using the same ad on other websites as well as Facebook. This way you can ensure your ads are professional and look great. Sometimes the subtle details make a big difference to the end result.
See how 1-800-Flowers uses a picture of a bright bouquet to promote their range of autumn floral arrangements. The pop of the color immediately grabs the attention of the passersby and makes the ad more impactful.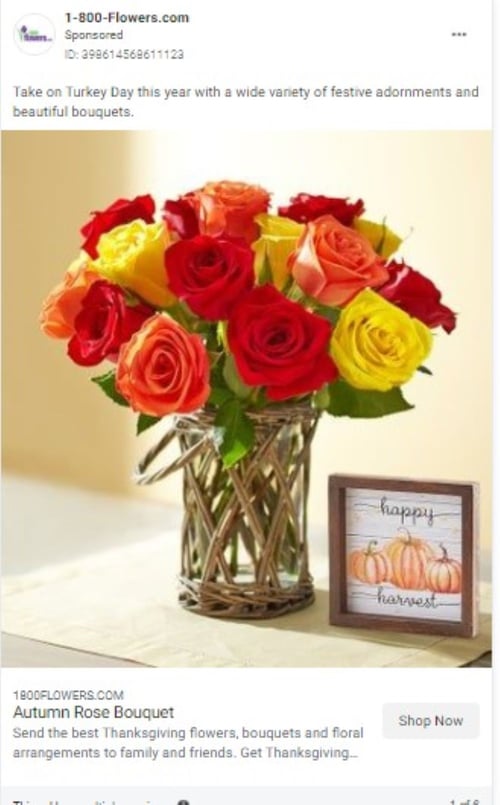 On the other hand, if the brand's existing logo or mascot is already in the shades of blue, you might want to consider using a bright background or border surrounding the picture to make your hero image stand out amidst similar colors.
You can also use complementary shades of blue in your pictures (that don't match the color palette of the Facebook timeline) to ensure your picture doesn't get ignored during the traditional 'swipe and scroll' of smartphone users.
Color psychology is another factor you should remember when choosing pictures for your Facebook ad. According to research, the different colors that you display will have a unique psychological effect on the varying demographics. For example, older generations have been noted to respond more fruitfully to colors from a shorter wavelength, such as purple and blue.
On the contrary, younger people are more likely to be attracted by bright and vibrant colors, like red and orange.
Moreover, try sticking to two or three colors when sourcing pictures for your advertisement. While you may be tempted to use a plethora from the rainbow of colors available, doing so can overwhelm the viewers and make your ad seem too intricate.
5. Include Pictures of Humans
It is an established fact that humans are attracted by pictures of other humans. This is normal human behavior and gives us a feeling of resemblance with the models portrayed on screen. Unfortunately, most advertisers fail to observe the connection and continue posting photographs of office supplies and bland graphics that are not easy for the audience to identify with.
Sometimes they also do the worst – post advertisements of nothing but the text that instantly turns off the audience.
When choosing pictures for your promotional material, try to search for photos that include humans as the primary model. Doing so will help your audience create a real connection.
But similar to colors, you don't want your visuals to blend within the existing newsfeed. Suppose your audience is used to seeing updates from friends and family in their timeline. In that case, chances are they might alienate you from your ad without seeing the offerings made by your brand.
You can show people using and enjoying your product/service to overcome this situation rather than simply displaying them as a standalone model.
It is also a good idea to show people being happy or having fun with the selected product. This will frame your brand as casual and fun instead of constrained. As a result, your audience will connect better with the models and be more likely to convert as potential consumers.
Apart from adults, pets and children can be good choices for advertisers too. According to a study by the University of Oxford's Department of Psychiatry, researchers claimed that all pictures of faces encouraged brain activity. However, photos of adults light up the backside of the brain while pictures of babies trigger the front area associated with emotions.
Likewise, pictures of animals in advertisements, specifically dogs, increase feelings of emotional connection. Your two-legged and four-legged friends are not only adorable to look at, but they also remain one of the most popular visual formats to highlight happiness and tranquility. Using such pictures is undoubtedly one of the best ways to reach target customers and build brand awareness.
6. Create a Sense of Urgency
Fear of missing out (FOMO) is a technique that savvy marketers use to tap into the anxiety of prospective consumers. The message evokes the consumer's desire to latch on to the given opportunity before it slips out of their fingers.
For example, let's say you are considering purchasing a new car. You've got the initial idea of the car's specs and figured out the budget. However, due to some constraints, you are unable to make the final purchase until a later date. Then suddenly, one day, you see a Facebook ad promoting a massive discount at your local dealership. This puts your FOMO in high gear, and you get the urge to finalize the purchase as such an opportunity might not present itself again.
As a whole, people generally hate to miss out on anything. This especially applies to events that will make them miss out on promotional offers such as discounts and free items.
Use the above state of mind to your benefit and display pictures that will create a sense of urgency. Set deadlines to entice the consumers and design lead magnets that your audience can grab – but only if they purchase before a certain period of time.
7. Leverage User-Generated Content
A group of marketers has found that social ads which display user-generated content (UGC) generally perform better than generic content. This is because the audience relates more to co-shoppers, finding it more authentic and humanizing.
According to research by Yotpo, 76% of customers find reviews and pictures from previous buyers a significant influence in their purchase decision. The UGC shared via Facebook ad sees conversions that are 40% higher than the average industry statistics.
Showcasing UGC in ads placed on the social media network will give viewers the social proof they need. It will help them realize that the people using your brand are vouching for your authenticity and are satisfied with the offerings.
8. Test Your Ad
No matter how much effort you put into your advertisements, there is no way to predict how the audience will react to them. This is where testing comes into play. With split testing, you can analyze which versions of your Facebook ad are preferred by the audience. This will help you understand and optimize the best-performing one going forward.
To make the process easy, the Facebook Ads Manager contains the option of A/B testing. Just go to the 'Campaigns' tab in the ad manager and select the option for 'A/B test.' Then choose the different variables you want to test by playing around with the overlays, eCommerce ad copy, and of course, the creatives such as visuals.

As you run the test, Facebook will help you determine the best-performing ad versions. Once you are sure of the ad that can be a game-changer for your brand, don't hesitate in putting your budget behind the particular one and see your revenue grow.
Over to You
These were just some tried and tested ways to get you started on the Facebook ads bandwagon. Instead of wasting your time on pictures that don't do justice to your brand, integrate the techniques learned today and get an edge on the other advertisers competing for the audience's attention.
However, remember that there is no one-size-fits-all approach to social ads. Play around with the visuals and experiment to find the ad that works best for you and your audience.