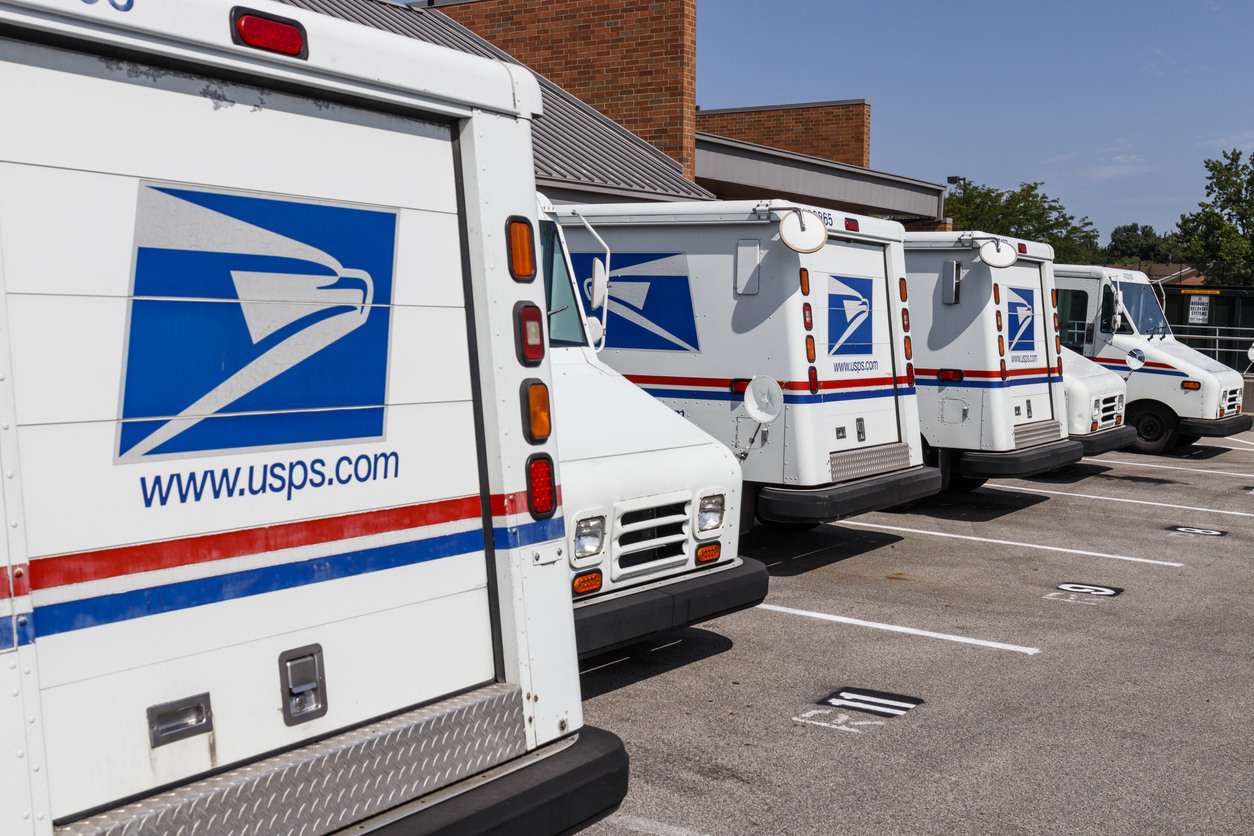 When an online shopper places an order, their next step is to sit and wait until the product arrives. For the business, landing the sale is only the beginning. They must get the product securely packed, get it shipped out, and get it to the customer's doorstep or mailbox.
Creating an efficient shipping system can be difficult for new eCommerce businesses. Store owners must figure out the logistics for every step of the product's journey. It must be as fast as possible, and it must be as inexpensive for themselves and their customers as possible.
Finding a balance between speed and cost isn't always easy. After all, online shoppers generally dislike shipping fees. eCommerce statistics show that these unexpected costs have stopped 28% of shoppers from placing an order. That's higher than any other cited reason for cart abandonment.
eCommerce entrepreneurs must find the best options for themselves and their guests. With a little savvy and flexibility, they can cut down on costs and boost customer satisfaction. Here, we will describe one such option, flat rate shipping, and what it can do for online stores.
What is Flat Rate Shipping?
Under most shipping options, the carrier charges different service rates for different products. A few variables affect how many packages a carrier can transport at once. The more burdensome they are, the more they will cost.
Size and shape may both influence price. The most significant factor, though, is usually weight. Planes and trucks can only hold so much at a time before the total load becomes too heavy to bear. As a result, heftier packages incur heftier fees.
Then there is dimensional weight. Some companies estimate a package's weight by multiplying the length, width, and height of the box. They compare the calculation to the measured weight. Then, they charge the higher amount to the business.
Business owners may have a tough time calculating how much they pay for shipping. Different products, or even different items that are technically the same product, may vary in weight. Different carriers, or different shipping options from the same carrier, may emphasize certain factors over others. One must also account for distance, delivery speed, and other aspects.
Flat rate shipping eliminates many of these nuances. Every package costs the same to ship under this simplified plan, regardless of how much it weighs. There are caveats, which we will explain. Even then, it's still less complicated than other options.
Calculating the Flat Rate to Offer
Having said that, flat rate shipping is also not as simple as one price for any and every package. With the exclusion of weight as a factor, carriers often base their prices on the box's dimensions. When a package takes up space in a delivery truck or cargo plane, that leaves less room for others. It costs the carrier more money, so they charge extra for that space.
Many carriers offer the same rate and expected delivery time, regardless of distance. The result is quicker and easier cost calculation for all orders. Better still, most carriers offer their own online calculators. You can use them to estimate their fees for fulfilling specific orders. Use them with wisdom, then mark up as needed when selling to customers.
Benefits of Offering Flat Rate Shipping
The clearest benefit is that flat rates may incur lower costs than rates based on weight. Stores that specialize in heavy products benefit the most. Examples include weight sets, metal statuettes, and computers, among others. They can pay less to ship more, and they could expand their reach in the process.
We already mentioned that flat rate shipping costs are much simpler to calculate. Having fewer factors to account for means having less room for error. This would also save you money, as well as time and effort. You would know exactly how much you need to pay the carrier, mark up for customers, and not lose out by mistake.
Plus, less variety in your costs can translate to less variety in the shipping fees you charge. Nobody likes surprise extra fees at the checkout page. With flat rate shipping, customers are less likely to feel thrown off and abandon their carts.
When Flat Rate Shipping Doesn't Work
Flat rate shipping doesn't include weight as a variable. However, carriers often consider size when determining the cost. Compact items are therefore better than items that take up space. Even when the latter weigh less than the former, you would receive less for your money.
Packages shouldn't be too light, but they can't be too heavy, either. Most flat rate shipping services impose a weight maximum. The exact number depends on the carrier. Once a package's weight exceeds that limit, it becomes a factor in the final cost. As a result, this option works best for products that fit in that Goldilocks range.
Finally, the delivery times for flat rate orders vary from carrier to carrier. Some may charge less than others, but they take a week or two to transport the goods. Some only need a few days, but the speed comes at a price. Business owners must weigh their options. As always, the shipping fee you impose on customers must reflect the price you pay.
What Flat Rate Services are Available?
Quite a few freight carriers offer flat rate shipping options. Naturally, the most popular carriers often have the most robust services, plus the greatest reach.
Of course, all of them follow their own philosophy in how they treat flat rate shipping. They list different package dimensions at different costs. Their weight maximums, expected delivery times, and other elements also vary. Which one is best also depends on the needs of your business and your customers.
eCommerce entrepreneurs must make a careful comparison between their options. Otherwise, they may find themselves paying more while missing out on better options. We'll describe the three most notable flat rate shipping services below.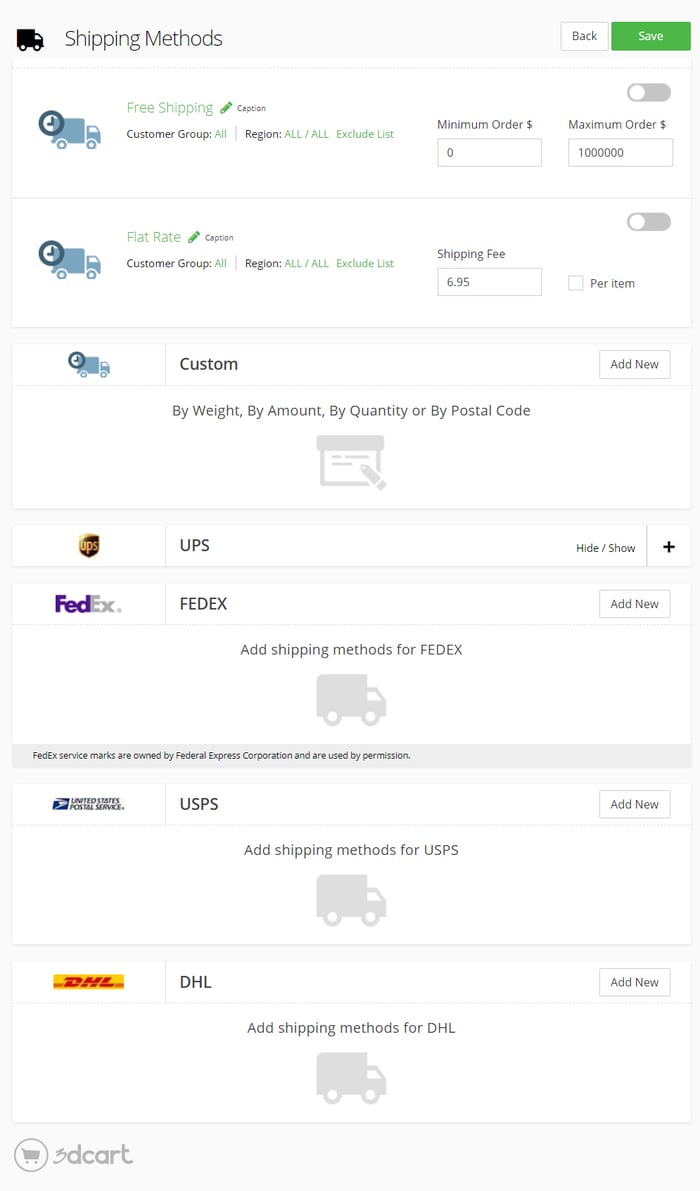 FedEx One Rate
FedEx One Rate offers many of the carrier's benefits for domestic freight shipping. Delivery is terrific, taking three days at the longest. They handle materials by their professional standards. They can even pick up your products from wherever you house them, instead of requiring you to drop them off.
However, don't let the name fool you. The one rate they charge may vary based on a combination of two factors. The first is the packaging type. They range in size from an envelope ($8.50 at the lowest) to an extra-large box ($34.90 at the lowest). Thankfully, the packaging materials are free, and the company does not impose any surcharges for fuel.
The desired order fulfillment speed also affects the total cost. They offer six distinct services. FedEx Express Saver takes the longest to arrive but also costs the least. FedEx First Overnight guarantees next-morning delivery, but at a higher price.
The pricing chart for these variables features 42 possible charges. Either way, you and your customers receive excellent service at a low price. Just make sure that packages weigh less than 50 pounds.
UPS Simple Rate
Like FedEx One Rate, UPS Simple Rate has a weight maximum of 50 pounds. Unlike FedEx One Rate, this service is much simpler. Rather than a complex price chart, the transport company offers five size-based options. The XS package has a minimum price of $8.25. The XL runs up to at least $21.75, and it has greater volume than FedEx's option.
Delivery times vary between the three options available to Simple Rate buyers. UPS 3 Day Select and UPS 2nd Day Air take exactly as long as they sound. UPS Ground shipments may require five business days or just one. Deliveries may often fall in the low-to-middle range because of UPS's nationwide reach. Times may also vary for purchases sent to or from Hawaii and Alaska.
Overall, UPS's answer to flat rate shipping is an excellent option. Prices are relatively low. Companies with products that are large but not too heavy can greatly benefit.
USPS Priority Flat Rate
The United States Postal Service (USPS) may be stuck with the ugly moniker of "snail mail" for good. However, USPS Priority Flat Rate shipping provides quick service at low and consistent prices. Their delivery time rivals that of their privately-owned competitor FedEx. Priority shipments arrive between one and three days after being ordered.
Moreover, their options are generally cheaper. Envelopes, the smallest possible packaging, cost $7.15 at the very least. Getting a large box would cost as little as $18.30. For a bonus fee, they offer insurance — not an option at FedEx or UPS. No matter which option you select, the maximum weight is 70 pounds.
USPS is a government service. As such, they must follow certain federal restrictions on what they can deliver. Knowing these limits is essential.
As for other benefits, they offer tracking for both the business and the customer. They also do not charge for distance or fuel. That's not too shabby for good old snail mail.
Summary: Flat Rate Shipping Can Be Great for eCommerce
Here's a quick rundown of everything we said about flat rate shipping:
It's a shipping payment option that isn't based on weight.
Most carriers offer different packaging types/sizes at different prices.
Products that weigh a lot without taking up space are great for flat rate shipping.
On the other hand, products that are large, yet light should be shipped with other options.
FedEx, UPS, and USPS all offer excellent flat rate services.
Flat rate shipping can save money and time, and not just for customers. Business owners who offer this option don't need to stress about package weight and intricate tabulations. The formula is simpler, the process is easier, and the customer is often happier as a result. As you work out the logistics of shipping products for your eCommerce business, you should consider flat rate shipping as an option.