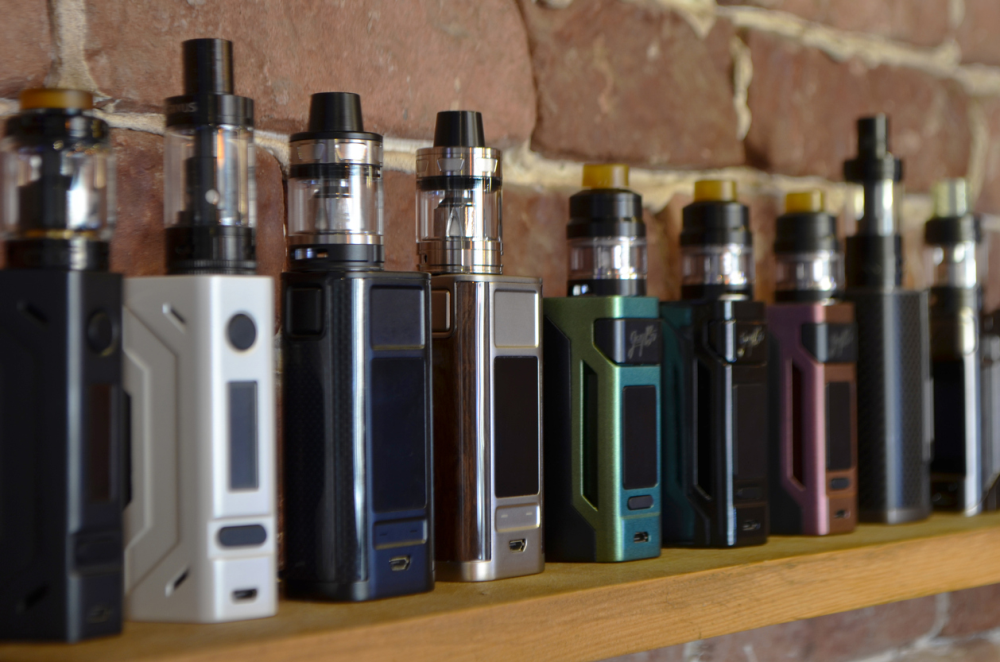 According to a Research & Markets report, vape products and e-cigarette industry will cross $43 billion with 15% of Compound Annual Growth Rate (CAGR). The rise of the vape industry is the product of adverse effects of tobacco and cigarette smoking. Every year, 7 million people face death due to tobacco and cigarette smoking, and vaping is an appropriate alternative for smokers who want to quit.
Vape products are widely accepted because of their less or no tobacco ingredients, hence a great opportunity for business across the globe. Yet, there are several roadblocks in the business of starting an online vape store, and the major part is marketing!
How can you sell something if you can't market it?
Yes, the FDA has a very strict regulation on how one can start and market a vape shop. To start a vape shop online, one must go through FDA approvals and take each step very carefully.
This article is purely dedicated to the marketers and store owners who want to market their online vape shop. We will discuss what you can and can't do in terms of marketing your vape products with some live examples.
First, let's talk about ways that you cannot adopt for vape products, which are usually open to other businesses.
What You Can't Do To Market Your Online Vape Shop
If you're already running a vape shop online, you probably know that it is literally prohibited to promote any tobacco products on Google Shopping Ads. Not just Google, other social media platforms like Facebook, Twitter, Snapchat, and Instagram have a strict policy against it.
Here's what Google has to say when it comes to promoting tobacco products: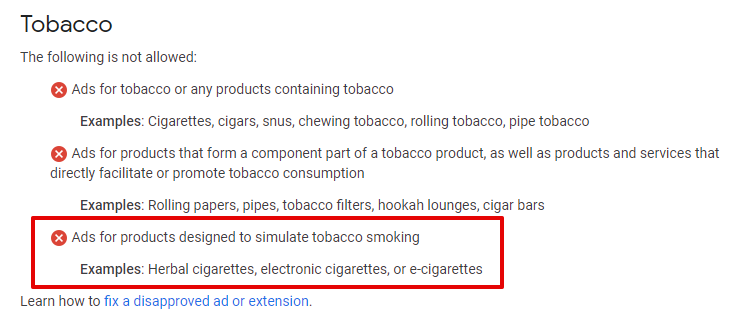 While Facebook, including Instagram, has the following policy for promoting e-cigarettes and vape products: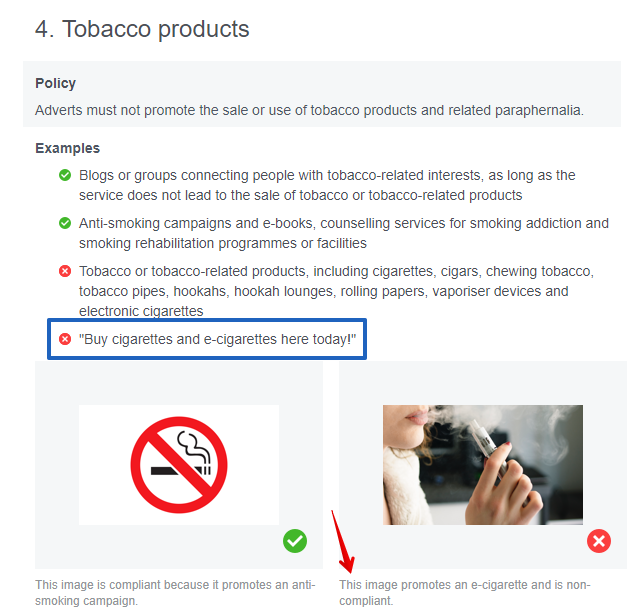 Twitter does not clearly state that e-cigarettes and vape products can't be promoted on the platform, but this policy kind of gives us the hint: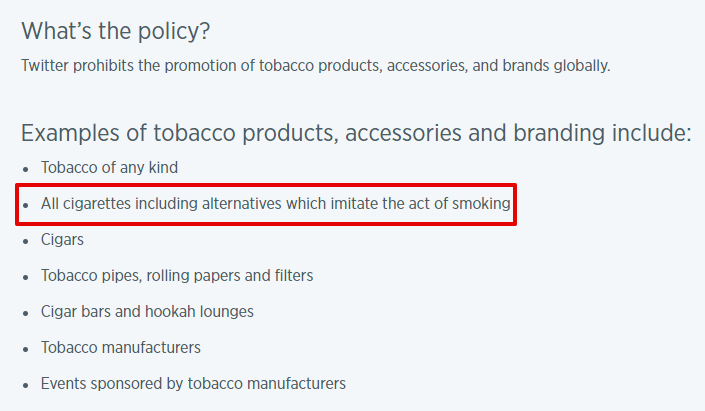 So, a big door to getting enormous traffic is shut down for e-cigarettes and vape products. The FDA is very specific when it comes to promoting tobacco products, and sadly e-cigarettes are currently imitating the same genre.
But, there's a lot a marketer can do to spread new vape products and our next segment is all about that.
What You Can Do To Market Your Online Vape Shop
Thankfully, what you can do to promote your online vape store is bigger than what you can't. Paid advertising is just one way to market your brand, not the only one. Sure, paid advertisements can give you quick traffic, but we also have to consider the enormous amount you have to spend on an ad campaign.
In most cases, a small business has to ride a long way to start Google Ads and other paid promotions. Thankfully, we have several ways that can give you amazing outreach and drive viable traffic to your store.
1. Search Engine Optimization
Search Engine Optimization (SEO) is one of the oldest forms of online marketing and an ever-evolving field. From keyword stuffing to content optimization, SEO has had a long journey and still has a long way to go.
The right SEO techniques have the capability to drive relevant traffic to your online store. But, most companies have a sore attitude on SEO because it's a time-consuming process.
BUT, SEO can give you long-term benefits too!
Enhancing your content and pages may seem difficult at times, but SEO has the capability to give you that magical position (Rank 1) on Search Engines that can give endless visitors to your vape store.
So, what are the most important things you should take care of when optimizing your store for search engines?
A. Content
We all know what content means to Google and other engines these days. After Panda and Hummingbird Google updates, it has become a necessity to create meaningful content for web pages and blogs.
To create meaningful and results-oriented content, there are several points you have to consider, and the first important aspect is keyword research and mapping. The process of keyword research and mapping will give you a roadmap regarding the phrases you should target for a particular page.
Here's a dummy sample on how you can create a keyword mapping report and execute: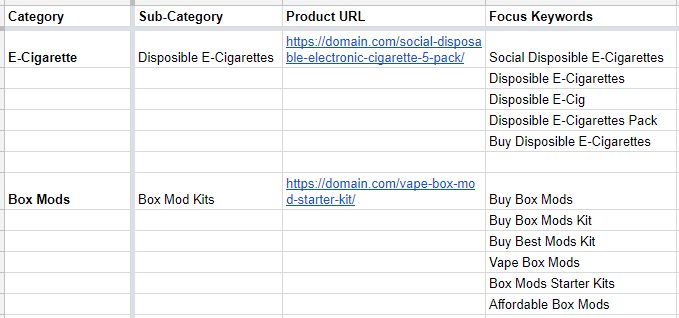 Make sure to select a target keyword for each page, and use the keyword in all your meta tags and content mindfully. Also, you can add custom header and footer content to describe your product and effectively cover your target keywords.
B. Off-Page SEO Activities
Off-page SEO consists of a set of practices that can lift up your search engine rankings. These activities generate multiple references for your domain and help you popularize your product links on various domains.
Here are some off-page SEO activities that can boost up your results on search engines.
Forums/Groups/Communities
Interacting with vapers on various forums like Quora and Reddit can help you reach out to a vast target audience. Reddit has vast communities for every interest that you can think of and vaping is not an exception. You'll find hundreds of groups with thousands of followers where people ask and answer questions.
You can be active in such groups and spread your products to the right audience. For instance, a community called "Vaporents" has posts like below every day. The community has 103K members, so you can imagine the benefits!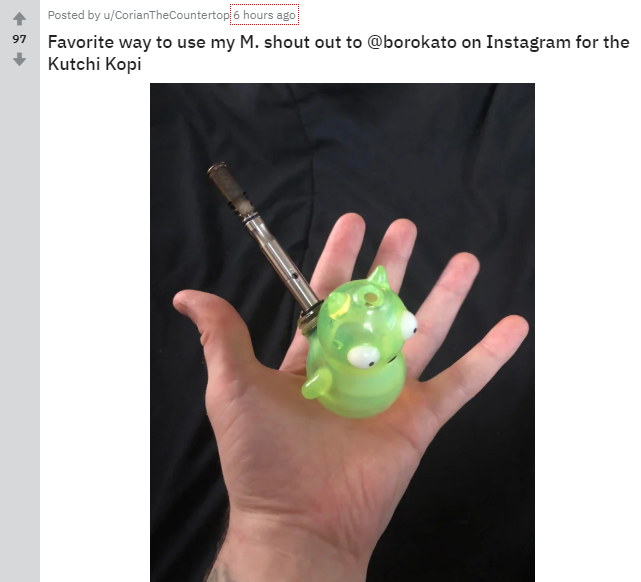 Facebook also has a variety of groups with thousands of followers that are purely made for the vape lovers. You can promote your content as well as products over there and ask for product reviews.
Content Submission
Today, thousands of gates are opened for every kind of content, whether it's an article or an image. You can submit your content to these channels and make your SEO stronger. Talking about text-based content, you can reach out to websites that post articles and news on vaping and e-cigarettes. If you simply search on Google to find such sites, you'll find numerous results like this: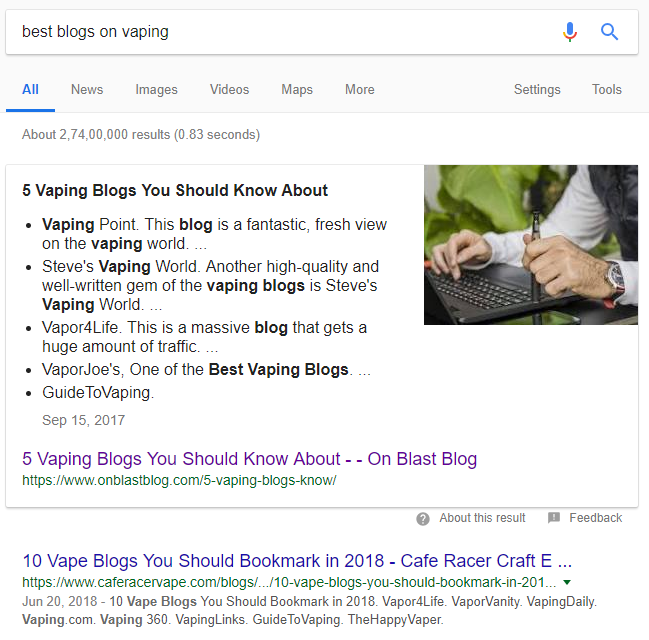 You can contribute various subjects on vaping to these blogs and ask for a mention of your vape shop. Many such blogs also allow sponsored content where you can highlight your best products and generate direct leads.
Not just articles, you can submit images, videos, or infographics to thousands of platforms out there and spread your brand name. But most importantly, it will strengthen your overall search position.
For images and infographics, you can rely on various platforms like Pinterest, Tumblr, Flickr, Photobucket, etc. These platforms can also be a great source of traffic to your store.
Directory Submission
Let's be honest, there are very few genuine directories left now. The major benefit of submitting your business to valuable directories is that you will earn a link from high-value domains. Plus, these directories can showcase your business to the relevant searchers.
Google and other search engines consider your referring domains, and if you're receiving backlinks from such quality domains, it eventually raises the value of your domain authority. According to Google, authority is one of the three important factors in E-A-T quality ratings. For any eCommerce store, authority of the brand will be among the top priorities.
2. Effective Use of Social Media
We have already discussed that advertising on any social media platforms is next to impossible, but you can still utilize all of them to market your online vape store. You can still create your company page and profiles on all these platforms and spread your posts. Many vape brands out there are successfully doing marketing on all of these platforms and we're going to have a look at a few of them.
Instagram would probably be the highest beneficial social platform among all. Brands like Smok are successfully promoting their products on Instagram and getting thousands of followers.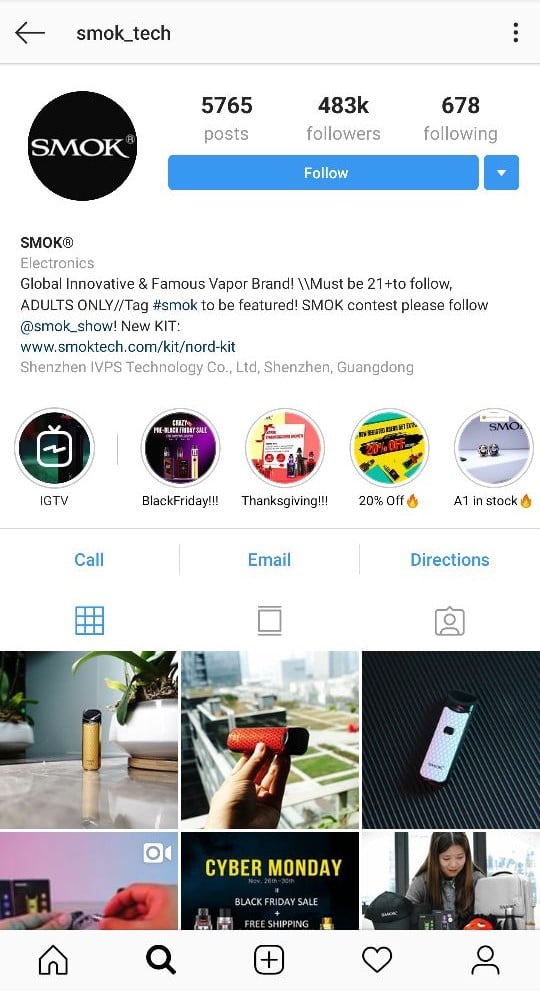 Even though now you can add a tag to products and link to your store on Instagram, this feature is still struggling for vape products. Yet, the niche itself has a great outreach on Instagram. Just to have a quick overview, you can simply search on the Tag section of Instagram and find millions of posts on vaping.
One interesting thing you can do on Instagram is collaborations!
For instance, a brand called Ruthless Juice has collaborated with an Instagrammer Chloe, and shared this post: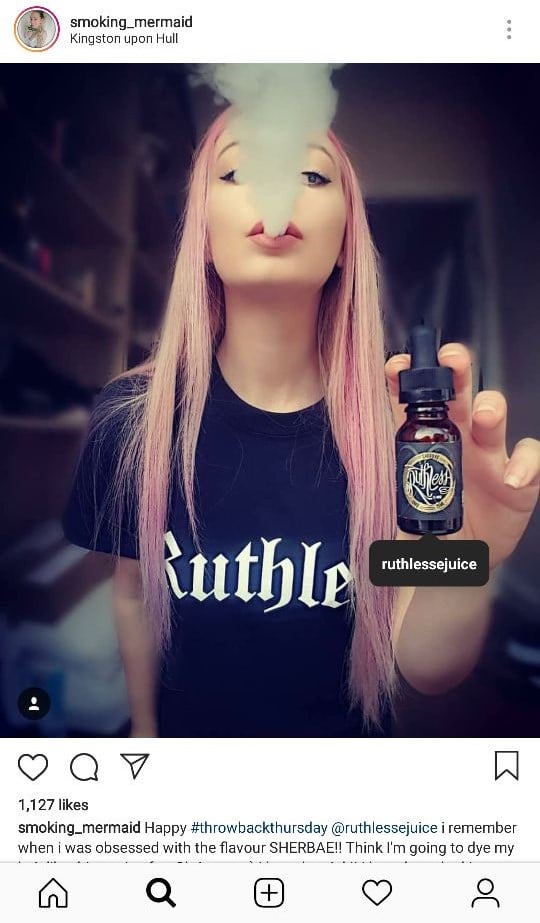 A new brand can instantly reach to thousands of followers of beloved Instagrammers through collaborations.
Apart from Instagram, YouTube can be a great source of marketing for your brand new vape store. There are so many famous vape stars on YouTube with a massive following who give reviews to vape products. You can simply gift them your vape kit and ask for a product review on their channel.
Just like this: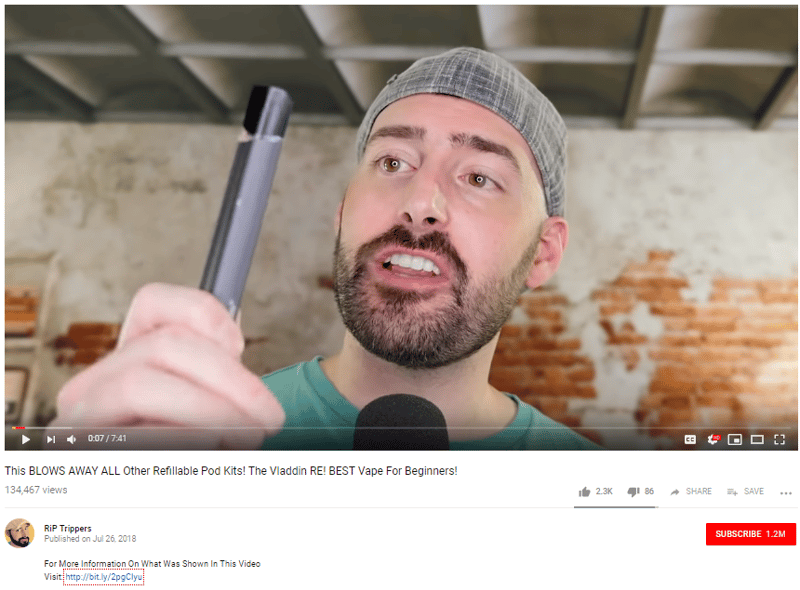 You can also start your brand channels and post videos where you can promote your products in a creative way.
Apparently, every social media platform has vast communities for vaping, so the scope of promotion is limitless.
3. Vaping Events & Exhibitions
The third way to market your brand to an enormous spectrum is exhibitions. There are vaping exhibitions happening all around the world today. By attending these events & exhibitions, you can get a broad exposure to the vaping community. Adding to this, attending such events is a gateway to future partnerships as well.
Here are some websites that can give you the latest updates on vaping events all around the world:
There are immeasurable opportunities in vaping events and exhibitions because you can give live demos of your products and generate potential leads. This single activity can bring potential customers, new clients, and brand popularity, all at once.
Bottom Line
Sure, the marketing for an online vape store has a set of roadblocks. But it has a vast and empowering community all across the globe. As an online vape store owner or marketer, you have to reach all the places where the community is present. Social media, especially Instagram has great potential for this niche and there's literally no limit to creative ways you can market your platform.
Cheers!