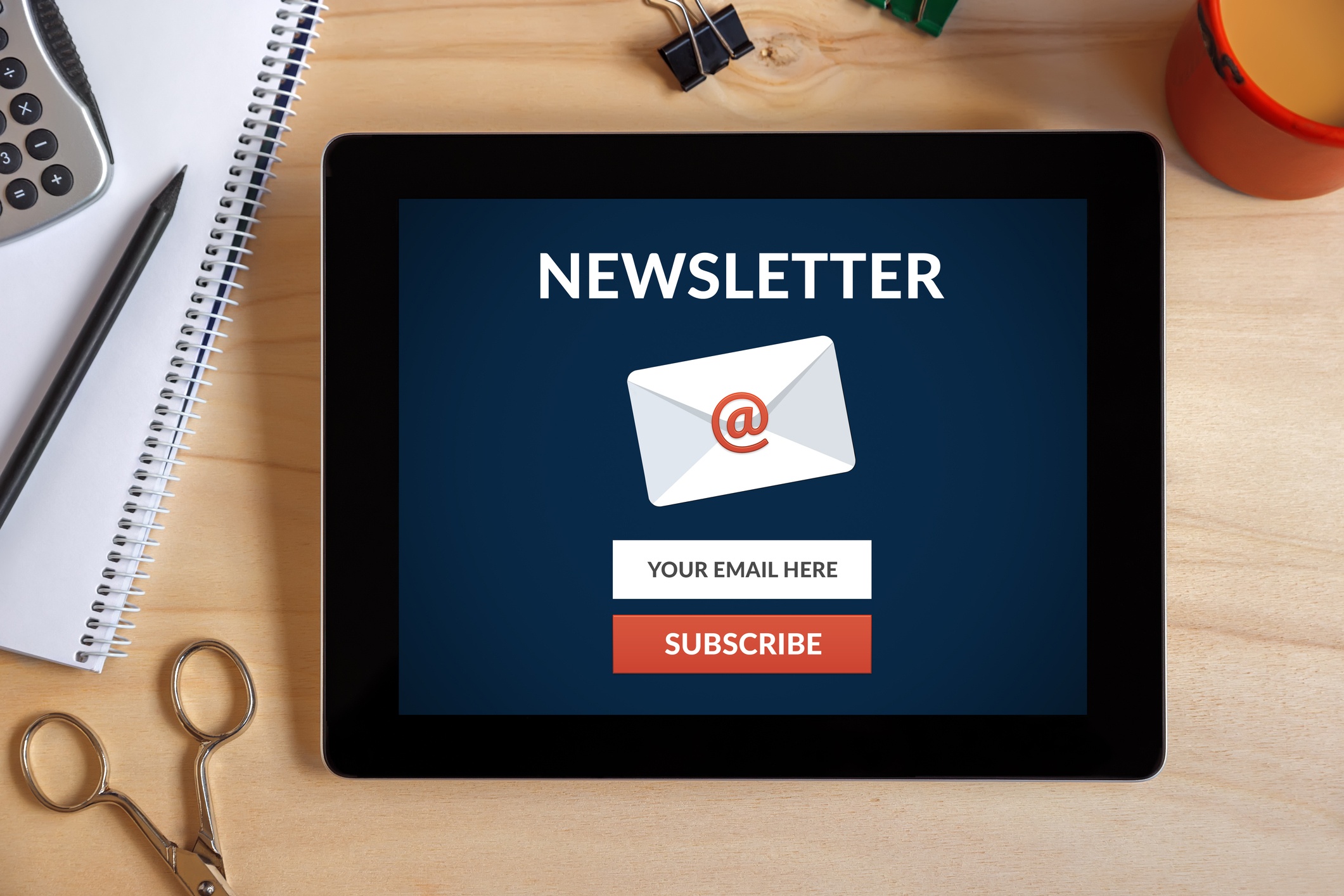 Email marketing has one of the highest returns on investment of any of your owned media channels. You have a direct line into the inboxes of people already interested in your services in some form or another.
That cuts out a ton of grunt work and wasted effort, and while marketing to people who have already bought or subscribed to your mailing list doesn't guarantee conversions, it certainly puts you in a strong starting position.
But how do you make sure you're sending the right kind of emails, to the right people, at the right time?
What if you're missing valuable sales opportunities?
That's why automated emails are so important. And no, before you start thinking that all automated emails (even if they're from you) amount to nothing more than spam, you're wrong. Automated emails, when they're done well, can be a blessing for both ecommerce business owners and customers.
In this article, we'll talk about the three most essential automated emails ecommerce business owners should be making full use of to increase conversions as well as improve customer loyalty with upsells and cross-sells. They are:
Abandoned cart emails
Welcome emails
Back in stock emails
But first, some statistics. Did you know that:
Worldwide email usage will top 3 billion people by 2020 (The Radicati Group, 2016)
Gmail now has 1 billion active users worldwide (Techcrunch)
86% of people would be ok with receiving monthly promotional emails from companies they do business with (MarketingSherpa)
What that little handful of stats means in essence, is that most Americans with internet access are actively engaging with companies via email. In fact, 96% of Americans with internet access have made an online purchase at some point in their lives.
We're talking millions of people having millions of interactions every single day (even more during the holidays and major ecommerce events like Black Friday). So why aren't all of you ecommerce business owners rolling in it (cash, that is)?
Here's one massive reason.
Abandoned Cart: Use Email to Win Back the Sale
Sit down, because this might hurt a little bit — over 70% of shoppers will abandon their carts without making a purchase.
That's right, almost three quarters of people who visit your site will put items into their baskets, then leave without completing the purchase. When you combine that horrific stat with the fact that the average click-through-rate for an ecommerce email is barely 3%, it's a wonder businesses are able to sell anything. But they do. Why? Because abandoned cart emails work like a charm.
If sent within 20-30 minutes of a shopper leaving the site without making a purchase, abandoned cart emails can enjoy an above-average open rate of around 46%. That's pretty good going for an email that's essentially asking someone to come back and buy the thing they just let go.
Why do people abandon their carts in the first place?
Shipping costs — If shipping costs are too high, people are apt to abandon their carts and go elsewhere
Complicated checkout process — It's been estimated by the Baymard Institute that retailers could recover almost $260 billion in lost sales by optimizing the checkout process
Deal triggering — Sometimes people abandon their carts on purpose, in order to trigger an offer via email. These people are smart, don't let them get away.
What makes a successful abandoned cart email?
There are a few other crucial details every abandoned cart email needs to address, but one of the most important, is personalization.
Personalization matters
Let's talk about personalization for a minute. We've already mentioned that it's a good idea to use a person's name wherever possible — that isn't difficult to do, and it makes it almost three times more likely that your email will be opened.
But personalization goes beyond just using a person's name. Based on a person's browsing habits and purchase history, plus any information you've gathered on their age, gender, location and other interests, it's possible to send emails with content that's relevant to them.
Take a look at these statistics on personalization:
Personalization works extremely well in any type of email, including abandoned cart and out of stock drip series campaigns. And there are few ways to make a new customer or subscriber feel more special than a few personalized recommendations.
Also:
Using photos — There's no reason you should be sending a generic abandoned cart email. It's easy to include photos of the items your customer abandoned. Showing them what they're missing out on is a great way of driving them back to the site
Upselling — It could be that the reason someone abandoned their cart was that they just weren't that keen on the item anymore. By showing them similar or better items in the email, you mitigate that problem and increase the chances of them returning
Including an offer (if appropriate) — If you didn't make the sale the first time around, then offering a discount on their purchase, or free shipping, could be the thing that seals the deal.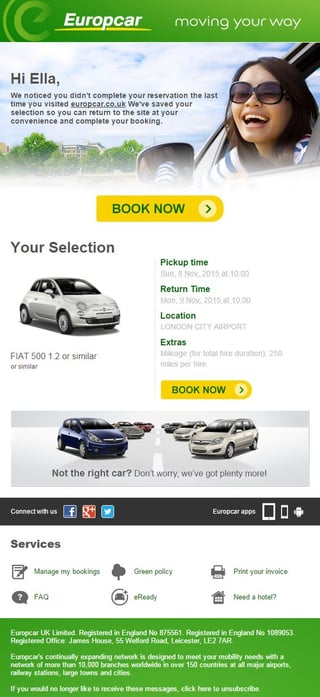 Europcar might not be the first company you think of when it comes to abandoned carts, but hiring a car can be stressful, and there are plenty of opportunities along the way for someone to ditch their reservation.
Not only do they use your first name in the follow-up, they include all of the details of the reservation, including times, dates and a photo of the car you chose. Combine that with a clear CTA of 'BOOK NOW' and this is a solid offering, one we could all learn a thing or two from.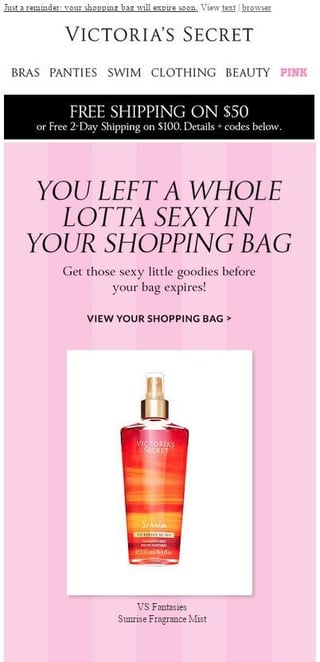 In addition to having some pretty awesome copy to kick off their abandoned cart email, Victoria's Secret hits shoppers with a 1-2 combo of free shipping and offer codes, plus images.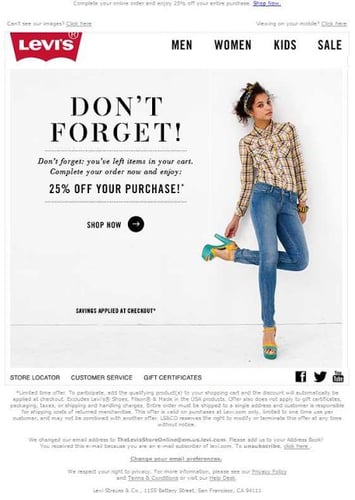 By offering 25% off their next purchase, Levi's not only increases the likelihood of a sale, but also near guarantees another sale after that.
Hidden fees, a complicated checkout process, shipping costs and privacy concerns can all turn off potential shoppers and make them abandon their carts, but there's one reason that's more disappointing than all of them — when items are out of stock.
Back in Stock: Tempt Them Back With a Drip Series
Back in stock emails are the centerpiece of that drip campaign you should be sending when an item is out of stock.
If your ecommerce platform doesn't have the capability to remove an item from display as soon as it becomes unavailable, and somebody does abandon their cart as a result of the thing they want being out of stock, you could lose them forever.
An 'out of stock/back in stock' drip series should be triggered immediately after a person abandons their cart because of an unavailable item. Don't just wait until the item they want is back in stock, either. For sure, you should send that email to try and land that sale as well, but the goal of a stock-based drip series is to upsell or cross-sell similar or better items they might wish to purchase instead.
Set up your drip series like this:
Potential customer enters details at checkout, but abandons cart due to stock
20 minutes later, they receive the first 'out of stock' email
Apologize that the item they wanted is out of stock, and instead offer suggestions for similar products
If that doesn't work, send another email upselling a couple of particularly attractive, similar items
As soon as the item is back in stock, send that final email. Use photos and offer a small discount if you have to
Starting your out of stock drip series right away by upselling similar items is important. If you don't, you risk losing the sale to a competitor who does have the item they want in stock. Make them a better offer.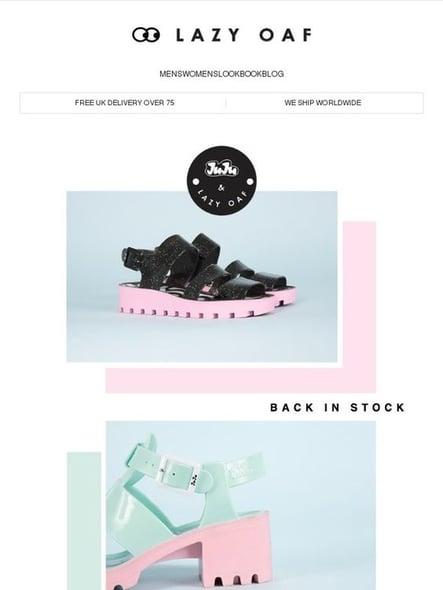 Attractive photos are essential here. You want to rekindle the desire your shopper felt the first time around, so be generous with the photos in your back in stock emails.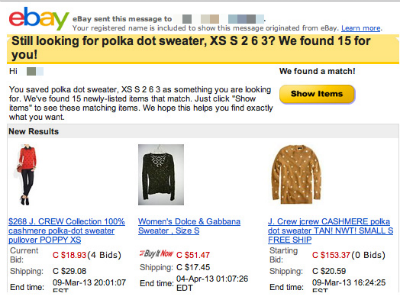 It might not be the prettiest of emails, but this offering from eBay hits all the right spots. It's named, it's positive and it includes photos of similar items based on the user's browsing history.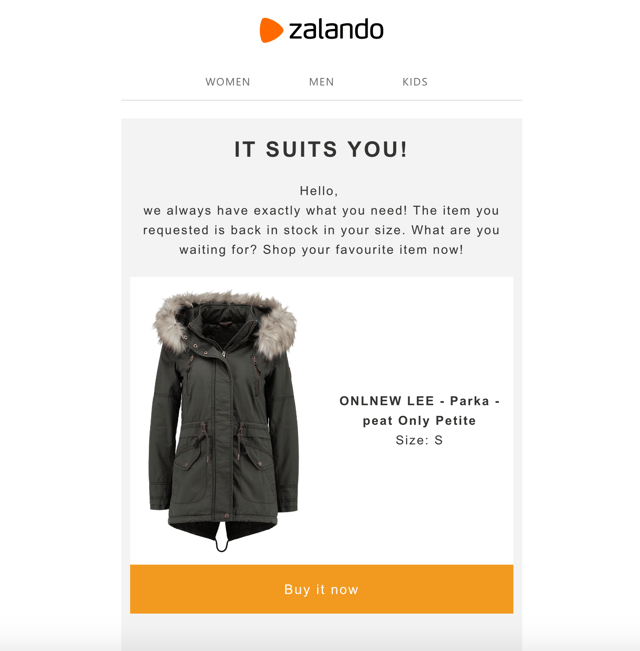 As always, be positive when you're sending out those back in stock emails. Here, Zalando makes a perky effort to woo you back with a little compliment. Nonsense, of course, they can't see you, but it's the thought that counts.
These two types of automated email work great for those people who got 99% of the way but didn't commit. But what about those people who do commit and either sign-up, subscribe or buy? They receive a welcome email.
Welcome Email: Be Generous With New Friends
If you've just been using your welcome email to confirm a subscription, then you're missing out on one of the most popular and lucrative automated emails there is.
Welcome emails have an unusually high open rate of around 50%. This is because new subscribers are still in the same mindset they were in a few seconds ago when they decided to hand over their email address. Take advantage of this by doing more with your welcome email.
What makes a successful welcome email?
It really does pay to be generous in your welcome emails. After all, these are people who have willingly handed over their email addresses, their money, or both. Treating these people to something special, or at least making it clear that you're grateful they've joined, is an absolute must.
Remember: A welcome email and a confirmation email are not the same thing.
Personalization, product recommendations, photos, discounts and a clear CTA can all go a long way to getting things started in the most positive way possible.
A note on that CTA: Every single email you send should have a clearly defined call-to-action attached. It can be a 'Shop Now' button, or social media share link, but asking subscribers to do something is a must.
Like in this welcome email from Dollar Shave Club, sent after someone makes their first purchase.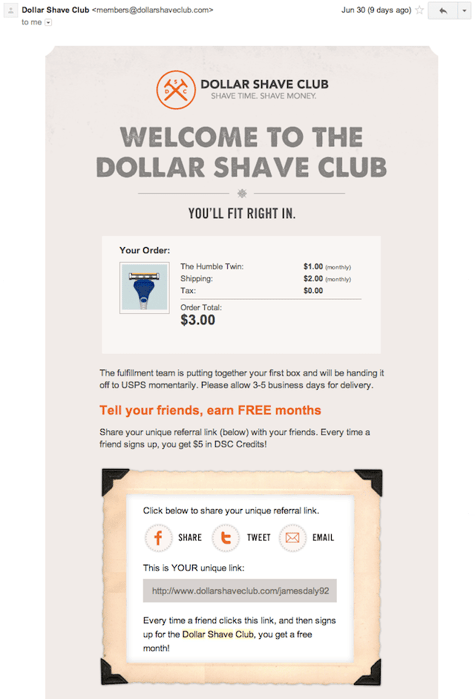 A simple purchase recap might get opened just so the buyer can check what they've ordered is correct, but by including a simple CTA, they extend the experience beyond that initial email. The added incentive of a few free months' subscriptions doesn't hurt, either.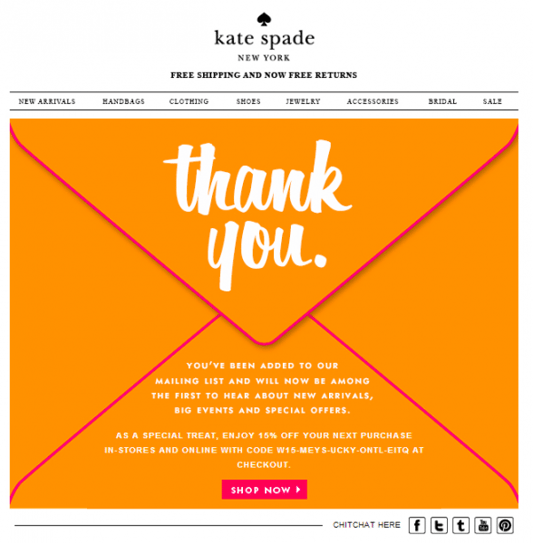 Kate Spade makes great use of their welcome email by first thanking you for subscribing, then offering a 15% discount on purchases online and in-store.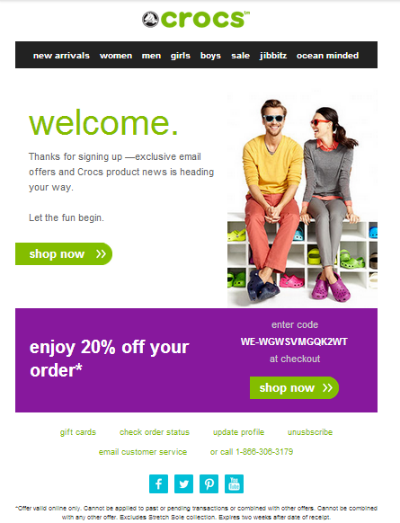 This classic example from Crocs shows how you don't have to do anything particularly novel or funny to make a great impression. A simple thank you and a 20% off code are all that it takes to get the party started.

Same goes for Michael's Art Supplies, and while their template is much more fancy, the fundamentals are the same. They're going beyond the simple subscription confirmation, to turn the welcome email into a sales opportunity.
So we've learned a few things about how to use automated emails to enrich the customer experience, and to win back a sale that's teetering on the edge of being lost. Let's round off with a few best practices for sending successful automated emails:
Be timely — Don't hang around. If someone subscribes or abandons their cart, get in there!
Be generous — Offer discounts and incentives wherever possible
Be personal — Remember that personalization goes beyond using a person's name. Use specific product recommendations based on their browsing history to incentivize a sale
Be direct — Include a clear call to action like 'Checkout Now' or 'Continue Shopping'
Automated emails are not spam, they are your friends. Use them wisely and we guarantee you'll start seeing the benefits in no time.