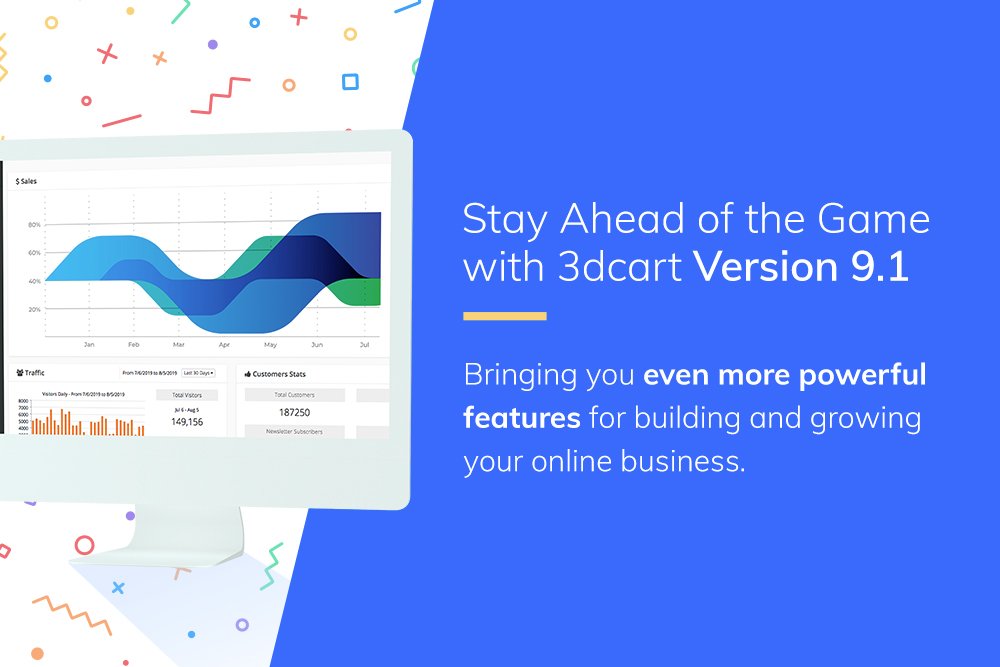 Staying ahead of the game in eCommerce means constant improvement, both of your business and your eCommerce software. That's why we're proud to announce 3dcart Version 9.1, the newest upgrade to our all-in-one eCommerce platform, bringing you even more powerful features for building and growing your online business.
This update introduces some brand-new functionality to improve the experience for business owners as well as your customers. We've also upgraded several of our integrations, added new payment processors, and more. Read on for a closer look at 3dcart Version 9.1 and all the upgrades and improvements it entails.
Drag 'n Drop HTML Builder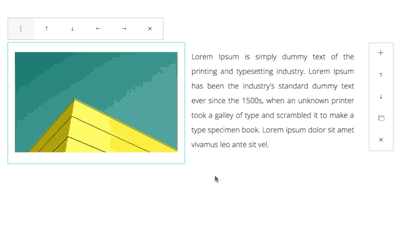 One of 3dcart's goals is to make web design easy for everyone, and we're expanding that initiative with our new Drag 'n Drop HTML Builder, a flexible website design tool that allows you to create and arrange content areas on your 3dcart home page, blog, Extra Pages, and more. Easily create a layout including text, headings, images, and other page elements without touching a line of code.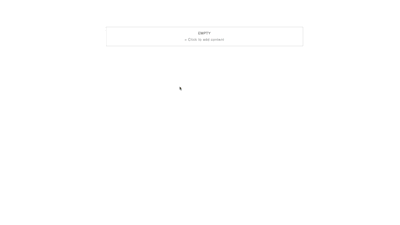 The Drag 'n Drop HTML Builder provides an intuitive interface for creating boxes in which you can place different types of content, like headings, text, images, and more. Each box can be moved independently on the page to be placed where desired. Fonts, links, text and background colors and more can all be changed with a click.
Don't worry, you're not changing your website in real time — instead, you're working with a live preview of your website so you can see your changes in context. Once you're satisfied with your layout, you can save it to perform the edits on your live page.
Home Page Editor
Building an online store involves lots of customization and settings, and it's important to strike a balance between maximum customization potential and the difficulty of setup. Our new Home Page Editor brings together important settings for your store's home page to give you a more convenient way to make changes.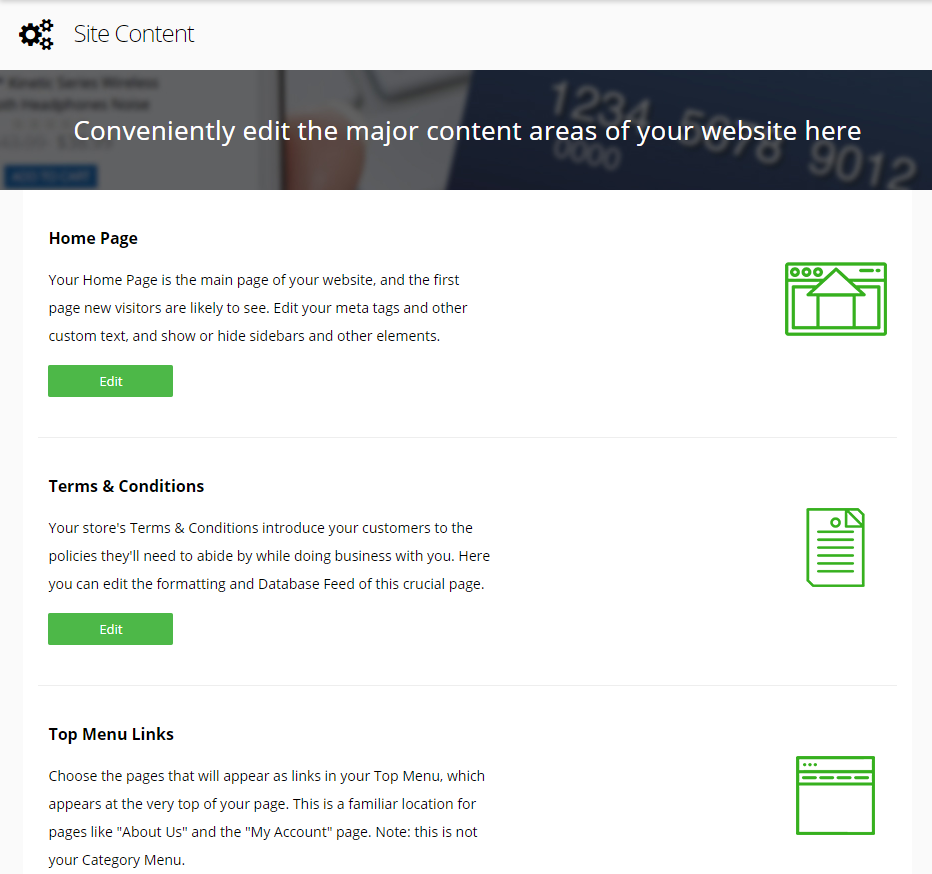 Access the Home Page Editor by selecting Content and then Site Content in the left-hand navigation sidebar in your 3dcart Online Store Builder. From this new page, you can edit your home page's meta title and description, adjust how products appear on the front page, choose to show or hide your top menu, and make other changes. From the "More" button near the upper right of the screen, you can enter the Homepage Carousel Editor or opt to edit your home page template's code directly. You can also choose to launch the Drag 'n Drop HTML Builder for your home page by clicking the green button labeled "Launch Page Editor."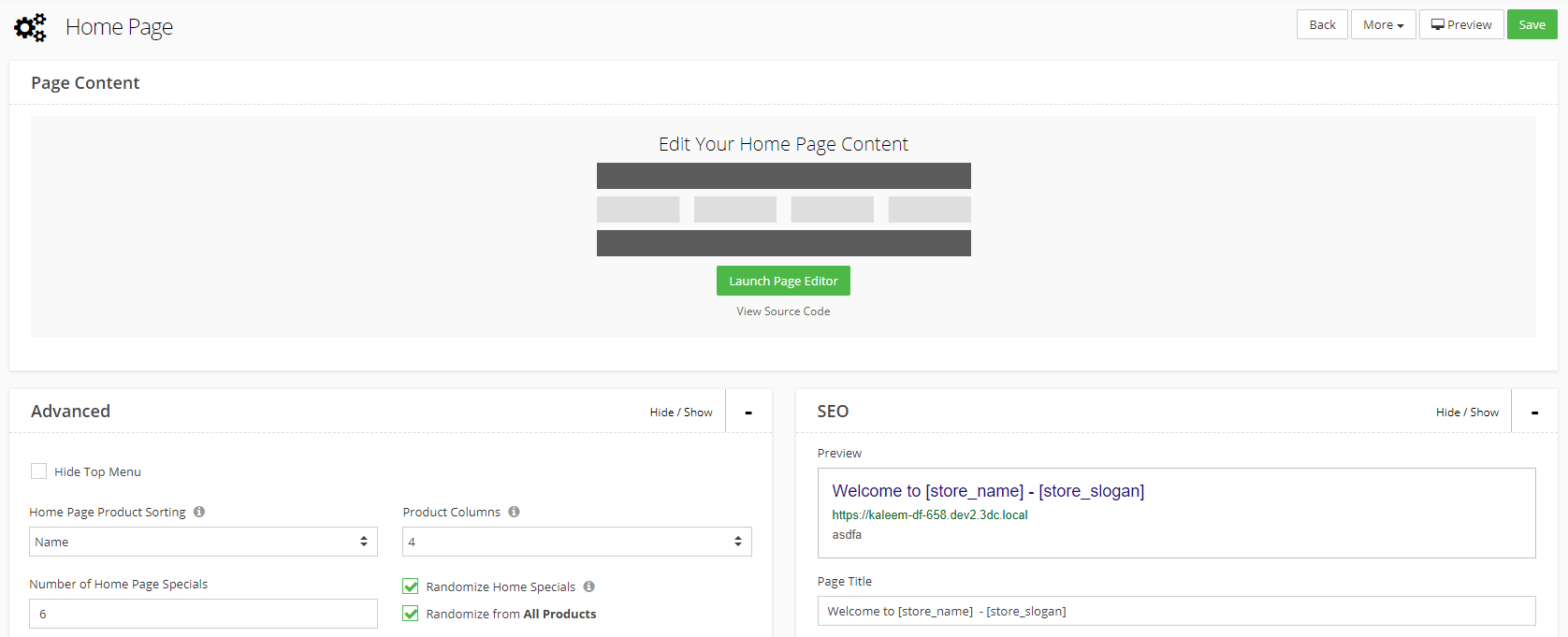 FedEx Hold at Location
Sometimes a situation arises in which a customer may want to pick up their order from a specific carrier location instead of having it arrive at their door. Maybe the customer is going to be unavailable to receive the package, or there's been a recent spree of "porch pirates" targeting the neighborhood. In other circumstances, customers may face other challenges when receiving certain items, like the necessity for an adult signature when purchasing age-restricted items — if the customer isn't home when the order arrives, they'll face delivery issues that can reflect on your business.
Our new FedEx Hold at Location feature allows merchants on 3dcart's Plus plan or higher and using FedEx to give their customers the option of picking up their order at a participating FedEx location. For no extra charge, customers receiving their order via FedEx can select "Choose a Location" at checkout and choose the local FedEx pickup location most convenient for them. FedEx pickup locations include FedEx Office, FedEx Ship Centers, and some participating retailers including Albertsons, Kroger, and Walgreens. The customer will see a full list of available locations when selecting this option at checkout.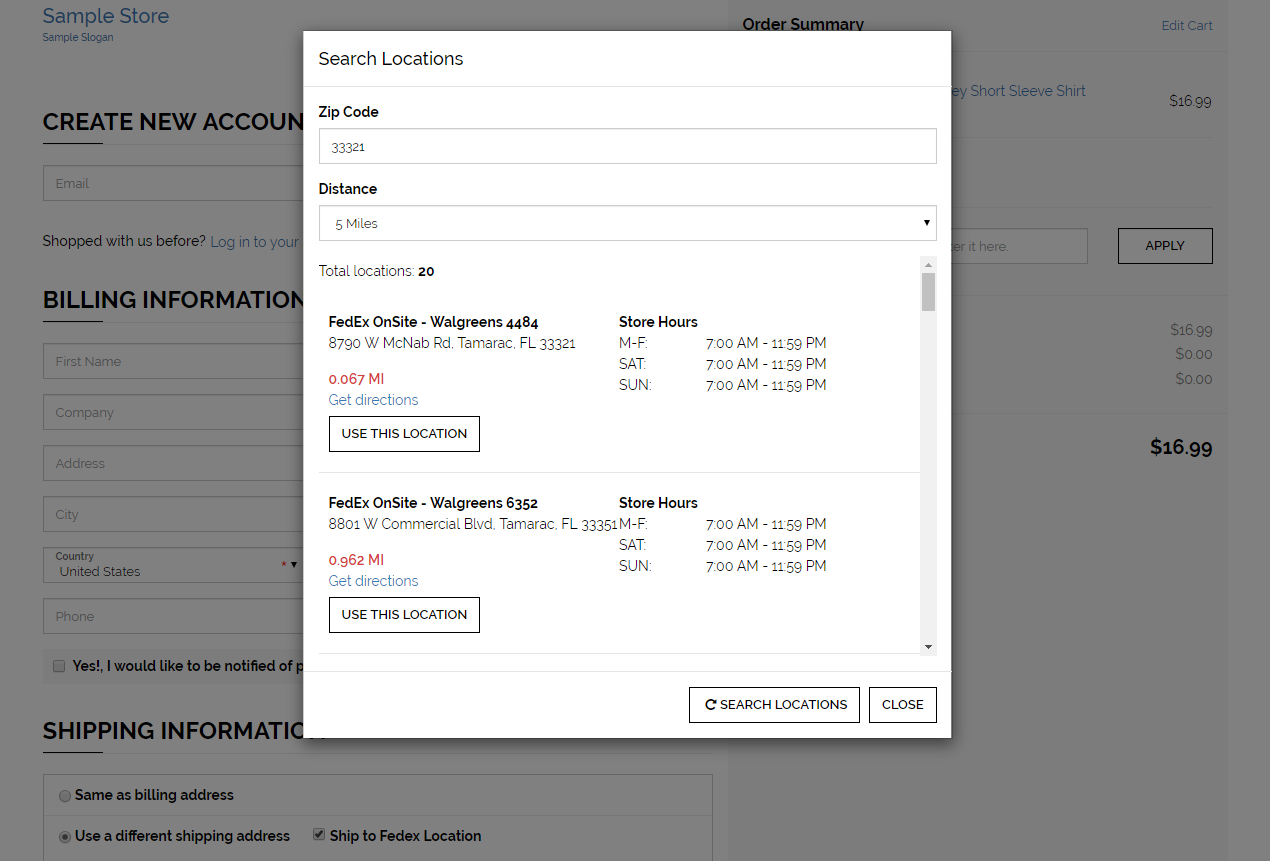 FedEx delivery locations will hold shipments for customers for up to 7 days, and for additional security, customers will need to bring identification to pick up their order.
FedEx RMA Returns
It's always worth it to streamline the returns process for your customers. In 3dcart Version 9.1, we've enhanced our built-in RMA module for improved integration with FedEx. Once a return is authorized in the store's RMA, the FedEx RMA (Return Merchandise Authorization) process allows merchants on 3dcart Plus and higher to generate a FedEx return label which will be emailed directly to your customer. The customer can simply bring the item and label to a FedEx location to return the package.
FedEx and UPS Delivery Estimates
Many customers prefer to get a delivery estimate for their order instead of an approximate shipping time (such as 2-5 days). Instead of a timeframe, a delivery estimate provides a calendar date on which the order is expected to arrive. Merchants on 3dcart Pro and up can use our new FedEx and UPS Delivery Estimates to provide this functionality if using FedEx and/or UPS as available shipping carriers.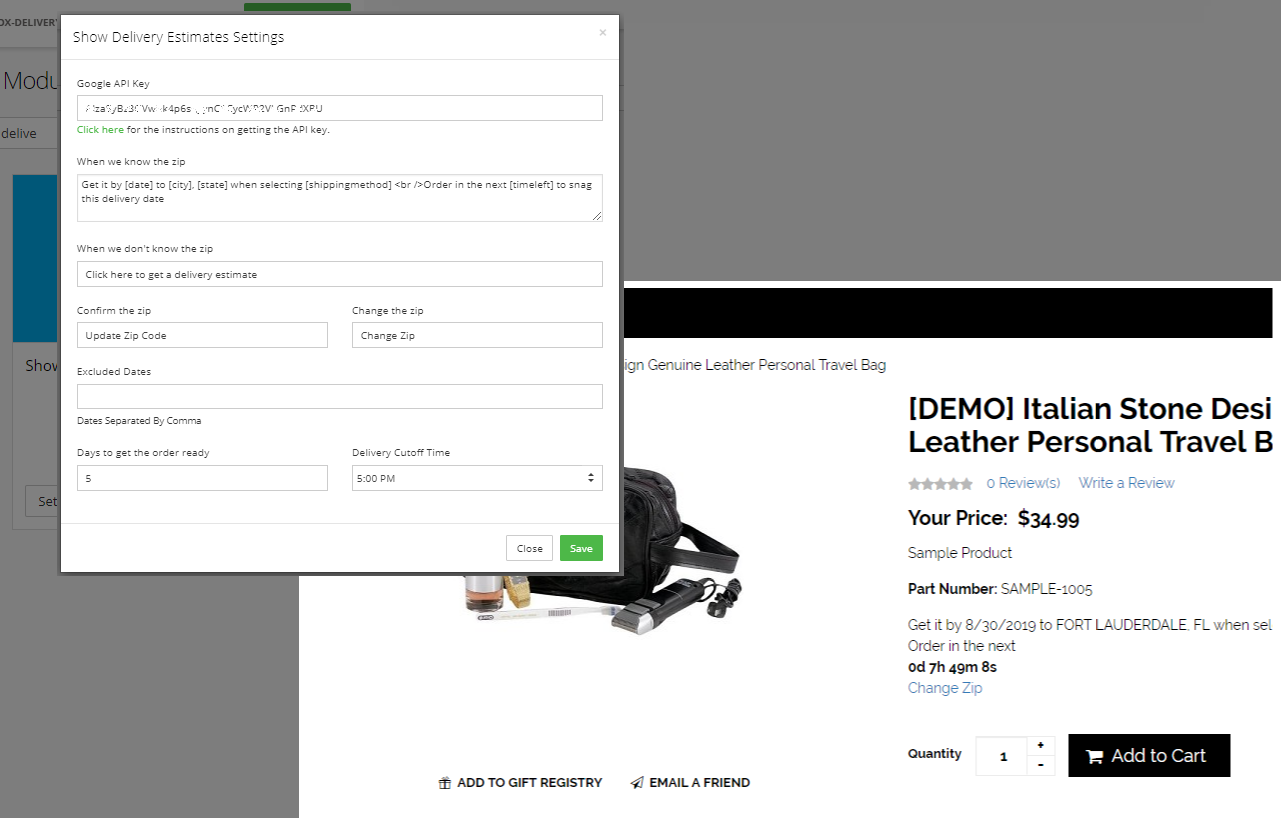 Similar to functionality found on Amazon, this feature adds a field to each product page where a shopper can enter their ZIP code for an estimate on when they would receive the item. The customer doesn't need to add the product to their cart to get an estimate; instead, they can freely view their estimates for convenience while they shop.
Tax Code CSV Import and Export
Sales tax management is critical for your business, and 3dcart makes it much easier with our built-in Tax Manager. Version 9.1 further improves the tax manager by introducing a new Tax Code CSV Import/Export function. This allows you to streamline sales tax management by uploading your own tax rates instead of configuring them manually through the Tax Manager. Your CSV file can designate tax by country, state, ZIP code range and more, and you can also opt to include discounts and/or shipping with the values in the CSV. This feature ensures a fast way to accurately set the entire range of tax rates your store may need.
As with 3dcart's other data import/export functions, you can also download your tax rates in CSV format for use however is needed.
Scheduled Promo
We're excited to introduce our powerful new Scheduled Promo feature, which allows 3dcart store owners on the Plus plan and higher to set automatic start and end dates in advance for sales and promotions. You can set up all the details including promotion name and start and end dates and times, and keep an eye on your orders and sales within your dashboard both during and after the promotion. The 3dcart software will automatically start and stop your promotion at the defined dates and times.
We have plans to expand this module in the future, with features like sending out an email campaign or changing your store theme to correspond with the promotion. Stay tuned!
Front-End Advanced Search
It's quite common for online customers to start their shopping with a search, especially if they're unfamiliar with your inventory or you have a large online store. Even long-term customers may prefer to perform a search instead of browsing directly to a product. With Version 9.1, merchants on the 3dcart Pro plan or higher can now add Front-End Advanced Search to provide a fast, faceted search feature for visitors.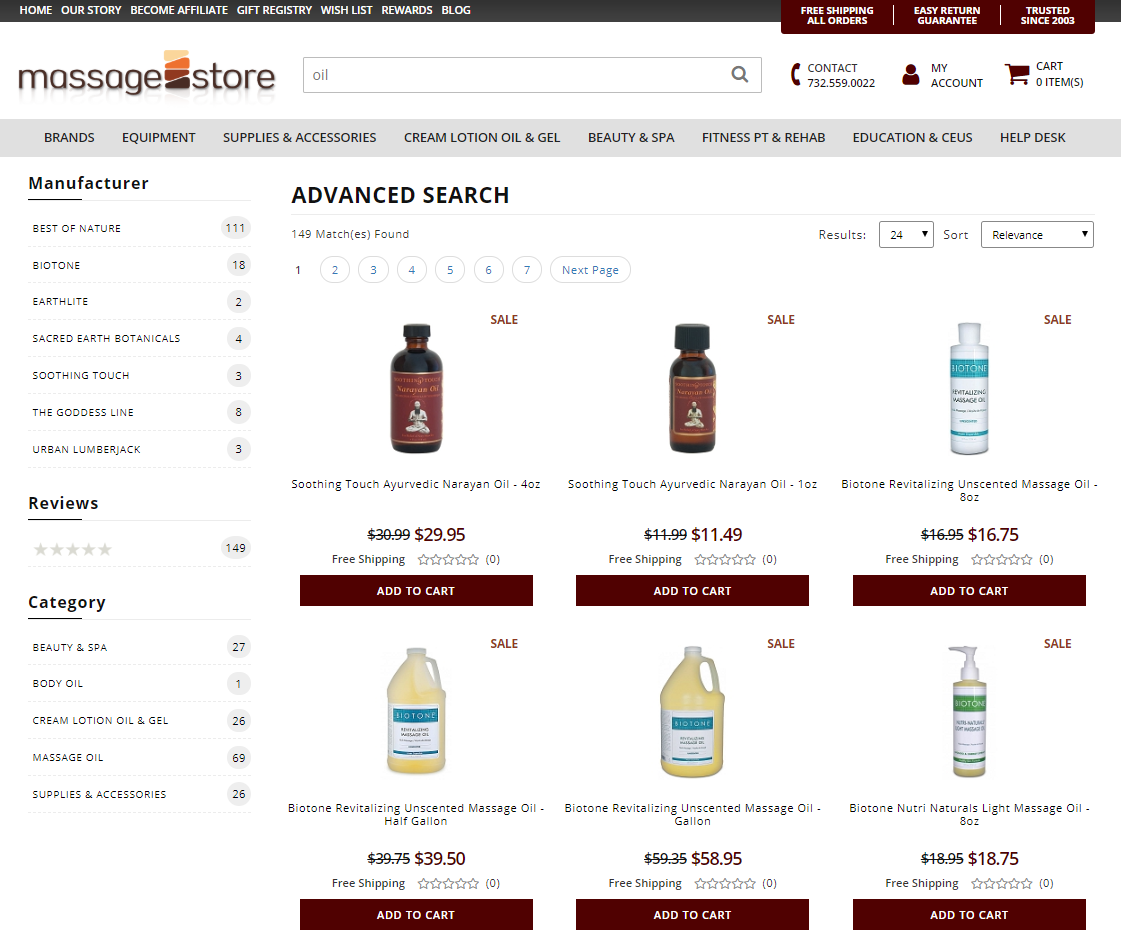 Faceted search allows shoppers to filter search results by criteria including Price, Free Shipping, On Sale, Manufacturer, Category and Reviews. This is valuable for helping customers find products that meet their needs and can also help them discover new items they may be interested in.
Hosted Payment Page
As a business, you might run into the need to collect payments from customers via invoice, so not necessarily associated with a product or something you would like to make available on your website for them to check out. Our new Hosted Payment Page makes it much easier by allowing merchants to create a dedicated payment page through which customers can pay them directly, without having to add a product to cart or checkout. It works similarly to an order, but without the need for a customer shipping address and without going through checkout.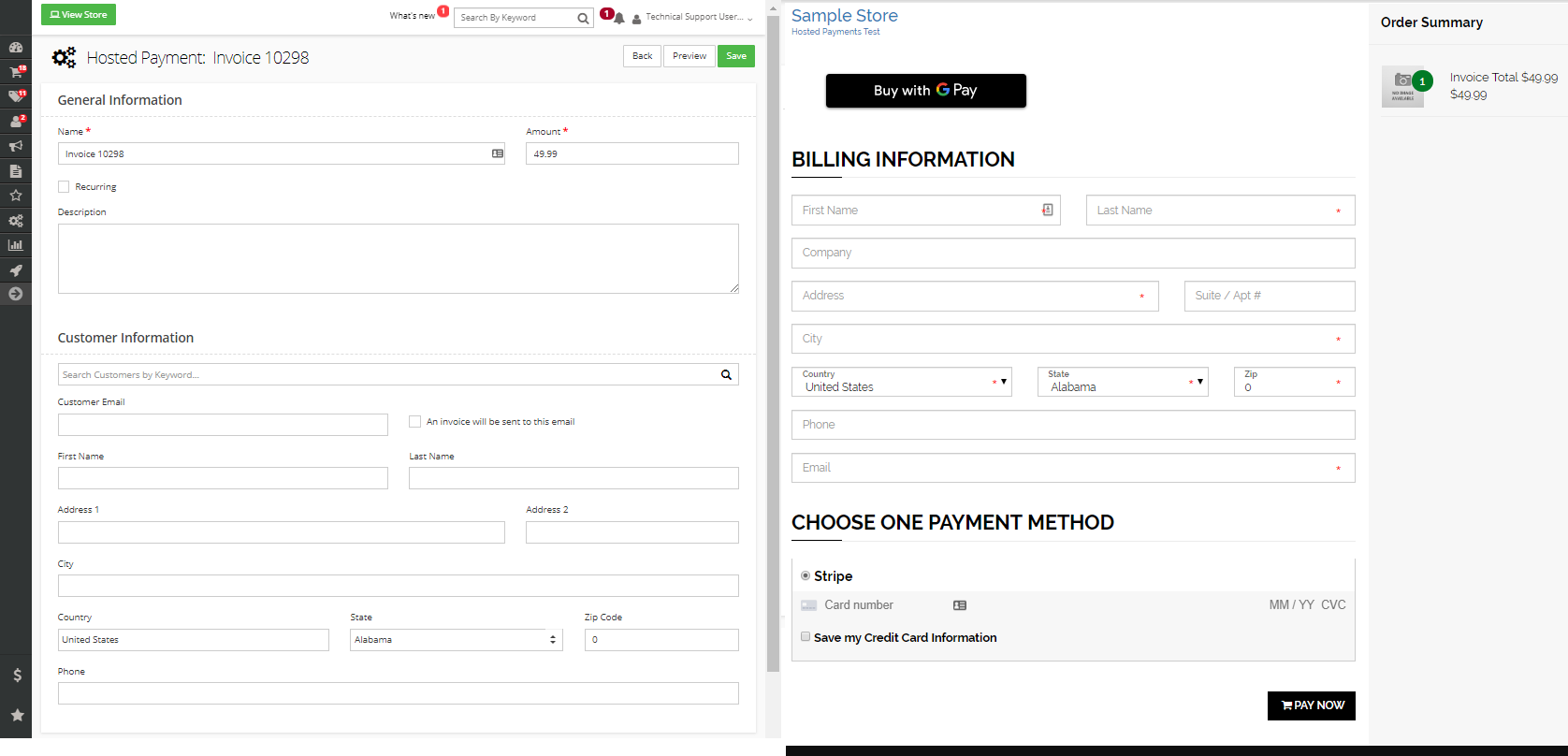 Currently, the Hosted Payment Page is integrated with Stripe and is being expanded to work with more payment providers.
Multi-Store Login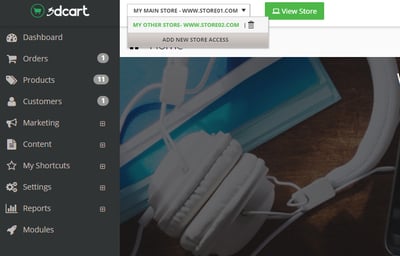 Many online merchants run multiple stores built on 3dcart, and we're simplifying things for them with our new Multi-Store Login feature. If you own more than one 3dcart store, you'll be able to add your stores to a dropdown menu accessible from within the 3dcart Online Store Manager. Once you've authenticated your credentials for the other stores you'll be able to switch between them easily. Multi-Store Login also remembers what page you were looking at in your current store's dashboard, and brings you to the same page in your other store's dashboard.
Dimensions and Cost Added Into Advanced Options
Advanced Options are for product variants that have different characteristics that separate them in a significant way from the other variants of the product. With Advanced Options, you can treat a product variant as a different product for the purposes of pricing, inventory tracking, and more without having to split it into its own product page.

With 3dcart Version 9.1, we've made further improvements by adding dimensions and cost into Advanced Options. Now, each Advanced Option can also have its own cost (to your business) and size dimensions specified to allow variant-specific shipping costs and more precise profit reporting.
Facebook Ads - Advanced Matching
The Facebook Pixel connects your 3dcart store to Facebook to enable you to create targeted ads for remarketing purposes, and the new Facebook Ads Advanced Matching improves upon this feature by allowing merchants on 3dcart Plus or higher to automatically leverage customer data (e.g. their email or phone number) to track more conversions and build larger remarketing audiences. This new automation makes it even simpler to run highly effective ad campaigns targeted right at the people who are the most interested: your customers!
Phone Order "Get a Quote" System
Some businesses rely on providing customers with quoted pricing for various services or products, and need to be able to create customer-specific pricing quotes on a situational basis. With Version 9.1, 3dcart merchants on the Pro plan or higher can access our new Phone Order "Get a Quote" System which allows retailers to offer quoted pricing that works similarly to an order. The customer can then complete the order if they choose to accept the quote.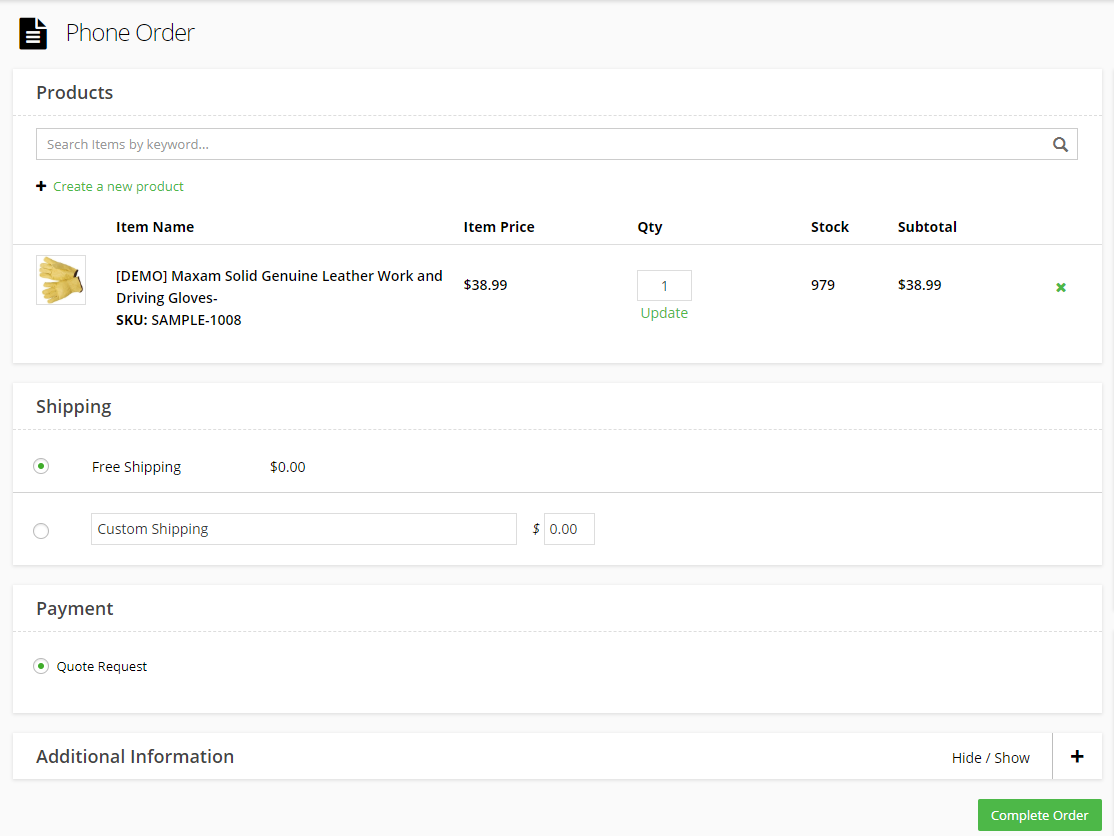 While taking a phone order, a merchant can choose "Quote" instead of a payment method to create an order that functions as a quote. The customer will receive an email with the quote details and can follow up by visiting their "My Account" page on your online store, which will display a "Quote" section with information and a link to complete the order. Clicking the link will bring the customer to the checkout page. The 3dcart software can prevent the customer from making any unauthorized changes to the quoted order, but as the merchant, you can edit at any time as you negotiate with the customer. You can also set an expiration date to limit the timeframe during which the customer can act on the quote before it's automatically canceled.
Blog Subscriptions
The 3dcart Blog module provides built-in blogging functionality perfect for content marketing and building SEO authority for your eCommerce website. In Version 9.1 we've expanded the blog module to improve your readers' enjoyment of your articles.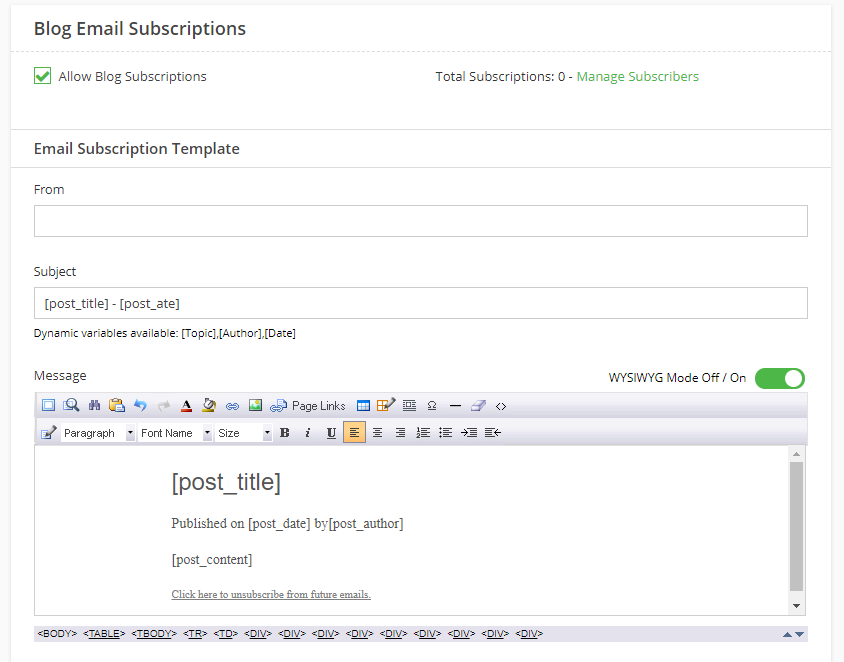 Merchants on 3dcart Plus will find their blog enhanced with eCommerce automation that implements a subscription feature into the blog to allow your readers to subscribe and receive updates when you post a new article. Not only is this perfect for keeping your readers informed of your new content, it can also help you understand how many visitors find your content compelling enough to choose to subscribe.
We've also added pagination to the blog home page for easier reading of your archived articles, which helps encourage visitors to read and share even your older content. This feature is automatically included on all plans.
Improvements to Product Reviews
Product reviews are crucial for helping customers make their buying decisions, so we've made some improvements to how they display on your product pages. These enhancements are built into all 3dcart Core Themes and are made to provide an overview of a product's reviews while giving customers several options for continuing to read.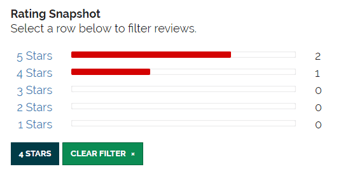 In a similar manner to Amazon, product pages now display a review snapshot at the top of the review section, offering a quick overview of the average star rating and the number of reviews. Customers can curate the reviews they see by filtering them by star rating and can choose to show all reviews via the "Load More" button. Clicking "Load More" causes more reviews to load at the bottom of the page instead of opening a popup.
This set of features improves your customers' ability to browse reviews for the type of information they're looking for so they can make more informed purchases. On the admin side, you now have the ability to outright delete reviews as needed.
Free Shipping Exclusions by Manufacturer and Category
3dcart Version 9.1 expands your options for shipping setup with new Free Shipping restrictions. You can now exclude free shipping from being offered on products based on their category or manufacturer. This provides another convenient way to define which of your products are eligible for free shipping, in addition to the other available options such as Domestic Only, exclusion by state, and minimum order threshold.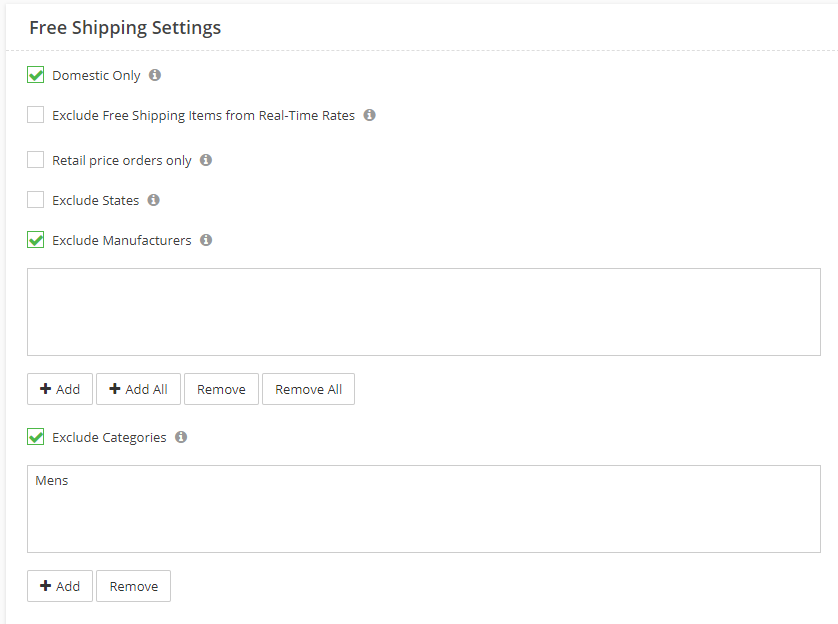 Order/Invoice Notes
A situation may arise in which you want to add a note to a certain product in a customer's order, whether for the customer or for your staff. 3dcart Version 9.1 adds the option to enable Order/Invoice Notes, which allow you to add notes to each product in an order as needed. The note field holds up to 255 characters and you can opt to display the notes in the customer's order confirmation email or invoice.

Product Page Video Gallery
Product videos can be extremely helpful for giving your customers a better idea of what to expect from your products, and can include various informative content like instructions, assembly, feature showcases, or anything else depending on the product.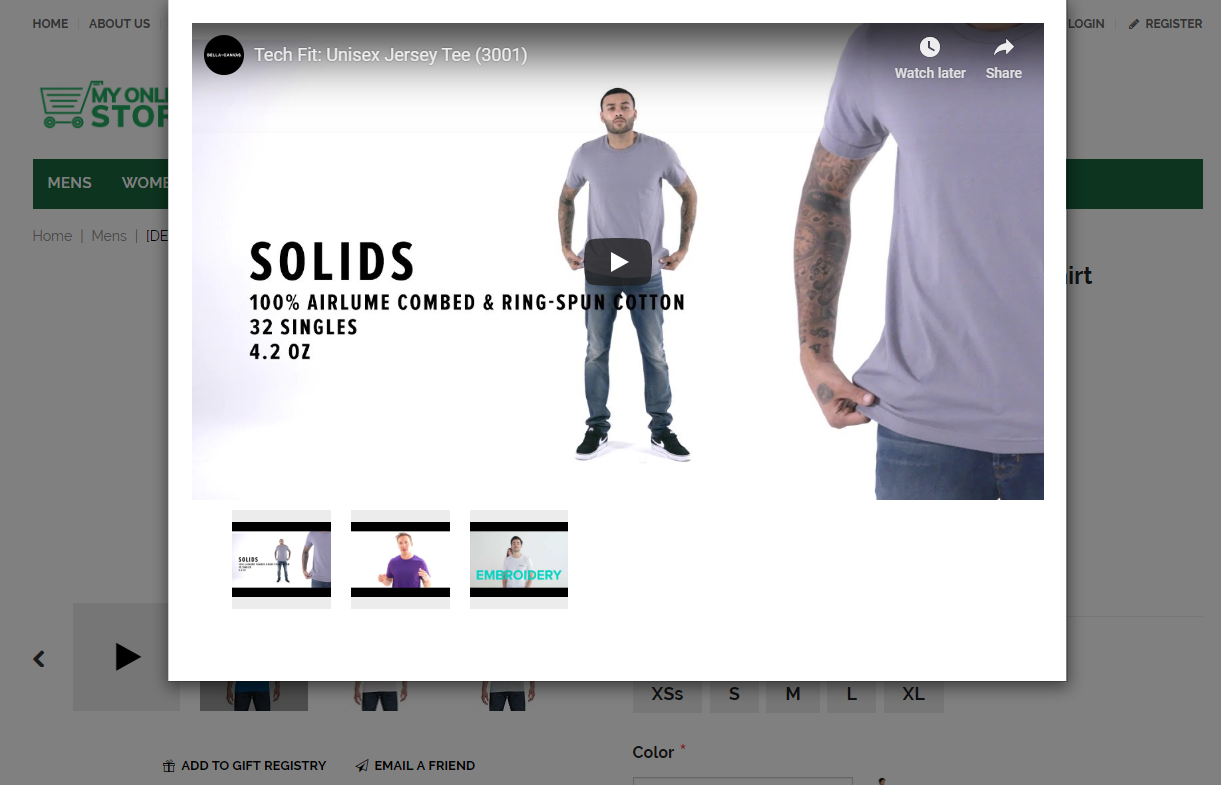 3dcart Version 9.1 makes it easier to share multiple product videos on each product page with our new Product Page Video Gallery. Videos can now display in a popup modal gallery customers can scroll through like a carousel. This provides a more organized method for sharing multiple product videos and encourages customers to view them, leading to more informed purchasing decisions.
Additional Feature Upgrades
In addition to the new and expanded features we covered above, we've also made numerous improvements across several parts of the 3dcart Online Store Manager. The layout of the Content Editor has been improved for better workflow, and the File Manager search function has been upgraded to perform the search in all File Manager subfolders rather than limiting search to the current folder. This makes for a faster and more convenient search, especially for larger websites.
To streamline tax setup for all merchants, we've simplified the usage of VAT tax by enabling it by default in the 3dcart Online Store Manager, so you no longer need to follow extra setup steps to set it up. If you don't need to use VAT tax, your store is unaffected.
3dcart App Updates
3dcart Apps expand your store with optional, situational features that some businesses may require in order to meet their specific needs. With Version 9.1, we've upgraded some 3dcart apps with improved functionality.
While some 3dcart eCommerce website templates come with built-in Mega Menus, you may want to add a Mega Menu to another theme without the need for custom development. That's why we released our new Mega Menu Builder app, which lets you set up a Mega Menu through an easy-to-use visual interface. These work exclusively on our latest themes (Core) and are not available for our legacy HTML5 and HTML4 templates.
The 3dcart Delivery Calendar app allows you to present customers with a calendar interface they can use to choose when they want their items delivered. The app comes with an assortment of settings to let you customize it to the needs of your business, including delivery blackout dates and more. Now with Version 9.1, we've further upgraded this app to install the Delivery Calendar to individual product pages rather than just the checkout, which will help customers evaluate their options earlier in the purchasing journey.
Advanced Shipping Manager (ASM) is a powerful service offering additional shipping options for online merchants that need increased control, like the ability to designate certain products to ship alone, or block specific shipping methods from use with a product. In 3dcart Version 9.1, we've enhanced our connection with ASM to send product distributor information to the ASM app for usage in defining shipping rules. This provides another type of data you can use to create the ideal shipping setup for your business without too much manual configuration.
New Ways to Pay
We're pleased to announce a brand new integration with Credova, a consumer financing payment option that lets you provide flexible buy now, pay later options to your customers. Credova pre-qualifies customers with no effect on their credit scores and then matches their financing with appropriate lenders. This makes the process easy and appealing to customers who want to finance a purchase without an impact on their credit rating. Shoppers with easy access to credit are more likely to buy more expensive items with less hesitation.
Credova approves financing amounts of up to $5,000 and produces up to 80% approval rates, making it a fantastic solution for moving high-ticket items on your online store. Payouts to merchants are fast, and you'll have access to robust reporting and support.
We have also integrated with Green Money, a leading US-based eCheck processor that offers several benefits including same-day deposits, with no deposits slower than next-day. Green Money is a great payment provider if you want to sell CBD online as they are willing to work with CBD retailers, when many payment processors avoid this industry. This is because CBD is considered a high-risk industry due to the additional regulations that surround it. With Green Money, a CBD merchant can get up and running quickly.
Stripe is an extremely popular payment processor fully integrated with 3dcart, and we've recently improved our connection to expand its capabilities in 3dcart stores. 3dcart POS is now compatible with the BBPOS Chipper™ 2X BT card reader from Stripe, giving you more options for accepting credit cards in person. We've also updated our Stripe integration to connect with their newest API.
Our PayPal by Braintree integration has been enhanced to dynamically display the Payment Method Name on the order to provide you with more information about the method the shopper selected, whether PayPal, Credit Card, or PayPal Credit, as opposed to simply displaying "PayPal Braintree."
Affirm has been upgraded to a modal checkout method, meaning checkout takes place in a box similar to a pop-up on the customer's device, preventing the need to redirect for the Affirm application process. This offers an improved checkout experience for customers using this payment method.
Lastly, we also updated our integration with Credomatic, a Central American payment processor headquartered in Nicaragua. The updated integration includes Credomatic's redirect payment method, which shows in the 3dcart dashboard as "Credomatic 3dSecure Nicaragua."
Ready for 3dcart Version 9.1 to Take Your Store to the Next Level?
Version 9.1 is just the latest step in our continuous development of 3dcart as the world's leading eCommerce platform, and we're very excited to keep bringing you the best features for building and growing your business. The update to Version 9.1 will take place behind the scenes, with no action required on your part, and will be rolled out to all stores within the near future.
We look forward to continuing to enhance 3dcart with the best eCommerce tools on the market.