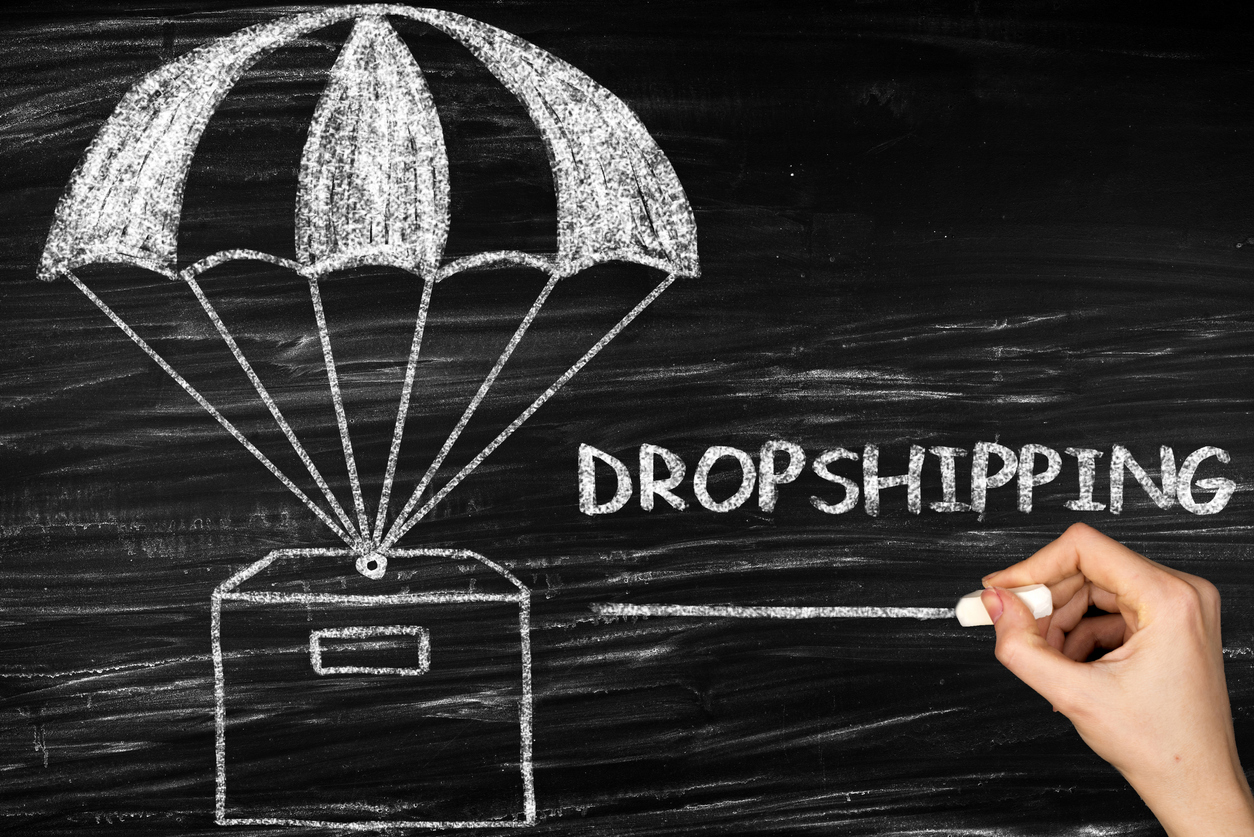 Dropshipping offers a great opportunity for a new business owner, especially if you're working with a limited budget. Since you don't need to invest in inventory or pay for warehousing space to hold your stock, it's one of the most cost-effective ways to start a business. You focus on building and marketing your website, while your supplier handles fulfillment of the orders you forward to them.
Print-on-demand is a similar concept, geared toward custom apparel and accessories. Instead of ordering a large quantity of custom-printed products ahead of time, your supplier simply prints and ships the orders as they come in. Print-on-demand is a great way for an artist or designer to enter the market, and is also a great option for online merchandise sales for a band, team, or other organization.
Of course, even though you're not responsible for maintaining inventory yourself, these business models still come with some of the same challenges as other eCommerce ventures. One of the most significant is the choice of eCommerce platform, which has a strong effect on how easily you can build and run your website, as well as how much profit you can make — just like any other eCommerce business.
New entrepreneurs choose dropshipping because it's supposed to be inexpensive and easy. That's why we at 3dcart created our new Dropshipping plan.
What is the 3dcart Dropshipping eCommerce Plan?
3dcart Dropshipping is a new eCommerce plan that makes it easier than ever to open a dropshipping or print-on-demand store. It's also the only eCommerce plan on the market that's made specifically for dropshippers.
Every business faces a similar challenge when going online: finding the right eCommerce plan that fits into your budget while still providing all the tools and features you'll need. Naturally, the smaller your budget, the harder this gets — and dropshippers are likely to have the smallest budgets of all new entrepreneurs. After all, that's why you've chosen a business model that doesn't require much of an initial investment!
It's always a good choice to start by examining eCommerce platform comparisons and reviews, which can tell you a lot about the capabilities and pricing of different software. But even when an eCommerce platform gets good reviews and is reasonably priced, it can be hard to tell whether it's a good choice for dropshipping. Most eCommerce reviews are written from a more general viewpoint (in order to serve the maximum number of readers), and may only briefly mention dropshipping without going into much detail, so you might have a hard time making a decision.
3dcart Dropshipping is here to simplify that decision by offering a powerful dropshipping eCommerce website package for the low price of $9.99 per month.
What's Included in 3dcart Dropshipping?
The 3dcart Dropshipping plan includes everything you need to build and manage your very own dropshipping eCommerce website. This is in contrast to open-source eCommerce solutions like WooCommerce, which don't include web hosting, and also contrasts with competing SaaS (Software as a Service) eCommerce platforms that often leave out essential features on lower-priced plans.
3dcart Dropshipping meets the following criteria that a new dropshipping entrepreneur should look for:
Affordable: 3dcart Dropshipping costs only $9.99 per month, which is about 1/3rd the price of other starting SaaS eCommerce plans. (We go more into detail about pricing shortly in this article.)
Effective: 3dcart Dropshipping includes all the features a dropshipper needs, including your own website, a free domain name, store design features, marketing tools, real-time shipping, and more. (Keep reading for an expanded feature list.)
Integrated: 3dcart Dropshipping is integrated out-of-the-box with dropshipping supplier directories and services like Doba, Inventory Source, and AliExpress. Built-in integration with Printful is also included for white-label print-on-demand services covering a wide range of apparel and accessories.
Customizable: 3dcart's core functionality allows you to connect any dropshipping supplier within your dashboard. If you have a dropshipping agreement with any manufacturer or supplier, you can set them up as a dropshipper within your Distributors control panel to enable automatic order forwarding and real-time shipping calculations for shipments originating from the distributor's location.
Let's take a closer look.
Essential eCommerce Features in 3dcart Dropshipping
3dcart is an industry leader when it comes to built-in eCommerce features. This can be traced back to the beginnings of 3dcart back in 1997, as our platform was specifically developed to include all the essential features plus the additional functionality that was missing from existing shopping cart software. Today, 3dcart still stands as the most complete eCommerce platform on the market.
Since dropshippers have very specific needs, we developed the 3dcart Dropshipping plan around the tools and features that a dropshipping entrepreneur will need to successfully run and grow their business. This focus allowed us to create the plan at a low price point that will help lower the barrier to entry for new business owners.
This doesn't mean 3dcart Dropshipping skimps on essential features — far from it, in fact. Here's a taste of what you'll get:
Customizable website with shopping cart
Mobile-ready, responsive store design
Up to 1,000 products
1 Staff User (administrator login and password)
Unlimited bandwidth for any amount of traffic
Unlimited disk space to support unlimited high-resolution product photos with zoom
Integrations with Doba, Inventory Source, AliExpress, and Printful
Support for custom dropshipping suppliers
Real-time shipping rates using your supplier's address as point of origination
Complete set of easy-to-use built-in SEO tools
Built-in blog for content marketing
Unlimited categories and dynamic SmartCategories (display all discounted products together, etc.)
Upsell and cross-sell features, like configurable Related Items
Flexible discount and coupon creation system, including click-to-apply promotions
Product reviews with helpfulness ratings
Google Customer Reviews to bring authority to your brand
Saved carts (and persistent carts to guard against browser errors)
Social Wish Lists that can easily be shared
Phone order support via manual order creation in your dashboard
Configurable bulk quantity discounts
Optional single-page checkout
Multiple ship-to checkout (let customers split orders to different destinations)
Simple setup for tax rates
Advanced sales and performance reporting
QuickBooks connector
Visitor IP blocking
Google Shopping Feed
24/7/365 support via online chat and tickets
Accept payments with Square, Stripe, and PayPal
Sell up to $10k per year
As you can see, 3dcart Dropshipping comes with more features than you can find at a similar price point anywhere else, including everything you'll need to run a successful dropshipping business.
How do Dropshipping Integrations Work?
Above, you'll see Doba, Inventory Source, and AliExpress connectors included right out of the box. These powerful integrations work by allowing you to import products from the supplier directly into your store. When an order comes into your store, it will automatically be forwarded to your supplier for fulfillment.
When you import a product to your online store, it will include all the pertinent information including photos, technical specifications, and other details. You're then free to customize the product information so as to create unique content on your website that will improve your SEO and provide a more personalized experience to your customers — and of course, add the price markup that represents your cut of the sale.
Since you have room for unlimited product photos, you can import the entire photo gallery of a product from your supplier. If you choose to invest in purchasing a test product, you can add even more high-quality photos you've taken yourself. All product images have zoom enabled so customers can examine all your products in detail.
How Does 3dcart Dropshipping Work for Print-on-Demand?
3dcart Dropshipping comes with an integration with Printful, a highly-rated print-on-demand service that supplies a wide variety of products like apparel, mugs, and more — even beanbag chairs. You can create hundreds of unique products with Printful by uploading your designs and adding them to the items you wish to sell. From there, Printful works much like other dropshipping suppliers: you import the created products to your online store, where orders will be automatically forwarded.
Printful is a white-label dropshipper, meaning your brand logo and name appears on receipts and packing slips, with no mention of Printful anywhere. This is healthy for building a strong brand identity. Printful also offers apparel with tear-away tags, in which your own brand information can be printed inside the garment rather than the typical manufacturer's tag. While you're still required to include certain information, like country of manufacture, this is another helpful method for building your brand.
Is 3dcart Dropshipping Really the Most Affordable Dropshipping Solution?
3dcart Dropshipping will save you time and money over creating your online store with another eCommerce platform, whether you're considering another SaaS solution or open-source software. Additionally, 3dcart Dropshipping includes the most features of any low-priced eCommerce plan, and is the only plan on the market specifically created for dropshippers.
Another important distinction is that there are both app/integration costs and dropshipping membership costs. Some dropshipping networks charge a one-time or recurring fee for access to their supplier catalogs. This is not related to the eCommerce platform you use. However, some platforms will charge simply for the app you use to integrate the dropshipping supplier with your store, whereas 3dcart Dropshipping includes several free integrations.
Dropshipping with Shopify, BigCommerce, or Volusion
Shopify's Basic plan costs $29 per month. That's already about three times the cost of 3dcart Dropshipping, and Shopify doesn't include a free domain name either, which is another expense for you. Note that Shopify does have a $9/month plan (Shopify Lite) but it does not include a website.
In addition to the monthly fee, you may also be subject to transaction fees of 2% if you opt for a payment provider other than Shopify Payments. As we discuss in detail in our Unlimited eCommerce Plan guide, you can't rely on being able to qualify for Shopify Payments, and should always assume you'll be subject to the transaction fees when making your budget.
Shopify is very commonly used for dropshipping, but has far fewer built-in features than 3dcart, so you should also assume you'll be paying extra for apps. Additionally, many of the apps overlap and you may struggle to decide on the best ones for your business — for example, many Shopify dropshipping apps include AliExpress integrations, so if you want to sell products from AliExpress, you'll need to spend time deciding which app to invest in. Even the free apps can cause the same type of headache.
Shopify Basic also doesn't include real-time shipping rate calculations. In fact, to get real-time shipping for a Shopify store, you'll need to upgrade to Advanced Shopify at $299 per month. Yes, you read that correctly!
As for BigCommerce and Volusion, you're not much better off. BigCommerce's most affordable plan is BigCommerce Standard, at $29.95 per month. Volusion's most affordable plan is Volusion Personal at $29 per month. Both plans have significantly fewer features and a higher price point than 3dcart Dropshipping.
Dropshipping with WooCommerce
WooCommerce is a WordPress plugin that is extremely popular for selling online, but it's not made for dropshipping. To set up dropshipping on a WooCommerce store, you'll need to install a third-party plugin. There are several available, all with varying costs. — for example, one plugin costs $59 for a year of updates and support, while another is $14 per month, and so on. Not only is this a monetary expense, it will also cost time, just like when choosing apps for Shopify.
In addition, you'll need to pay for web hosting, SSL security, and a domain name. Web hosting in particular can vary greatly in price, especially if your store starts receiving heavy traffic. Low-level hosting plans can cost $5 per month, but you'll need to upgrade to support a growing business. If your store is doing well, your hosting costs may balloon to $29 per month or even higher. It's undeniable that even "free" open-source software like WooCommerce has ongoing costs.
Who Should Use the 3dcart Dropshipping Plan?
3dcart Dropshipping is meant to be a starting plan that can open the doors for more entrepreneurs to start their business, even if they're on a very tight budget. It's your gateway to the world of eCommerce while keeping your initial investment costs low.
As your business grows, you may outgrow the plan — but only if you reach a trailing 12-month sales volume of $10k. This means you can make up to $10k per year on 3dcart Dropshipping before you'll need to upgrade to our Startup plan. The upgrade will allow you to unlock more features while keeping all your dropshipping bonuses. The Startup plan will enhance your store with:
Over 100 more payment gateway integrations
Unlimited products
Facebook Shop integration
2 email accounts @yourdomain
FTP access for mass file uploading/editing
Gift certificate creation
And more…
The Startup plan is only $19 per month and raises your revenue tier to $50k in online sales per year. It's a great next step for a growing dropshipping business.
Ready to Start Your Dropshipping Business?
If you're an aspiring dropshipper, 3dcart Dropshipping is the first eCommerce plan in the industry made just for you. It combines everything you need at a price point low enough to fit into nearly any budget so you can start building and growing your business. If you've been waiting to break into eCommerce, or just looking for a profitable "side hustle" with minimal investment, here's your chance to get your foot in the door!