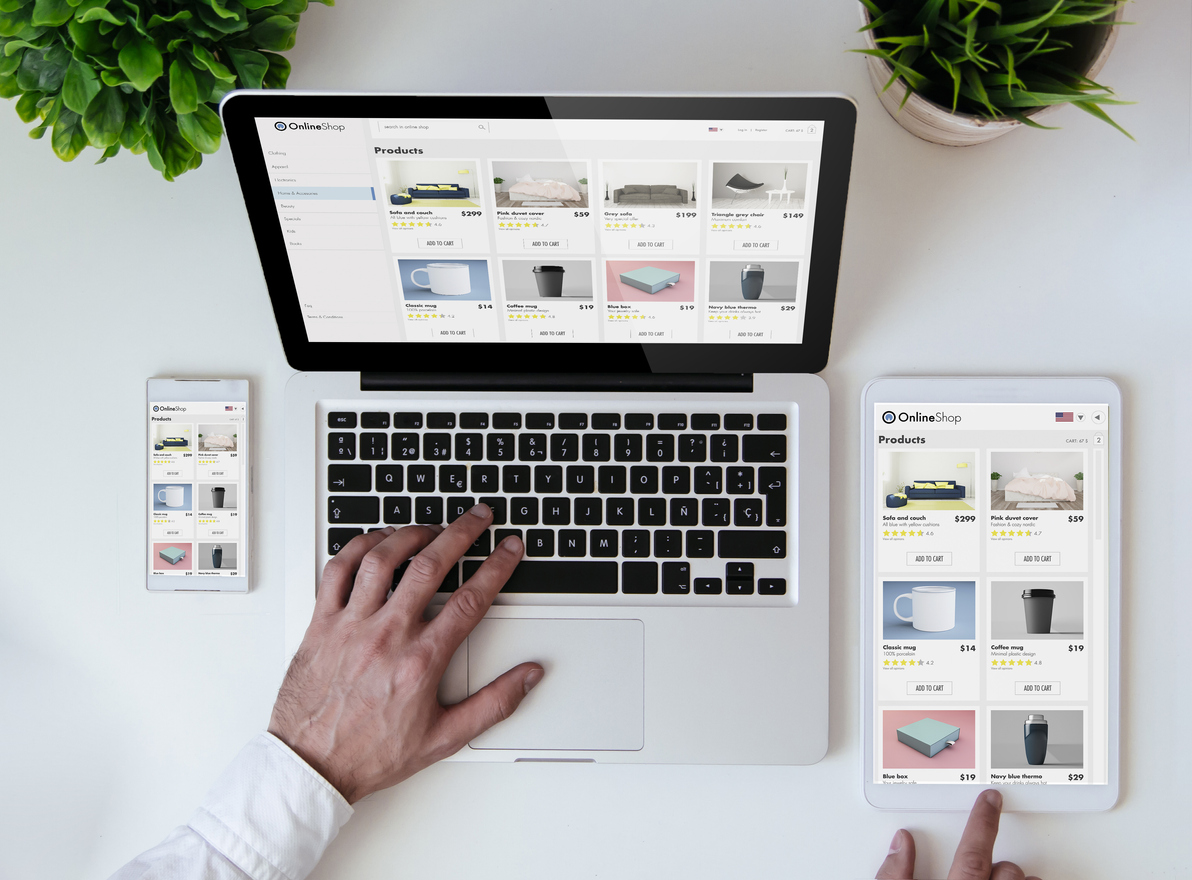 Running an online store has become much more complex and professionally oriented. You need to hire different types of people and purchase software tools to create and launch your eCommerce online store effectively in 2019. You also need to take care of numerous business processes that deal with the commercial and technical aspects of your online business.
The creation of a professional-grade online eCommerce website requires highly skilled software developers, testers, and web administrators. You can either hire those tech talents directly for your company, or you can outsource your work to a team of professionals.
According to the eMarketer forecast, online sales are expected to grow by over 15.1% in the USA in 2019. The main drivers of this huge growth include social media marketing, effective mobile app strategies, and the use of data-driven strategies and personalization in digital marketing. A huge portion of eCommerce traffic (62%) originated from mobile devices in 2018; this trend is expected to increase this year.
Let's have a look at the importance of online stores, the top useful tips on how to launch an online store successfully, and the most important ways to increase online sales in 2019.
The Importance of an eCommerce Online Store
According to the Statista forecast, the volume of retail sales is expected to cross the $4.9 trillion mark by 2021. Moreover, the share of retail eCommerce is about 13.7% of all retail sales in 2019 and will reach 17.5% in 2021. The global market size of business to business (B2B) eCommerce is significantly larger when compared to business to customer (B2C) sales, as mentioned above. The total market size of B2B eCommerce in 2015 was over $22 trillion.
The impact of the combined market share of eCommerce markets opens up a vast landscape of opportunities for online business owners and prospective entrepreneurs. The role of digital marketing strategy for an online shopping portal is very crucial; digital marketing itself is transitioning into a multi-billion-dollar market. Many new concepts of business process automation are emerging, which are transforming the online business landscapes in the marketplace.
The share of traditional sales has been continuously decreasing for the last few years, while the market share of eCommerce is increasing. These trends are clear indicators of the increasing popularity and exponential rate of adoption of eCommerce among internet users. The emergence of mobile eCommerce is also largely contributing to the growth of eCommerce business all over the world.
It is very important to note that no retail business can be successful without an online presence. The online presence of a business breaks the boundaries of country, benefiting from the global marketplace. An online business can also benefit from the latest technologies that can help reduce the operational cost and improve profit margins substantially.
Many cheaper options to advertise your online store are available in the digital marketing field, offering great advantages to make your online business sustainable and profitable. The prices of online advertisement and other marketing options are much cheaper than the traditional ways of advertisement. So, an online presence is very important for any business in today's eCommerce world.
5 Useful Tips to Create a Profitable Online Store in 2019
Making an online website more profitable requires the need to implement numerous tips and implement industry standards into the websites. A few very useful tips are mentioned below:
Tip #1: Website Should Responsive and Interactive
More than 1.2 billion people are using smartphones in 2019, and over 52% of those users make at least one online purchase through their mobile phones. This means that, if your website is not mobile friendly, you are going to lose a lot of money. The interactive response of your website on mobile devices, by offering and alerting about the new arrivals that the user may be interested in, also increases the sale tremendously. So, your website should always be responsive and interactive.
Tip #2: Create Killer & Professional Design
Web design plays a critical role in making decisions about purchasing any products. The professional look of the website improves the conversion rate. There are numerous types of website design trends out there, so choose the right design for your online store so that it looks professional and fits your brand and business. According to the latest research, more than 75% of users assess your brand on the basis of your website design. So, you can clearly imagine the importance of web design.
Tip #3: Add as Many Popular Payment Options as Possible
The more payment options you have on your website, the better your customer's shopping experience will be. So, it is highly recommended to add as many popular payment options as possible so that the customer can easily choose their preferred payment gateway. This improves the conversion rate on your online store. Examples of popular payment options include PayPal, Visa, MasterCard, Amazon Pay, Google Pay, Stripe and many others.
Tip #4: Always Use Digital Marketing Effectively
Digital marketing is one of the most powerful business processes in the current online business ecosystem. The effectiveness of digital marketing is exceptional, and the cost of digital marketing is relatively low. The latest technologies and trends are making inroads into digital marketing. Today's major components of digital marketing include video marketing, content marketing, social media marketing, paid ads, search engine optimization, email marketing, online ads, and many others. The trends of digital marketing are changing drastically in 2019; video content is becoming the new standard of digital marketing now and beyond. So, always create an effective digital marketing strategy and implement it professionally to make your business more profitable.
Tip #5: Always Use Cutting-Edge Technology
Newer technologies such as data analytics, machine learning, and artificial intelligence should be used extensively and effectively to make the data-driven decisions in your online business strategies. The impact of data analytics is huge; it helps improve customer services and turns customer behavior and micro-moments into sales.
Modern businesses use machine learning for their customer support to save a huge amount of money in this area. Data analytics provides a deeper perspective on the marketing strategies, customer behavior, and mistakes of business strategies. So, it's very important to use the latest data analytics, machine learning, and other technologies in your eCommerce business.
Step-By-Step: How to Launch an Online Store
Launching an online store has become much easier, due to the emergence of newer technologies that can handle complex technical processes easily and effectively. These new technologies are able to help an entrepreneur launch an online store within a few weeks' time.
Let's have a look at the major steps for launching an online store quickly.
Step #1: Develop a Business Strategy
The most important step for creating and launching an online store is to make a complete business strategy that should include both the technical and commercial aspects. The strategy should answer all the queries and questions that a businessman should ask before starting an online business.
Step #2: Choose the Right Domain Name
The second important step you should take is to finalize the domain name for your online store or brand. It is highly suggested that choose the "dot com" domain name. Your domain name should be concise, easy-to-remember, attractive, and represent your business or brand effectively. You should also decide the best hosting platform that can fulfill the requirements of your business.
Step #3: Choose a Software Development Team
Designing, building and testing a website is purely a technical matter, which should be done very professionally. If you have a huge budget for your online store, you can hire the best developers and testers directly for your store. Meanwhile, there are many great providers of website development services in the marketplace. Choose the right software development company that can help you develop your website as per your business requirements.
Step #4: Implement Payment Options
There are many options for payments in the marketplace. Choose the right payment options and payment gateways that are fully fit for the needs of your online store payment system. It's very important to note that the pricing of products should also be discussed with the developers in length to consider different aspects like bulk prices, discounts, taxes, promotions, commissions, and other factors.
Step #5: Launching and Performance Testing
Launch the website soon after the major parts of the website are completed. Don't hesitate about changes or mistakes. No website is perfect, and you will have to make changes continuously, so launch your website to start testing the performance and receive customer feedback.
Step #6: Start Website SEO
With the launch of your website, you should hire a powerful search engine optimization (SEO) team to improve the search engine indexing of your website. This is a vital aspect of launching a successful online store. Make sure your website is ranked within the top 3 websites in your area, as well as in the areas of your target audience.
Step #7: Monitoring and Improvement
Technology and commercial trends change continuously, so always keep your online store up to date in terms of technology, business trends, SEO, and security of your website.
Ways to Increase Online Sales in 2019
You can increase online sales of your eCommerce business by adopting the following strategies:
Create a great website with better navigation options
Add a clear, easy, and short checkout procedure
Use a better SEO strategy
Use promotional and incentivized prices
Personalize the communication with the customer
Offer great customer support
Use social media more effectively
Use video extensively in marketing strategies
Add more customer testimonials and reviews
Offer money-back guarantees and proper return policies
Use email marketing with a better focus
Try to use free options as much as possible
Final Takeaway
The potential of an online store is very high for retail sales in 2019. Use professional-grade eCommerce platforms and website design to make your online store profitable this year. Let's recap the entire article:
The multi-billion-dollar eCommerce market opens a vast landscape of opportunities.
Online presence plays a critical role in retail eCommerce business.
The most useful tips for a profitable online store include the use of cutting-edge technologies in website and marketing strategy development, more payment options, better customer support, and others.
Follow the sequential steps for creating and launching a profitable eCommerce website.
Identify and implement ways to increase online sales.