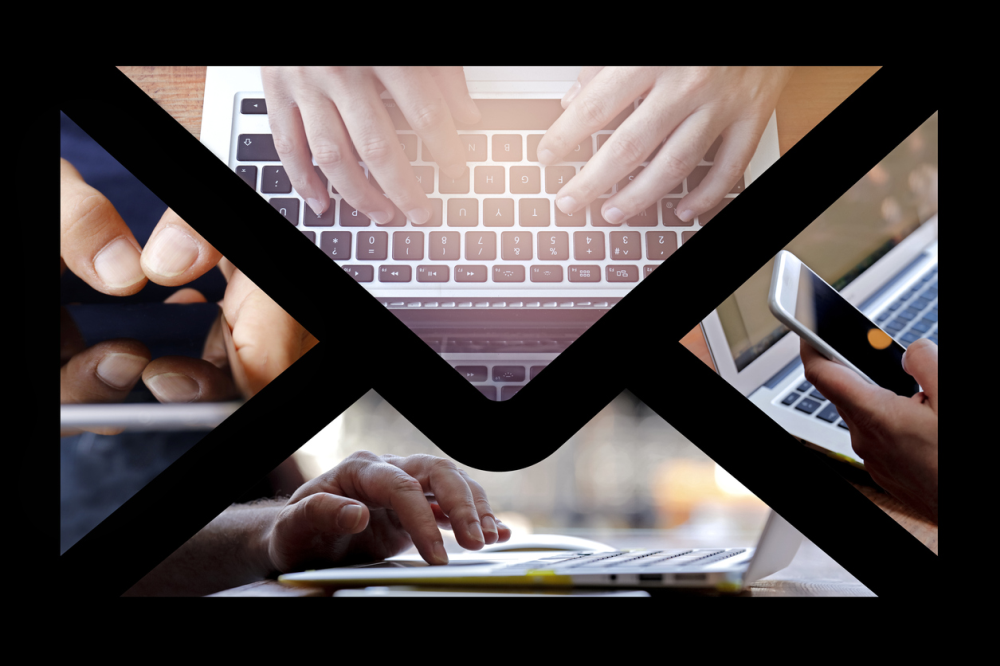 Email is vital for business. Even if you don't rely on email to communicate inside the office, it's your primary means of communication with your customers. Order status updates, back-in-stock notifications, shipping updates and more are all most efficiently managed through email.
Email is also one of your most important marketing tools. Even with the increased usage of text messaging, social media, and live chat in eCommerce, email marketing remains essential for reaching your audience.
Email is the most reliable way to inform your customers of promotions, and marketing newsletters are a longstanding and powerful means of attracting return customers to your online store.
Depending on your business software setup, you may or may not have a built-in email solution already. New business owners in particular often struggle to get started with their online marketing due to a restrictive budget. Sometimes signing up for the ideal software packages and tools just isn't something your business can afford yet — but there are plenty of free email providers out there that would be perfect for your business. There's nothing wrong with free email accounts, and in fact, you may find a free email service is sufficient even once your budget would allow for a paid option.
We've compiled a list of 9 free email providers that offer great possibilities for your business.
What is an Email Service Provider?
There are two kinds of what you call Email service providers.
One is a company that offers email addresses, sending and receiving of email, and hosting space for your email account's inbox. That is what we are talking about here, often also referred to as email hosting provider.
A second type of Email Service Provider, is the one that you can use for email marketing. These are to send mass e-mails, set up marketing campaigns and automation. We'd recommend you look at this overview with free and cheap best email marketing software tools.
Today we talk about email hosting providers. While on the surface this is relatively simple, there are actually a wide variety of features that may or may not be included with your email service. When evaluating an email hosting provider for use with your business, pay close attention to its features and possible limitations.
These are the features you need to keep in mind:
Storage limits. Every email you retain in your account takes up a varying amount of storage space. Larger, more complex emails, such as with graphics and attachments, take up more space than plain text emails. Your inbox isn't the only place emails are stored, either — you'll also accumulate emails within your "Sent items" folder, unless you turn off the feature for saving a copy of each sent message. It's recommended that you retain copies of your sent emails for record-keeping and reference purposes.
Spam filter. Spam is the electronic version of junk mail, and every day billions of spam emails are sent out to advertise all kinds of things to as many email addresses as possible. Without a good spam filter, this junk will accumulate in your inbox, making it harder for you to notice relevant emails from your business or customers. Spam filters redirect spam into its own folder based on criteria that suggest whether an email is junk. You should also be able to edit your spam filters to ensure the right kinds of emails are being caught.
Mobile access. Running a business takes a lot of attention, and the most successful eCommerce entrepreneurs remain "connected" to their business even while on the go. The ability to access your email from a mobile device is essential. If you can check your email from a smartphone or tablet, you don't have to risk missing out on important emails while out of the office.
Here are our 9 top selections for free email providers:
1. HubSpot Email Hosting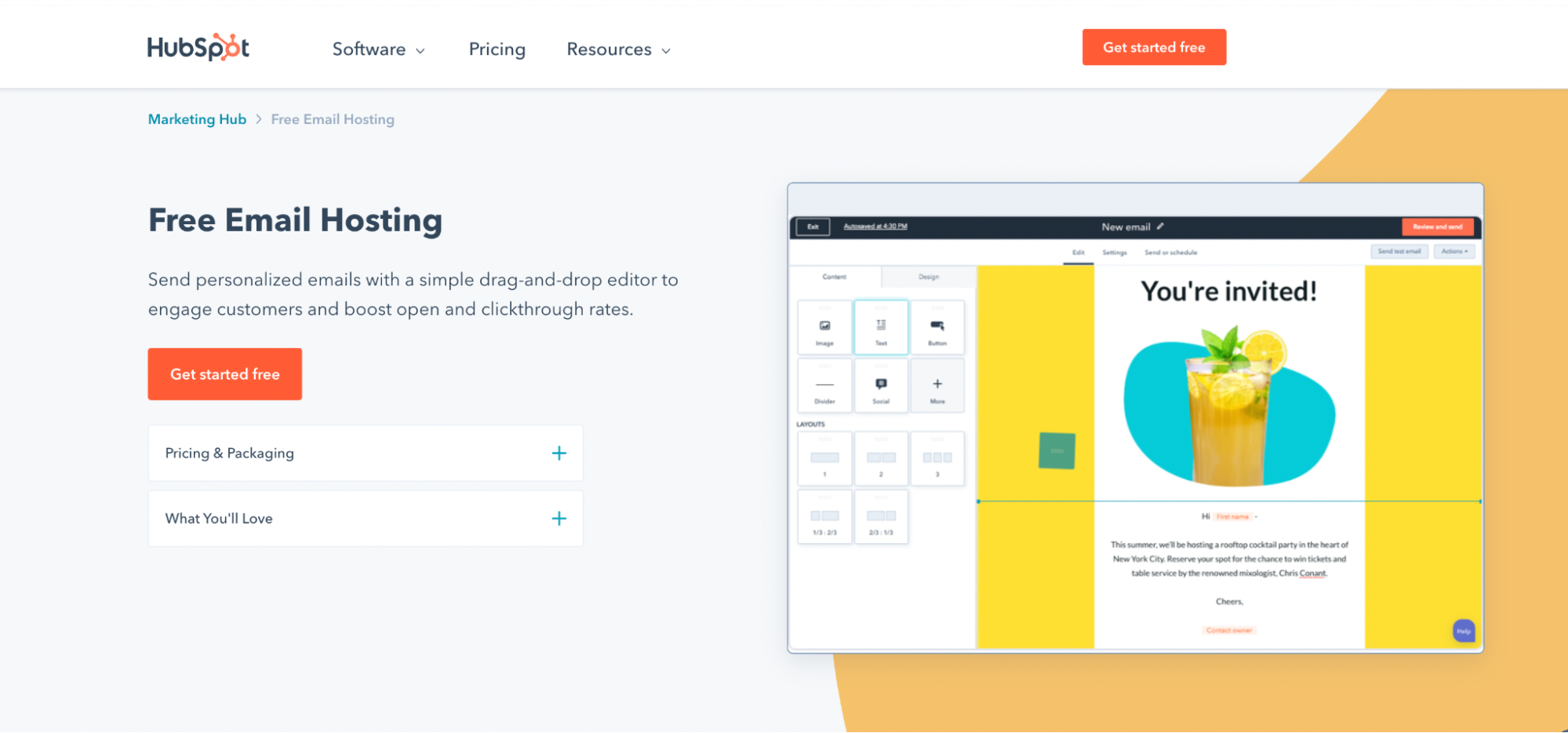 HubSpot email hosting works to bring your marketing to the next level. Email hosting is part of HubSpot's free Marketing Hub, and you get access to tools for all of your emailing needs. You can create visually stunning emails using a drag and drop editor. HubSpot allows you to send out up to 2,000 emails for free, with additional sends available starting from $45/month. You can create campaigns and target different email lists, allowing you to focus your CTAs. You can also use A/B testing on these to test which of your email variants works best.
HubSpot also offers tons of analytics, helping you make the most of your marketing budget and track how each change affects your campaigns. Another big advantage is how HubSpot integrates with your customer relationship management software (CRM) and any third-party tools you like to work with. Your emails are much more automated, with information from your CRM automatically entered into different fields, saving you time and work.
2. Gmail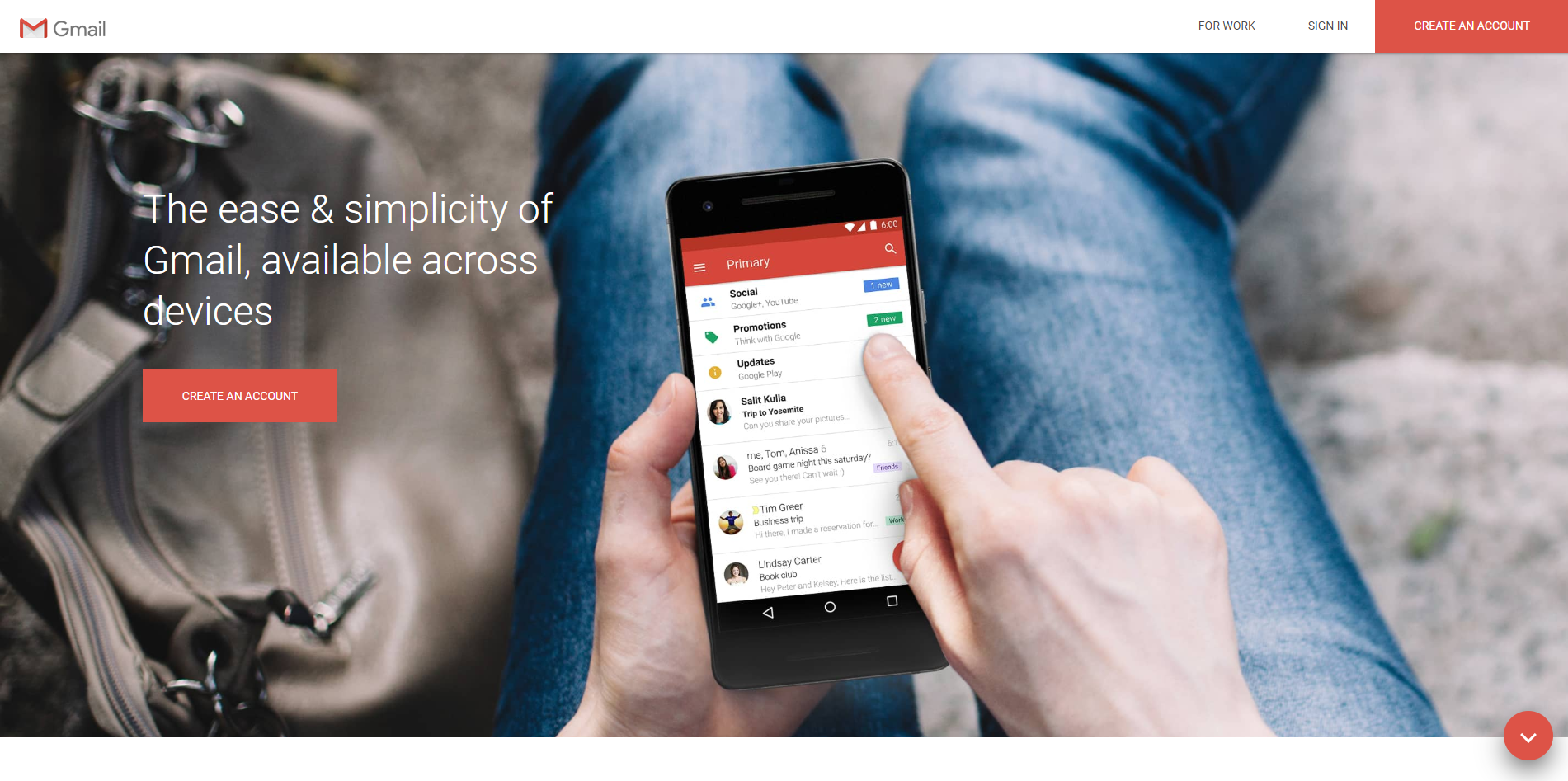 Gmail is Google's email service, and over time has developed into one of the most reliable and versatile email services available. Once you login to Gmail, you'll enjoy 15GB of free email storage to start out with, and comes with a few helpful features that make organization easy. All email chains are threaded into conversations, so you can quickly locate related messages and replies. Gmail also has a powerful filtering system that allows you to automatically send your emails to different folders upon arrival. This being Google, Gmail also has a powerful search feature for looking up specific emails.
Gmail is also tied into several other services that can be quite useful for business, like Google Docs, in which multiple collaborators can work on a file together. There's also a chatroom feature called Google Hangouts, a Google Calendar for getting everyone organized, and more. You can also get a customized Gmail address at your domain name, e.g. yourname@yourbusinessname.com.
3. Outlook.com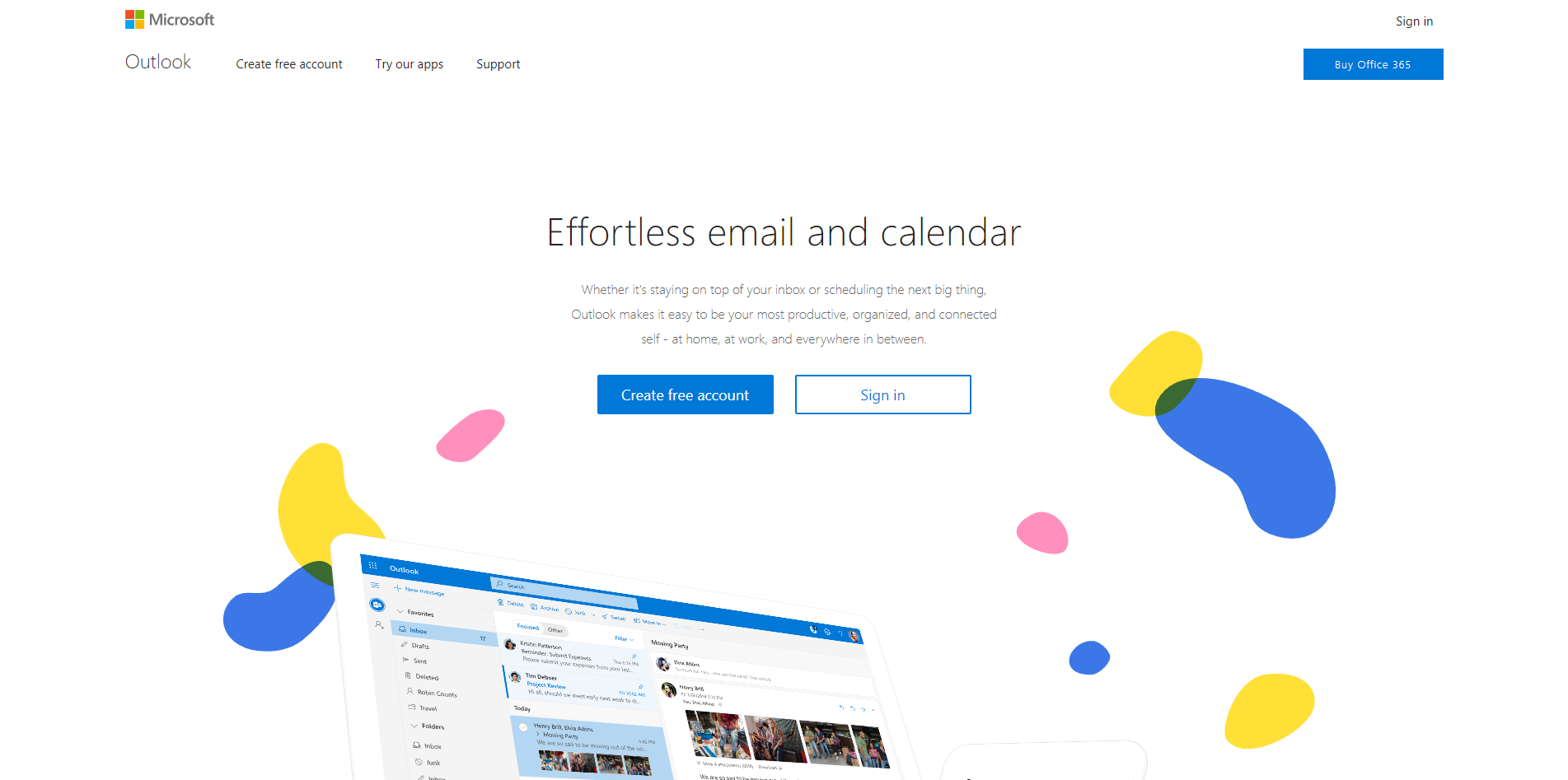 Many people are familiar with Microsoft Outlook as the email client component of Microsoft Office, but may not know about the full-fledged email service available from Outlook.com. Outlook.com is Microsoft's rebranding of Hotmail, a classic email provider from the internet's earlier days. Microsoft completely overhauled it into one of the most useful email providers available, with plenty of features for running your business.
Signing up for an Outlook.com email address gives you 15 GB of storage space and a clean interface that works with numerous popular apps. Connect with Skype, social media, and tons of other software to integrate your most important workflows directly into your email. Plus, Outlook.com also has a built-in calendar, powerful search and categorization, threaded messaging, and more.
4. iCloud Mail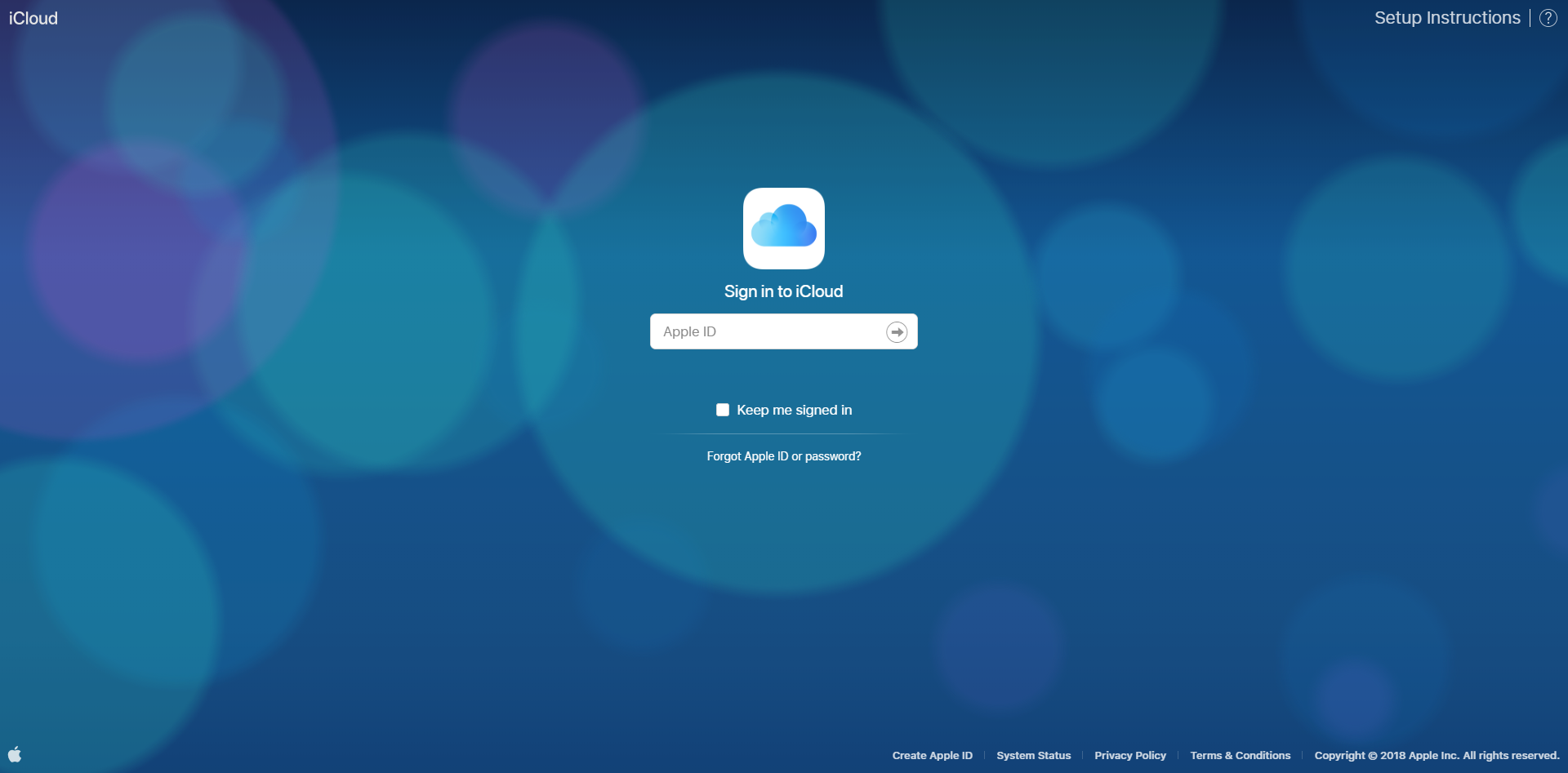 Apple's iCloud Mail is a more basic solution, but can nonetheless meet the needs of a business owner looking for an exceptionally streamlined email service. There are no ads, and nothing else to clutter the interface. Also, since iCloud is made by Apple, it's extremely optimized for usage on mobile devices including the ever-popular iPhone. Users of iPhone and iPad Mail will be able to set it up in moments, and it's also smoothly integrated into Macintosh OSX.
With a free iCloud Mail account, you get 5 GB of space with the option to buy more if necessary. You can also quickly set up your account from a mobile device. Since iCloud Mail is so mobile-friendly, it might be a good option if you spend the majority of your time running your business on mobile. It does, however, lack some of the more advanced search and organization capabilities of other solutions.
5. Zoho Mail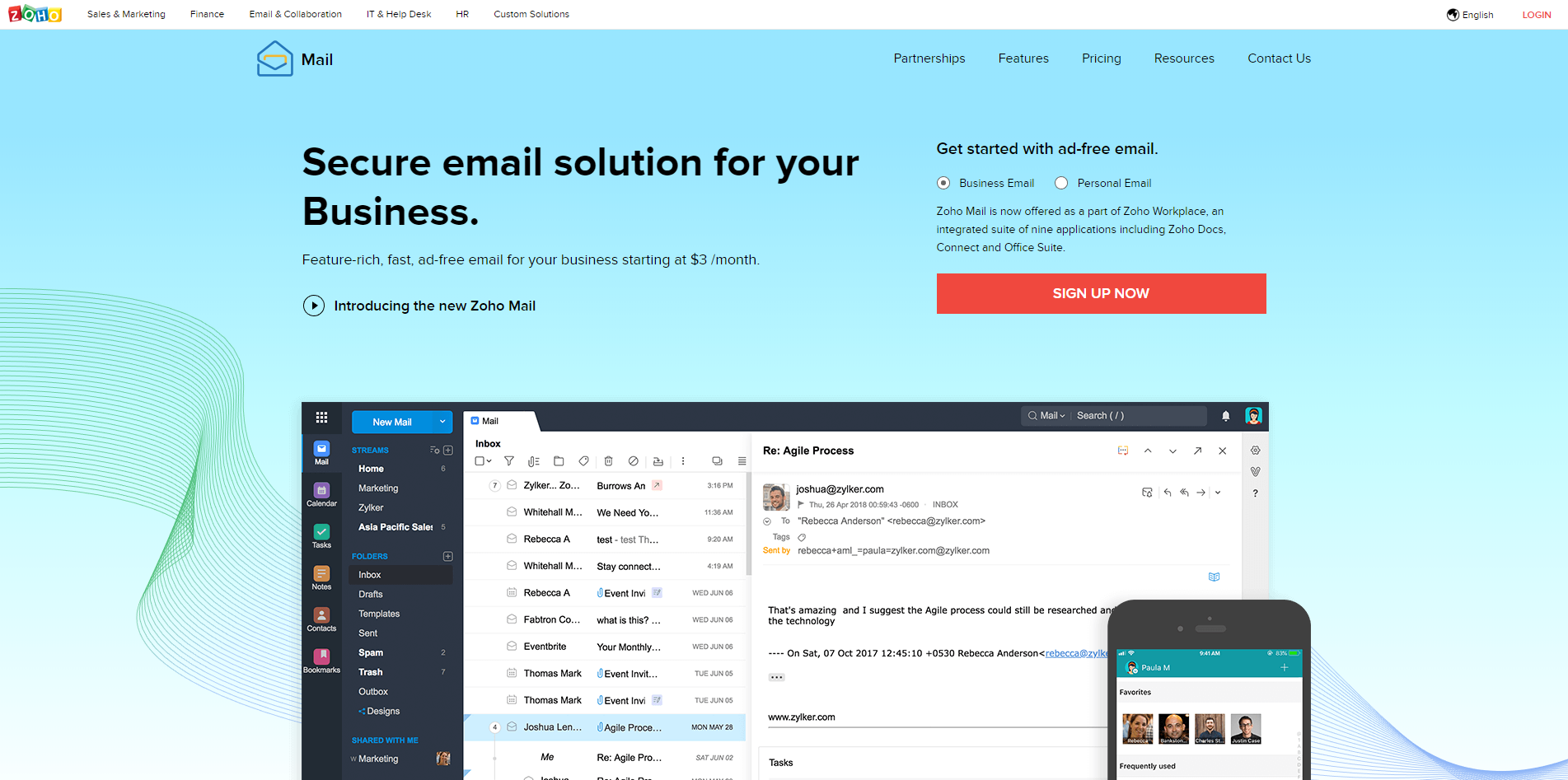 Zoho Mail is a service targeted at professionals who need additional features to improve their workflow, such as advanced search and a detailed labeling system. A free Zoho Mail account includes 5 GB of space and can be expanded with an upgrade. Zoho also has an integrated Zoho Chat instant messenger and can connect with Google Docs as well as several available Zoho apps.
Zoho offers some very helpful features to help business owners stay organized. Folders, labels, and search filtering are a big help when you're dealing with a large number of emails and contacts. Email conversations are threaded, so it's easy to read through long exchanges. You can save email templates, set up out-of-office autoresponders, and more. You can also upgrade to a paid business hosting plan for more control, as well as to customize your emails with your own domain name.
6. Yahoo! Mail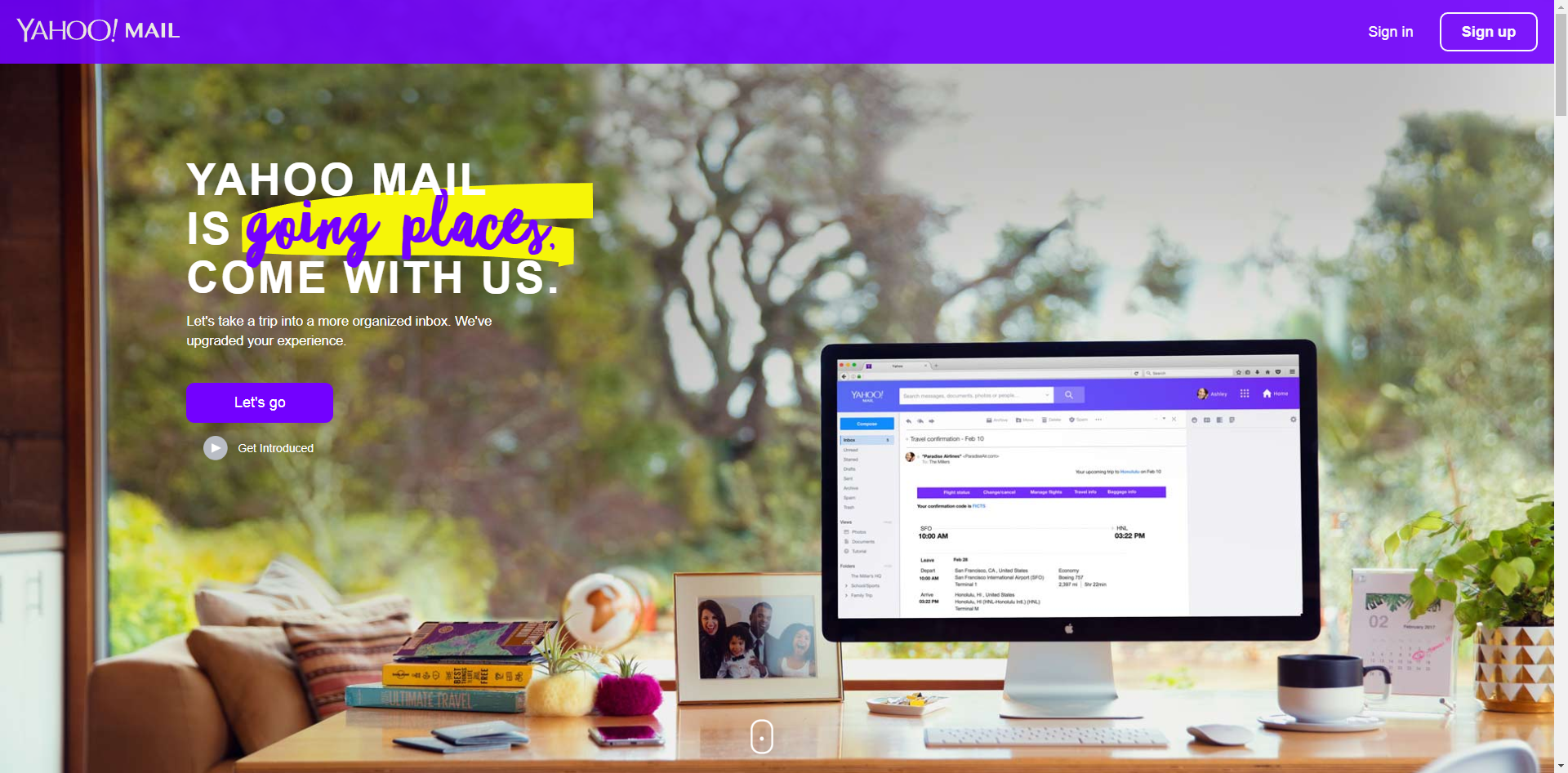 Yahoo! Mail is one of the oldest, most established free email services around today, and it has some impressive features. A free email account with Yahoo! Mail gets you unlimited storage space, and the ability to send attachments of up to 50 files in a single email (or up to 100 MB in total size). You can organize your emails in folders as you see fit and there's even a built-in sorting capability set up from the beginning.
Yahoo! Mail also comes with SMS and instant messaging, and social media integration, offering multiple ways to reach others. You can also view image and video files directly in your inbox.
7. AOL Mail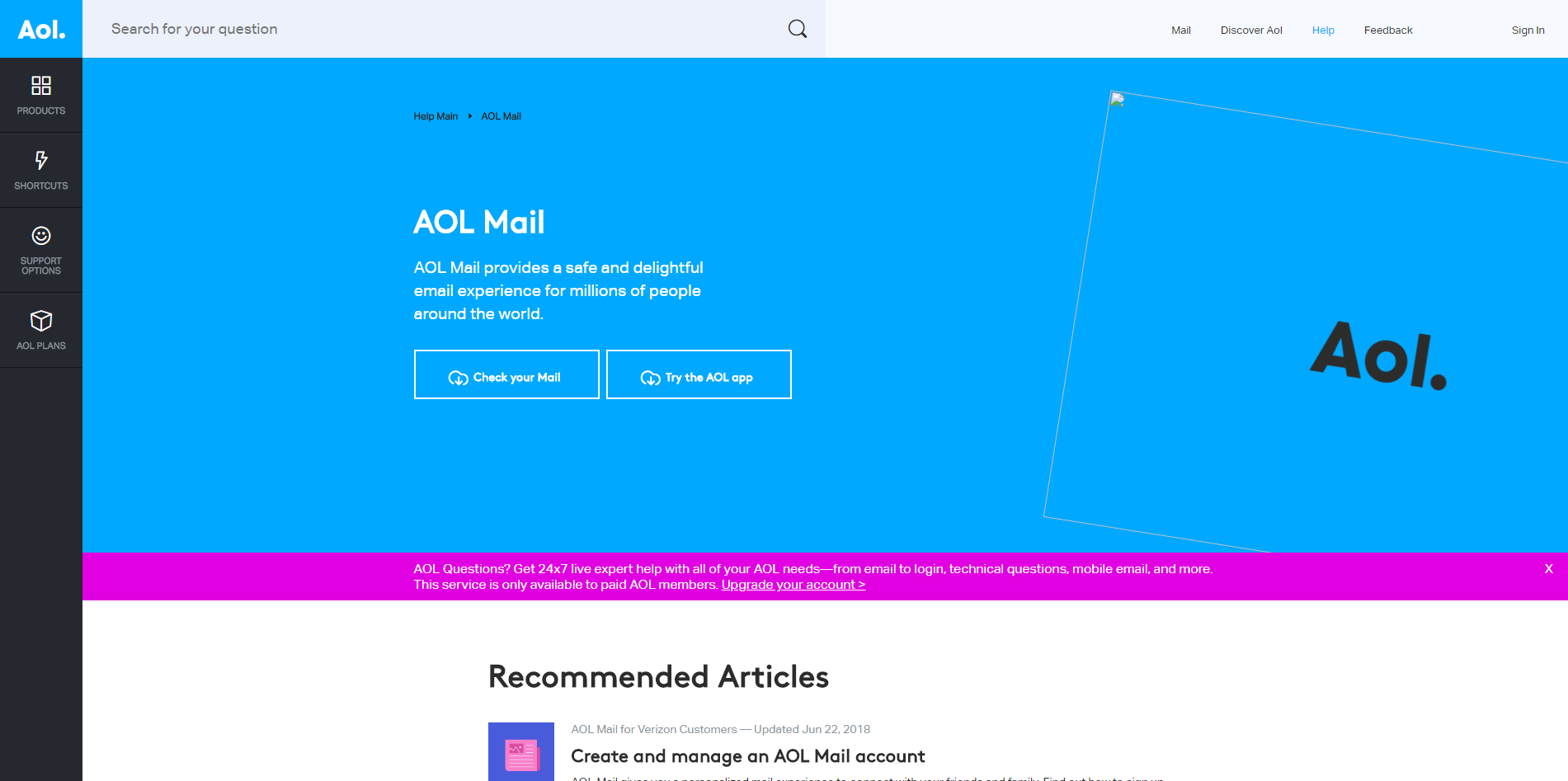 AOL (America Online) was one of the first internet service providers. Today, AOL Mail stands out as a very good choice for anyone in need of an easy-to-use free email account with tons of space. AOL Mail comes with unlimited storage, great security, and very powerful spam filters. It also offers integrations with social networking, a calendar, and more.
AOL Mail is very easy to use, but lacks message threading and labeling. If you don't need those features, it's a solid choice.
8. Mail.com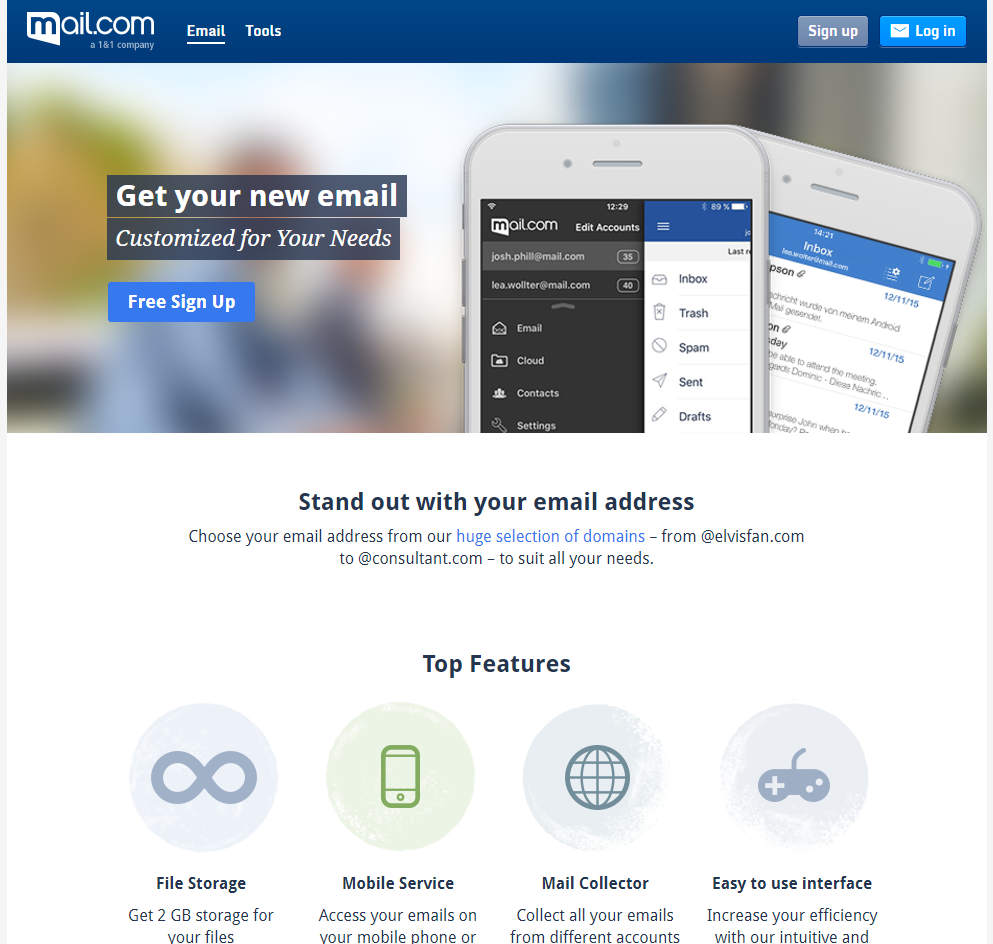 Mail.com is another great option for free email accounts. You'll have unlimited storage space and the ability to attach files of up to 50 MB in your emails, as well as fantastic mobile support. An online calendar is also included. Mail.com accounts also have the ability to consolidate your other email accounts so you can receive (and reply to) all your emails in one place.
One of the best features of Mail.com is the option to choose from over 200 domain names to use in your email address, such as yourname@yourcareer.net. This is a powerful means of customizing and adding legitimacy to your email address.
9. GMX
Email accounts on GMX are protected with powerful SSL encryption, offering great security. The spam filters are likewise very effective, so you're not likely to be flooded with spam or threatened by viruses. Much like Mail.com, GMX provides a means of consolidating your email addresses for management under one account. Both services are part of 1&1 but GMX offers exclusively @gmx.com or @gmx.us addresses
Like Mail.com, GMX comes with unlimited storage, attachment capabilities up to 50 MB per email, and mobile-friendliness for usage on any device.
Additional Solutions
These 9 providers aren't your only options for a free email account for your business. There are many others worth checking out, including Inbox.com, Yandex.Mail, ProtonMail, HushMail, and more. If you decide to move to a paid solution, several are available as well, including the well-known and trusted FastMail — or, opt for a paid plan offered by one of the free providers we have listed.
Another great solution that is worth taking a look at is Newoldstamp. This email signature generator helps to turn your regular business emails into a marketing and branding tool. The sign-offs created with Newoldstamp are compatible with all major email providers such as Gmail or Outlook.com.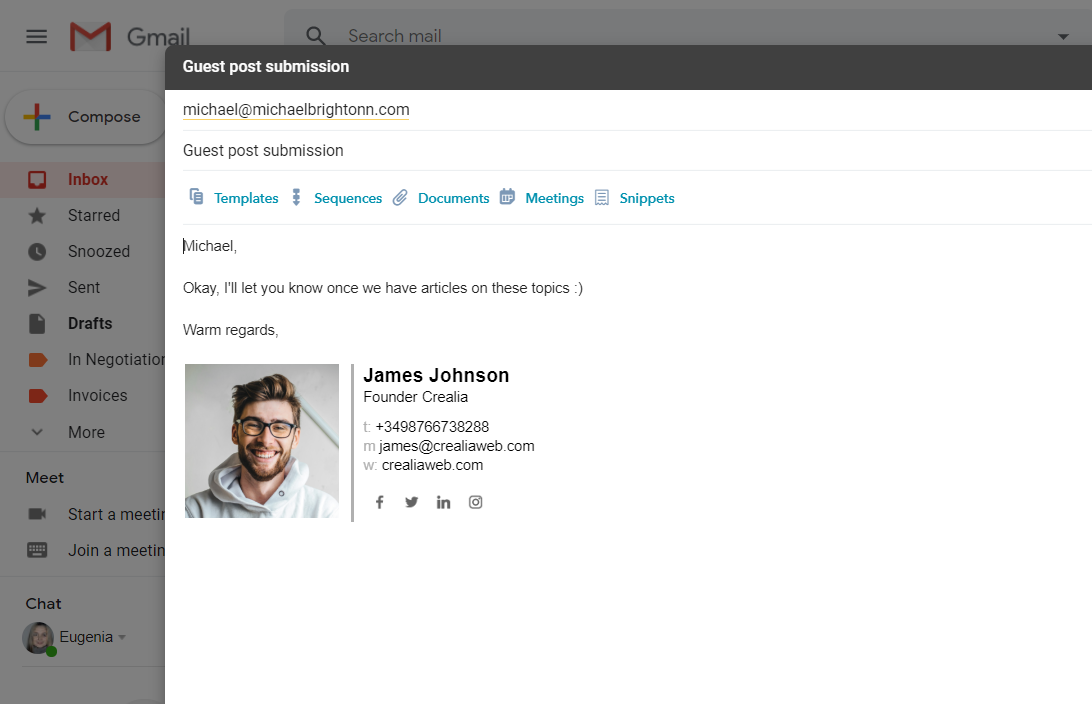 Using Free Email Services with Your Domain Name
You can choose where you receive your email by editing MX (Mail eXchange) records to point to your email provider. MX records act as instructions to the server that state the destination for incoming emails. You edit MX records through your domain registrar's control panel, similar to the way you enter the appropriate nameservers for your web host into your domain control panel to "connect" your domain name to your website.
For example, if your domain name is www.yourbusiness.com and you want to use Gmail to manage your email, you would look in Gmail's instructions to find the correct MX records. Then, you would enter those MX records into the appropriate fields in your domain name configuration. This would allow you to point an email address such as you@yourbusiness.com directly into your Gmail box. You can set MX records for multiple email addresses for your staff.
If you change your email provider later, you can simply update the MX records to send emails @yourbusiness to your inbox at your new provider.
Connecting to an Email Client
While you can check your email in a webmail interface, such as by logging into the Gmail website, for example, you can also use an email client such as Microsoft Outlook or Mozilla Thunderbird. Email clients connect with your email account to send and receive messages. You can connect multiple email addresses to a single email client and switch between inboxes with a couple of clicks.
There are two types of connections between an email client and an email server: POP3 and IMAP.
POP (Post Office Protocol) downloads and stores emails directly on your device or computer, and depending on your settings can delete them from the server in the process. By contrast, IMAP (Internet Message Access Protocol) works with your emails while they're still on the server, rather than downloading them.
POP3 is good if you only check your emails on one device and need to save server space, while IMAP is better if you use multiple devices and need your emails synchronized. When you're connecting your email account to a client, make sure you follow the directions for the protocol you want to use.
Some email services have additional features that simulate email clients. Zoho, for example, allows you to set up a POP3 connection with other email boxes, so you can receive and send from multiple email addresses in your Zoho account.
Conclusion
No matter the nature of your business, you are going to need to use email, but that doesn't mean you have to pay for your email accounts. These free email services are reliable, easy to use, and offer great options for your business. Choose one based on the storage space and other features your business needs. Plus, since these email accounts are free, you can always try one for a while to see if you like it before committing.