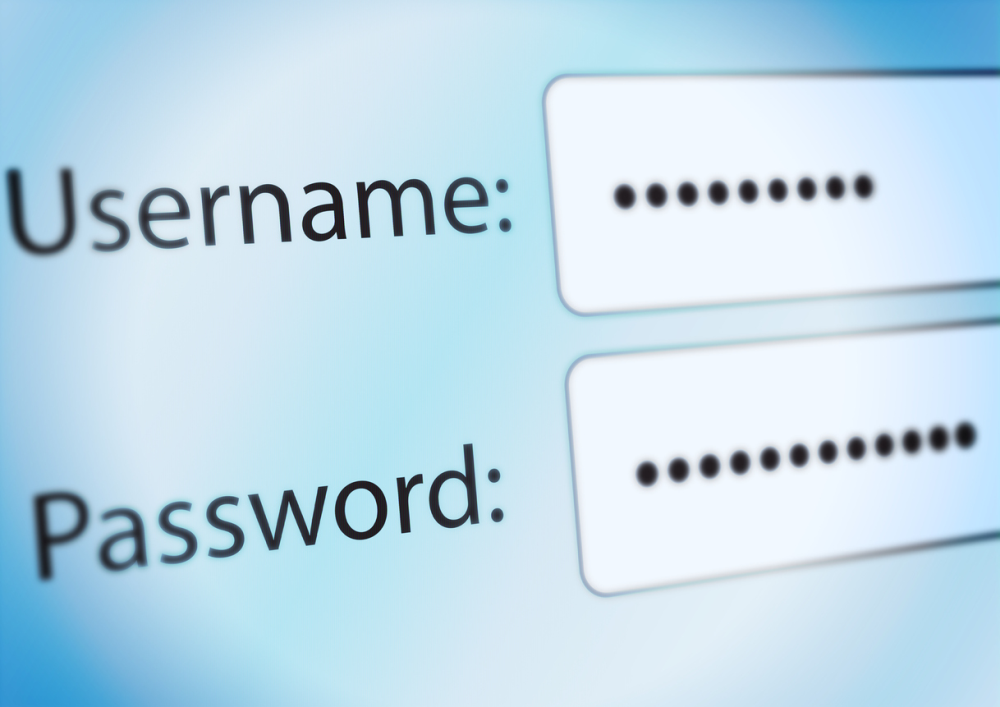 With so many logins and passwords to remember, it's easy to lose track of something. Even if you have the world's best organizational skills, you're going to end up using tons of different websites — especially if you run a business. Making things even more difficult is that some websites don't make their login pages easy to find, so signing into your account can be frustrating.
This article collects some of the most common login pages from websites you're likely to use while managing your business.
We've collected everything from email providers, to eCommerce and website building platforms, to customer relationship management software. This list of commonly-used websites will help direct you straight to the login pages you need.
Bookmarking these pages will make it even easier for you to access them quickly. It's your choice as to how you organize your bookmarks, but we recommend you keep all your business-related ones together. Some users prefer to place all their business bookmarks into a folder, where it can be accessed from the Bookmarks or Favorites menu in their browser. Others prefer to put all their important bookmarks on the bookmarks bar, where they'll be constantly available at the top of the browser window. The important thing is to find a method that works for you.
If you don't have an account, and want to sign up for some of these services, you can usually register for a new account from the login page. If not, you'll see a registration link nearby on the website.
Email and Newsletter Marketing Login Pages
This section includes email accounts, email clients, and email marketing services.
Gmail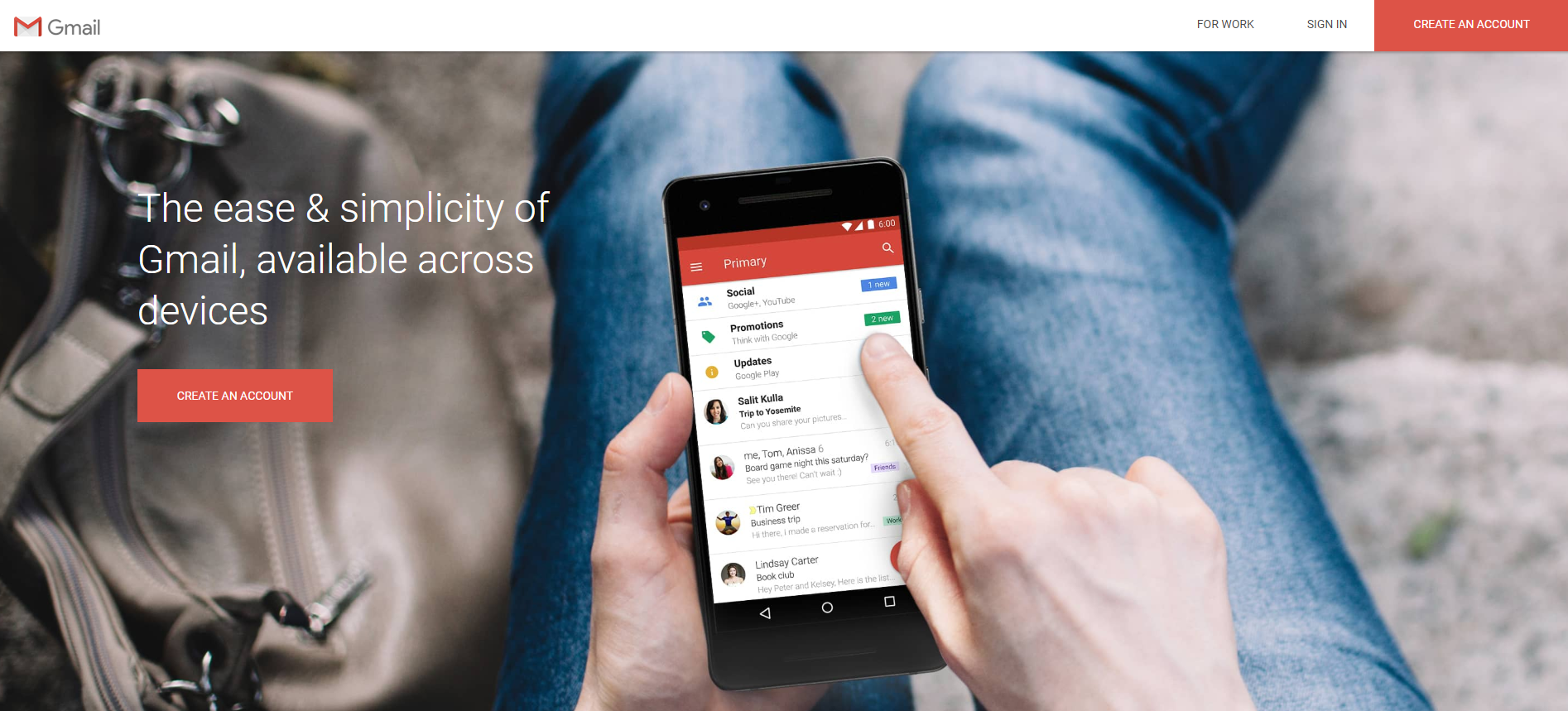 Gmail is a free email service with tons of space, customizable folders and filtering, and other features helpful for running a business. Gmail is fully integrated with your Google account, giving you access to your Google Calendar, Google Hangouts (for chat), and more right next to your inbox.
Microsoft Outlook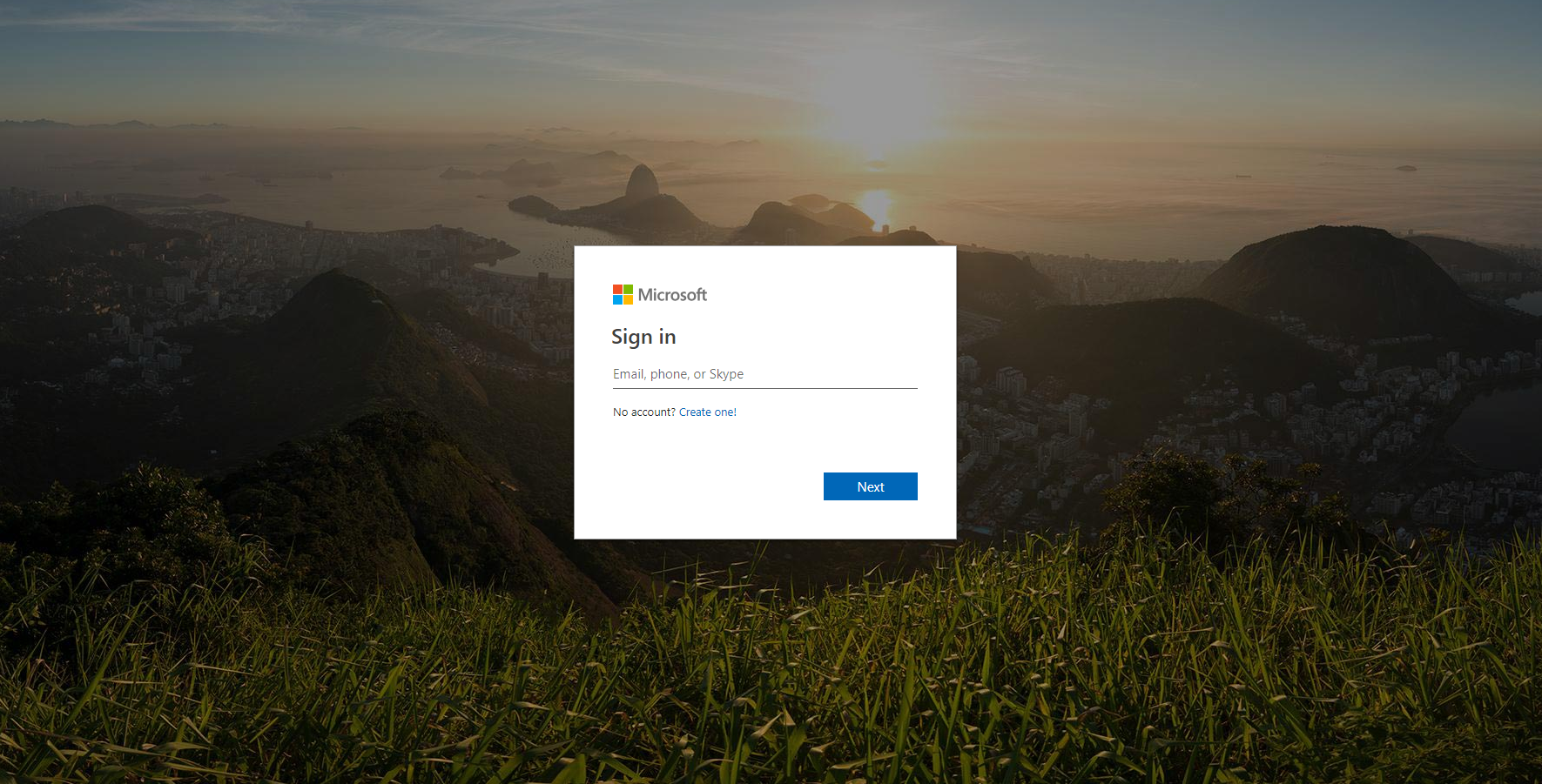 There are two different Microsoft services under the name Outlook, and it's common to get them mixed up. To clarify, Outlook.com is formerly known as Hotmail, and is a free email service with a built-in calendar and other high-quality email features. Microsoft Outlook is an email client, which is an app for devices and desktop computers that lets you access and download your emails with some additional organizational features. Microsoft Outlook is part of the Microsoft Office suite.
Outlook.com login page (free email account)
Microsoft Outlook webmail login page (access your Microsoft Office account online)
MailChimp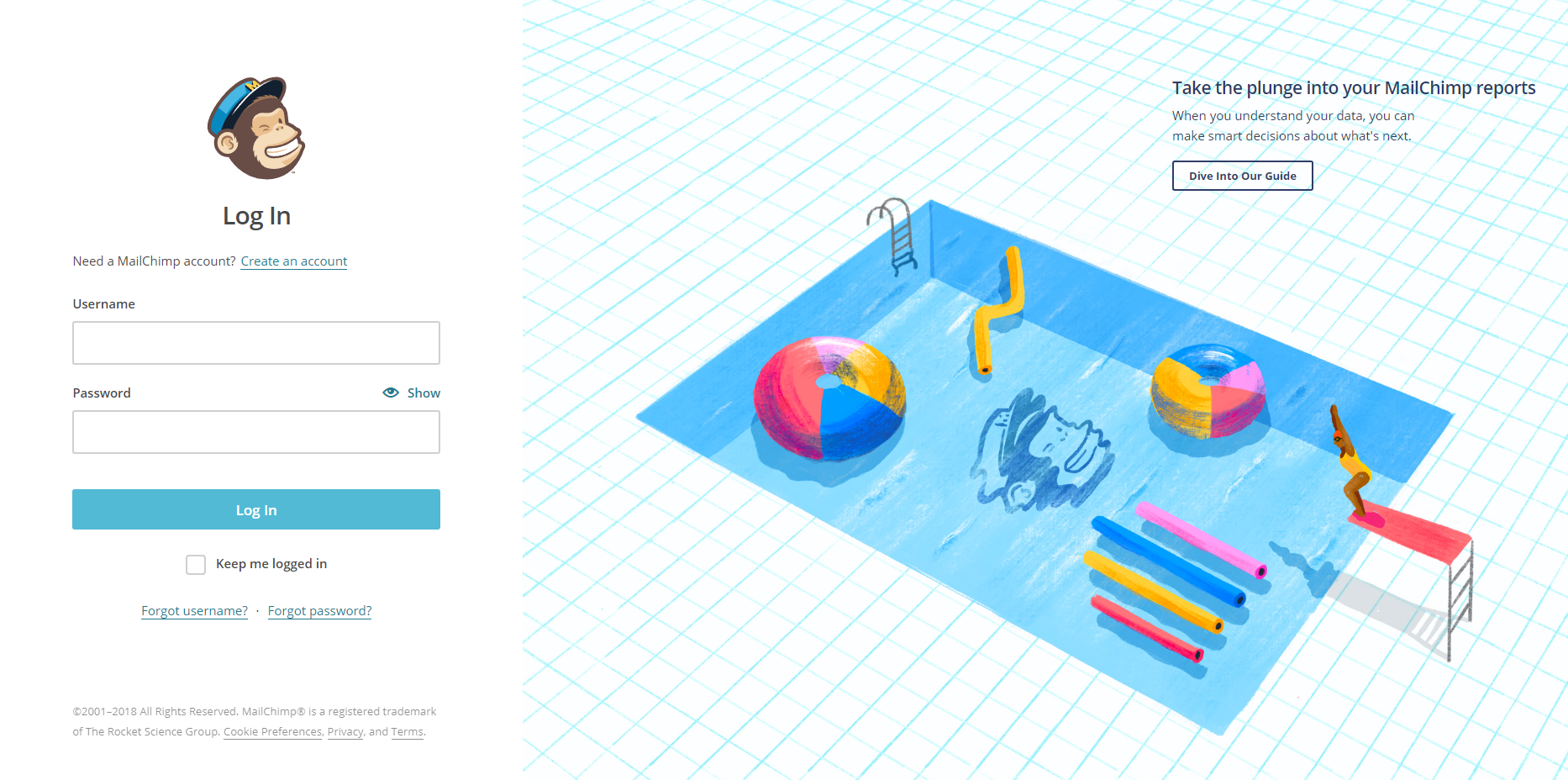 MailChimp is a powerful email marketing platform that any size business can use to send newsletters. Users can set up multiple email campaigns targeted at different segments of their customer base. Many beautiful templates are available to help create engaging emails. Full automation and statistics make MailChimp easy to use and provide the tools you need to improve your marketing.
Website Builder and eCommerce Platform Login Pages
These are website and online store builders, as well as web hosting and domain name management services.
3dcart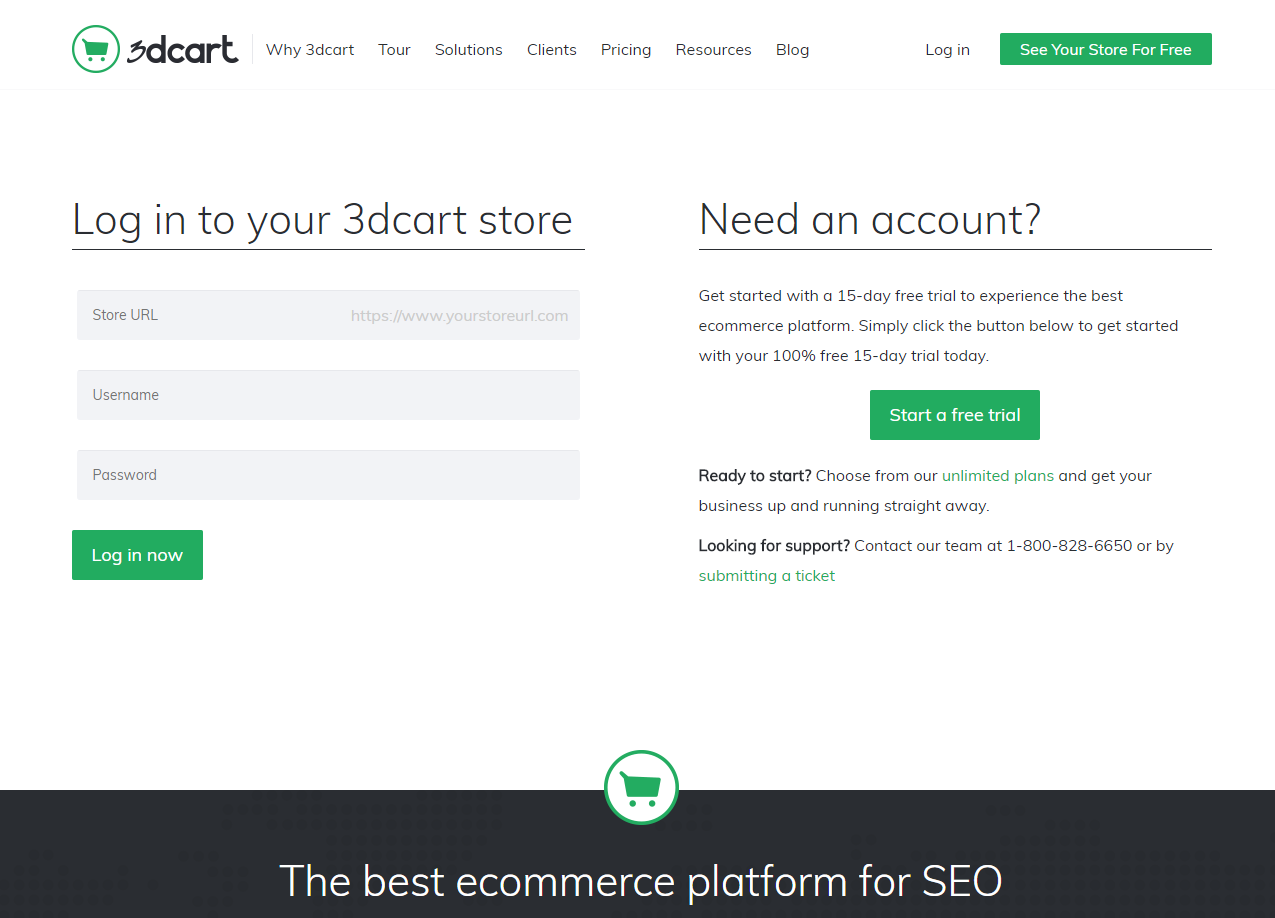 3dcart is a powerful eCommerce platform with the most complete set of included features on the market and is the best Shopify alternative. Business owners can use 3dcart to build an entire website including content pages, a blog, categories and products, and a built-in shopping cart. Multiple pricing tiers are available and there is a 15-day free trial for testing the platform.
Shopify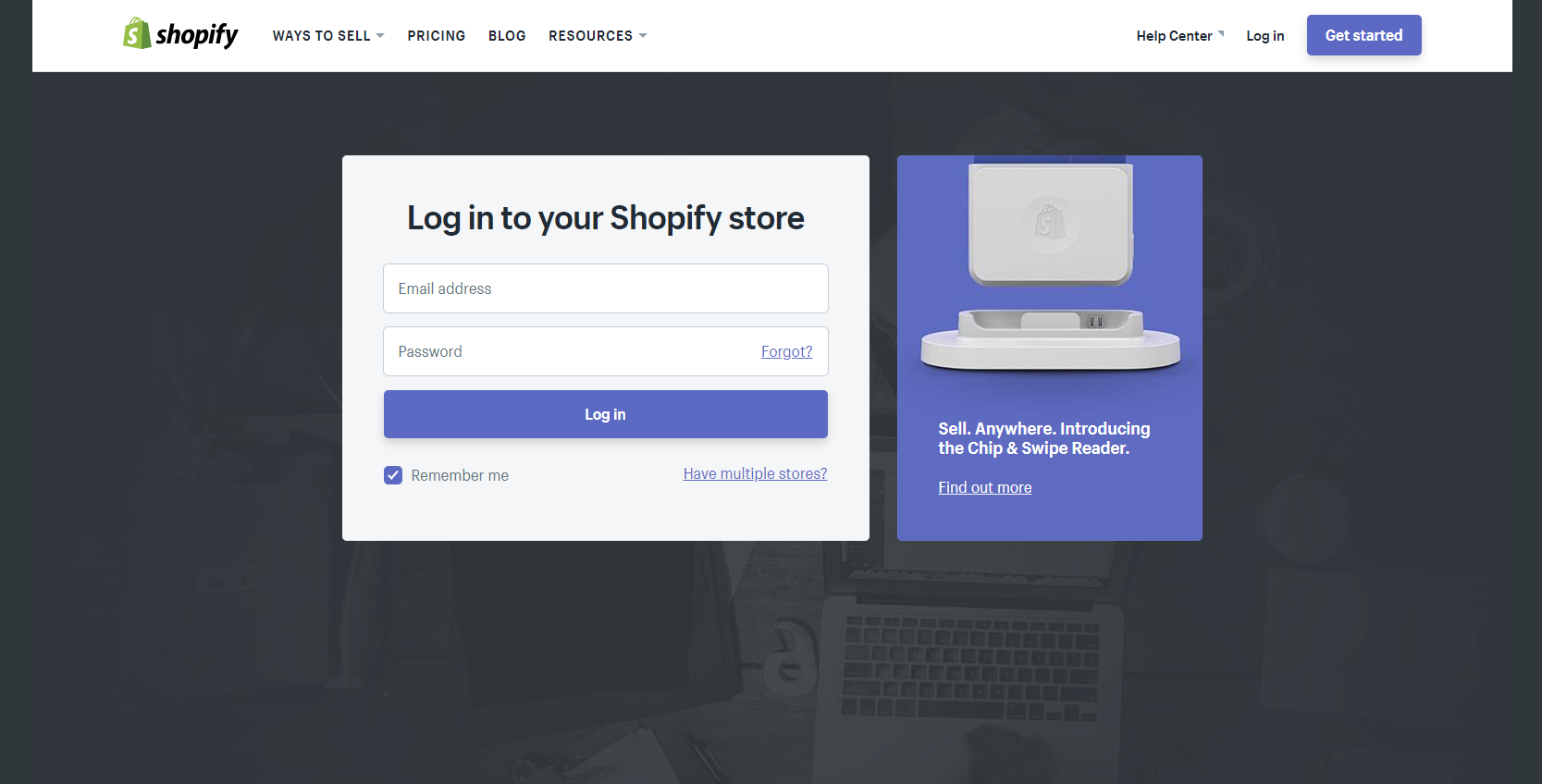 Shopify is a popular eCommerce platform that comes with the capability to build a complete online store and website. Categories, products, a built-in shopping cart and more features are included. Business owners can also create extra pages for their website to display information as needed. Shopify pricing is available in different tiers as well as a free trial.
WordPress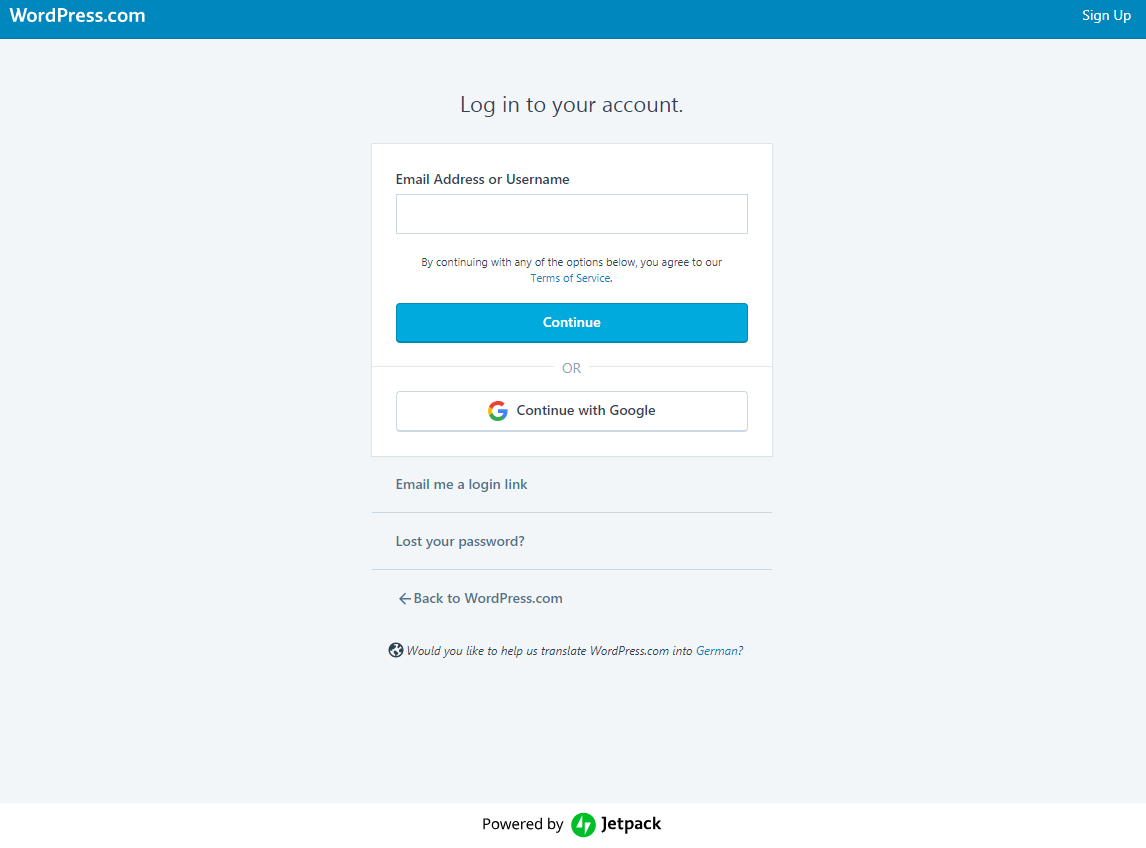 WordPress is primarily a blogging platform but can also be used for other types of websites, including online stores by installing the WooCommerce plugin. There are two main ways to use WordPress which can be confusing to new users. WordPress.com is a hosted blogging and website solution using the WordPress platform. WordPress.org is the other option, and offers the WordPress software for download and installation on websites with hosting elsewhere.
WordPress.com login page (for managing your WordPress.com account and website)
If you downloaded WordPress from WordPress.org and installed it on your own web hosting, your login page address will vary depending on the URL of your website. Here's how to find your login page for a WordPress.org-based website.
GoDaddy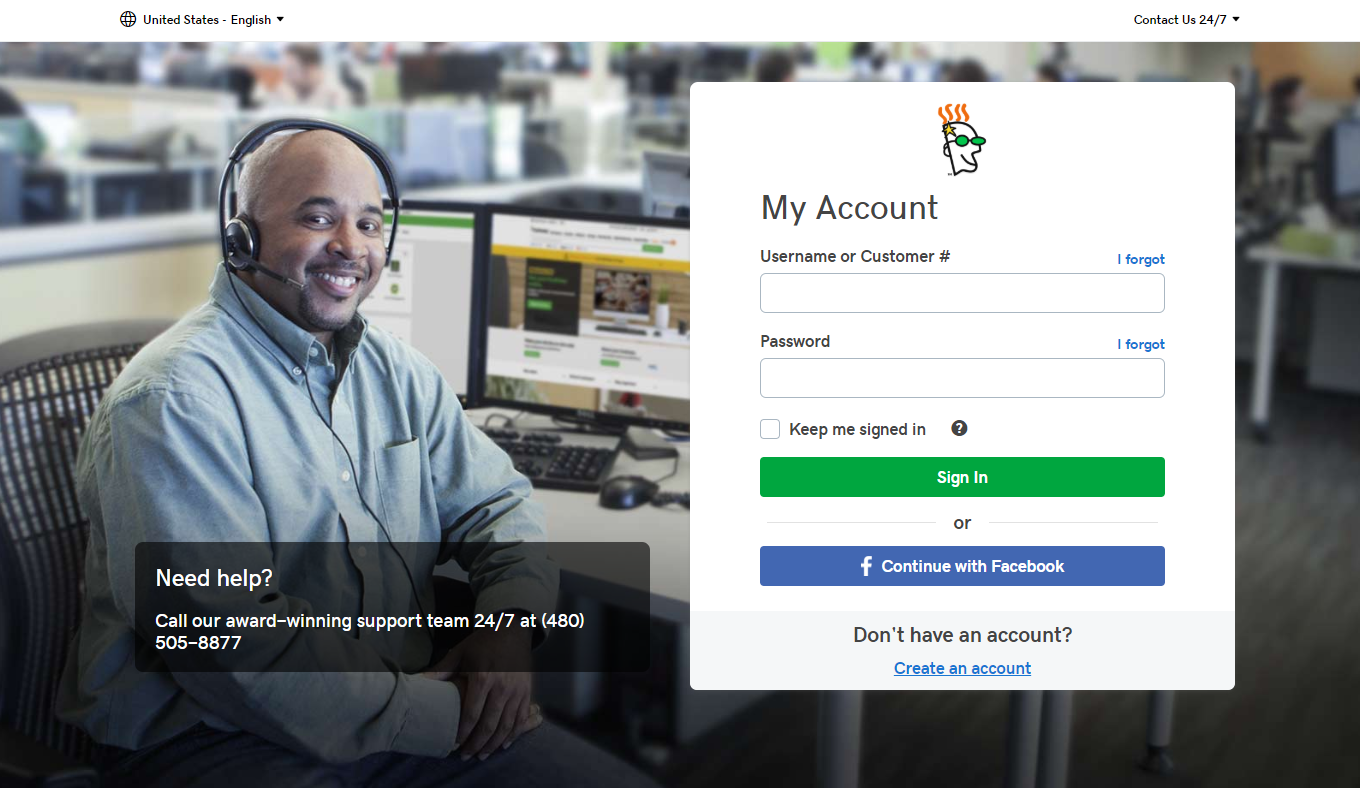 GoDaddy is most well-known as a domain registrar but has expanded their services to include hosting, email, GoCentral website builder, and more. Regardless of how many GoDaddy services you use, you can access them all through the same login page, but if you just want to check email, the GoDaddy webmail login page gets you there instantly.
GoDaddy login page (for managing services)
GoDaddy webmail login page (for checking email only)
PayPal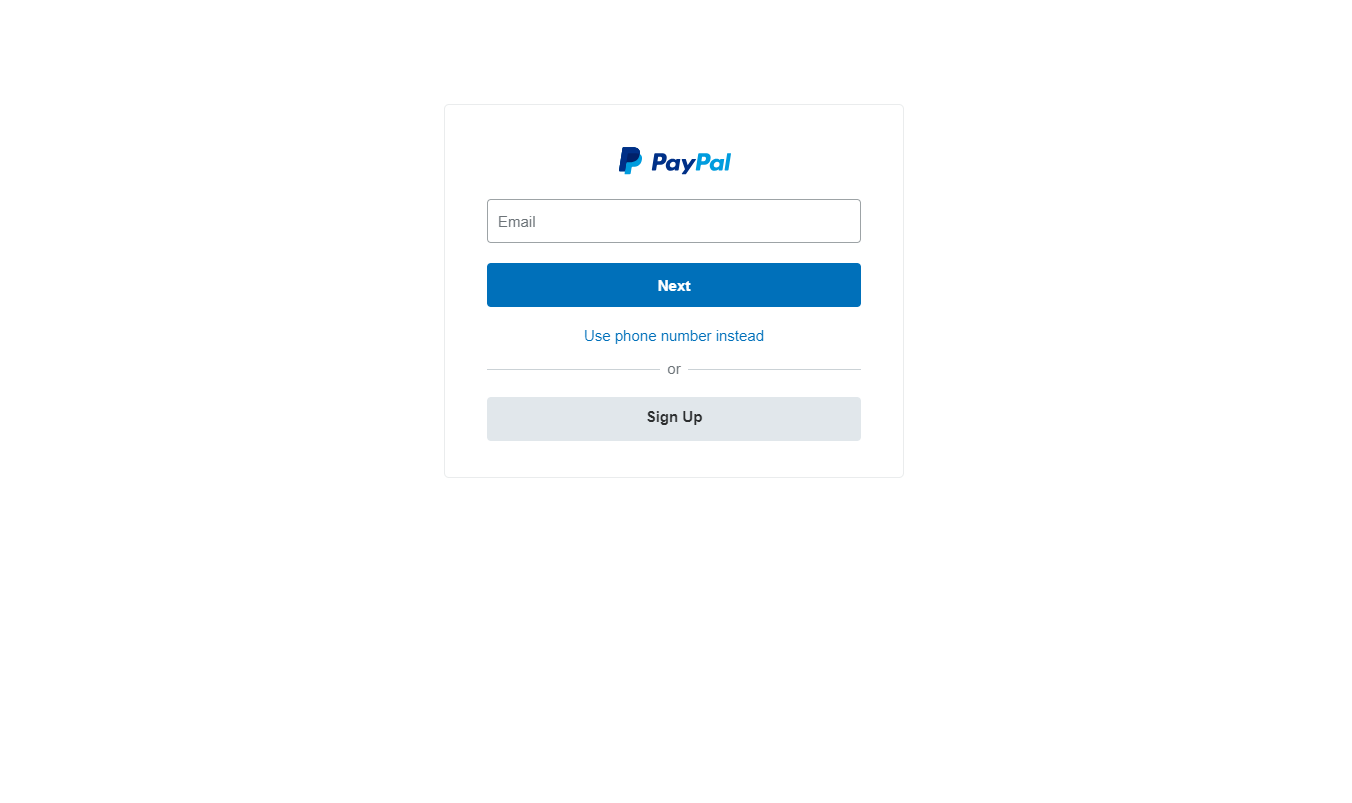 PayPal is a very popular payment provider that works with nearly every eCommerce platform and website builder in the world. PayPal users can send and receive money between other PayPal accounts and bank accounts. Customers can use it to make purchases quickly and easily, and sellers can set up a merchant account to accept PayPal on their online store.
Online Marketplace Login Pages
If you sell online as a member of a large marketplace like eBay or Amazon, here are the login pages for your reference.
eBay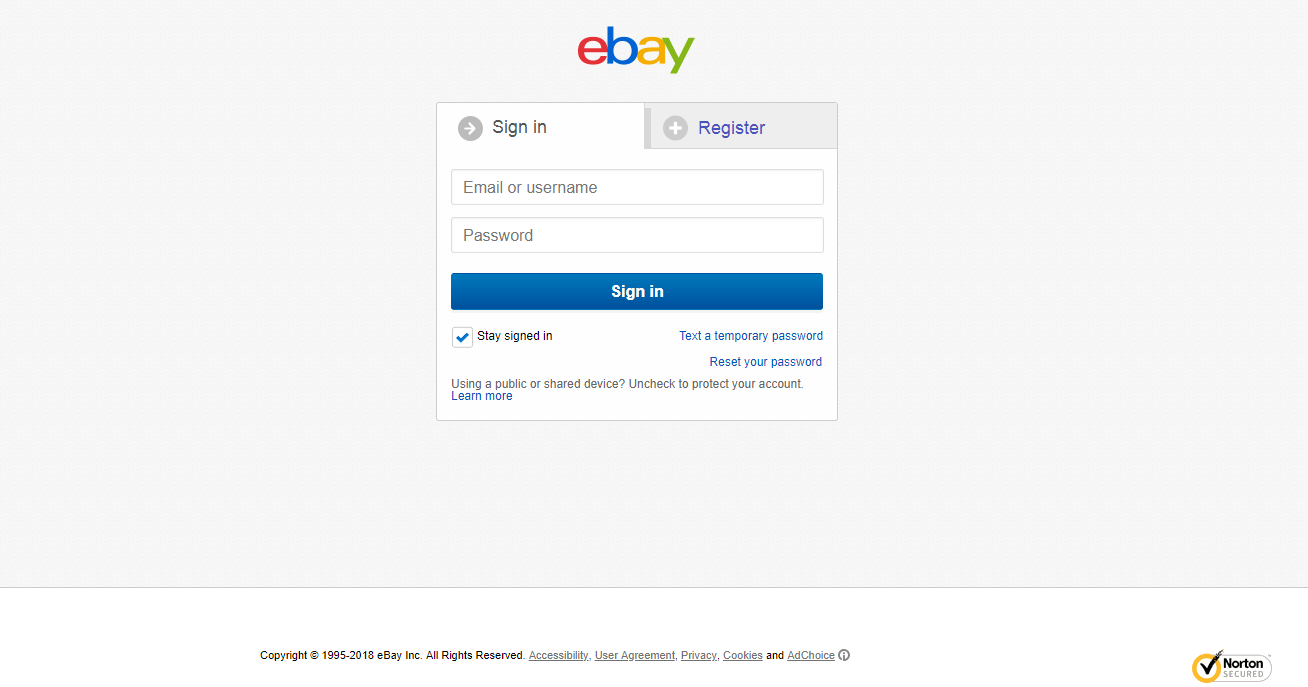 eBay is the world's largest online marketplace and home to millions of sellers. You can sell almost any type of product, with a few legal or safety exceptions, as well as new, used, and refurbished items. Products on eBay can be sold via auction or by setting a "Buy it Now" price. Sellers can also maintain an eBay Store with persistent item listings.
Etsy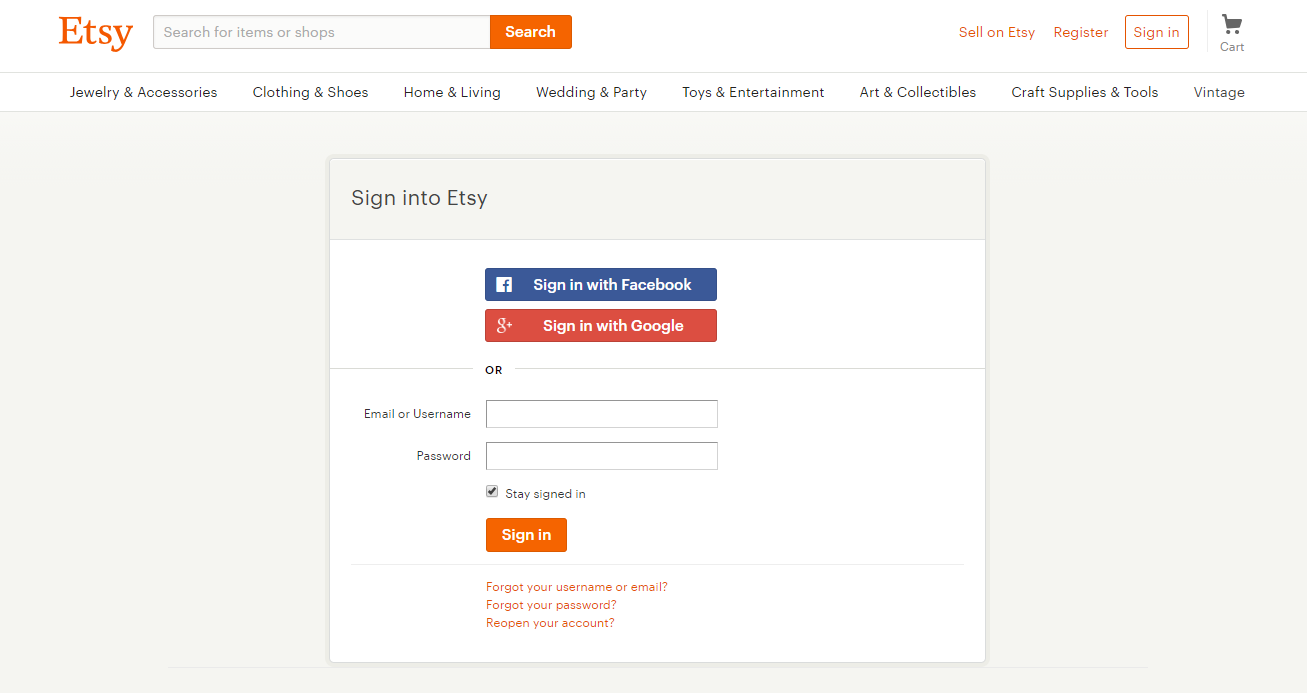 Etsy is a marketplace for artists and crafters to sell their handmade items. Users can create an Etsy Store where all their products are visible for sale. Shoppers can also search the Etsy Marketplace for all products relating to a certain topic or theme, so sellers' products will also appear via search. Etsy is a very well-known platform for artists to sell and promote their work.
Amazon Seller Central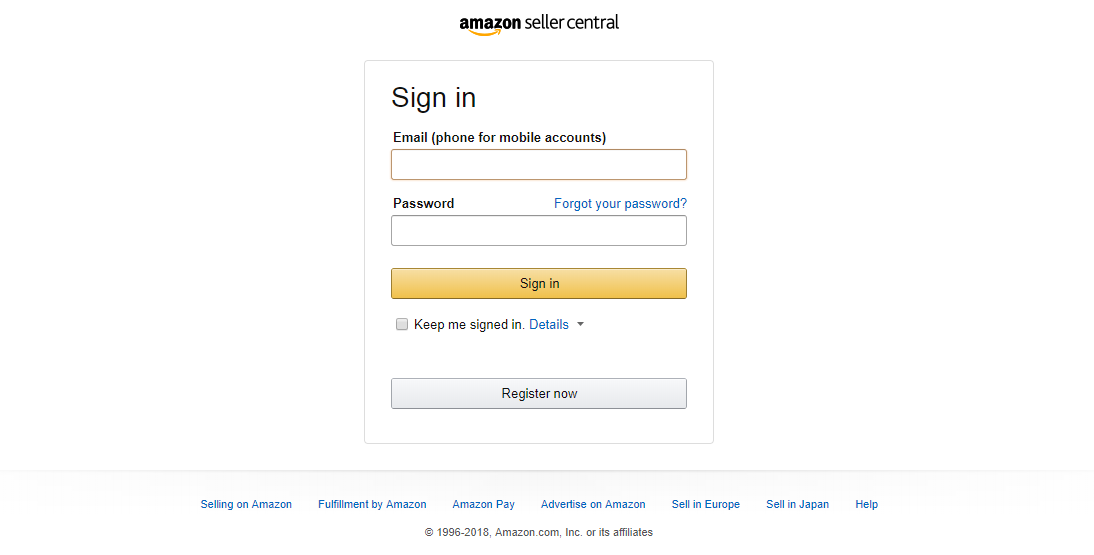 Amazon.com is a huge online marketplace with millions of customers every day. It's one of the best online selling platforms for merchants of almost any type. There's lots of competition, but products have better odds of being exposed to tons of new customers than on almost any other platform. Amazon Seller Central is the hub for Amazon sellers to control their account, including all their products and settings.
Amazon Seller Central login page
Organization, Reporting, and Business Management Login Pages
These are valuable tools for handling different aspects of your business, some of which overlap. These solutions help you streamline the way you work and assist in keeping track of everything, help you interact with customers and analyze their behavior, and more.
Google Analytics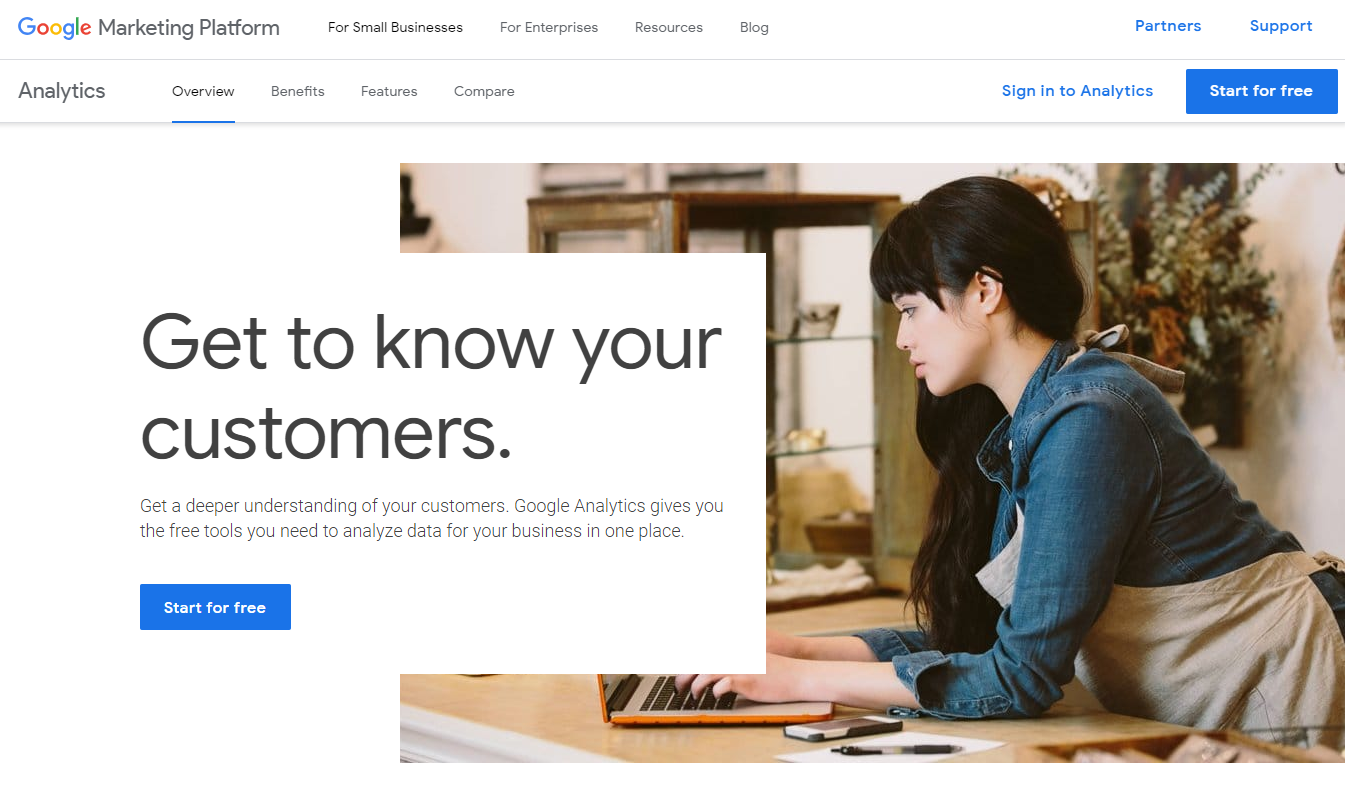 Google Analytics provides insight into customer behavior and traffic origins. It can connect with most types of website builders and eCommerce platforms. With Google Analytics, you can determine where your customers are located and how they're reaching your website. You can connect to Google Analytics through the new Google Marketing Platform or through your existing Google Account.
HubSpot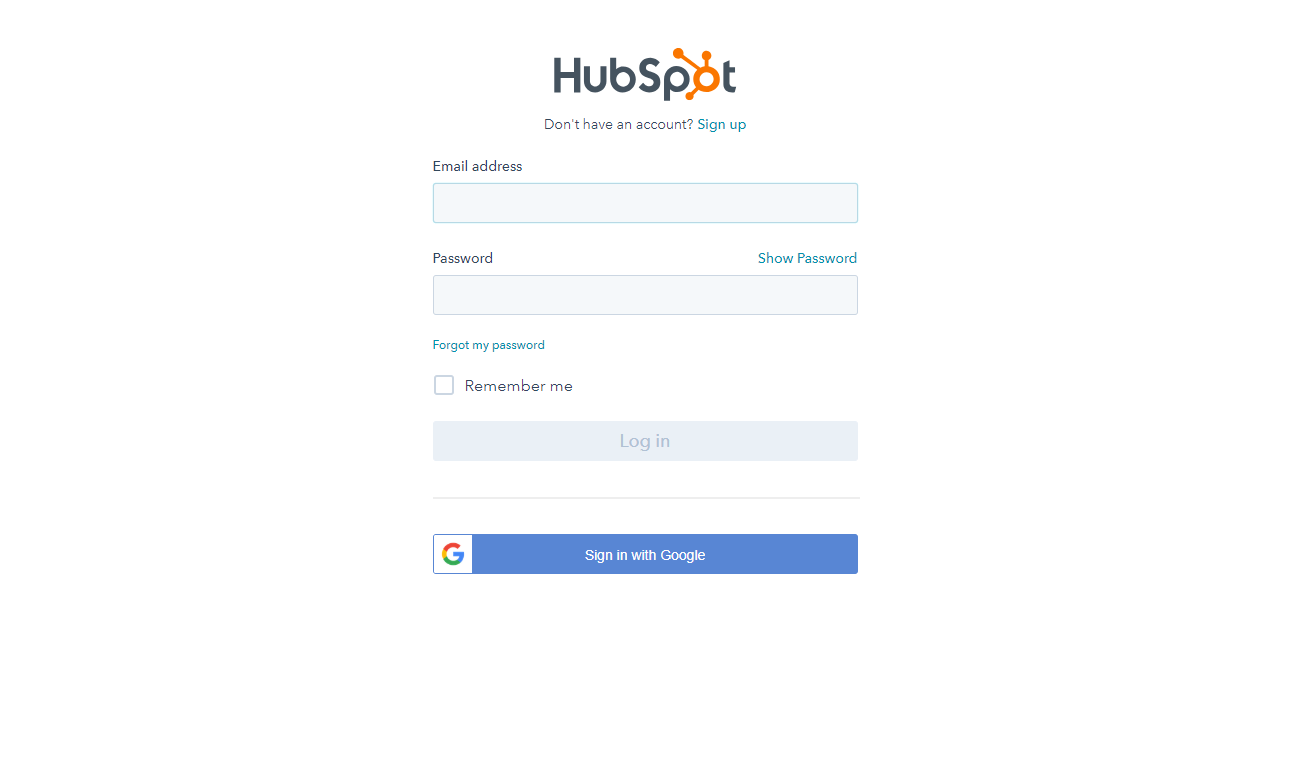 HubSpot is comprehensive inbound marketing software offering tons of business features like email marketing tools and automation, reporting and metrics, SEO tools, a customer relationship manager (CRM), and much more.
Salesforce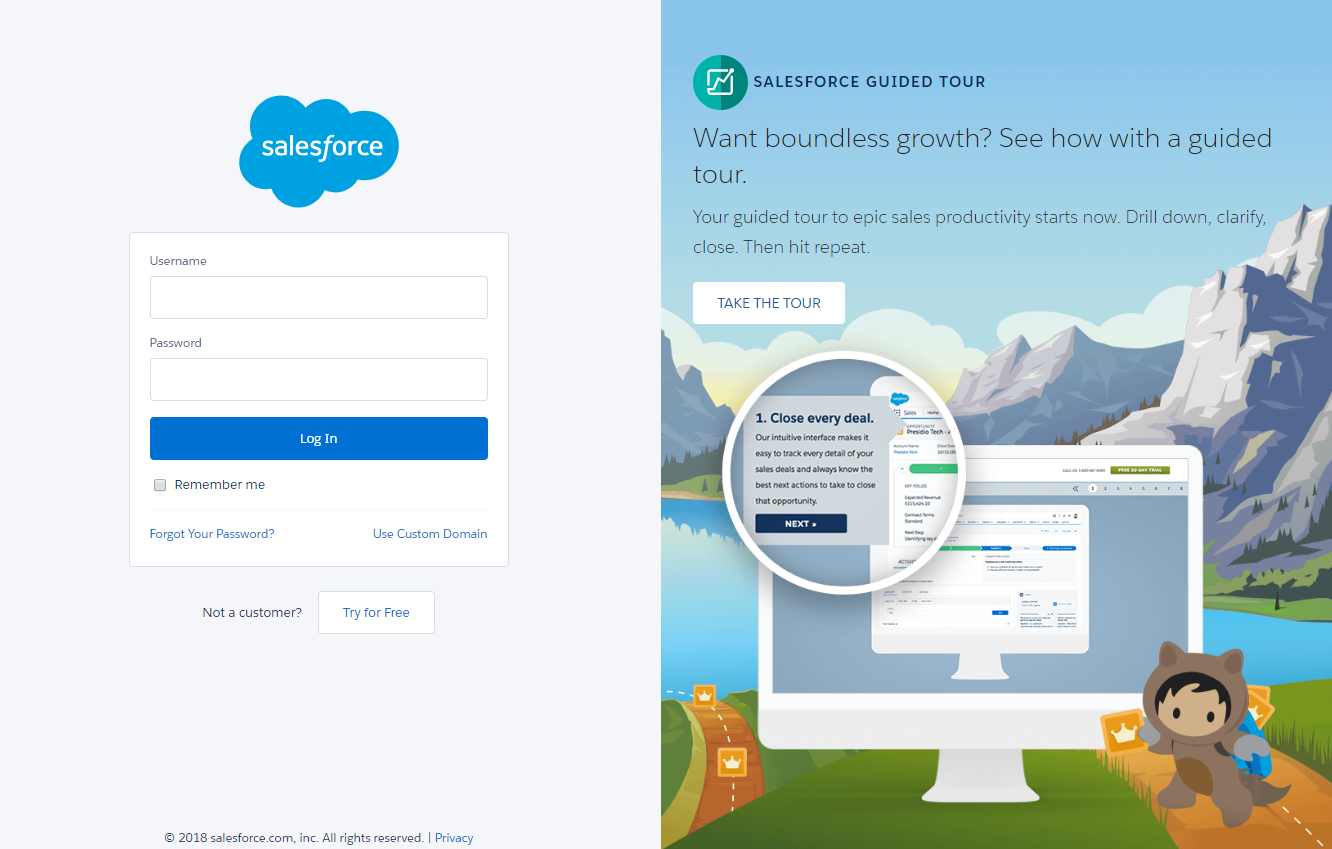 Salesforce is a powerful customer relationship manager with a strong suite of support tools, including automatic escalation of tickets. Salesforce also has a marketing toolset aimed at creating personalized messages for customers, as well as many other capabilities that are extremely useful in managing and record keeping of customer interactions.
Trello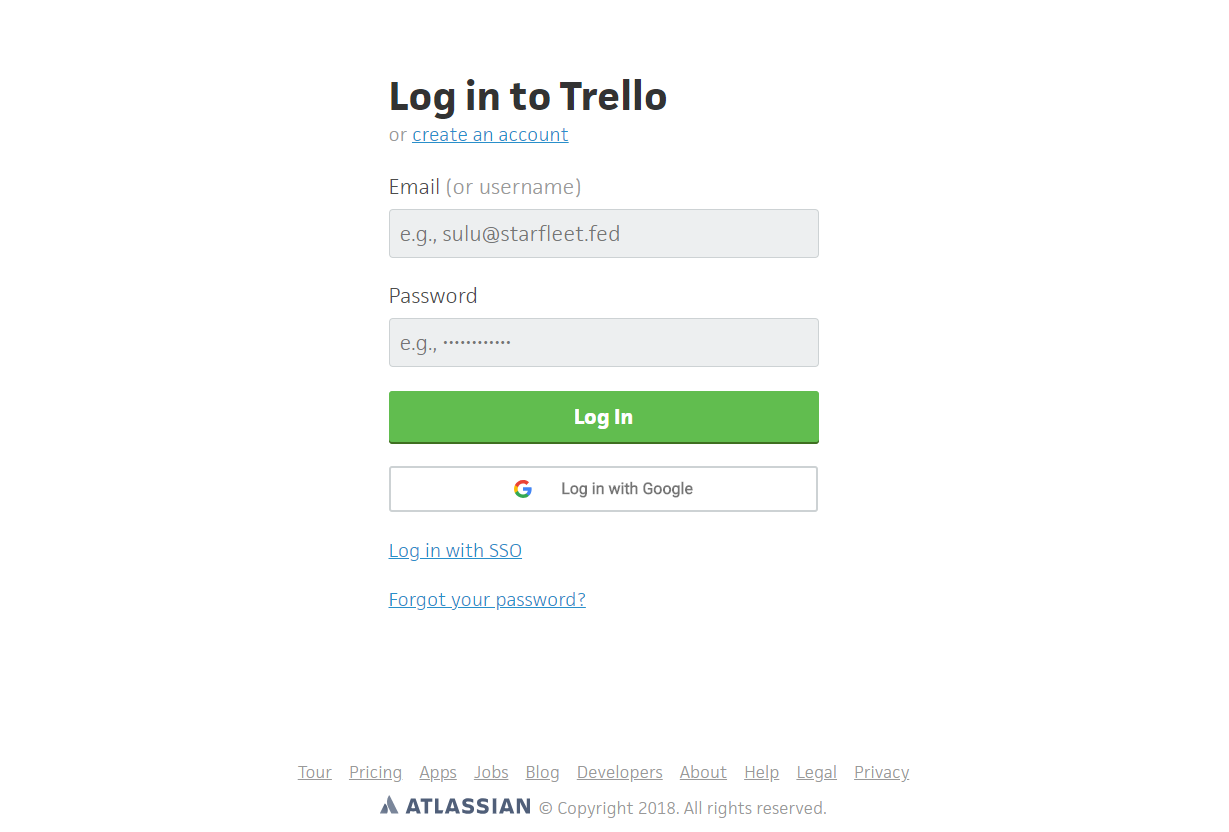 Trello is a web-based app for project management and collaboration. It uses a simple interface to help business owners and team members streamline their workflow on all types of projects. Trello's API allows it to be integrated with different types of business software, whether directly or through services like Zapier. Trello has been used for nearly every type of project imaginable, from enterprise business development to educational or personal use.
Dropbox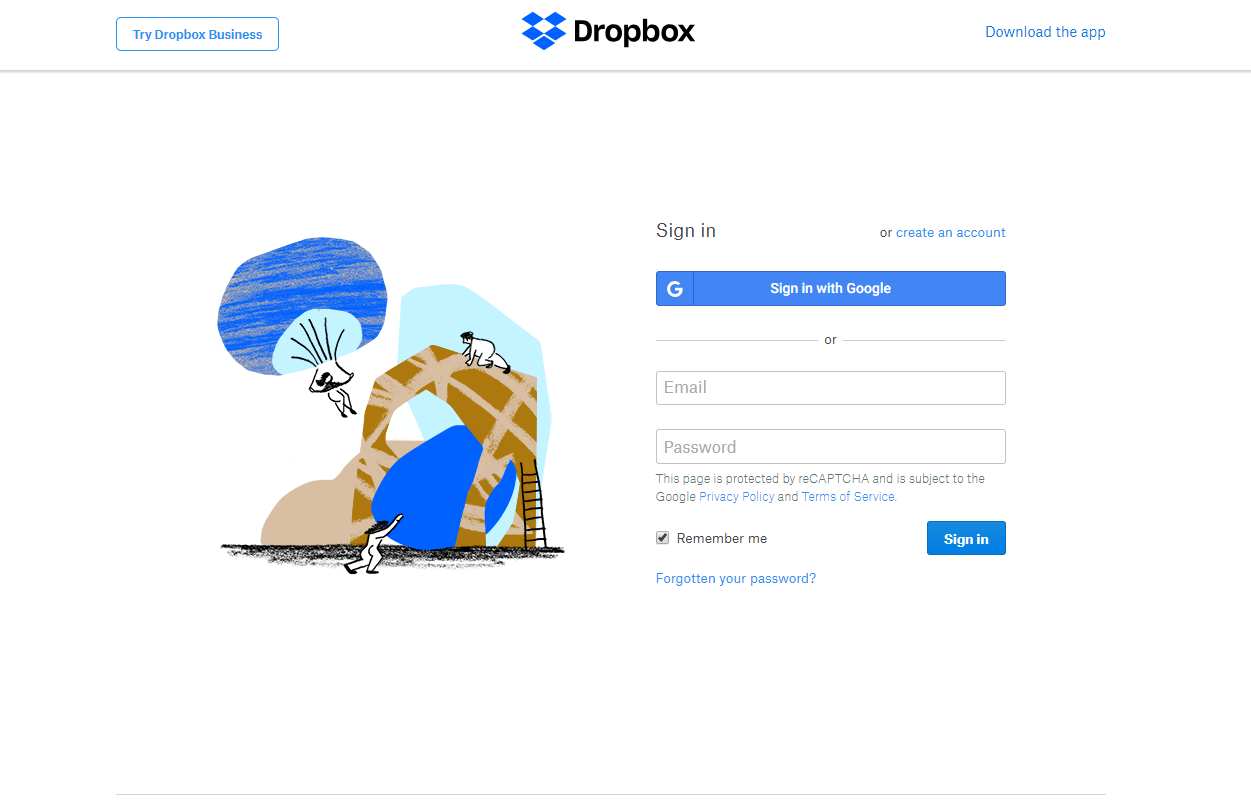 Dropbox is a cloud storage service that automatically backs up your selected files and synchronizes them to other devices using the same Dropbox account. Files can also be viewed online and shared with others for collaboration purposes. Dropbox is useful to anyone seeking a way to back up files into the cloud for access anywhere.
Social Media Login Pages
Social media platforms serve as online gathering places for people to interact, communicate, promote, sell, and more. Business owners can reach new and existing customers through social media, provide updates and news, and more.
Facebook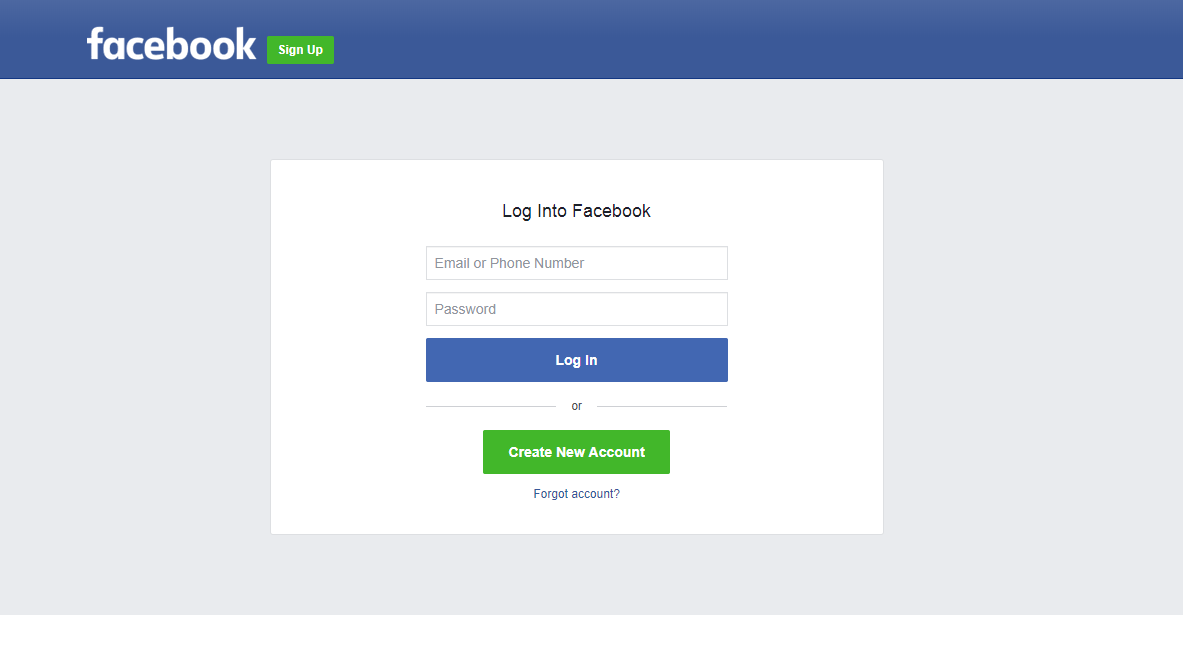 Facebook is used by millions of people worldwide, often multiple times daily. Individuals can create profiles for personal use, as well as Business Pages to provide their business with a social media presence. Businesses with a Facebook Page can also open a Facebook Shop, which displays products available for sale.
Twitter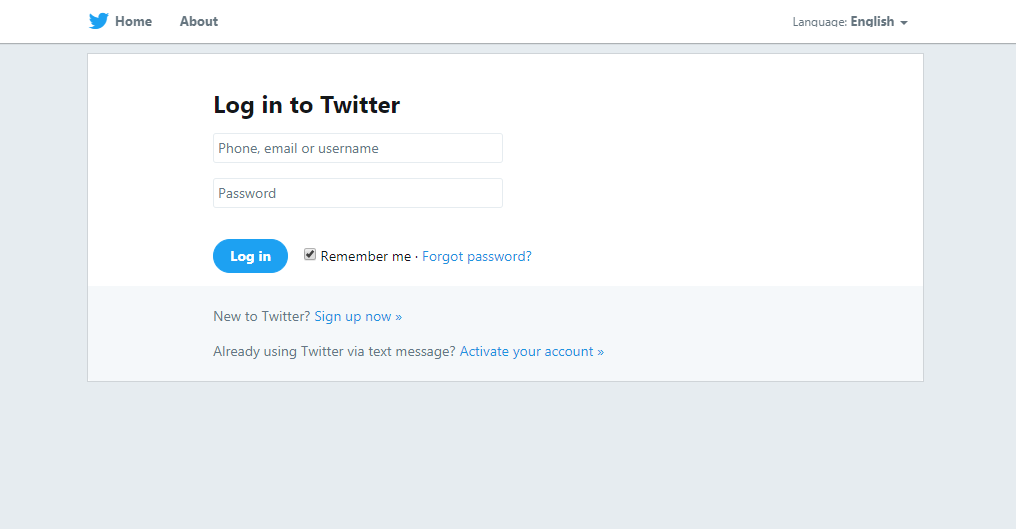 Twitter is a microblogging platform that allows users to "tweet" or broadcast short messages to their audience of followers. Twitter sees millions of daily users who often check it every few hours. Many businesses interact with their customers over Twitter and also release promotions and coupon codes.
The Best Way to Manage Your Usernames and Passwords
If you have trouble keeping all your login information straight in your head, there's a better way to deal with it than by writing it on sticky notes on your desk. Password managers are apps that store your login credentials for multiple sites, so you only need to remember a single master password. Most password managers also add an extra layer of security through two-factor authentication. For example, you may be asked to enter a code sent to your mobile number to prove your identity as the true account holder.
There are several password managers to choose from, and these are some of the best.
This is only a summary of these password managers and not a full feature comparison, so please take a closer look at their websites before you choose. Note that many password managers also save and protect other data for you, like your payment information for use as a digital wallet. It's up to you as to whether you use your password manager for these purposes or simply to handle all your login credentials.
Conclusion
Hopefully we've made the internet a bit easier to navigate by bringing together this list of login pages. You may have also learned about a useful new tool that can help you run your business more successfully. We also hope you'll choose a password manager to help keep everything secure and safe!
If you're still in the research phase of setting up your eCommerce business, we've put together an ebook that will guide you through creating your online store. Check it out below.