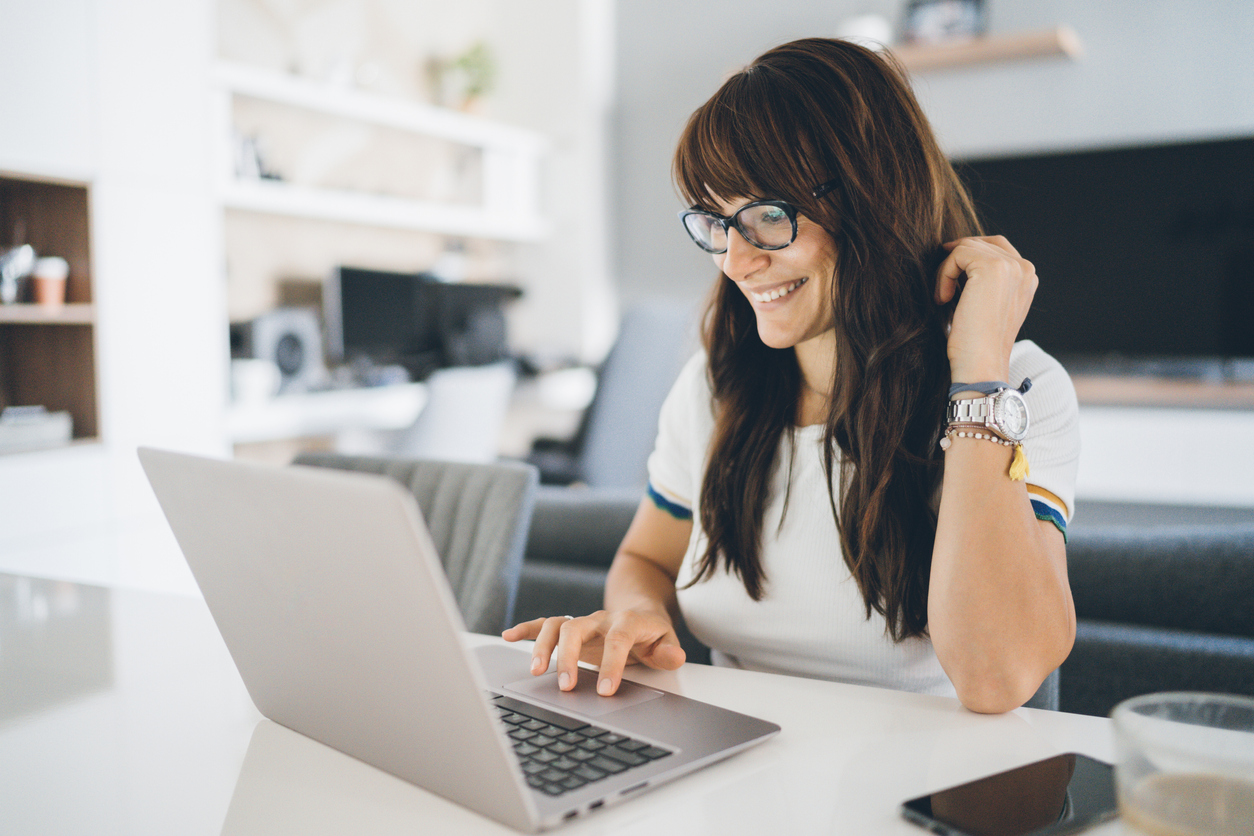 You can find anything you want online. At this point in time, no one should be surprised by the vastness of information that lives on the internet. But using that information, and simply just scrolling through, are two very different things. And in the world of business where everyone is looking to get ahead (and stay ahead), actually putting knowledge into action is what separates the best from the mediocre.
So, if you're looking to give your business an advantage in 2021, or finally start that business you've been thinking about, then heading online is actually a great place to start. From general business tips and funny entrepreneurial quips to legitimately invaluable advice and how-to guides, business blogs have everything you could ever want. In fact, a study done by QuickBooks suggests that almost half of all ready-to-start entrepreneurs rely solely on business blogs and websites for their information. (No business degrees required.)
Ready to start learning? Below are the 20 best business blogs for entrepreneurs and business owners in 2021.
The 20 Best Business Blogs in 2021
1. Mashable Business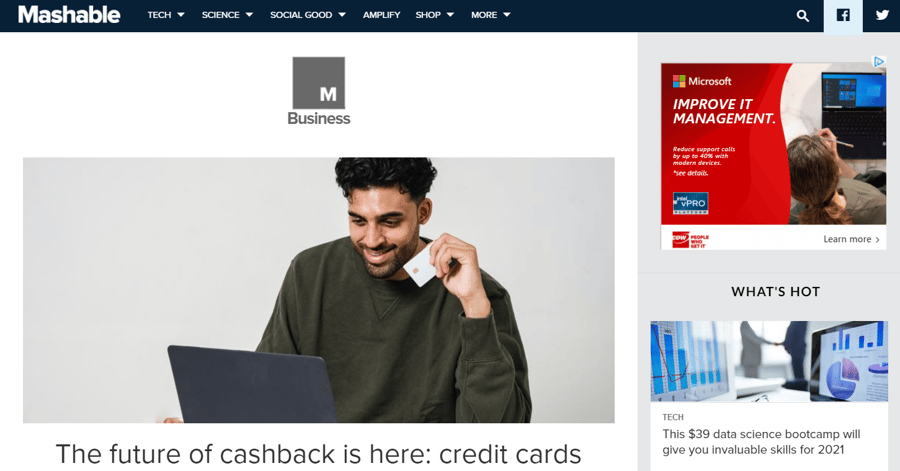 Filled with a healthy dose of everything an entrepreneur could want, Mashable Business gives you a great idea about current business trends, especially when it comes to the digital landscape. Of course, you can wander a bit too far from the business side of Mashable and end up scrolling for hours, so be sure to keep your composure and focus before diving in. Mashable Business covers topics like payment processing, chatbots, social media, trending statistics, and more.
2. Entrepreneur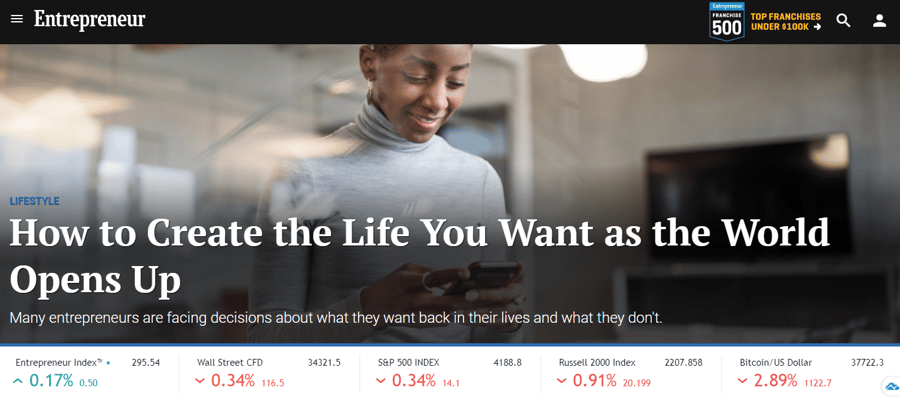 One of the most popular business blogs online, Entrepreneur is filled with some incredible articles for business owners, especially its interviews. You can also find fantastic book recommendations and news about the latest events and webinars so that you can stay ahead of the curve. Fully focused on business, you can even see current statistics for publically traded companies directly on their home page.
3. Small Business Administration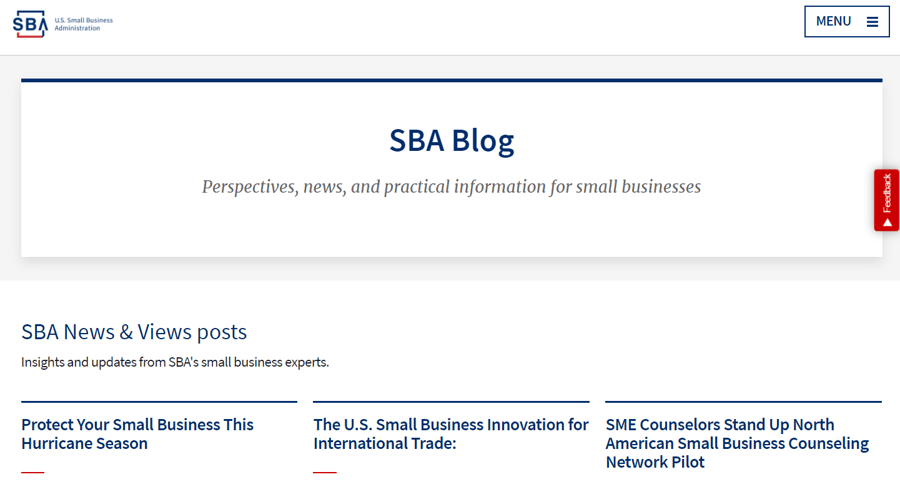 While far from the entertaining style of business blogs you can find in other corners of the internet, the SBA blog offers loads of practical information and advice for business owners, making it a great place to start if you're just launching. You can find business success stories, efficiency tips, ways to protect your business, and much more on their blog. Because the government-owned website does so much, you have to do a little hunting to find the blog, so make sure you bookmark the page once you get there.
4. Copyblogger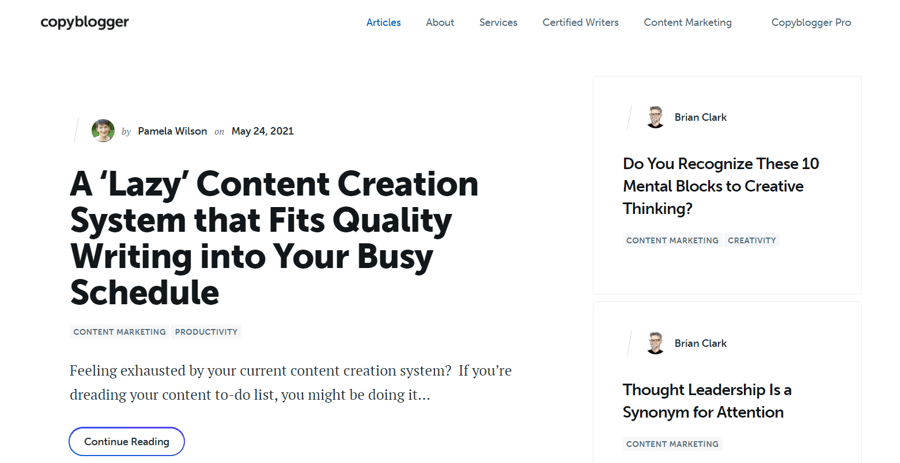 Writing copy for your business is essential when it comes to making sales. In fact, writing anything for your business is critical for your success. That's why the Copyblogger blog is such a great resource. Not only can you learn how to improve your writing, but it also gives you great ideas for creating content, which means you can actually create your own blog to drive traffic!
Trusted by savvy business owners since 2006, Copyblogger lets you set up a free account (which you should) so that you can receive blog articles on SEO and marketing directly in your email inbox.
5. Fast Company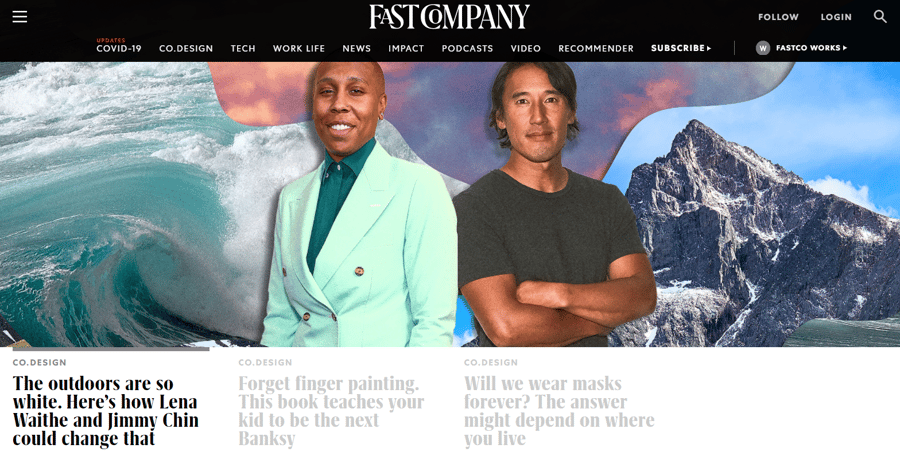 A beautiful blog with solid articles, Fast Company offers a great blend of creative topics and practical advice. With a name big enough to attract almost every business leader in the world, Fast Company can keep you excited about your business so that you continue to learn how to make it successful. This blog publishes everything from socially relevant news stories to business tips and tricks that any entrepreneur would find useful.
6. Business Insider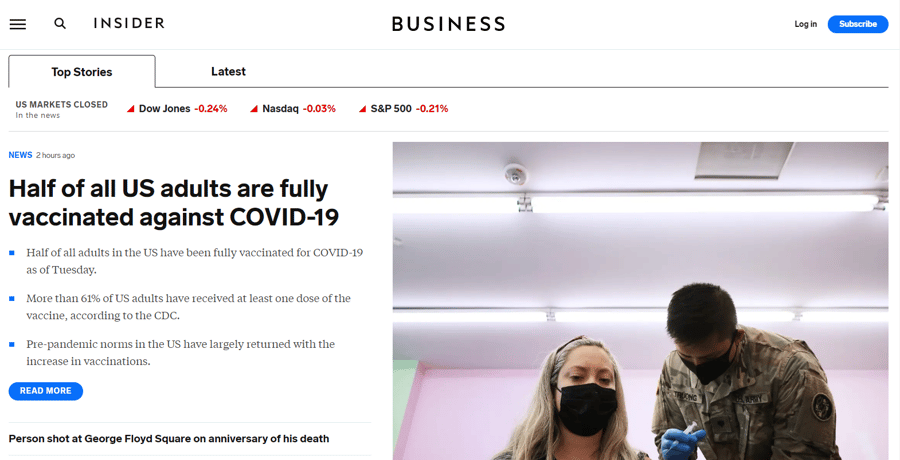 The Business Insider blog features great articles that are professionally written and well-researched, which means you can dive deeper into certain pertinent topics, including economics and the latest business trends. For those just getting started, the blog provides great inspiration via success stories. And, for those already in the game, Business Insider helps you to get even further ahead. Keep track of the latest stocks while staying in the know about national issues – all of which can affect your business.
7. SCORE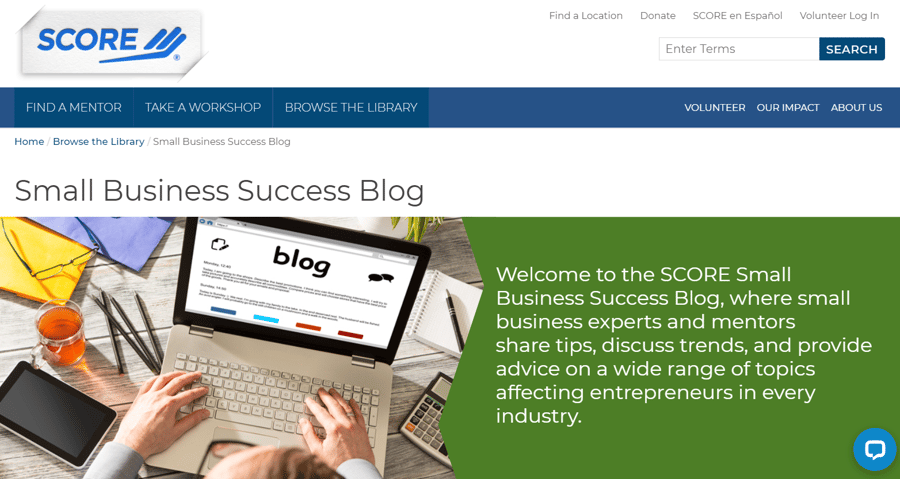 SCORE focuses on giving small businesses what they need to succeed. When it comes to their blog, they gather helpful tips, advice, and information on trends from small business experts and mentors. They cover a variety of topics, including marketing, public relations, startup assistance, and more.
In addition to their blog, which has a plethora of resources for start-up businesses, SCORE offers free consulting from helpful volunteers to entrepreneurs looking to better navigate the business landscape, especially when it comes to technical details, like the legal aspects of setting up a new business, licenses, taxes, etc. Backed by the Small Business Administration, SCORE is a reliable resource every business owner should have in their back pocket.
8. Pando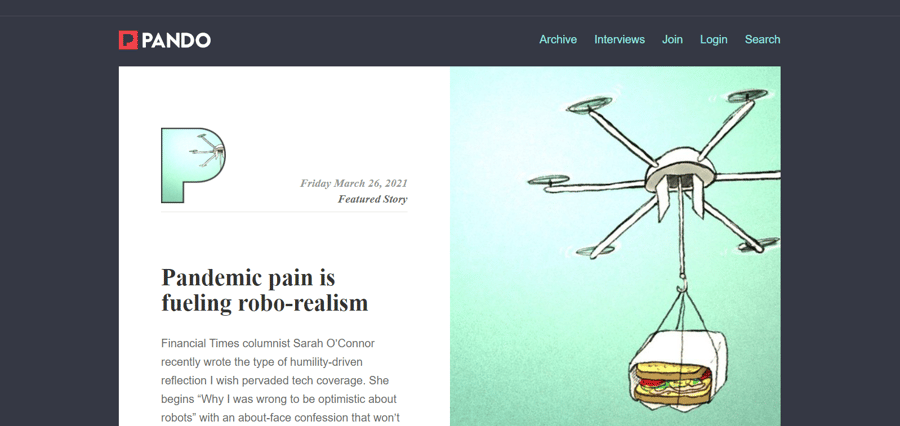 Started by Sarah Lacy, Pando is now kept up by several different bloggers, all whom are dedicated to giving you the latest news from Silicon Valley. Considered an unofficial offshoot of TechCrunch (many of Pando's writers hail from that side of the internet), Pando features fun-to-read exclusive interviews with some of the most interesting minds in the tech and business world. Covering topics like cryptocurrency and robots, Pando is definitely a unique blog to keep an eye on.
9. I Will Teach You To Be Rich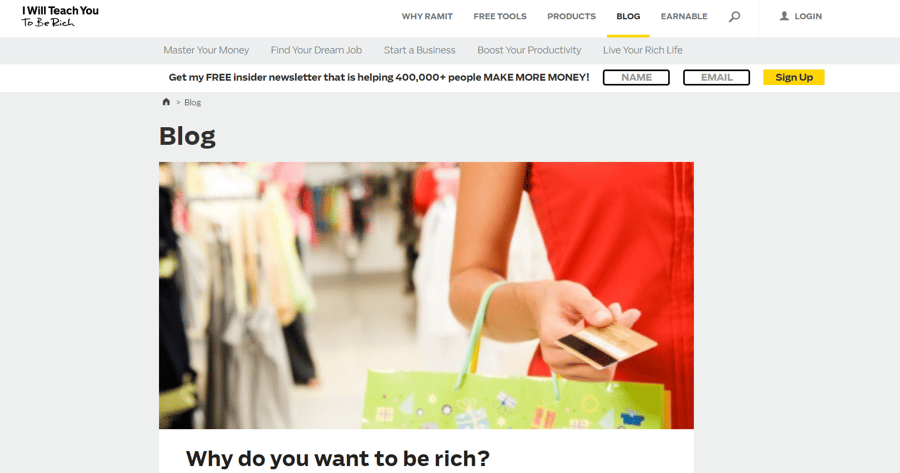 Authored by the New York Times bestseller Ramit Sathi, I Will Teach You To Be Rich is a fun blog with practical information for businesses and their owners. You can find insightful articles on starting a business, boosting productivity, and maximizing profits on this blog. With a background in psychology and human behavior, Sathi sees business through a unique lens, giving you fascinating information that you can truly implement in your own business, as well as in your personal life.
10. Forbes: Entrepreneurs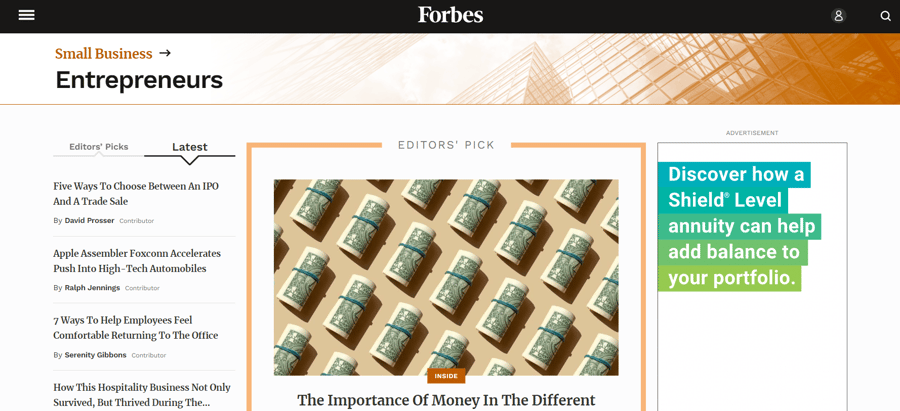 Everyone has heard of Forbes – it should be considered necessary reading for every entrepreneur, young and old. But fewer know about its Entrepreneurs section, which is dedicated to providing small businesses with reliable information, including the latest news, trends, and exclusive interviews. Whether you're a brand-new startup or an existing business in need of fresh eyes, Forbes: Entrepreneurs is a must-read blog.
11. Harvard Business Review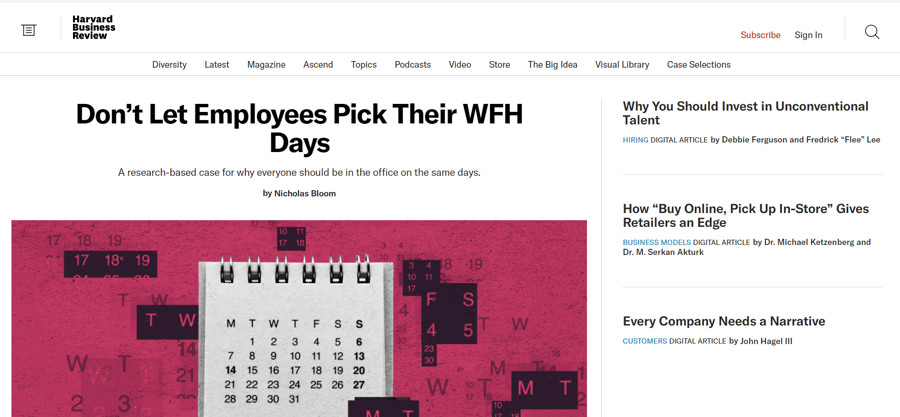 Created by several different authors from a variety of backgrounds and industries, the Harvard Business Review provides content that ranges from practical business advice to mindset hacks that can help you get ahead while enjoying life. Read the latest on everything business, from customers to companies, from experienced authors. With each article well-written by a source you can trust, the Harvard Business Review is a blog that should be explored weekly.
12. The Moz Blog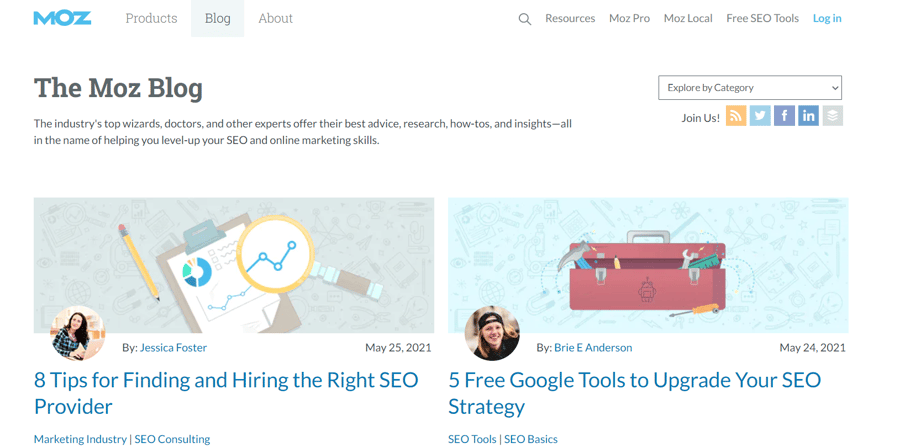 If your business has an online presence at all, then you should be working on your SEO (or search engine optimization). If you're working on SEO, then you should be reading The Moz Blog. As a popular SEO software of choice for many online businesses, Moz is a trusted source for all things related to search engines. As a result, you can find advice, original data, instructions, and more from industry experts on their blog.
13. HubSpot Blog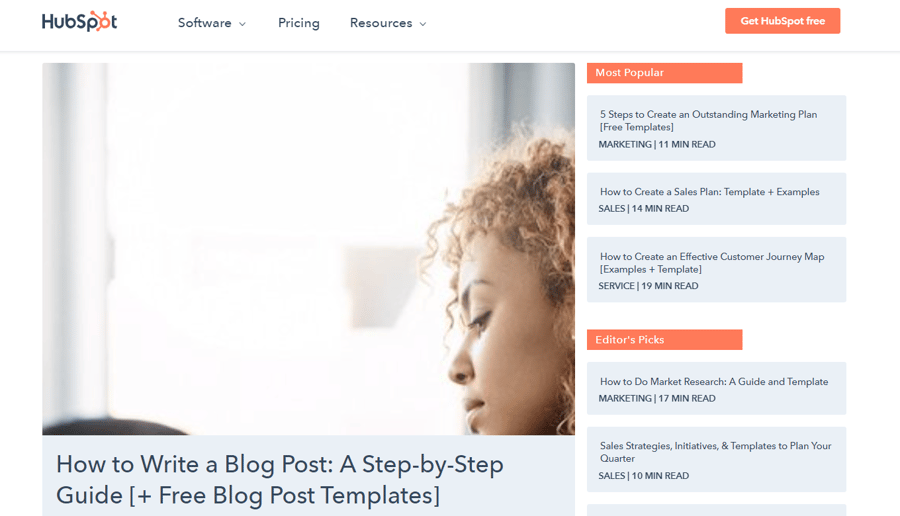 For eCommerce websites looking for an all-in-one solution for marketing, sales, and customer service, HubSpot is one of the top choices. But, they don't just specialize in powerful software – they also provide useful information in the form of a blog. The HubSpot Blog covers everything digital, from content marketing and SEO to remote work and sales representatives. They also publish an annual "State of Marketing" report, which sources data from thousands of marketers around the world.
14. Neil Patel Blog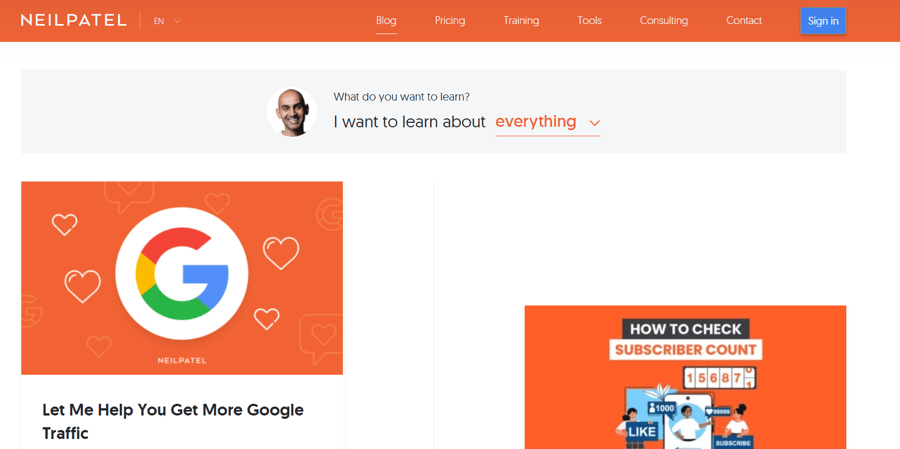 One of the most well-known thought leaders in the content and business world, Neil Patel's blog has a wealth of information, especially when you're looking for more knowledge in his areas of expertise: conversions, marketing, SEO, and scaling. Whether you're just familiarizing yourself with business online or have been in the game for decades, Neil Patel is someone you can count on to keep you ahead of the curve and on track for long-term success. Another thing to love about Patel? He has a gift for making complex topics simple, which means you feel more like you're having a casual (yet informative) conversation with a friend, rather than sitting in the back of a lecture hall.
15. TechCrunch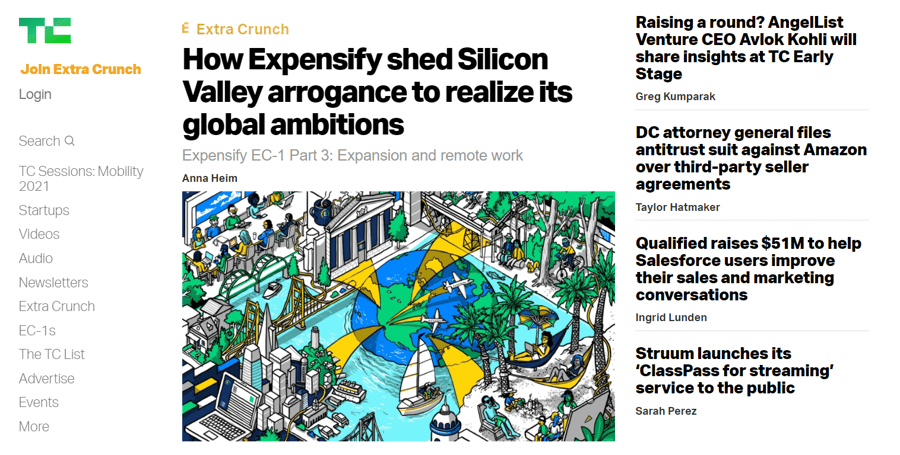 A great blog for keeping up with the latest startups and trending technology, TechCrunch has been around since 2005, giving it plenty of time to develop a reputation for being one of the leaders in online business. As such, the writers, as well as the people they interview, are top-notch. Publishing a wide range of media, from articles and newsletters to videos and audio recordings, you'll find value as soon as you land on their blog.
16. Small Business Trends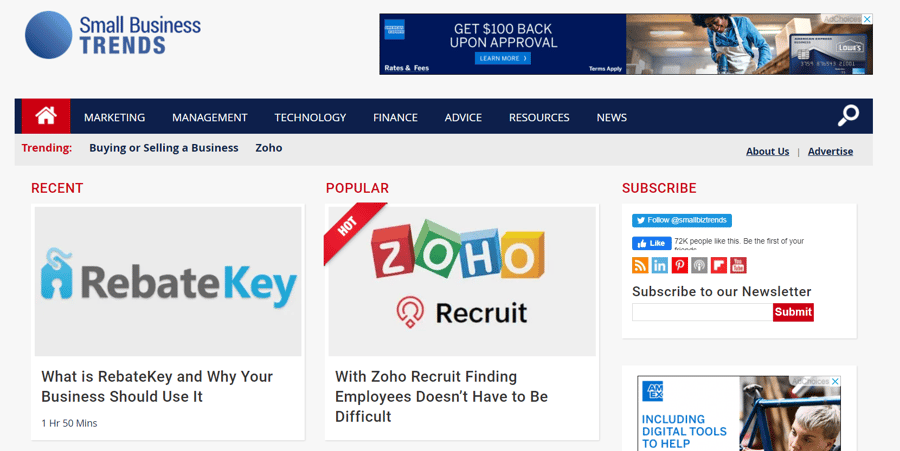 As the name suggests, the Small Business Trends blog has a range of topics that are of interest to small business owners, including management and marketing. The blog is a great place to stay up-to-date with current events, too. Visit daily for new content, like exclusive interviews and startup spotlights, from this award-winning blog tailored to the needs of entrepreneurs.
17. Tradecraft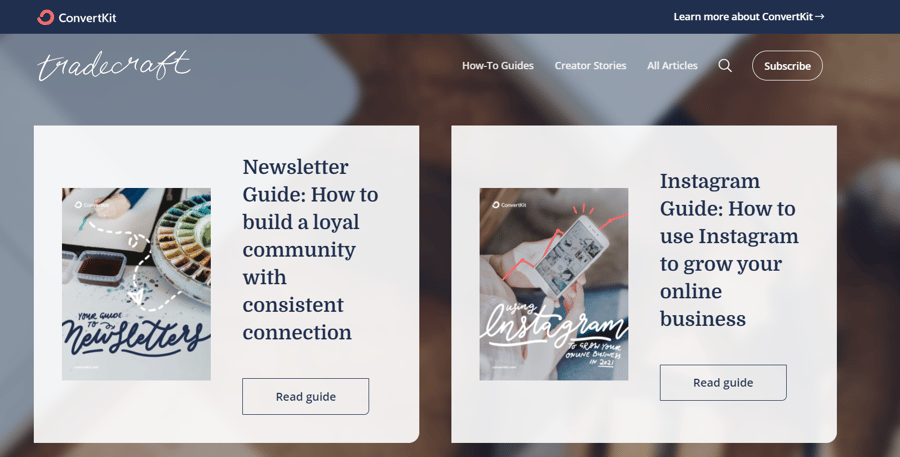 ConvertKit is used by many businesses in order to build emails, create automated email sequences, and explore the data of open rates and conversions. Its business blog, called Tradecraft, is another helpful tool for business owners – especially those interested in having a completely online business, or at least a reliable source of online income. Tradecraft offers monthly themed issues covering topics that include Instagram, landing pages, affiliate marketing, and self-publishing to name a few.
18. Duct Tape Marketing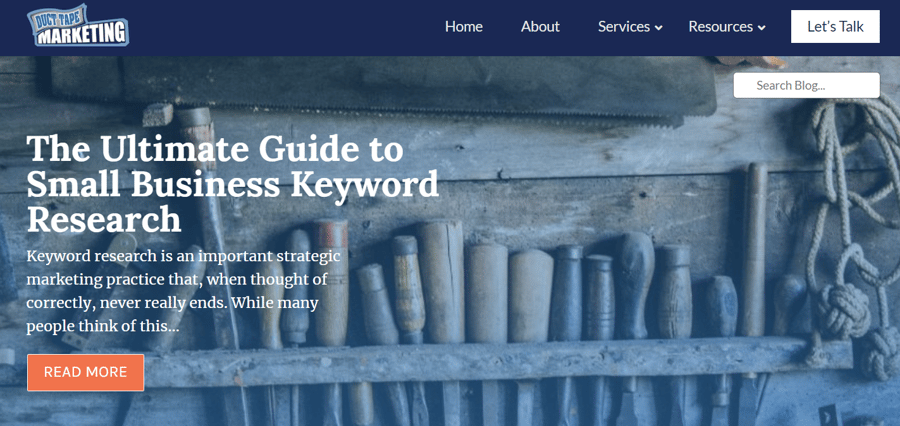 As a marketing agency, Duct Tape Marketing helps small businesses market themselves, train their employees, and find success online. The Duct Tape Marketing blog, on the other hand, provides free insight into marketing your business on your own. While their blog has lots of great articles for business owners and online marketers, one of the best reasons to stop by Duct Tape Marketing is to explore its library of eBooks, which are all free to download.
19. Sales Hacker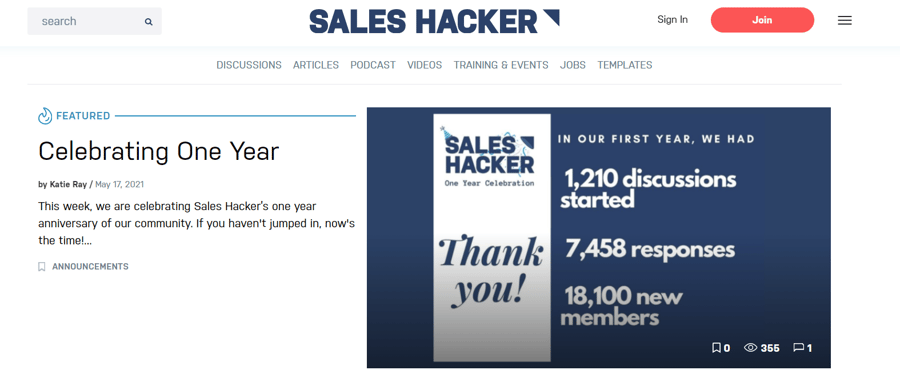 Every business owner wants to improve their sales, no matter how good their sales already are. Sales Hacker is a blog designed to do just that, offering articles that explore all aspects of sales, specifically B2B sales made online. If your business is B2B, then you'll find useful information in the shape of podcasts, articles, events, and more on Sales Hacker.
20. Marie Forleo Blog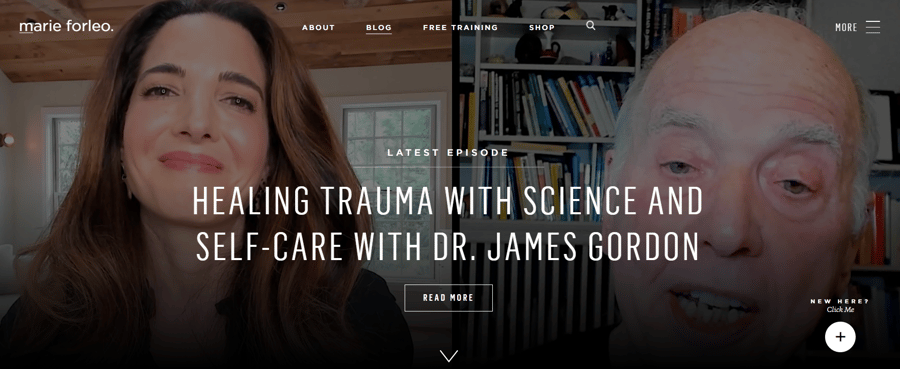 Another huge name in the business world, Marie Forleo is well-known for her business-minded interviews on YouTube. Having created her own digital empire and media brand, Marie Forleo's blog is fun and insightful. She interviews a variety of experts, from doctors to influencers, to provide unique and inspiring information to her readers. It's the perfect place to find motivation, get started, and reach your full potential.
Conclusion
While we've compiled a great list of business blogs worth your time, we've barely scratched the surface. The Shift4Shop blog that you're currently on, for example, is what we would consider a great resource for eCommerce professionals at any stage of business life. There are countless resources available to you as an entrepreneur on the Internet – much of which is entirely free and easy to access. All you need to do is find and apply them to your own business. You may even become learn enough to start your own blog!