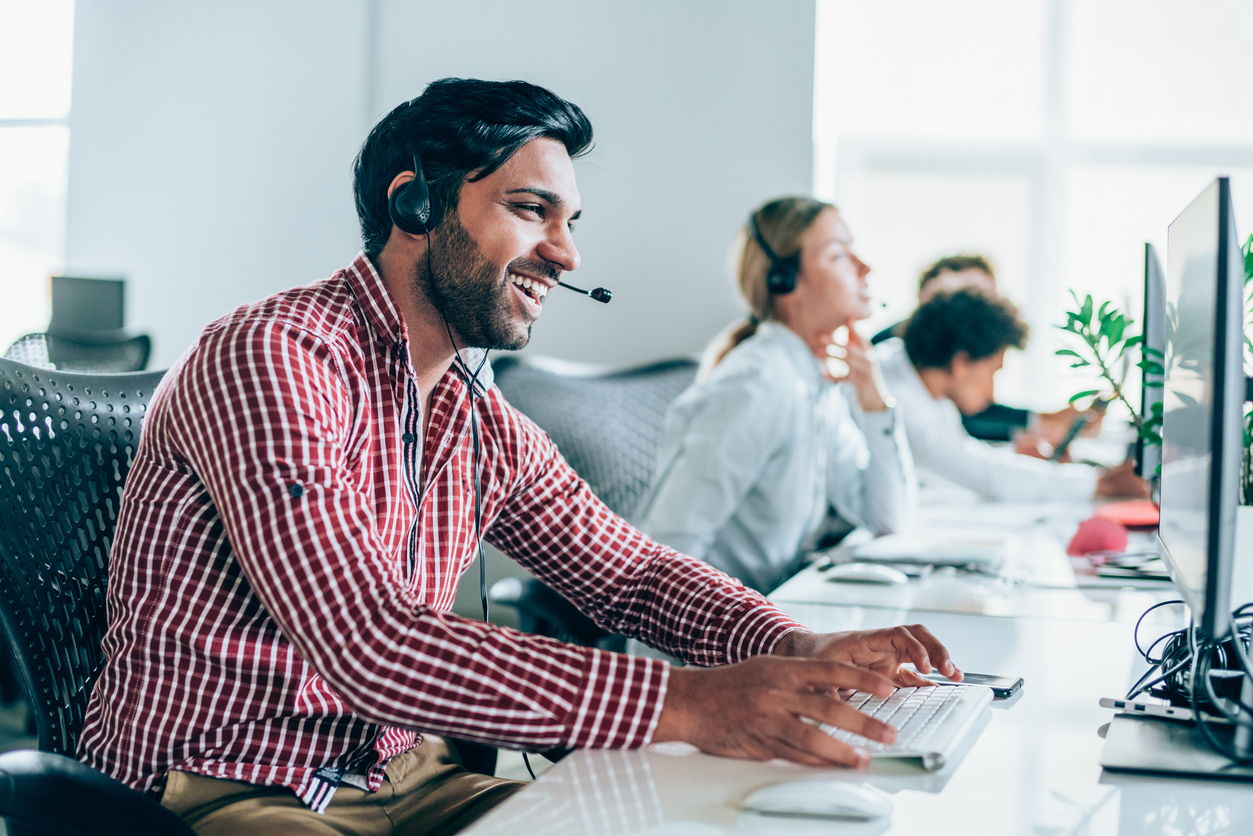 Communication is key to maintaining a relationship. This advice often appears in the context of romance, but it applies to any connection between two or more people. It even — some would say especially — applies to matters of business.
Employees and employers must collaborate to make anything happen. Customer support teams answer questions from shoppers and clients. Success is often impossible without reaching out to and accepting feedback from customers. In these and many other cases, multiple methods of communication can transmit messages and facilitate discussion.
Internet-based merchants must make use of several communications-related apps, even if they run a small business. CPaaS solutions may prove valuable in one's efforts to start an eCommerce business and succeed in their endeavors. In this article, we'll describe the CPaaS concept in detail and recommend a few of our favorite solutions.
What is PaaS?
To understand CPaaS, one much first understand the broader category to which it belongs: PaaS, or Platform as a Service. It's a specific model for accessing software. Here's a quick rundown:
The provider offers a cloud-based platform and associated apps.
Clients can access this software through the internet and run them on their own computers.
The provider takes care of server maintenance, network stability, overall security, and similar concerns.
In exchange, the client either pays a subscription or pays for each use of the available services.
Modern internet users may find this concept terribly mundane, but they should remember that PaaS was only developed in the mid-2000s. The model enabled unprecedented accessibility for less tech-savvy users. They no longer needed coding knowledge or a paid team of on-site administrators with that knowledge. Nor did they need to install complicated infrastructure or create the software themselves.
That work was left to the professionals, who took care of more advanced functions at headquarters. On that note, developers benefited from the PaaS system as well. They could release more sophisticated programs that were easier for more people to use, and they could profit from their larger userbase's subscription fees. PaaS revolutionized how anyone and everyone used computers.
What is CPaaS?
CPaaS — short for Communications Platform as a Service — is one type of PaaS. As the name implies, it's specifically geared towards communications-related software and apps. The provider creates their own comms infrastructure and makes the APIs available on the cloud. Clients then purchase access and set up their own communications center with the provider's software.
The communications capabilities of a CPaaS service may include SMS, voice, and video. Business owners can connect them to various apps and create their own workflows. More tech-savvy people can customize the software to meet their specific needs. Employees can use them to communicate with each other, and customers can use them to communicate with the business's representatives.
How Can CPaaS Solutions Benefit Small Businesses?
Before the development of the CPaaS model, businesses had to hire developers and create their own in-house communications center. Some still do, but only if they can afford the great expenses that come with maintaining hardware and staff. Small businesses usually can't, which may hurt their plans to expand their reach, enhance their operations, and provide easily accessible customer service.
That concern vanishes when CPaaS enters the picture. Subscribing to a cloud-based suite is almost always much more affordable than other options to achieve similar ends. Businesses only need to pay the fees and integrate the APIs into their system. In exchange, they boost their communications capabilities, giving them more and better ways to connect with each other and with customers around the world.
Another major benefit to CPaaS, especially compared to more traditional on-premises communications centers, is that it's easy to update. Businesses don't need to carve space in the budget for new hardware and take their comms offline as it gets installed. They just need to hop onto the cloud and download new versions, patches, or programs. It's simpler and cheaper, which any small business can appreciate.
6 Best CPaaS Solutions
CPaaS solutions share many similarities by definition. Even so, you can check out the details on any two on the market and find vastly different approaches to the same concept. We'll explore several of the small business-friendly options that we admire most in the list below.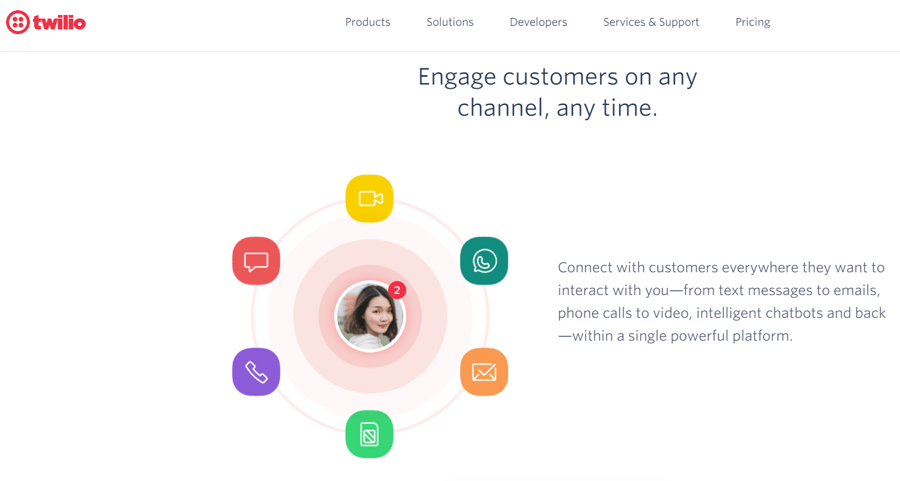 Twilio is often one of the first names to come up in conversations about CPaaS, and for good reason. This company, founded in 2008, offers some of the best APIs of their kind. The Programmable Voice, Video, and Messaging APIs are hard to beat, and you can get them separately. These exceptional products are only a few of the many available from Twilio.
Among the best (and most pertinent for our purposes) is Twilio Flex, which provides users with a full-blown contact center. The platform is easy to use, easy to personalize, and easy to deploy within a matter of days. The company supports everything with a remarkable 99.95% uptime, making them a cloud-based host you can trust.
Pricing: All of Twilio's offerings are pay-as-you-go. Some are free up to a certain amount of hours, uses, or users. Twilio Flex waives up to 5000 hours, then charges $1 for each active user hour or a flat $150/mo for each named user.

Avaya is mostly known for its Unified Communications-as-a-Service (UCaaS) solution and ranks among the top five worldwide for its Contact Center-as-a-Service (CCaaS) product. The company's dedicated CPaaS matches those high standards. With this bundle, businesses get state-of-the-art voice, message, video, and social media capabilities.
The main appeal of Avaya OneCloud CPaaS is the ability to create and optimize communications-related workflows. It's easy to set up and customize systems through which customers and employees can easily reach the information or fulfill the tasks they need. All this automation can make everything much more efficient, and you only need to pay for what you and your customers use.
Pricing: Avaya OneCloud CPaaS users rent phone numbers for all calls and messages, and each number goes for $1/mo. Inbound communications cost $0.01/min, and outbound communications cost $0.015/mo. Please note: Avaya asks you to put a minimum $10 into a balance, which must be replenished when it runs low. A free "test" version is available.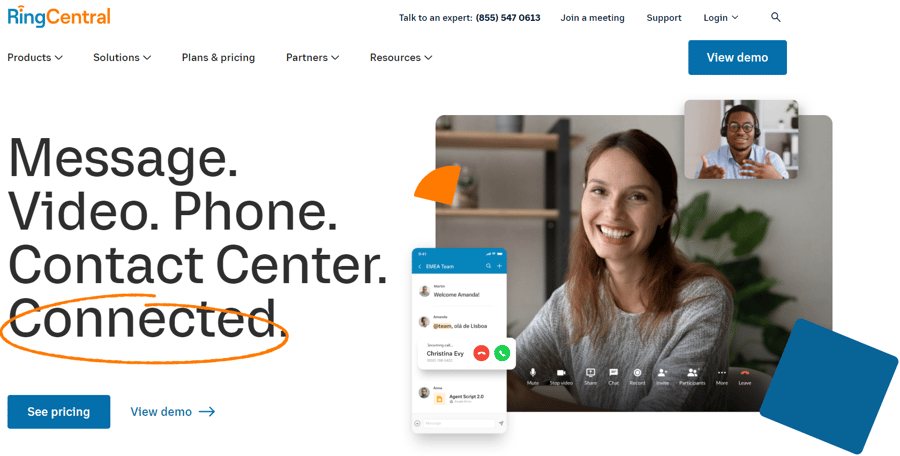 RingCentral may not be as famous as Twilio, but it strives to be the most valuable platform of its kind. Their solutions boast a user-friendly interface, an astounding 99.999% uptime, and the ability to switch devices without interrupting calls. Small businesses can benefit from fair pricing, 24/7 support, top-notch security, and fantastic ease of use.
As for the company's products, they bundle their Message, Video, and Phone in one solution called RingCentral MVP. It's excellent for businesses whose employees are spread out, yet need regular contact. Also available is RingCentral Call Center, which integrates a wide selection of popular apps so support can reach customers on their preferred platform.
Pricing: The four plans for RingCentral MVP are Essentials ($29.99/user/mo), Standard ($37.99/user/mo), Premium ($44.99/user/mo), and Ultimate ($59.99/user/mo). The costs drop with more users, and choosing an annual plan over a monthly one comes with sizable discounts. You'll need to contact their sales team for quotes on the three Contact Center tiers — Basic, Advanced, and Ultimate.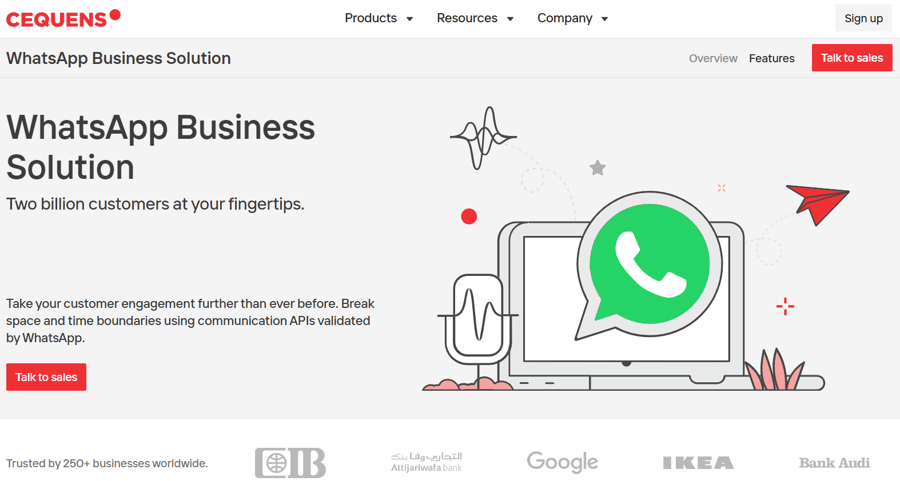 WhatsApp is already famous as a free platform with text, call, and video capabilities. WhatsApp Business builds on that foundation and makes familiar features new again. You can set up a profile with information about services and contact methods. On that note, the various chat functions are retooled to facilitate convenient communication between customer and business. Customers can even be sorted into groups for your convenience.
WhatsApp Business is good on its own, but it's even better when provided by CEQUENS. This Egypt-based CPaaS provider has a global reach and its own robust Multichannel Chat solution, which combines multiple comms-related apps and APIs. WhatsApp Business is not just one of them, but even better for its synergy with them.
Pricing: Like the standard WhatsApp version, WhatsApp Business is available for free. Pricing information about Multichannel Chat requires speaking with the sales team.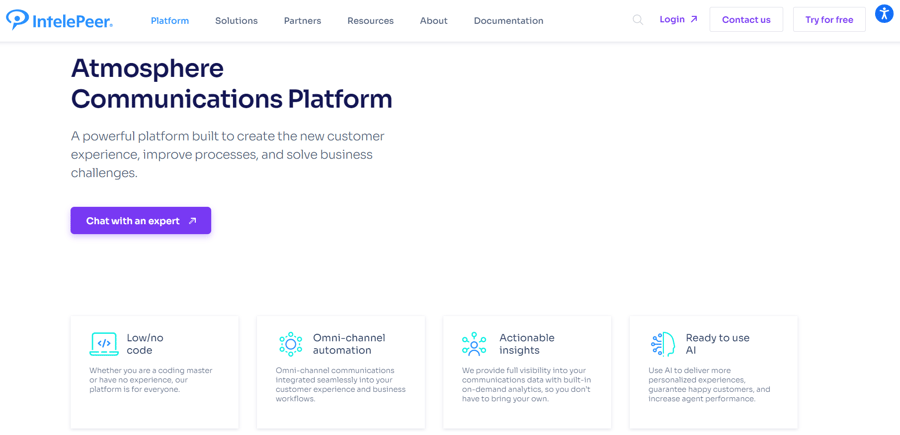 Over the course of nearly 20 years, IntelePeer has strived to be peerless. They even reinvented their own CPaas system, with the title "CPaas 2.0" signifying their lofty intentions. The platform has since evolved and been rebranded as Atmosphere, which promises sophisticated cloud-based technology that supports businesses of all sizes. The idea is that anyone can use it, and there are plenty of good reasons to do so.
To that end, coding is not required at all for successfully integrating it into one's operations, yet coding aficionados can build off its design. Users can create their own workflows with ease, and the bundled AI can guide customers on the right path nearly every time. Video isn't available, but it does have Voice, Messaging, a wide range of APIs, omnichannel connections, and in-depth analytics.
Pricing: Three pricing tiers are available: Starter, Professional, and Enterprise. What's not available seemingly anywhere are the actual rates. An unusually generous free trial provides access and credit for 30 days — plenty of time to inquire about pricing while trying out the software.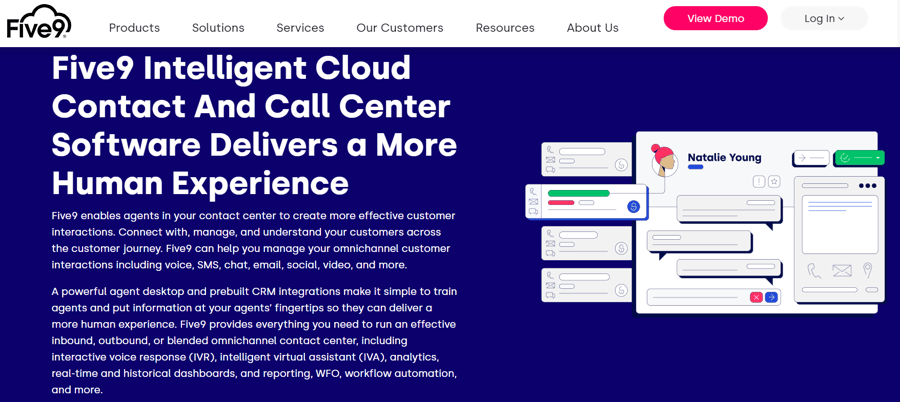 In the end, CPaaS solutions are supposed to augment your communications capabilities for greater efficiency and effectiveness. The platforms' providers are supposed to cover maintenance and backend work while enabling users to offer an excellent contact center for their own customers. Five9 handles these responsibilities with aplomb while giving their clients so much more.
Inbound, outbound, and blended omnichannel support are givens. More distinct features include call recording, employee scripting, post-call surveys, gamification, and even artificial intelligence systems. Detailed analytics software allows users to find room for improvement, and the robust and user-friendly platform's design lets them make changes with little difficulty. Five9 seems simple enough, but its contact center software gives people a great deal of power and flexibility.
Pricing: This is yet another instance of having to call the sales team for a quote, though the charges vary "based on the number of seats." Four tiers are available for either monthly or annual payments: Core, Premium, Optimum, and Ultimate. Only from Premium onward do users get omnichannel support, but all plans provide you with top-notch call center tech.
Conclusion
We can't stress enough that convenient and efficient communication is vital to any growing business. Providing support and listening to feedback boosts customer loyalty, the true foundation of business growth. If those customers encounter trouble when looking for support or information, they become much harder to win over.
After your company reaches a certain scale, a handful of employees with phones at their desks may not be enough. CPaaS solutions take much of the work and cost out of your hands, and the six described here are just a few strong examples. Even then, all their excellent features and capabilities can only be used optimally if you truly care about communicating with colleagues and customers.