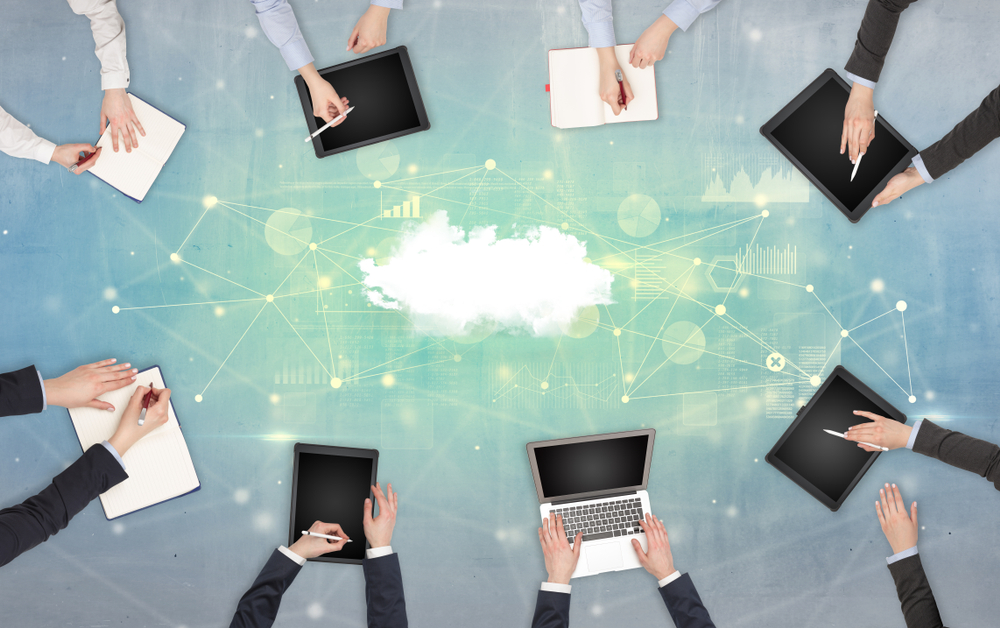 Whether you manage an online team or are part of one, there's always room for improvement in terms of keeping everyone organized and on task. And with more and more businesses choosing to operate virtually, making your online team more effective isn't just a nice idea — it's critical in keeping your business moving in the right direction. Thankfully, there are plenty of project management tools that online teams can leverage in order to accomplish a variety of things, from streamlining projects and brainstorming ideas, to meeting online.
Below are 13 of the best, most recommended project management tools for online teams wanting to improve the way they get things done.
Best Online Project Management Tools
1. monday.com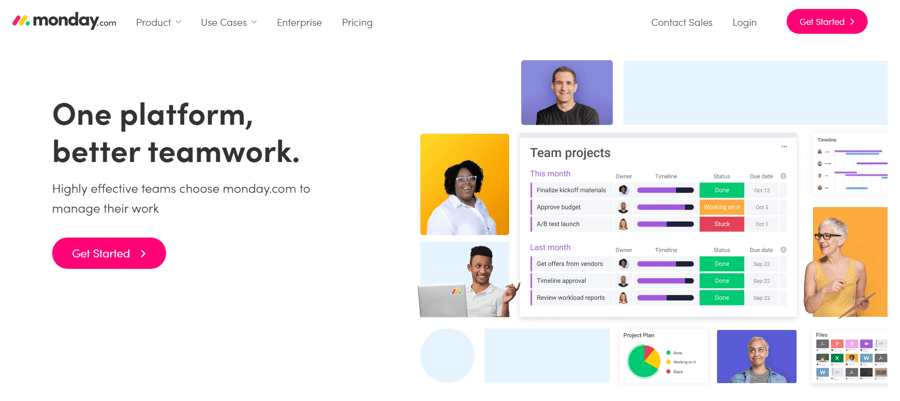 Known for its ability to improve overall workflow for online teams, monday.com is quickly becoming one of the most popular online project management tools. Simple and straightforward, getting "familiar" with the tool is easier than other management tools that seemed to require hours of learning to be able to keep up and keep the workflow going.
Not only is monday.com visually appealing, but it also allows teams to better understand the steps to particular projects, knowing when they need to get involved and when they're waiting for someone else to finish their part. Like other online project management tools, monday.com allows for easy file sharing and communication between team members. It's also an ideal tool for teams looking to integrate things like tracking hours worked and managing customer and team member invoices. Because it allows for a lot of customization, without complicating the interface, monday.com is definitely a tool your online team should consider.
2. Wrike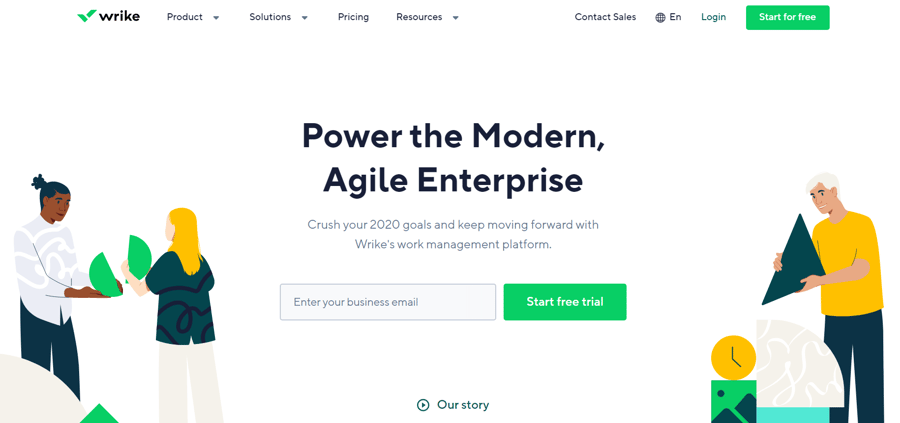 Having won several awards, Wrike is turning heads in the online world because of its ability to be highly customized for larger teams. Complete with dashboards and reporting tools, Wrike gives teams the ability to choose how they want to work, whether that's via Kanban boards or drag-and-drop flows.
The management tool also provides real-time communication, making virtual office hours that much more productive. Users can also share files, create subtasks, and delegate task lists within Wrike, which is one of the reasons it's considered one of the easiest to use management tools available today.
Wrike users also appreciate the active community Wrike has created, which provides quick troubleshooting, a helpful "Getting Started" guide for newbies, and a platform that acts as a valuable resource for users to share ideas, ask questions, and get answers.
3. Teamwork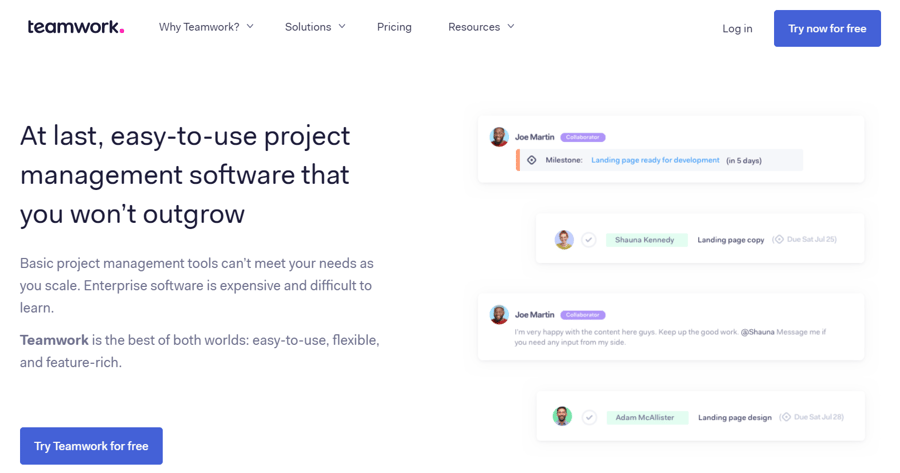 Designed to make virtual collaboration easier, Teamwork is popular because it actually gets results in terms of overall productivity. By keeping team members accountable for the work they do, Teamwork ensures everyone is staying on task, even if you're working at different locations or even at different hours.
Ideal for managing projects from beginning to end, Teamwork provides milestones for each project, which can be delegated to tasks, subtasks, and other actionable items. The management tool also garners high regards from users because it offers the ability to add important notes and tags to each and every tasks, which can include descriptions, due dates, and other attachments.
But one of the things team managers like most about Teamwork is that it provides a handy "Workload" feature, which gives an accurate picture of how much work the team is handling at any given time — and when the workload becomes too much to be feasible.
Intuitive and easy to customize, Teamwork has a lot to offer virtual teams. However, that does mean that in order to get the most out of the tool, there will need to be some time investment initially for everyone to get reasonably acquainted.
4. Smartsheet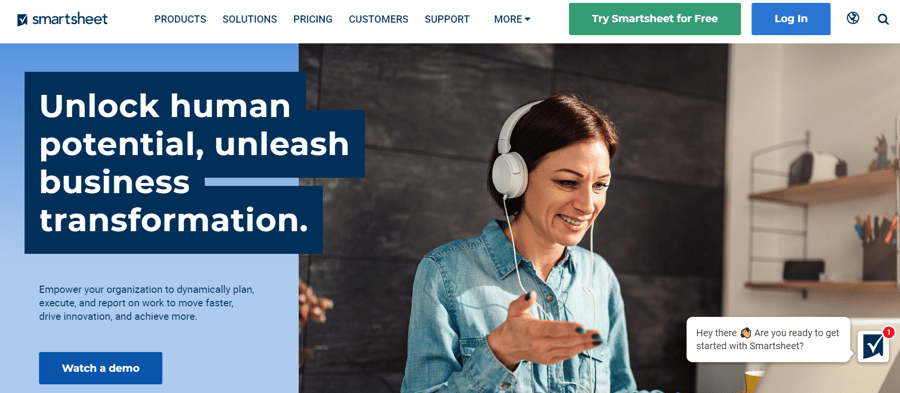 Created for collaboration, Smartsheet brings online teams together through its project dashboard in order to keep everyone on the same, albeit virtual, page. Great for creatives, Smartsheet provides teams with a lot of essentials that other management tools don't, including briefs and intake forms required for more custom work. And because you can attach images and files within the tool, it's easy to make communication between clients and team members streamlined — and without losing any pertinent information along the way.
With real-time notifications and automated alerts, Smartsheet keeps team members connected throughout each step of a project, ensuring that no deadlines are missed. So, if your hope is to keep your virtual team organized and to make communication as clear as possible, then Smartsheet is definitely a collaborative tool to consider.
5. Hive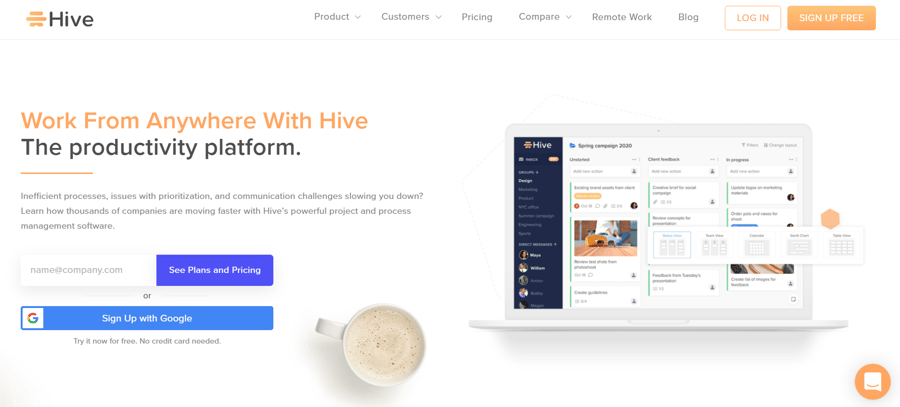 Known for its flexibility, Hive is behind some of the biggest companies in the world, including Starbucks and IBM. But, even if you're operating a small team, Hive is great for that too.
What makes Hive so popular with online and virtual teams is that it keeps everything important in one easy-to-find place. It also leverages things like AI-based analytics to make it even smarter, providing your team with everything they need to get the job done right — and on time.
Businesses that use Hive note that it helps dramatically with communication, which means that not only does work get done, but employees actually appreciate the functionality of the tool too. And, as a manager, it's impossible not to appreciate the beauty of an entire team's buy-in.
6. Clarizen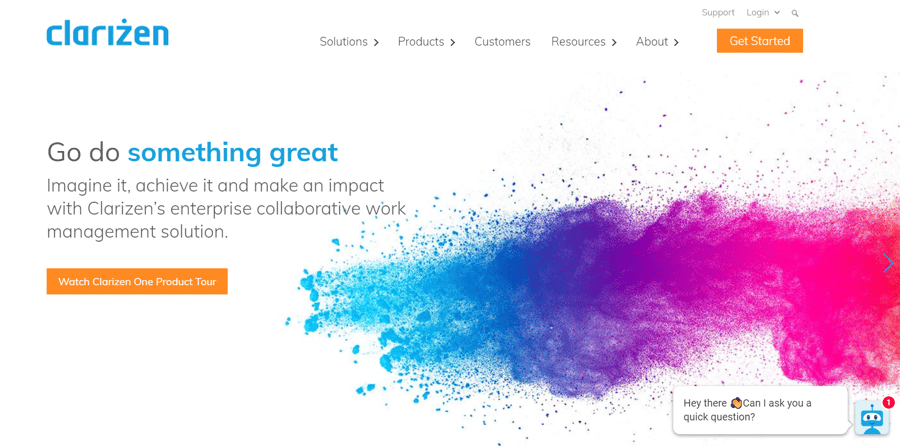 Taking your team virtual isn't as easy as it sounds, especially if you don't have the right tools in place. Clarizen gets that, which is why it's done everything it can to make the transition from in-person to online as simple and streamlined as possible.
One of the features that makes Clarizen so useful for online teams is that it gives you the ability for full-scale management from afar, which means you can access things like your portfolio (or build one digitally) with just one click. By helping to bring everyone on your team together, Clarizen uses its cloud-based system to provide a high-level, 360-degree view of each project you're working on. Teams using Clarizen report more efficiency and a better capacity to handle automated systems.
7. Productive.io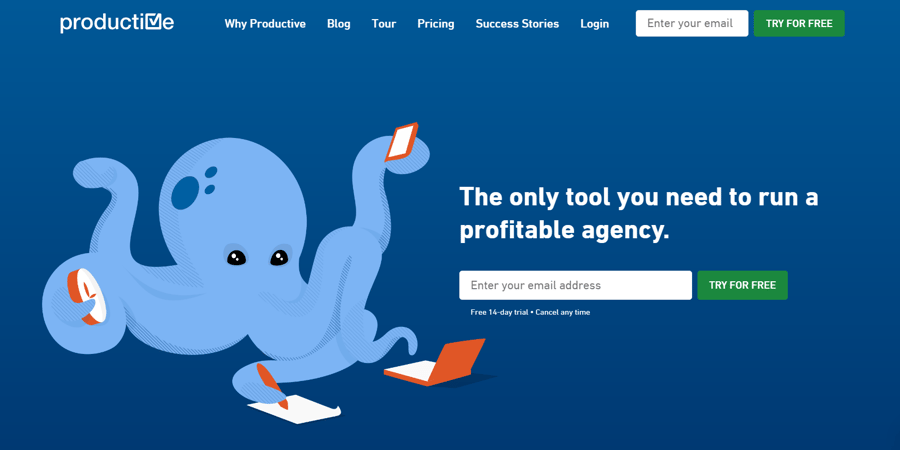 Productive gives your online team the ability to plan and manage projects, while also bringing in new sales and invoicing customers. A complete package for many businesses, Productive makes tracking everything that goes on in your company simple.
Not only does it put everything in one place for better organization, but it also tracks hours worked for your team, which is a lifesaver for many businesses now dealing with employees working virtually from home. Other features that make Productive a top tool to consider include its variety of tracking features, such as ones designed for project costs, budgets, and other key metrics.
8. Celoxis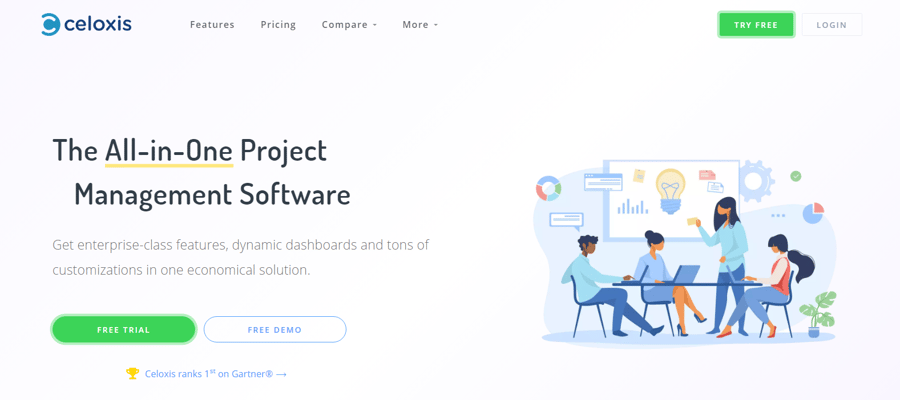 Ideal for businesses needing to improve customer service while simultaneously keeping virtual teams together, Celoxis is a web-based tool that offers several features for enhanced online collaboration. Because it can streamline huge tasks, Celoxis is actually the choice of several media giants, including HBO. Of course, you don't have to be the size of HBO to appreciate what it can do for your virtual team.
Fueled by the power of interactive Gantt Charts, Celoxis keeps projects moving forward smoothly thanks to its ability to understand where your team is located and when they are working. This type of advanced communication is also incredibly helpful for clients who need to know the progress of a particular project. Because Celoxis has so many imperative and essential features, many teams choose to eliminate other tools, deciding to use it as its sole task management software.
9. Nifty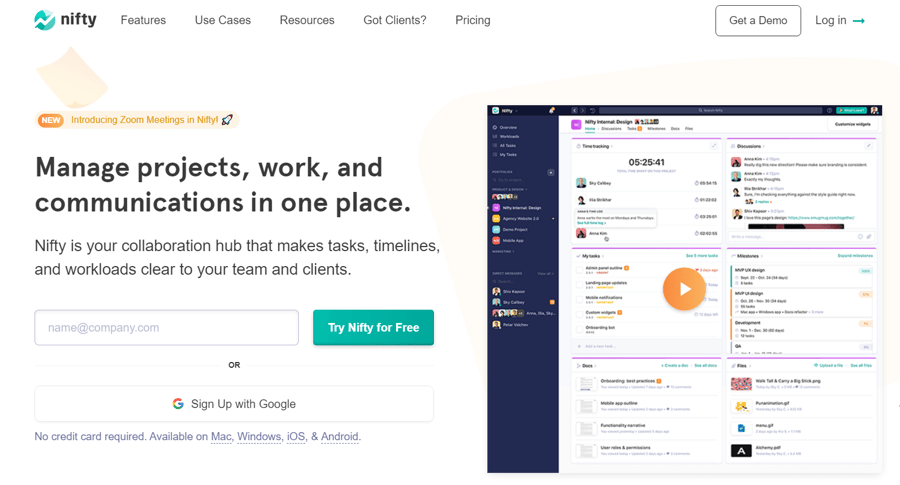 Known for its ability to boost online productivity, Nifty is a project management tool your virtual team definitely needs to look at more closely. Capable of tracking progress via milestones, Nifty keeps projects on track to meet deadlines while also giving teams the option to choose between different "views", including Kanban boards and lists.
Teams can also integrate Nifty's calendar with Google calendars in order to get reminders for deadlines and other important tasks. And, because you can easily share files across your team, it's easy to provide details needed for projects to be completed — without having to loop every team member in individually.
10. Paymo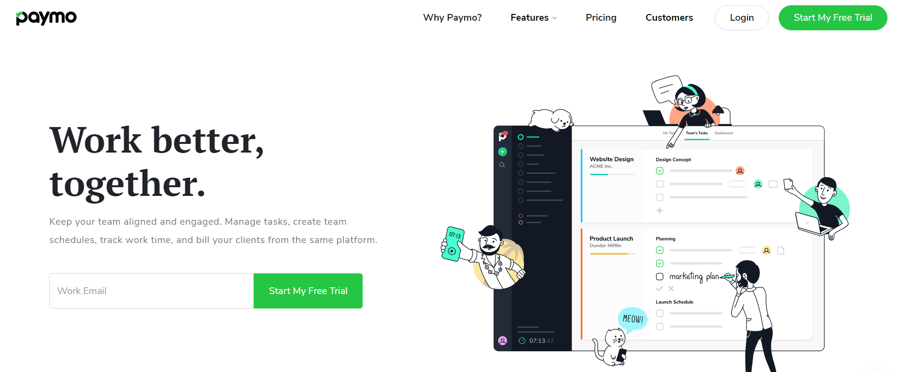 One of the best tools available for planning and completing projects, Paymo also gives teams the ability to quickly invoice clients for work, making it ideal for a wide range of agencies that do one-time work for customers. Because communication is simple with Paymo, team members can clarify what needs to be done and by when.
And, for those project managers who are less inclined to learn everything they need to know about a virtual software, Paymo provides each new account with an account manager who will on-board everyone on the team, answering questions and explaining how the platform works. (So there's one less thing you have to worry about when transitioning online.) Capable of handling projects from start to finish, Paymo will help teams create project budgets, assign tasks, track hours work, and more.
11. GanttPRO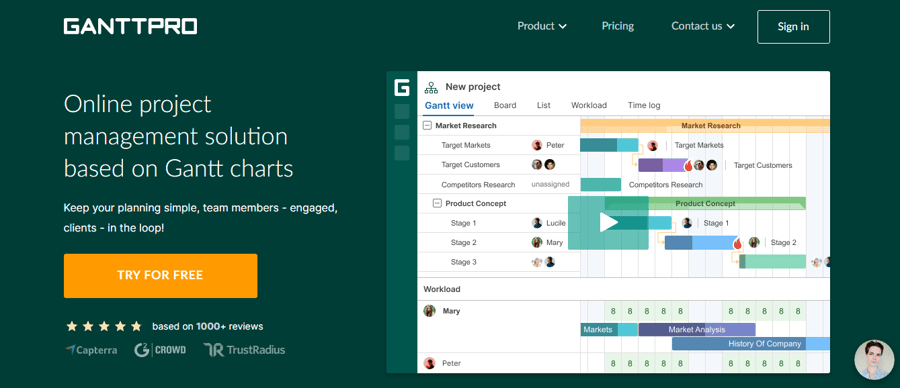 One of the best Gantt chart tools for project management, GanttPRO is a good fit for teams of all sizes from various industries. Packed with a robust set of features for comprehensive work on projects, it also offers an intuitive and attractive interface with a short learning curve.
Besides greatly developed tasks management with lots of settings, GanttPRO opens up opportunities for efficient team communication and collaboration through comments, file attachments, mentions, and real-time notifications. In addition, the software allows showing your projects to any third party with the help of the sharing and export features.
Managers also like a smart resource workload. The feature allows seeing how anyone from the team is loaded with tasks. It vividly shows who is overloaded, underallocated, or has time for additional tasks. With the drag & drop simplicity, it is a matter of seconds to redistribute tasks and create the workload that brings the most value.
12. zipBoard

zipBoard is a visual review and bug tracking tool that makes collaboration among agile teams easier. Appearing as an online whiteboard on top of your website and various other formats of media files, it allows you to discuss, comment, annotate, share feedback, and assign tasks. With zipBoard, you won't need anymore emails, spreadsheets, Skype calls, or complicated code to track issues for your eLearning or web-development projects. It's a complete project management tool based on the foundation of visual communication.
Pricing for zipBoard can be affordable for most teams. For a single project and single review file, you can use the Basic plan that's free forever. You can also choose the Starter plan for $39/month billed annually or $49 for a monthly subscription. Bigger development teams can opt for a Team plan or Enterprise plan as well.
13. HubSpot
While HubSpot is best known for its CRM platform, HubSpot Project Management is another tool that can help your team organize, optimize, and assign tasks to your team members, especially those who are involved in business development and sales projects.
Because it's accessible directly from HubSpot, the project management tool minimizes the need for you to switch from one window to another. It gives you a high-level view of scheduled meetings, appointments, and project activities, allows you to identify high-priority tasks for the day, and gives you visibility over pipeline progress through embedded reports.
HubSpot lets you monitor lead behavior through a live feed. Whenever one of your prospects opens an email, visits your product pages, or views your marketing content, you'll know right away. You can also use HubSpot Project Management to sync your calendar, make sales calls, and connect to your meetings without having to change apps.
Summary
Whether you've been working with an online team for sometime now, or if you're transitioning to virtual work this year, choosing the right project management tool can make everything easier, which means satisfied customers, happy team members, and a streamlined process everyone actually enjoys using.