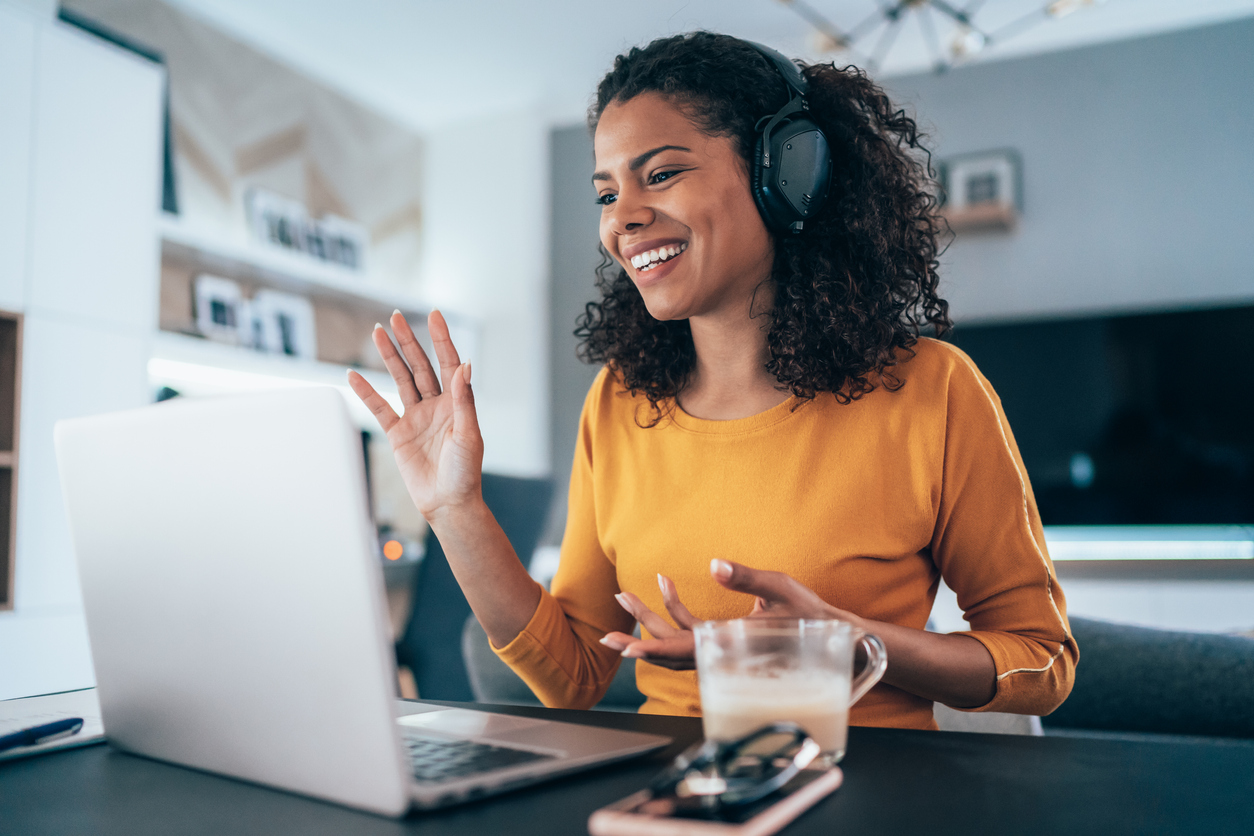 Communication is everything when it comes to business. Not only will you lose sales if you can't communicate with potential customers in a timely manner, but you also run the risk of earning negative reviews if you can't answer your current customers' questions as soon as possible. And because communication is so essential, making sure that you have a reliable way to communicate with customers is critical to your success.
The better you're able to communicate with your customers, the better your business is going to perform. Period.
One of the most popular ways to improve communication is via VoIPs, or "Voice over Internet Protocols", which allow for "voice communications and multimedia sessions" over the Internet. And while you might think that you have no idea what a VoIP is, chances are you've used one before. In fact, it's almost guaranteed that in 2021 you and all of your customers have used a VoIP to communicate online, which is why it's so critical that your online business implements one.
Why RingCentral?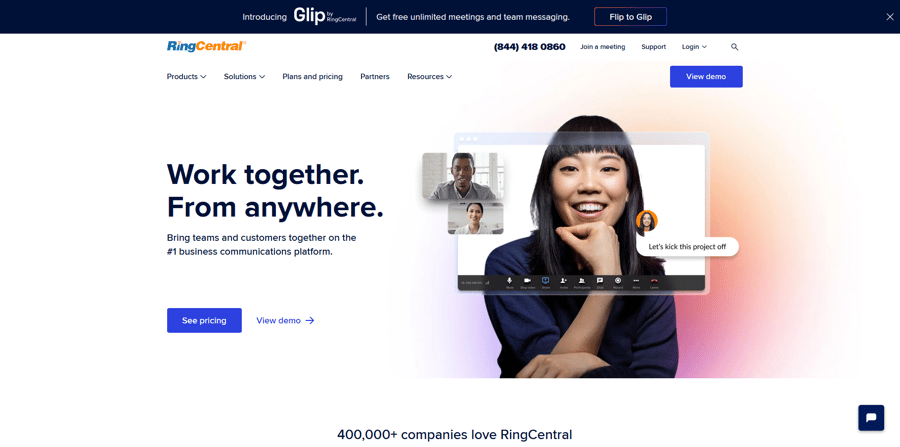 Of all of the VoIPs available today, one of the most popular is RingCentral. The "go-to" solution for online communication, RingCentral has been a huge player in the game since it began way back in 1999 when it launched as a phone service for businesses. Incredibly robust and versatile, RingCentral has evolved over the last two decades by offering its customers around the world with services ranging from phone support and SMS, to internet fax and call management.
Because RingCentral integrates with the most popular business apps today, it makes it easy to use for businesses of all sizes. Not to mention, its affordable $19.99 per month subscription makes it accessible for nearly everyone. (That cost does, however, increase depending on your business's needs.)
But as great as RingCentral is, lots of businesses are looking for new alternatives and better overall solutions. After all, RingCentral can't (and doesn't) offer everything.
So, if you're in the market for a new VoIP for your online business, below are our top ten picks that don't include RingCentral.
The Top 10 VoIPs for Online Businesses (Excluding RingCentral)
#1: Ringblaze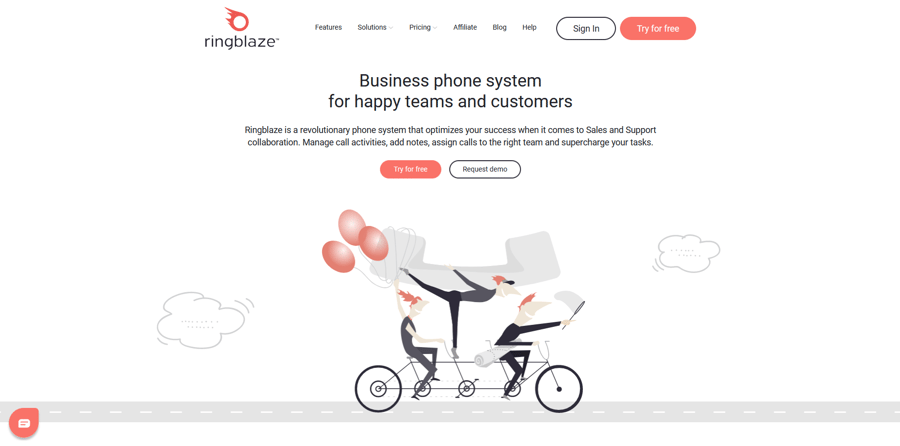 A relatively new VoIP solution, Ringblaze was designed for small businesses with a global customer base. Affordable and reliable, Ringblaze is ideal for any online business needing to provide phone support for its customers. While the app provides many of the same features as RingCentral, some of its biggest highlights include allowing for multiple phone numbers within one account. This allows businesses to have several different phone numbers all managed by one VoIP account, which makes operations simple and streamlined.
Another advantage of Ringblaze is that it doesn't require businesses to specify a location, which means you can operate your business anywhere. (RingCentral requires that you're located in the United States, Canada, United Kingdom, or Puerto Rico in order to use their services.)
Ringblaze is also affordable, offering its monthly services to businesses for just $15 each month (as long as you pay annually).
#2: Vonage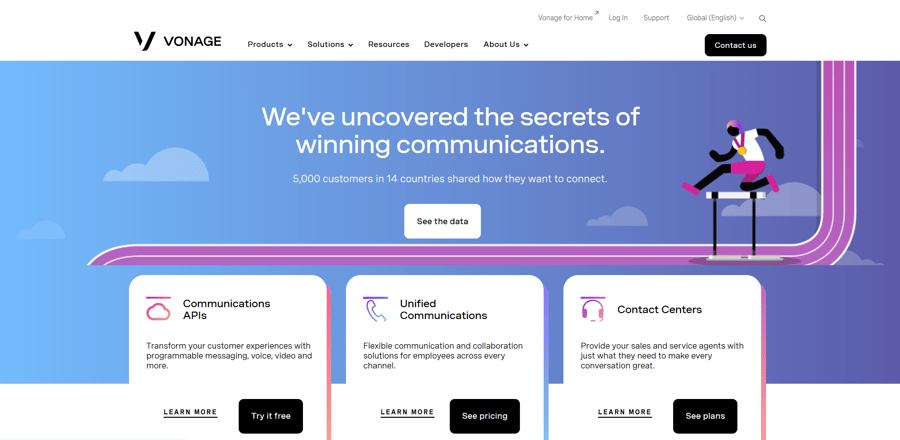 Like RingCentral, Vonage has been in the VoIP industry since the very beginning. Having launched in 2001, Vonage has created a solid reputation for itself, garnering outstanding reviews and loyalty from some huge businesses. By using cloud-based technology, Vonage adapts to your business's needs smoothly, giving you the ability to update the way you communicate with your customers instantly.
Versatile and reliable, Vonage supports all devices, as well as services like text messaging, video conferences, and, of course, phone calls. Vonage also enables you to screen share and chat as needed. And unlike other VoIP services, Vonage has stellar call quality, which means you don't have to worry about negative experiences with customers (which can lead to lost sales and negative reviews).
Another benefit to using Vonage is that its app can be accessed via mobile devices and desktop, which means your entire team can work together remotely from anywhere in the world. (And that's a huge advantage right now in 2021 when more people than ever are working from home.)
#3: Nextiva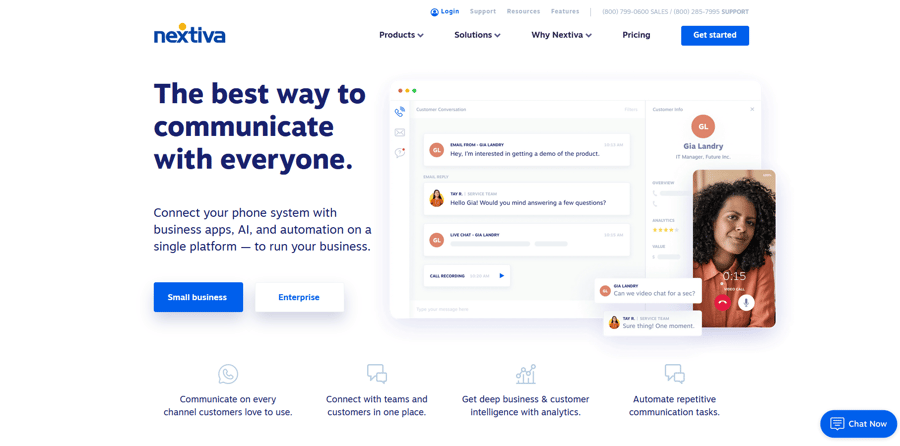 Another top competitor to RingCentral, Nextiva is used by thousands of online businesses as a way to bolster communications, both internally and with customers. Offering voicemail-to-email alerts and other convenient integrations, Nextiva's pricing is based on calling minutes. (The first 1,500 minutes are toll-free when you enroll with the $21.95 per month plan.)
Some of the coolest features Nextiva offers includes streamlined integrations with the most popular business software, including Zendesk, Oracle, and Salesforce, as well as customization features so that you can personalize each customer interaction. (This customer data is provided via Call Pop, which is included with every Nextiva plan except for the Essential plan.)
#4: Grasshopper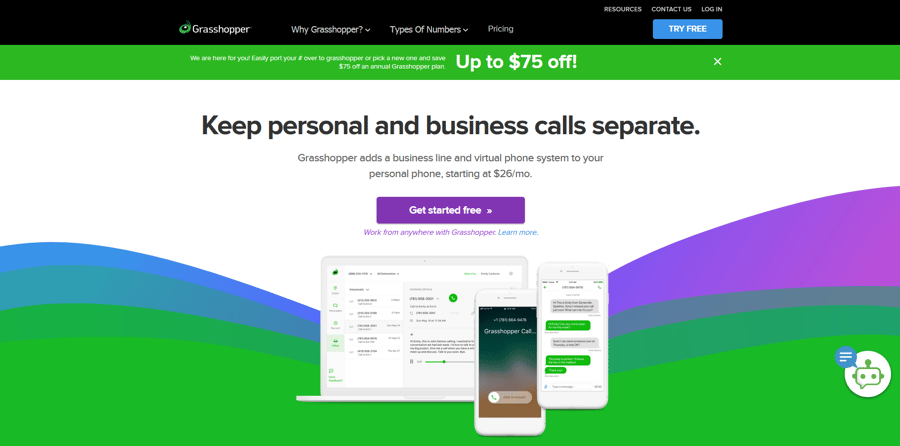 Loved by online businesses because of how simple it is to use, Grasshopper uses your business's own cellular data and Wi-Fi in order to send and receive calls. Once you join Grasshopper (packages start at $26 per month) you can set up your account in minutes, making it one of the most practical ways to get a VoIP up and running for your business. While it doesn't have as many features as RingCentral, it does offer small businesses everything they need for great phone support. And because Grasshopper is simplified, you can master it in much less time (and feel like you're getting your money's worth, too).
Grasshopper can support multiple phone numbers, but the pricing increases significantly in order to accommodate several lines. (The Partner plan allows for three phone numbers at $44 per month; the Small Business plan gives you five phone numbers for $80 per month.)
While simple, there are some great features that come with using Grasshopper, including automatic text messages in case you miss a call, as well as a virtual receptionist that can be customized whenever you need. Another cool feature is Grasshopper's voicemail transcription service, which allows you access to all communication — a great tool for training and improving interactions.
#5: 8x8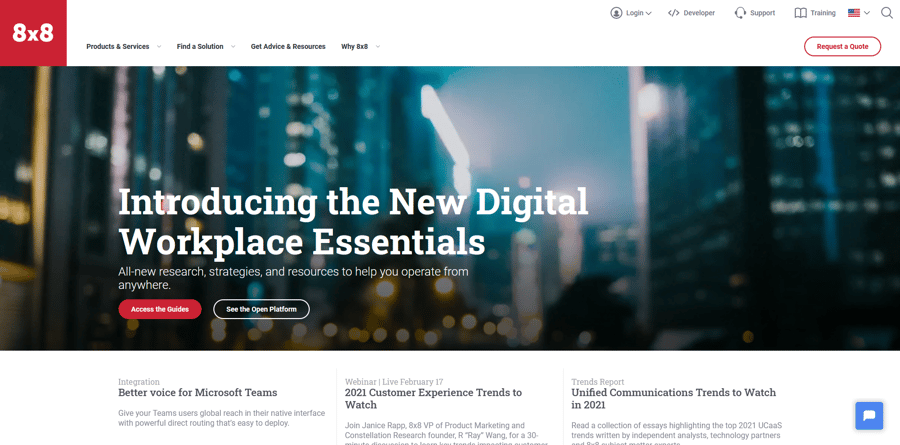 While technically a VoIP, 8x8 is more of a UC (Unified Communications) system. As such, 8x8 provides online businesses voice calling as well as video-conferencing across a variety of devices. Cloud-based like RingCentral, 8x8 also offers a Virtual Office, which makes streamlining business operations even easier.
#6: VirtualPBX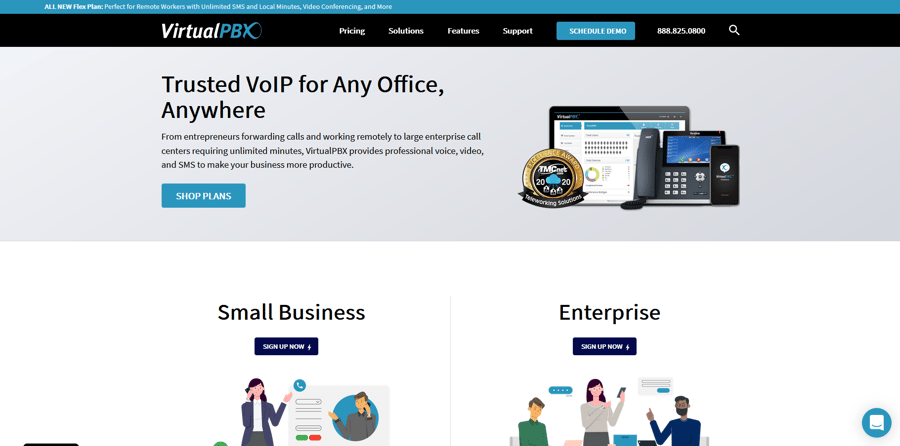 Comprehensive and robust, VirtualPBX is earning more users each month because of its diverse features and ease of use. VirtualPBX gives businesses access to a variety of phone numbers (including local, toll-free, vanity, and 800), as well as mobile fax signatures and voicemail transcriptions. Businesses can also set up extension numbers for different employees, making it possible to use VirtualPBX to create separate departments within your business, even if every employee is working remote.
#7: GoToConnect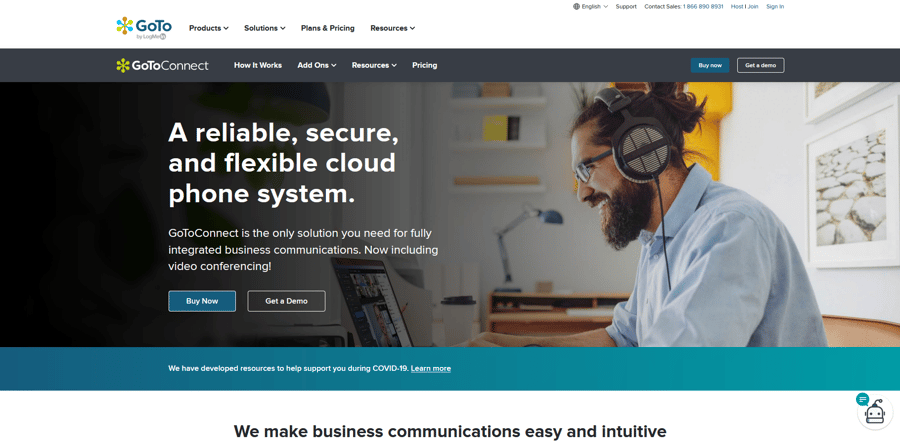 GoToConnect is the result of the merging of Jive Communications and LogMeIn, giving users access to video meetings and business telephone services (PBX). A great option for online businesses wanting a full suite of tools, GoToConnect not only provides call forwarding and virtual voicemails, but it also offers auto attendants and mobile apps at an affordable monthly cost.
#8: Dialpad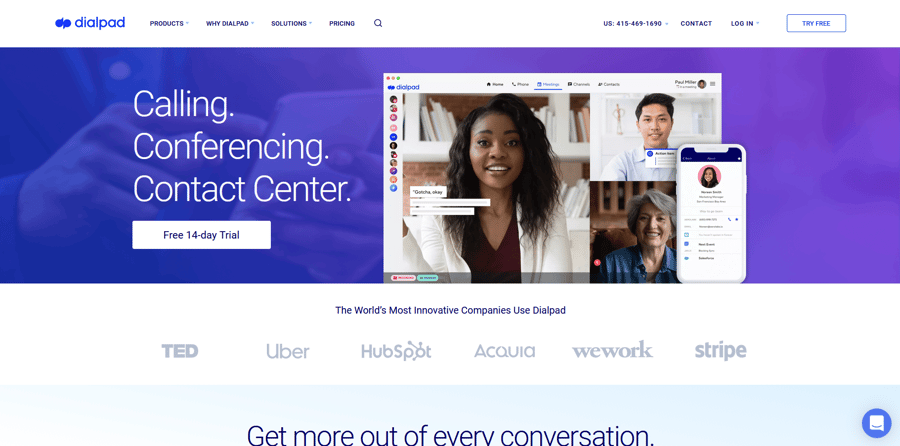 Developed on the Google Cloud Platform, Dialpad was formerly known as Uberconference. Today, Dialpad offers its users services including contact center solutions and AI, as well as basic business phone services. Reliable for excellent call quality and clarity, Dialpad can also be sued for video conferencing and desk-to-desk calling. Another advantage to choosing Dialpad is that it integrates with GSuite and Office365, making WFH situations that much easier in 2021.
#9: Phone.com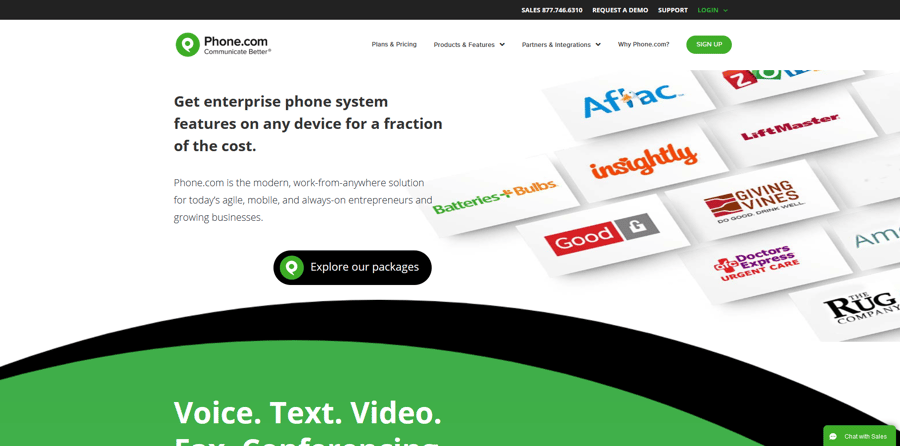 Businesses enjoy using Phone.com for VoIP needs because they can choose from unlimited plans as well as metered plans, which means you never have to pay for more than what you actually use each month. Incredibly affordable (plans start at just $12.99 per month), Phone.com has dozens of standard features, making it a smart choice for small businesses as well as solo entrepreneurs. Some of the features offered by Phone.com include unlimited extensions and super functional click-to-call buttons for websites.
#10: Ooma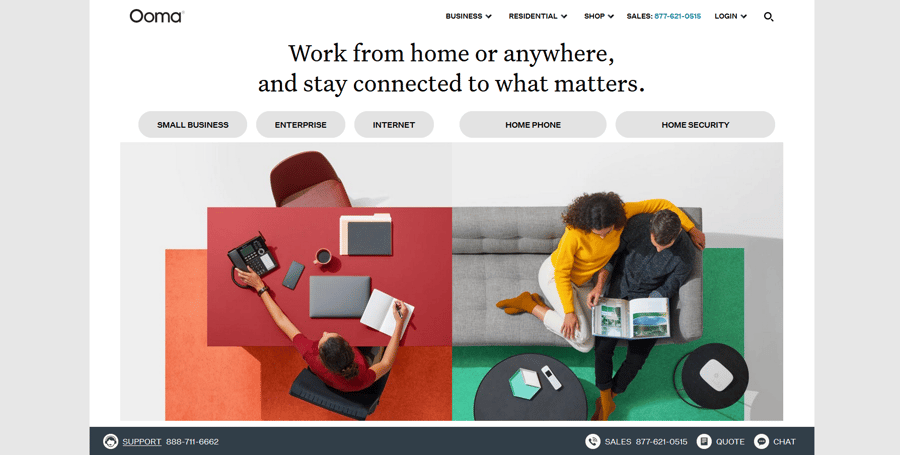 The perfect solution for business teams working remote in 2021, Ooma is one of the most affordable VoIP services — and it has many of the same features as RingCentral. With an Ooma account your business will be able to have access to call park features, voicemails, video conferencing, and mobile apps. Ooma also doesn't require you to sign a contract, making it easy to try the service out without committing to a monthly expense.
Businesses that use Ooma say it's a great choice because its customer service is responsive and reliable. Ooma also provides businesses with ring groups, conference bridges, and virtual receptionists. You can even use Ooma to set up multi-language menus, which allows you to easily do business with customers and clients worldwide.
Which VoIP is Best for Your Business?
We've explained why VoIP technology can give your business such an advantage, especially in an ever-growing eCommerce world where customer communication is key. As for which provider is the best solution for your business, that is up to you.
When evaluating a VoIP provider, consider the following traits:
Availability in your country
Compatibility with the size of your business
The workflow and processes used by your business
Features you want to use
Pricing (including any promotions that may give you a lower price for a time)
Whether you need VoIP primarily for business communications, for customer service, or both
Once you've mapped out these requirements, you'll have a much easier time figuring out which VoIP would be the right fit for your business's needs. Whether you use RingCentral or one of the many alternatives we've listed, your business is sure to reap the benefits.