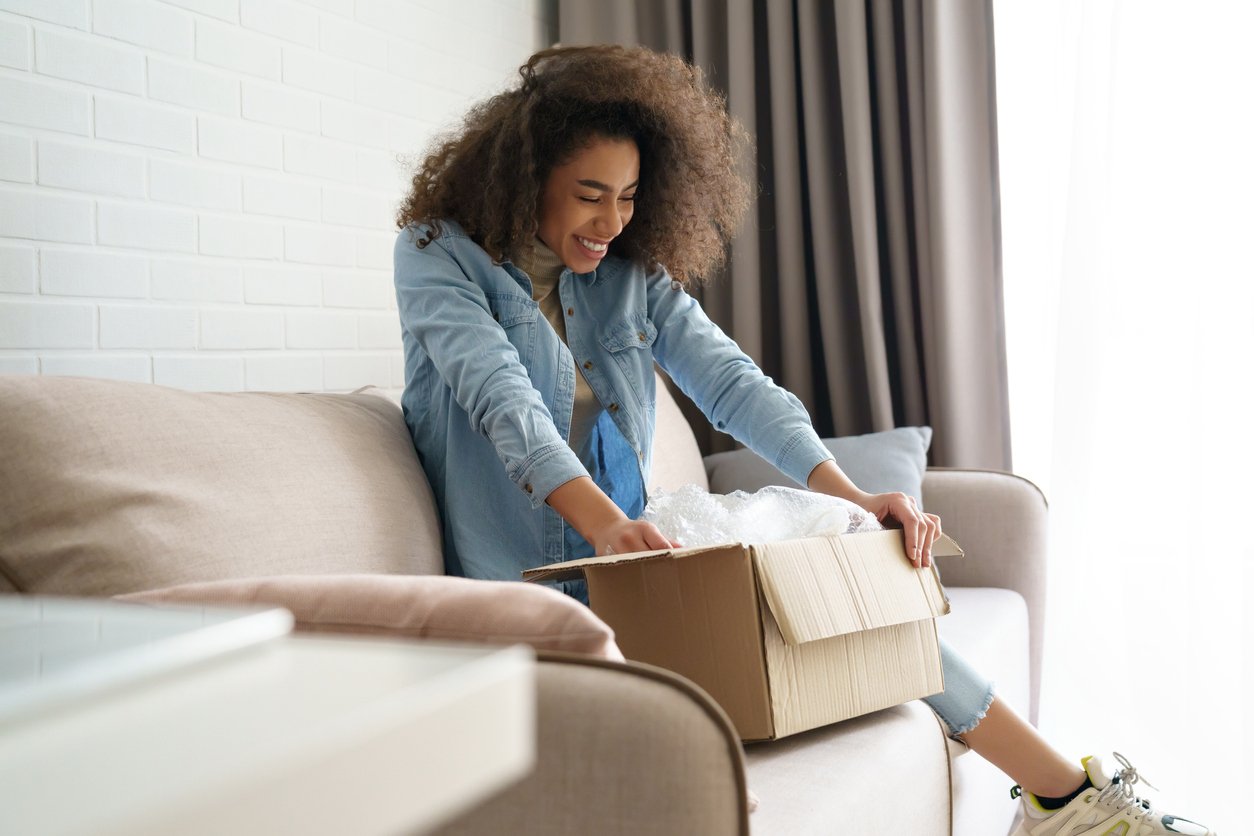 Subscription boxes have become incredibly popular over the last several years, both with businesses and consumers. While consumers love them for their specificity and convenience (how nice is it to get all of your dog's favorite food and snacks sent to you each month automatically?), businesses love subscription boxes because they allow for targeting niche audiences and make monthly sales consistent. Of course, just because subscription boxes are popular doesn't mean that you can start a business using this model and expect it to automatically succeed.
In order for your subscription box company to really grow and thrive, you have to understand the business model — how it works and why the best companies have so much success.
The more you understand how the subscription box business model works, the better prepared you are to launch and grow your business. And, thankfully, there are plenty of super successful subscription box businesses to learn from.
But before you dive into the ten best subscription box services, you'll want to be able to answer this question:
What are subscription boxes anyway?
Subscription boxes are a physical delivery that ships automatically to a consumer. While many of the items in a well-designed subscription box are practical, the delivery itself is designed to be an experience, giving the consumer something to look forward to each time a box is dropped off at their doorstep. Depending on the subscription box model, items included in the box are either highly curated, offered at a discount, or, better yet, both.
To make it even easier to understand exactly what a subscription box business is, below is a list of features every successful brand includes:
Physical Delivery: While some items could technically be digitally delivered, the true subscription box model requires that an actual physical box is delivered to subscribers.
Recurring Customers: Subscription box businesses also must have recurring customers, which means that customers sign up for regular shipments of the subscription box. While the amount of time between deliveries varies based on the business, the fact that a business can predict exactly how much money it will make each month is a big part of the reason why subscription box companies can be so successful.
Extra Value: In order for a subscription box business to truly meet the needs of its consumers, it has to offer some sort of additional value through its subscription. For most, the easiest way to provide value is through convenience. But by offering even more unique value propositions, subscription box companies can better attract new customers and retain them for years to come. Some of the best value propositions include:

A surprise in every subscription box
New items or products that allow customers to discover something different
Expert curation so that the items included are trusted and highly valued
Additional savings so that the consumer is paying less for the subscription box than they would if they purchased all of the items themselves
These essential components for subscription box businesses are necessary if you want to create a real brand that can grow for years to come. Of course, there's more to starting a subscription box brand than knowing what makes a great subscription box. The business side of subscription boxes is equally important if you're serious about developing a unique and valuable experience for your customers.
How do subscription box businesses work?
Subscription box businesses work best when they have reliable systems supporting all of their day-to-day operations. Because subscription box businesses have become so popular, there's plenty of support as you begin to conceptualize and build your brand. Below are a few of the most important business aspects of subscription boxes you need to consider before you launch your own business:
Recurring Orders
Subscription boxes are only possible through recurring orders, which means you'll need to have a system for automated billing and shipping for each of your customers. The more integrated this system can be with your product suppliers, the easier it will be to grow your company.
Subscription Frequency
Your subscription box business can decide if customers can customize how frequently they receive their boxes. While there is a potential upside to allowing customers to choose if they want boxes to arrive monthly or every other month, for example, this type of customization could make the logistics for your business slightly more complicated. Be sure to weigh the pros and cons of offering this type of customization before launching your brand. And, remember, sometimes the fewer options your customers have the better!
Box Contents
One of the biggest components to starting a subscription box business is, obviously, knowing what exactly is going to go inside your boxes. Will it be the same products each shipment or will products change month to month? Will customers be able to choose the products they want or will you curate the products? Additionally, setting up relationships with suppliers is essential, as well as knowing the cost of each product, including shipping and the labor required to physically put boxes together.
Size Options
Just like some subscription box companies allow customers to select their shipping frequency, others allow for customization of size and, therefore, cost. Depending on the products you're shipping and the relationships you have with suppliers, offering a variety of sizes could be a good idea. For example, a person with one dog would need fewer gourmet treats in each subscription box than someone with four dogs.
Shipping
One of the most difficult parts of operating a subscription box business is ensuring that all boxes get shipped on time and delivered safely. If your products are perishable or highly breakable, then shipping becomes even more critical. Knowing how much it costs to have your subscription boxes shipped is essential so that you can be sure that you're charging enough money for the service. Because of shipping complications, many subscription box businesses only ship to certain countries and states.
Handling Cancellations
As with any retail business, owners should expect returns and cancellations. By working the appropriate rate of cancellations into your business model, you can be sure that your business doesn't suffer when normal cancellations occur each month.
Customer Service
In order to keep your subscription box company up and running, you have to provide stellar customer service. Ensuring that your customers have an easy place to go to ask questions or voice concerns will help your business maintain its good reputation. While you might have to handle customer service yourself when you get started, be sure to look into all of the different customer service systems available that can help automate emails, text messages, and phone calls. This makes it so that your business can be responsive and helpful without you having to work around the clock.
How to Start a Subscription Box Business in 7 Steps
Use this handy checklist to get started creating your own successful subscription box brand.
1. Find a unique niche.
In order to create a successful subscription box, you need to know your target audience. The more niched your business can be, the easier you can find your people. If you try to create a subscription box everyone wants, then there's a good chance no one will buy it. Zero in on who you want to sell to and speak to them directly. By knowing your target consumer, you can start to create an experience that they will genuinely love and look forward to each time their box arrives.
2. Research your competition.
In business, competition is a good thing. You want to see other businesses doing what you're doing (or something close) because that shows you that there really is a market for your idea. While you don't want to fixate so much on your competition that you lose inspiration ("Well, someone's already doing that") or end up being exactly like them ("No, we can't introduce that product because so-and-so isn't offering that"), you do want to know what they're offering, how much they're charging, and, most importantly, what your business can do better.
3. Choose your suppliers.
Depending on the products you'll include in your subscription box, you'll need to develop a relationship with one or several different suppliers. Not only do these suppliers need to be reputable and trustworthy, they also need to understand what you're doing so that they can help you along the way. Because the products really are what a subscription box is all about, this should be a relatively time-intensive stage of building your business. The more selective you are about the suppliers you choose to work with, the happier your customers will be.
4. Create an initial sample box.
By making a sample box, you'll not only go through the process of getting all of your products together and displaying them in an aesthetically pleasing way, but you'll also better understand how time-intensive the process is and exactly how to get from start to finish. Your sample box can also be used to gauge the interest of your target audience as well as for marketing purposes on your website, social media, etc.
5. Build your website.
Subscription box businesses need to have an easy-to-use, informative website so that customers feel confident about signing up for a subscription. Unlike regular online stores where customers only purchase a product once, subscription businesses ask customers to sign up for several purchases at once. The more your website can ensure your customers of what they're getting, the value of the box, and why they should trust you, the more you'll convert visitors when they come to your site. So, be sure to build your online store with an eCommerce platform that has subscription management software built-in.
6. Market your business online.
Because you already know your target audience and have now created the perfect subscription box experience for them, online marketing should be relatively easy. Take advantage of audience tools and paid advertising on social media and search engines to help you put your subscription box in front of the people who will want it most.
7. Take orders and ship boxes.
Now that people know about your business and love your product, it's time to take subscription orders and start sending out boxes! This entire experience should be as seamless as possible so that you enjoy working on your business — and so that you can be confident that every order is fulfilled.
10 Best Subscription Box Services
Of course, owning your own business means that you're constantly looking for ways to stand out, attract more customers, and make more money. That means, no matter which industry you're in, you should always be looking at what the best of the best are doing. By integrating the smartest parts of different business models into your own brand, you can create an entirely unique experience that your customers will love.
Below are the top ten subscription box services and what you should learn from them for your own business.
1. Dollar Shave Club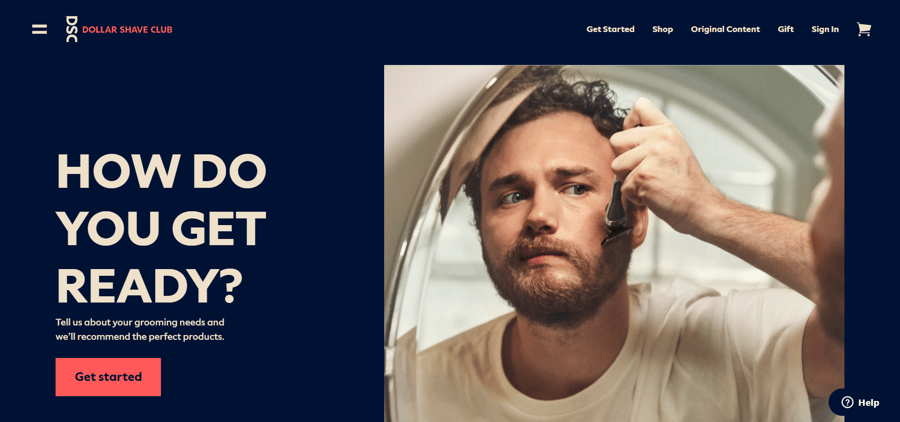 High-quality products at an affordable price are one of the reasons men and women subscribe to the Dollar Shave Club. Add in the fact that the subscription box makes keeping sharp razors in your home convenient and you'll understand why this has long been one of the most popular subscription businesses out there. The brand makes the customer experience even better by offering up-sells, including shaving-related products.
2. Loot Crate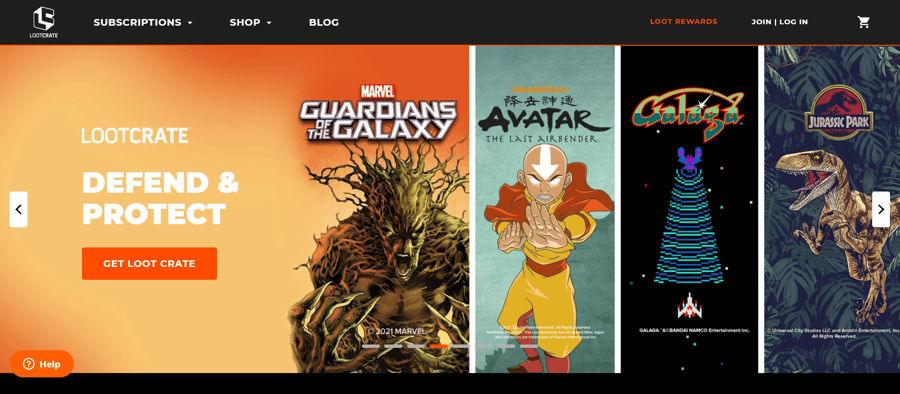 The ultimate subscription box for pop culture fans, Loot Crate understands the importance of extreme customization, which is exactly why their business model has exploded over the last several years. From gaming to sci-fi, pop icons to sitcoms, Loot Crate is the definition of knowing your target audience. Offering primarily bi-monthly subscriptions (customers get billed every other month when boxes ship), Loot Crate keeps the novelty factor without running out of unique items to send. Want a box filled with Harry Potter goodies delivered to your door every other month? Deadpool? Hello Kitty? Loot Crate is the place to go.
3. Ipsy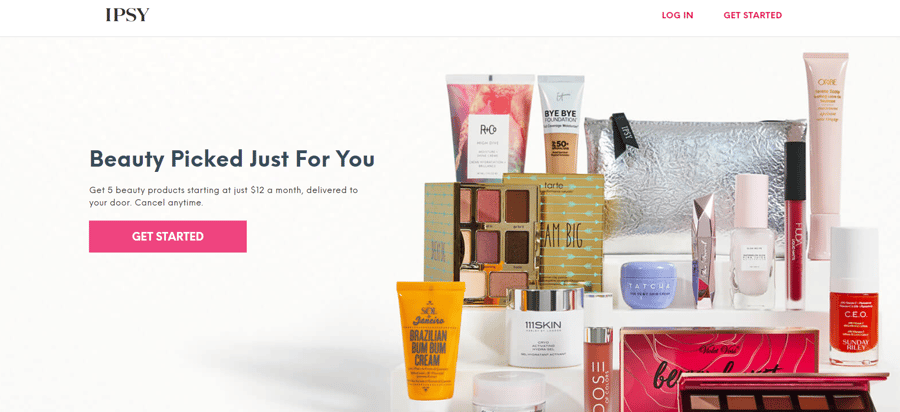 The ultimate subscription box for makeup lovers, Ipsy is popular because it allows customers to try a variety of makeup and beauty products for a fraction of the cost. And because makeup sections at stores can be so intimidating, having the best, trendiest products hand-picked for you helps to relieve that feeling of being overwhelmed. The brand continues to beat the competition because of two huge selling points: One, you can add custom features to your box depending on your style, skin, etc. Two, you can skip a month without penalty in case you're going on vacation or simply low on funds. The brand is also smart because, as it got to know its audience, it expanded its offerings. Now you can also subscribe to the Ipsy Glam Bag Plus, which gives subscribers 5 full-size skincare and makeup products each month, as well as the ability to choose 3 of the 5 products.
4. Sips By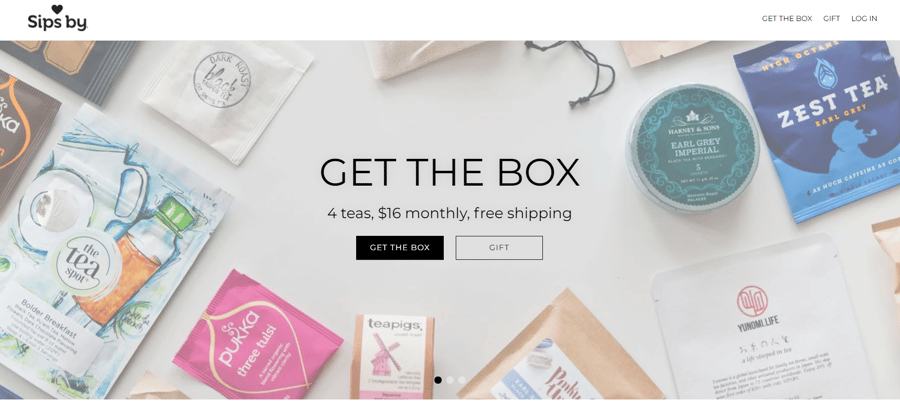 As a more straightforward subscription box, you choose your teas and Sips By ships them to you each month for less money than it would cost to buy them yourself. Designed specifically for tea lovers wanting to enjoy their favorite teas while also exploring new flavors and brands, Sips By curates each month's box for just $15, choosing teas they think you'll like and giving you the option to buy them again if you do. As an added bonus, Sips By offers free shipping throughout the United States.
5. HelloFresh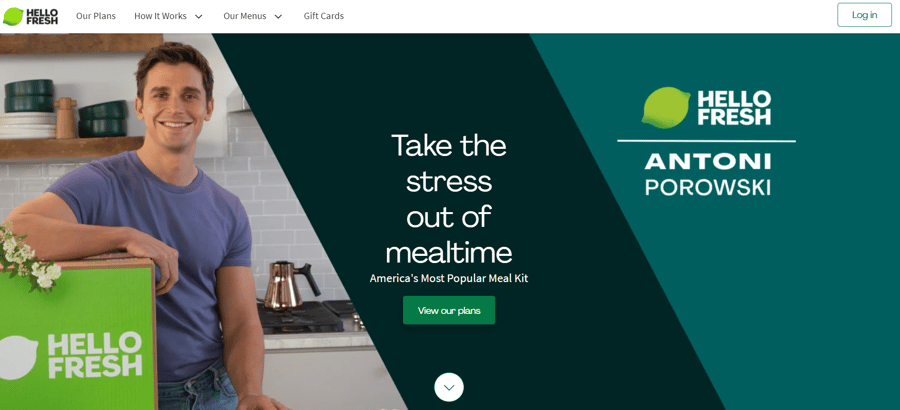 One of the most popular meal kits on the market today, HelloFresh is a successful subscription box primarily because its price point is within reach for its target customer: busy families that still want to gather around the table for a home-cooked meal. Unlike fully prepared meals, HelloFresh bundles ingredients by recipe so that you can take out what you need for a meal quickly and get started, making prep to plate time faster than the competition. Plus, the meals are crowd-pleasing and customizable, helping them to match more family's tastes.
6. Stitch Fix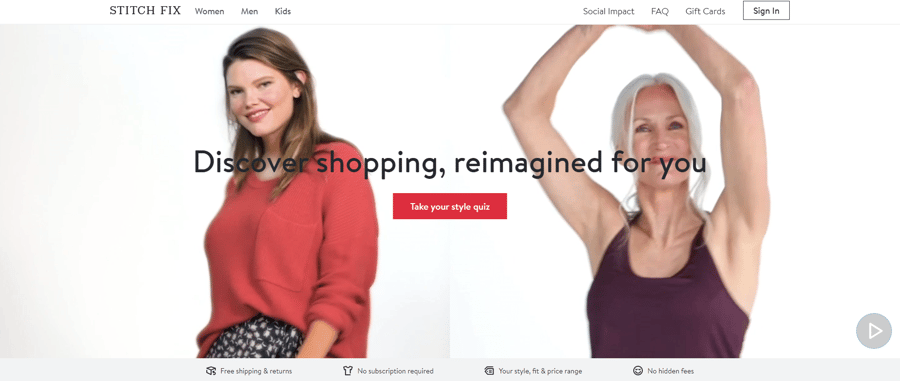 Offering new customers a style quiz to help them customize their experience, Stitch Fix is one of the most popular clothing sites online for good reason. While you don't have to sign up for a subscription technically (there are no contracts that keep you obligated), almost all customers end up converting to monthly subscriptions. Not only do you receive a personal stylist to curate your monthly box of clothes, but you can further customize your box by selecting your style and budget. And, if you do choose to keep any of the pieces, you receive them at a discount, making the subscription box even more valuable. Shipping, returns, and exchanges are also always free with Stitch Fix.
7. BarkBox

BarkBox is more than just a subscription box for dog parents, it's an experience that everyone looks forward to. Thanks to their monthly themed boxes, BarkBox makes receiving your new box fun — it's so much more than just a box filled with dog food and treats. BarkBox takes the experience a step further, too, by allowing pup parents to customize boxes based on dog size and age. The fact that the items are high quality and frequently raved about helps ease any hesitation new subscribers might have.
8. SnackNation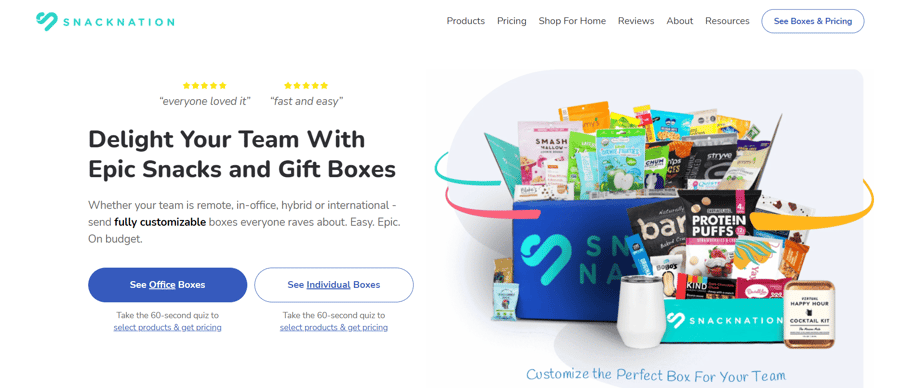 Promising the best surprise snacks of any subscription box, SnackNation keeps customers coming back because they do a great job of delivering high-quality, novel snacks that you typically wouldn't find in stores. In addition to shopping for your home and family, SnackNation has specific subscriptions for employees and offices, too, making the customization factor another big reason that the brand has become so popular.
9. FabFitFun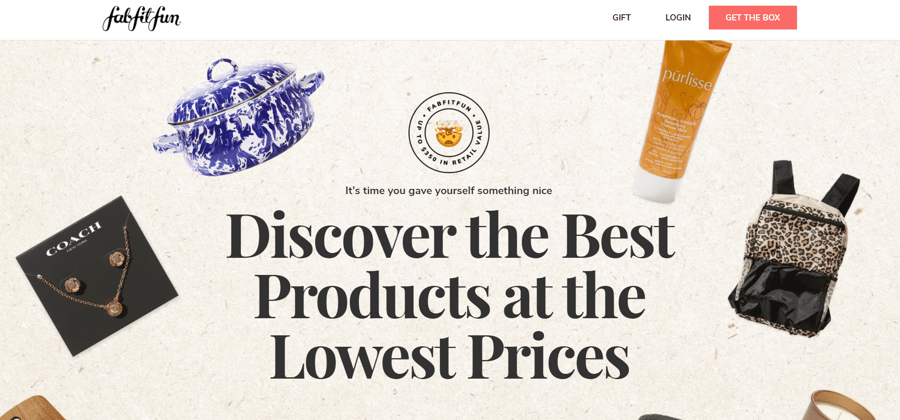 Often referred to as FFF, FabFitFun is a highly curated box of items that are designed for women who are interested in fitness, well-being, and style. The biggest selling point of FFF is that all of the items in the box are worth well over the amount that customers pay each month — just $49.99. And because each month offers a surprise of goodies, customers want to keep their subscription in order to avoid FOMO.
10. KiwiCo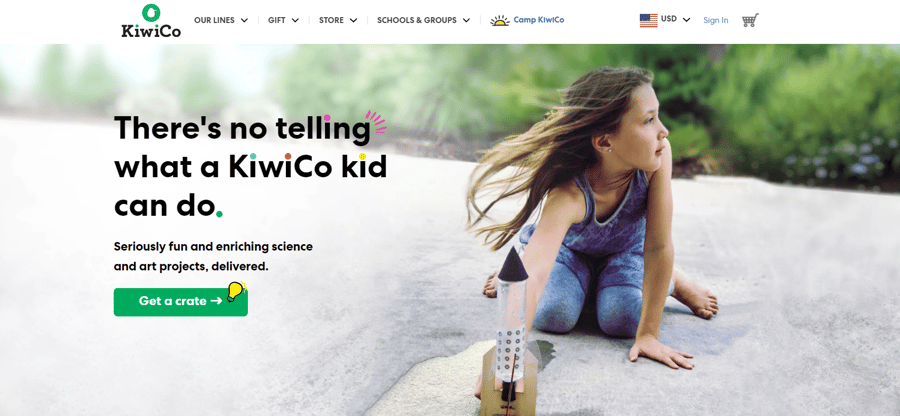 The ultimate subscription box for kids, KiwiCo is often given to children for birthdays and holidays. Unique and practical (each box comes with a variety of hands-on science activities), KiwiCo helps parents keep their kids entertained and educated with the STEAM or STEM theming. And because kids grow and interests change, KiwiCo offers eight different crates to its customers at varying recommended age levels. The boxes themselves are affordable (just $19.95) making it an easy monthly investment for most parents or grandparents. Another perk to KiwiCo is that they offer previous boxes as one-time purchases so that customers can try the experience before signing up for monthly shipments.
Conclusion
Starting a subscription box business is definitely a good idea, as long as you know who your audience is and what they're looking for. Once you've zeroed in on your idea, making sure that you can source products and offer great value propositions is the next most important step to building a subscription box. The more fun and exciting your box can be, the more your customers will love it — and talk about it with their friends.
Of course, business is business, so be sure that you know your profit margins well before making monthly promises to your customers.