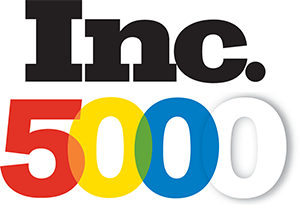 At 3dcart, our philosophy is simple. If our clients are successful, than so too are we. That's why we offer round-the-clock customer support, free templates, advanced ecommerce features and, perhaps most importantly, a genuine desire to help our merchants thrive in the Ecommerce Ocean.
Over the past three years, our company has seen an increase of 205% in revenue. We've expanded our workforce by nearly 70% and proudly welcomed thousands of new e-store owners to the 3dcart family.
Throughout this expansion, we've never lost focus on what truly matters... our customers. And this "all for them" mentality has allowed us to power more successful -- and by successful we really mean profitable -- online stores than many of our competitors. Sooner or later, this type of growth gets noticed, and we are genuinely humbled to report the following...
Today, Inc. Magazine announced its annual listing of the 5,000 fastest growing companies in America, and we are excited to inform you that 3dcart has again been included.
This year's list tracked growth across a three-year span from 2010-2012. During that period, 3dcart experienced its largest growth spurt ever, a fact that has proudly landed us at #1860 out of all private companies in the U.S. and #46 out of the top 100 Miami Metro-based companies!
This incredible achievement is a testament to the hard work and dedication of all our employees, clients and industry partners. We cannot thank you enough for everything you've done -- and continue to do -- to make 3dcart one of the best ecommerce solutions on the market.
About 3dcart:
Founded in 1997, 3dcart is a complete and robust ecommerce platform designed to help e-store owners thrive in a competitive market. With hundreds of features built directly into its software, online merchants can effectively open, operate and maintain a successful ecommerce website with relative ease and efficiency. 3dcart currently powers more than 16,000 global merchants, and its support team is always available, at no additional cost, 24/7/365. 3dcart is an Inc. 5000 company, a Visa PCI Certified provider and a pioneer in mobile commerce and social media marketing. Fully scalable and completely customizable, 3dcart continues to be the ecommerce solution of choice by industry experts all over the world.