It's Friday, and we couldn't be more excited to introduce Earth Enricher and Aldijana Fashions in this week's Shout it Out video.


If you would like your online store to be featured in an upcoming Shout it Out post, please send an email with your website's URL to marketing@3dcart.com.
Wait, before you go, check out the following two online stores that have also just gone live using 3dcart.
Ageless Eve

The majority of women do not get the nutrients their bodies need. Our bodies constantly change as we get older, and taking care of yourself both inside and out is one of the most loving and caring things you can do for you and your loved ones.
Healthy eating, exercising, getting enough sleep and taking the right supplements are keys to maintaining optimal health as well as looking and feeling great... no matter your age. Mother and Daughter Marilyn (60 yrs. old) and Cindy Bohn (42 yrs. old) have both found their nutrition and weight loss solution with Ageless Eve's products! Together, they have lost a combined total of 170 pounds in just over one year. For them, Ageless Eve was amazing, and if it worked for them, it can work for you too! Healthy is the new sexy, and Ageless Eve is where the new sexy begins!
Ageless Eve delivers unmatched healthy living support to women who strive to be their best. With naturally derived, premium wellness products based on clinically tested ingredients to help support the areas where females desire support, Ageless Eve empowers women to support their personal wellness goals by helping them achieve results. Our innovative formulas include scientifically researched ingredients. For age-defying health, wellness and beauty, Ageless Eve offers the #1 solution.
Let your new life begin with Ageless Eve. We have something for everyone, whether you just want to buy our products and experience their life changing results or if you want to get involved on the Eve Team to experience a new world of healthy living with commissions for each team member, we invite you to join us today!
Fenix Nutrition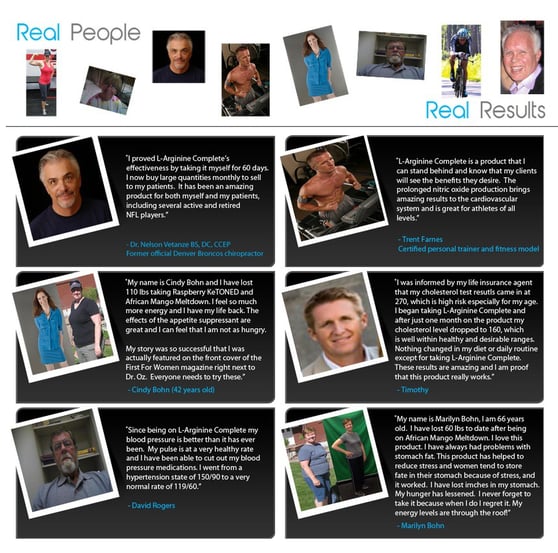 (Please click the picture above for an enlarged view)
(L-Arginine Complete -- Sandy Scott Testimonial)