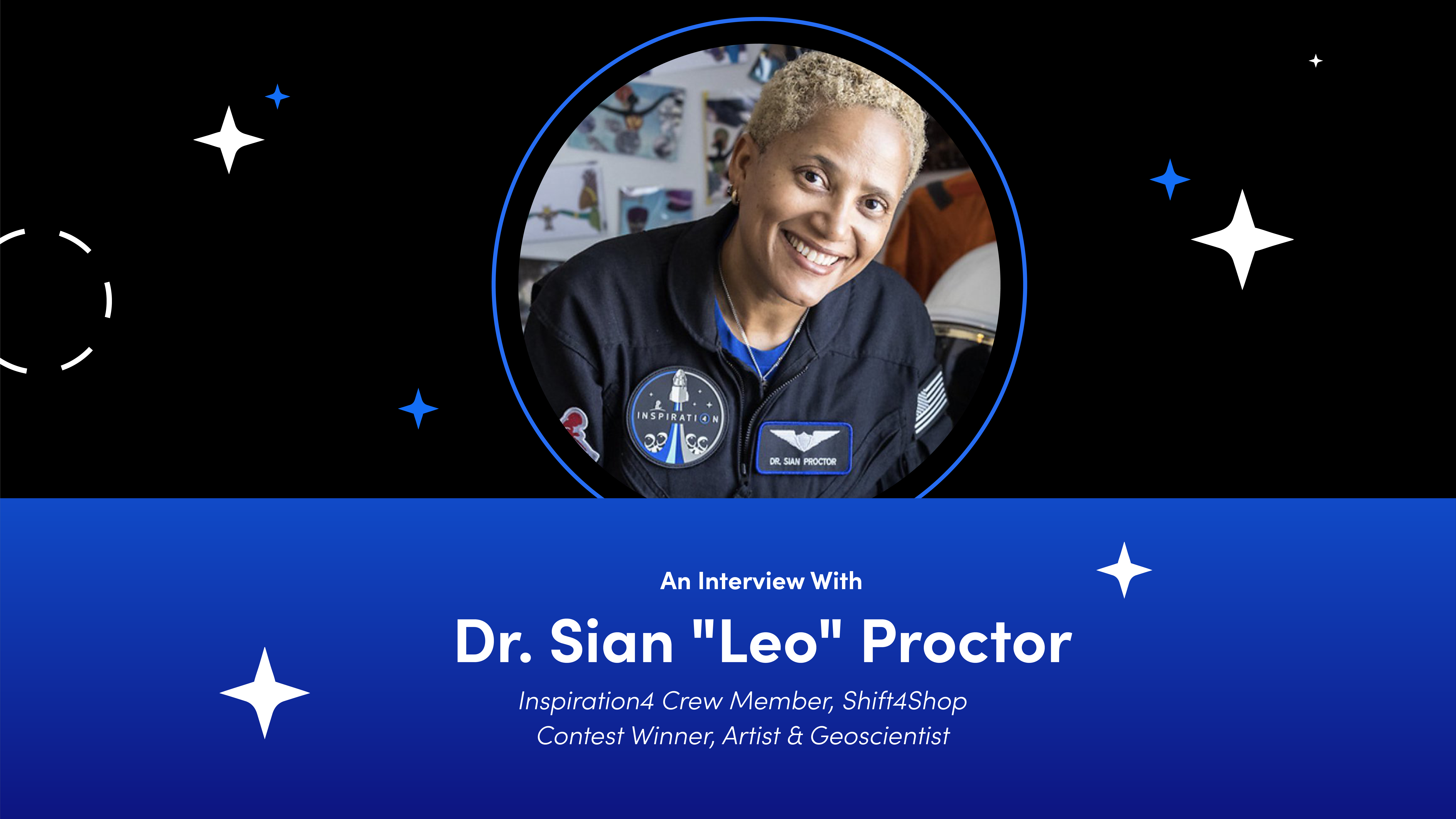 As a crew member on the Inspiration4 mission to space, Dr. Sian "Leo" Proctor has an impressive resume. Not only is she slated to become an astronaut on the first all-civilian mission to orbit, but she's also an accomplished geoscientist, artist, and entrepreneur.
We sat down with Dr. Proctor for an exclusive interview that dove deep into the details of her business, her perspective on the Inspiration4 mission, and how she became one of the crew members on this historic flight.
You can also watch the full video interview with Dr. Proctor above.
An astronomical story that started with her father
Dr. Proctor has had a connection to space travel since birth. Her father, Edward Langley Proctor, Jr., worked as a NASA contractor during the Apollo missions. As a result, she was born in Guam.
Dr. Proctor named her father as one of her biggest role models because he inspired her and instilled in her a strong work ethic.
"He just was kind of like a hidden figure, you know, as a black male," she explained, "He didn't have his degrees, but he loved mathematics and was super smart. And so, he just worked really hard, and was able to achieve so much."
Though both of Dr. Proctor's parents have passed, she believes that they'll be with her during her trip to space. She'll be bringing a special photo of them along with her on her journey.
The people who have inspired Dr. Proctor the most
Since childhood, Dr. Proctor has looked to the skies and admired those who flew before her.
When asked about the people who inspire her the most, she mentioned some of the great female astronauts who have paved the way for her, including Mae Jemison—the first black female astronaut—and Catherine Sullivan—a geoscientist astronaut like Dr. Proctor herself. She also cited Bessie Coleman—the first African American woman to get her pilot's license—as a huge inspiration.
"She was a trailblazer," Dr. Proctor said of Coleman, "Against all the odds, she figured out a way to achieve her dreams. And I feel like that really resonates with me."
Given her family connection to NASA and these impressive role models, her passion for spaceflight makes sense. But, her interest in art is something that has developed more recently.
A geoscientist and space-lover… and now an artist
As a geoscientist with a lifelong interest in space travel, it's no surprise that Dr. Proctor was the perfect crew member for a seat on Inspiration4. But, what actually won her the Prosperity seat was her ability to marry her passions for both art and science.
Dr. Proctor didn't always think of herself as an artist. Ultimately, the catalyst for her becoming a space artist was her mom.
"When she passed away, I found a shoebox filled with postcards that my mom had kept from all my travels around the world my entire life," she said, "And so I thought, during a pandemic, what better way to spread hope than to send people postcards."
Her mom's own postcard collection inspired Dr. Proctor to buy and send science-related postcards of her own to important people in her life. Eventually, her friends encouraged her to create her own postcards.
When describing this, Dr. Proctor said, "I thought, 'I'm not an artist, I'm a scientist... or am I an artist?' So I started making collage art."
After she started to design her own postcards, she realized that people in her life were interested in purchasing the art, but she had no way of selling it.
Enter: The Inspiration4 mission and Shift4Shop contest.
About the Prosperity seat on the Inspiration4 mission
The Inspiration4 mission was announced in early 2021. It was indicated that there were to be 4 seats on the first all-civilian mission to space and each seat would represent a specific quality: Leadership, Hope, Generosity, and Prosperity.
The Leadership seat was filled by Jared Isaacman, the mission's crew commander and the CEO of Shift4 Payments. Childhood cancer survivor and physician's assistant Hayley Arceneaux was chosen to fill the Hope seat.
It was announced that the remaining two seats — representing Generosity and Prosperity — would be offered up in two separate contests. The Generosity seat would be awarded to a random donor to St. Jude Children's Research Hospital as part of an unprecedented fundraising campaign. The Prosperity seat would go to an inspiring entrepreneur who opened an online store using Shift4Shop!
How Shift4Shop helped Dr. Proctor get to space
This contest solved Dr. Proctor's business problem by providing a place for her to sell her artwork and created an opportunity for her to achieve one of her childhood dreams—traveling to space.
Dr. Proctor, however, was unaware of the contest Shift4Shop was running. Thankfully, her friends made her aware of the contest and pushed her to apply for the Prosperity seat.
"I learned about the Inspiration4 mission and the prosperity seat, and that if you opened up a Shift4Shop and showed your entrepreneurial spirit, you could win a trip to space," she explained, "And so I thought, even though I'm a geoscientist, what better way for me to go to space than as an artist and a poet? And so I opened up my Shift4Shop specifically for me to be able to display the different types of art that I do."
In February 2021, Dr. Proctor entered the contest by opening a Shift4Shop online store to sell her unique space-inspired art pieces. She named her online shop My Space2inspire.
Once Dr. Proctor's online store was built, she recorded a video entry and got the word out about her new business venture.
With "space" right in its name, many would assume that Dr. Proctor's business is directly referencing her future out-of-this-world destination, but it's much more than that.
"It's not about outer space," she said, "It's about this space — your unique space that you inhabit — and how you can use your talents and your passions to inspire those within your reach and beyond. And you do that by expressing your creativity."
The Shift4Shop tools that make business simpler for this astronaut
Without a business background, Dr. Proctor had to learn the ins and outs of building a business from the ground up. Luckily, with Shift4Shop, it was easy for her to launch her eCommerce business quickly.
To keep things running smoothly now that it's up and running, she makes use of various plugins, like print-on-demand integration. This tool ensures that My Space2inspire will continue fulfilling orders automatically on her behalf — even when she's working hard on space training or orbiting Earth.
"Because I'm so busy training for space, I don't have time to mail things out and print them," she said. "But with my shop, I don't have to worry about that because people can go in and order something, and it will be shipped to them automatically."
Taking art and poetry into Earth's orbit
While in space, Dr. Proctor intends to focus on her art and poetry. She plans to bring a variety of items with her to space to serve as inspiration for this work, including keepsakes from her childhood and mementos from friends.
One of the most special items Dr. Proctor will bring on her journey is a piece of art that she created called "Seeker."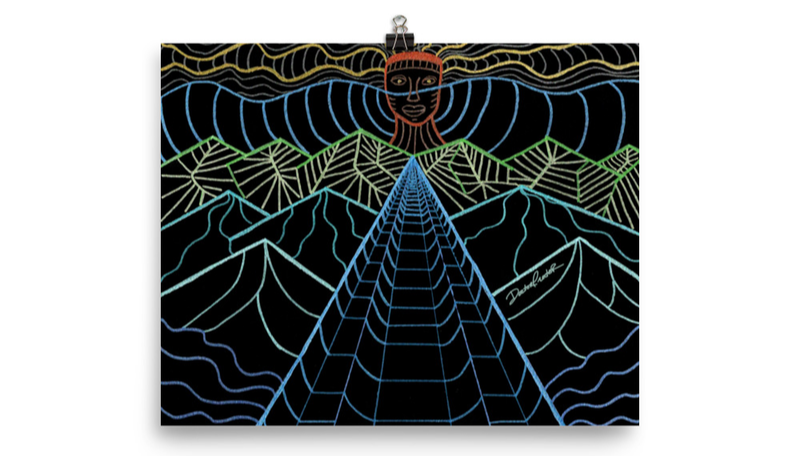 She originally painted the piece to accompany astronaut Richard Garriott on his trip to the Mariana Trench at the bottom of the Pacific Ocean. After that trip, this special piece of artwork also visited the Titanic at the bottom of the Atlantic Ocean with astronaut Scott Parazynski. Now, once it enters Earth's orbit, "Seeker" will have reached the tallest heights and the lowest depths of our planet.
Dr. Proctor plans to auction "Seeker" off upon her arrival back to Earth and donate the proceeds to St. Jude Children's Research Hospital. A print of "Seeker" will also be available exclusively on her Shift4Shop store.
What the Inspiration4 mission means to Dr. Proctor
As a geoscientist, Dr. Proctor has her own unique perspective on how Inspiration4 will impact the world.
"Solving for space solves for Earth," she stated. "Think about all of the technology that goes into helping us not only complete a mission like Inspiration4, but to survive in this really hostile environment we call space. All of those things are not only developed here on Earth, but can also come back to benefit us here on Earth."
Aside from the scientific impact the Inspiration4 mission will have on our planet, Dr. Proctor is also looking forward to the experience she'll have personally while on board.
"The part of the Inspiration4 mission that I am most excited for is the cupola opening for the first time and being able to look back at our beautiful, amazing planet Earth," she said. "As a geoscientist, I can't think of anything better. As an artist and a poet, I can't think of anything more inspiring. And so that, to me, is going to be just the moment… I just can't wait!"
Continuing to inspire after splashdown
Dr. Proctor has big plans once she lands back on Earth after her mission.
She'd like to continue developing as an artist and a poet, and intends to curate art and poetry from her space flight on her Shift4Shop store.
Dr. Proctor also wants to continue inspiring people after the mission concludes. Using space-flown flower seeds, she intends to create unique "space flower art" using dried leaves and pigments.
"When I come back, I'm going to grow these flowers — different types, different colors — and then I'm going to use that in my art," she explained. "It's a way for me to continue to bring this really special moment back to Earth with me and to inspire others."
Finally, she plans to write several books influenced by her experience with Inspiration4. One of these books will be a children's novel that inspires kids to dream big at a young age, and another will be a book of her art and poetry. She also wants to write an autobiography that will highlight how resiliency and never giving up can lead to amazing opportunities.
When asked to provide advice for entrepreneurs like her with big dreams, she said, "My advice to entrepreneurs like myself who are dreaming big is to figure out how to use your unique space to inspire those within your reach and beyond. You do that by expressing your creativity. You can reach your dreams and achieve so much when you share with others your passion."
Whether she's selling art online or exploring space, Dr. Proctor will continue to inspire others. And we can't wait to follow along!