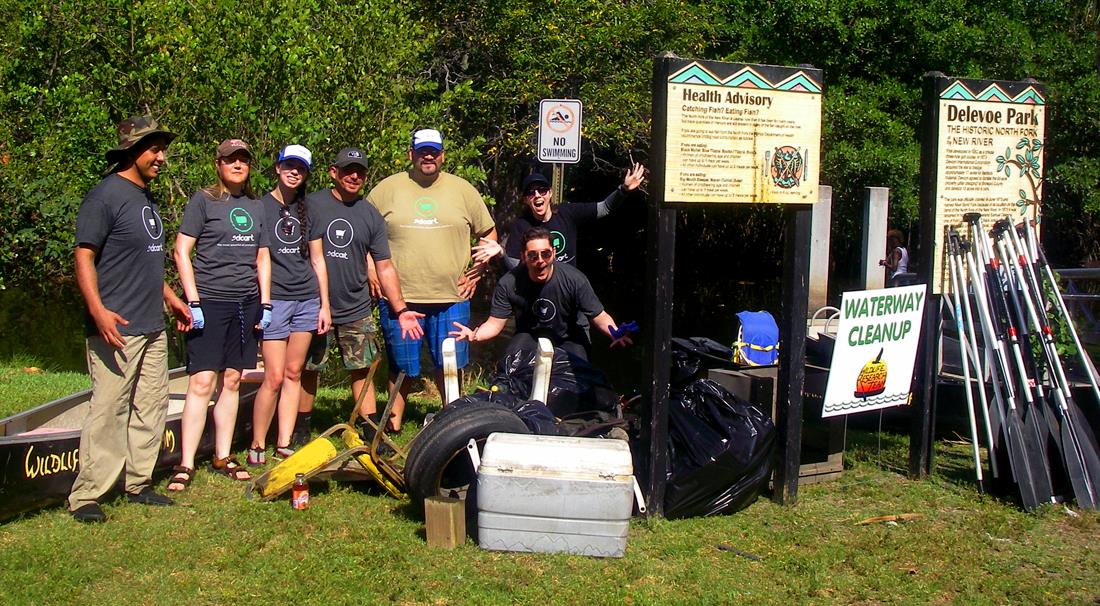 When you think of 3dcart, you probably think of many things: eCommerce; software development; web design; SEO. You probably don't immediately think of the South Florida environment. But in our home of Broward County, FL, we are very close to nature. In fact, the Everglades are only a few miles away! We frequently see water birds visiting the retention pond behind our office, and the occasional osprey soars overhead.
Many of us at 3dcart love nature and get out to experience it as often as possible. We also get involved in environmental causes, as we feel close to our Florida home and want to give back to it however we can. We do this in a few ways— by offering free 3dcart stores to Broward-based nonprofits, for example, but sometimes we like to get out and help more directly, and get our hands dirty for a good cause.
On March 11th, 2017 several volunteers from 3dcart participated in a special river cleanup event hosted by South Florida nonprofit Wildlife Research Team, on the North Fork of the New River in Fort Lauderdale at Rev. Samuel Delevoe Memorial Park. Wildlife Research Team, Inc. is a 501(c)3 nonprofit organization dedicated to the restoration and conservation of Florida's unique environment and wildlife habitat, and has been active for over 20 years. WRT exclusively uses canoes for all its projects, because they are clean, silent, and can reach areas inaccessible to all other craft, even kayaks. They can also hold an unbelievable amount of trash!
3dcart volunteers, with the help of WRT guides, traveled by canoe about a mile and a half up the North Fork and collected several large bags of trash and debris, including everything from plastic bottles to metal furniture. Florida's waterways are a haven for trash, which most people don't realize, and unfortunately the ultimate destination for waterway debris is straight out to sea. "Every piece of trash we pick up is one that won't end up in the ocean," says Donna M. Kazo, President and Co-Founder of Wildlife Research Team. "Every plastic bag we pick up is one that won't end up being eaten by a sea turtle or a whale. This is why our efforts are worth it, even though there is far more trash than we can collect. Every piece counts."
3dcart got involved with Wildlife Research Team through Christianna Cannon, 3dcart Copywriter and WRT member since the beginning— co-founder Donna Kazo is her mother. "I've been doing this for most of my life," Christianna says. "It was really exciting to find out how many people at 3dcart are just as passionate about the environment as I am."
Even with little to no canoeing experience, the volunteers from 3dcart got into the spirit and performed like masters. Among the debris removed from the river were several bags' worth of plastic, Styrofoam, and glass cups and bottles among all kinds of litter, a cooler, a large metal box that may have once been an air conditioner, a couple of chairs, bicycle parts, and even a tire still attached to a rust-covered car wheel. Many of the largest items required a lot of cooperation to get out of the water.
It was hard, dirty work, but everyone had a great time. "I really enjoyed participating in the river cleanup," says Cristina Talucci, Marketing Project Manager. "Canoeing was on my bucket list and it was wonderful to experience the nature of South Florida from the river while at the same time helping the environment. It feels great to come together as a group to help the wildlife and also improve our community."
Alexis Sanchez, Business Operations Analyst, agrees that it was a great experience. "I expected a hot, wet, messy afternoon splashing around in dirty water; I got that and more!" he says. "I was taught to canoe, taught about past and present behaviors affecting the area, and got a workout! While I was looking forward to traveling with a pod of manatees or getting a flyover by flocks of birds, the river was actually winding through a highly developed area, so the majority of the shoreline was covered with green iguanas and the cool animals I expected were out to lunch or something." Manatees generally appear when the water is cleaner, so we may encounter them on a future trip. Kathryn McDermott, Technical Account Manager, did have some luck with wildlife, though— she witnessed an osprey dive for a fish right in front of her. "This was my very first river cleanup, and I had a blast!" she says. "There's just something about taking a canoe through the water and being immersed in the local wildlife that gives an exhilarating rush. The amount of trash in the water was shocking, but it was a satisfying sensation removing the bulk of it with the team. I can't wait to go back for more!"
Ms. Kazo was pleased by the efforts of the 3dcart team. "WRT has partnered with many organizations, companies, schools and universities since 2001, when we helped lead the first serious restoration of this essential waterway. The volunteers from 3dcart did a great job keeping their legacy going."
We're looking forward to the next excursion!