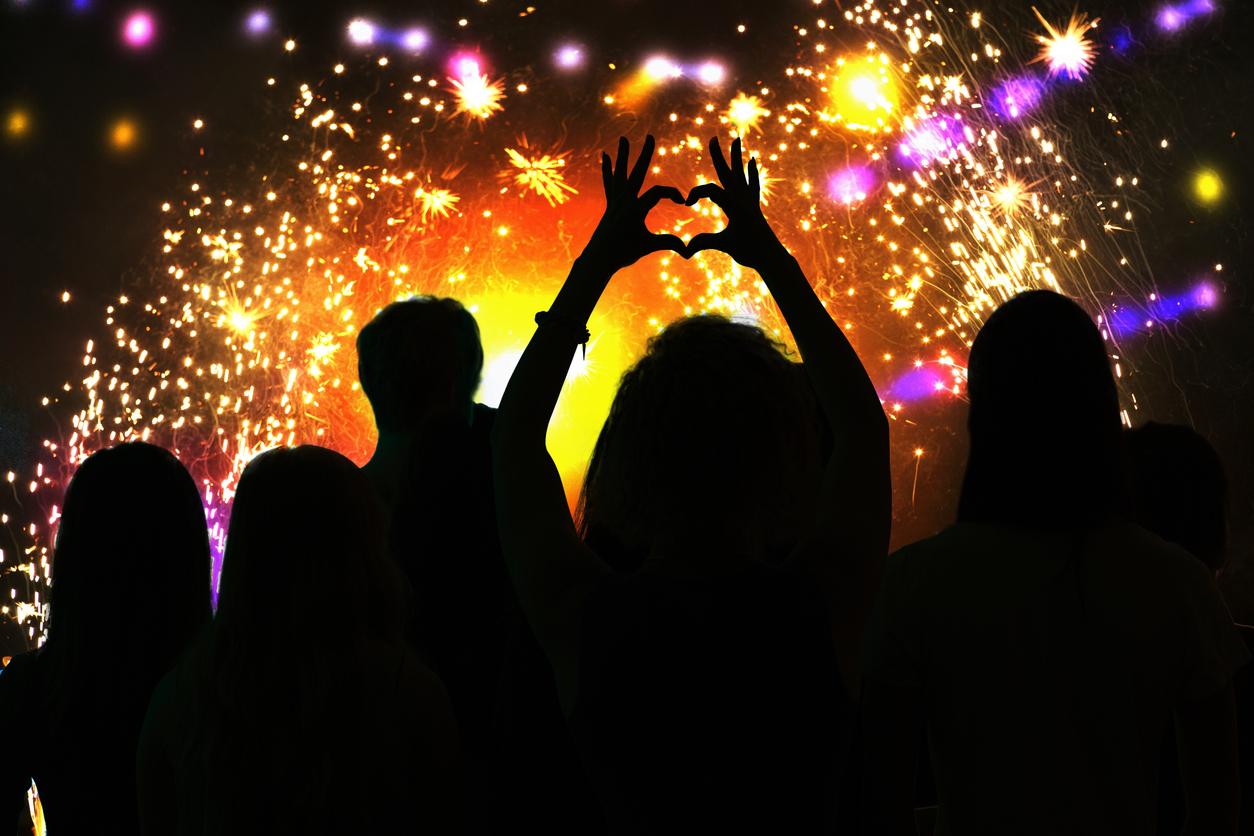 While eCommerce is a global phenomenon, everyone has a special bond with the country they call home. 3dcart is like that, too — eCommerce transcends national boundaries and we have team members from all over the world, but we've all come together in our US headquarters with the same mission: to build something awesome.
In honor of Independence Day (July 4), we're showcasing a few American-made online stores that are thriving on 3dcart. They cover a variety of industries, but each represents an eCommerce dream come to life.
Glacier Confection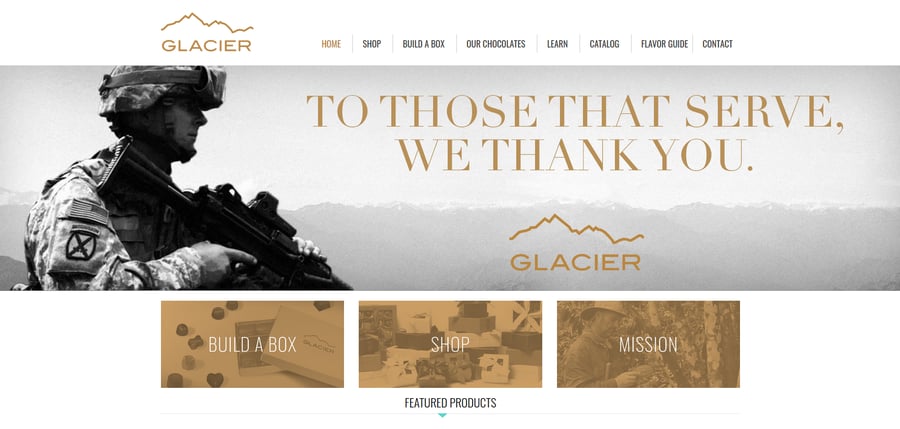 Headquartered in Tulsa, Oklahoma, Glacier Confection is a high-end artisanal chocolatier with a mission to use only the finest ingredients and recipes. All manufacturing is done in the United States using a mixture of classic and innovative techniques all geared toward creating the best possible product. Glacier Confection also dedicates resources to supporting military families, promoting awareness, and other initiatives such as the preservation of unique cultivars of cacao.
Vew-Do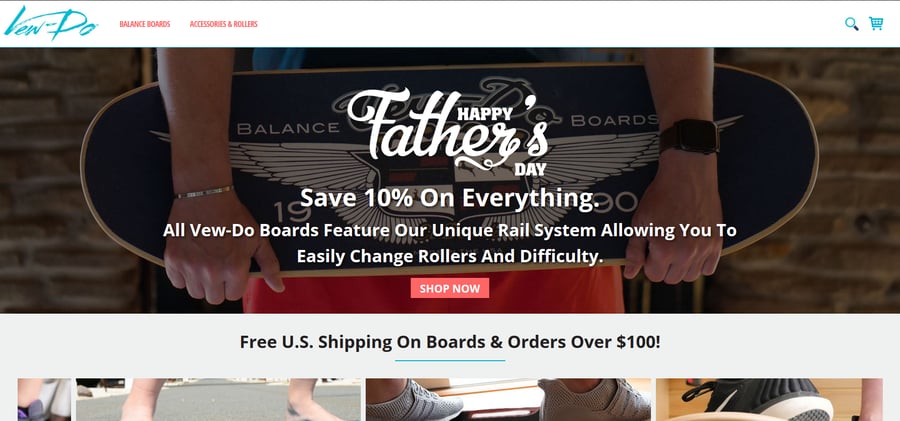 Vew-Do is the originator of the modern-day balance board and has been in business since 1990. They offer a wide range of boards for beginners through experts, and suitable for many different uses from developing your balance at the gym to adding a little something extra to your standing desk. Based in Manchester, Vermont, Vew-Do locally sources all its parts and manufactures exclusively in the US.
Hook & Cord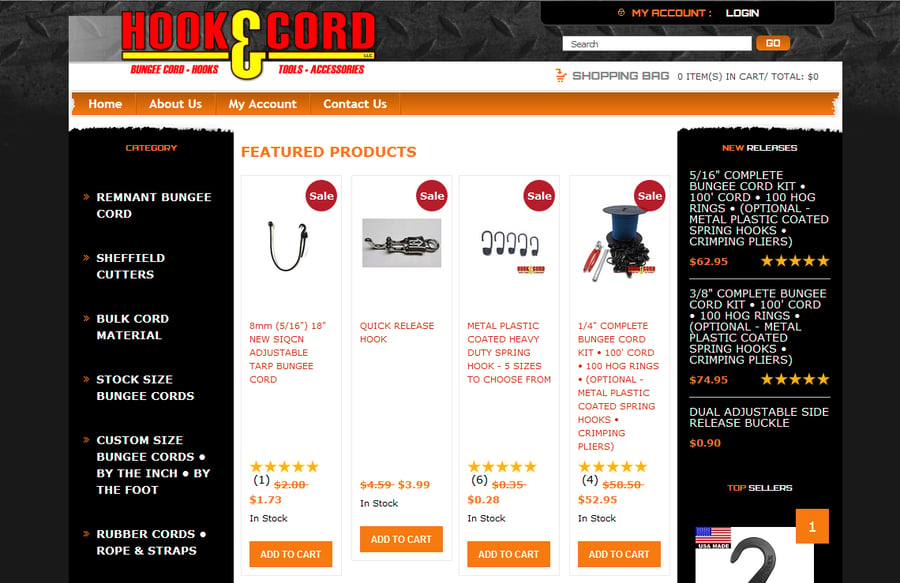 Hook & Cord specializes entirely in bungee cords, straps, rope, hooks, and related accessories. Beginning with an idea, design, and then patent for a unique adjustable bungee cord hook, the company has expanded to cover a huge variety of products in this unique and often-overlooked niche. After researching eCommerce software, Hook & Cord chose 3dcart for their new business and over the years has grown to manufacture and sell thousands of standard and custom bungee cords every month. Hook & Cord is based in Central Point, Oregon, and attributes much of their rapid growth to the built-in features and support offered by 3dcart.
Gainers Creek Crafts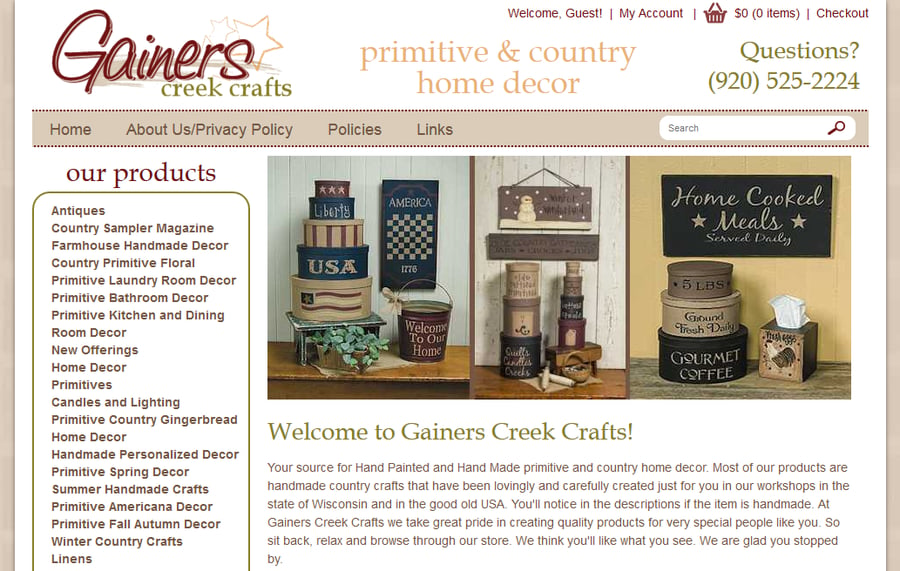 Gainers Creek Crafts is a family-run business focusing on hand-painted, handmade primitive and country home decor. The company started out in 1999 as a mother and daughter spending time together creating crafts and selling them at local shows. They entered the world of eCommerce in 2004 and have since grown their selection to hundreds of unique items, both handcrafted and non, but all made in the US. Today, the whole family is involved: Heidi is the owner and operator, hand-painting and crafting the majority of the items on the website, while her mother Lynn creates hand-sewn items and her father Tom is their wood craftsman. Gainers Creek Crafts loves to use repurposed materials and describes their business as a labor of love, with new items added every Friday. They are located in Bonduel, Wisconsin.
Titan Ready USA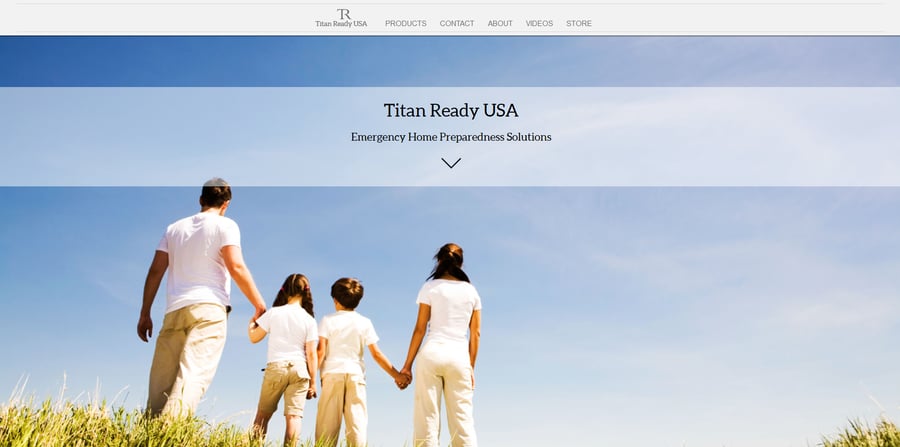 The passion behind Titan Ready USA is preparedness for any situation. Whether because of a natural disaster or just the desire to get off the grid, the most important aspect of preparedness is the security and safety of food and potable water. Titan Ready USA is an innovative, self-funded company creating solutions to help families ensure their survival during both short-term and long-term emergencies. "Besides," as the company puts it, "What's more American than prepping?" Titan Ready USA is based in Newberg, Oregon, and while their main website is built on a different platform, they use 3dcart for the Titan Ready USA Store.
Base Lab Tools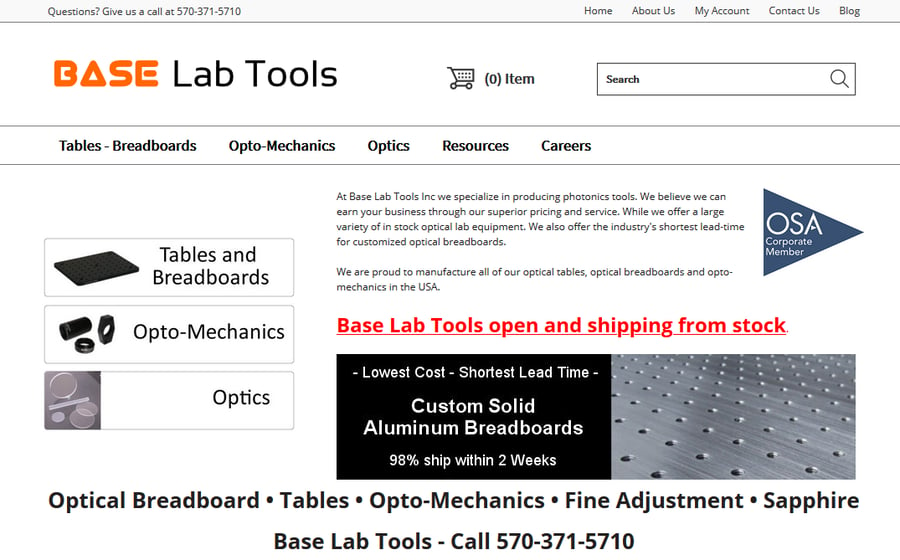 Base Lab Tools manufactures optical lab equipment used by leading science and technology businesses and research institutes like NASA, many US universities, and national labs. The main focus of Base Lab Tools is the optical breadboard, which is an extremely useful platform that functions as the foundation scientists use to build optical experiments. All Base Lab Tools optical breadboards are handcrafted for customers in their Stroudsburg, Pennsylvania manufacturing facility. They are not only proud to make their flagship products in the USA, but it gives them a tremendous advantage over their competitors who outsourced their production overseas long ago. All of Base Lab Tools' optical tables, optical breadboards, and opto-mechanics are made in the USA, and the company attributes their dedication to American manufacturing with a great deal of their success. Manufacturing in the US has given them the ability to build custom solid aluminum optical breadboards in a quarter of the time and at a third of the price typically offered by their competitors for similar custom products. In the scientific community, there is a great need for parts that are customized for the particular experiment or application, and Base Lab Tools has been able to achieve this in an affordable and timely manner for their customers.
LapelPinPlanet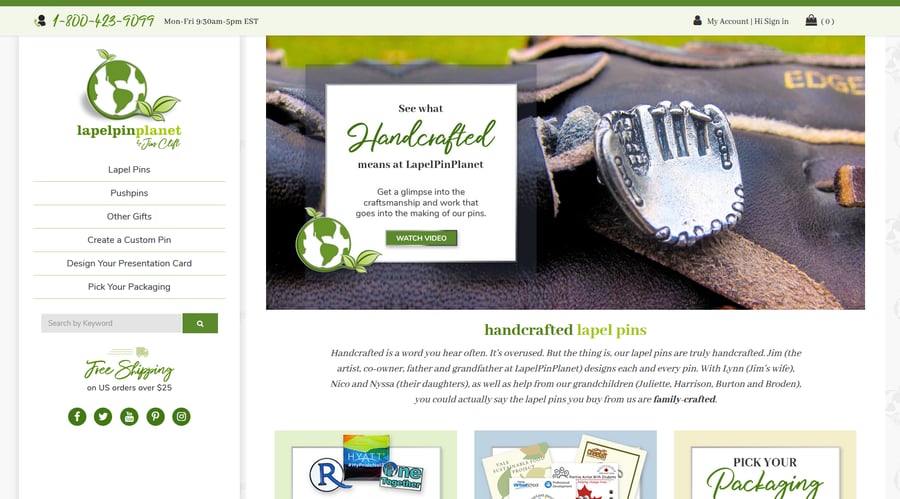 LapelPinPlanet is a family business that has been making fine pewter gift items for over 40 years. Jim Clift is "the artist, co-owner, father and grandfather at LapelPinPlanet," and the whole family is in the business with the goal of creating beautiful, handcrafted lapel pins at competitive prices. LapelPinPlanet used to manufacture their designs and sell them wholesale to stores, but price competition was tough — so they took their business online. Becoming an internet-based retailer allowed them to concentrate on a smaller selection of their best-quality products, and also to compete on price by cutting out the "middleman." Through their 3dcart store, LapelPinPlanet now ships their designs to businesses, organizations, schools, and quality-conscious individuals in countries around the world, even as far as China. LapelPinPlanet is located in Coventry, Rhode Island.
Beatrixbell Jewelry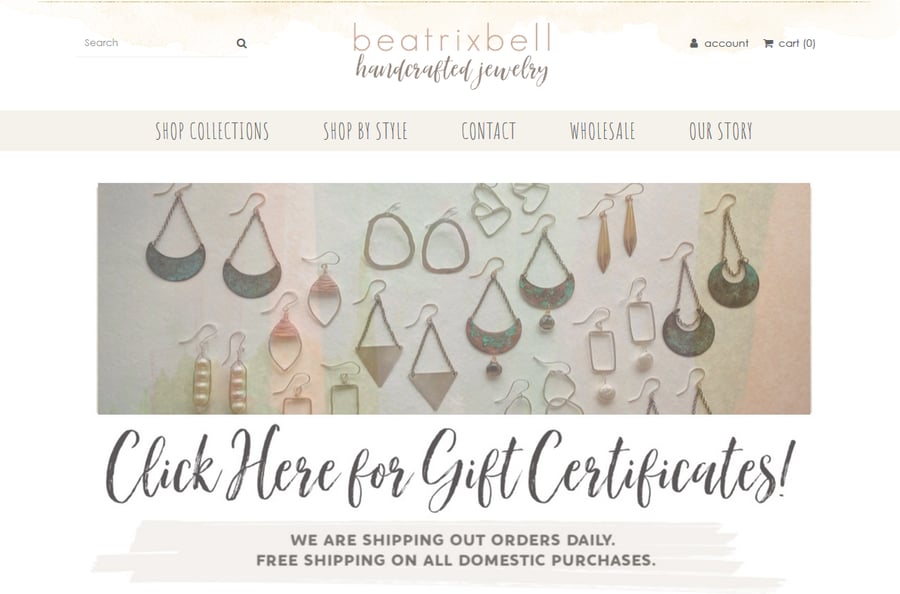 Beatrixbell Jewelry is "a little jewelry studio located on the banks of the Mississippi River" in New Orleans, Louisiana. Their pieces are made right here in America, created with skillful craftsmanship and meticulous attention to detail. Not only is their jewelry handcrafted in the USA, but all of their raw materials and findings are sourced from businesses based in the USA as well. You can find their lovely jewelry online or in many locally owned boutiques and gift shops nationwide.
Tamara's Sugar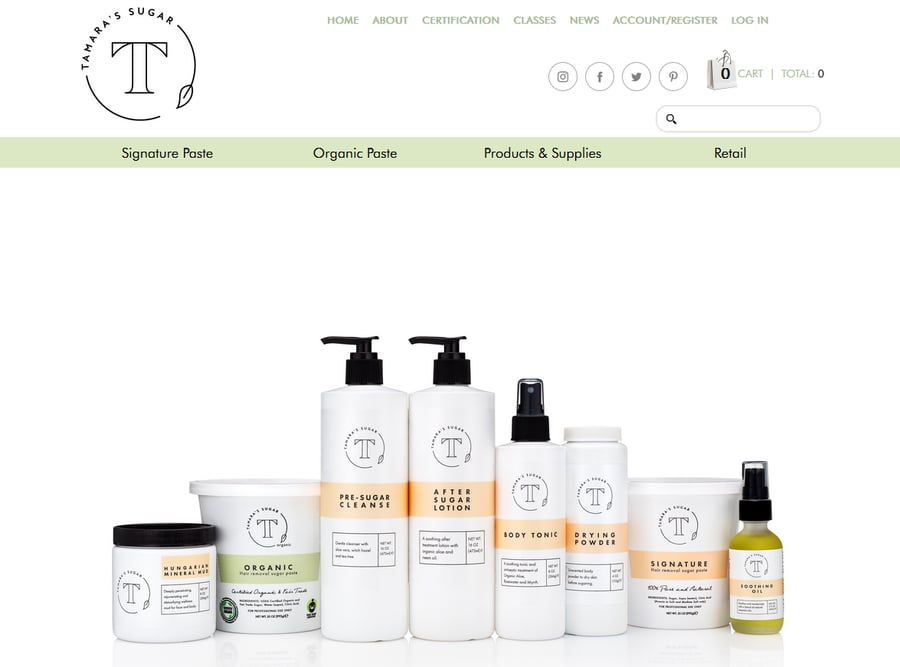 Based in Seattle, Washington, Tamara's Sugar manufactures professional body sugaring paste, which is used in professional hair removal services. The company sells to licensed professionals and spas, and offers a wide selection of products including an organic line.
Bonsai of Brooklyn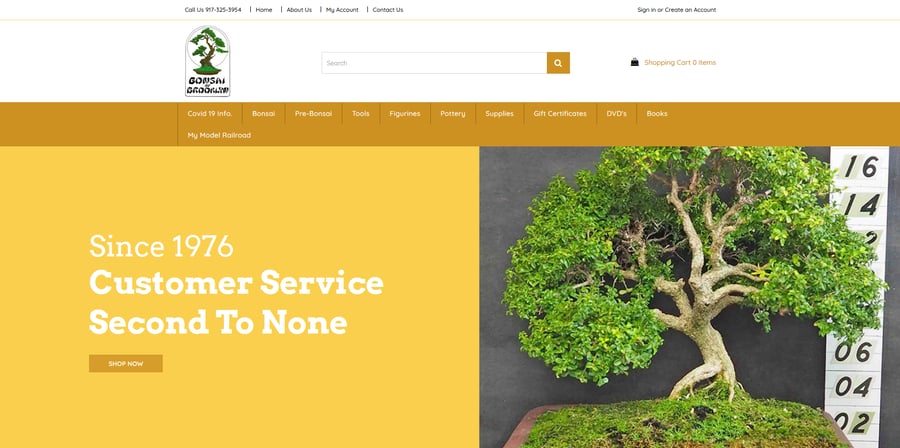 Bonsai of Brooklyn was founded in 1976 by Paul Graviano after a chance encounter with a bonsai tree left him fascinated by this unique traditional art. He grew his passion into a business that now supplies bonsai enthusiasts around the world, and is an expert on the craft. Bonsai of Brooklyn maintains a large nursery of bonsai trees for sale and also sells pottery, tools, and other accessories. The company has gained international attention and has been featured by Atlas Obscura. Paul was also interviewed by Tokyo TV in a special feature; the crew traveled all the way from Japan to meet the man who was doing so much to share a beloved Japanese art with an American audience.
Conclusion
We hope you've enjoyed this showcase of American-made online stores built with 3dcart! Of course, these are just a few out of thousands of merchants building and growing their online business on the world's most powerful eCommerce platform. 3dcart merchants represent hundreds of industries and each online store has its own unique story, just like the individuals behind them. We are proud of the innovative, entrepreneurial spirit that drives business owners, and it's inspiring to see it every day.
As an American company, 3dcart feels kinship with other American businesses, but our diverse history and international contacts always keep our perspective fresh. The truth is that, while America is our home, eCommerce has made the entire world our neighborhood.