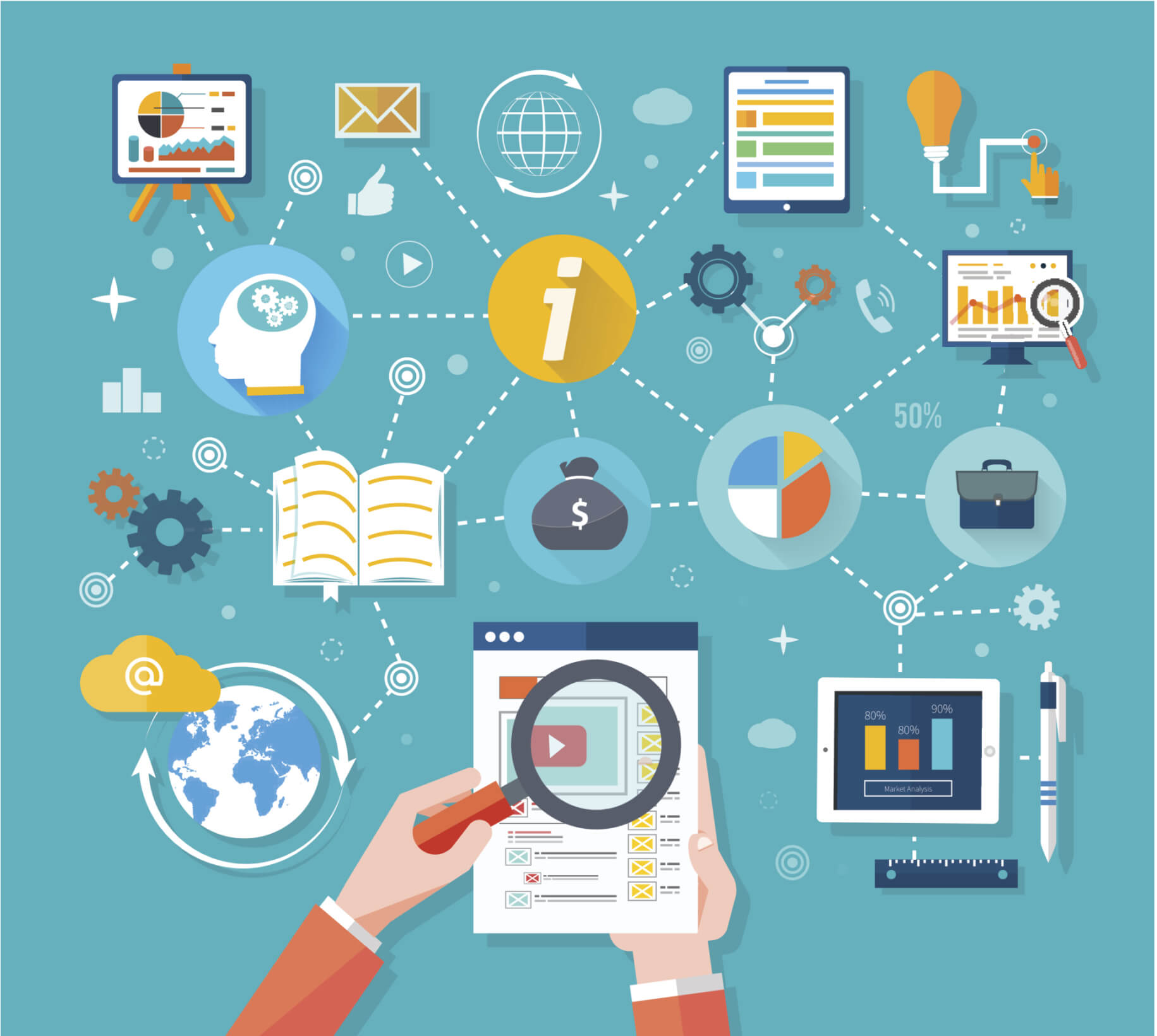 Online marking is an essential component of eCommerce that plays a critical role in the success of any business. Consumers use the internet for everything – what to do, where to go, what to buy and more. In fact, studies by marketing research groups such as Garner show that an increasing number of consumers use social media and internet searches to carry out preliminary research on products and prices before ever making a purchase.
By utilizing the power of marketing, you can easily advertise to millions of people around the world, increasing your sales, customer base and brand recognition. If your customers are online, that means you need to be, too!
So what type of online marketing should you invest in?
SEO
SEO (Search Engine Optimization) is a crucial, invaluable tool that plays a major role in the success of your business. With a well-strategized and implemented SEO plan, your business is geared and ready for long-term success. Why's that, you're asking? Google handles billions of searches everyday, which is why SEO continues to provide more targeted lead generation than any other marketing system.
In fact, while paid search advertising offers many benefits and conversions to sales, 90% of searchers still click organic listings rather than paid advertisings. And you don't have to worry about your small business competing with bigger companies. Google has made it easy for local and small businesses to find their way into the main organic listings.
Furthermore, with effective "link building," which is the bedrock of successful SEO, profitability and traffic can be boosted even further. You'll also benefit from access to data that tracks just how effective your marketing is. With software such as Google Analytics, you'll be able to see which keywords generate the most traffic and sales for your website.
Of course, like all things in life, success doesn't come easy. SEO, while proven to be the most crucial aspect of online success, takes an incredible amount of hard work, time and diligence.
If you're in need of SEO assistance, 3dcart's experts are at your service. Our fully managed packages are based on "Industry Best Practices." Let our Certified SEO Experts do the work for you and report the results. Click here to view our four SEO packages, which cater to small and large businesses alike.
Social Media
Social media plays a pivotal role in the daily life of billions of people. In fact, almost one-third of the world's population is an active subscriber to a social media platform such as Facebook, Tumblr, Google+, Instagram, Twitter, and more. Studies show that this astronomical number will only continue to grow; in fact, it grew 12% from 2014 to 2015 alone!
But if there's one clear winner in this social media race, it's Facebook. With 1.366 billion active users as of January 2015, Facebook reigns supreme among all other social media platforms. What better way to grow your business than by marketing this massive, ever-growing audience?
For nearly the last decade, social media has been the platform of choice for word of mouth advertisement, with opinions spreading like wildfire through various social channels. If someone has "liked" your business or written a bad product review, this advertisement – whether positive or negative – will be shared with countless people connected to that individual, including friends, families, co-workers and associates. Whether someone loved your product or is looking to vent about a horrible customer service experience, odds are they'll turn to social media to voice their thoughts.
Ultimately, social media allows you to share and engage with customers on a personal level, providing an experience unlike any other marketing system. Developing and implementing a social media strategy is one of the best things you can do to help your business succeed online. However, like SEO, a social media marketing strategy requires careful and meticulous planning.
If you don't have the time or patience to handle the day-to-day work of running a social media campaign, let 3dcart's Social Media Experts do all the work for you. 3dcart currently offers three social media packages to handle your Facebook campaigns: Social Media Lite, Social Media Standard and Social Media Ultimate.
Paid Advertisement
Google Shopping Ads, like text-based ads, appear in search results. So what's the difference then? A Google Shopping Ad shows a big, shiny image advert of the product next to the price as well. According to marketing research company Kenshoo, clients generate on average $9 of sales for every $1 spent on Google Shopping Ads.
By featuring high on page one of Google results, shopping ads are a great way to attract eyeballs to your products. With an SEO strategy, it can take months to get your products on page one of Google, but with a shopping ad, you can have instant success. Furthermore, with shopping ads taking up a significant portion of the screen, you'll enjoy the added benefit of pushing your competitors further down the page.
If you're an eCommerce business, marketing isn't just about SEO and PPC anymore. Run-of-the-mill text ads just aren't enough these days. In order to succeed in one of the most competitive markets, utilizing all of the bells and whistles that Google has to offer is an absolute must. For a complete PPC strategy that yields the best results, you need to implement text ads through the search network and visual shopping ads – allocating your budget as needed depending on your goals and products.
Of course, if you're looking to run a successful shopping campaign, that also means you'll need to submit your Google Shopping Feed, which can be a downright chore what with the special format and tons of attributes required by Google. Nonetheless, if you're looking to step up your search and shopping game, these are essential, unavoidable requirements for businesses everywhere.
3dcart understands that some merchants simply don't have the time it takes to set up, monitor and optimize Google Ad campaigns. If you're interested in our experts taking over this task for you, check out our Google Shopping Ads plan here.
We can also set up and monitor your Google Shopping Feed as well! Click here to see what our Automatic Google Shopping Feed entails.
Remember, the chances of your business succeeding are only as good as your marketing strategies. Elevate your business to the next level by implementing the above marketing systems. If you require any assistance, 3dcart is always here to help you along the way!