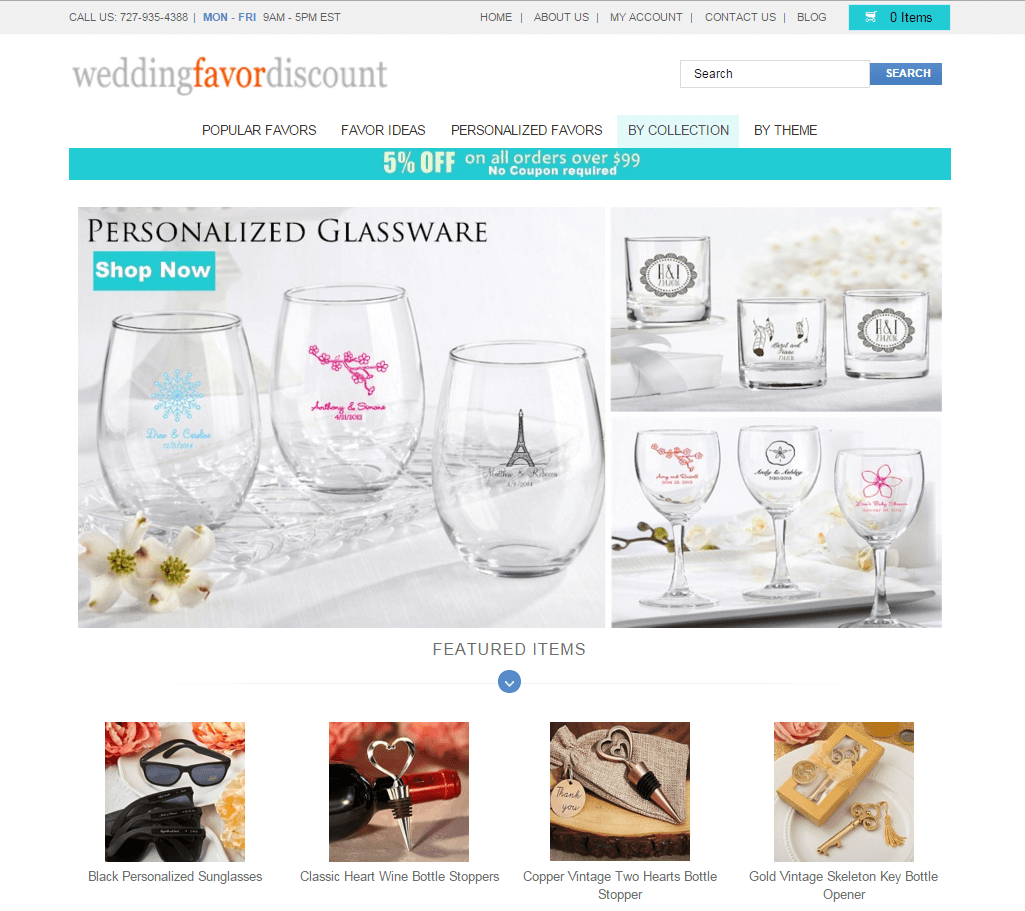 As online shopping continues to dominate the commerce landscape, more and more eCommerce solutions are launching to meet the needs of aspiring entrepreneurs. And while an expansive and diverse selection of platforms is a perk for merchants on the eCommerce hunt, it can also make the process uncomfortably reminiscent of finding a needle in a haystack.
Whether you're an eCommerce veteran or are just starting out, odds are your research has brought you into contact with some of the more widely-used shopping carts of today: Magento, Shopify, Bigcommerce, and Big Cartel, to name a few. For many businesses, however, big names and even bigger promises have been their downfall.
In recent years, countless merchants have moved to 3dcart after months or years with one of today's many platforms, driven away by one or more horrible experiences. Weddingfavordiscount.com, who spent over 10 years with Volusion, is one of the more said recent stores to join 3dcart's community.
Wedding Favor Discount (www.weddingfavordiscount.com) specializes in unique wedding favor ideas such as personalized and themed wedding favors. Renowned for their high-quality products, competitive pricing and fast delivery, the Tampa-based favor business has prided itself on being a bride-favored store for more than 12 years.
Like many businesses, weddingfavordiscount.com moved to 3dcart in search of platform more robust and feature-rich.
"The main reason why we switched to 3dcart is that product prices and options are configured on the product level," said Peter of weddingfavordiscount.com. "This is very important when you have over 1500 products, each with different quantity discounts and options. We update prices twice a year, which is an adventure with Volusion to say the least."
Increasing efficiency for his business wasn't the only factor that motivated Peter to leave his former shopping cart – cart abandonment was another serious issue plaguing his store: "The way Volusion shows discount prices in the shopping cart is misleading to customers, and resulted in abandoned shopping carts and unnecessary phone calls and emails from customers to clarify pricing."
After moving to 3dcart, weddingfavordiscount.com immediately took advantage of the countless new features at their disposal, including 3dcart's diverse and expansive collection of gorgeous themes. Furthermore, Peter accredited 3dcart's dropshipping support as one of the many features that have helped his business save money.
Peter's final words in our interview perfectly summed up his (hopefully) final eCommerce transition: "In summary, 3dcart not only costs us much less, but we have more flexibility than we had with our Volusion store."
3dcart is thrilled to have weddingfavordiscount.com as a valued member of our growing community. If there are any new brides out there, head on over to Wedding Favor Discount and check out their personalized candles, key chains, jars, stickers, wine bottle stoppers, and much more.
If you've switched to 3dcart from another platform and would like to share your experiences, fill out this form here.
Stay tuned, we'll be featuring another wonderful 3dcart powered website soon!