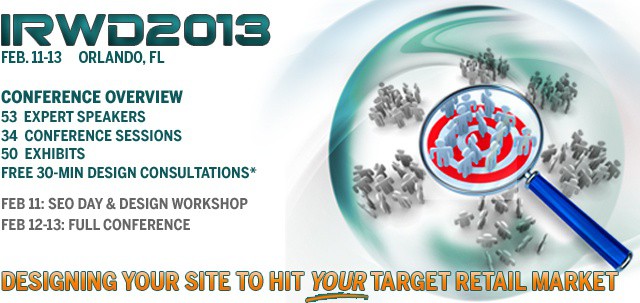 Come Visit 3dcart at Internet Retailer's 2013 Web Design & Usability Conference. A Special Discount for 3dcart Merchant - Get $100 Off Registration to IRWD
Drawing customers into your online store is step one. What happens when they get there?
That depends on whether or not your website is designed with your customer in mind. Web design and usability are crucial parts of selling online, and that's just what Internet Retailer's upcoming conference is all about.
The 2013 IRWD Conference is an event focused on helping businesses like yours turn more of your traffic into customers. It's crucial for us here at 3dcart to stay on top of new developments in the world of ecommerce design, so naturally, we'll be in attendance. But we'd love to see a few of you at the event, too, and we're making it easier and less expensive for you to join us.
As a 3dcart customer, you're entitled to an exclusive deal. Contact marketing@3dcart.com for $100 off registration to the 2013 IRWD Conference.
We've partnered with Internet Retailer to make this discount possible. Group registrants (3 or more) are entitled to an even larger discount: 25% off each pass. Again, email us for more information.
The Internet Retailer Web Design & Usability Conference takes place February 11-13 at the Omni Orlando Resort in Orlando, FL. Here's a quick description of the event from the IRWD website:
"Our agenda includes Keynote and Featured Speaker addresses that will reveal how to enable shoppers to easily navigate your site while keeping your brand image strong. Other speakers will discuss how to identify and overcome usability challenges, how to best incorporate mobile into a site design even if most of your customers are still coming from PCs, how to prioritize a redesign, how to tap into the global market, how to organize your e-commerce team for design success, how to create content that consumers relate to, and more. The conference also includes plenty of the popular live site critiques in which experts analyze sites volunteered from the floor."
You can find 3dcart at the 2013 IRWD Conference at Booth #415. If you're already planning to attend, be sure to stop by and say hello!