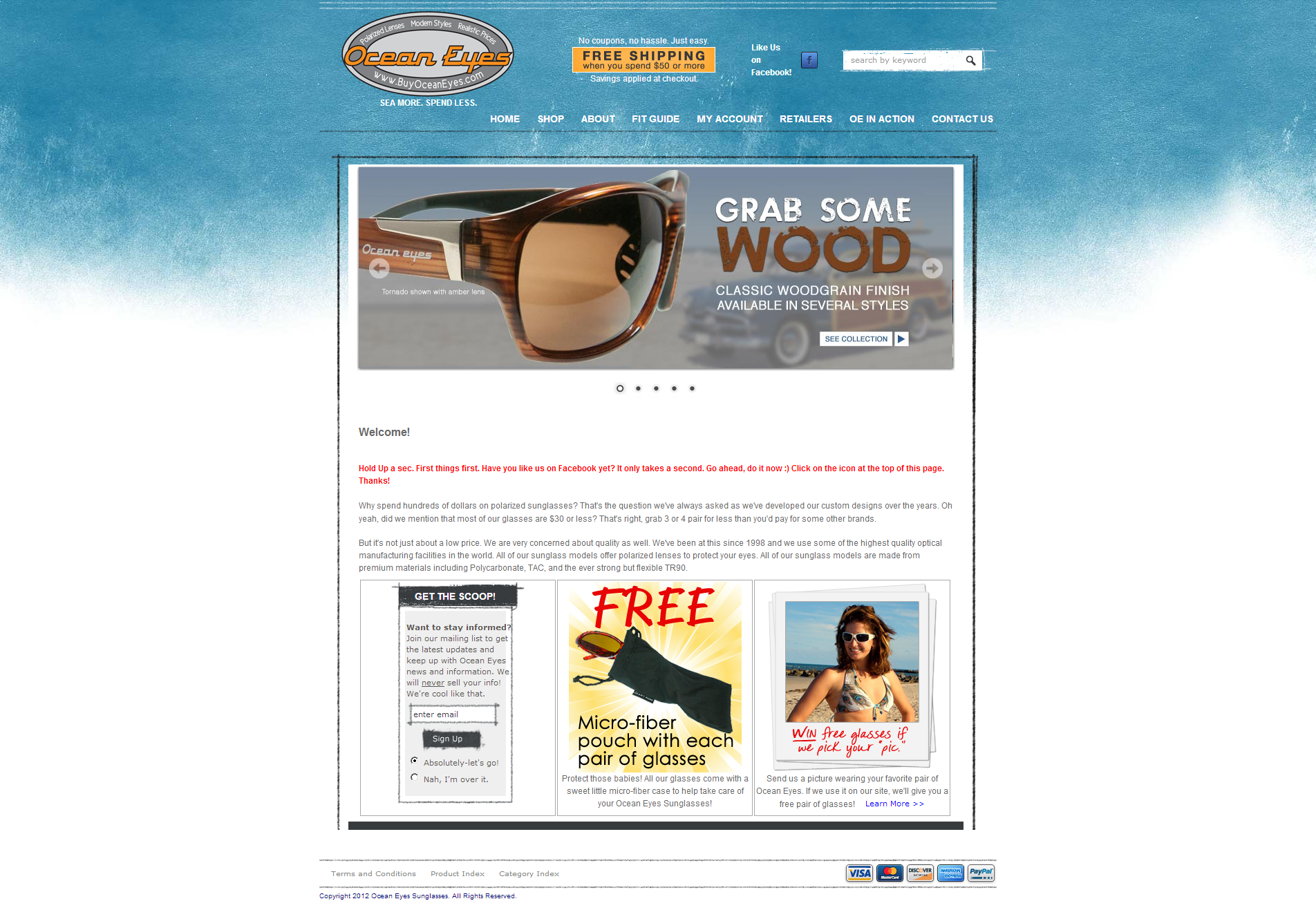 Many eCommerce stores are started by entrepreneurs looking to serve a niche market or fill a void in the marketplace. In the case of Skip and Karen Ledingham, they were shocked by the price of polarized sunglasses and set out to create a line of polarized eyewear that was not only stylish but realistically priced.
Ocean Eyes was born!
Started in 1998, Ocean Eyes Polarized Sunglasses began by selling their eyewear through a network of retail shops and recently decided to make their 60+ styles of sunglasses available for purchase online using the 3dcart eCommerce platform.
When asked what makes Ocean Eyes unique, Karen says besides the lower price point, each pair has a "classic" design that appeals to a wide range of consumers from the sportsman to the fashionista. Technology and quality are hallmarks of the Ocean Eyes line as well. "Some of our new frames are made with a memory polymer, called TR90, that makes them extremely bendable and lightweight."
Quality product comes with quality service. Ocean Eyes backs up each purchase with a customer service guarantee and all orders are shipped within 24 hours. "We always stand behind our products and will do what we can to make sure our customer is happy in the end," says Karen. "If our customers are happy, they come back the next time they're in the market for some new sunglasses."
While Ocean Eyes has only been online with 3dcart for a few weeks, Skip and Karen are already thrilled with the results of their new online store. "We're really impressed by how much power and flexibility is built in to the platform," according to Skip. "The newsletter and customer management features are great to have built in and the order notification and workflow capabilities are extremely helpful."
While spring may be the company's busy season, as customers begin to think about going on vacation, Karen reminds us that polarized glasses aren't just for summer. "Our polarized sunglasses can be used year-round and are awesome on the ski slope, golf course or just driving the car. Don't let "Ocean" in our name fool you! You need to keep your eyes protected from the sun's harmful UV rays every day, wherever you are." In addition to UV protection, polarized lenses allow the wearer to see clearer by reducing glare from water, wet roads, snow and ice.
All of us at 3dcart are excited to have Ocean Eyes on our platform and look forward to helping them make their new eCommerce store a huge success.