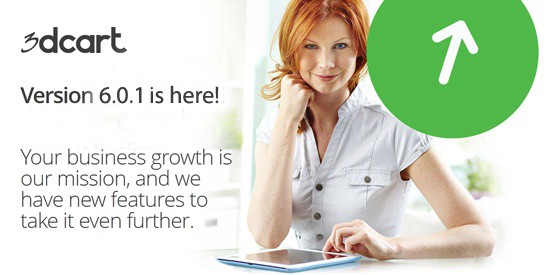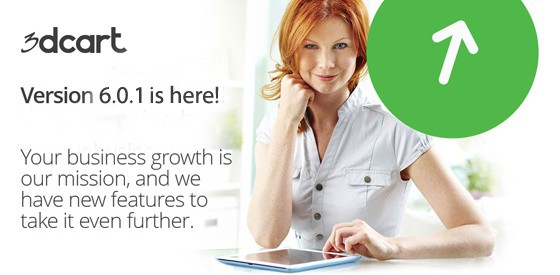 When 3dcart released v6.0 back in late July, we promised to deliver a feature-rich, affordable, robust and user-friendly ecommerce solution. Over the past few months, the response we've received has been incredible, and every 3dcart store owner seems to be enjoying new features like the customizable homepage slider, the integration of Dwolla and BitPay, enhanced SEO tools and more. And as proud as our team is of the work we've done to make 3dcart v6.0 the premiere SaaS solution on the market, we remain committed to continual and consistent improvement. Our end goal is -- and always will be -- to power 3dcart store owners down the path of prosperity, and our team works around the clock to innovate and enhance every aspect of our software; work that has yielded 3dcart v6.0.1, the best version of 3dcart to date.
What's new inside 3dcart v6.0.1?
3dcart v6.0.1 features a full integration of Stripe. Stripe is a premier online payment solution that's both easy to use and affordable. There are no setup fees, no monthly fees and no hidden costs of any kind. Stripe simply charges 2.9% -- plus 30 cents -- for each successful transaction. It's also important to point out that merchants will never have to pay a penny to Stripe unless they themselves get paid. In addition to cost the benefits mentioned above, online store owners have access to a few enhanced features that help separate Stripe from the crowd. With Stripe, customers will never leave the pages of your online store to complete a purchase. Users are also given the option to store their credit card information as an encrypted alias, which allows shoppers to complete future online purchases without having to re-enter payment information.
Getting started with Stripe only takes a few minutes (literally, a few minutes), and its beautifully designed interface creates an incredible user experience you and your customers are sure to love. Stripe already powers commerce for thousands of sites around the world, and their users include both small and large companies, rapidly growing start-ups, side projects and everything in between.
In addition to our integration with Stripe, 3dcart has also made significant improvements to XML sitemaps, improvements that make it easier for 3dcart store owners with more than 100K products to use and manage sitemaps.
Bug Fixes
Shipping -- Canada Post Some Canada post methods were not showing up because Canada post doesn't return a Estimated Time in Transit for these. This has been fixed. Categories -- SmartCategories The Keyword based smartcategory allowed users to leave the keyword field blank, which would generate a timeout error on the category page. Now it will not pull any products in the smartcategory if the keyword is missing. Blog -- Delete Post Permissions The delete permissions were associated to the manufacturer permission. This has been fixed. Paypal Express -- Line Items The Paypal Express integration no longer submits individual items to PayPal, due to limitations on PayPal, specific to orders with large quantities, fractional quantities and special characters on product names. API -- Recurring Orders The UpdateOrderStatus method was affecting parent records for Recurring Orders. These are now ignored by the API UpdateOrderStatus method. Frontend -- Category Crumbs The routine that builds the category crumb on the product page was taking a long time for items associated with more than 100 categories. Now the additional category crumbs will be ignored if the product is assigned to over 100 categories. Blog -- Archive The blog archive page was listing only the posts that were associated with categories. Payments -- Paypal Advanced The company name field was not being passed on to PayPal advanced -- COMPANYNAME
Additional Improvements
Admin -- Manufacturers Redirect Link New REDIRECT LINK field in the Manufacturer section to specify a 301 redirect from the Manufacturer page to a different URL. SEO -- Manufacturers Page If a manufacturer page was deleted, the system would return page with no information or products listed. Now it returns a 404 page when the manufacturer no longer exists. Products -- Q&A New link to "View All Q&A" that displays if there are more records than the number listed on the page. Now the view all popup has the same features and buttons as the main product page. Canada Post -- Label Manager If Canada Post is the only shipper used in the store, the Label Manager will automatically display the fields specific to Canada Post. We also added an automatic currency converter. Label Manager -- Order Weight The total shipping weight is now pre-populated in the order weight field. PayPal PRO -- Verified By Visa Added Verified by Visa support for PayPal Pro. Requires a Cardinal Commerce account. Reviews -- Hide Reviews with 0 rating New setting under STORE MODULES will now hide the reviews block when a product has zero reviews. Third Party -- GoDataFeed The GoDataFeed integration now supports product variations from 3dcart's Advanced Options. SEO -- Google Sitemap The XML Sitemap now supports stores with over 100,000 records. It also generates a sitemap index and individual files of 50,000 records each. Payments -- Stripe New integration with Stripe for credit card processing. SEO -- URLs with trailing "/" URLs with a trailing "/" were causing the page to not display properly. A rule has now been added for htaccess to 301 redirect page without the trailing "/". Frontend -- View Cart On the View Cart page, the 'Calculate Shipping' form is now submitted when the user hits "Enter" instead of using the GO button. Gift Registry -- Expired Registry A new function was created to check if the registry has already expired. In this case the visitor will be redirected to an error informing that the registry has expired or no longer exists. Payments -- Google Checkout The integration with Google Checkout/Wallet has been discontinued and removed from the system. Orders -- Status Update When an order is being edited, the system will validate the order status before saving. And if it has been updated to a different status while the order was being edited, the system will provide an alert and refresh the page to reflect the new order status. Frontend -- Page Crumbs Added id='catCrumbHomeLink' on the category crumb link for the home page. This allows control of the element via jQuery if needed. Purchase Orders -- Warehouse Information The Purchase Orders reorder page will now display the warehouse information when available.
Our Mission
While 3dcart v6.0.1 is without question the best version of 3dcart to date, our team will continue to develop and innovate. Your business growth remains our mission, and 3dcart v6.0.1 has enhanced features and improvements designed to take it even further. If you have questions about 3dcart v6.0.1, our award-winning support department is available for FREE 24/7/365. Give us a call anytime at 1-800-828-6650.