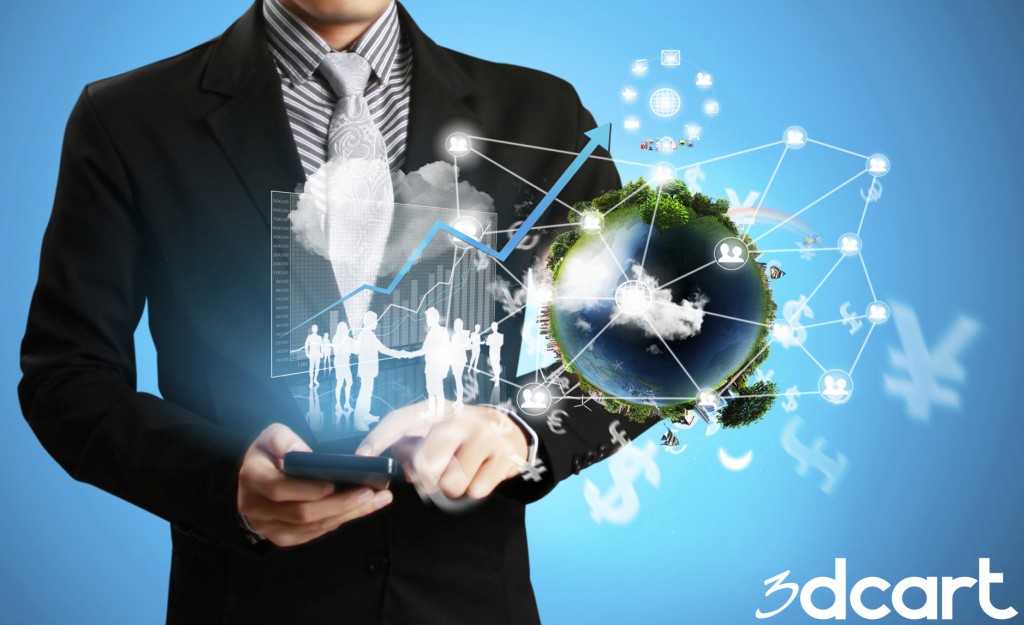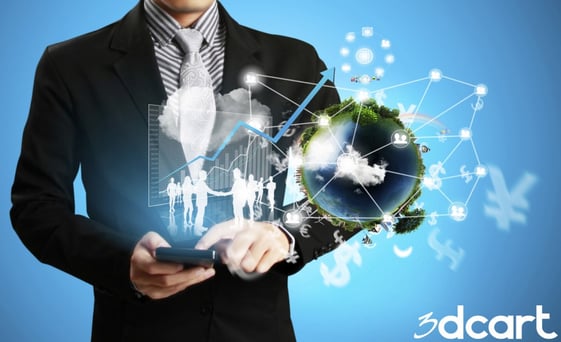 From lowly eCommerce bloggers (like this guy) to major industry influencers, everyone has an opinion about the future, and we all feel compelled to share it. Need proof? Try typing "2014 eCommerce Predictions" into Google's search engine and you'll find a dizzying list of articles that contain different insights and advice on how to best prepare for the changes to come. But since the masses can never collectively agree on anything, and reading through every search result could take days, we've decided to abstract the one semi-common theme that appears throughout… 2014 will be the year of mobile!
Stats & Figures
The data surrounding this prediction is hard to ignore. Take Cyber Monday 2013 for example. According to an article published by Bloomberg, "Retailers catering to smartphone and tablet users benefited the most (on Cyber Monday) with mobile traffic accounting for 32 percent of site visits, a 45 percent gain from a year earlier." But what about mobile stats across the board and not just Cyber Monday; is mCommerce really growing as fast as everyone would like you to believe?
Back in September, Internet Retailer published an article titled "Mobile Commerce Comes of Age." The article states, "U.S. mobile retail sales will grow about 64% to $34.2 billion this year from $20.9 billion in 2012." The research used to derive these figures came from the company's Mobile 500 study, and the numbers are hard to ignore.
A Deeper Look
To offer further validation, let's take a look at a few mCommerce stats offered by Gian Fulgoni, chairman of comScore, a leader in measuring the digital world. "One out of every ten consumer eCommerce dollars is now spent using either a smartphone or a tablet, and growth in this segment of the market is outpacing that of traditional eCommerce by a factor of 2x, which itself is growing at rates in the mid-teens," said Fulgoni. "Any channel shift has the potential to be disruptive to established revenue streams, and it would appear that mCommerce spending has reached enough of a critical mass that key stakeholders must begin to address this new market dynamic today or risk losing competitive advantage."
mCommerce by 3dcart
Being a 3dcart customer means you have full access to our software's robust mCommerce features, which are automatically enabled inside your Online Store Manger. So when you start populating your website with products, text, logos, etc. many of those changes will occur on your mobile site as well.
If you already have a fully functional 3dcart store, most of the heavy lifting needed to flush out a profitable mCommerce extension is behind you. Further optimization may be required to maximize its true power, but not to worry, we offer detailed optimization tutorials in 3dcart's invaluable Knowledgebase Center. We also invite you to check out our guides on how you can edit your mobile template as well as how you can access 3dcart's mCommerce Admin Panel.
Everything you need to know about optimizing the mobile extension of your 3dcart store can be found via the hyperlinked tutorials above. If you need additional assistance, our technical support specialists are here 24/7/365. Feel free to give us a call at 1-800-828-6650 to discuss how you can make mobile shopping a seamless experience for your customers and wildly profitable endevour for you and your business.
Mobile Marketing
One last thing to consider and then we'll let you go. Mobile sales are driven by email marketing. Don't believe us? Consider this. According to a recent study conducted by Litmus, "48 percent of (all) email is now opened on a mobile device." This represents a huge marketing opportunity, one that eCommerce store owners need to take advantage of.
This year, instead of catering all of your email marketing efforts to attract non-mobile shoppers, create a campaign that specifically targets them. How can you do this? Simple. Offer customers an incentive to make purchases in your online store via their tablets or smartphones. Featuring an exclusive promo code is always a good idea, and it's important to keep mobile offers separate from non-mobile offers. The end-game here is to drive traffic to your mCommerce site by enticing consumers to do what they're quickly growing to love, which is use their handheld devices to research and pay for products.
Want to learn about mobile commerce? Download our FREE white paper! (a $49 value)!