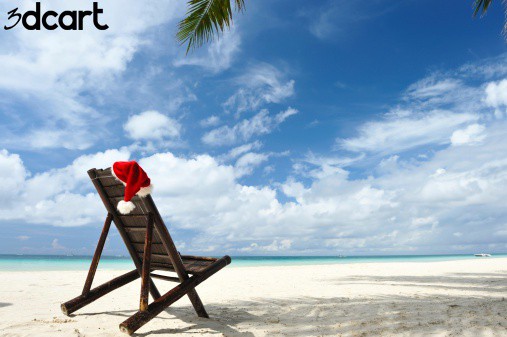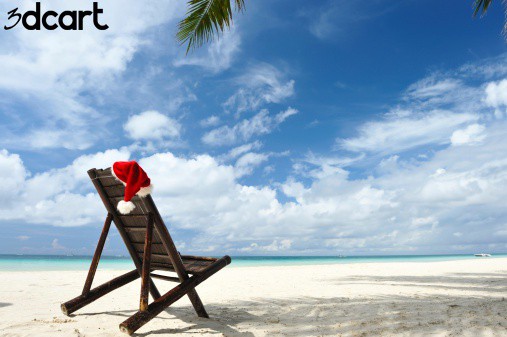 In the days leading up to, as well as the weeks that follow Christmas, the average 3dcart store owner will handle approximately 34% of their yearly customer service requests. This will include a barrage of phone calls, emails, tweets, Facebook posts, blog comments, etc., and every one of them will require your attention. But while you work tirelessly to ensure customer satisfaction, a golden opportunity to grow your business is passing you by.
Exceptional customer service is paramount and it's imperative that you provide it. That being said, the days/weeks immediately following Christmas can be insanely profitable assuming you're able to delegate service tasks and focus on what's needed for post-Christmas prosperity.
The following is our top-three list of activities online store owners should concentrate on if they want to ride the Christmas wave toward the land of milk and honey. Good luck, and please share your questions/thoughts in the comment section below.
1.) Email marketing
Christmas is over and the busiest online shopping season of the year is coming to a close, but that doesn't mean your profit margins need to take a January slide. If you want to capitalize on the momentum you've generated in November and December, start by creating a post-holiday email marketing campaign.
Email is an incredibly effective sales tool. It grants the ability to reach customers directly, advertise new inventory, share internal company happenings, etc. But before you plop a few promo codes inside an email and call that a campaign, take a look at the following bullet-point list of things to be mindful of.
Your email template should be customized to embody the design/spirit of your store.
Make it pretty! Why use low-res images when users demand high-res quality?
Create a catchy email subject… something that will make your customers want to open it.
Use call to action buttons with tracking links to entice clicks into your website.
Offer special post-holiday discounts and promotions, and include exclusive offers for those who engage with your company on its social profiles.
Make sure your marketing emails include clickable social icons that direct users to all of your company's social media accounts.
Sell without selling. Speak to your customers in a friendly, inviting tone. Don't be pushy.
Write in such a way that makes your email subscribers feel special. You want your emails to look and read as though they were written for an individual and not a group.
Proofread your copy and keep it succinct. No one is looking to digest a novel.
Include embedded video whenever possible, and for the love of God, don't let it auto play!
Email marketing is an art form. It takes time, knowledge and skill to master. But you don't need to be a marketing expert to understand what goes into creating a successful post-holiday email campaign. Instead, follow the tips provided above and you will not only see your Q1 sales skyrocket, you'll also outshine the competition while making newly found Christmas shoppers year-round loyalists to your brand.
2.) Inventory
The online holiday shopping season is driven by hot-ticket items as people want what's cool and popular for Christmas. But now that December 25th has come and gone, that doesn't mean your product's manufacturers stop making new styles, gadgets, etc. This is particularly true in the fashion industry as 2014 lines are already starting to hit the virtual shelves.
As an online store owner, it literally pays to quickly move remaining holiday inventory so you can make way for new, popular items. Doing so will not only help keep your store relevant in the immediate weeks/months after Christmas, it will also provide a major marketing tool to work with when trying to attract business in the New Year.
The following bullet-point list represents our suggestions on how you can spot and sell hot-ticket items after Christmas; no matter your industry.
Use Pinterest and pay close attention to the products/styles that are popular. If you start to notice that items related to your brand are gathering steam, share this information with your suppliers and do what you can to stock up.
Ask your social media followers what they would like to see added to your store. When you have a good response, take the necessary steps and give them what they want. After all, no one has their finger more closely located to the demand pulse than those who fuel its beating heart.
Check out your competition. If they're selling popular items that you do not have then it's time to amp your game.
When you stock a new hot-ticket item, market its presence in your store using whatever tools at your disposal. This includes homepage banners, emails, newsletters, social media profiles, etc.
Blog posts are always a solid way to share new product information and availability with your customers. Just be sure to use succinct, error-free copy littered with high-res images.
Offer discounts on new hot-ticket items exclusively to a target audience. In other words, don't offer store-wide discounts on new merchandise. Instead, create a promotional code that can be used by your mobile shoppers only. This will not only create a sense of urgency among your customers to start shopping on their hand-held devices, it will also help to create cross-platform synergy for your brand.
When it comes to maximizing post-holiday sales, inventory management is critical. If you expect your clientele to spend money in the weeks/months following Christmas, you need to give them a reason to do so. Offering old inventory at a discount is great, but offering new inventory at a discount to a targeted group is even better.
3.) Social Media
We passively mentioned social media inside the first two tips, but it's such an important tool for post-holiday marketing, we think it deserves dedicated space.
Social media is your brand's biggest megaphone. It is the platform from which many of your customers stay up-to-date and in-the-know about your store and its products. Unfortunately your followers have different social flavors, which means they use a variety of platforms to engage with your brand.
Your Facebook fans may not be privy to a deal that you just announced on Twitter, and your Instagram followers likely aren't frequenting your Google+ page. This creates an interesting conundrum for online store owners who then need to generate unique marketing content for every social platform they use. For example, if you decide to market a 50% store-wide discount on last year's Ray Ban Sunglasses, you need to do so across all your social platforms and not just one. There are few tricks that can help you maximize social marketing in the weeks/months after Christmas, and they are as follows.
Use different pictures on each message you generate. So when you inform your Pinterest followers about a discount by using a sleek looking, high-res photo, be sure to use a different picture when marketing that same product to your followers on Instagram.
Don't regurgitate marketing copy. In other words, if you write a one-sentence call to action to advertise a product on Facebook, use different language to market that same product on Google+. Copy regurgitation is a sign of laziness, and if your shoppers happen to see you doing this, your messages will start to feel salesy.
If you dressed your social profiles up for Christmas, it's time to take the decoration's down. That means you should have a new cover photo for your Facebook, Google+ YouTube and Twitter accounts. You should also revamp your Pinterest boards and clean out your Instagram archive. Each social profile you employ should directly represent your brand in both unique yet similar ways. Don't use the same cover photos for all your social profiles. Instead, create and deploy unique graphics for each.
Engage with your social followers every chance you get. If someone posts to your company's Facebook wall, sends you a tweet, whatever, take the time to respond and do so promptly. This will not only show that you're an active and interested store owner, it will also help drive brand loyalty and promote future social engagement.
Share your blogs on social media! Every online store should house a blog that is regularly updated, and every time you post something new, it's imperative to create unique, supporting social content for your fans.
Allow your social profiles to serve as an extension of your store's customer service efforts. If a customer then poses a question about an order or your products, answer that question both quickly and succinctly. Doing so continually will fuel repeat sales as customers will come to learn that no matter what, you are there for them anytime, day or night.
Social media can be the fuel that powers post-Christmas sales, but before that can happen, you need to practice sound marketing judgment, deploy exceptional customer service tactics and exercise astute decision making abilities.
Everything you post to your store's social profiles is an advertisement for your brand. One ill-thought, off-colored status update or tweet can kill your chances to maximize sales early in Q1 of 2014, and that's why it's best to engage with purpose. Don't post something for the mere sake of doing so. Instead, take your time and create share-worthy content that shines.
Final thoughts
If you're an online store owner, there's no such thing as a day off. You work around the clock to fulfill orders, manage inventory, market your brand, optimize your website, etc. And while there is never a shortage of tasks, time always seems scarce, particularly around the holidays.
When you entered the online sales game, no one said it would be easy. No one promised massive amounts of free time so you can idly sit back and watch the money roll in. The truth is, those that excel are those without excuse. Time may be scarce, but if you want to outshine the competition and maximize your post-holiday profits, you need to devote some of yours to doing just that.